Until now, Fitbit's range of cheaper devices has been plentiful and often confusing for the average person looking to buy a basic fitness tracker.
The likes of the Fitbit Flex 2, Fitbit Alta, Fitbit Alta HR and even the Fitbit Zip sat in that lower price bracket, but with the Fitbit Inspire and Fitbit Inspire HR that has all changed.
The company has slimmed down its budget range and brought it all under one roof with these two new affordable trackers. They try and achieve more than the devices listed above but don't come with the same level of functionality as the Fitbit Charge 3.
Note that the Fitbit Inspire HR has now been superseded by the Fitbit Inspire 2, which has a sleeker design and improved activity tracking features. The newer model is one of the best Fitbits you can buy today, if budget is your main concern then you might still prefer to opt for the Inspire HR.
Fitbit Inspire HR release date and price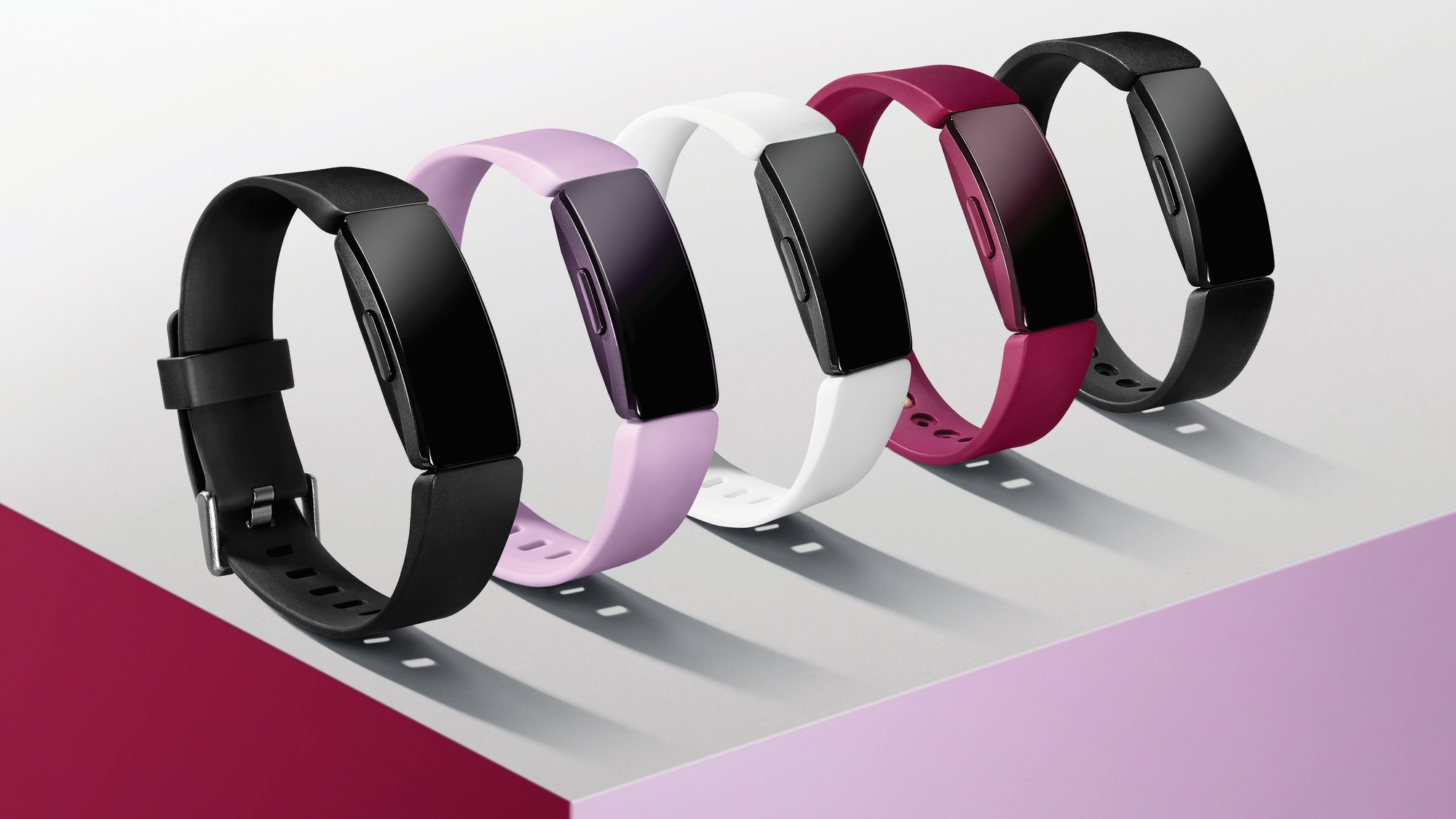 You can now buy the Fitbit Inspire HR from the official Fitbit website as well as a variety of third-party retailers in the US, UK and Australia.
The Fitbit Inspire HR is a touch more expensive than its heart rate-less sibling at $99.95 / £89.99 / AU$179.95. That's for a version with a silicone band, while other bands cost between $24.95 / £19.99/ AU$44.95 and $64.95 / £59.99 / AU$99.95, with options including leather, double wrap and stainless steel.
You can buy clips for the basic Fitbit Inspire that allow you to wear it on a belt, pocket or bra rather than around your wrist, but these aren't compatible with the Fitbit Inspire HR, so you'll have to opt for the cheaper tracker to be able to use one.
Considering the Fitbit Alta HR - a product with a similar spec to this tracker - launched in 2017 for $149.95 / £129.99 / AU$249.95, this is quite an affordable fitness device. Arguably, it's one of the best trackers from a price standpoint that the company has ever created.
Fitbit is generally more expensive than its competition though, so this isn't the most affordable tracker on the market for the functionality you'll be getting access to here.
Design and display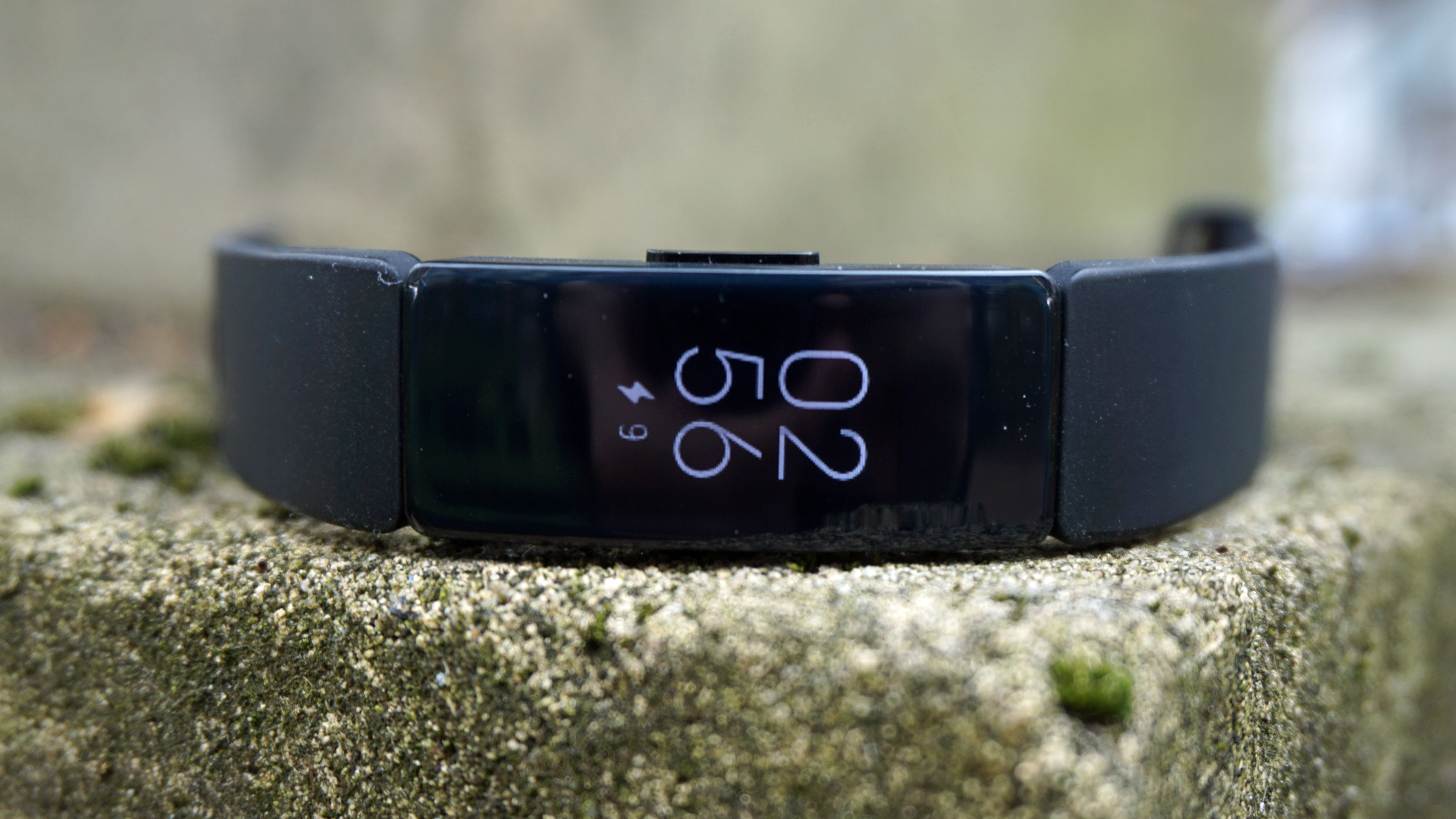 This is one of the narrowest and therefore sleekest-looking fitness trackers you can buy right now - though it's quite thick. Still, it's by far one of the most attractive trackers Fitbit has made, and it's notably lighter and thinner than the Fitbit Charge 3.
This replaces the Fitbit Alta HR and Fitbit Flex 2 in the company's line-up of trackers, and it feels like an amalgamation of those two with a few refinements to ensure it's a smoother product.
You've got the color choices of black, lilac or white for this tracker. Silicone bands come with it by default, but you can upgrade to a variety of other straps if you're looking for a more formal or just different look.
For the purposes of our review we used the black tracker, but the other two choices look good on the wrist as well. If you don't like this look specifically, it's notable that there's a large variety of different straps and accessories you can use to change up its look. Fitbit makes some but there are also lots of third-party options.
On the right hand side of the body there's a button that you can use to wake the device and take you back to the home screen. To go through your various stats you'll be using the touchscreen, but it isn't as responsive as a smartwatch display.
Image 1 of 2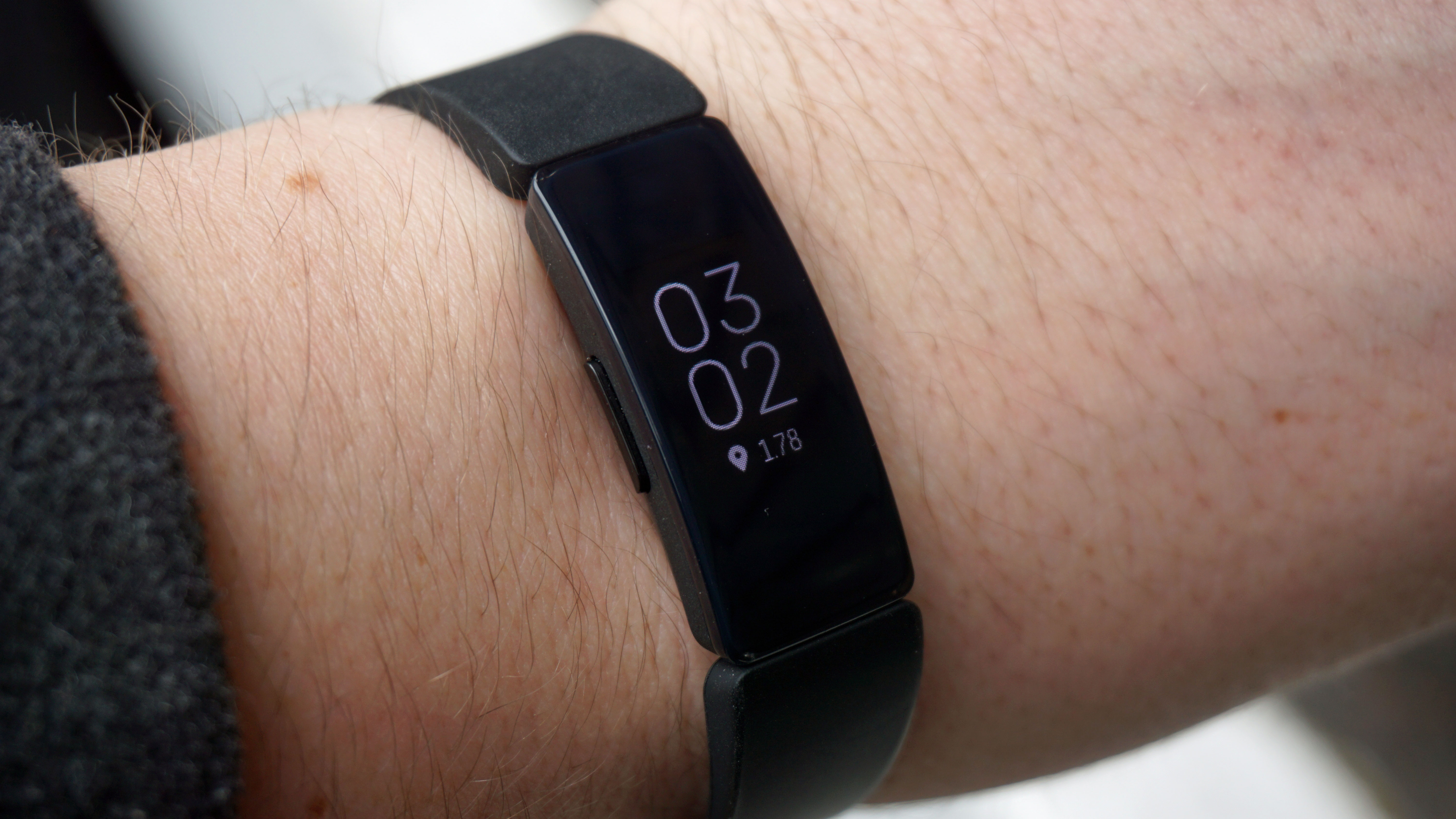 Image 2 of 2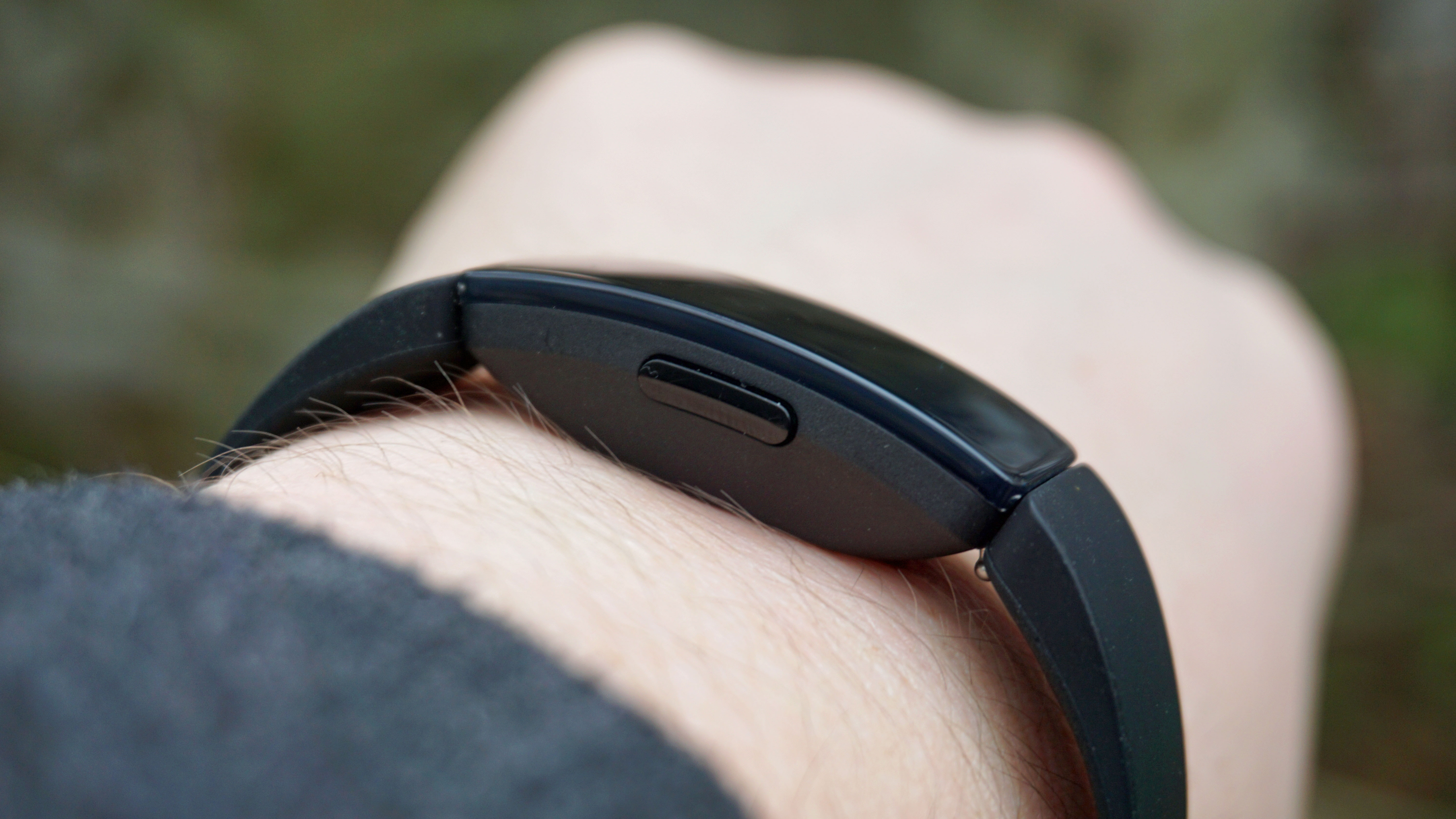 All you really use the screen for is swiping between a couple of menus to show your stats for the day. You can start a few features using the touchscreen, including exercises and guided breathing sessions, but you'll have to swipe up to find these.
That's quite an unintuitive part of the user interface, and we often found ourselves scrolling through the menu a couple of times before we remembered where the option we were looking for sat. The screen also didn't register all of our swipes, so sometimes you may find yourself getting frustrated with navigating around the tracker's menus.
It's a black and white display, which isn't an issue for the sort of stats you'll be looking at on the screen. It's important that you also know the display doesn't take up the whole front of the device shown in the images in this review.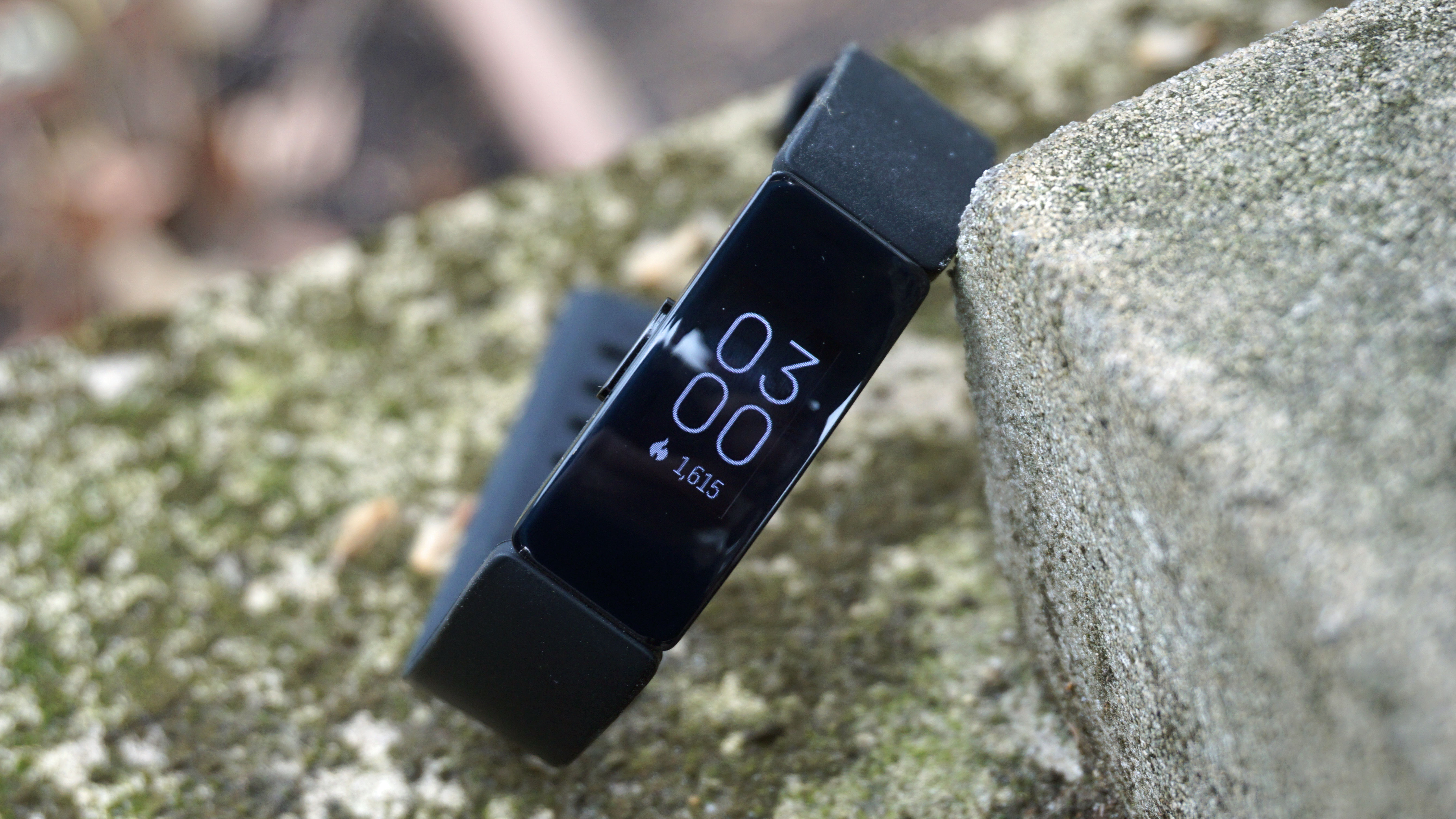 There are some big, thick bezels at the top and bottom of the display as well as lines going down either side of the Fitbit Inspire HR's screen. Those bezels at the top and bottom of the screen are 11mm, while the ones to the side are 3mm.
Considering the tracker is 37mm long and 16mm wide that doesn't leave a huge amount of space for the screen. That said, we didn't find it irritating in day to day use, and especially with the bezels being black it's not clear that you've got these big bezels on all sides.
The Inspire HR comes with a swim-proof build which means you can wear this in the shower without worrying about it getting ruined. At the time of our original review, we thought the Inspire HR was incapable of tracking swims but it's actually possible to track swim lengths, duration, distance and pace.
We've yet to test out this feature, but we hope to update our review with a full verdict on its swim capabilities at a later date.
Image Credit: TechRadar
Performance, fitness and features
Day to day performance of the Fitbit Inspire HR has proved strong in almost every regard. The fitness tracker doesn't do all that much in terms of features you can access from your wrist, so you won't often be left waiting for things to load.
Instead, you'll start an exercise and it will kick off right away. The Inspire HR comes with a lot of basic fitness tracking features, such as daily step tracking and the like, but it also boasts connected GPS and a heart rate monitor.
This is one of the most accomplished budget fitness trackers Fitbit has ever created, and it comes with 15+ exercise modes as well.
Our most used exercise was the running mode where it showed us the distance, pace, average pace, heart rate, calories burned, steps and time through a series of menus that are easy to scroll through.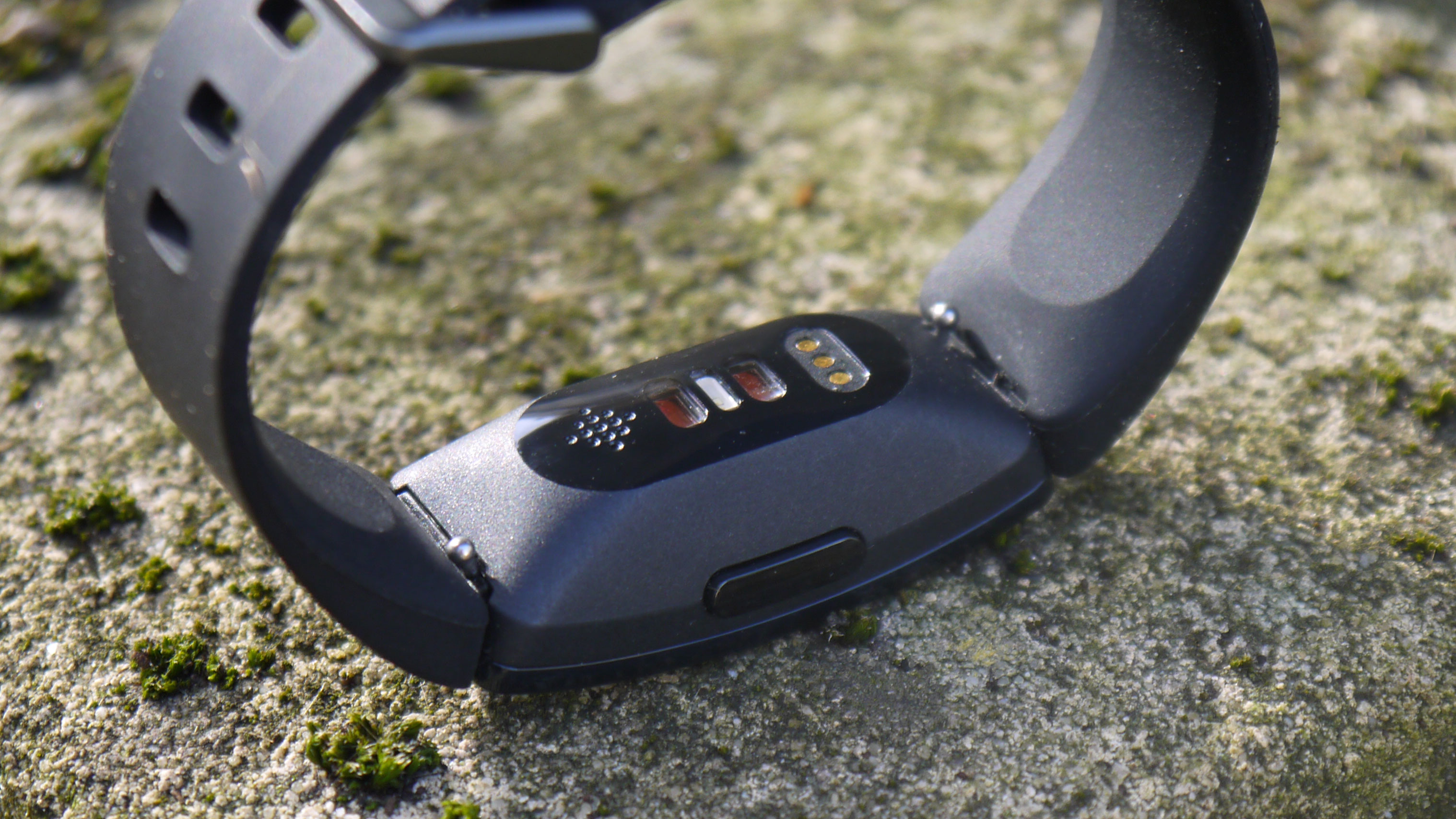 You can set these exercises up manually by going up on the main menu, or you can just start jogging and the fitness tracker will recognize it for you.
This is useful for when you don't remember to start up an exercise. We'd recommend manually starting an exercise on the tracker when you think to though to ensure it's logged.
The Inspire HR will also keep an eye on your daily step count outside of this as well as your resting heart rate, to give you a clear picture of your overall health.
Connected GPS worked well in our testing. It means you won't be able to track your location by taking out just your fitness tracker, but it will use your phone's GPS features when you're on a run to bring the data directly into the app.
It gives you a much clearer picture of your route and how far you've traveled than a fitness tracker that doesn't offer any form of GPS, and we found it to connect simply and easily with little hassle in setting it up.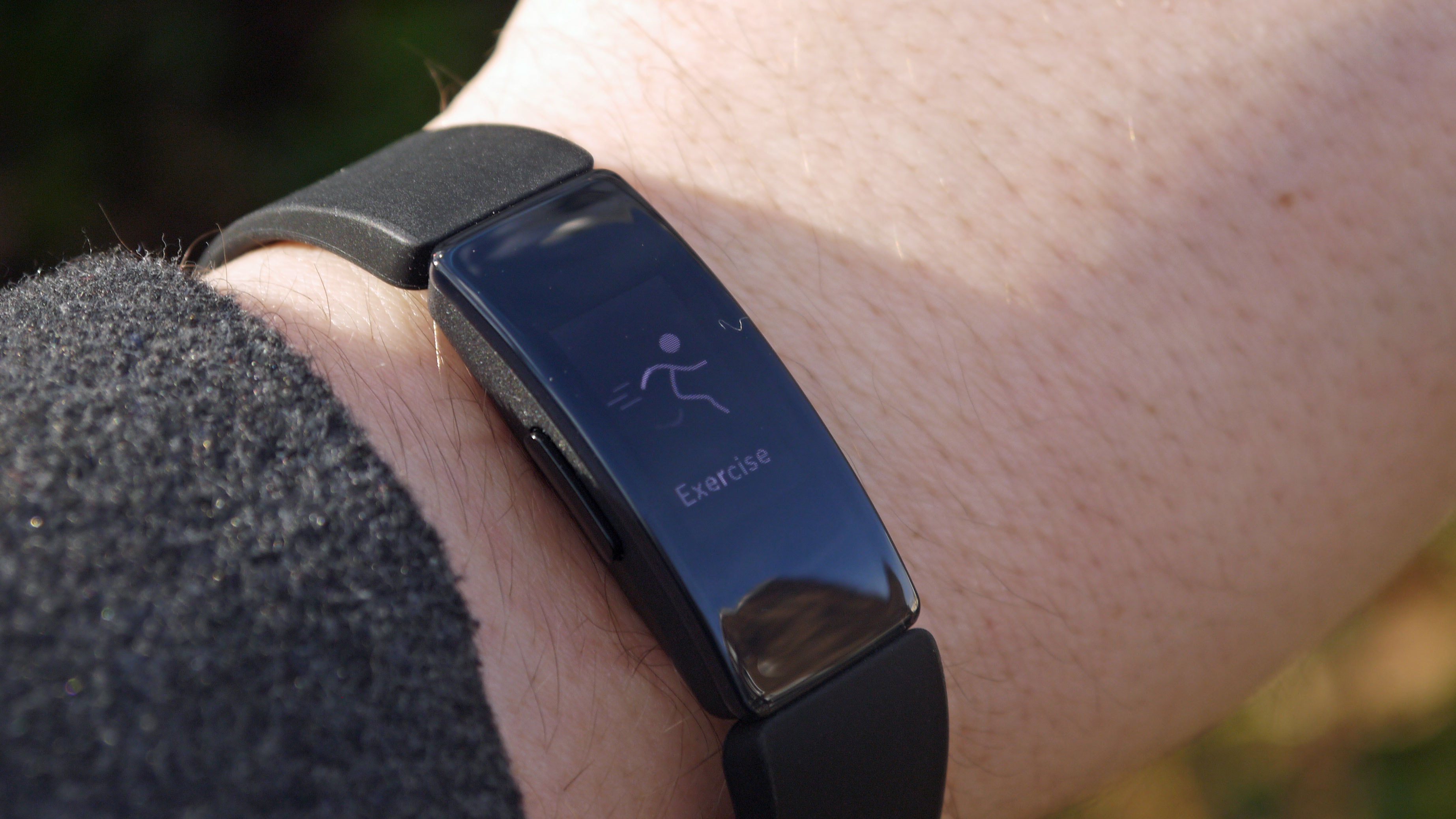 This also means you won't be waiting for ages for your tracker to connect to a GPS signal, and instead it's much more instantaneous so you can start your workout faster.
The tracker is comfortable for working out, especially as it's so light. You'll barely notice this strapped around your wrist, and that's a big help when you're exercising.
There are also guided breathing exercises on the tracker, which is a form of meditation. If you cycle up through the menu you'll find the choice of either a two minute or five minute exercise. These aren't as comprehensive as apps like Headspace or Calm that you can access on your phone, but if you need a few moments to chill out this can work really well.
It's not a feature worth buying the Fitbit Inspire HR directly for, but it's an added benefit that you may find yourself using from time to time.
Sleep tracking
The Fitbit Inspire HR will also track your nightly sleep stats. This isn't in-depth data like you'd get from a dedicated sleep tracker, but it's enough to make it worthwhile wearing at night.
In our testing, we found it as accurate as you'd expect a fitness tracker you wear around your wrist to be. Once or twice it felt like the data wasn't entirely accurate on the amount of time we slept, but as an overall picture we found it useful.
You'll get the amount of time you've slept, the times you've woken up and the time you were awake or restless throughout the night.
It will also break down your night into Sleep Stages to give you an idea of whether you suffer from any conditions such as sleep apnea.
Battery life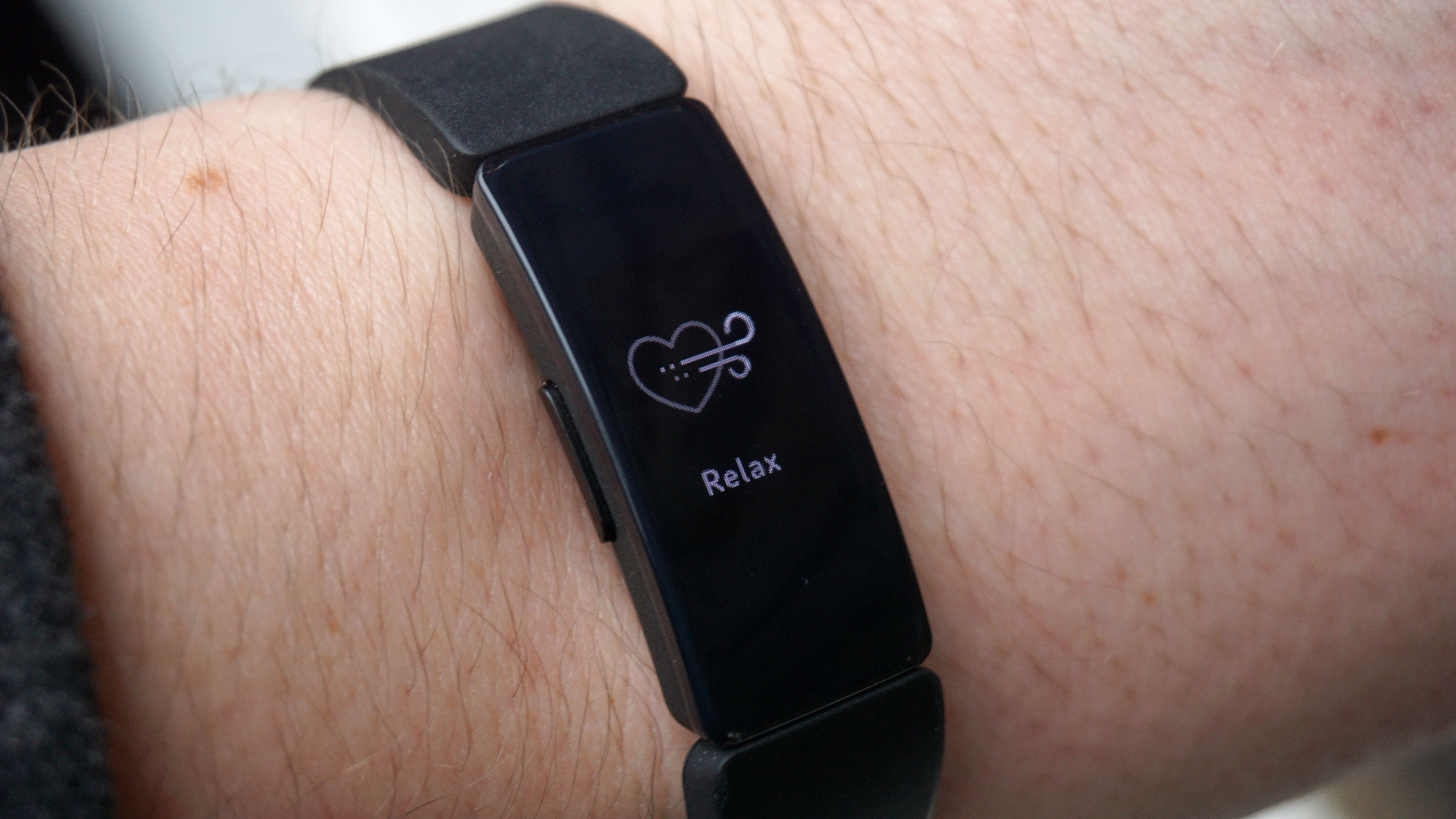 Fitbit estimated between four and five days of usage with the Inspire HR, and that's exactly what we got from the tracker. It lasted exactly five days from a 100% charge and had dropped down to 5% when we recharged it.
The more exercise you do with the tracker, the faster it will drain of course, but we don't think it's likely to drain completely in less than four days. That's quite a lot of battery, meaning you only have to recharge it twice a week, and you get a lot of features for that.
Plus, it only takes a couple of hours to charge from 0 to 100%, so you're still able to wear it each night to track your sleep.
It uses a proprietary charger, which is a touch annoying as it means you need to remember to take the cable with you when you go away. If you lose the cable, you can buy another.
It is one of the slickest designed chargers we've seen for a Fitbit product, but it is still frustrating that the company hasn't switched to a USB-C or micro USB method so you can use other cables to charge the Inspire HR up.
App
The good news is, the Fitbit Inspire HR is very likely to work with your smartphone. The Fitbit app works with most modern Android handsets and iPhones. You'll be using the Fitbit app on your phone to connect with your tracker and bring up lots of data that you can't always see on your wrist.
If you're worried that the app won't be compatible with your phone, you can check the official Fitbit website to find out if it will work.
Fitbit's app is easy to navigate, and it offers a variety of different stats that you won't be able to get on the Inspire HR itself.
For example, you won't be able to break down your sleep data on the tracker. To inspect that you'll have to head into the app, but we found it easy to see all of the information we needed and it's attractively designed too.
There's a dashboard greeting you each time you open the app, with your overall daily information displayed, such as distance covered, steps taken, calories burnt and active minutes.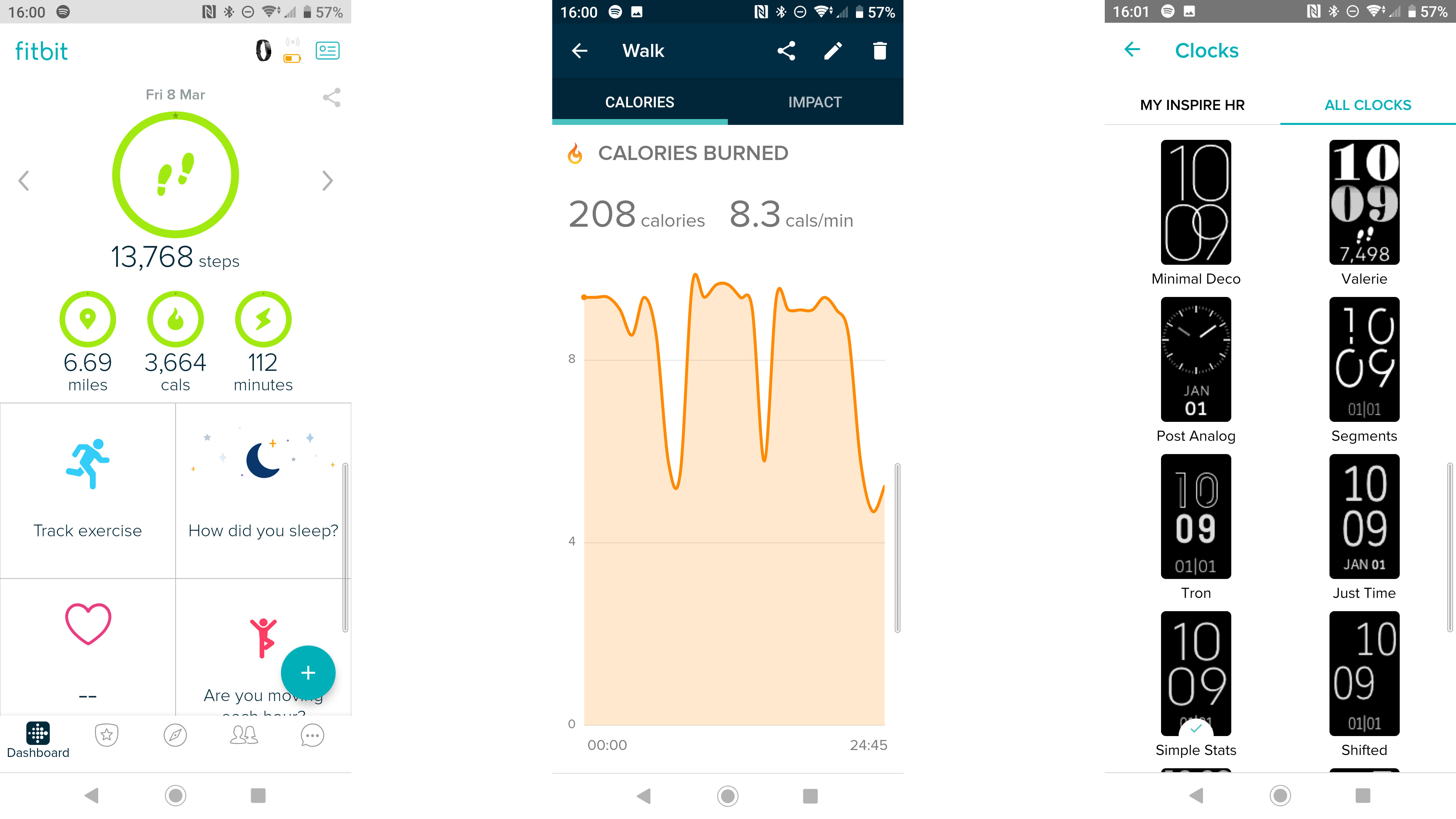 The app also has quick shortcuts to see other elements, such as your exercise tracking, your sleep and your resting heart rate.
If you own other accessories such as Fitbit Aria 2 smart scales, that data can also appear here in the app and you're able to log your water intake and calorie intake too if you want an even wider picture of your health.
If you want to push yourself in terms of exercises you can set up challenges, plus you can become friends with other Fitbit users to share your stats.
There's also the added benefit of female health tracking, which has previously been exclusive to the company's smartwatch range but it's here on the Inspire HR.
This allows you to record your menstrual cycle within the app so you can record symptoms and follow your cycle. It should also help give you a clear picture of how this can affect your exercise regime. We were unable to test this feature on the Inspire HR, but it has worked well on previous Fitbit devices.
An interesting new element is how updates work for your tracker. The Fitbit app will update your tracker gradually, meaning you won't have your fitness tracker out of action for a long time. It will download a little bit each time you're on Wi-Fi, and when it's done you'll be given a prompt to update your tracker.
That's a smart way of doing it, and it meant the one update we had in our testing time was smooth and without any real hassle.
Image Credit: TechRadar
Considering the price of the Fitbit Inspire HR, this tracker can actually do a lot.
If you're looking for a fully-fledged fitness device, this may not be for you. But considering it's under £100 / $100, you're getting a lot of features plus access to Fitbit's second-to-none app and integration.
Sharing stats with your friends is easy, and the app itself just works. You can buy cheaper fitness trackers with this amount of features and more, but you're unlikely to get such an attractive device that works this slickly.
Who's this for?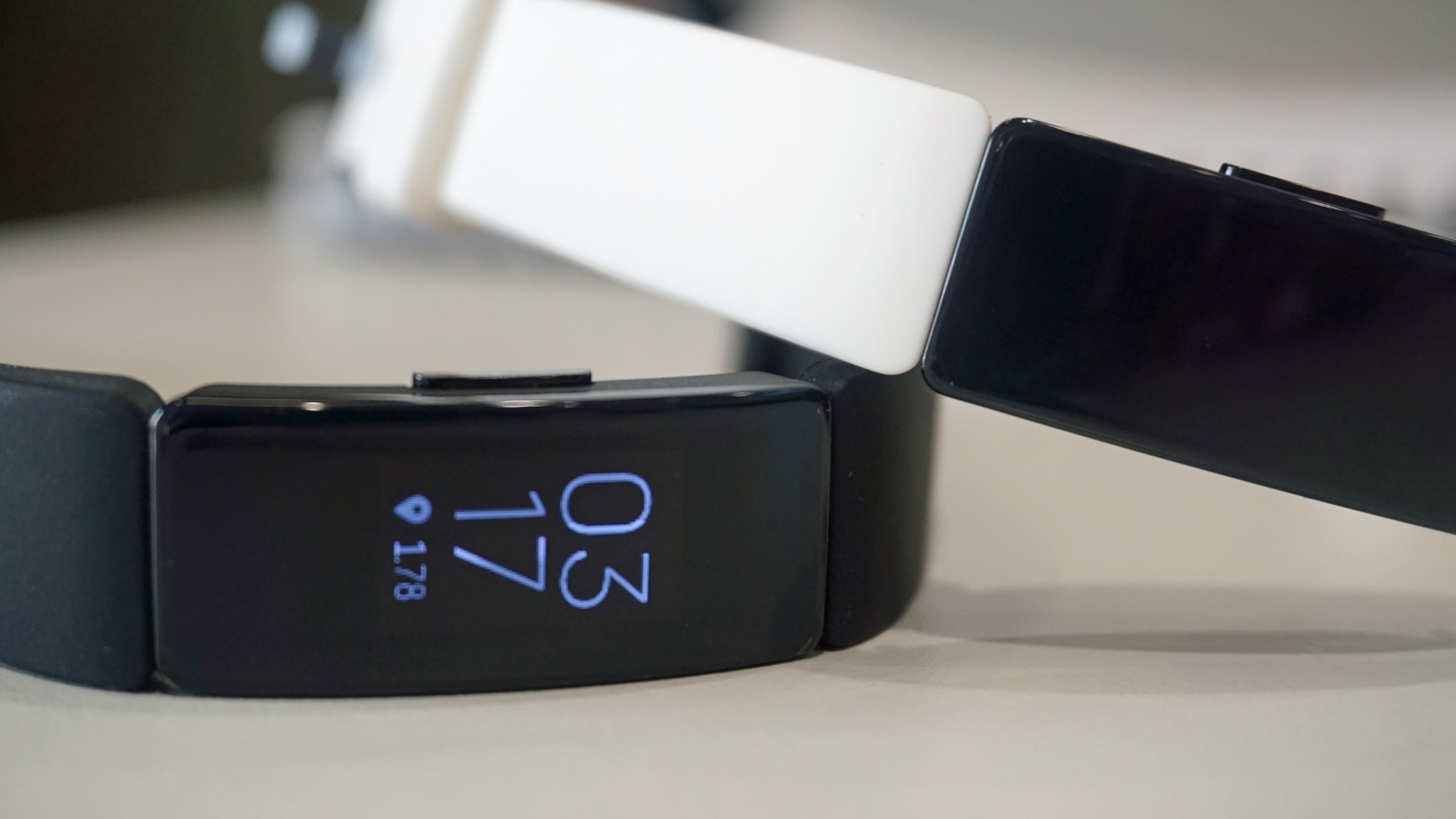 Anyone who is looking to start getting fit or wants to a find a way to monitor their exercise each week will likely enjoy the Fitbit Inspire HR.
It sports a heart rate monitor for extra insight over the standard Fitbit Inspire, but it lacks features like GPS, so it's probably not designed for you if you need to know your exact location with just your tracker on your person.
The Inpsire HR is beautifully put together making for one of the most attractive fitness trackers from the company ever. In fact, we think we prefer the design of the Inspire HR to the more expensive Fitbit Charge 3.
Should you buy it?
We won't lie - you can get cheaper fitness trackers with this feature set. If you want to be confident that your tracker will work smoothly and accurately though and you like the idea of the Fitbit brand and its app you'll be happy with what this provides.
It's also important to note that the price of this tracker isn't as high as previous Fitbit prices for comparable devices, so you're still getting a lot here for your money.
The Fitbit Inspire HR isn't the most comprehensive fitness device on the market, but if you want to track the odd jog or your increased step count when you're trying to get fit it's hard not to recommend this solidly built and impressive tracker.
First reviewed: March 2019
The competition
Don't think the Inspire HR is for you? Here's a selection of other trackers that may suit you.
Fitbit Inspire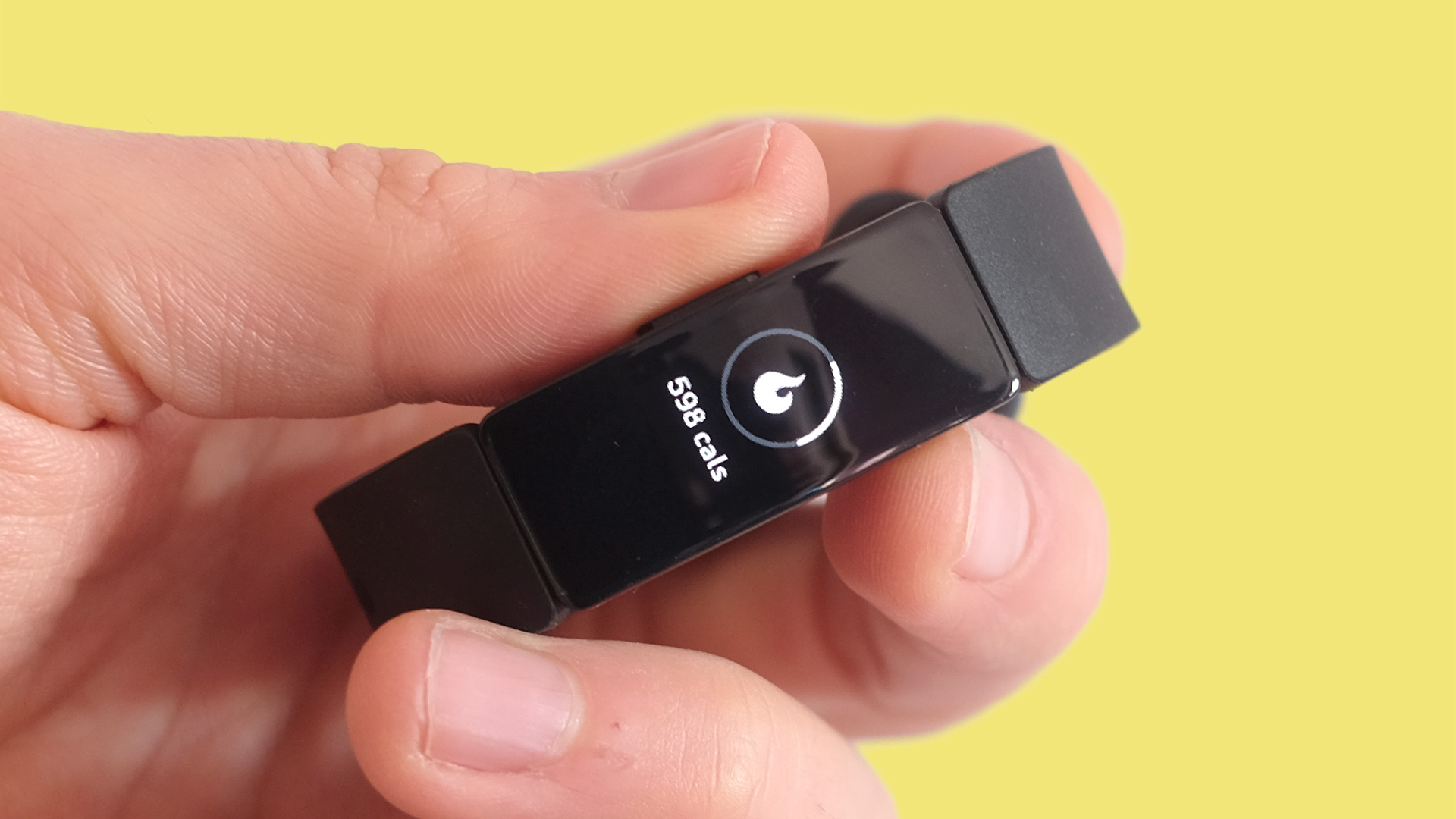 Don't need a heart rate monitor? Then you may want the Fitbit Inspire, which is exactly the same otherwise aside from being slightly thinner. It's a touch cheaper too, so if you don't need heart rate monitoring we'd recommend going for this.
Samsung Gear Fit 2 Pro
The Gear Fit 2 Pro is more expensive than the Inspire HR, but it comes with a full color and beautiful display that offers you a variety of different features to cycle through directly from your wrist.
It also sports some swim tracking tech, so it may be better for you in that regard too.
Xiaomi Mi Band 3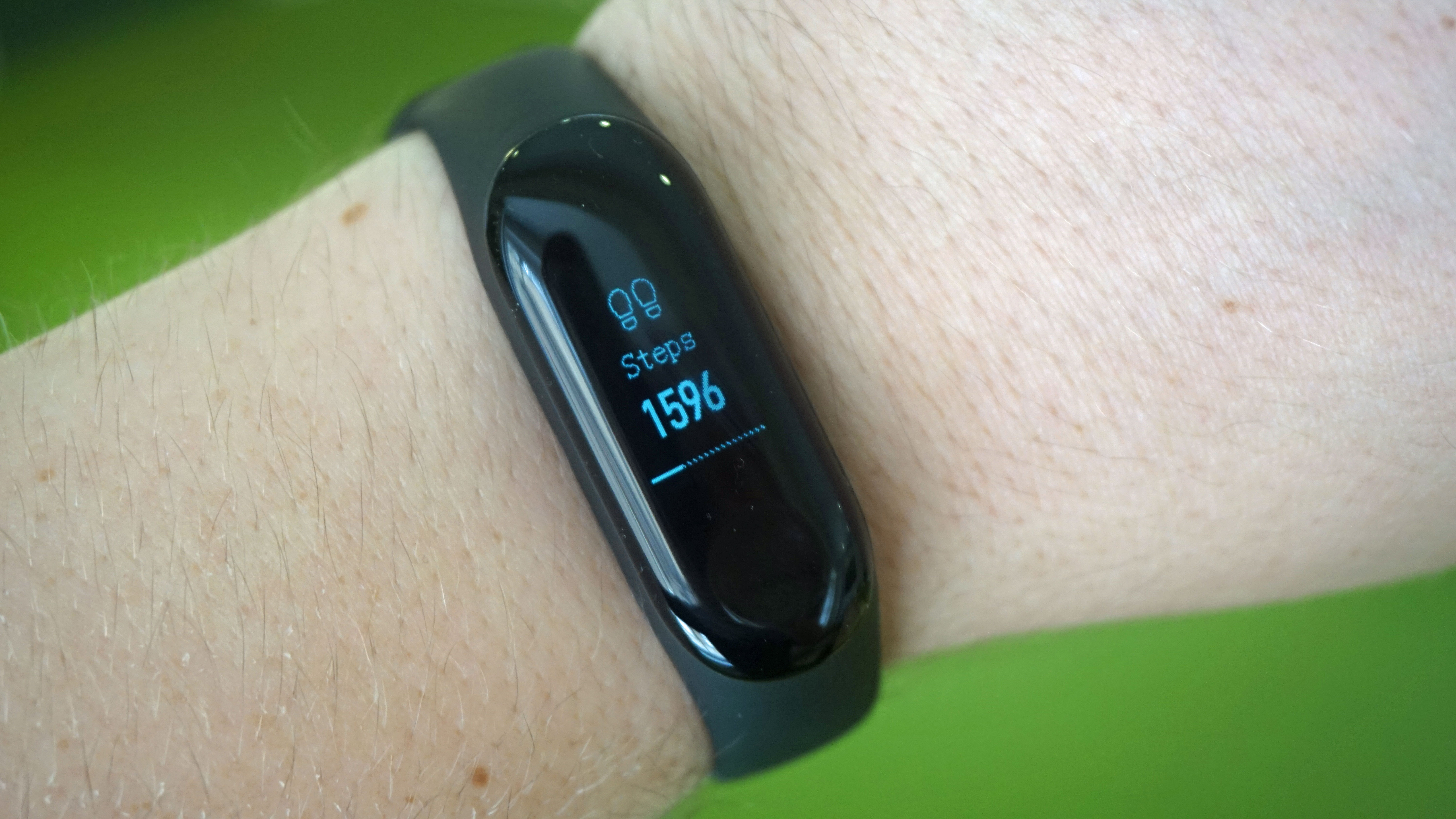 Looking to spend as little money as possible? The Xiaomi Mi Band 3 will allow you to do that. The fitness tracking isn't as comprehensive as the Inspire HR, plus it doesn't come with such a slick design and as useful an app.
But you do still get the basics and a heart rate monitor, so the money you'll be saving may mean it's worth losing some of those features.
Image Credit: TechRadar