When it was released, the Huawei P20 Pro was the company's most powerful smartphone as well as its best for taking pictures. Sure, the Huawei P30 Pro and P40 Pro both now trump it (as well as their non-Pro equivalents), but it's still worth considering.
The Huawei P20 Pro is now a lot more affordable, and it's no slouch at photography either. Plus, unlike the Huawei P40 and Mate 30 phones, it actually has Google apps.
When it came out, the P20 Pro was able to go head-to-head with the likes of the Samsung Galaxy S9 Plus and the iPhone XS (though it's worth noting both are more powerful), and it was more affordable than either of those devices too.
There are some quirks to the Huawei design and software to get used to, but the remarkable work done on the camera means the P20 Pro was, and still is, one of the most versatile camera phones out there, whether you're a happy snapper or an amateur enthusiast photographer.
Watch the P20 Pro in action below as we review the phone's design and screen:
Want to know just how good the Huawei P20 Pro is, to see if a slightly older yet more affordable smartphone is the right fit for you? Read on to find out our full thoughts.
Note: if you're looking to buy a Huawei P20 Pro, the first thing you should know is that after Google suspended Huawei's future access to Android Play Store and security updates, there are serious question marks over the future of Huawei and Honor phones.
Although Huawei has confirmed the Huawei P20 Pro will receive the Android 10 update, along with most other pre-existing Huawei phones, there's no word on the future of Huawei phones in 2020 and beyond. That means we don't know if the Huawei P20 Pro could get future Android builds when they come along in the future.
Huawei P20 Pro price and availability
Huawei P20 Pro price: £529, AU$900 (around $685)
Launch price: £799, AU$1,099 (around $1,050)
Release date: April 2018
The Huawei P20 Pro price has jumped since its launch in April 2018, with the handset now available for around a third the price it initially launched for, if you buy it SIM-free.
That means it's considerably more affordable than its £799, AU$1,099 (around $1,050) launch price, and it also means it's comfortably cheaper than the Huawei Mate 20 Pro and Huawei P30 Pro which have succeeded it.
However, for the very latest prices and offers, check out our dedicated Huawei P20 Pro deals page to make sure you get it at its cheapest.
The Huawei P20 Pro isn't available in the US as the Chinese firm continues to work at a way to officially sell its products in the country, so if you're in the USA you'll have to import the handset yourself.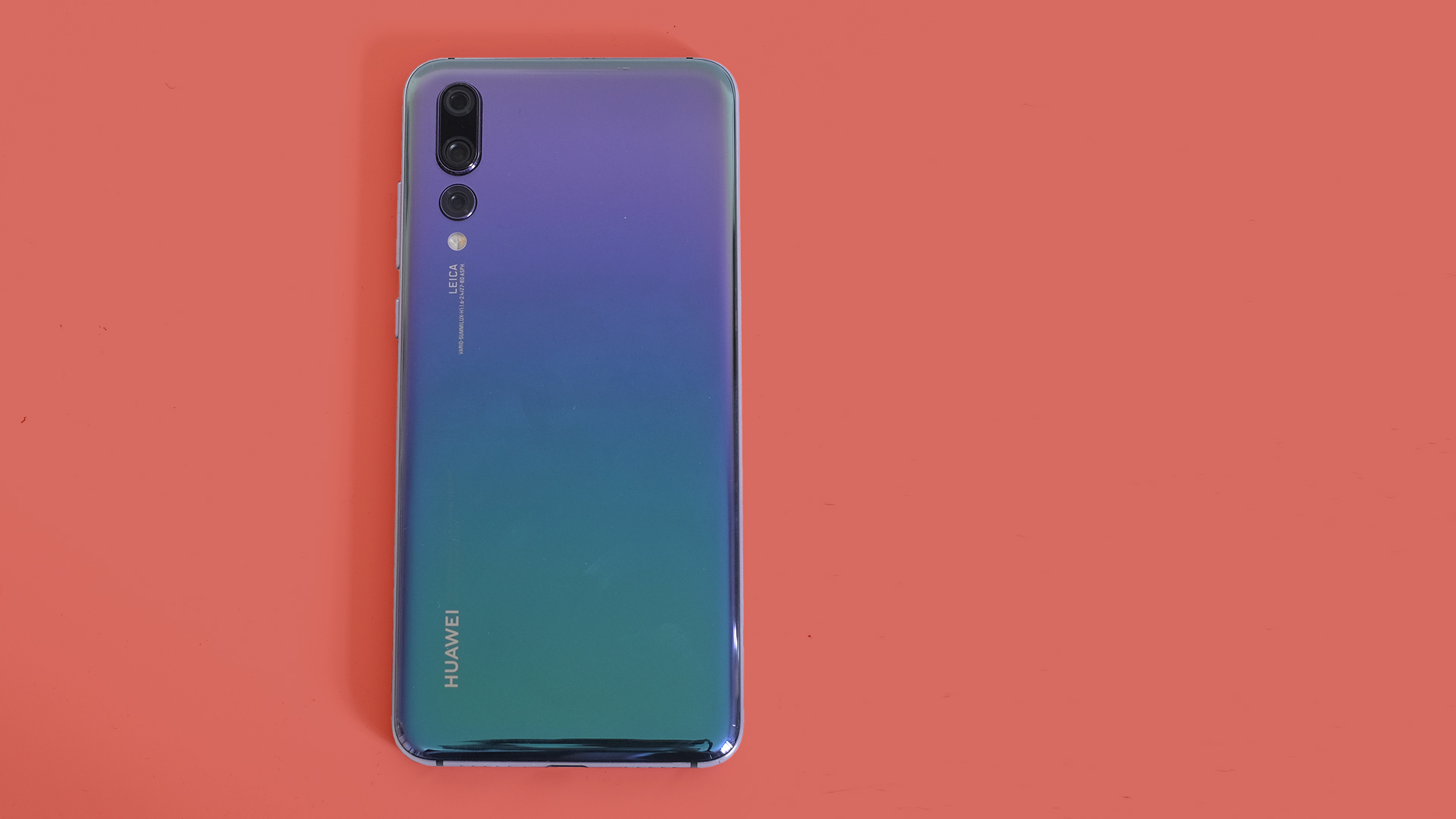 Key features
40MP rear camera with 3x optical zoom
Kirin 970 CPU with AI smarts
Big 4,000mAh battery
Huawei P20 Pro specs
Weight: 180g
Dimensions: 155 x 73.9 x 7.8mm
OS: Android 8.1
Screen size: 6.1-inch
Resolution: 1080 x 2240
CPU: Kirin 970
RAM: 6GB
Storage: 128GB
Battery: 4,000mAh
Rear camera: 40MP + 20MP + 8MP
Front camera: 24MP
If you're interested in the Huawei P20 Pro, there's a good chance it's because of the camera array. There are three cameras on the back, one 40MP main sensor, a 20MP black and white one and a 3x zoom 8MP camera.
You can shoot at 3x without digital zoom, and even get good results at 5x. The real star here is low light performance, though. Standard night shooting just about matches the best, but a dedicated night mode lets you take low light shots with dynamic range to rival an APS-C DSLR.
The Huawei P20 Pro also has a very high-resolution 24MP front camera for detailed selfies and reliable face unlocking.
Other parts of the phone are a little more conventional. We get the Kirin 970 CPU used in the Huawei Mate 10, 6GB of RAM and 128GB of storage. Note that the Mate 20 Pro has since appeared boasting the Kirin 980 CPU.
Like other recent higher-end Huawei phones, the P20 Pro makes quite an impact with its highly reflective glass finish. And it has a much larger battery than most, 4,000mAh, without any obvious added bulk to the shell.
Huawei has clearly tried very hard with this phone. The result is a mobile more interesting than the Samsung Galaxy S9 or S9 Plus, particularly if you're going to make use of all the camera's high-end features.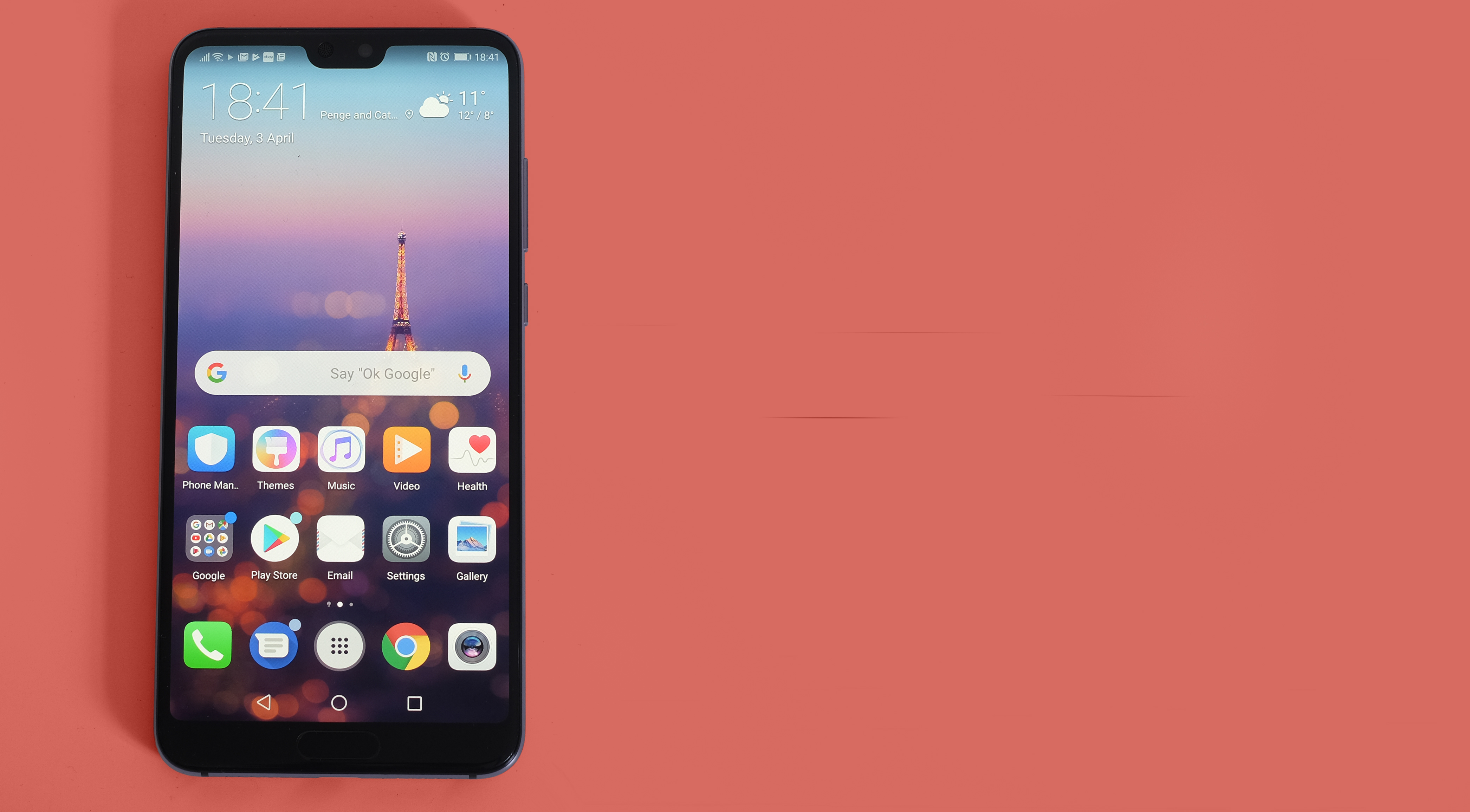 Design
Eye-catching glass and metal design
Manageable size for a 6.1-inch phone
No headphone jack
'Shiny' is the word that sums up the Huawei P20 Pro's design best. Yes, it's big. Yes, it has a notch. But sheer reflective spangliness makes this phone stand out.
It's two big plates of rounded-off Gorilla Glass with a filling of metal finishing off its sides. This metal is aluminium, but it has a polished rather than anodized finish, and looks more like steel. Unlike the stainless steel iPhone X though, a month into using the P20 Pro, the frame is scratch-free, boding well for the phone's durability.
For the most part you'll probably see the black and blue versions of the Huawei P20 Pro sold in the UK, but there's also the more eye-catching gradient version. Purple at the top turns smoothly to a greenish-turquoise at the bottom, the sort of finish you see more often on a supercar than a phone.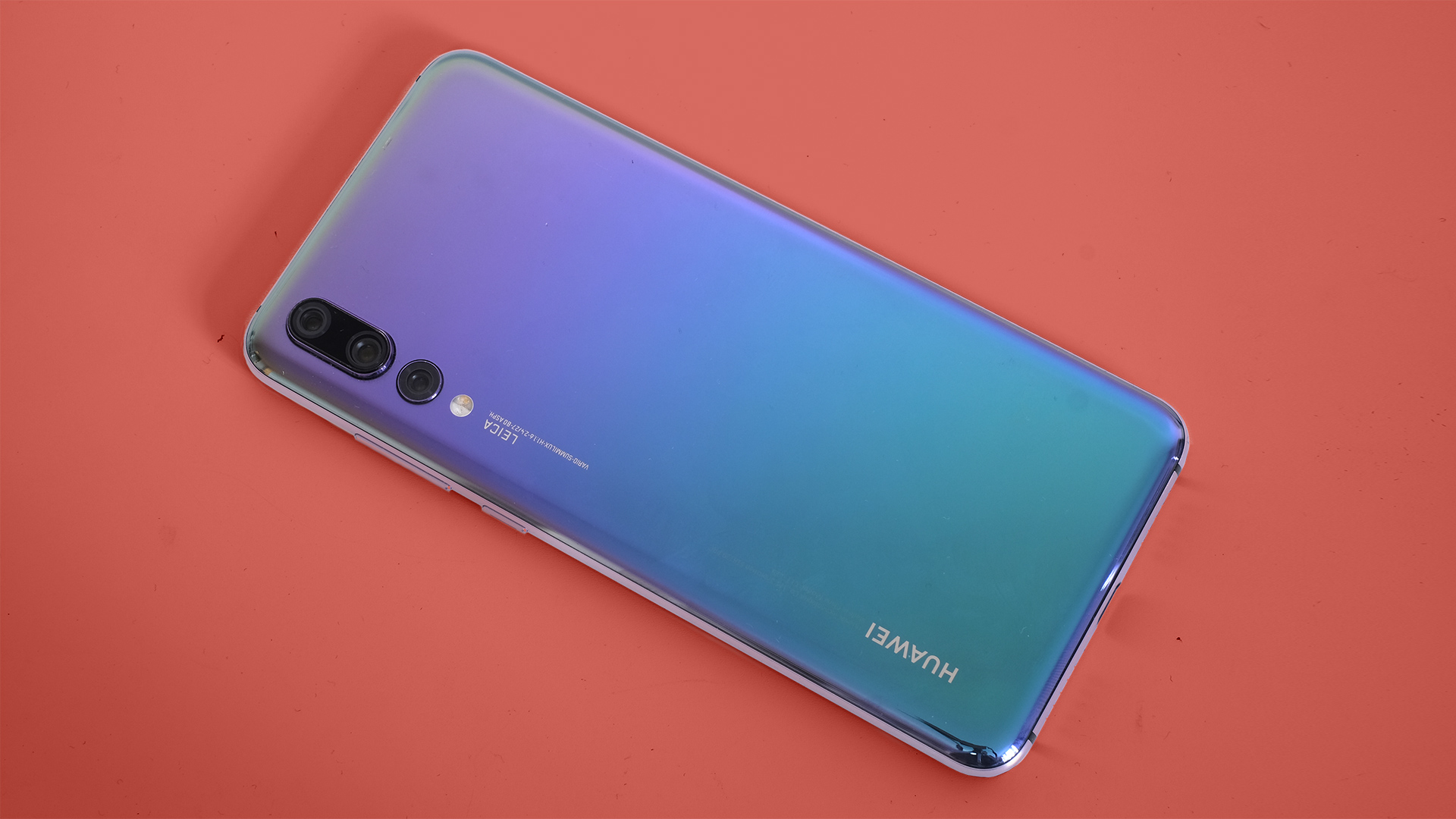 This will be a bit of an audience-divider. If you find it a bit much, the other finishes are lower key. All are highly reflective, though. The Huawei P20 Pro is also a little prone to fingerprint smudges and the slightly raised camera housing picks up dust fairly quickly.
The Huawei P20 Pro has a larger battery than its peers, but you can't tell from its feel. This phone is actually slimmer and lighter than the Samsung Galaxy S9 Plus at just 7.8mm thick.
However, the Samsung does a slightly better job of appearing to be 'all screen' front-on, because the Huawei's screen does not curve around at the sides. Only the glass does, and just the last millimeter or so at that.
The Huawei P20 Pro – along with the standard Huawei P20 – was the first but not the last Huawei phone with a notch, the display cut-out made famous by the iPhone X.
Apple's excuse for the notch is it is required for all the tech used for the phone's face unlock feature: a normal camera, an IR camera, a dot projector, a proximity sensor and more.
Huawei doesn't have quite as good an excuse, as there's just a high-res camera and speaker on the Huawei P20 Pro's front. However, the notch is smaller. Notches may end up being a Crocs-grade "what were we thinking" move in hindsight, but they seem to be in fashion for now.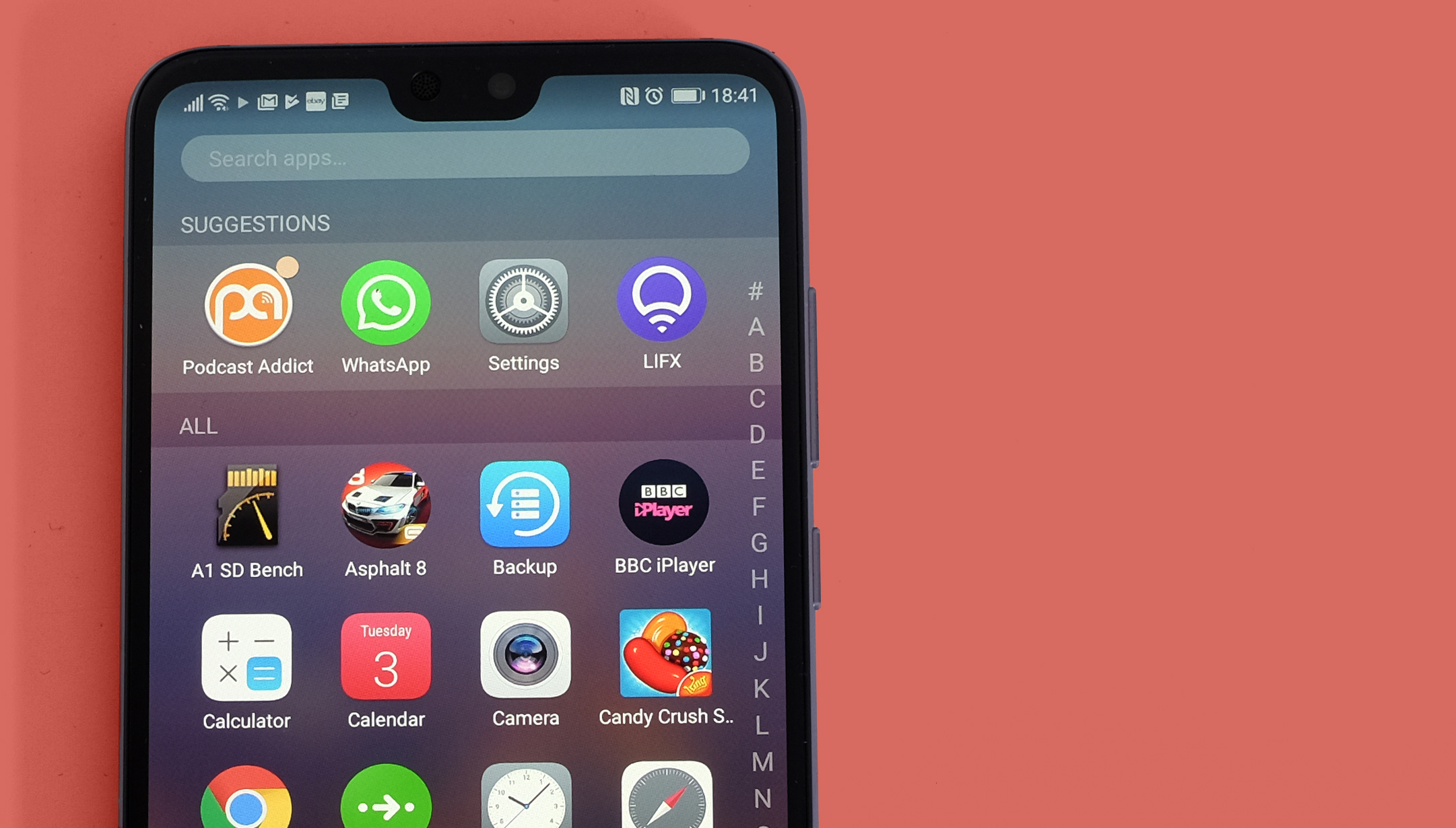 You'll most likely forget the notch is there after a couple of days, particularly as when watching standard 16:9 video there are black bars where the notch sits anyway.
Huawei has also followed another recent trend, as the Huawei P20 Pro doesn't have a headphone jack. You get a USB-C to 3.5mm adaptor in the box, or you can use wireless headphones. We would, obviously, prefer a real jack.
The phone is water resistant to IP67, meaning it can handle submersion in one meter of fresh water for 30 minutes... but don't start dunking it for fun.
There's a fingerprint scanner below the Huawei P20 Pro's display and, like those of every recent higher-end Huawei, it's extremely fast. It takes you to the home screen in a heartbeat.
Its face unlock is exceptionally fast too. Rather than using clever IR techniques like the iPhone X, the Huawei P20 Pro simply reads the high-resolution feed from its front camera to recognize your face.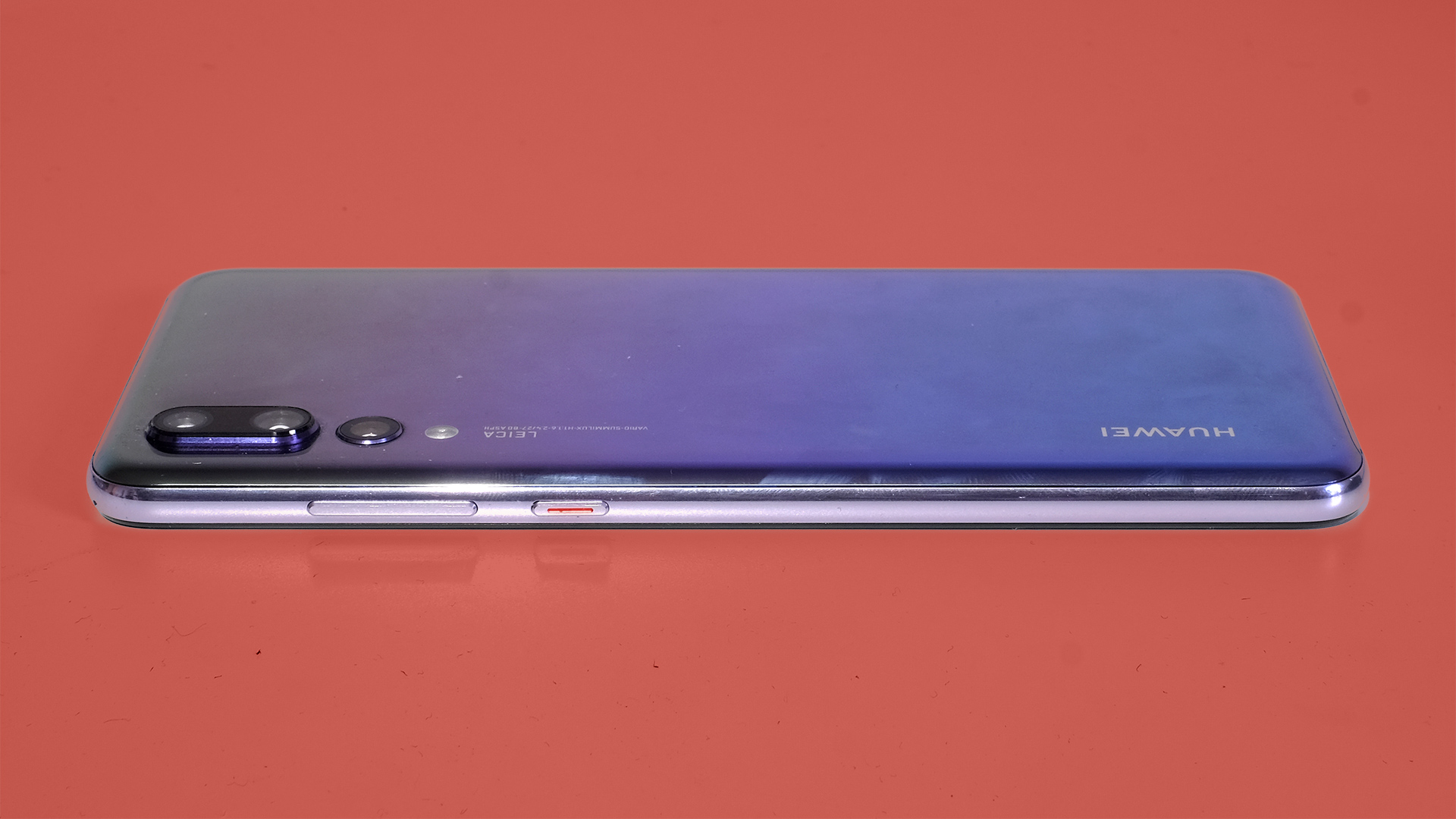 It works, in our experience, every time. And even holds up well in lower light. This does suggest it is built for speed rather than security, though.
You don't even need to press the power button to make Face Unlock work. While there's no proximity sensor to tell when your face is in front of the screen, the Huawei P20 Pro's gyroscope senses when the phone has been picked up, or taken out of your pocket. It then immediately starts scanning for your face.
As Huawei's phones still don't have the innate desirability of a Samsung or Apple, raw outer hardware was never going to be the top selling point of the Huawei P20 Pro. However, Huawei has done well here: the phone feels and looks expensive, and about as slim and light as we could hope for given its screen size.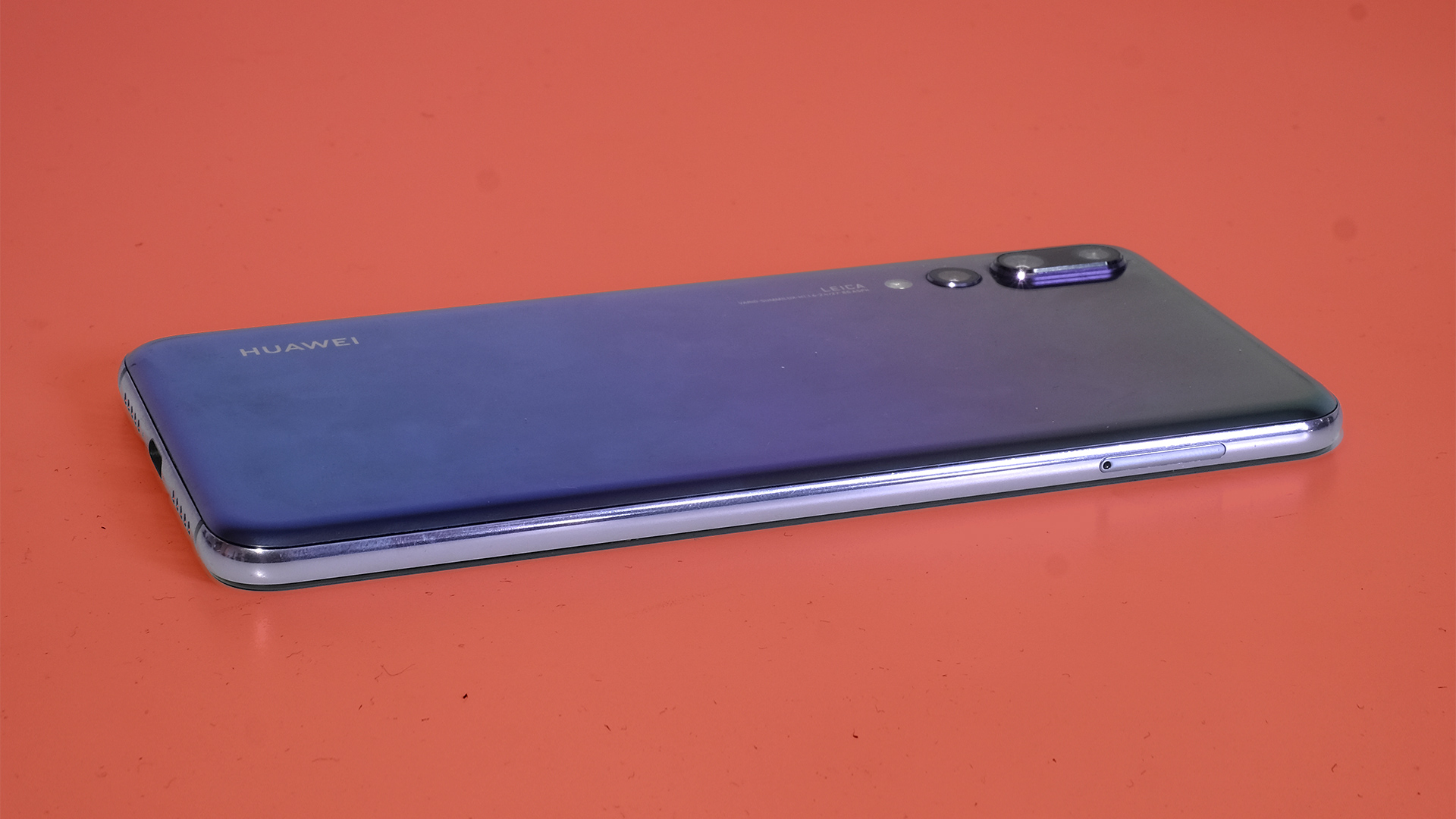 Screen
6.1-inch AMOLED display
1080 x 2244 resolution
Customisable screen character
Like most other high-end Huawei phones, the P20 Pro does not have the highest display resolution in its class. This is a 1080 x 2244 AMOLED screen.
The numbers sound unusual, but this is really just a Full HD screen stretched out to an 18.7:9 aspect ratio. That's right, it's even 'wider' (or longer) than most other 18:9 screen phones.
Pixel density of 408ppi isn't even close to the 529ppi of the Samsung Galaxy S9 Plus. The only time you're likely to notice though is when using a phone-based VR headset – and if that fad isn't dead, it is at least dormant.
Okay, if you look close you can see slight evidence of the PenTile fizz that affects Samsung OLEDs that don't have insane pixel density. This is caused by Samsung OLED's pixels sharing sub-pixels, reducing perceived resolution a bit.
The Huawei P20 Pro's display quality is excellent though. Blacks are perfect, and there's minimal blue cast when the phone is tilted, which affects some less advanced OLED displays.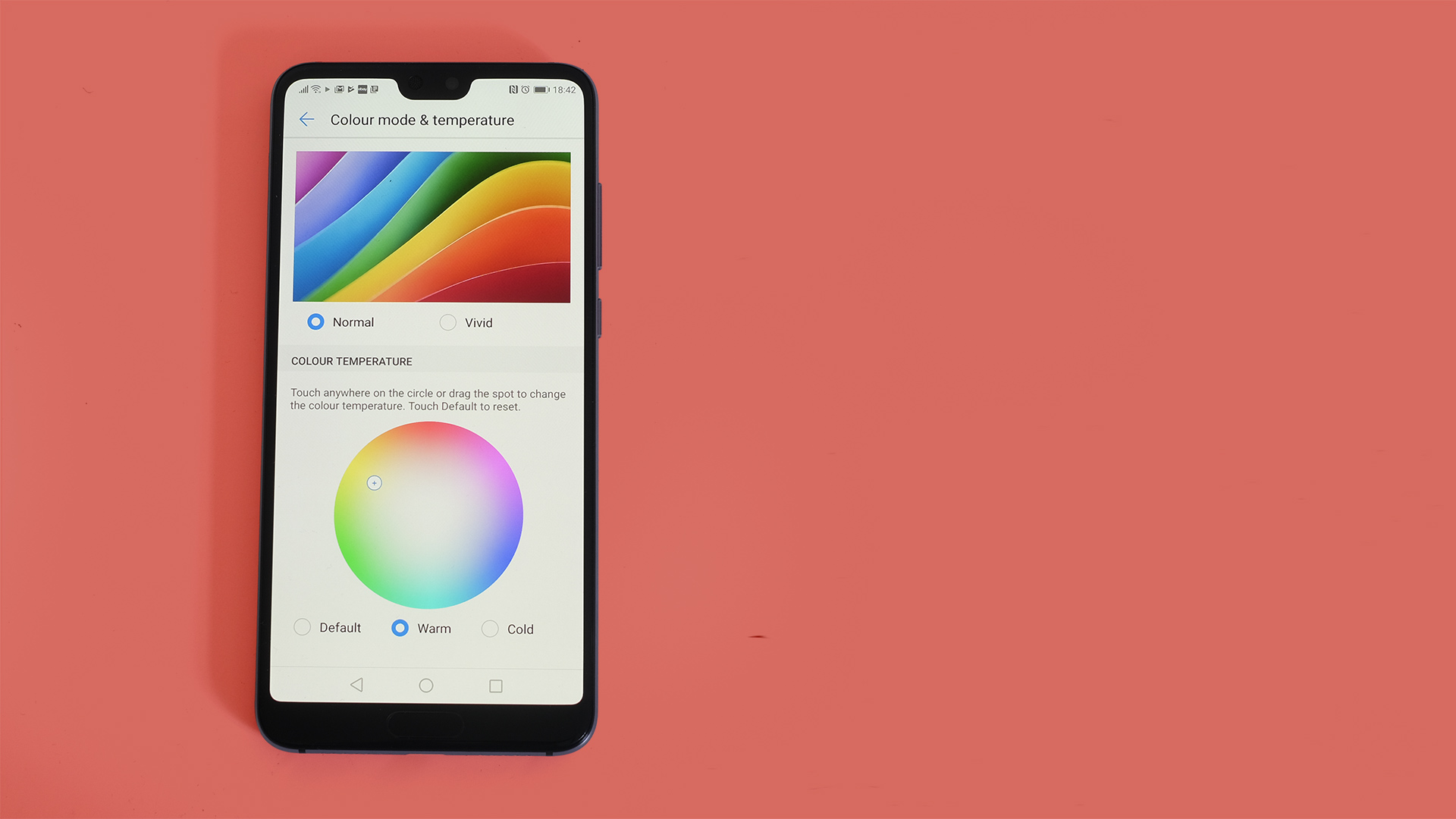 You also have a choice of color profiles. Standard color looks a little more saturated than old industry standard sRGB, but offers a fairly natural, relaxed look. Vivid color deepens tones a little, with a slight subtlety trade-off.
Like other Huawei phones, you can also tune the color temperature to your liking, although the default setting is pleasant.
The Huawei P20 Pro also has a few more unusual tweaks. Its display can change the color temperature on the fly to suit ambient light conditions, and the top part of the screen can be blacked out to completely hide the notch. This looks particularly neat as this little area can still be used for notification icons when blacked out.
Also worth noting, the P20 Pro ships with a pre-fitted screen protector, giving it the best chance of avoiding scratches possible. That said, this plastic film does attract fingerprints pretty readily, so you may want to swap it for a tempered glass screen protector down the line.
Battery life
Fast 1 hour 24 minute charging
1.5-2 day battery
Matches Mate 10 Pro for stamina
The Huawei P20 Pro has a 4,000mAh battery, which is a solid 500mAh larger than the Samsung Galaxy S9 Plus's.
Its stamina is excellent as well. You can abuse this phone with hours of audio streaming and good chunks of YouTube streaming and it'll still last a full day. We've found it quite easy to finish the day with 40% charge.
Watch our camera review above for to find out exactly what makes the P20 Pro a 4.5/5 device.
The Huawei P20 Pro also performs extremely well in our standard video playback test, where we play a 90-minute video at maximum brightness. It only loses 9% in this test, which is exceptional.
That's the same result as the Mate 10 Pro managed, which is no great surprise as they have similar basic hardware and the same battery capacity.
We did have a suspicion the Huawei P20 Pro has an undefeatable automatic brightness algorithm going on in the background, though. The phone's screen is clear in bright conditions, but didn't look searing indoors even with the backlight set to the maximum.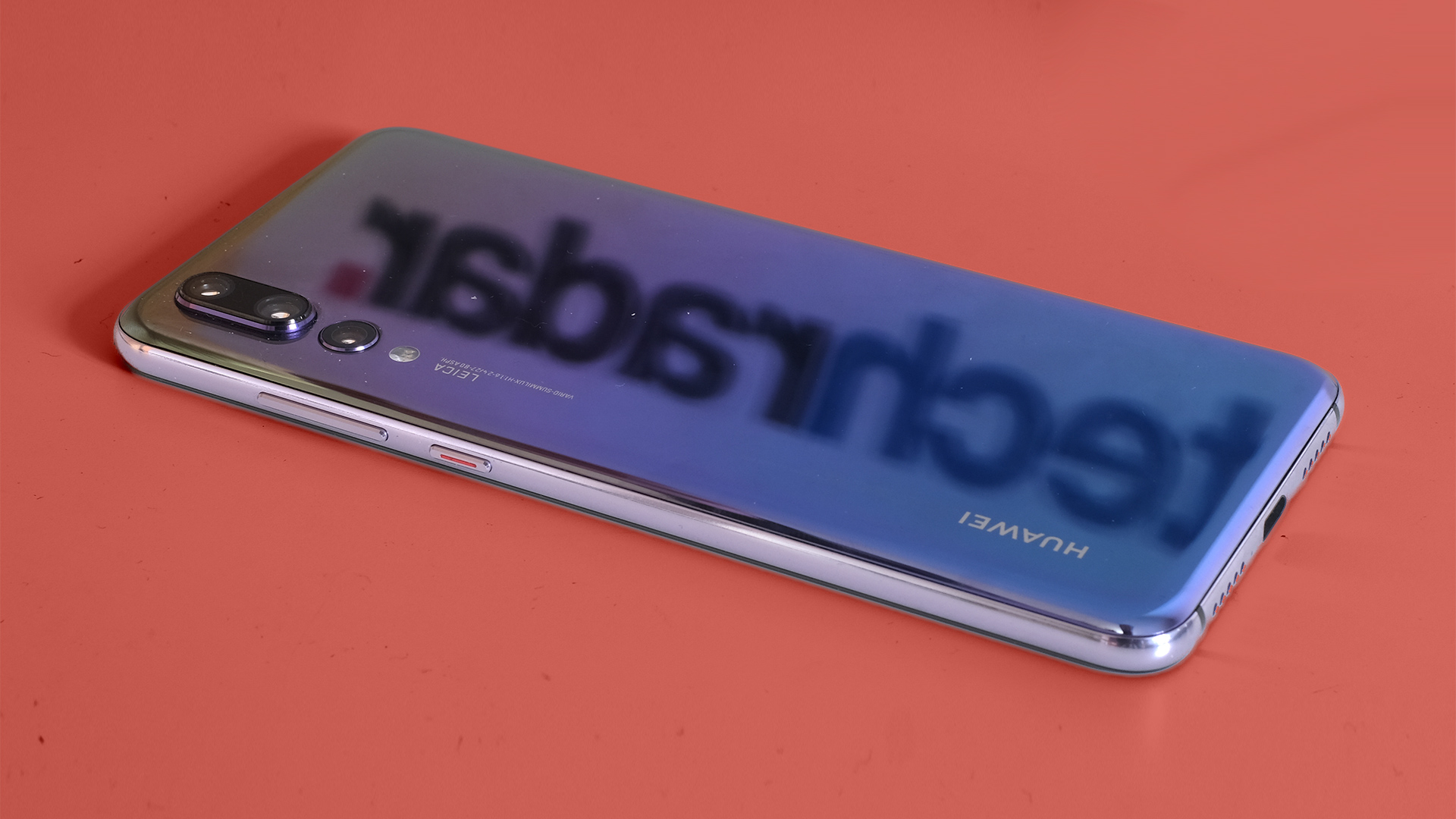 To test further we re-ran the test with a 100W LED bulb shining just over the screen to try and kick the display up a gear.
Sure enough, the test took 13% off the Huawei P20 Pro's battery that time. However, battery life is great whatever way you try to skew things.
It charges fast too. The supplied fast charger takes 1 hour 24 minutes to get the Huawei P20 Pro from completely flat to 100%. It takes 45 minutes to get from 0% to 80%.
There's one missing piece of the jigsaw though: the Huawei P20 Pro doesn't support wireless charging.
Many of you won't care, particularly when even the latest standards don't get close to the speeds of the plugged-in charger. However most rival flagships now offer this feature, including top-end phones from Google and Apple, and it's also something available in the Huawei Mate 20 Pro.
Camera
Great 3x optical zoom
Excellent low light Night mode
Clever, if aggressive, AI scene modes
The Huawei P20 Pro has three cameras arranged across its back, and while it's not quite the four of the more recent Huawei P30 Pro, that's still an impressive line-up. Here's where things get really interesting.
Our main camera has an ultra-high resolution 40MP sensor. It is backed up by a 20MP black and white sensor that helps with processing, including decreasing image noise and improving dynamic range.
The third camera has a 3x 'zoom' lens and an 8MP sensor, letting you zoom into a scene without using digital zoom.
It is a fantastic, ultra-flexible setup, and one that raises many questions. Can you really shoot 40MP photos? How much more detail do they have? And has low light performance been sacrificed for resolution?
Thankfully, most of these questions have satisfying answers.
As standard the Huawei P20 Pro shoots 10MP photos. You can shoot 40MP ones if you like, and even 76.2MB DNG RAW files when using the Pro mode.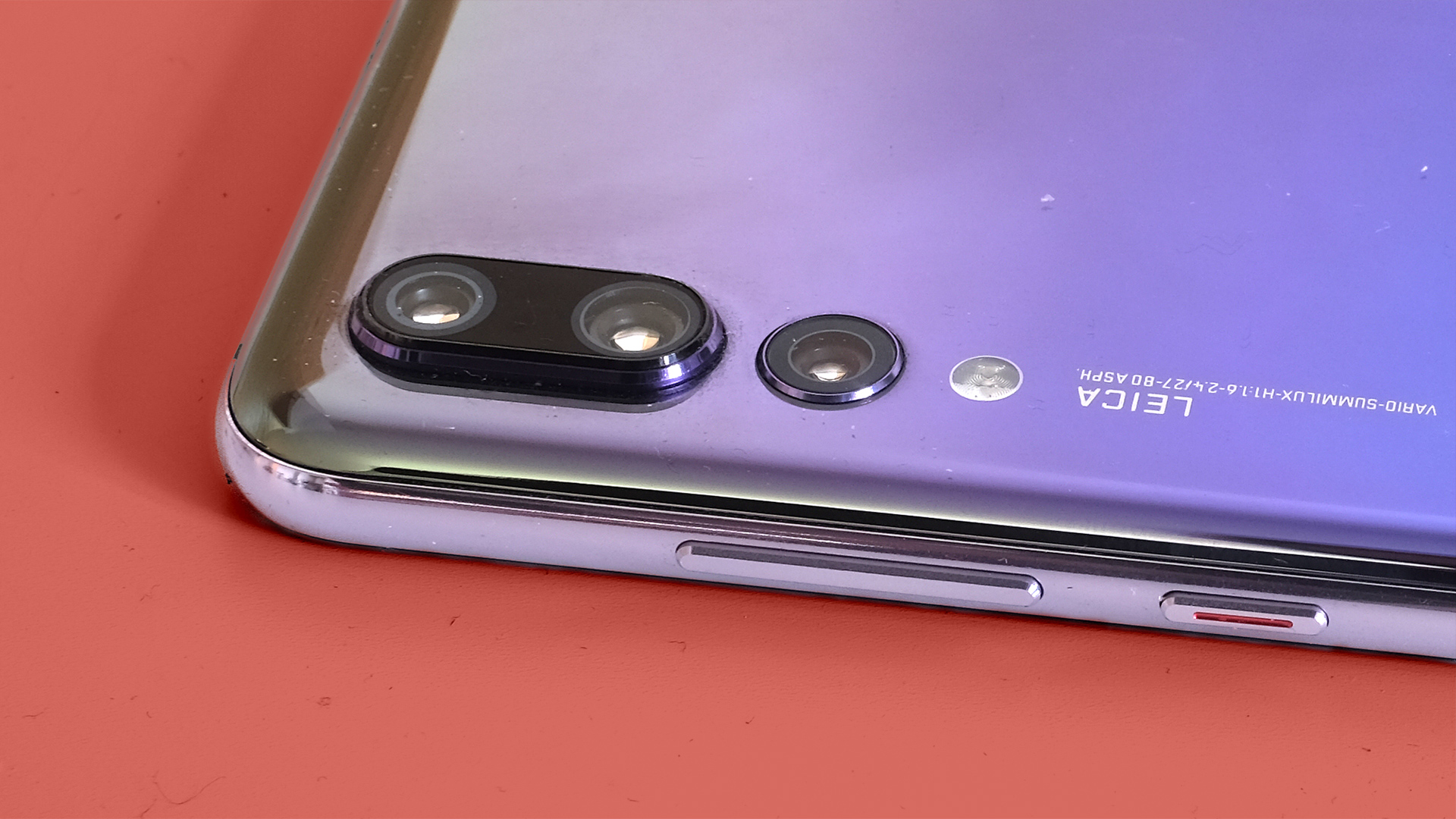 Huawei's JPEG handling is so good that when you zoom to 100% in a 10MP photo it actually appears far sharper than a corresponding 40MP one. However, look deeper, to the point where the 10MP photo devolves to blocky pixels, and you'll see far more detail in the 40MP files.
At pixel level these images aren't ultra-sharp, but there's real additional image data here.
However, you're actually better off going with the way Huawei intends you to use the P20 Pro's camera, shooting 10MP shots and using the zoom. Despite having lower resolution, the 3x zoom camera can take some great pics and renders more detail than a crop of the RAW or 40MP JPEG files can provide.
You can also shoot at 5x zoom, which Huawei calls Hybrid Zoom. This uses far more intense processing than the 3x zoom and doesn't uncover more true detail. But it does make far-away text clearer and uses smart upscaling to make the photos look right rather than blurred like a simple digital zoom.
Huawei loves smart camera processing, and this has also resulted in something called AIS. This is Huawei's software version of optical image stabilization (OIS), using smarts to get rid of the need for mechanical stabilization.
What this means is the camera never seems to slow its exposure beyond 1/16 of a second, using processing and the black and white secondary sensor to improve image quality. Judging by our hand-wobbling tests, though, the 3x zoom camera does have OIS, because a zoom lens effectively amplifies any shakiness in your hand.
The Huawei P20 Pro uses relatively high ISO sensitivity at night, but the resulting images are still comparable with the best, including the iPhone X. Huawei's processing and AIS really seems to work, although the Galaxy S series greater (although decreasing) reliance on OIS can still result in better photos in low light.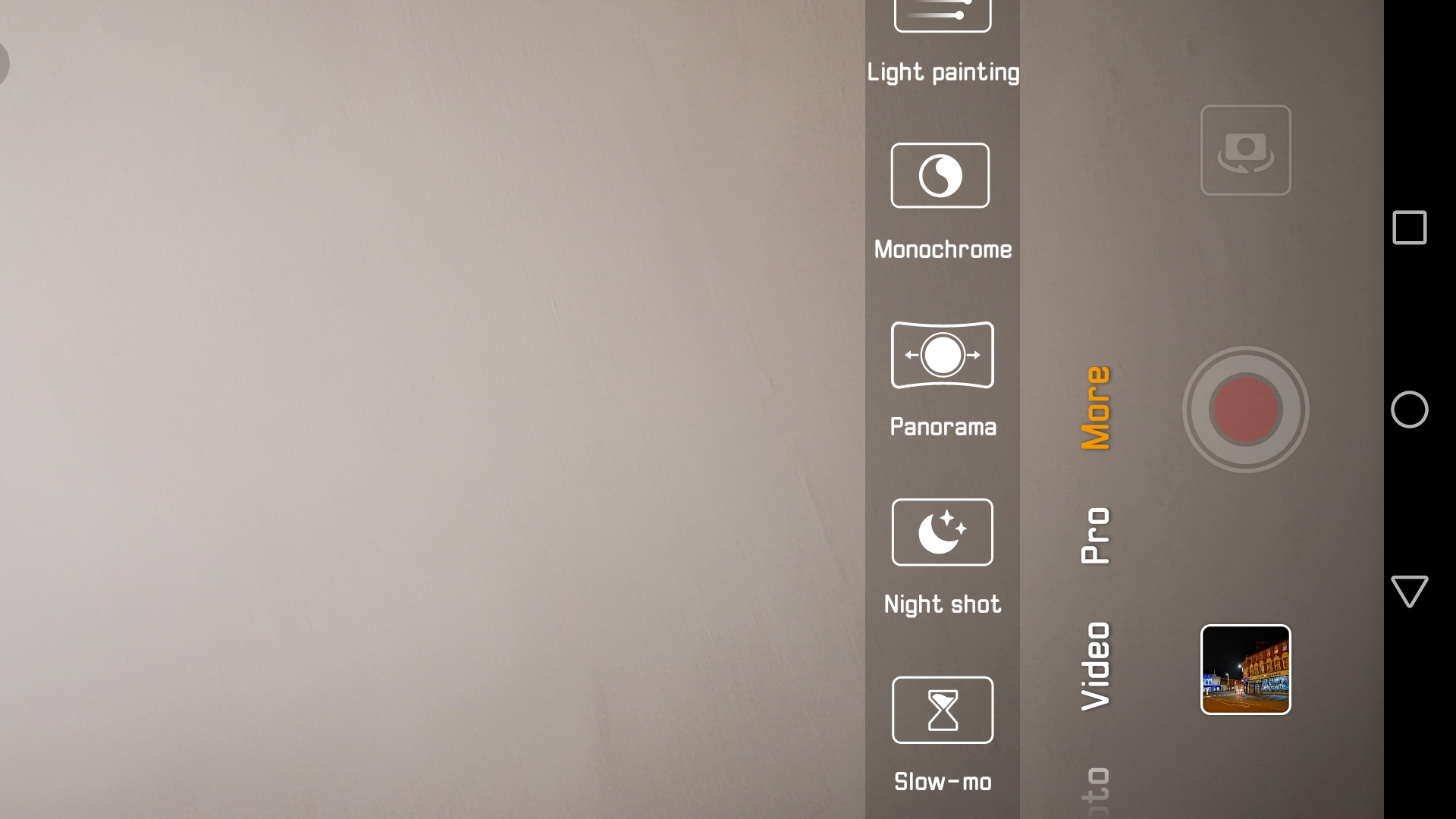 This all changes when you use the Huawei P20 Pro's Night mode, though. It's nestled fairly deep in the camera app, but is one of the phone's most impressive features.
It merges a barrage of images over 3-6 seconds. Previous Huawei phones had a similar mode, but this one is designed to be used handheld, which is an amazing feat of AI image processing. And it works.
Using night mode, you can get ultra-dark shots with dynamic range and detail far in excess of most of this phone's rivals. To really test it, we put it up against an APS-C sensor FujiFilm X-T10 on a tripod. It needed an exposure of around 15 seconds to shoot at ISO 200.
The dynamic range results of the Huawei P20 Pro shot and the FujiFilm X-T10's are comparable, which is nuts. Of course, the FujiFilm image has radically more detail, making the Huawei image look extremely soft as soon as you zoom in a little, but it is a remarkable achievement nevertheless.
It can handle the kind of scenes that make other phones curl up and cry, and even gives the excellent Pixel Night Sight a run for its money.
The Huawei P20 Pro's camera is an interesting jigsaw puzzle of technology. But are its actual, normal images any good?
For the most part they are great. Its 10MP images are sharp and detailed, and low on noise. The phone handles exposure and dynamic range optimization very well, although at times it can be a little too obsessed with retaining every square inch of highlight, making some parts of a photo look a little dull.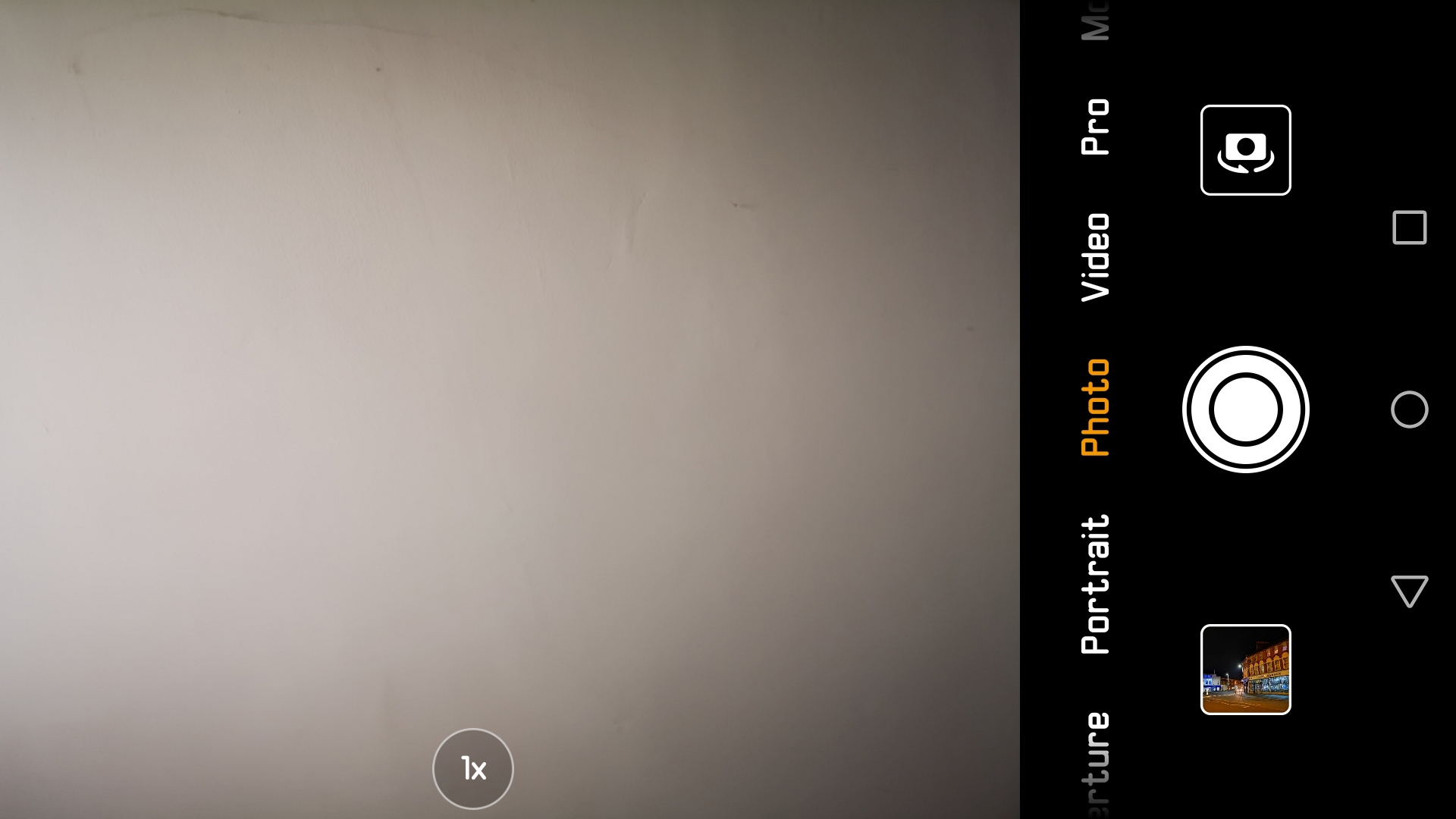 Thanks to the large main sensor and relatively wide f/1.8 Leica lens, natural bokeh (background blur) is lovely and very pronounced. While there's a great virtual wide aperture mode, you don't need to use it to isolate near subjects.
The one part we don't always like is the workings of the AI scene selection. The Huawei P20 Pro constantly analyses the camera feed, to see what you're taking a photo of. It'll recognize food images and nature shots with great speed and accuracy.
However, what it does to these pics isn't always welcome. It turbo charges color too often, resulting in near-toxic levels of color saturation in some shots. When this is the photographic equivalent of face smoothing, it'd be nice to have some control over its level.
You can switch it off entirely, though, which might be an idea if you end up with fields that look as though they've been laced with neon.
The camera app is not as tasteful or well-designed as Samsung's or Apple's either. Its big rounded font seems inspired by the interfaces of Nikon cameras, but they make the app seem less polished and less 'professional'.
Camera samples
Video
The Huawei P20 Pro can shoot video up to 4K resolution, but for handheld footage you may want to stick to 1080p. At 4K res there's no image stabilization, which makes footage look juddery and amateurish.
At 1080p, though, the software stabilization is extremely effective. You can run along the road with the Huawei P20 Pro in your hands and the footage will still look pretty smooth.
You lose the stabilization when the frame rate is upped to 60fps at 1080p, so you do need to think about whether you need stability or another strand of image quality.
There's slo-mo shooting too, up to 960fps (32x speed). However, at 960fps and 240fps you can only shoot at 720p, the same cap as the Galaxy S9's 960fps mode. These videos don't look super-detailed though, so won't come across well on a large screen.
Selfies
The Huawei P20 Pro's front camera has specs worth bragging about too. It uses a very high-resolution 24MP sensor.
This resolution isn't all that obvious in the shots it takes, though. The Pixel 2 still takes clearer selfies with cleaner looking fine detail.
However, like the rear camera it holds up well in low light, making us wonder if there's some automatic pixel-binning going on. This is where sensor pixels are combined to increase low light performance at the expense of detail.
Interface and reliability
Android 8.1 with EMUI 8.1
Customisable via themes
Great day-to-day performance
The Huawei P20 Pro runs Android 9 with Huawei's EMUI interface on top, having been upgraded from Android 8 which is what it launched with. If you've used a higher-end Huawei phone in the last year or so, you'll know what to expect.
When first turned on with that version of Android, the Huawei P20 Pro doesn't not have an apps menu. It uses an iOS-like arrangement where all your apps end up on the home screens, for you to organize into folders.
Some like this, many don't. However, you can bring back the more conventional vertical-scrolling apps menu following a trip to the Settings menu. This is how we ended up using the Huawei P20 Pro, with the apps menu in place.
Find out more about the P20 Pro's UI and multimedia chops in the video above
A slim alphabet nav bar to the far right of the screen lets you quick-flick through an epic app collection. And there's a row of frequently, or recently, used apps right at the top of this app screen.
The odd Huawei quirk remains. A lock screen that cycles through a library of stock style images is in place as standard and the settings menu is different to that of standard Android.
This phone also supports themes. A Themes app offers scores of the things made by Huawei fans, and the Huawei P20 Pro has 12 pre-installed ones made by Huawei.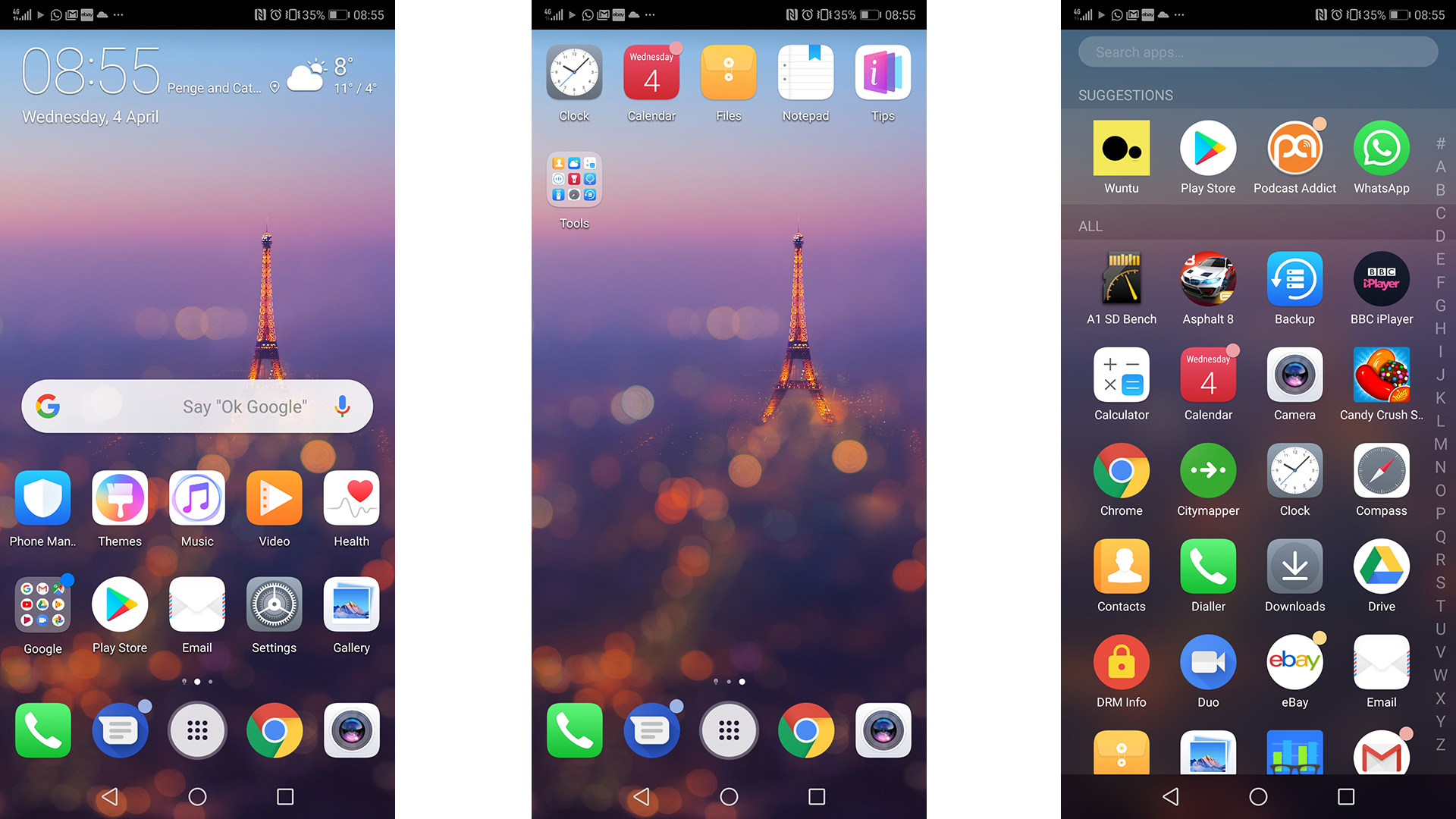 The quality and tastefulness of these themes, even Huawei's ones, varies hugely. But it does let you alter the phone's look much more than, say, a Pixel phone.
EMUI's performance on the Huawei P20 Pro is excellent. It feels extremely fast and responsive, and app load times are much shorter than those of a mid-range phone.
There are quite a few pre-installed apps, though. These aren't the slightly offensive third-party bundle-ins you see in some phones, just basic utilities Huawei thinks will prove useful.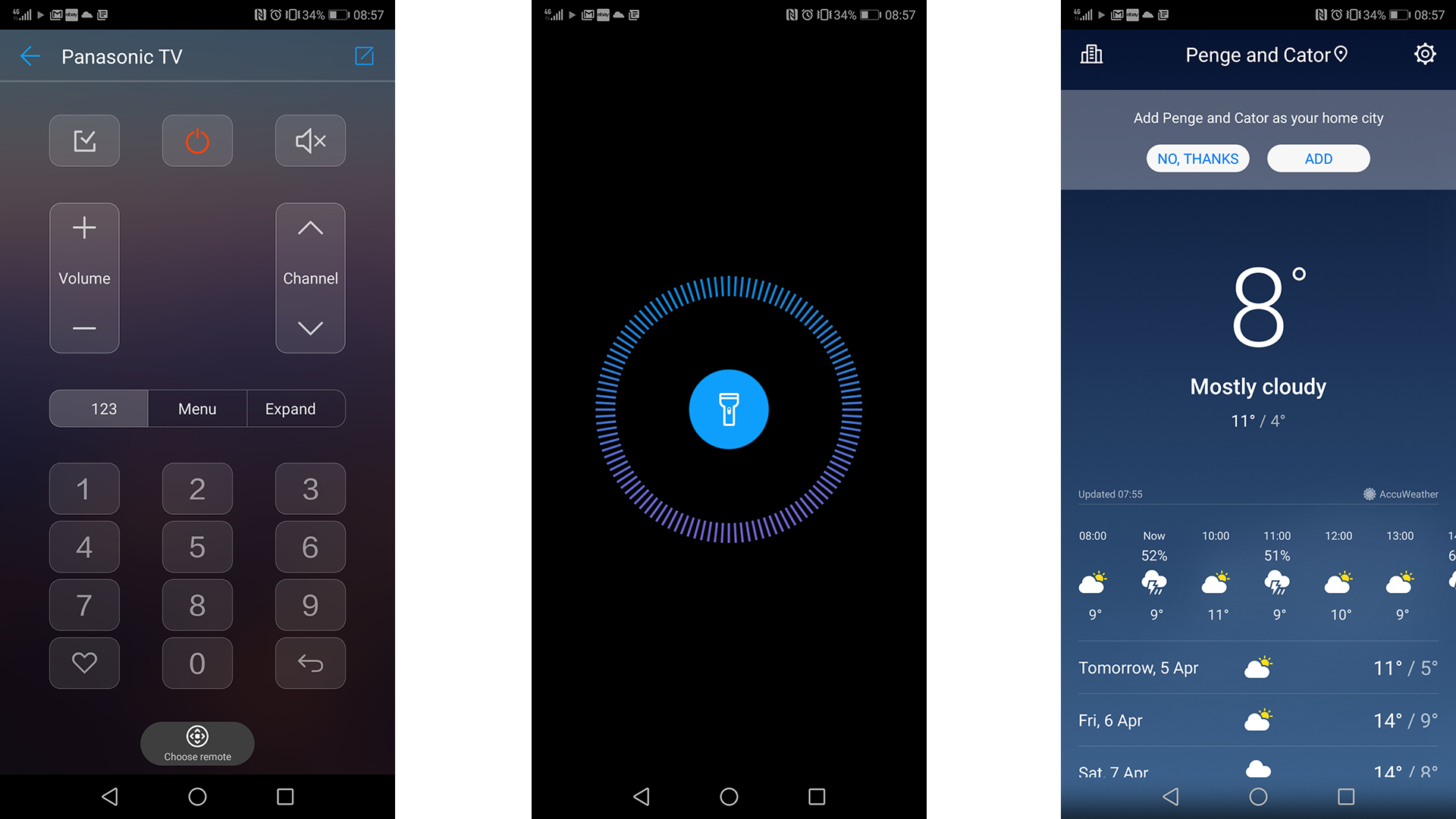 There's a weather app, a torch, a translator, a phone manager, a file manager and Mirror, which lets you zoom into the selfie camera's view. You could use it to check your makeup or see how terrible your eye bags look on the way to work.
The Huawei P20 Pro also has a Smart Controller app that uses the IR transmitter on the phone's top edge. This mimics the signals sent by old school home entertainment remotes, letting it function as a universal remote.
Unlike a Logitech Harmony remote, you can't programme in macros that fire off a chain of commands with a single press, but it is a neat extra that may go unnoticed. The other big names in the business stopped using IR blasters years ago.
Movies, music and gaming
Good speaker with dual drivers
Doesn't support Netflix HD streaming
Screen is great for games and movies
You might imagine the Huawei P20 Pro's notch would be an annoyance for games, but it isn't. When the phone recognizes a game or app that won't play well with the notch, it automatically blacks out the notch area, removing it from play.
It's not as simple as doing this for all third-party apps, though. Spotify keeps the notch in place, but Candy Crush Saga and Asphalt 8 do not. This is pretty clever, although we have seen some reports of it causing interface issues with the odd app.
As you'd hope, high-end games run very well on the phone, with no obvious performance dips in the titles we tried. The Huawei P20 Pro may not have the most powerful GPU in the phone world, but it has a lot of pep for one with a display only a little more pixel-packed than 1080p.
The Huawei P20 Pro has its own video and music apps. These are basic players that let you watch, or listen to, content on your phone.
Unfortunately, the phone doesn't currently support Full HD streaming through Netflix, though. It's limited to 540p. While this still looks good, could pass for 720p, and will save your data allowance a further beating, this is likely to disappoint many.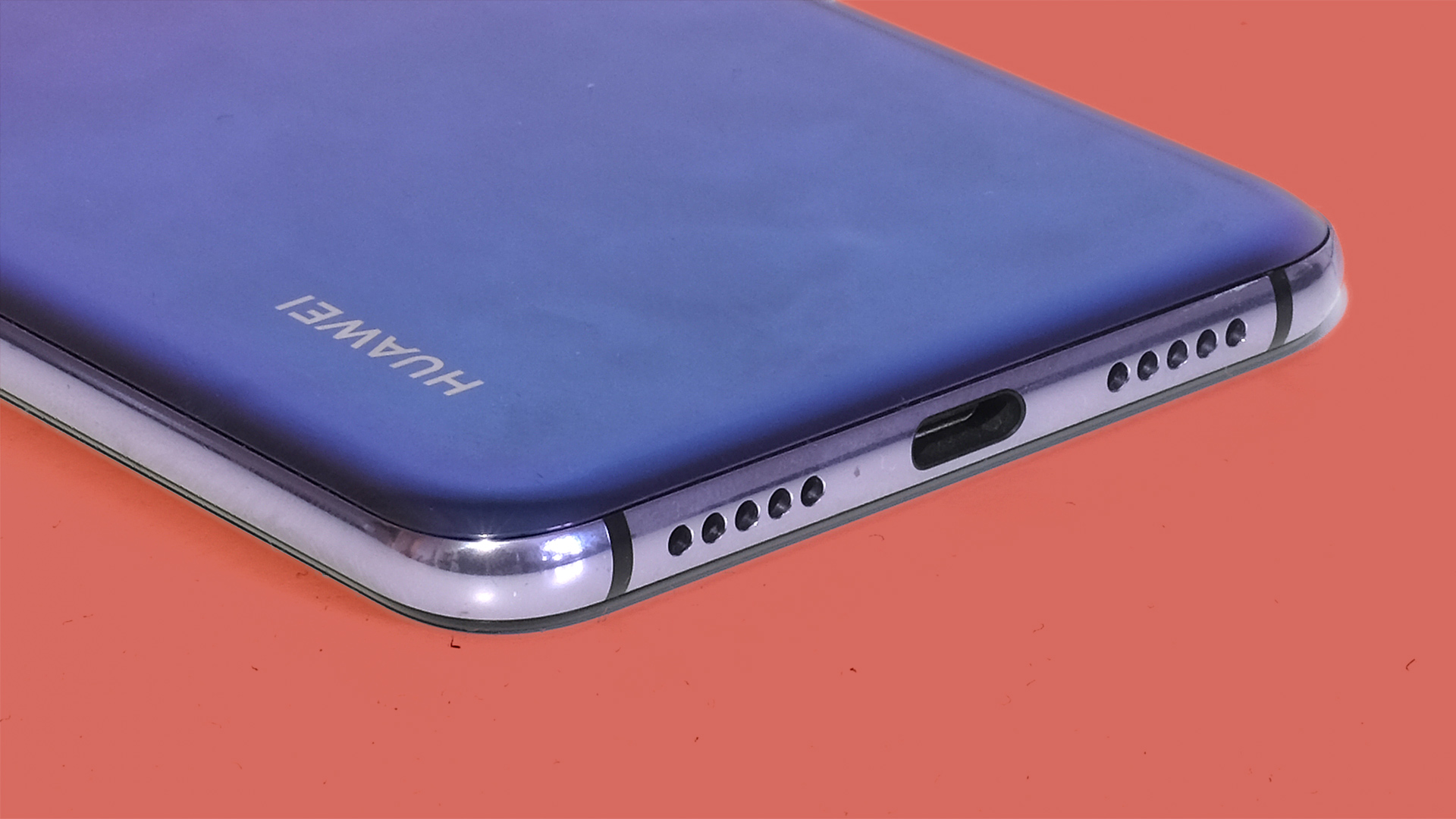 The Huawei P20 Pro does have good speakers, though. A driver on the bottom edge of the phone delivers the bulk of the sound, and a front earpiece speaker is used to play additional higher-frequency sound to stop it sounding lopsided when held in front of your face.
This is a meaty-sounding speaker array with good bass for a phone and unusually solid separation of the parts of a mix. It's not at the level of the Razer Phone, but does make podcasts and YouTube videos enjoyable.
At maximum volume the treble becomes a little brittle and harsh with certain content though, showing how hard Huawei pushes the phone's micro drivers.
Performance and benchmarks
Less power than other flagships
Uses the same chipset as the Mate 10 Pro
The Huawei P20 Pro doesn't have a brand new chipset, using the same Kirin 970 CPU as the Huawei Mate 10 Pro, released in late 2017.
This chipset has eight cores. Four are Cortex-A73s, designed for high-performance tasks, the other four are Cortex-A53s, for everyday use.
This puts it behind the Snapdragon 845 used in some variants of the Samsung Galaxy S9 Plus, which has semi-custom 'Kryo' cores based on the Cortex-A75 and Cortex-A55 designs. These newer rival cores are more efficient, offering greater power at the same clock speed.
The Huawei P20 Pro also has a lesser graphics chipset than the Galaxy S9 Plus. It's a 12-core Mali G72 here, where the Exynos and Snapdragon versions of the Samsung use either an 18-core Mali G72 or the excellent Adreno 630.
But does that play out in benchmarks?
In Geekbench 4 the Huawei P20 Pro scores 6,775 points (1,918 per core). This is a lot lower than the roughly 9,000 points of the Galaxy S9 (Snapdragon 845) or the 10,000-ish points of the iPhone X.
However, we also need to consider screen resolution in this. The Huawei P20 Pro doesn't have as many pixels to render as either of those phones, reducing CPU and GPU strain in many situations.
Another interesting point for the real tech nerds is that the P20 Pro does not appear to use dual-channel RAM. Its copy speeds are those of 'conventional' DDR4.
Its internal storage is pretty quick, though. Read speeds of 501MB/s match some lower-mid-range SSDs and write speeds of 190MB/s aren't bad either.
Verdict
The P20 Pro is something of a coup from Huawei. After banging on about AI for six months, this phone's camera proves it's not all marketing talk after all. It results in the best handheld ultra low light photos you can get from a phone.
Samsung offers a sharper screen, better brand cred and more power. However, we actually appreciate the Huawei P20 Pro's slightly better battery life and improved camera flexibility more most of the time.
It's a top-end phone with a price to match (although it's dropped a fair bit now), yet has everything needed in a world-class handset, including a very capable camera, plenty of power, great battery life and an impressive build.
To find out how the Huawei P20 Pro fared one month into use, watch the our verdict above.
Who's this for?
This phone is for those who want new and exciting tech but can't quite stomach the price of a top-end iPhone XS or Samsung Galaxy S9 Plus.
It's not cheap, far from it, but is still more affordable than those phones – and as the phone gets older, its price keeps dropping. The Huawei P20 Pro is also more interesting than Samsung's latest, which is a big win for Huawei.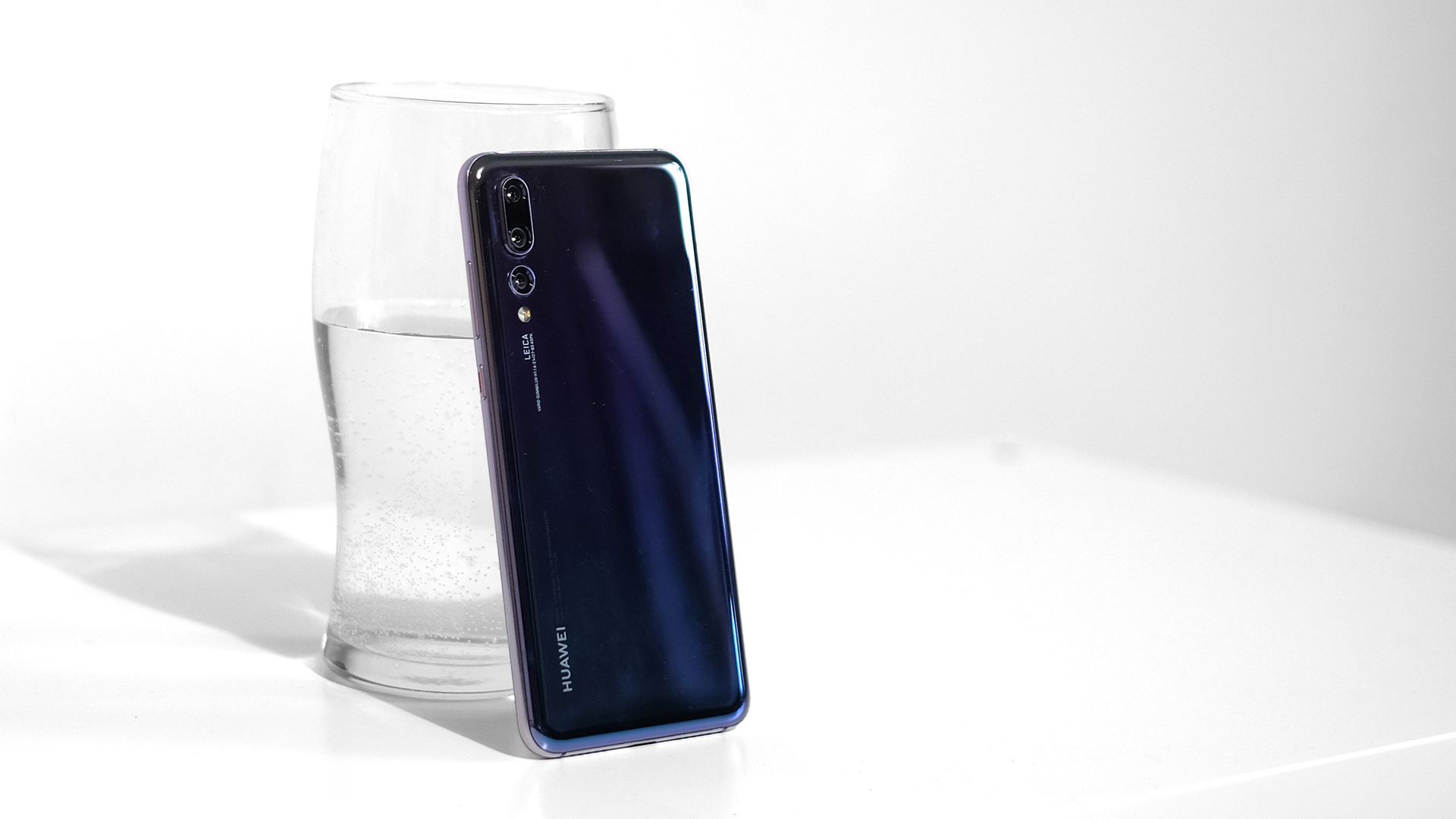 Should you buy it?
If you want great low light image quality you can get in a phone matched with near-unbeatable battery life in a phone of this size, the Huawei P20 Pro is absolutely worth a buy.
You just need to be willing to trade away some brand prestige and a little software gloss here and there.
There are lots of other high-end options, including the following three phones:
Samsung Galaxy S9 Plus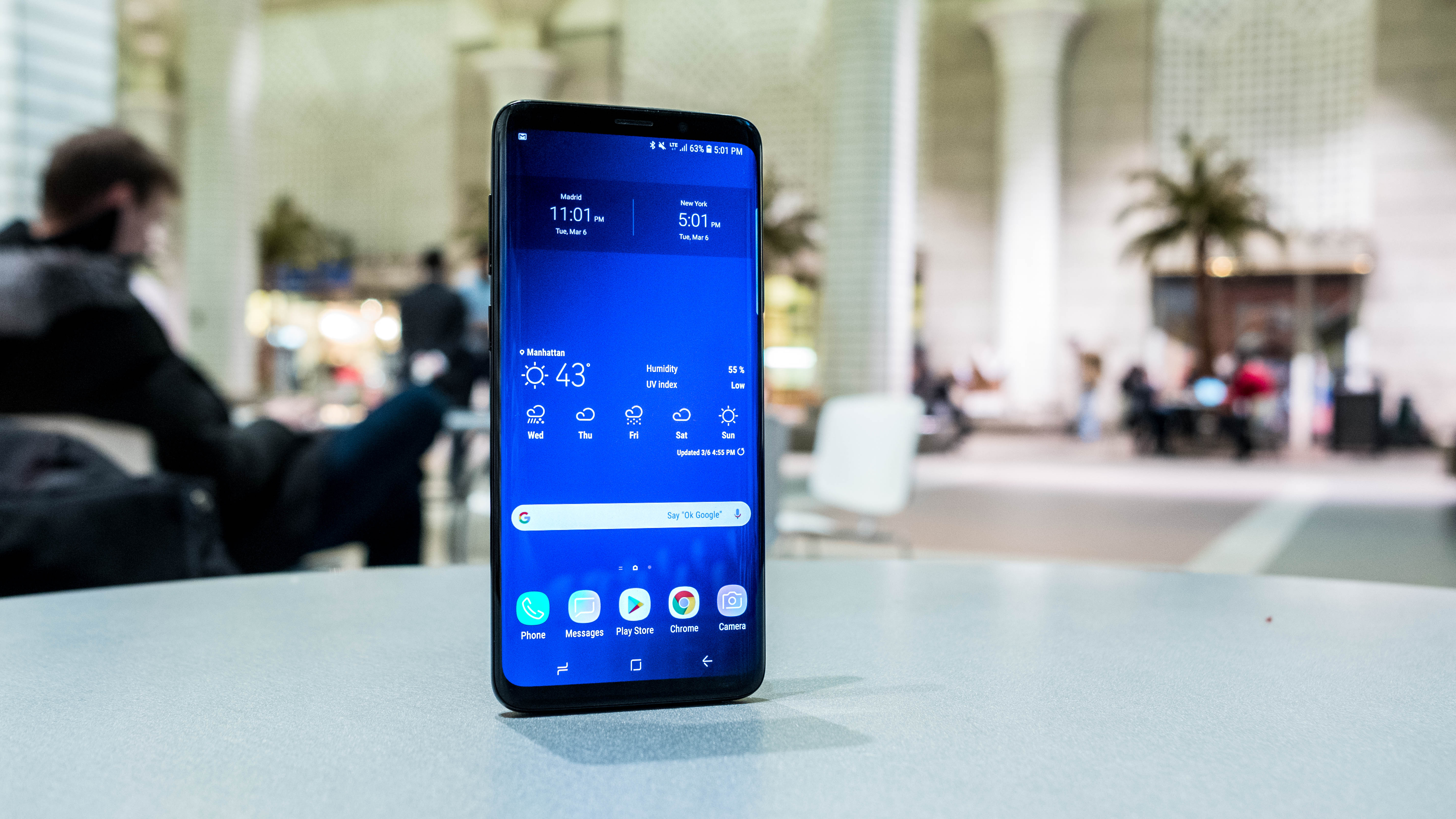 The S9 family was not a high point for Samsung. These phones are fantastic, no doubt about that, but seem a little too similar to those of the year before.
The Galaxy S9 Plus is slightly more expensive than the P20 Pro, has a more powerful chipset and a sharper screen. It can also take better low light photos if you don't use the P20 Pro's dedicated night mode.
Switch that on and the Huawei wins by quite a margin, though. The Huawei also has somewhat better battery life.
Read our full Samsung Galaxy S9 Plus review
iPhone XR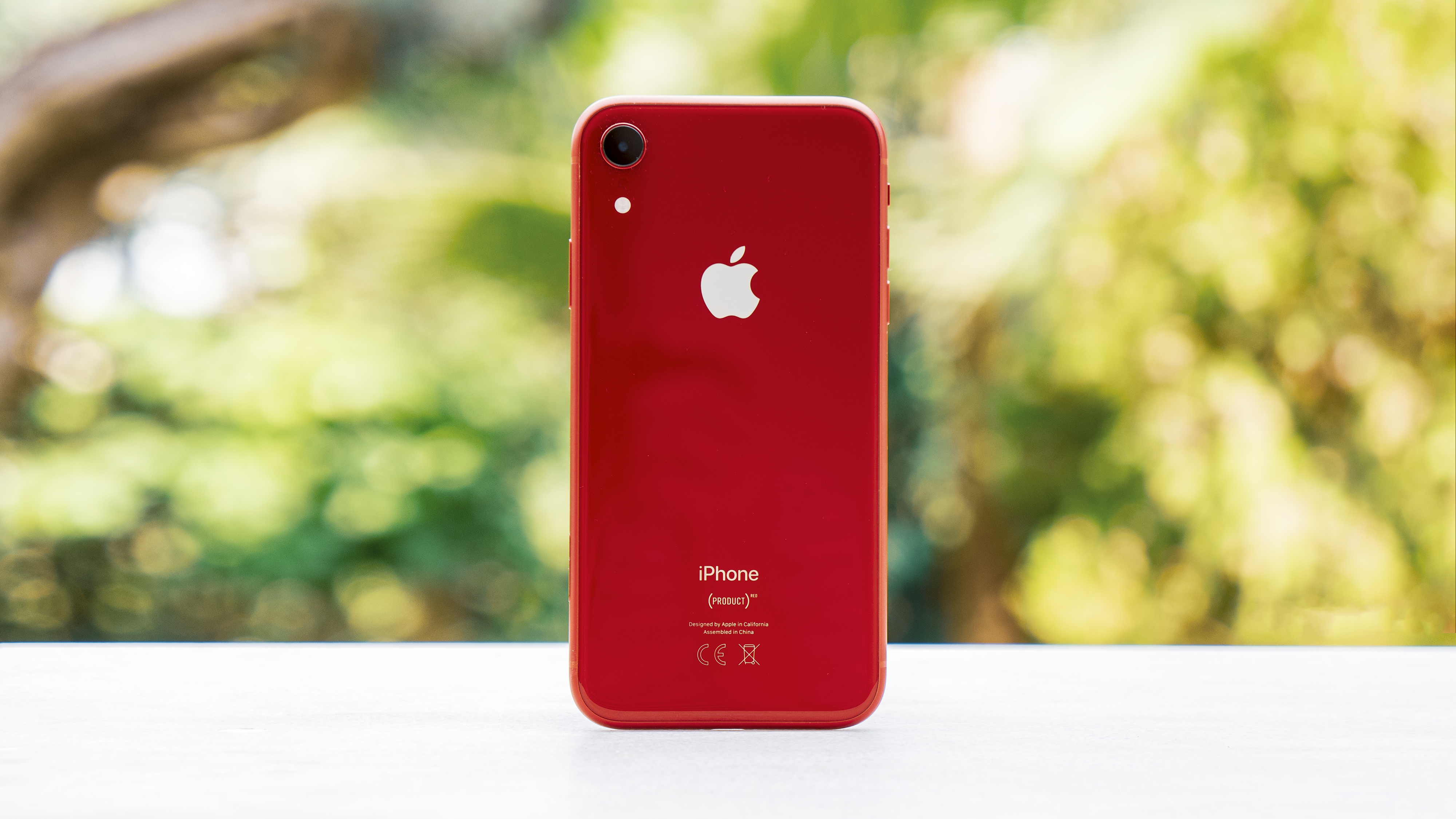 Of the 2018 iPhones, it's the iPhone XR that's closest to the Huawei P20 Pro. You don't get quite as much camera trickery, but you do get a more polished software experience, and a phone that runs quicker overall.
If you don't need all the cool photography stuff (like the 3x optical zoom) and would rather focus on apps and performance, the iPhone XR might be worth a look. Oh, and it comes in some cool colors as well...
Read our full iPhone XR review
Huawei Mate 20 Pro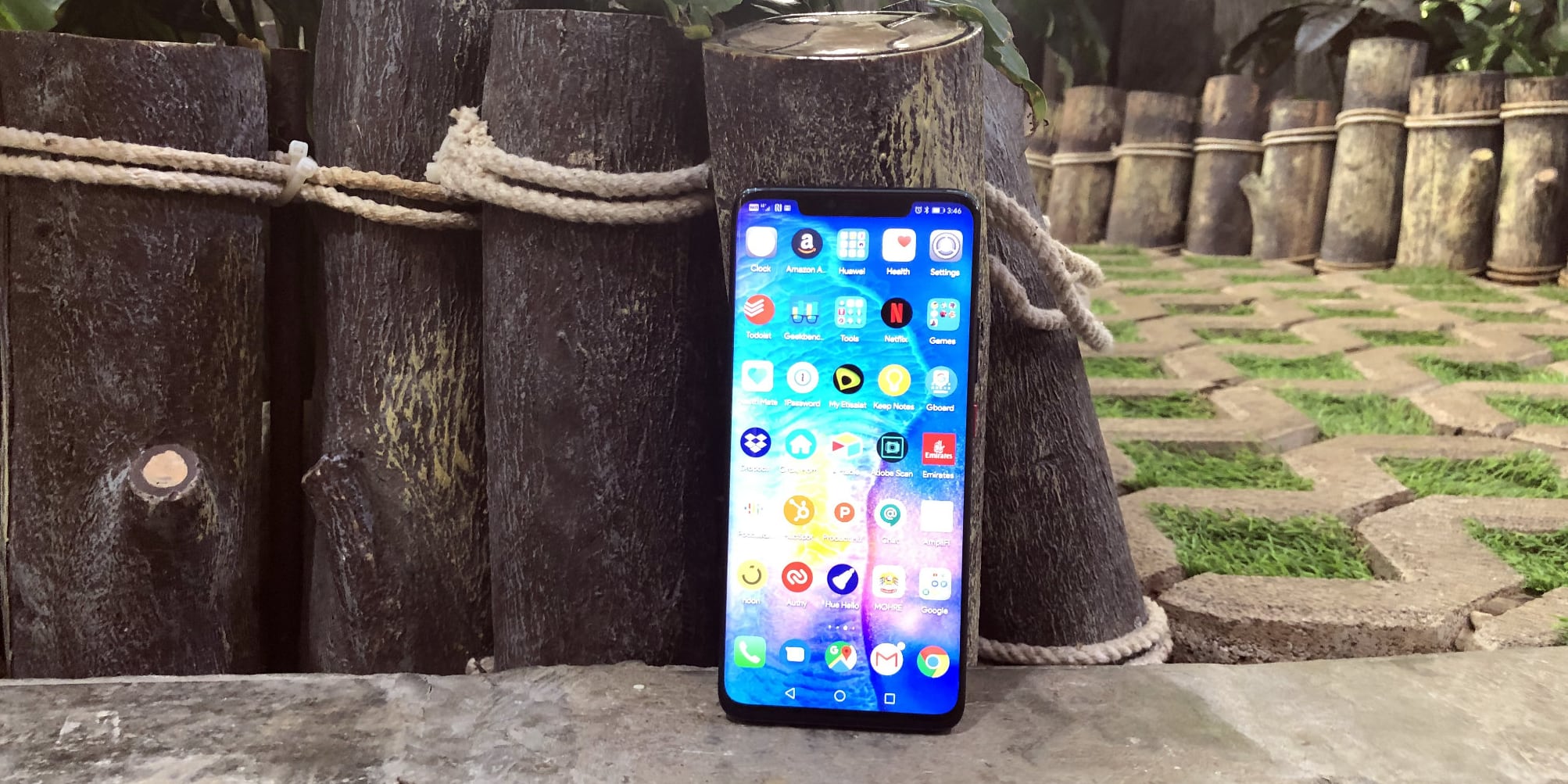 The Huawei Mate 20 Pro arrived a few months after the P20 Pro and is Huawei's new flagship, with a faster processor and another triple-lens camera. It costs more too, so it depends where you want to find the balance.
What we can say for sure is that the Huawei Mate 20 Pro is also a fantastic phone, so you've got a choice of price points when it comes to picking out some excellent Huawei hardware from 2018.
Read our full Huawei Mate 20 Pro review
First reviewed: April 2018