We've been kicking the idea of the premium Chromebook around for a while now. However, until the Asus Chromebook Flip came around, we never saw this concept so fully realized. We could go on all day about where early Chromebooks faltered, but there's no need – the Asus Chromebook Flip is everything we want in a premium Chromebook.
It's not quite as performant as the excellent Google Pixelbook, but it doesn't actually need to be – it's half the price and not that far off when it comes to performance. This attention to value, without sacrificing performance is exactly what makes the Asus Chromebook Flip so appealing.
What's more, the Asus Chromebook Flip has a 360-degree hinge that has it 'flip' inside out – hence the name. At 12.5 inches and 2.6 pounds, the Asus Chromebook Flip isn't just 'good for a Chromebook', it's one of the best laptops period – depending on what you're looking for.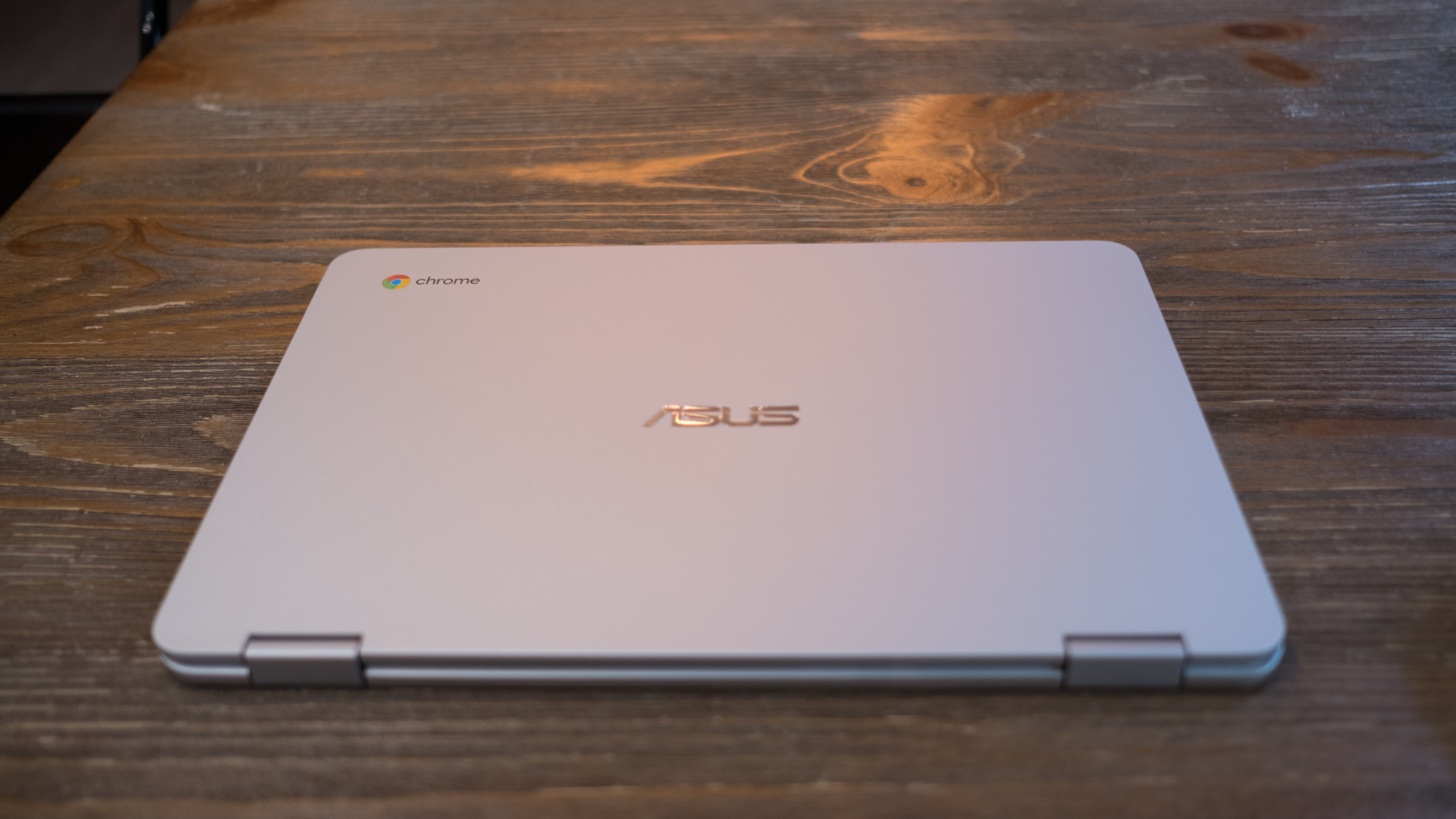 Pricing and availability
We wouldn't blame you for doing a double take after seeing the price of the Asus Chromebook Flip. Before the Black Friday and Cyber Monday deals, it comes in at $499 or £599 (about AU$650), which is pricey compared to a lot of other Chromebooks. After all, half a grand could get you a serviceable Windows laptop. However, value comes down to taste, and you could cut some corners on storage and processing power for $449 or £499 and get a slightly toned-down version of the Asus Chromebook Flip.
An equally powerful HP Chromebook 13 will set you back $619 or £590 (about AU$800) with half as much onboard storage, but a sharper QHD display. Meanwhile, the enterprise-oriented Acer Chromebook 14 for Work runs for $499 (about £372, AU$650) with an Intel Core i5 processor, 8GB of RAM and 32GB of flash storage.
The C302's biggest rival is the Samsung Chromebook Plus, which undercuts it at $449 (about £360, AU$590) with an ARM processor, sharper 2,400 x 1,600 screen and a built-in stylus. What's more, Samsung's latest Chrome OS machine is also available in a Pro SKU that plops on the same Intel Core m3 chip for $549 (about £440, AU$720).
Of course, there are more affordable Chromebook options. The $399 or £399 (about AU$665), Acer Chromebook R13 also comes in a convertible form factor with a Full HD screen, though, its 2.1GHz quad-core processor doesn't hail from Intel, but rather MediaTek.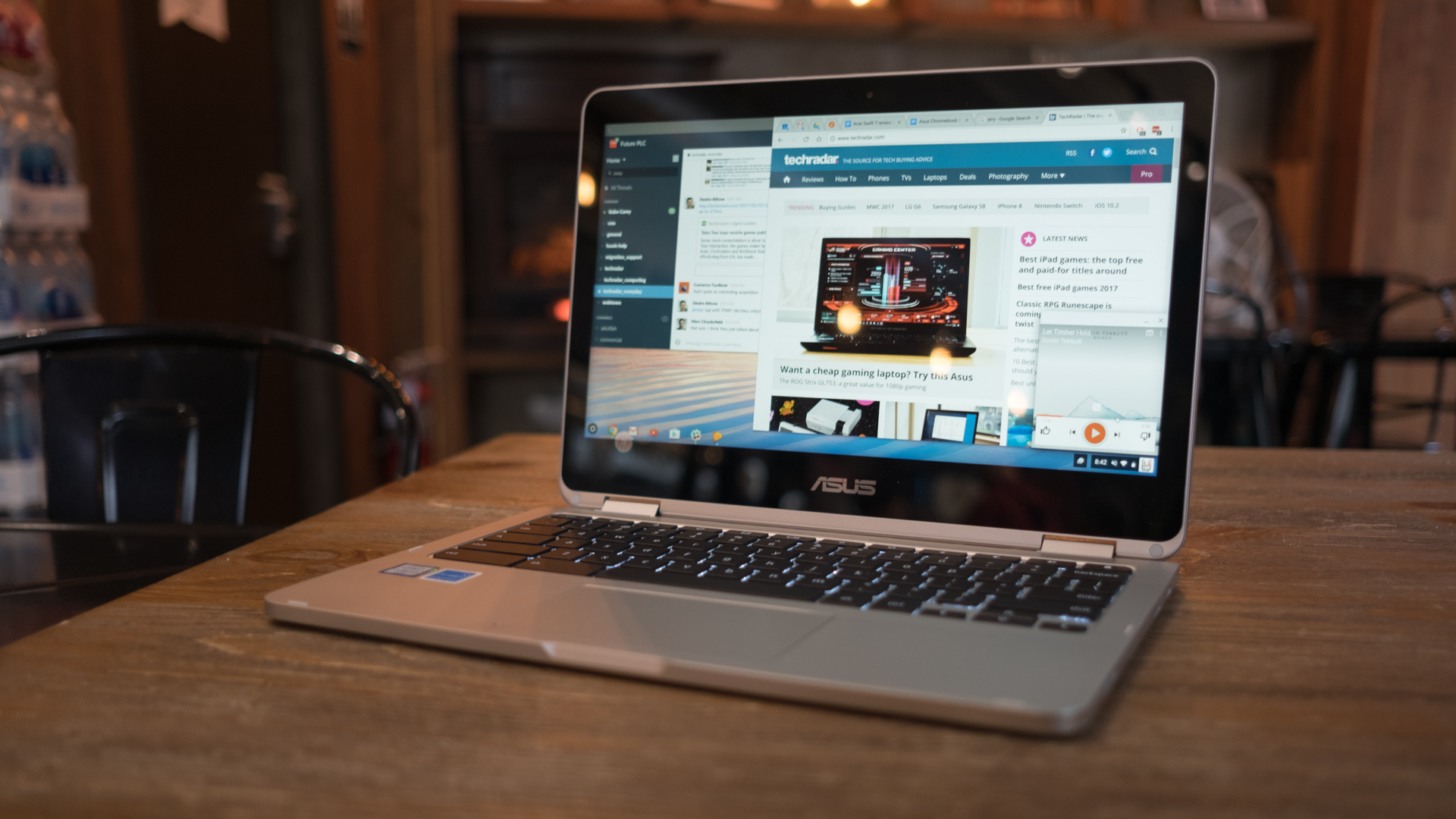 Design
Like the original before it, the C302 is built from an all-aluminium chassis, though, this time it has an anodized finish rather than a brushed texture. Overall, it has a clean, no nonsense aesthetic and it folds up to a nearly symmetrical slab of metal.
Thankfully, the original Chromebook C100's long, bar-shaped hinge has been dropped for the 's multi-gear, metal mechanism. The smaller, two-piece mechanism makes this machine feel like less of a toy while helping it to blend in as a regular notebook.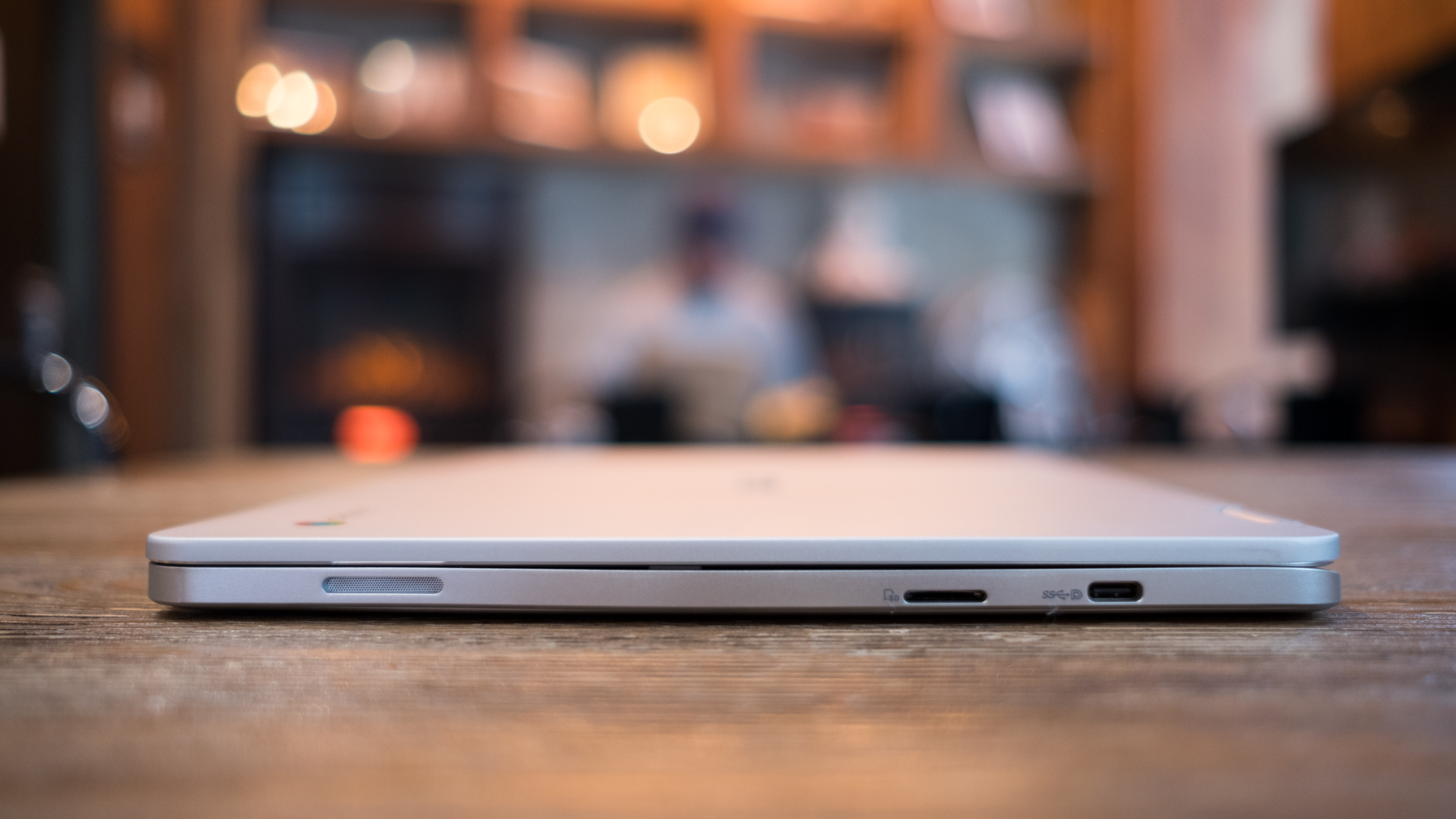 Overall, the Asus Chromebook Flip looks and feels like any other unibody laptop inspired by the MacBook Pro in the last decade. However, its rounded corners, straight edges and 0.9 inch (2.29cm) thin frame all add up to a slick design rivaling HP and Google's most premium model at a much lower price.
Weighing in at 2.6 pounds (1.19kg), the C302 is one of the lightest Chromebooks, beating out the 2.86-pound (1.3kg) HP Chromebook 13. It's also one of the first convertible Chrome OS machines you'll actually want to use in tablet mode, unlike the 3.3-pound (1.5kg) Acer Chromebook R13.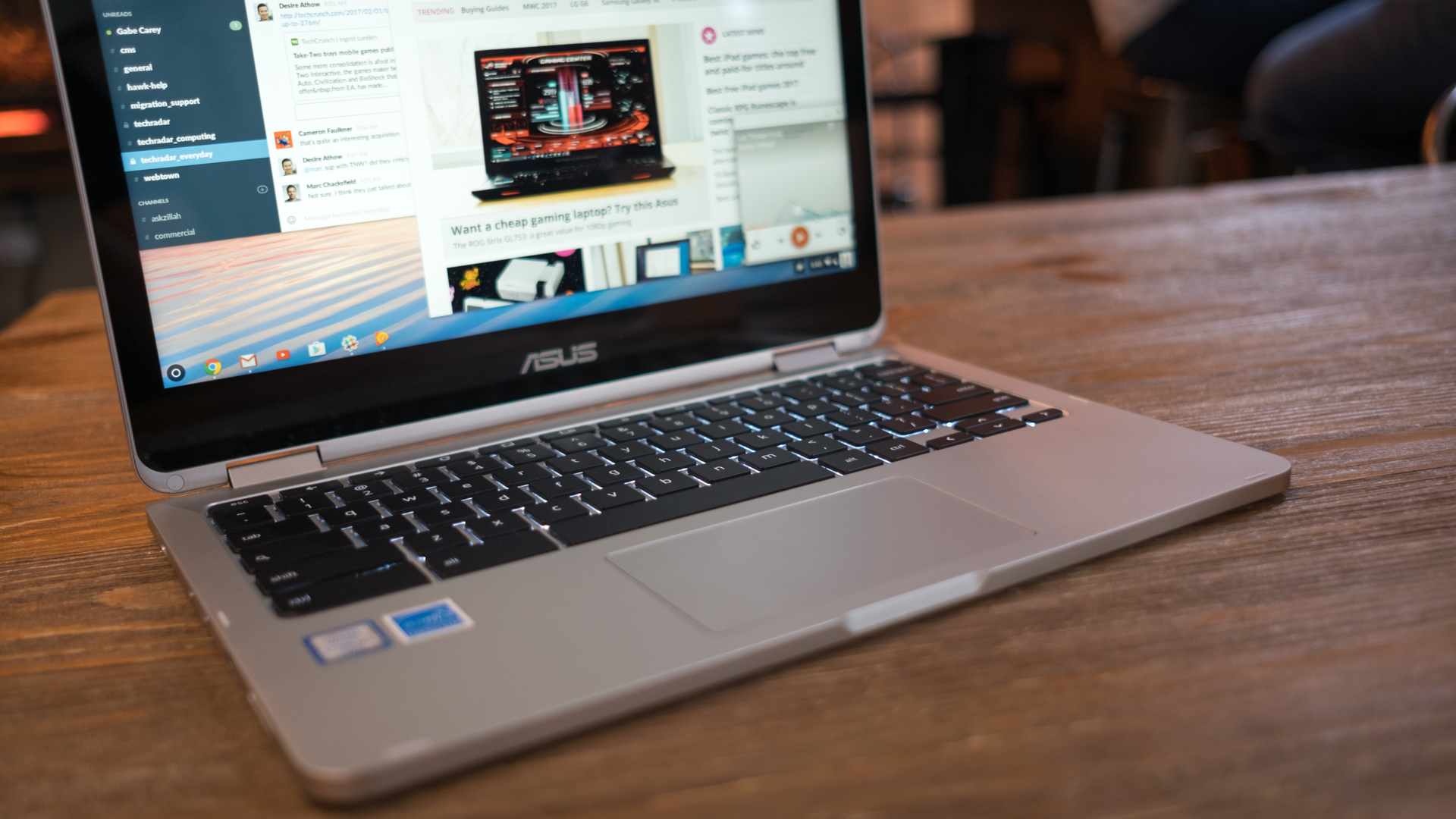 Aside from being lighter, the C302 seems to have been specifically designed for tablet use. Asus has come up with a clever magnetic clasp that pulls the screen lid tight against the underside of the notebook. It's an ingenious addition that helps the 2-in-1 Chromebook feel like one solid device rather than a foldable electronic, and we're surprised this solution hasn't come sooner.
When you're not using the C302 as a tablet, it falls back on a solid keyboard that makes it as familiar and comfortable as any traditional laptop. The keys offer a satisfying 1.4mm of crisp key travel that we've missed in a world of ever-slimmer notebooks.
As for the trackpad, we can really only say it exists. It offers accurate tracking, but without any multitouch features but two-finger scrolling, there's nothing noteworthy about it.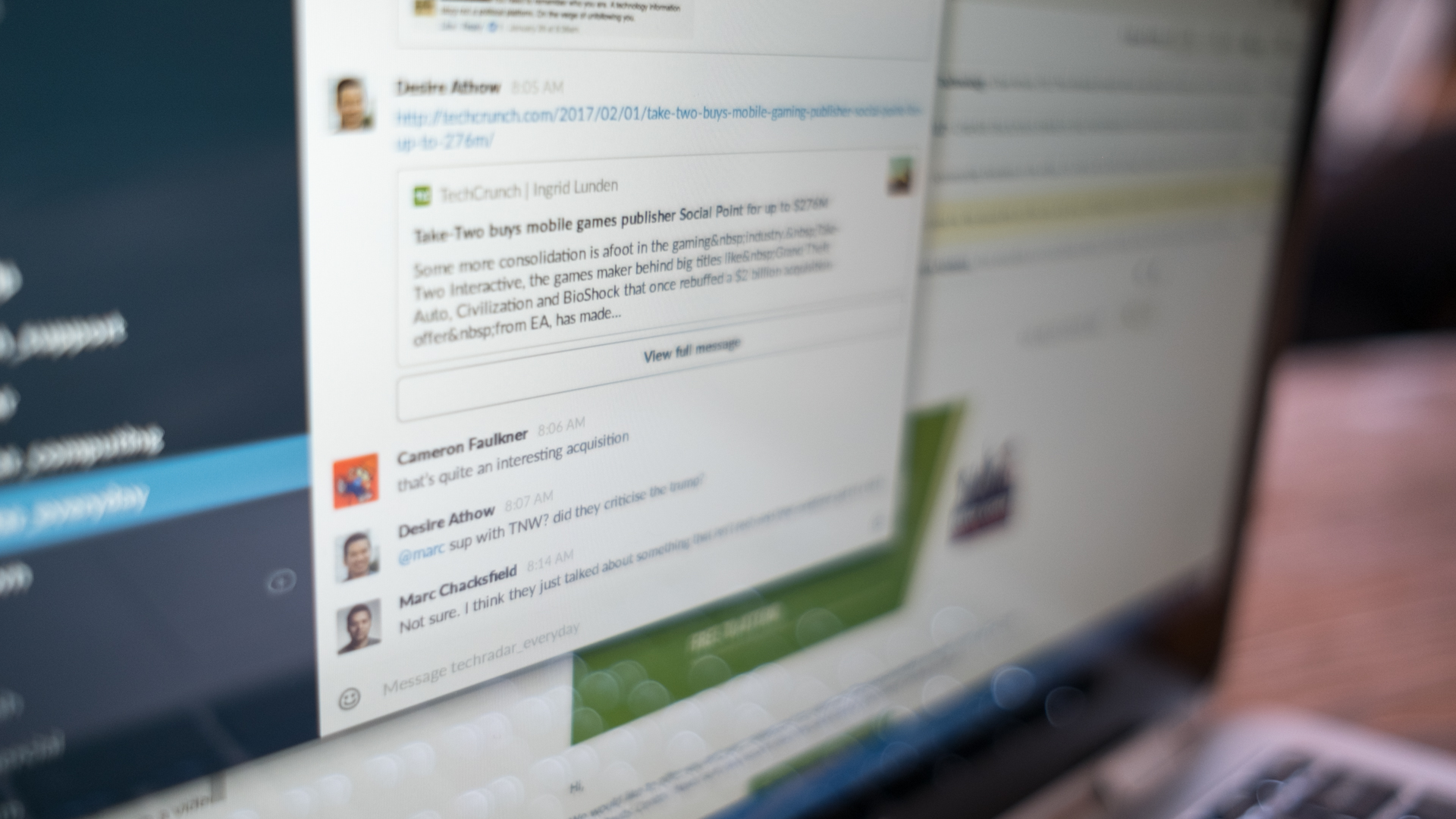 Android apps on tap
Having a usable tablet mode is becoming ever more common in Chrome OS devices as Google has steadily increased the platform's Android integration. Unfortunately, the C302 does not come with access to the Play Store right out of the box, and we had to switch over onto Chrome OS beta channel in order to download apps.
Other than that small hiccup, the hybrid Chromebook is fully equipped to drive right into the Android ecosystem. We swiped and tapped into our favorite apps just as we would on any Google tablet. To our surprise, the hybrid Chromebook is also outfitted with gyroscopes, allowing us to play motion-controlled games like Asphalt 8.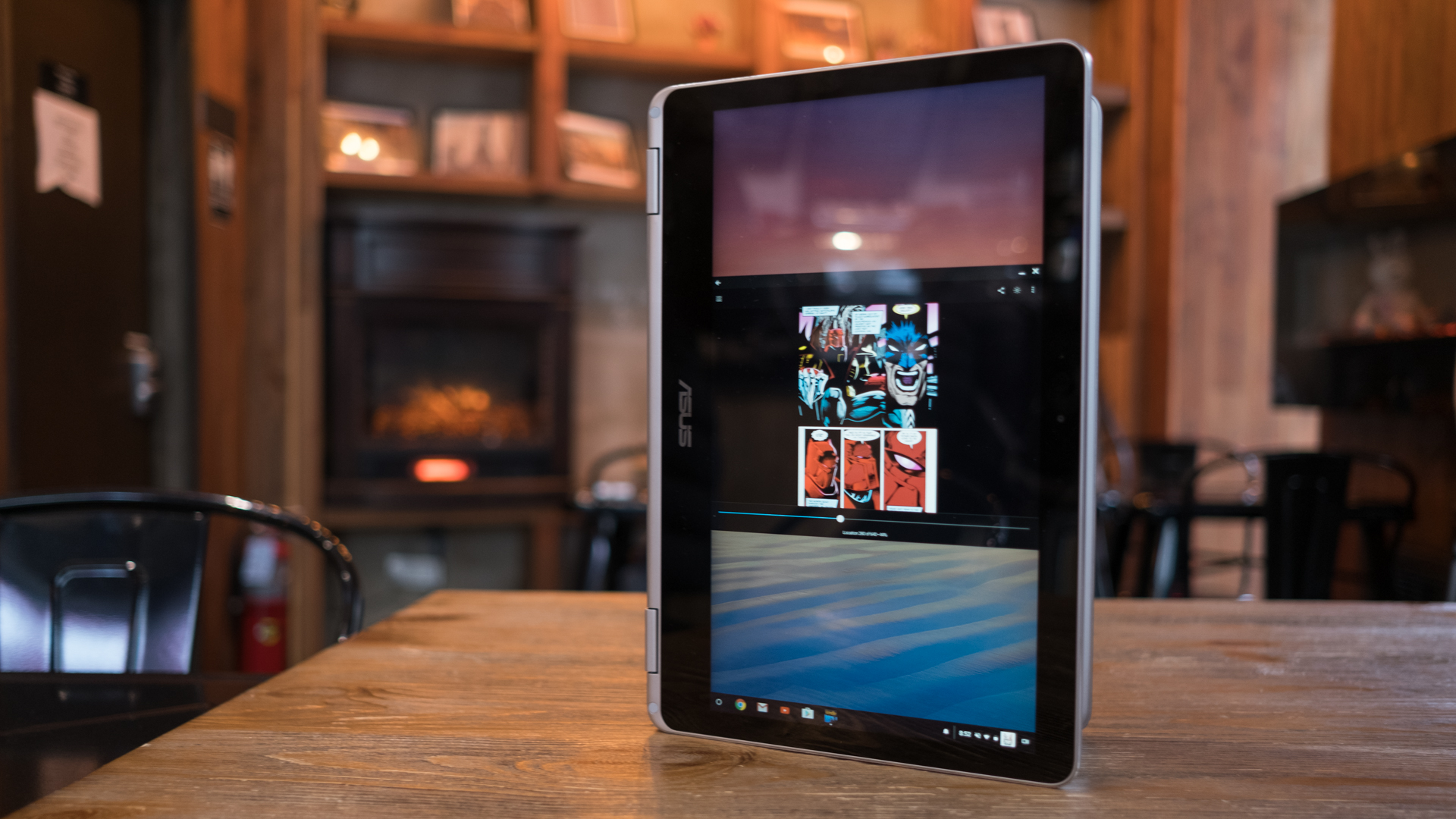 Unfortunately, not everything about running Android apps is perfect. Slack and many other important apps we typically use on an smartphone don't scale properly on Chromebooks, leaving us with tiny text on certain apps, and the Kindle app isn't able to display full screen in portrait orientation.
Mobile apps also are designed with a touchscreen interface in mind, and sometimes this doesn't play well with the touchpad and keyboard setup of the C302. Of course, it's easy enough to switch the hybrid to tablet mode.
We chalk these issues to the beta version of Chrome OS, which fixed some problems and introduced new ones during the course of our review.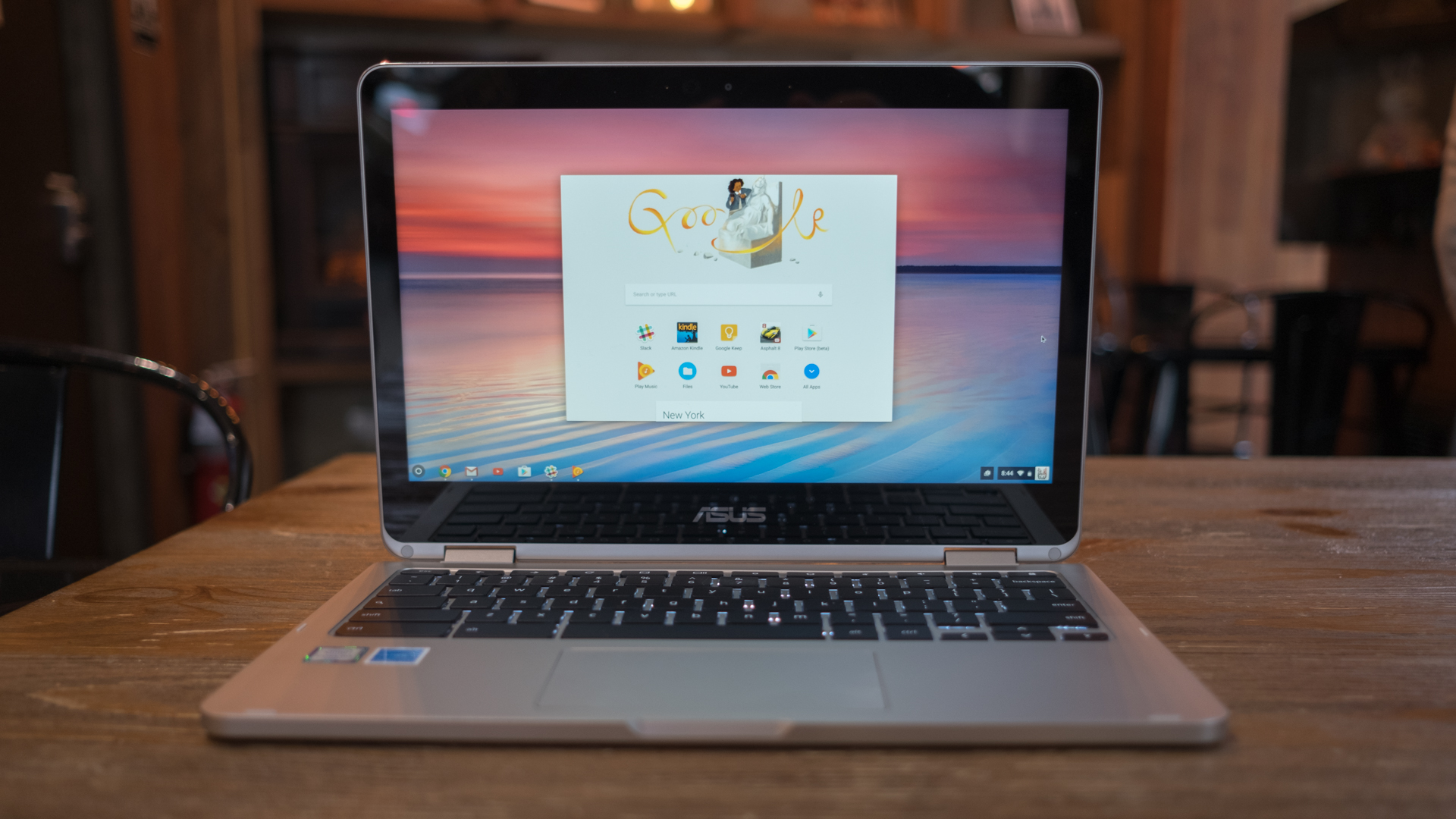 However, despite these issues, we don't miss the days of sorting through the beleaguered Chrome Web Store full of knockoff apps and games. Though it's only in beta, having access to the Play Store grants us access to so many more useful programs on the Asus Chromebook Flip.
We love using Android apps in tablet mode just as much as sitting down with the C302 as a traditional Chromebook for long browsing and writing sessions. The hybridization of Google's two platforms also finally lets us use mobile apps alongside the staple elements of Chrome OS.
First reviewed November 2017
Performance
Intel Core M-series CPUs might just be the perfect part to power Chromebooks, as they offer more performance than your average Celeron chip while being more efficient. And that's just not just us saying that: the benchmark results back us up here.
The C302, with its Core m3 processor, performs nearly twice as fast as the Dell Chromebook 13 with a Celeron processor. That said, this hybrid doesn't quite have the gusto to keep up with the Intel Core i5-powered Acer Chromebook 14 for Work or the Core m5 chip inside HP Chromebook 13, though it's only a quarter less power.
Numbers aside, the 2-in-1 Chromebook performs admirably even with two open Chrome windows with 12 open tabs each. Along with our heavy browsing habits, we also had Google Music playing in the background and the Slack Android app open.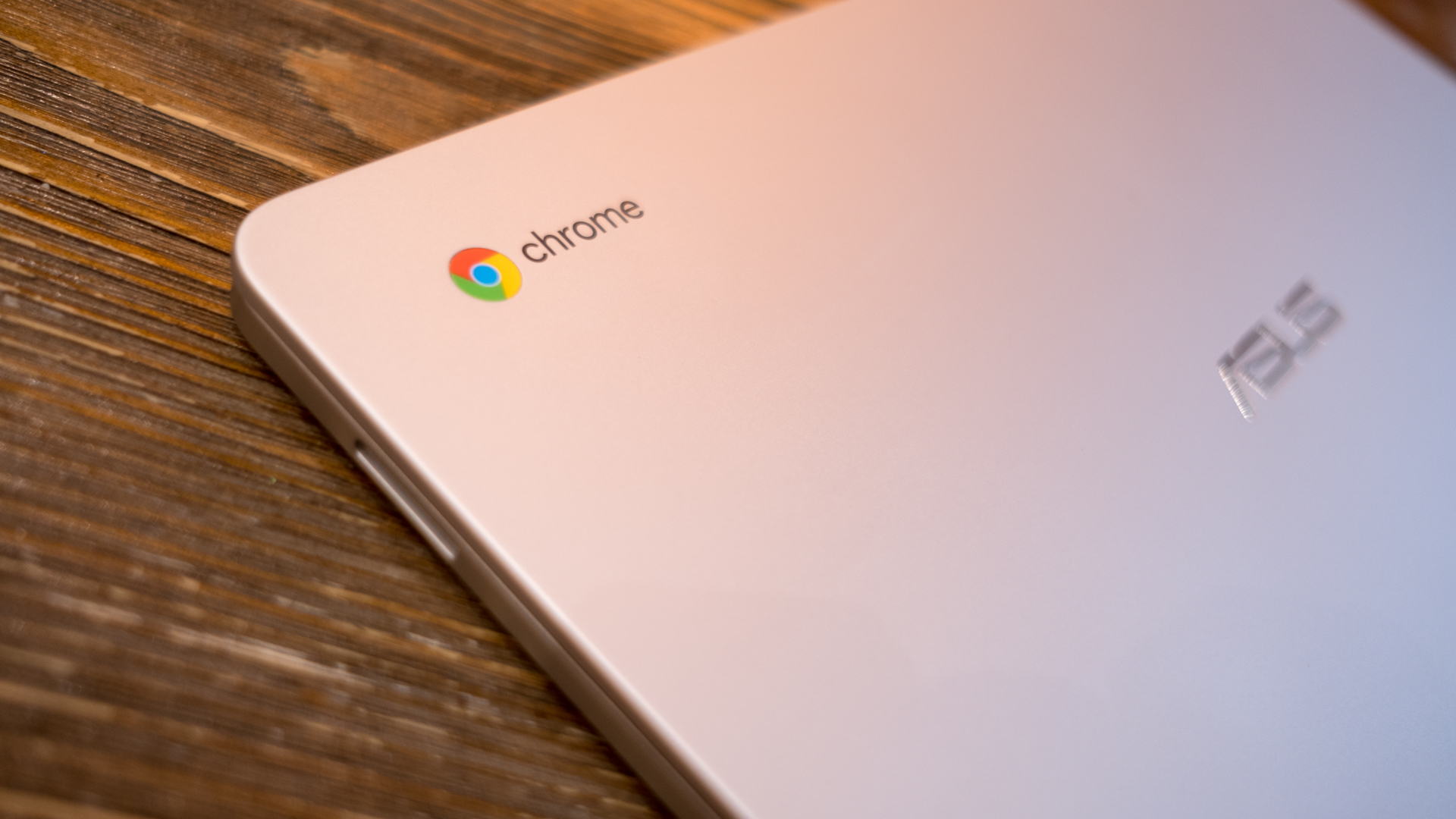 Optimal performance
Chromebooks are known for having long battery life, and the Asus Chromebook Flip is a great example. In fact, it's the longest-lasting premium Chromebook we've used – it ran for a whopping 10 hours and 46 minutes on our standard local movie playback test.
By comparison, the Acer Chromebook 14 ended its run an hour and 10 minutes earlier, and the HP Chromebook 13 only managed to last for just a minute over eight hours.
With our typical workload, the Asus Chromebook Flip ran just shy of hitting the eight hour, all-day battery life mark. However, any combination of running fewer tasks, turning off the keyboard backlight or lowering the display's brightness would dramatically increase battery life with this Chromebook.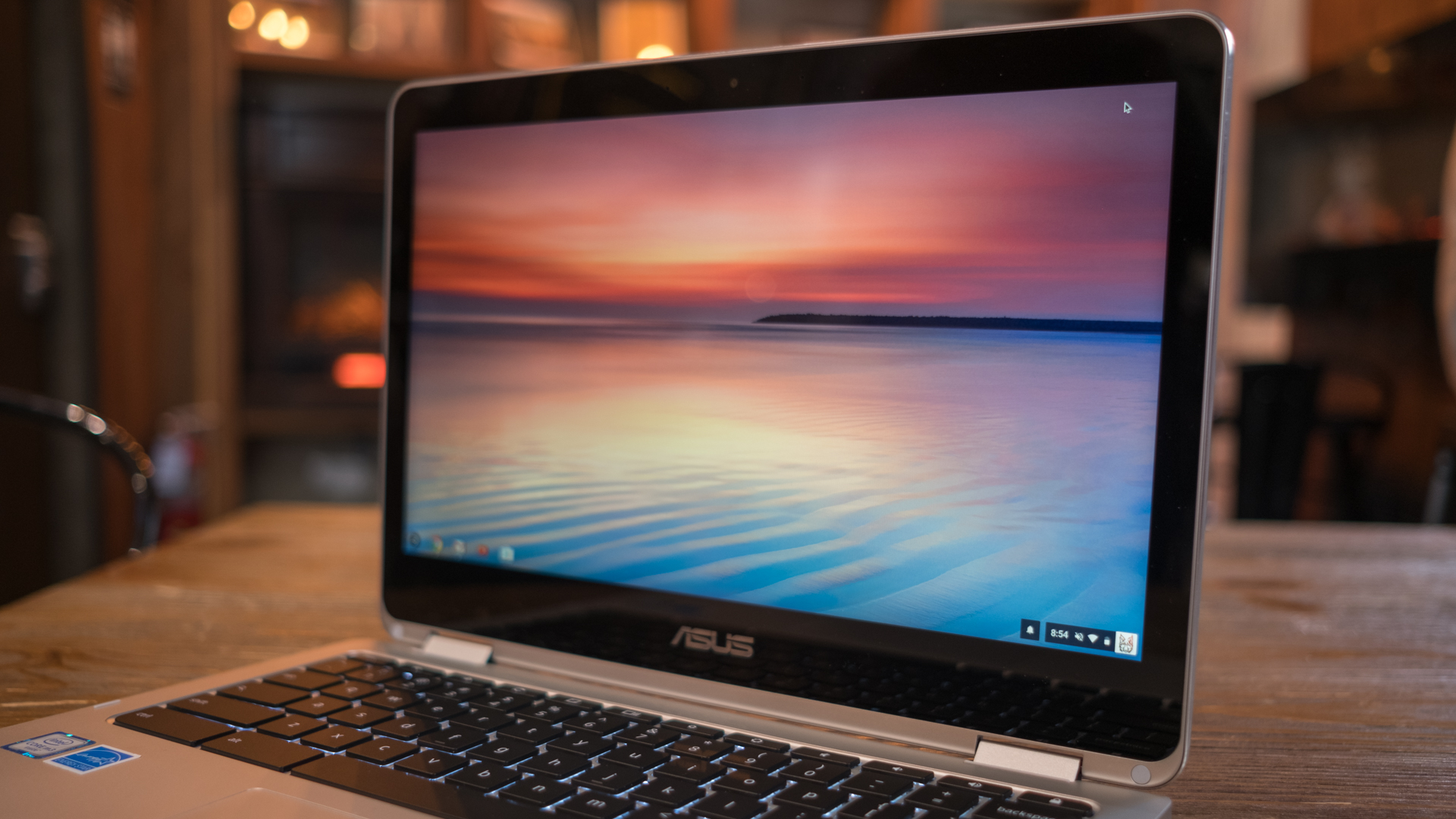 Screen and speakers
Although the Asus Chromebook Flip C302 only rocks a 1,920 x 1,080 display, FHD is really all you need on a 12.5-inch screen. It's not as sharp as the QHD HP Chromebook 13, but the lower pixel count affords two more hours of battery life – a trade off we would gladly take.
Still, text and photos remain crisp and the C302 resolves strong colors, which is exactly what we want to see in a companion device to flip through e-comics and online video. Average contrast levels – dark pixels often falling off to deep blacks – is the only weak point of the display but it's still better than most Chromebooks, and we prefer this to seeing muddy grays.
Audio-wise, the Chromebook Flip's speakers are loud, but lack much nuance to really appreciate music. There's also a slight hint of tininess that limits how high you can set the volume before it's unbearable, so plug in a pair of headphones if you're looking to rock out.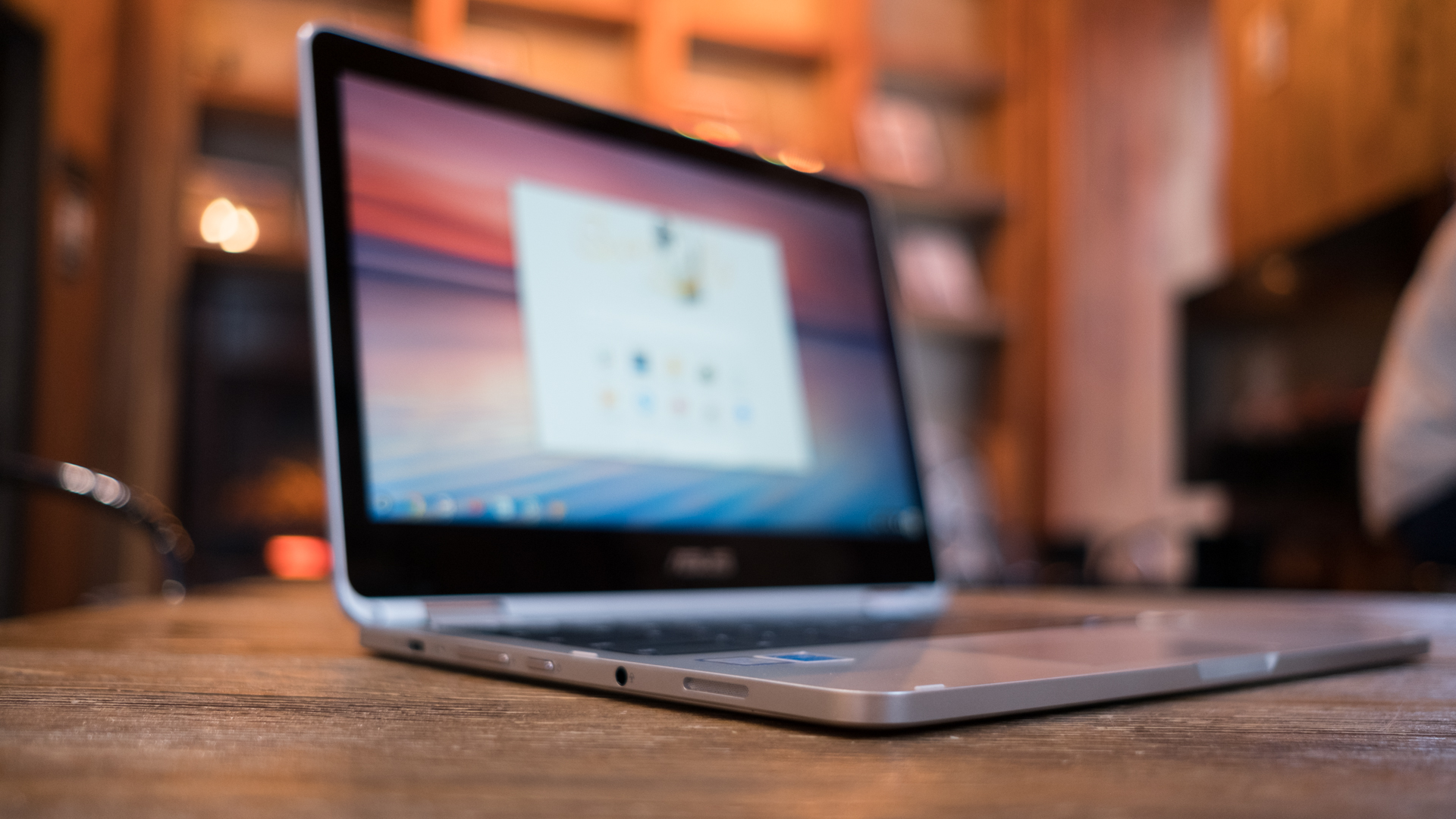 We liked
From top to bottom, the Asus Chromebook C302 is our most favorite Chromebook yet. It meets high standards set by the HP Chromebook 13 and other premium Chrome OS machine with a classy design and high-spec parts – yet it does all of this at a lower price.
We disliked
Our only legitimate complaint about this hybrid Chrome OS machine is it's mediocre speakers, but it's an issue we take with 80% of laptops. In other transitory problems, we wished Android app integration would have been more seamless, but for now, it's an ongoing process. We're sure Google will add Play store access to a stable Chrome OS build for this particular Chromebook as it has with others in the past.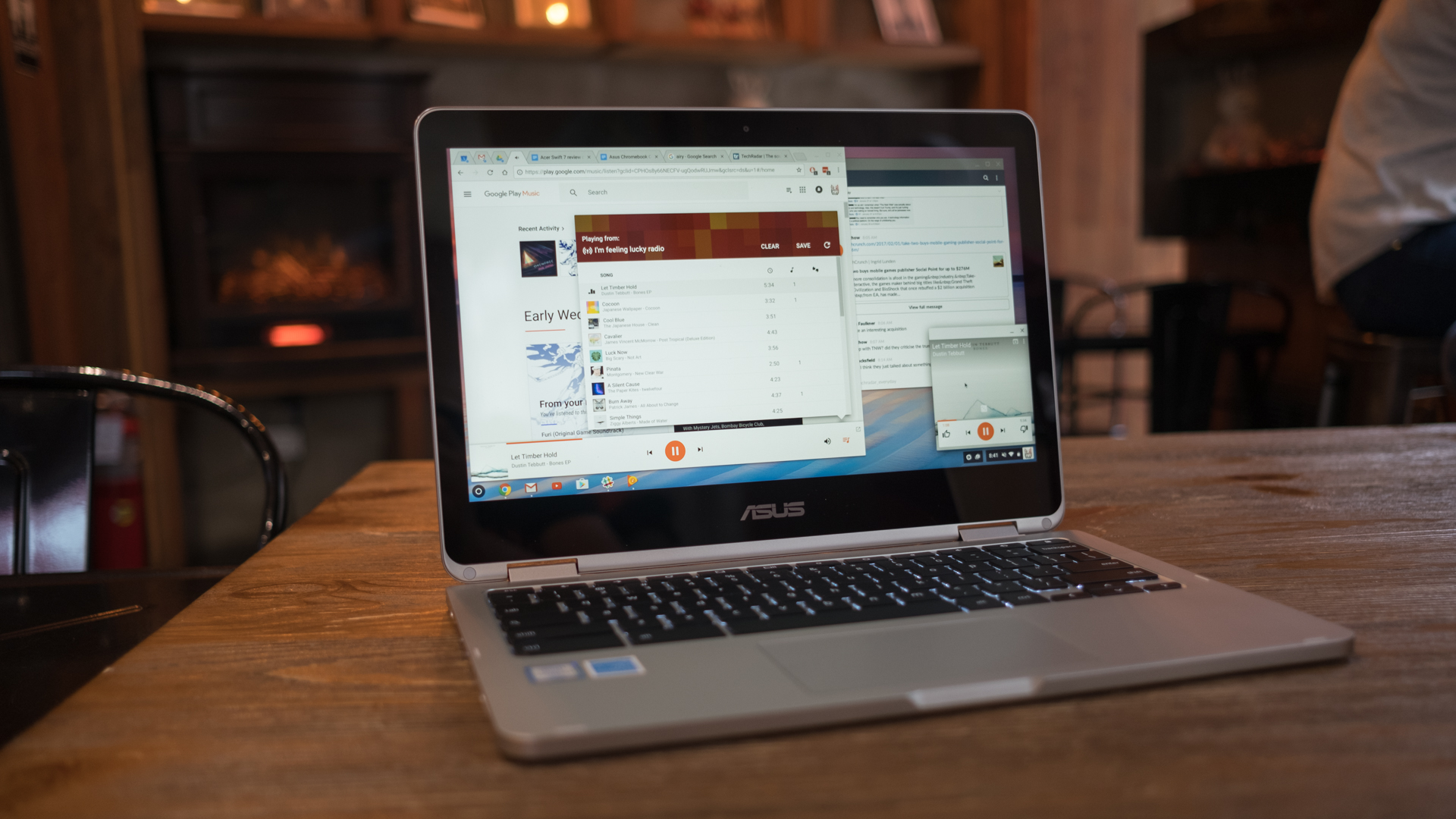 Final verdict
If you've been on the fence about buying a premium Chromebook, this one has 100 reasons (read: dollars, pounds … you get it) to make you jump for it. Although it isn't a huge price difference, the Asus Chromebook Flip C302 rises to its premium stature with a gorgeous screen and a better keyboard than you would find on some Ultrabooks.
This is the first Chromebook that actually feels as comfortable to use as a tablet as it is a traditional laptop. While the Samsung Chromebook Pro almost makes this version pointless with its sharper screen and built-in stylus, we have yet to see how it performs. For now, the Asus Chromebook Flip C302 is king of the Chrome OS hill and it's still worth your time, even in 2018.