LifeLock is a popular American identity theft protection company now owned by Symantec.
The service combines multiple techniques and technologies to keep you safe. It looks out for your identity being used to obtain loans, credit and services. It checks court and criminal records to warn you of others using your name. Change of address records are monitored, detecting attempts to redirect your mail, and the service is always scanning the dark web for any sign of your personal or financial details.
Mobile apps and near real-time alerts keep you in touch with what's going on. If LifeLock detects an auto loan application in your name, for instance, you'll get a notification asking if this was a legitimate request. Say no and the LifeLock support team will investigate.
LifeLock isn't another me-too company using a standard data feed to access this information. It's coming from Symantec's own ID Analytics network, a comprehensive data consortium which takes input from multiple lending, service and other industries, and now receives more than 100 million new identity elements every day (read more about it here).
If you've been hit by fraud, LifeLock's team of ID specialists are on hand to help fix the problems and restore your identity. This isn't just about giving advice – they take on all the main admin tasks on your behalf, making phone calls, filling in paperwork and more.
That can be an expensive process, especially with legal fees, but LifeLock helps here, too, with up to $1 million worth of reimbursement for losses and expenses due to identity fraud.
Pricing
LifeLock is available as three products.
LifeLock Standard gives you social security number and credit alerts, as well as up to $25,000 coverage for identity fraud-related losses. It's reasonable value at $9.99 a month on the annual plan.
The $19.99 a month LifeLock Advantage plan raises cover for ID theft losses to $100,000, while adding alerts about bank and credit card activity, and monitoring for crimes recorded in your name.
Spending $29.99 a month on the top-of-the-range LifeLock Ultimate Plus gets you up to $1 million reimbursement for stolen funds, alerts for 401(k) and investment activities, and adds three bureau credit reports and score monitoring. That's more expensive than some of the competition, with IdentityForce UltraSecure+Credit available from $19.99 a month paid annually, and ID Watchdog's similar Platinum plan priced from $18.25.
You can optionally add Norton Security Online to each of these plans, maybe blocking malware before it can steal any of your personal information. This enables securing up to five Windows, Android or Mac devices and is free for the first year, then an additional $3 a month with LifeLock Standard, and an extra $5 with LifeLock Advantage and Ultimate Plus.
Norton Security Online isn't as powerful as the full Norton Security suite, but it does give you strong protection against online threats (Symantec ranked sixth in AV-Comparatives' Real-World Protection tests for July - November 2017, comparable with F-Secure and Kaspersky). If you'll use it to cover multiple devices then it's decent value, particularly at LifeLock Standard's $3 a month price.
LifeLock doesn't offer a free trial, but it's still more generous than you might expect. IdentityForce gives you 14 days for free, then charges you and doesn't provide refunds as standard. LifeLock takes your money upfront, but gives it back in full if you cancel within 60 days, and even if you cancel after that, you'll still be refunded for unused months.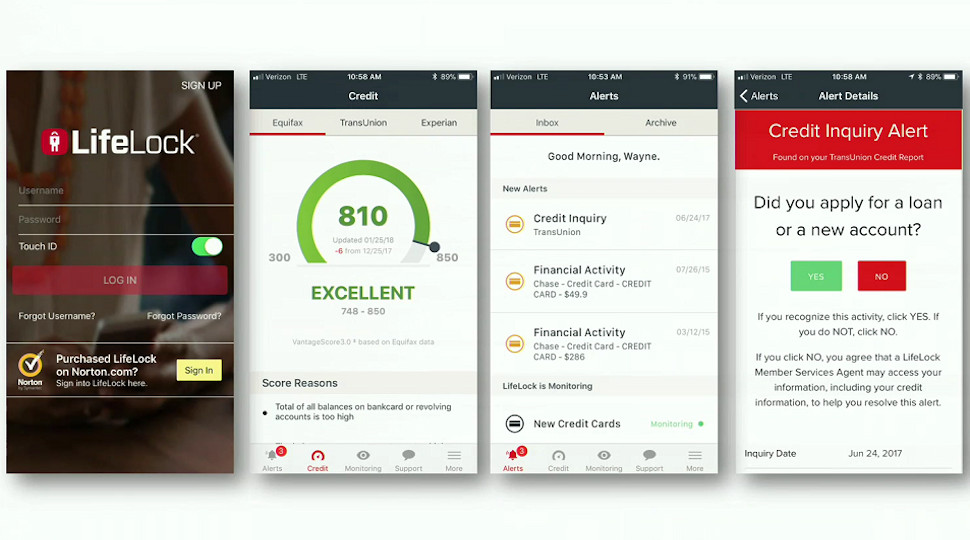 Reports
Opening your LifeLock account works much the same as with competing products: hand over your name, email, physical address, birth date and social security number, and you're given access to the basic service right away.
Credit-related features (reports and scores) require a separate validation process before you can access them, and the website says LifeLock Ultimate Plus 'three bureau credit monitoring' could take several days to begin. Still, this doesn't necessitate any further intervention from you, and there are plenty of other options to explore while you're waiting.
LifeLock's web dashboard looks good and is thoughtfully designed. The main part of the screen highlights all the details you're likely to need right now – recent transactions, new alerts, your current credit score – and a sidebar gives speedy access to the other areas of the service: Alerts, Credit, Transactions, ID Restoration, Support and more.
LifeLock's iOS and Android apps enable receiving near real-time alerts on credit events, wherever you are. If the company's ID Analytics network spots a new credit card application, a wireless account opening (Verizon, AT&T), a new loan (auto, payday and others) then you're notified right away, and asked to confirm that this is a legitimate action. Click Yes, and all is fine. Click No and LifeLock's member services team will look into it. There's no need for you to do anything: the company gets back to you when it has found out more.
LifeLock Advantage and Ultimate Plus can also monitor and raise alerts for bank and credit card transactions. You're able to set per-account thresholds for transactions you might consider unusual, and if that threshold is exceeded you'll be alerted.
For this system to work, you must provide LifeLock with your login credentials for each account. That may not appeal to everyone, and it also means you'll have to update LifeLock whenever you change your password in a monitored account. But if you can live with that, it's a useful system which effectively allows you to build a personalized financial portal where you can track multiple accounts and providers in one place.
Just like most of the competition, LifeLock says it monitors the dark web for signs that your personal details are being sold. We're generally skeptical of these claims as most providers give you no information on what this involves, but LifeLock is a little different. The company at least provides an idea of the scale of what it's doing by claiming to check more than 10,000 dubious websites, and with Symantec's security expertise to call on, we're more confident LifeLock will deliver more in this area than we are with most of the competition.
No service can guarantee 100% protection from ID theft, so LifeLock also provides a 1,000-strong team of US-based restoration specialists to help you recover if the worst happens. This isn't just a matter of having someone advise you what to do. LifeLock handles many major tasks itself: collecting details, investigating facts, preparing for and remediating the case, settling insurance claims, retaining legal representation, and more.
If you need help or have any general questions, LifeLock's support team is available 24/7/365. The website explains that 'priority live member support' is reserved for Ultimate Plus users only, which leaves us wondering what lesser customers might experience.
Smart design decisions elsewhere – including the ability to call support directly from LifeLock's mobile apps – suggest LifeLock is working on providing decent support for everyone, though, and the generous 60-day money-back refund gives you plenty of time to test the service for yourself.
Final verdict
LifeLock is a very comprehensive identity theft protection service with strong detection, alerting and recovery features. The option to include Norton Security Online is a welcome plus, and it'll be very interesting to see what more Symantec can bring to the service in the future.