Getac makes a wide range of computers made to work in the types of environment that can often spell doom for the delicate electronics inside of modern systems.
While they're unlikely to win any style awards, they are constructed to handle all manner of abuse without succumbing to water, dust and the clumsiness of those using them.
At the most extreme end of its rugged PC range is the K120, a system built to handle most things, and Getac just revamped it internally to handle greater workloads and more demanding tasks.
For those curious about its predecessor, here is that review.
Let's see if the latest K120 G2 fixes some of the issues with the previous iteration.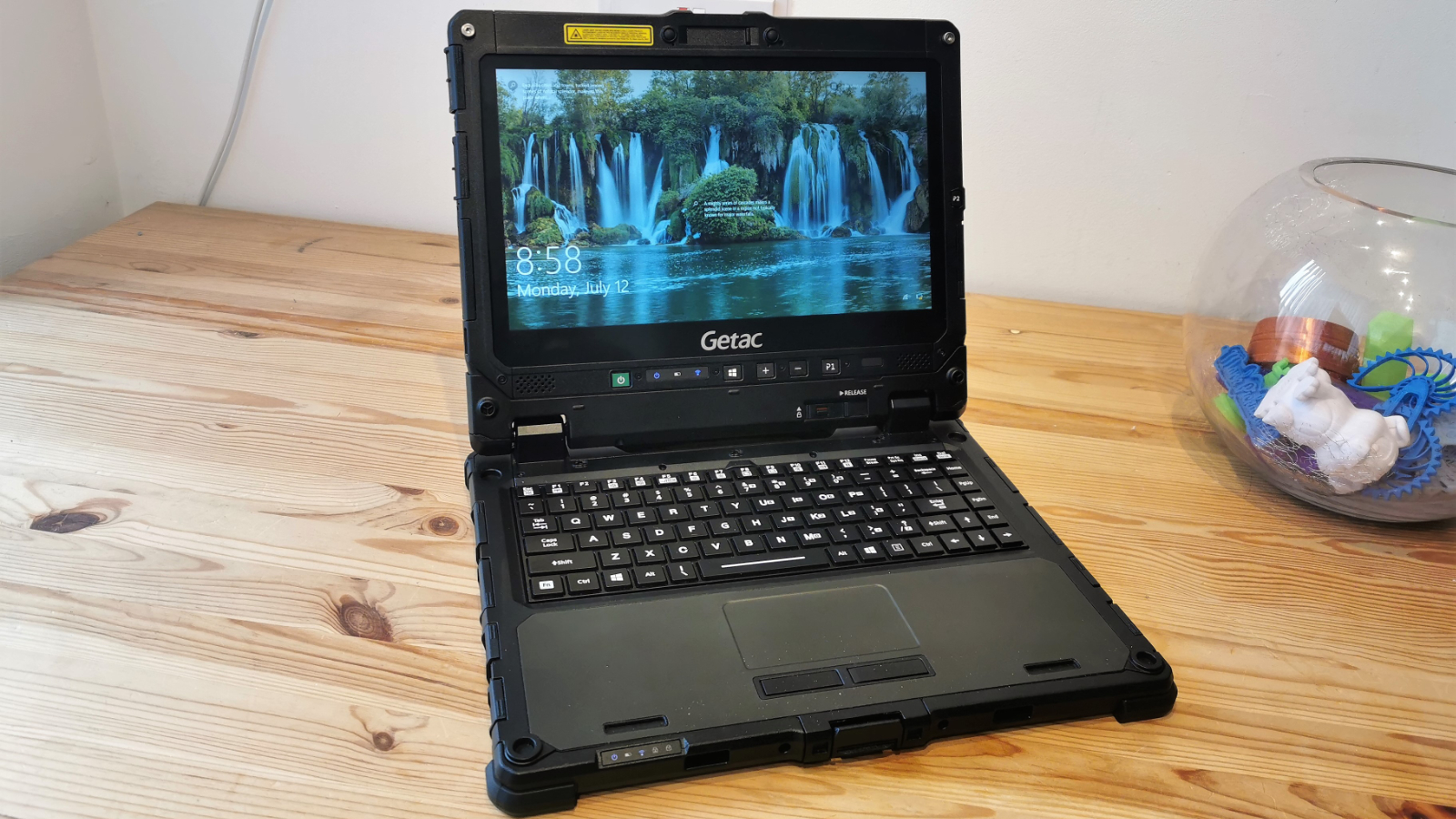 Price and availability
Getac sells all its equipment through a global reseller network, so interested parties should start with the Getac website, where they can be directed to one in their region.
Once in contact with a reseller, they can tailor the K120 G2 to the customers' precise requirements for CPU, memory, storage and accessories.
Our review hardware came with a Core i7-1165G7 processor, 16GB of RAM and 512GB of SSD NVMe storage, and for such a system, the price is £3403.64 in the UK. The entry level for this hardware is £2212.18 for one with a Core-i5 processor and minimal RAM and storage.
But for the higher specification machines around $4,000 or the exchange equivalent in your local currency should be a ball-park sum, with extra batteries, options and accessories on top of that.
Optional features like the keyboard dock, extra batteries, more memory or storage could easily double that spend.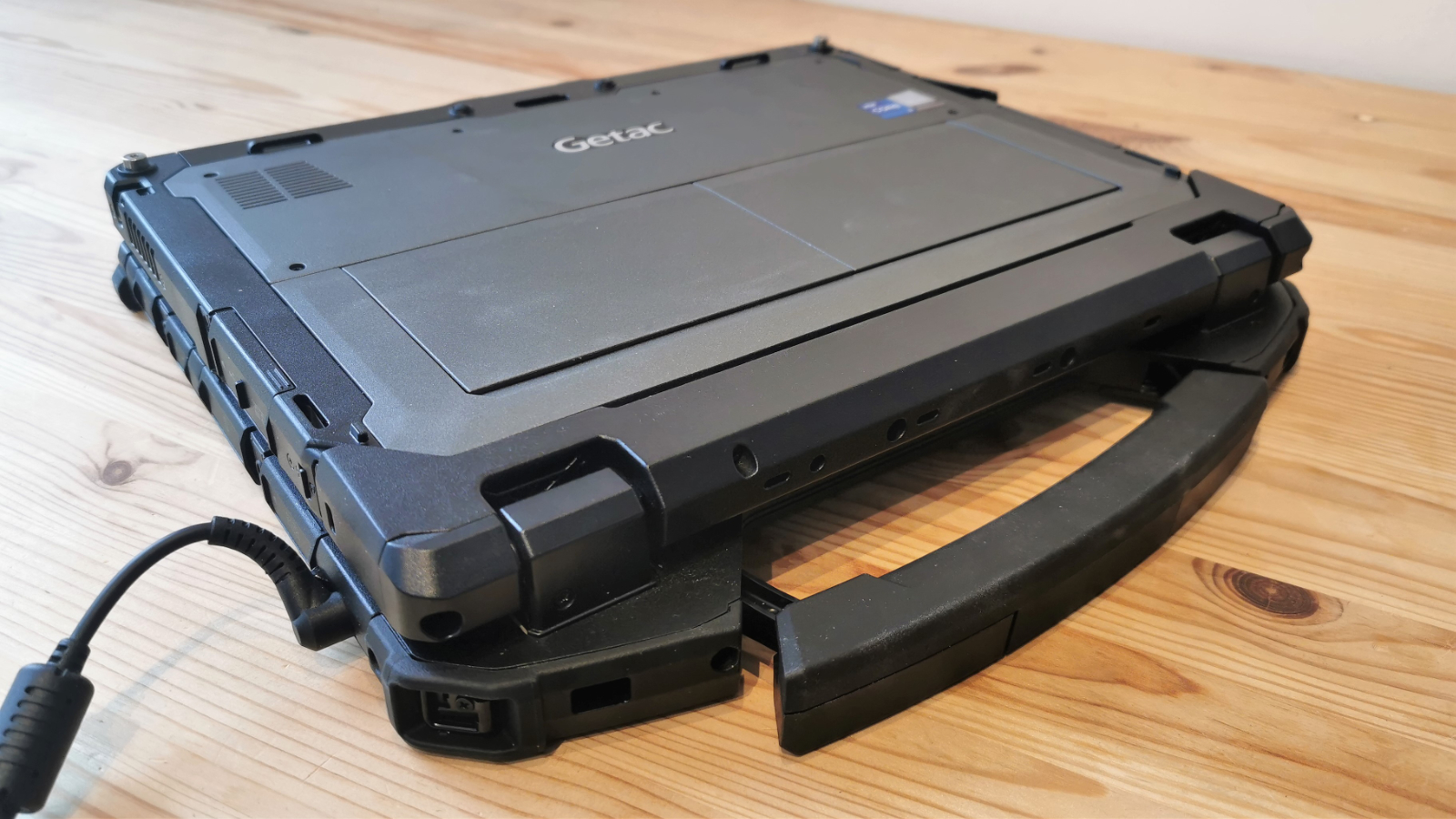 Design
To the casual observer, the older K120 and the new K120 G2 look almost identical.
There are changes, the details of which would bore most people to tears, but evidently, the design team at Getac is under the impression that, like an ancient shark, the K120 has reached a point of the evolutionary apex.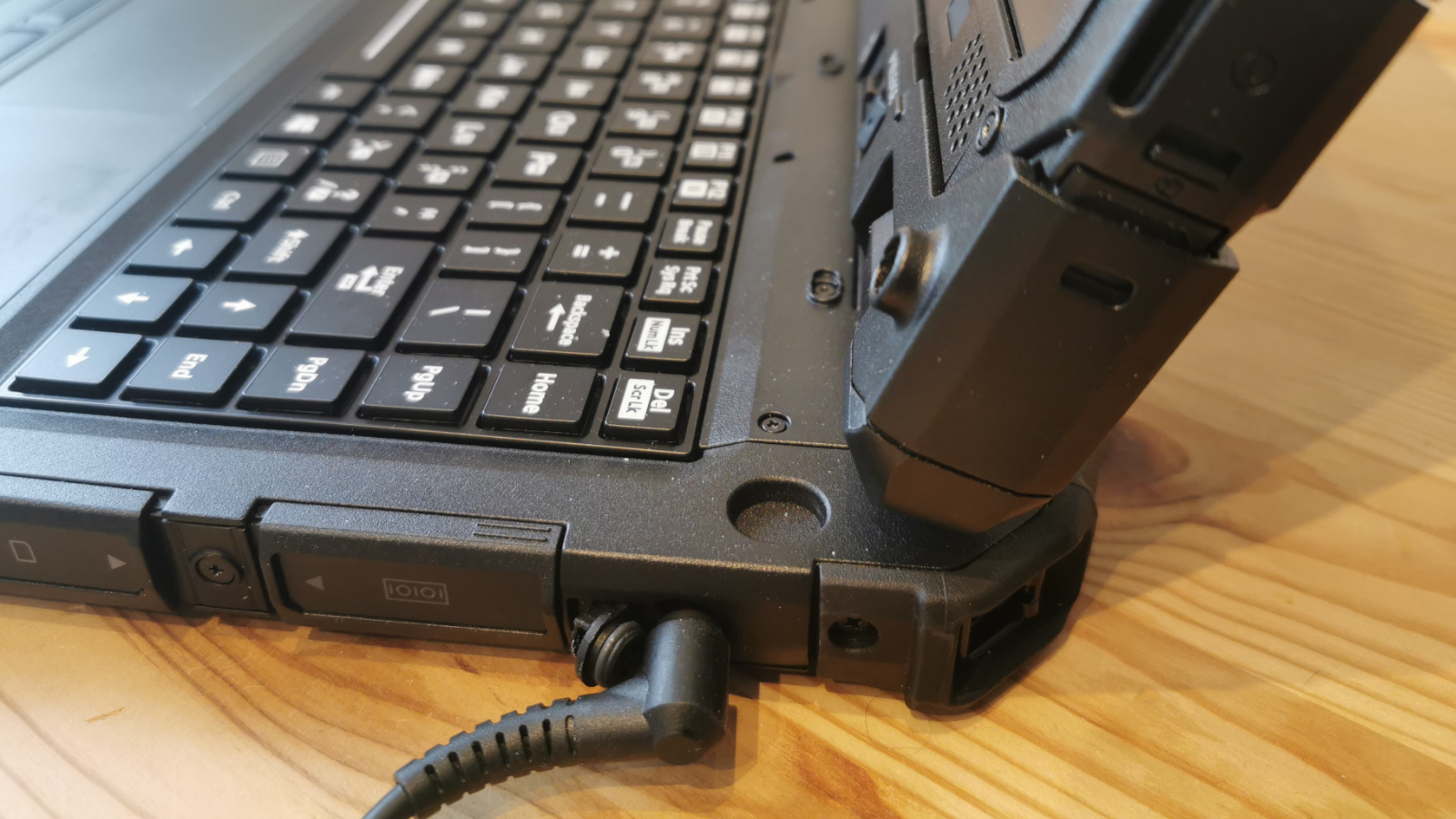 Spec sheet
Here is the Getac K120 G2 configuration sent to TechRadar for review:
CPU: Intel Core i7-1165G7 Max. 4.7GHz with Intel Turbo Boost Technology
Graphics: Intel Iris Xe Graphics
RAM: 16GB DDR4 (option for 32GB)
Screen: 12.5" IPS TFT LCD FHD (1920 x 1080) 1200 nits LumiBond display with Getac sunlight readable
Storage: 512GB NVMe SSD
Tablet Ports: 1x 3.5mm audio/mic jack, 1x USB 3.2 Gen 2 Type-A, 1x Thunderbolt 4 (USB-C), M.2 2280 NVMe SSD slot, 1x LAN RJ45 1GbE, 1x SD Card Reader (optional), 1x HDMI, 1x USB 2.0 (can be swapped for optional RS232 serial port).
Keyboard dock ports: 3x USB 3.2 Gen 1, 1x HDMI, 1x DisplayPort, 1x Serial port (9-pin D-sub), 1x SD Card Reader
Connectivity: 10/100/1000 base-T Ethernet, Intel Wi-Fi 6 AX200, 802.11ax, Bluetooth v5.1, Optional Dedicated GPS, Optional 4G LTE mobile broadband with integrated GPS
Camera: 8MP FHM Rear webcam or Optional Windows Hello face-authentication camera (front-facing).
Weight: 1.7kg (3.75lbs) tablet only, 3.13kg (6.9lbs) with Optional Keyboard Dock
Size: 340.5 x 307.5 x 47mm (13.40" x 12.10" x 1.85")
What Getac created in the K120 G2 is a super-tough tablet solution that integrates to an equally robust keyboard dock to produce something that looks and largely works like a laptop. Or a tablet, depending on your needs.
It is probably technically possible to buy the tablet portion of this system without the keyboard dock, but we'd imagine most customers would also want that part.
Because the keyboard dock contains lots of ports, augmenting the substantial number on the tablet portion, and you can also further connect the system to a vehicle mount or charging base with it.
What's interesting is that aside from ports, the keyboard dock doesn't contain anything critical. Therefore disconnecting the tablet doesn't create a technical problem, as we've seen with other hybrid designs where the keyboard includes batteries, storage, or the horror show Microsoft created by putting a discrete GPU in there with the Surface Book.
All the battery power and core systems are in the tablet, so detaching that only disables the ports on the keyboard dock.
With only the space available in the tablet to hold batteries, that choice might have easily impacted the potential operating life of the unit away from mains power. However, Getac designed the two batteries in detachable modules that can be hot-swapped without shutting the system down.
That could allow the system to operate for extended periods, potentially indefinitely, with a sufficient supply of extra recharged batteries.
What's fascinating about the K120 G2, is that if you strip away the substantial protection from damage and the environment, it's a practical high-performance hybrid laptop that would neatly fit many data capture roles in the great outdoors or an industrial context.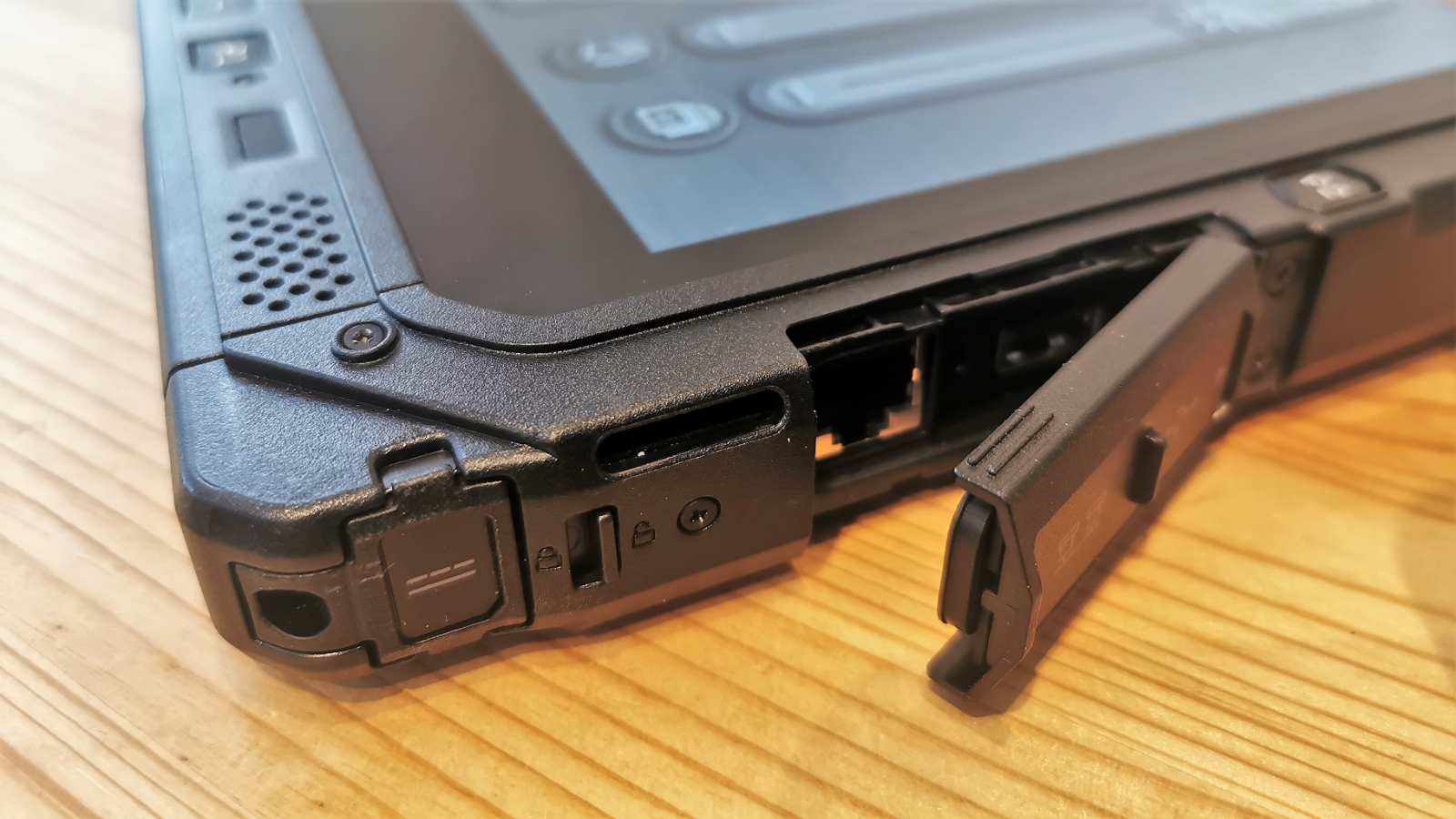 Options
Getac aims to give its customers precisely what they want, and the K120 G2 has plenty of options and accessories to satisfy them.
Our review system used an Intel Core i7-1165G7, but you can choose the even more powerful Intel Core i7-1185G7 vPro CPU if you need its grunt, or even take a more modest Core i5-1145G7 or Core i5-1135G7 if battery life is more important.
Memory of 16GB of RAM is standard, but the systems can come with 32GB. And, internally, the PCIe NVMe drive can be 1TB in capacity.
All K120 systems come with a 12.5 inch IPS TFT with 1080p resolution, and this 1200 nit Luminbond display is also a capacitive multi-touch panel. Getac offers an option to enhance this further with a dual-mode touch sensor that allows the screen to also operate as a digitizer, and a stylus is included to use with that.
Other options include 1D/2D imager barcode reader, RS232 serial ports, Windows Hello face-authentication camera (front-facing). An RF antenna pass-through for GPS,
WLAN and WWAN. A dedicated GPS, and 4G LTE mobile networking, also with an integrated GPS.
And, if those options weren't enough, it can also be fitted out with a contactless HF RFID/NFC reader, Smart card reader or fingerprint scanner.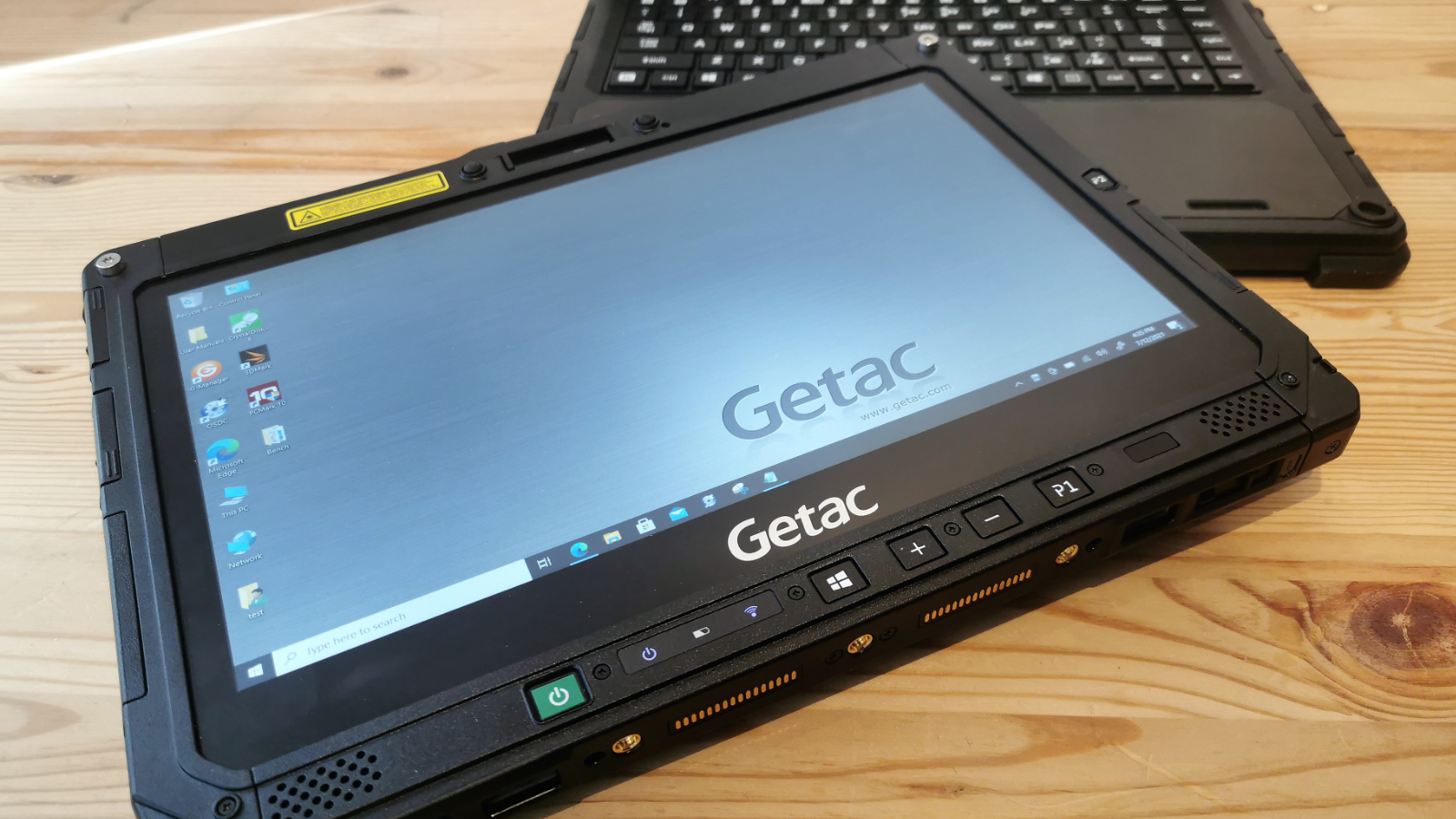 Accessories
To go with the K120, Getac has a great range of accessories made to work with this system. These include docks for a vehicle, the office and the standard keyboard dock seen in our images.
It also makes a custom carry bag, shoulder strap, shoulder harness (handsfree), and a rigid handle.
But, the most valuable accessories are probably those to do with charging the removable batteries. Two designs are offers, one that can charge two batteries at once and another that can handle up to eight.
Extra batteries come in the standard 2100mAh (min. 2040mAh) capacity or high-capacity 3450mAh (min. 3300mAh) modules.
With all these choices, the K120 is a truly go-anywhere design that can be tailored to its mission very succinctly.
In use
One of the slightly stranger things about this design is that the carry handle is on the spine of the connected system, where on my computers that have one place it on the user facing edge.
That means that once you put it down to use it is necessary to rotate it through 180 degrees to access the catch that allows the hinge to open. And, the catch is on the bottom half, making it impossible to operate without lifting the machine up from the desk surface.
That Getac has sold an almost identical design for years and they've never chosen to address these obvious ergonomic flaws is disappointing.
Given the substantial mass of the connect machine, and even the sub-parts, we'd strongly recommend that anyone using the K120 G2 trim their fingernails on a regular basis. Breaking a nail while moving it around, popping the port hatches is almost guaranteed if they're not strong, short and well maintained.
One good thing about the placement of the handle is that this layout has avoided spinal positioning of ports, and all the ports on both components are on the sides.
The number of available ports is impressive, although if you decide to switch into tablet mode some of these are no longer accessible. At least Getac didn't follow the remarkably dumb idea that Microsoft had with the Surface Book of putting half the battery capacity and the GPU in the keyboard section, causing complete chaos in any 3D or video processing applications upon disconnection.
Detaching the two parts is fiddly, and with most of the weight in the tablet section it can be awkward to disengage the metal clasps that engage the locking mechanism.
Once you have them apart the keyboard base seems remarkably light, while the tablet is surprisingly heavy.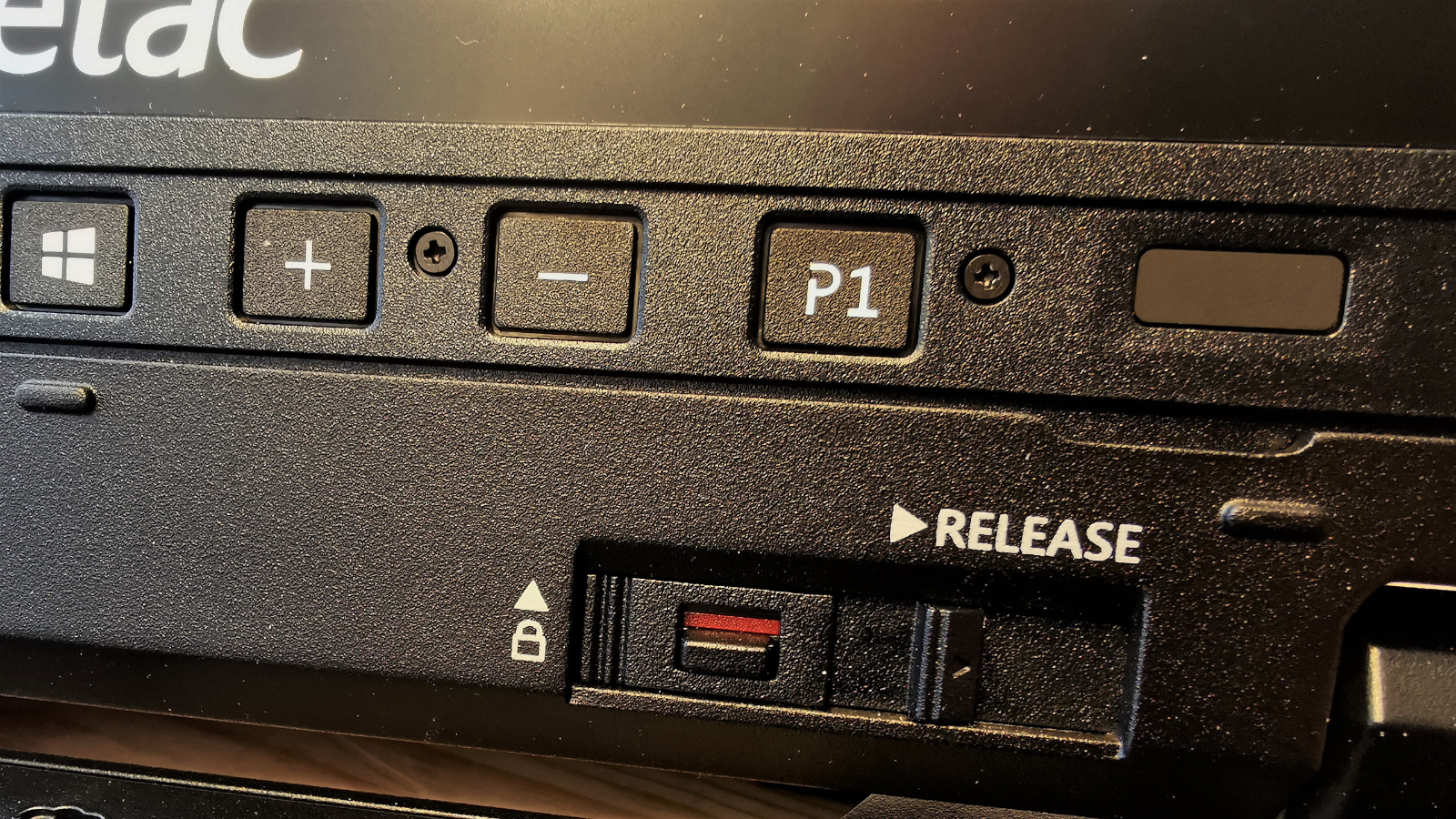 Performance
Benchmarks
Here's how the Getac K120 G2 scored in our suite of benchmark tests:
3DMark: CPU: 896-3579; Wild Life: 8,177; Fire Strike: 3,339; Time Spy: 1,364
Cinebench R20 CPU: 2,307
Cinebench R23: 1,413 pts (single core), 5,466 (multi-core)
GeekBench: 1,496 (single-core); 4,927 (multi-core)
CrystalDiskMark: C: Sequential Read: 3,450MB/s; Sequential Write: 2,336MB/s; 4KiB Q32T1 Random Read: 59.65MB/s; 4KiB Q32T1 Random Write: 148.21MB/s
PCMark 10 (Home Test): 5,130 points
PCMark 10 Battery Life (Office): 6 hours and 11 minutes
The story of these benchmarks is mainly about the improvements that Intel has made with its 11th Gen mobile chips. These numbers are significantly better across the board than any of the CPUs offered on the prior K120 design that used an Intel 8th Gen platform.
Single-core executed tasks are much faster, and the utilisation of multi-core tests is also enhanced. But what makes the most difference to the 3DMark benchmarks and a few others is the inclusion of Iris graphics. It's a step up from the abysmal Intel HD Graphics GPU that has been around seemingly forever. The new Intel Xe elevates some video tests from being slideshows to a degree of smoothness.
But, being pragmatic, the Iris enhancement is long overdue, and it still doesn't deliver the performance of a discrete GPU or an AMD Radeon APU.
And, as we've mentioned AMD, the Intel Core i7-1165G7 might look good against previous Intel chips, but it's fabricated with 10nm SuperFin lithography. AMD uses 7nm on the Ryzen 5000 series CPUs, allowing for similar performance to Intel but with lower power consumption and less heat generation. And more concerningly for Intel, they're moving to 5nm fabrication very shortly.
This issue plays out in the battery test where the two 24Wh (2100 mAh) batteries were exhausted by office tests in just 6 hours and 11 minutes. Yes, using the high-capacity 3450mAh optional batteries would probably take that to over 10 hours, but a more power-efficient CPU could achieve even more.
Along with the enhanced GPU, the other good news story here is the NVMe storage performance. The previous K120 used SATA storage, and the new NVMe drives are at least fives times faster at both reading and writing. This performance significantly reduces delays launching the OS, applications and accessing large files.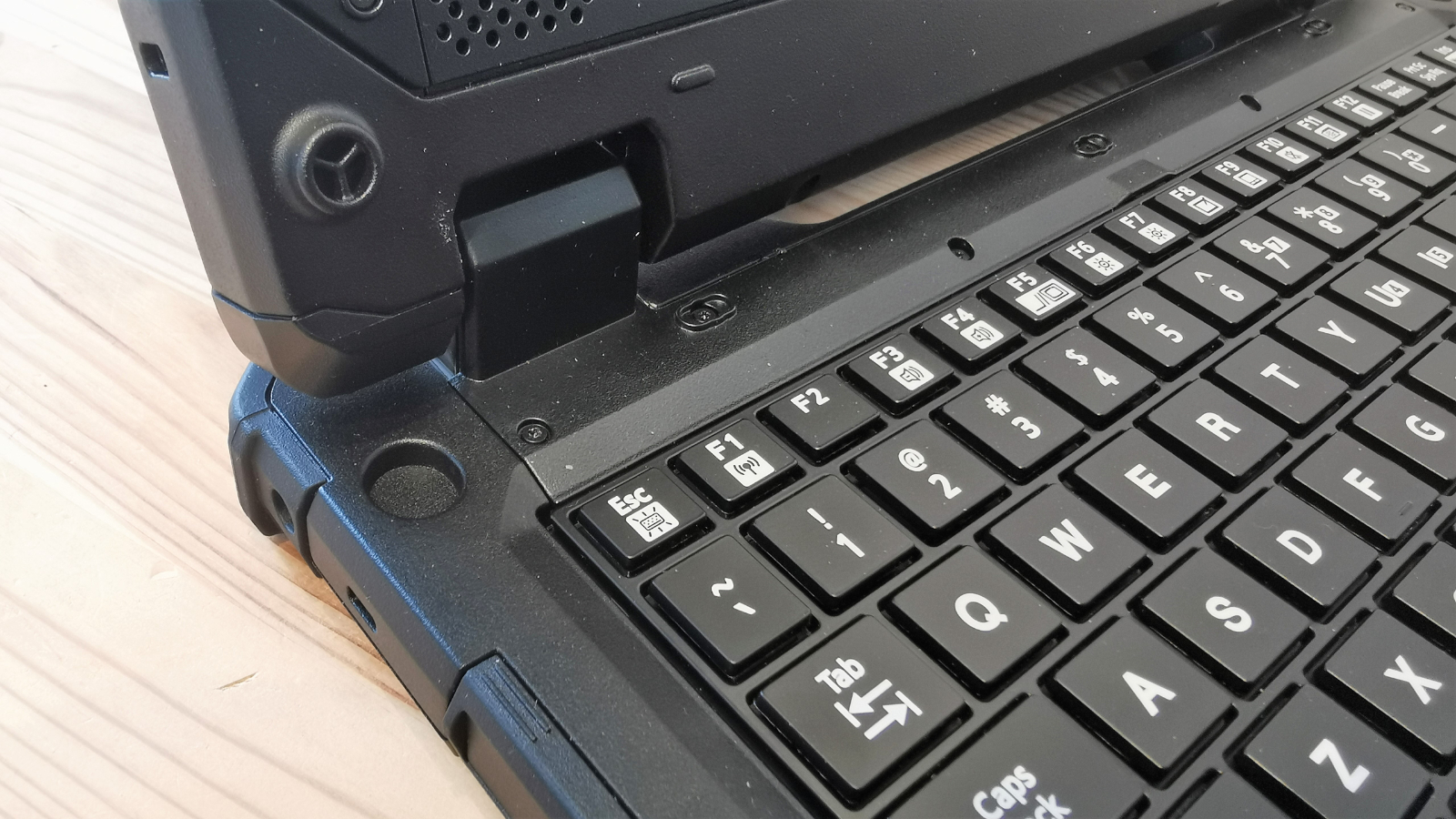 Resilience
When describing the resilience of equipment, many system makers tie themselves in knots with certifications that aren't certifications and ratings that mean almost nothing to the buying public.
Thankfully, Getac is crystal clear about exactly what each test it credits the K120 G2 with implies, even if they insist on mentioning MIL-STD-810H, MIL-STD-461G and IP 66 throughout its marketing materials.
For those unfamiliar, IP66 is water-resistant against powerful jets, not complete immersion, but it can handle being in the rain at the very least.
Understanding the MIL standards is a little more complicated since the US military doesn't issue certifications. What they did was create a series of tests that they'd expect equipment made for them to ace, and they placed these under banner requirement documents, like MIL-STD-810H.
Therefore the MIL-STD-810H and MIL-STD-461G tests were performed by an independent third-party company in the USA
These tests included 'an array of conditions and situations, including high/low pressure, high/low temperatures, rain, humidity, vibration, acoustic shock, impacts and altitude'. In these tests, the machine survived multiple drops from 6 feet (1.8m) onto a solid surface and continued to function.
Is the K120 indestructible? No. And, to underline that point, Getac offers a 3-year 'Bumper-to-Bumper' warranty to help minimise IT costs and get the unit back in service as rapidly as possible.
How robustly they built the K120 can help minimise the need for this warranty, but bad things can happen by accident, and Getac accepts that.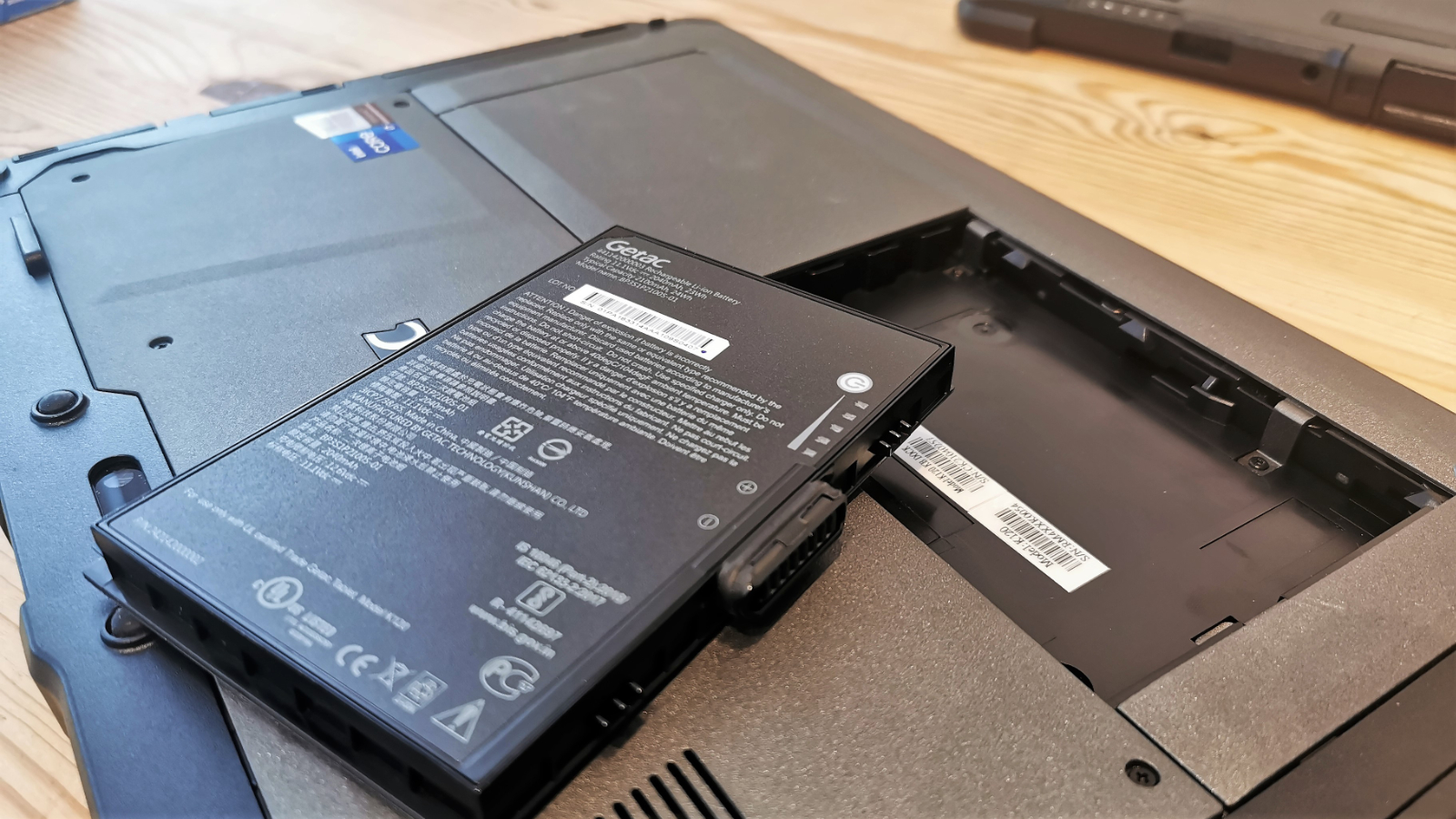 Final verdict
Those who pride the survivability of a system over all else will gravitate to the new Getac K120 G2, as it hasn't lost any of its battlefield-tough construction and port protection.
The ability to detach the keyboard we're less sure about. It makes the system marginally lighter, but by tablet standards, it is hardly an easy carry.
Having both batteries remain inside the tablet enables some excellent hot-swapping options, but this could have been enhanced by adding even more battery power in the base.
A welcome change from the previous design is the more modern processor and chipset that comes with it, providing plenty of power for those that need local computation. However, having the power of a Core-i7 does impact negatively on battery life, as Intel still can't master delivering power and efficiency on the same silicon.
If we have a disappointment, it's the screen, which seems unchanged from the previous iteration. The resolution is on the low side, the colours are rather muted, and without the brightness turned up, it can be difficult to locate the mouse pointer.
That said, it can be read in sunlight, even if these aren't the most saturated colours we've ever seen.
Overall, the K120 G2 is a brutalist statement about the nature of some occupations and the quality of equipment needed to accomplish those. It's all about functionality and raw performance and not much about elegance and finesse. And, it comes at a high cost compared with an ordinary laptop.
If you intend to head into an unforgiving environment and need a built-for-purpose system that can take the knocks, then the new K120 G2 might be perfect for you. But we recommend heading down to the local gym a few weeks to tone up those upper body muscles first.