With the best website builders, it has become easier than ever to put together an entire website in next to no time at all. However, you won't always need to build a complete site, which is where tools like Adobe Spark come into play.
This platform is designed to help you create attractive web pages, graphics, or short videos with a minimal amount of effort. In our Adobe Spark review, we take a closer look at everything on offer, providing the information to help you decide whether it's the right choice for your next project.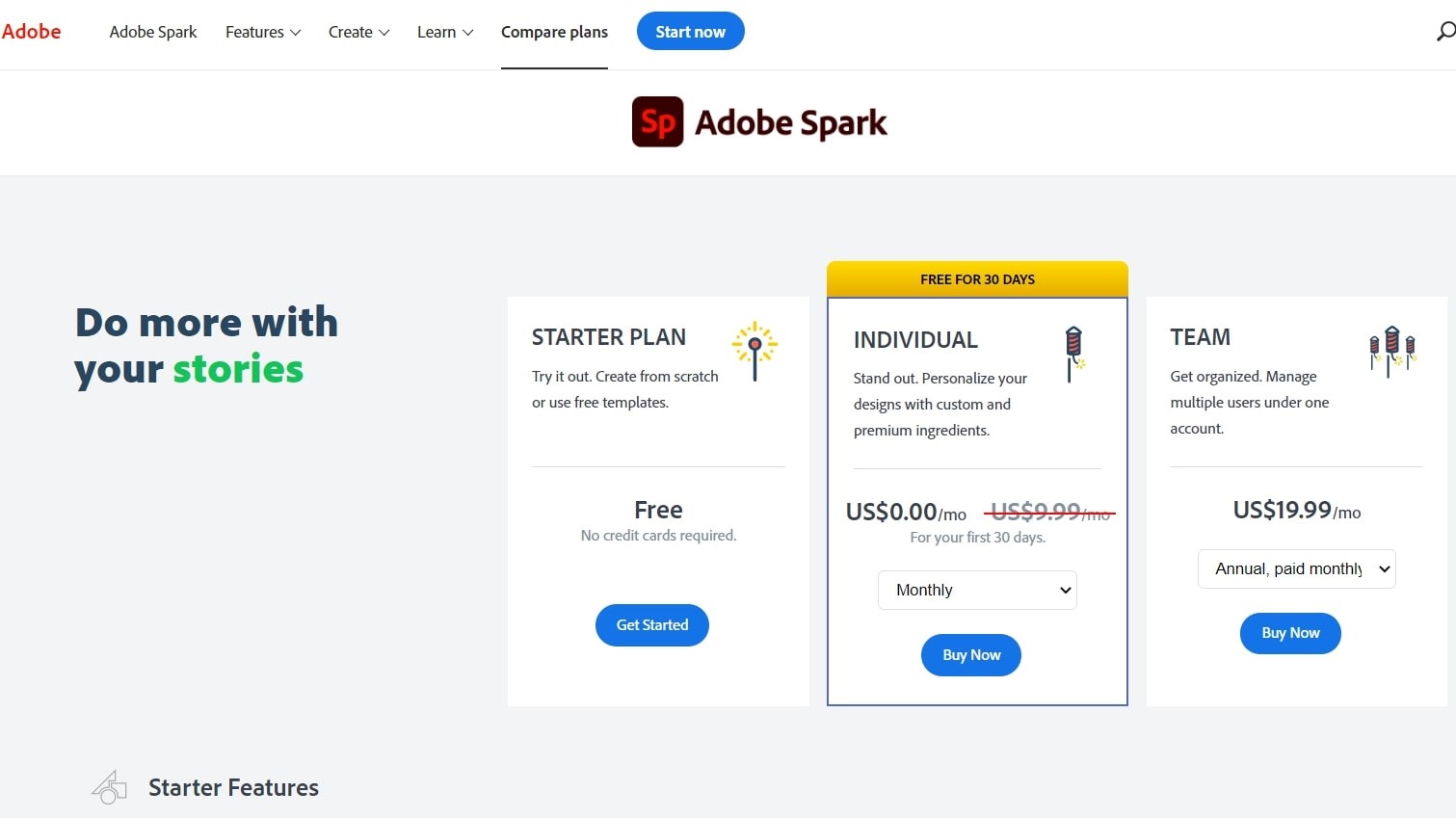 Plans and pricing
There are three different subscription options available. For most people, the "free forever" Starter plan will be more than good enough. It offers a selection of free templates and full web page, graphic design, and video creation tools.
The Individual plan comes in at $9.99 per month (or $99.99 per year), with a 30-day free trial. It has a selection of additional design features, including the ability to invite other users to work on your projects, a suite of great branding tools, and access to both Adobe Fonts and a selection of free templates.
The most expensive Team plan starts at $19.99 per month and includes all design and creation tools. It also adds 24/7 phone, email, and chat support, along with admin tools like consolidated billing.
It's worth noting that Spark is available for free with most Creative Cloud plans, free Spark for Education options are available, and enterprise-level solutions can be developed where required.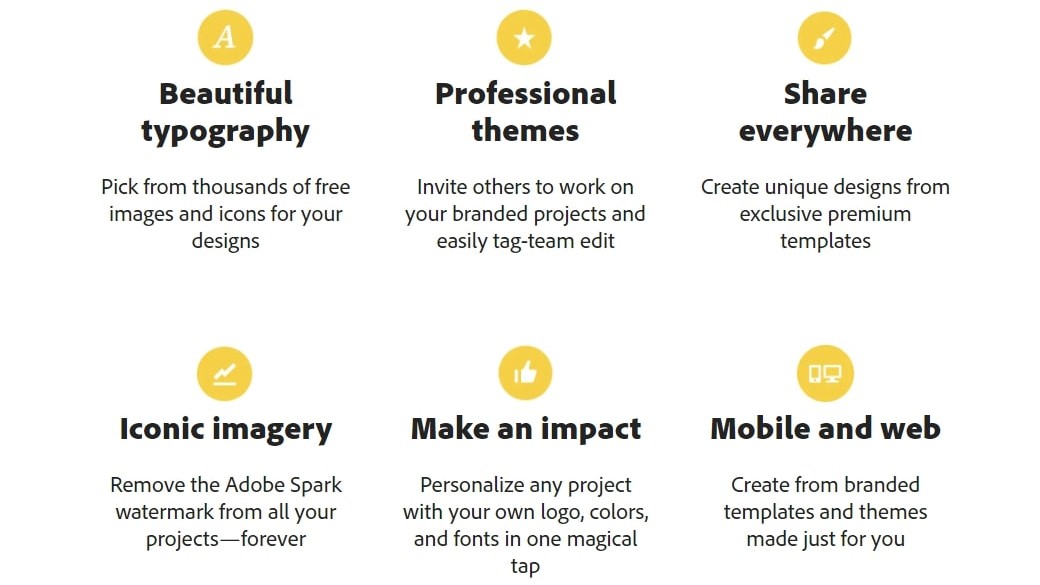 Features
We've outlined the main features of Spark's graphic design, website building, and video creation tools.
Attractive templates
There are various templates available for web pages, videos, and different types of graphics. The web page and video templates are a little basic, but the social media designs are among the best that we've seen.
Simple link sharing
It's extremely easy to share your Spark project with the relevant people by publishing it and generating a custom link. Simply share this link to let people view your work.
It is worth noting that you can't connect a custom domain to your Spark web page. This will be a major problem for many people, as it simply looks unprofessional if your site's branding isn't consistent.
Mobile apps
Both Android and iOS apps are available for Spark users. If you use an iOS device, you can access separate Spark Post, Spark Page, and Spark Video apps. Unfortunately, though, only Spark Post is available for Android.
Excellent selection of free images
There are great image and media tools on offer. You can find free stock photos by simply following the prompts. Alternatively, you can connect to Adobe Stock, Creative Cloud, Lightroom, Dropbox, Google Photos, or Google Drive or simply upload your own media directly from your device.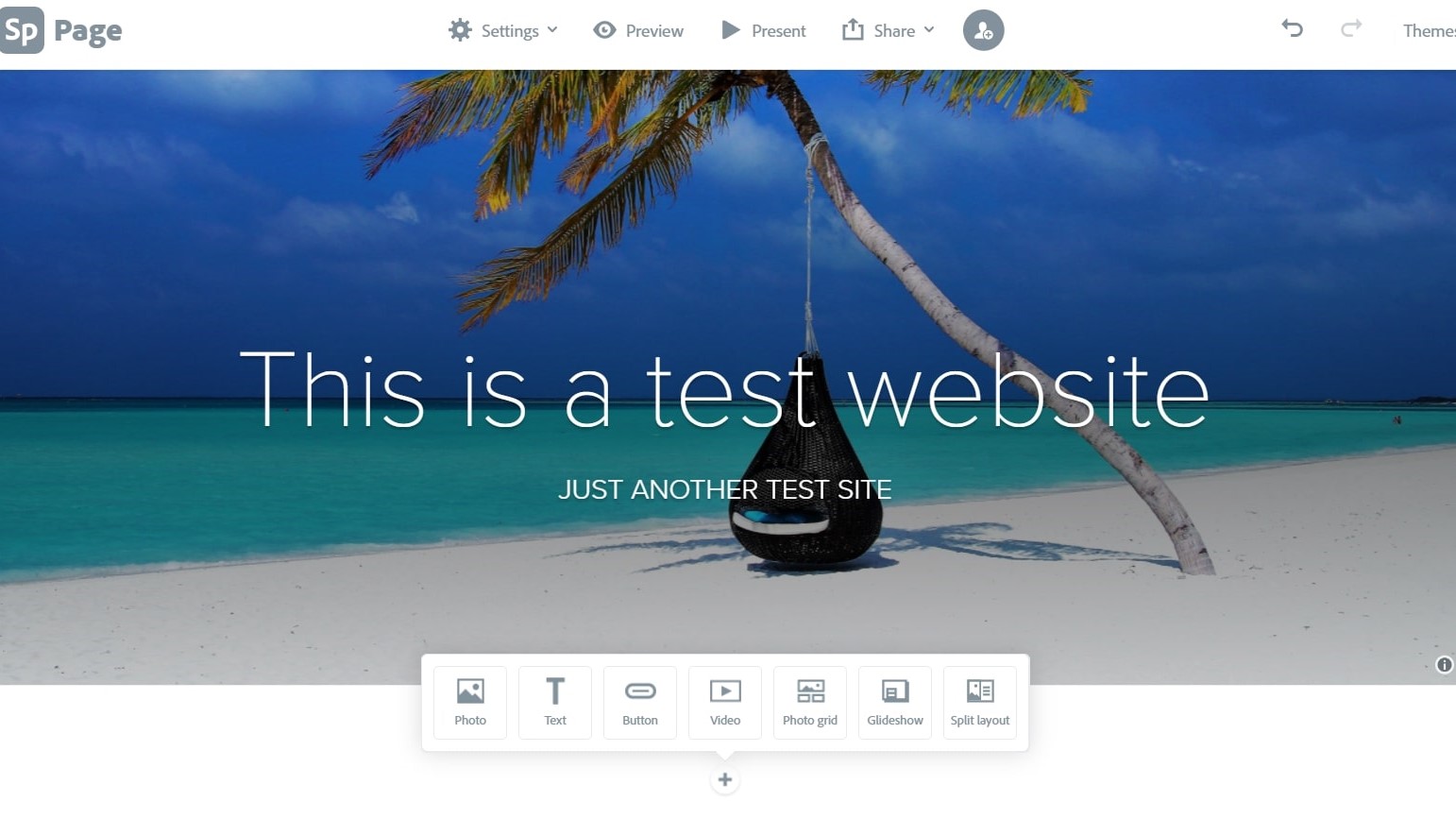 Interface and in use
The Adobe Spark web page creator is extremely basic, with limited editing tools and design flexibility. However, it's easy to use and remains a decent option for building image-focused landing pages.
Fortunately, the graphic design tool is much better. You will have access to a suite of advanced tools, enabling you to customize virtually every aspect of your media.
Unfortunately, however, the video creator also disappoints. There are few basic templates that you can start with, but don't expect any fancy video editing tools or advanced features.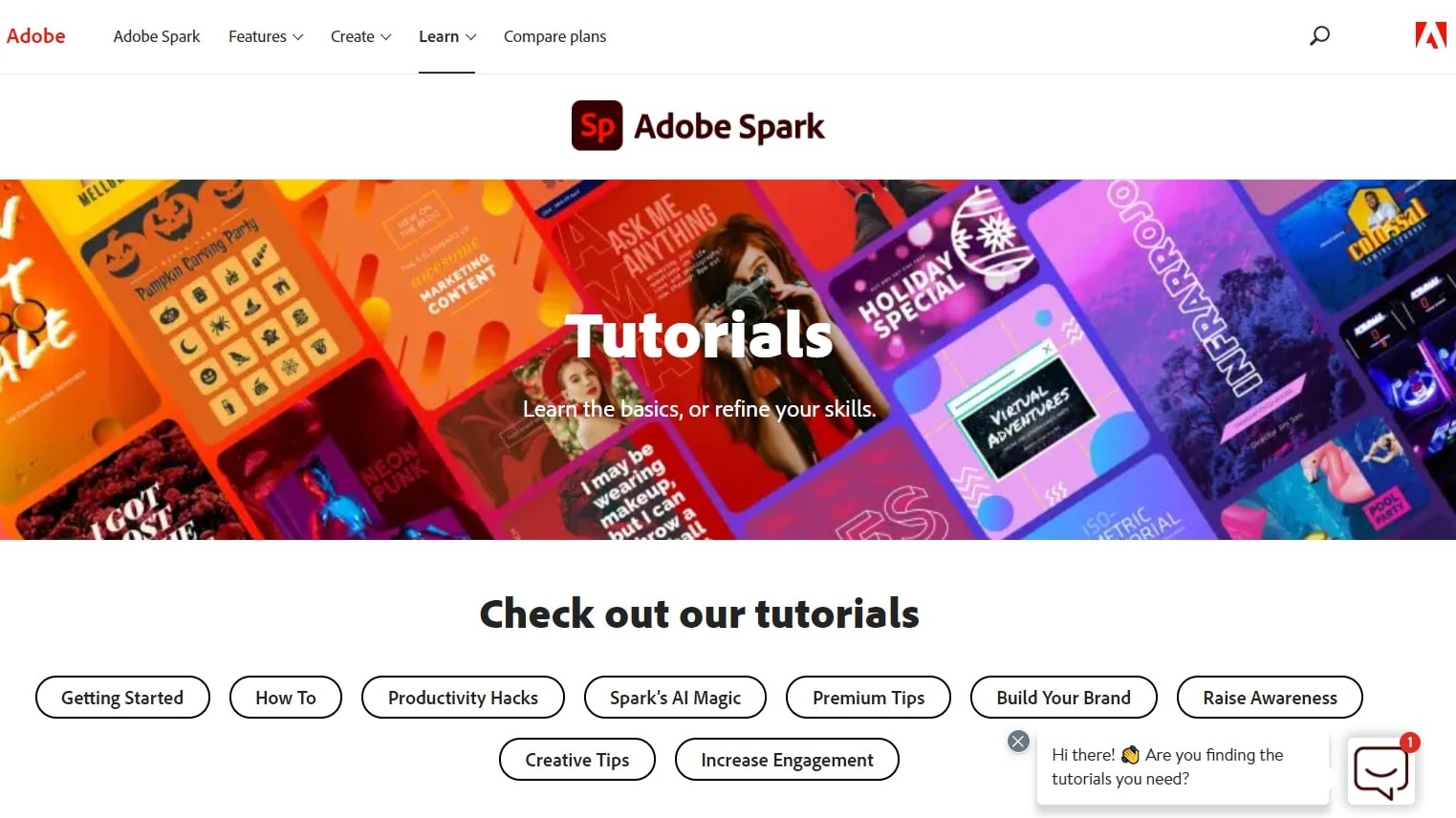 Support
Adobe Spark has a broad range of great tutorials. Navigate to the Learn tab on your admin management panel, and you will find a suite of resources to help you get started. Learn how to do everything from creating a simple social media post to animating text and building a complete web page.
On the live support front, things are a little disappointing. Live chat, phone, and email support are only available if you have a high-end Team subscription.
The competition
If you're looking for an Adobe Spark alternative for creating high-quality graphics, Canva could be the right option. It comes with a suite of advanced design tools and boasts tens of thousands of templates, and all the basic tools are available for free.
Wix is a more robust option for building a new website. Its site editor is less limited than Adobe Spark's, although it can be a little confusing to get started with. Do note that you will have to pay for a premium subscription if you want to connect your own custom domain, though it's at least available as an option.
Final verdict
A thorough analysis of the Adobe Spark platform shows that although it has its strong points, it's not the right option for everyone. The graphic design editor is excellent, but the web page and video creation tools are too basic for our liking.
On the plus side, Spark is available completely for free. There's a wide range of tutorials to help you get started, and the user interface is intuitive and straightforward.
While we recommend considering a few alternatives before making your choice, if you're looking for a powerful graphic creator or a beginner-friendly web page or video designer, Spark could be the right option.