Apple's iPhone 8 wasn't even the top-of-the-line iOS phone when it came out, but it's still a robust choice for functionality and speed, with a traditional home button packing an easy-to-use Touch ID fingerprint sensor to boot. In short, it's as powerful as the iPhone X at a notably lower cost – which is still impressive years after both phones have come out.
If you're scouring for the best iPhone right now, consider Apple's newest iPhone 12 range, which includes four phones. They're three years newer than the iPhone 8, but a fair bit pricier to match. Thankfully, the price for the iPhone 8 has dropped since it launched.
When Apple announces new iPhones, it typically drops a few aging devices, but the iPhone 8 has manage to survive unscathed, and enjoys the new features in iOS 14 to boot. Apple still considers it a 'budget' entry to the iPhone series for people who want Apple's tech without paying for a high-end phone, though it's now more in line with the new mid-range iPhone SE 2020. That means it's still very easy to pick up the iPhone 8 from a variety of places at half (or more) off the price tag of the latest iPhone.
The 8 is a legacy iPhone through and through: if you've owned an Apple handset from the iPhone 6 onwards, you'll know exactly what you're getting with this smartphone. There haven't been too many changes over previous models, but for some, that's a bonus.
iPhone pessimists and Android fans (sometimes the same people) will be quick to point out the seemingly minor incremental upgrades over 2016's iPhone 7, but for those with an iPhone 6S or before, that's less of a problem – especially with the 8's more powerful chipset.
While it may not offer much over its direct predecessor, the iPhone 8 has enough about it to make it an exciting upgrade for those with older iPhone handsets. It also enjoys all the goodies in iOS 14, like widgets, Dark Mode and a range of app speed increases, so you can make the most of your iPhone experience.
iPhone 8 vs iPhone XS
Apple hasn't reinvented the wheel here – if you're craving innovation (within the iPhone bubble, at least) see the new iPhone XS (which has replaced the iPhone X).
You've probably already heard, but the differences between these two phones is pretty vast - and the first point is the cost. At launch, the iPhone XS started at $999 / £999 / AU$1,579 if you want the 64GB model, where the iPhone 8 now starts at $599 / £599 / AU$979 for the same capacity.
Those prices have gone down since, though the iPhone 8 isn't sold directly by Apple as it's been replaced in the lineup by the iPhone SE 2020, so the pricetag may vary by retailer.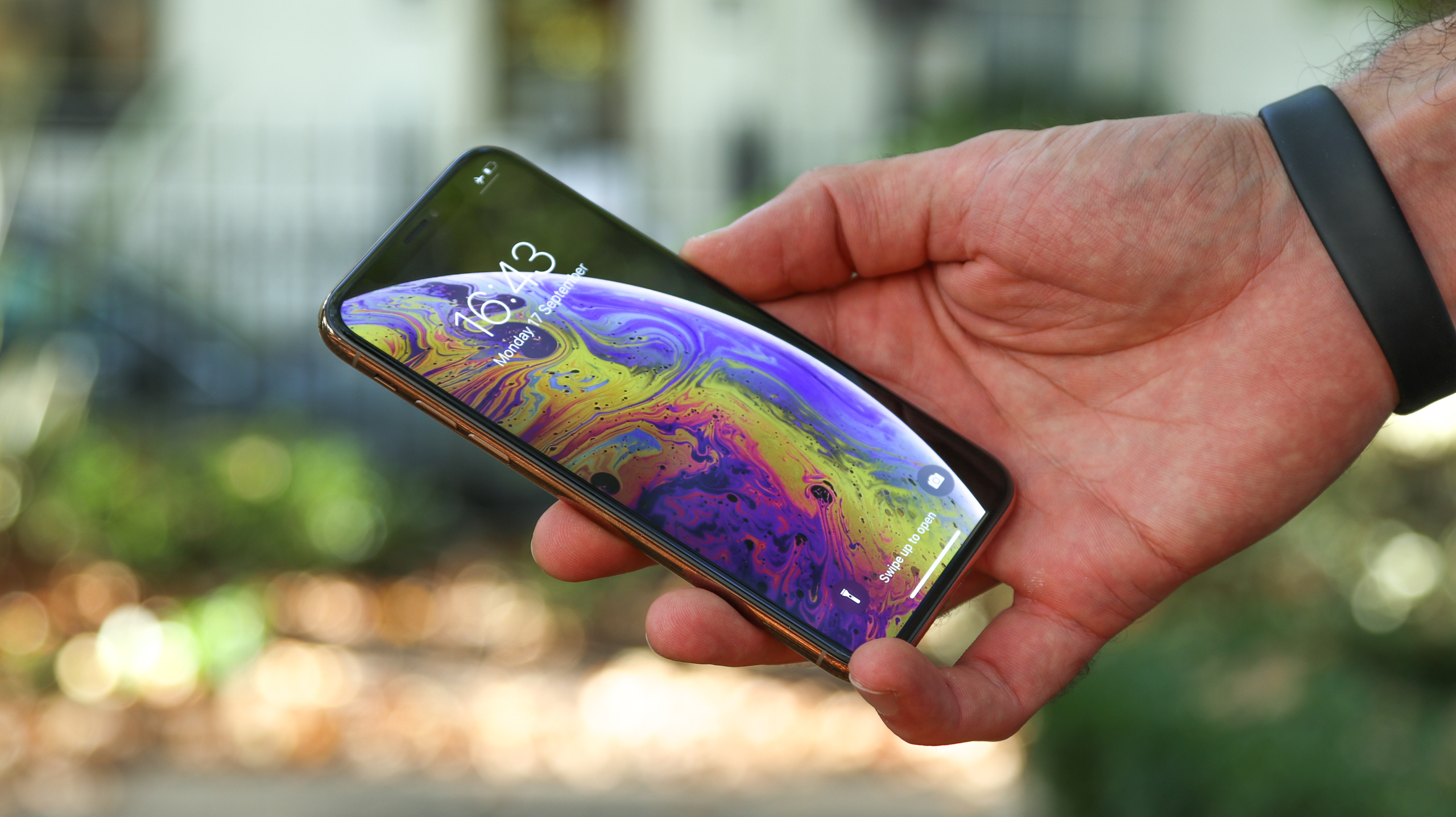 So what are you getting for that extra money - and is it worth buying? The first thing is the screen - you've got a bezel-less 5.8-inch display with a 1,125 x 2,436 resolution, and it's OLED display technology too – that's superior to the 4.7-inch 750 x 1,334 screen on the iPhone 8. You'll notice a huge difference between the two.
The other big difference to consider is how you unlock this phone - with the iPhone 8, it's Touch ID fingerprint scanning, as it has been for years. With the iPhone XS, you're unlocking with your face, using the nattily-named Face ID.
Touch ID is familiar and fast, while Face ID feels futuristic and recognize faces fast enough – but it's not going to be for everyone doesn't adjust well to drastic change. For those people, the iPhone 8 is going to be far more appealing.
The notch at the top of the iPhone XS contains a camera that allows for Animoji and MeMoji, where emoji can be animated by mapping your face - this feature is locked to the iPhone X, XS, XS Max and XR, and the TrueDepth front camera, so not possible to do on the iPhone 8.
The iPhone XS has dual cameras where the iPhone 8 has a single sensor, which allows for background de-focus and a more comprehensive photographic experience - although this is also possible on the iPhone 8 Plus.
In short: the iPhone 8 is the safe, cheaper option. It does the iPhone things you'd want, and is a solid package you'll recognize all the way back to the iPhone 6.
iPhone 8 price and availability
iPhone 8 price (64GB): $449 (£479, AU$779)
iPhone 8 price (128GB): $499 (£529, AU$859)
Launch price (64GB): $699 (£699, AU$1,079)
Launch price (256GB): $849 (£849, AU$1,329)
iPhone 8 release date: September 22, 2017
The iPhone 8 set a new bar in terms of cost for Apple's most mainstream handset, as it upped its launch price tag once again.
While the iPhone 8 price at launch was $699 (£699, AU$1,079) for 64GB of storage and $849 (£849, AU$1,329) for the larger 256GB storage option, it has since dropped.
The iPhone 8 price now starts at $449 (£479, AU$779) for the 64GB model, and rises to $499 (£529, $829) for the 128GB variant (somewhere along the way, Apple lowered the max storage down from 256GB). For the best UK contracts, check out our iPhone 8 deals page.
Even though Apple has launched three new generations of iPhones since the iPhone 8's arrival, the handset is still widely available from Apple itself and most major phone retailers.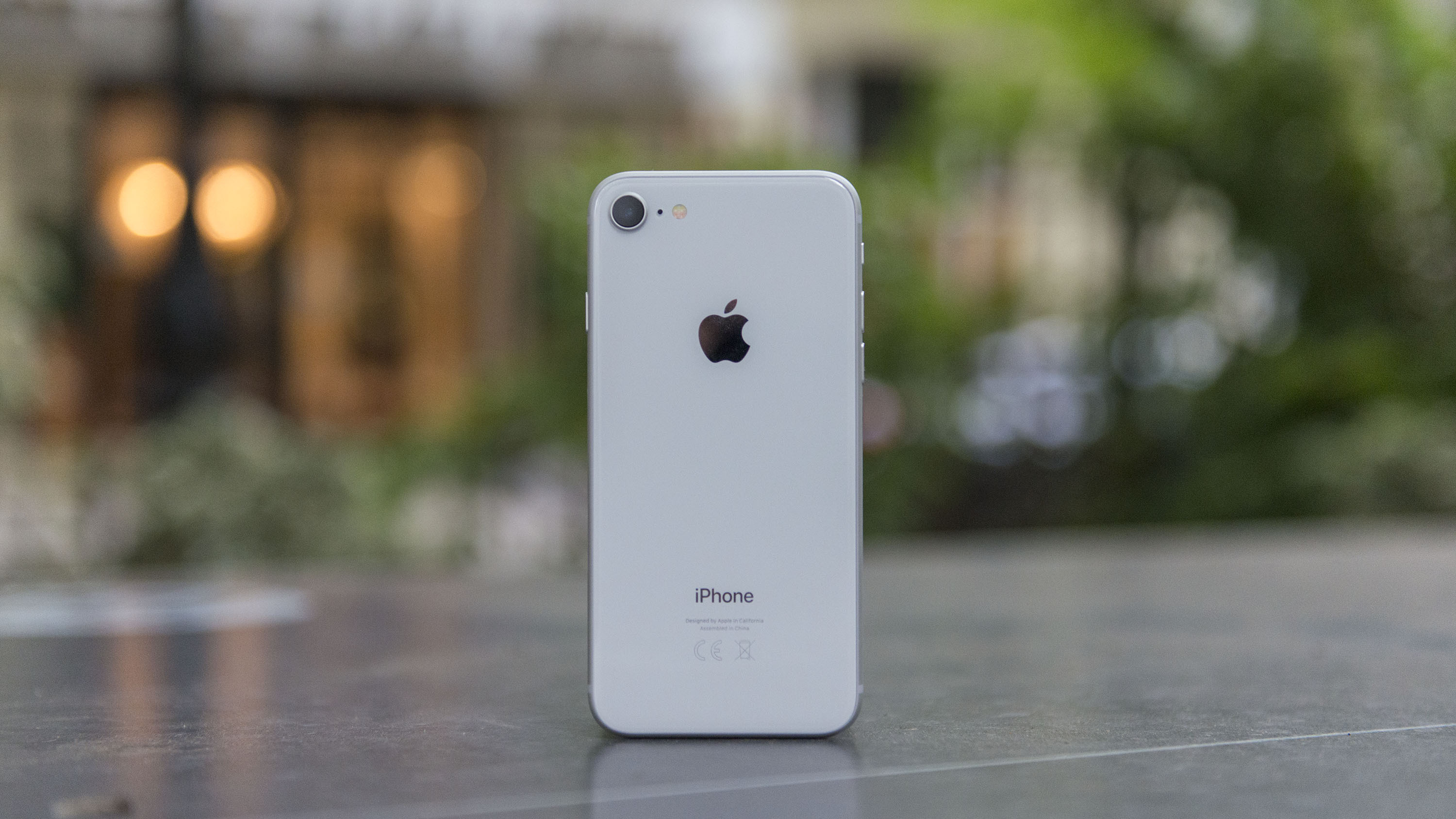 Design
Glass rear looks and feels great, and enables wireless charging
Front still bezel-heavy and almost identical to past three generations
The iPhone 8 marked the most radical change in iPhone design for three years – but don't get too excited.
One of the big upgrades Apple has given its new iPhone, and the focus of the design, is the glass rear – it's an upgrade over the aluminium body used since the iPhone 5, and its inclusion means a brand-new feature in the shape of wireless charging.
However, in terms of size, shape and look the iPhone 8 uses the same form factor as the iPhone 7, 6S and 6, and from the front it's almost impossible to differentiate between the four generations of handsets.
The iPhone 8 is a fraction of a millimeter thicker (7.3mm vs 7.1mm), wider (67.3mm vs 67.1mm) and taller (138.4mm vs 138.3mm) than the iPhone 7, but you won't notice. The point we're making is that it's similar... very, very similar.
It's heavier too, an extra 10g over the iPhone 7, which may be a little more noticeable – but it's not overbearing, and we were still able to comfortably hold the phone in our palm.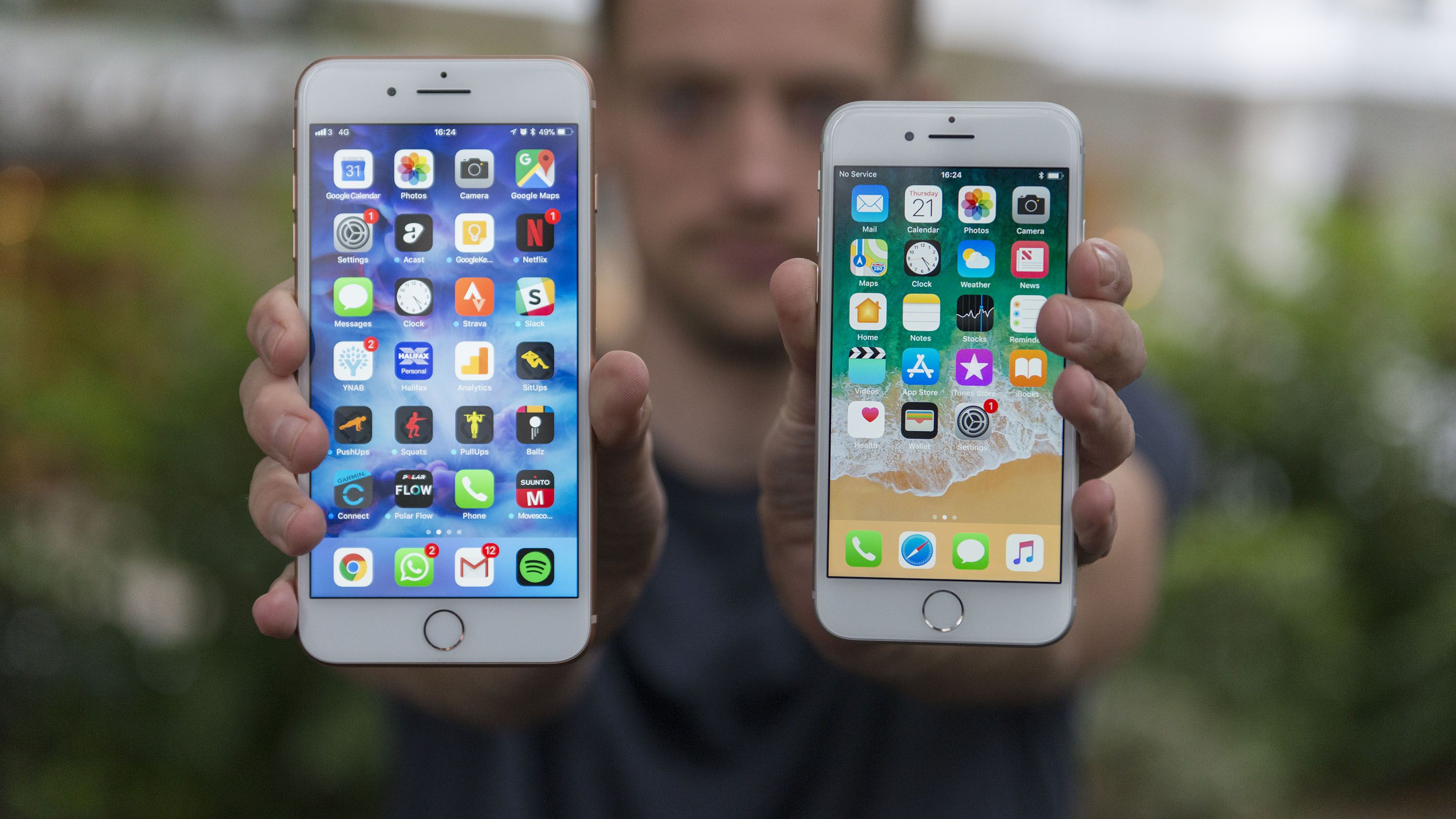 The 'if it ain't broke, don't fix it' argument can be tossed around here, and Apple certainly hasn't had any trouble shifting large quantities of its smartphone in recent years; but in a year when Samsung and LG dramatically slashed the bezels to give us striking, futuristic designs, the iPhone 8 falls flat.
It's not like Apple has missed this trend – the bezeless iPhone X is testament to the fact that it hasn't – but it means the iPhone 8 and iPhone 8 Plus look ever-more dated against the competition, which now includes a rival in their own camp.
There's still a camera bump too – this is easily remedied with a case, but for those wanting to show off the new glossy rear of the phone it increases the chance of damage when you place it on a flat surface.
The power/lock key is still easy to hit on the right side of the handset, as is the centralized home button with Touch ID fingerprint scanner located in the bezel below the 4.7-inch display. The mute switch and volume keys reside on the left of the phone, and are again well placed for easy manipulation.
It all works, the design is functional, and it's not a bad-looking handset – but glance at that price tag and it's hard not to feel a little short-changed on initial inspection.
A final word on the glass rear too – we prefer the way it looks and feels versus the metal body of the iPhone 7 and co., but it also means it's even more slippery.
If you're someone who's liable to drop their smartphone, the iPhone 8 comes with a high risk warning, so invest in a bumper, as there's glass to be smashed on both sides now.
Apple says the glass is super-tough, but we've found that it does scratch – and if you opt for the Space Grey color it's also quite the fingerprint magnet. The silver model we reviewed was more forgiving though, which meant less time cleaning it with our shirt sleeve. Apple also offers a striking gold color option and, now, the Product Red iPhone 8 if you held out for the special edition hue.
Display
4.7-inch Retina HD display, same as the iPhone 7
Apple's True Tone tech improves colors and contrast
On paper there's nothing between the iPhone 8 display and the screen on the phone it's replacing. Both it and the iPhone 7 boast a 4.7-inch IPS display with a 750 x 1334 resolution, giving a 326ppi pixel density.
In fact, it's the same size and resolution as the iPhone 6, which was launched back in 2014.
While on paper this may seem like the same old story of Apple refusing to be pushed on upping specification, it hasn't left the display alone completely, adding True Tone display technology to the panel.
What this does is monitor the ambient light around the handset, and calibrate the screen to best suit the lighting conditions you're in. It results in stronger colors and improved contrast, which does make the display look better than iPhone screens that came before it.
Place True Tone and non-True Tone iPhones side by side and you can see some improvement, but the iPhone 8's display still doesn't have quite the same colorful punch, or clarity, as the QHD+ AMOLED display on the Galaxy S8.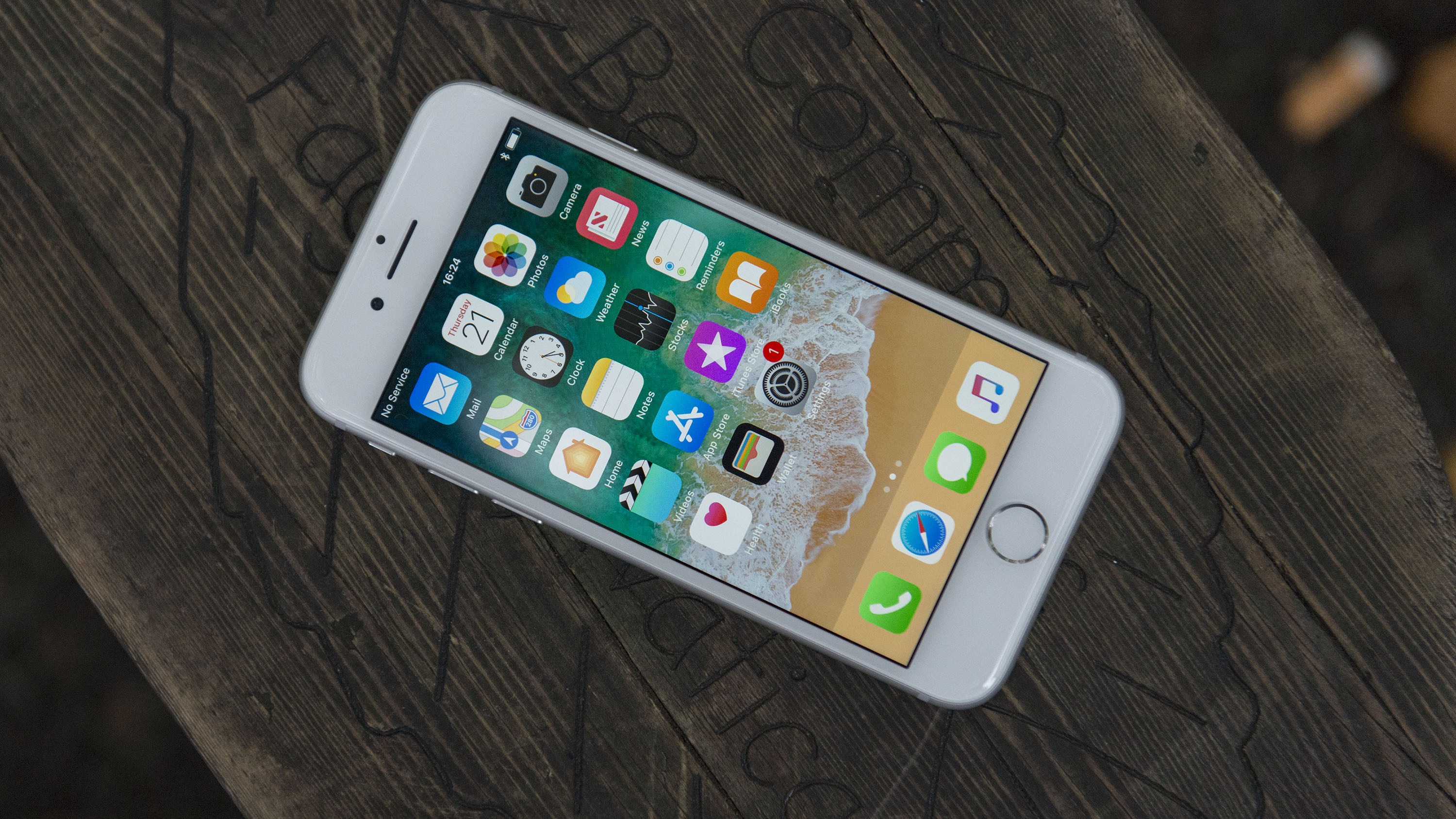 The color reproduction is improved as well, with Apple focusing on what actually makes the screen look good rather than pushing the pixels for the sake of the spec sheet... but a boost to Full HD would have made an actual difference to the quality and clarity.
Games and videos look bright and vivid though, and the screen itself is responsive, giving a solid overall experience. It's hard to knock the screen on its own merits, as it's only when you put it alongside rivals that it lacks the same clarity.
The fact that the screen is smaller than a lot of flagship rivals also means it's easier to hold and use one-handed, and we were able to stretch our thumb comfortably to most areas of the screen, which isn't as easy on the larger iPhone 8 Plus.
Will last a day – just – on a single charge with careful usage
Wireless charging is easy and convenient, but slower
Fast charging is more useful, but requires extra purchases
Apple never reveals the official battery capacities of its phones, and all it has confirmed with regard to the iPhone 8 is that battery life is comparable to the iPhone 7.
Considering the upgraded internals when it comes to processing power, the news that battery life wasn't being improved on the iPhone 8 was surprising, and disappointing.
However, now that the launch dust has settled, and devices have made their way into the world, it looks like there's a good reason for Apple not commenting on the battery size in this case – apparently the iPhone 8 actually has a smaller battery than the iPhone 7.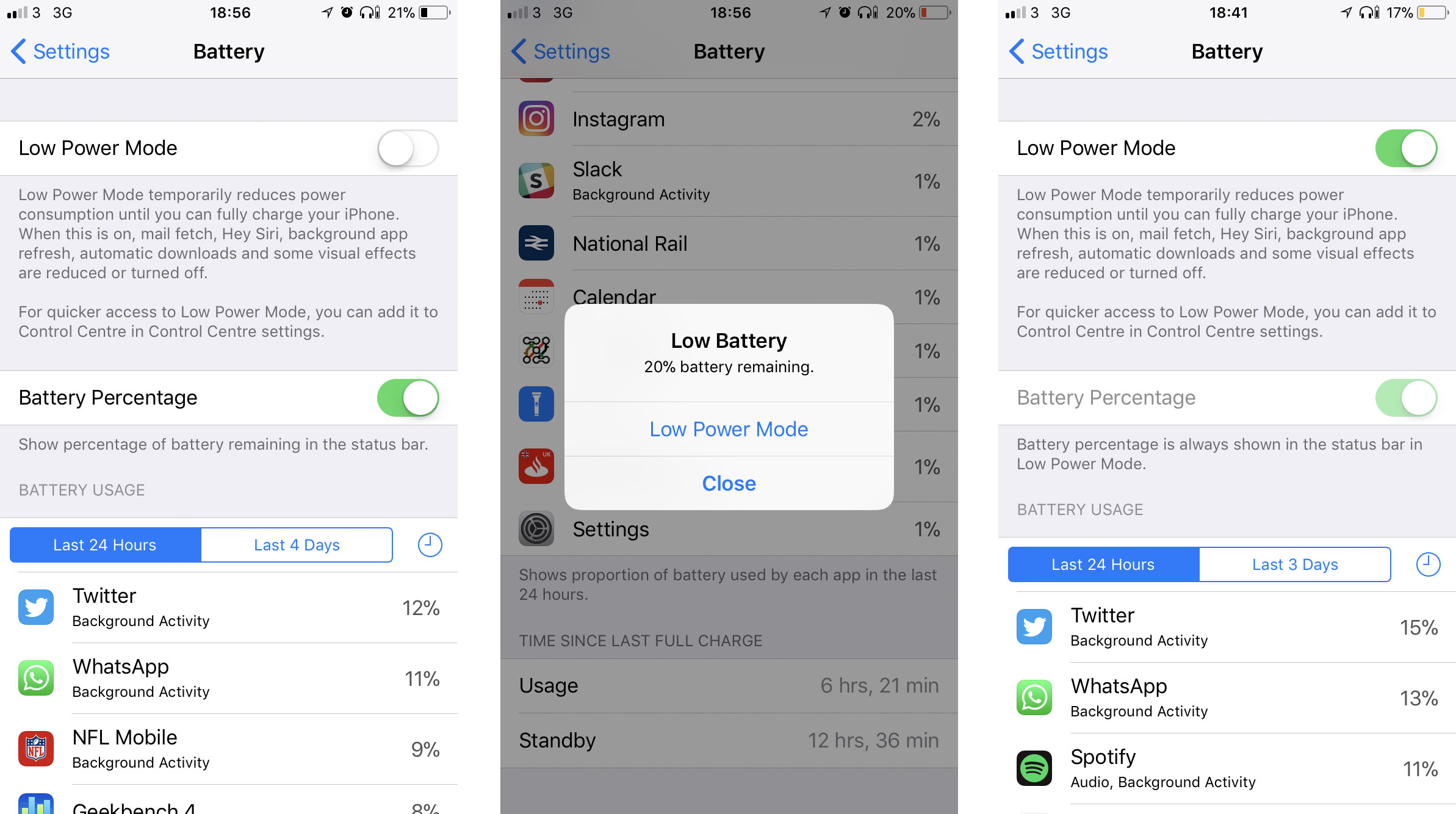 iPhone 8 battery is 1,821mAh, according to teardowns of the smartphone. That's a fair amount smaller than the 1,960mAh power pack inside the iPhone 7.
The good news is that the battery performance of the iPhone 8 is comparable to that of the iPhone 7, even with the smaller battery. The bad news, however, is that the iPhone 7 didn't exactly dazzle us in this respect.
There were a number of days when we had to top-up our iPhone 8 before we left the office to guarantee the phone lasting until bedtime.
Most days saw us take the iPhone 8 off charge at 7am, followed by around three hours of music streaming, a healthy dose of email, social media and messaging action, along with a handful of calls, an hour of gaming and some web browsing.
This generally saw the iPhone 8 battery reach its end around 9pm – and that included switching on power saving mode at 20% in an attempt to keep it going for longer.
On lighter usage days, with little music streaming or gaming, the iPhone 8 could just about see out a 7am-11pm stretch if we engaged low power mode when we hit around 30%, but if you're planning to be away from your regular charging spot the entire day we'd recommend taking a cable with you.
The one silver lining here is the inclusion, for the first time on an iPhone, of wireless charging, courtesy of the glass rear on the handset. Wireless charging currently doesn't work through metal bodies, so a shift to a different material was needed in order to make this happen, and Apple chose super-strength glass.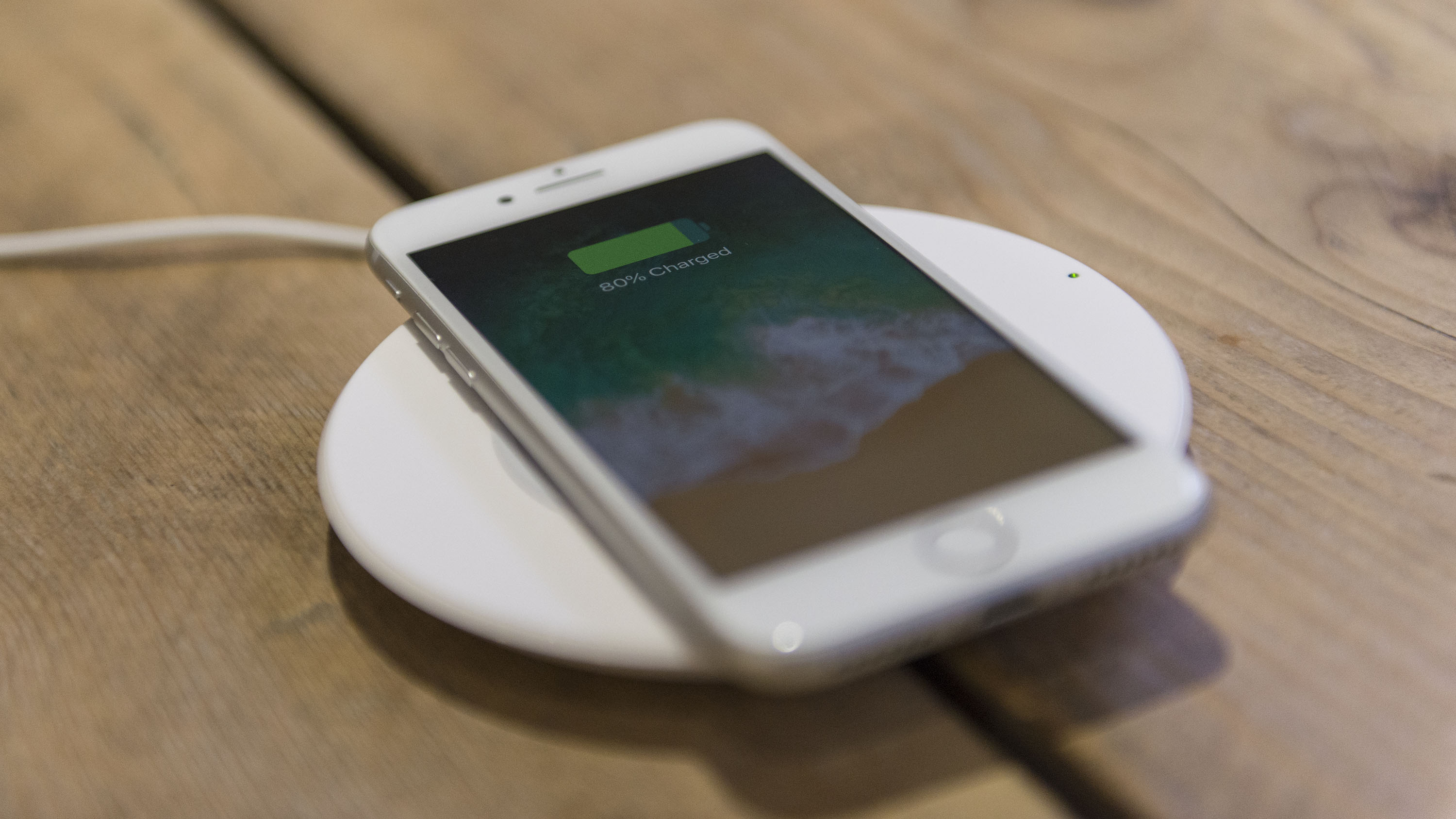 The iPhone 8 supports the Qi wireless charging standard, which is the most commonly used, meaning there's already a range of charging pads out there that are compatible.
You may find a charging pad when you're out and about, with the like of McDonalds and Starbucks starting to build them into counters and tables in their restaurants, while a number of car manufacturers are starting to include wireless charging areas in the cabin.
It's certainly a convenient way to charge – just place the handset on the pad and it'll start topping up – but it won't refuel as quickly as via a wired connection. The iPhone 8 also doesn't come with a wireless charging pad included in the box, which means it's an additional cost you'll have to incur.
Apple offers two AirPower-supported charging pads, from Belkin and Mophie, which will set you back $59.95 / £54.95 / AU$99.95) each – not exactly cheap considering their function.
There are cheaper pads available if you shop around – just make sure they support Qi – although it's worth noting that the Apple-approved pads offer a higher voltage (7.5w), which means they'll likely top up your iPhone 8 faster than lower-powered rivals.
That said, if you're in need of a quick top-up before heading out the door for the night you'll want to using the Lightning cable which comes in the box, as it'll give you more juice for your minutes.
12MP camera is solid, easy to use with decent results
Same camera experience as iPhone 7, new (minor) video features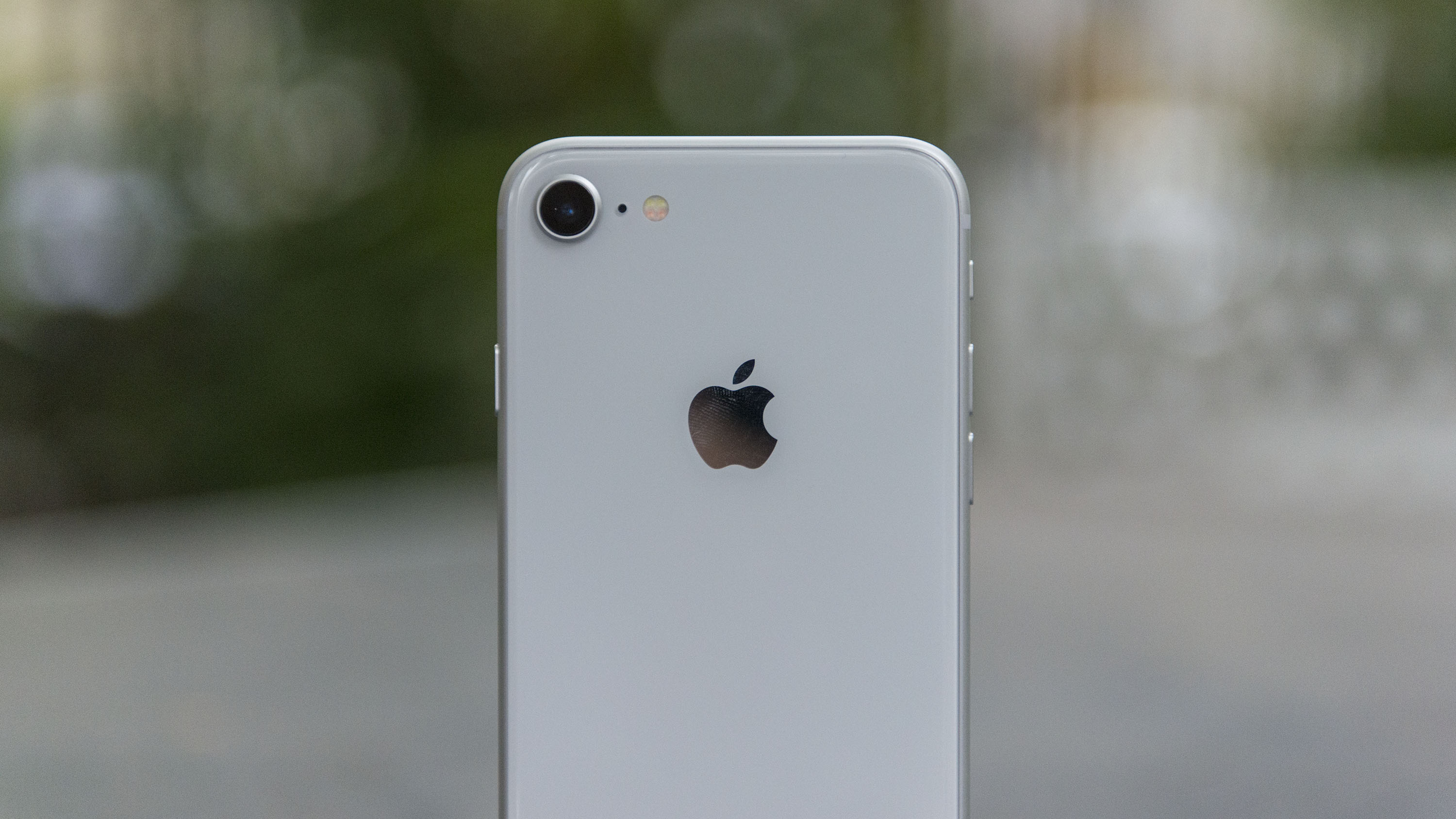 On paper the 12MP rear camera on the iPhone 8 is, like the screen, no different to the snapper on its predecessor.
That means you get the same f/1.8 aperture, a 5X digital zoom, optical image stabilization and Live Photos support of the iPhone 7.
It does have a couple of new tricks up its sleeve though, as the iPhone 8 can now shoot 4K video at 60 frames per second (fps) and also now offers 240fps slow motion recording at 1080p (Full HD) rather than just 720p.
While such improvements are always welcome, there's really not much between the cameras on the iPhone 8 and the iPhone 7 – you'll get almost exactly the same shooting experience from either handset.
A big plus point for all iPhone cameras is their ease of use, and that's no different with the iPhone 8.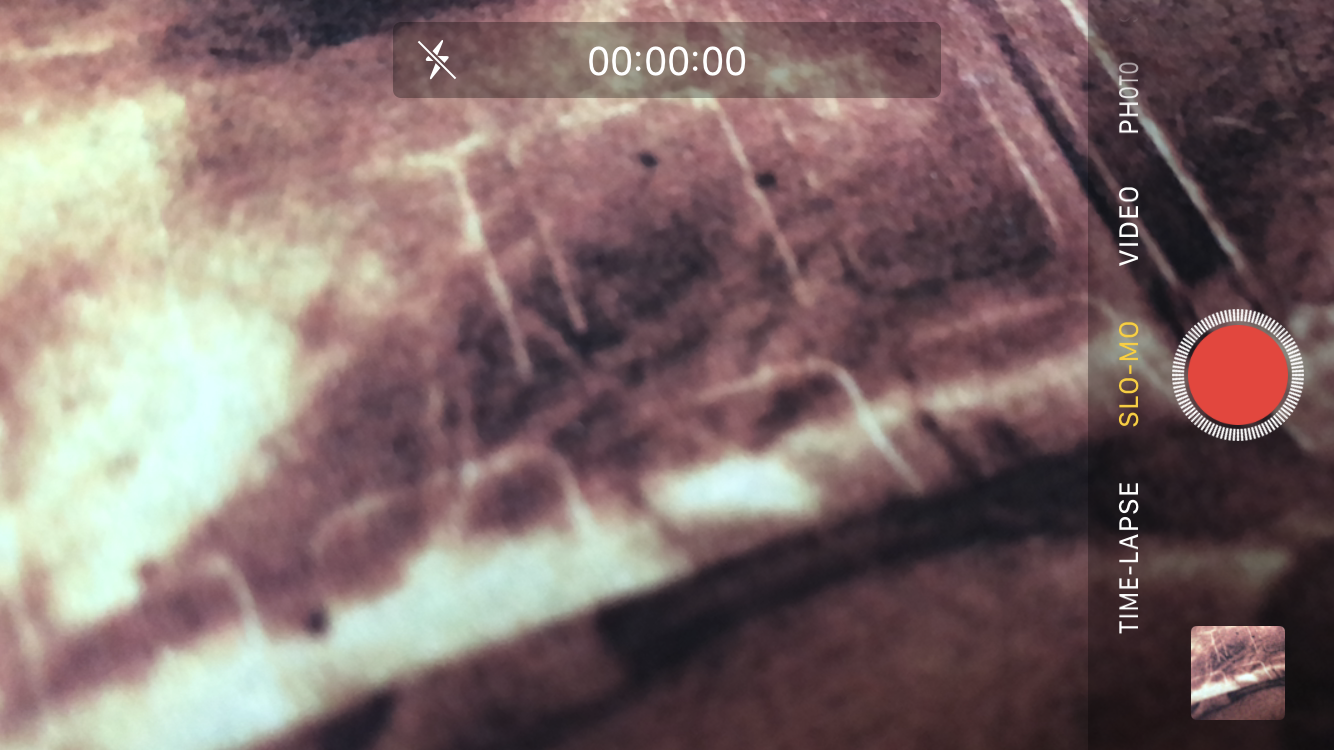 The camera app is simple, keeping settings to a minimum, with the focus on great point-and-shoot snaps – and for the most part it performs well, especially outdoors during the day.
Photos deliver a good level of detail and a colorful punch, and the ability to swipe sideways for instant access to the Instagram-friendly square mode no doubt pleases the #instagood army.
Up close the iPhone 8 generally does well, with tap-to-focus enabling you to tell the camera which part of a near-field subject you want it to lock on to.
Things aren't quite as positive when the lights go down, though, with the camera sometimes struggling to deliver a high level of detail in low-light shots, especially wider shots where there's no set focal point near the camera.
It's more hit-and-miss than straight-up poor though, and if you take your time and use tap-to-focus on an object nearby, the iPhone 8 can produce some impressive low-light shots.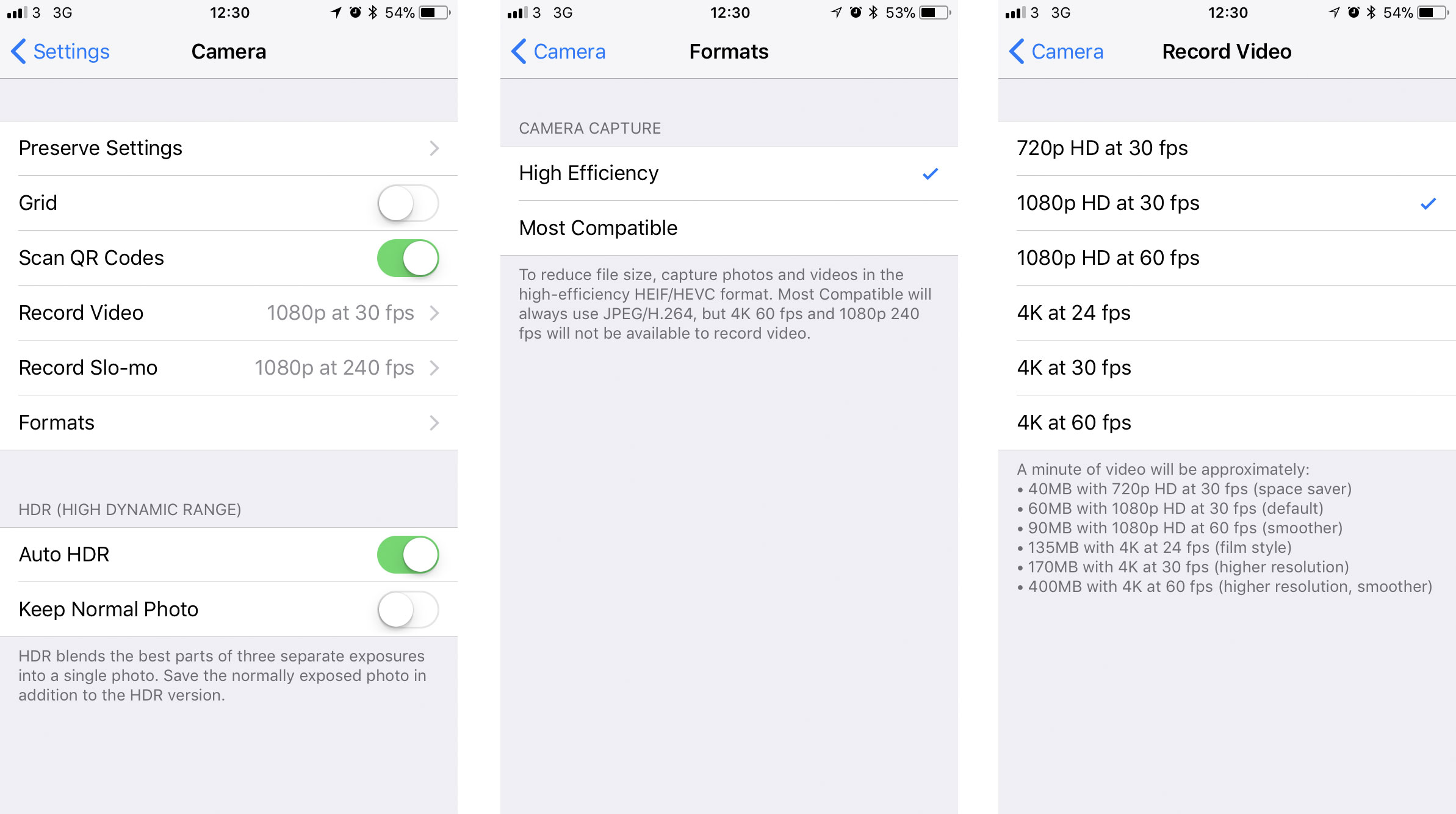 For all the positives about the simplicity of the camera app on the iPhone 8, it also carries the same gremlins from previous iterations of iPhones. The major grumble we have is Apple's continued insistence on hiding key camera toggles in the main Settings app.
Slide over to the video mode in the camera app, meanwhile, and there's no way of telling the resolution and fps you'll be shooting at. You're forced to come out of the app and navigate to Settings > Camera, where you'll see that video recording is set by default to 1080p at 30fps.
Tap this and you'll be given six different resolutions/fps combinations, with the headline 4K at 60fps option at the bottom. You also see a note at the bottom of the page telling you how much storage space a minute of footage at each combination will take up.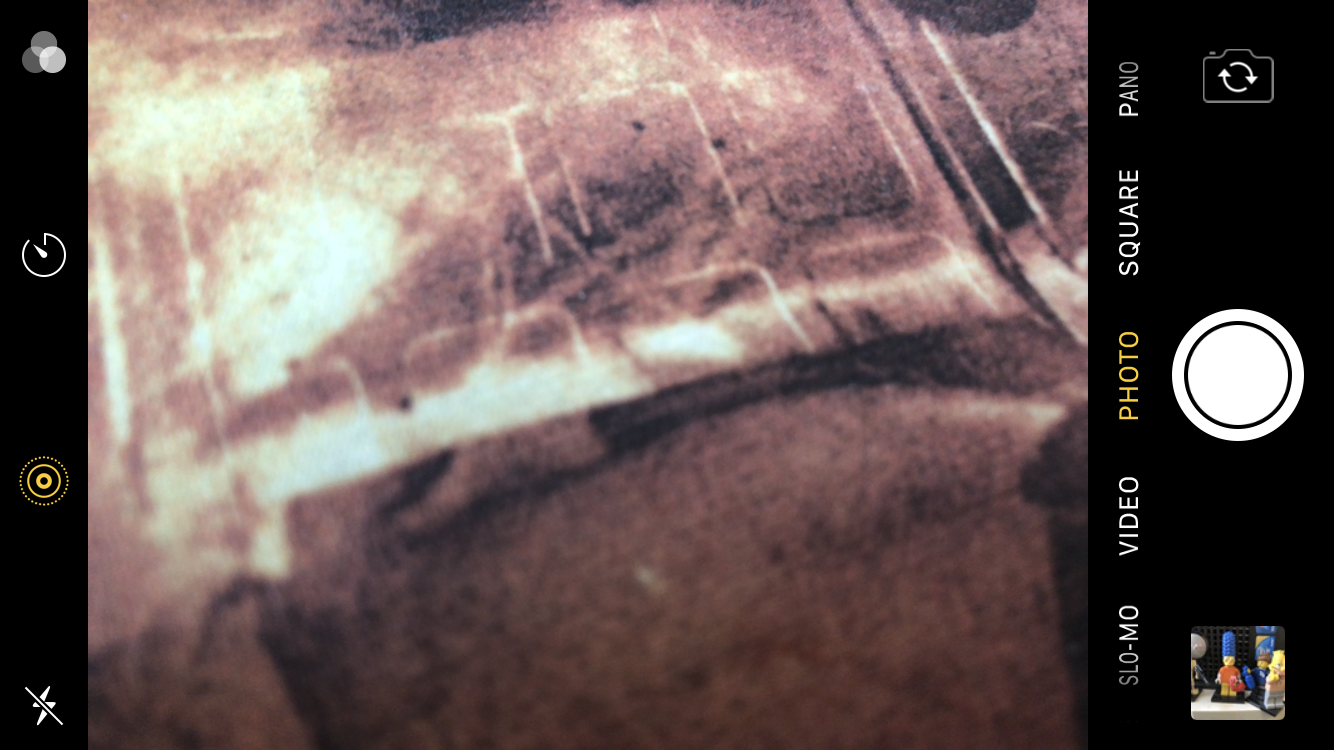 Apple claims one minute of 4K at 60fps will use around 400MB of space, which we found to be about right, with a three-minute 30-second clip taking up 1.3GB.
You may want to keep an eye on your storage if you're doing a lot of 4K recording – if you've bought the 64GB iPhone 8, and with iOS 11 taking up around 7GB, you could quickly run out of space.
Meanwhile, on the front, Snapchatters and FaceTimers get the same 7MP camera as on the iPhone 7, giving you Full HD video recording and a screen flash to brighten up your selfies.
It's more than adequate for the odd pouty pose and video chat with friends and family, and it's one area where we're not concerned that Apple hasn't done anything new.
Camera samples gallery
Image 1 of 13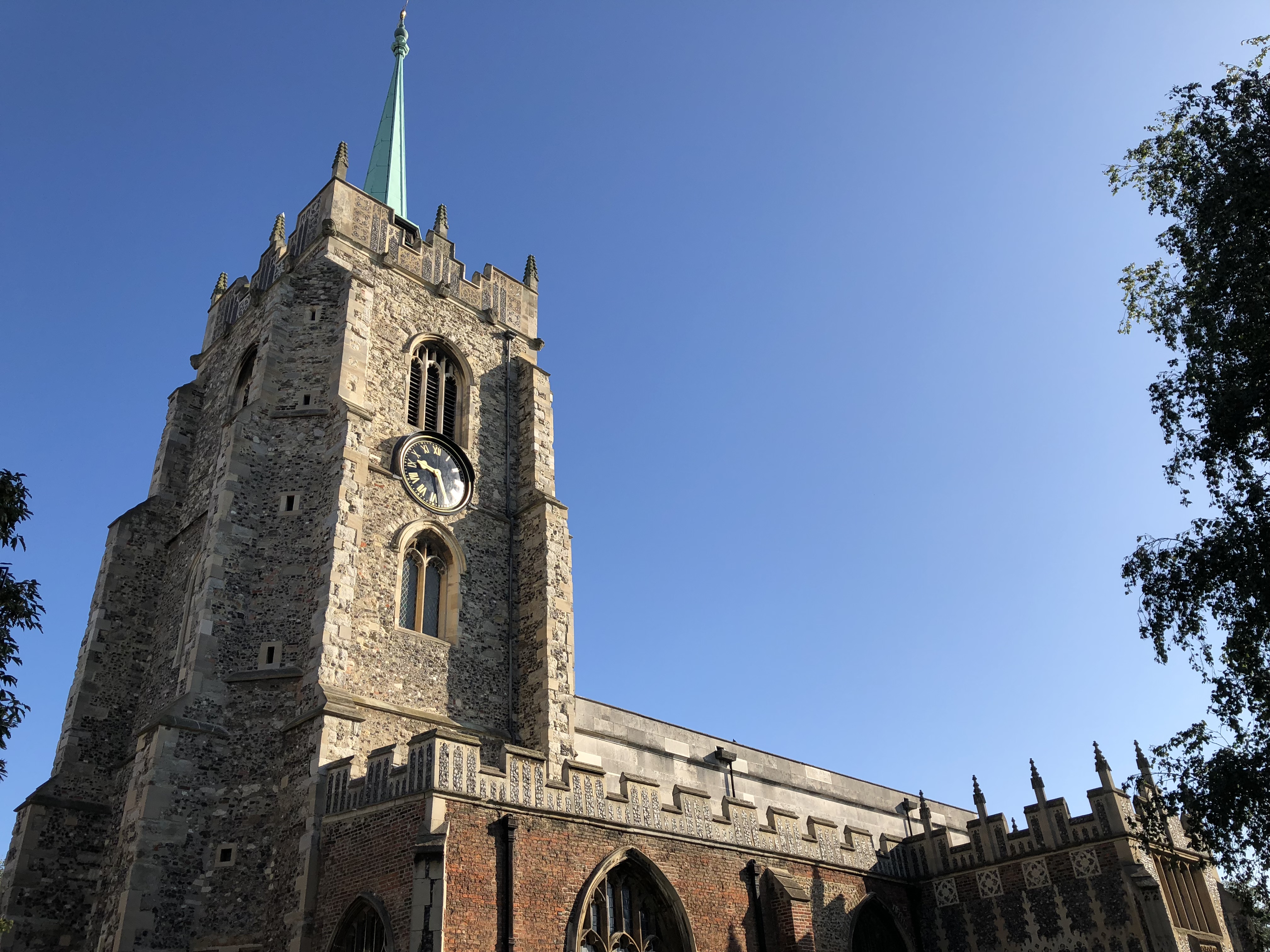 Image 2 of 13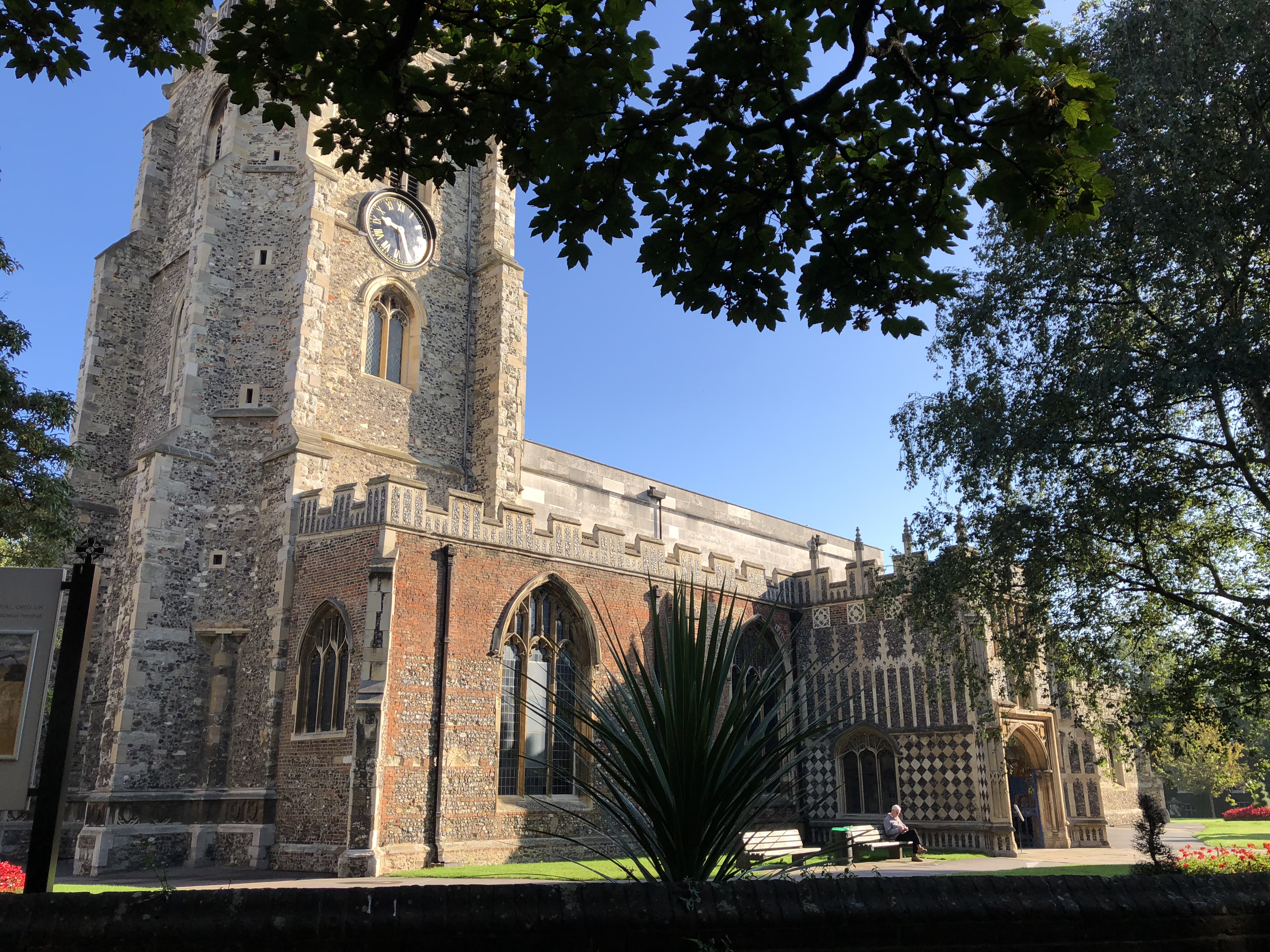 Image 3 of 13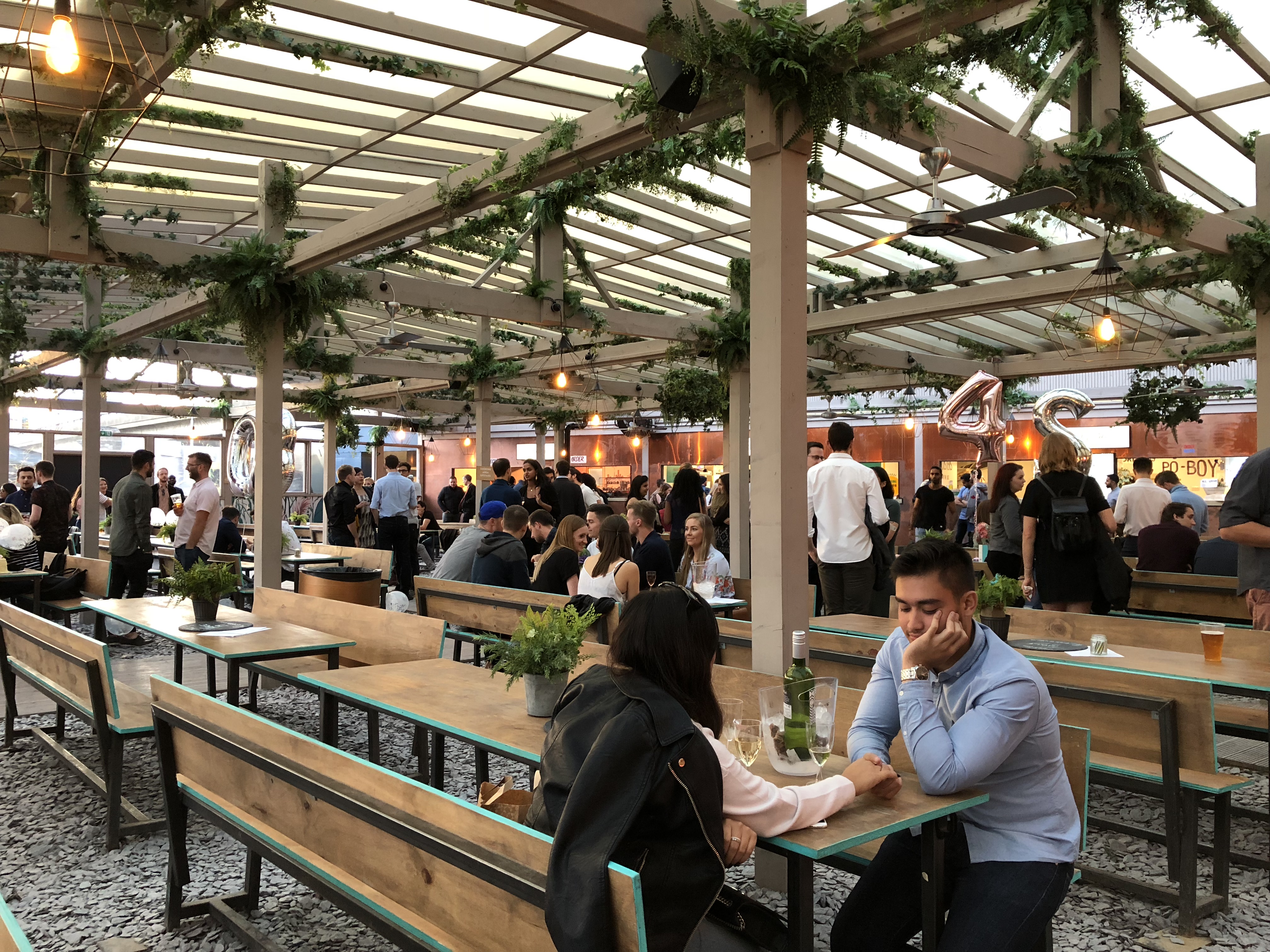 Image 4 of 13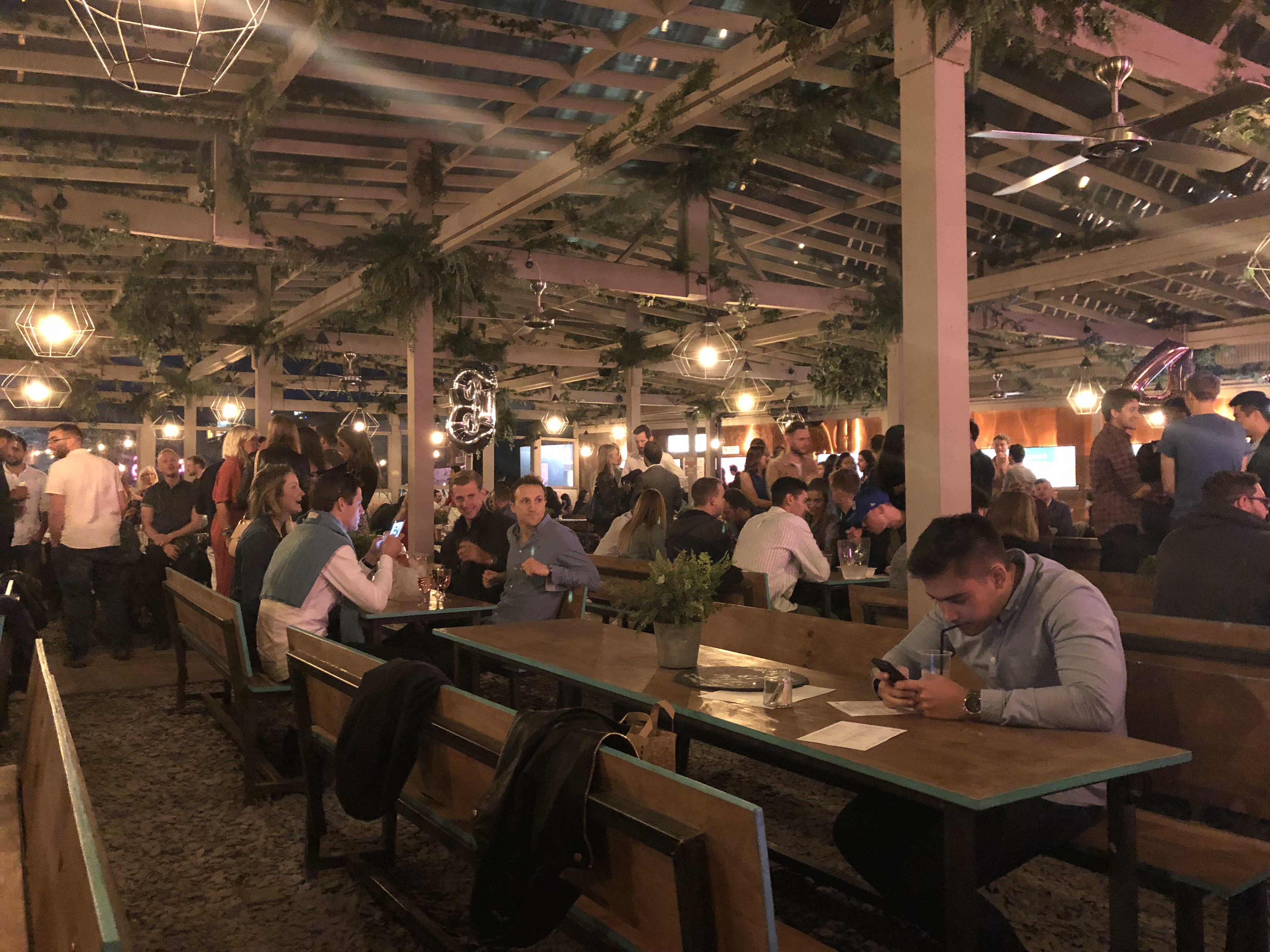 Image 5 of 13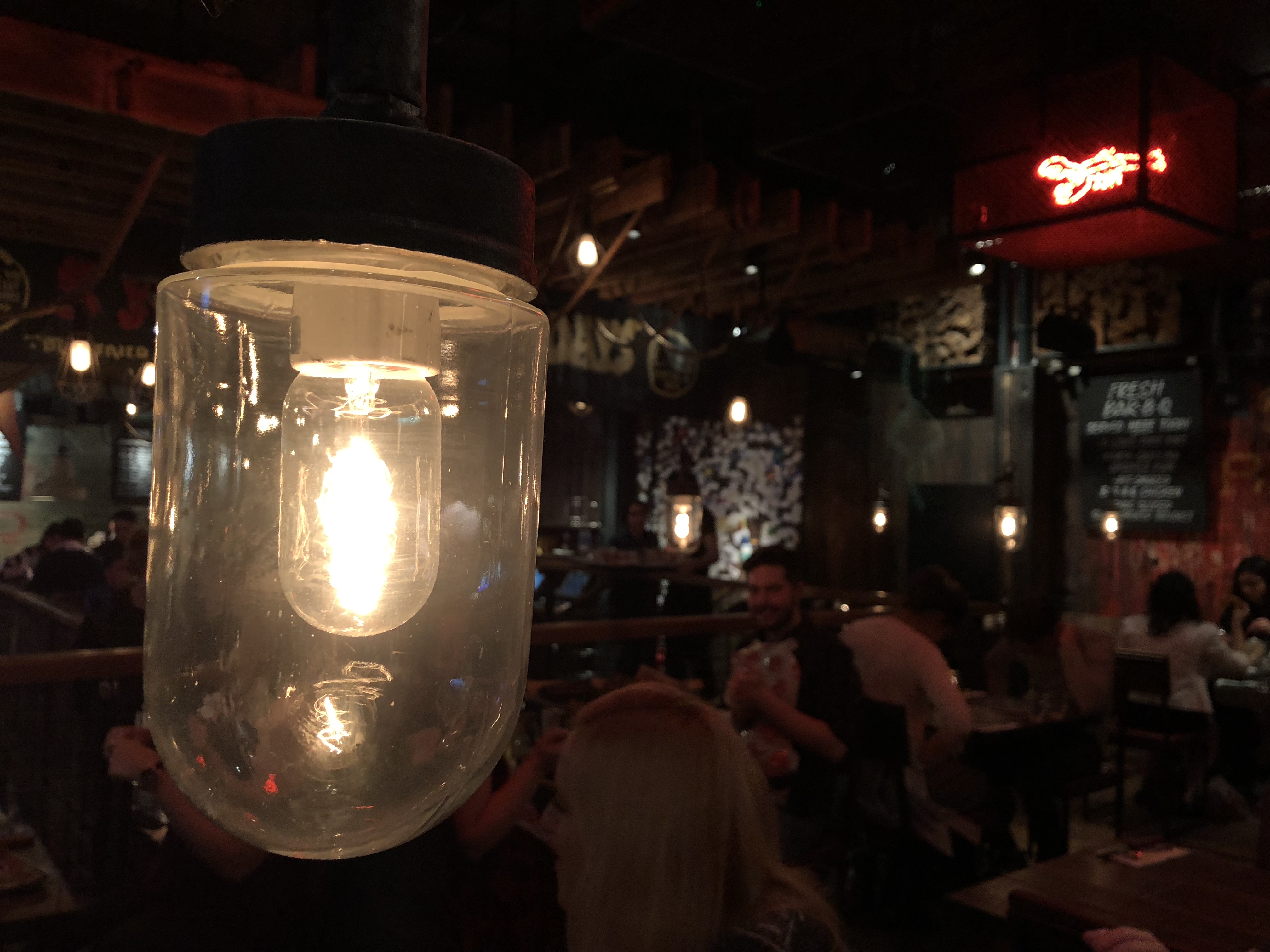 Image 6 of 13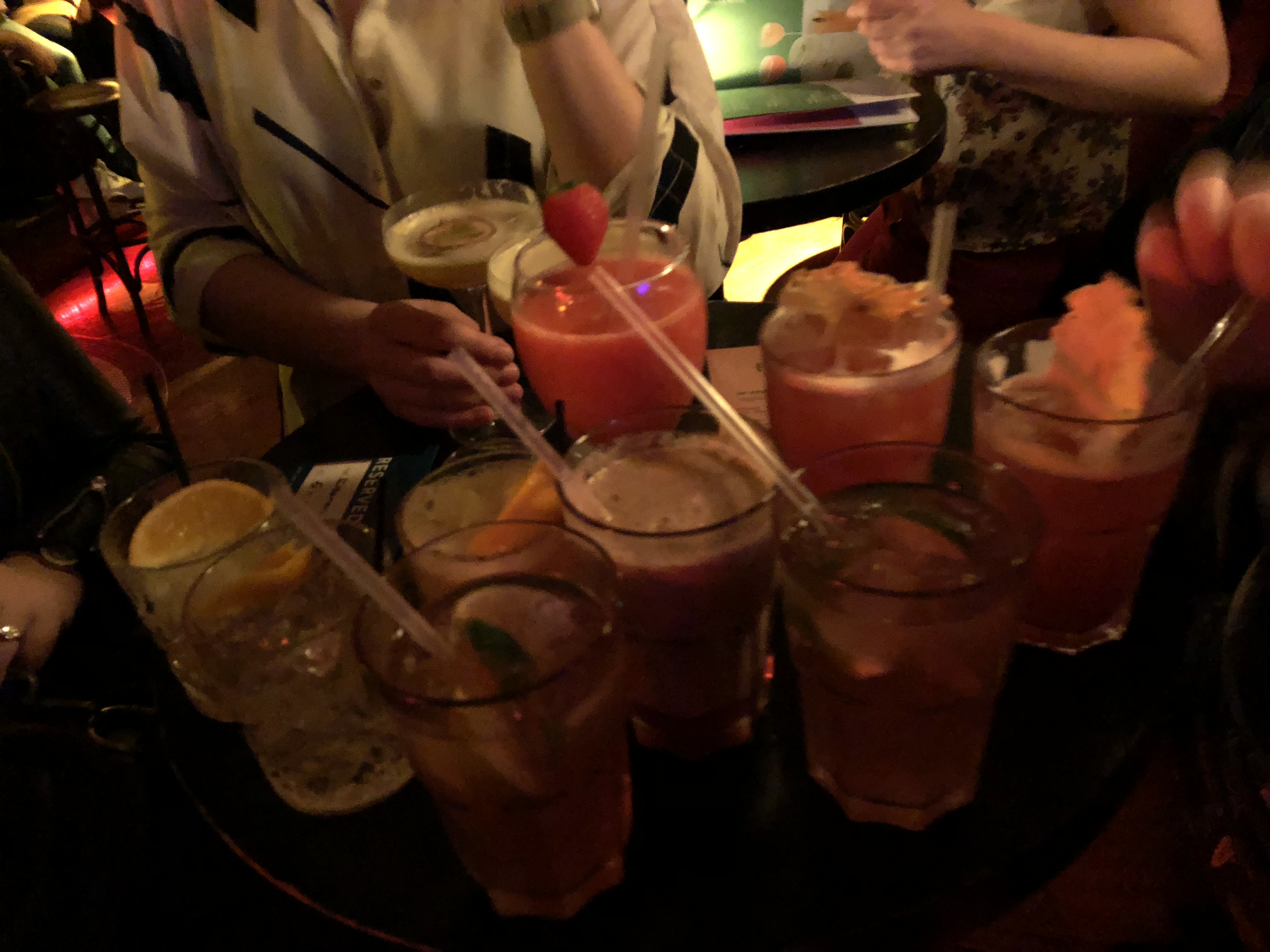 Image 7 of 13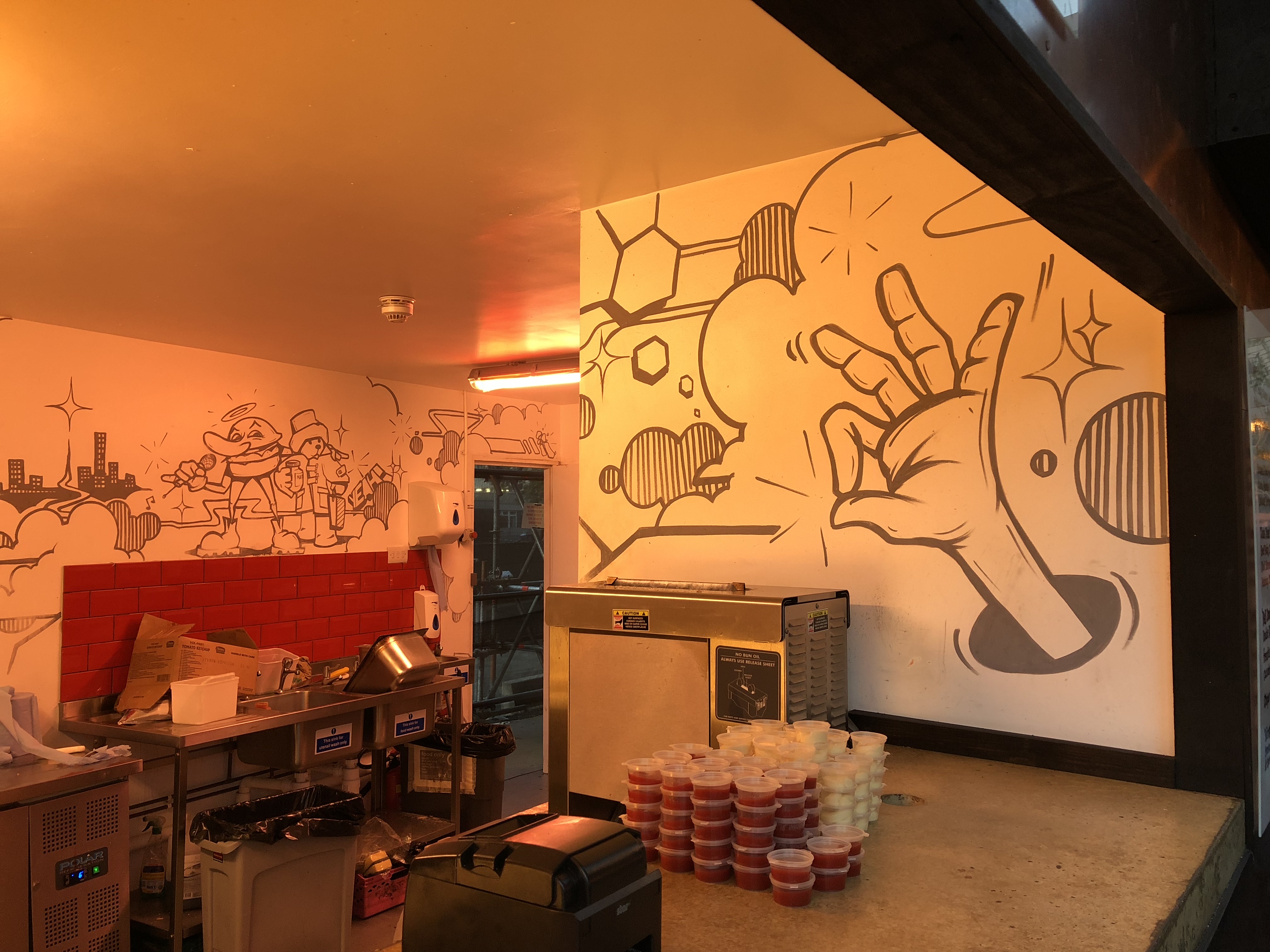 Image 8 of 13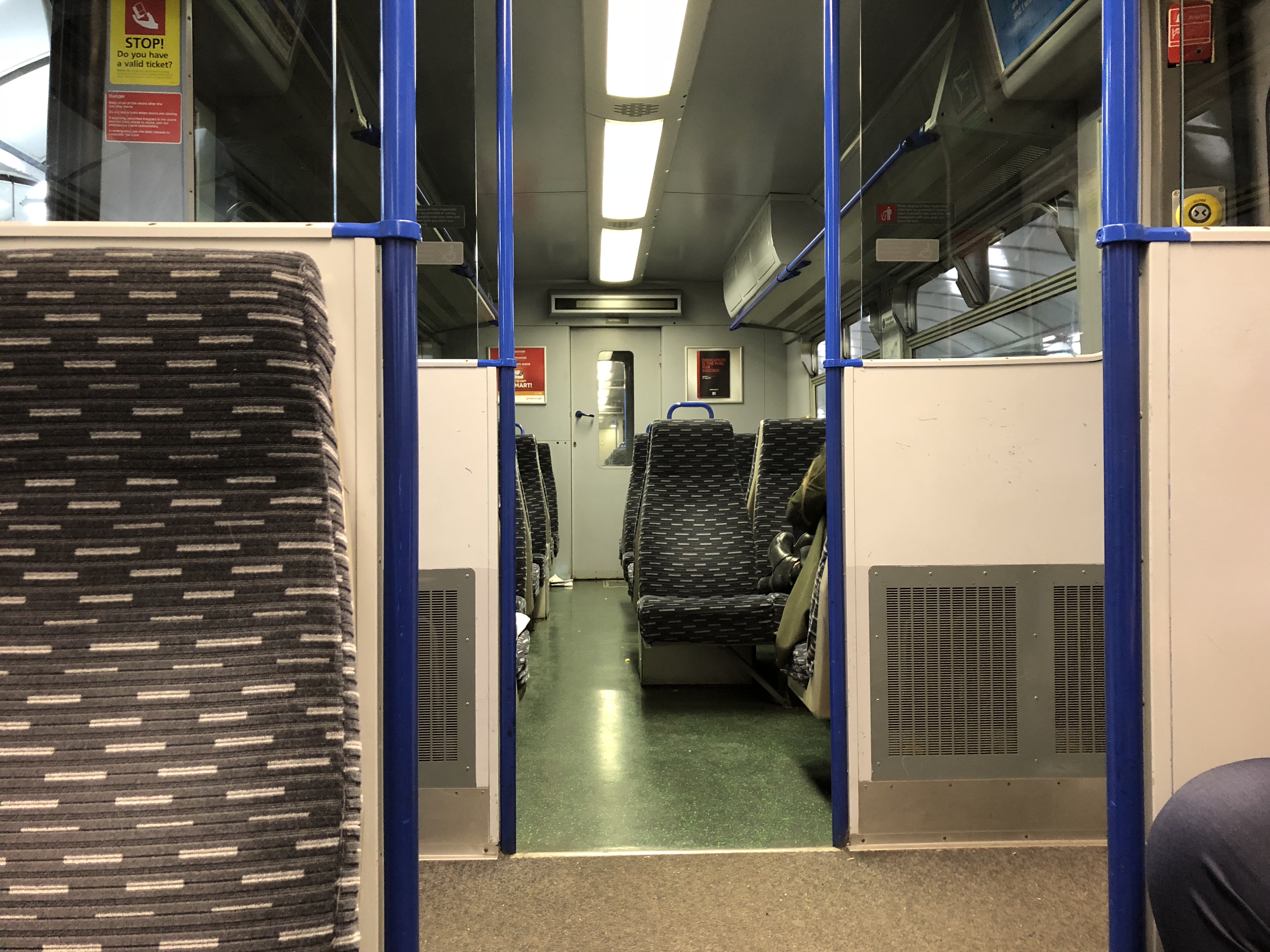 Image 9 of 13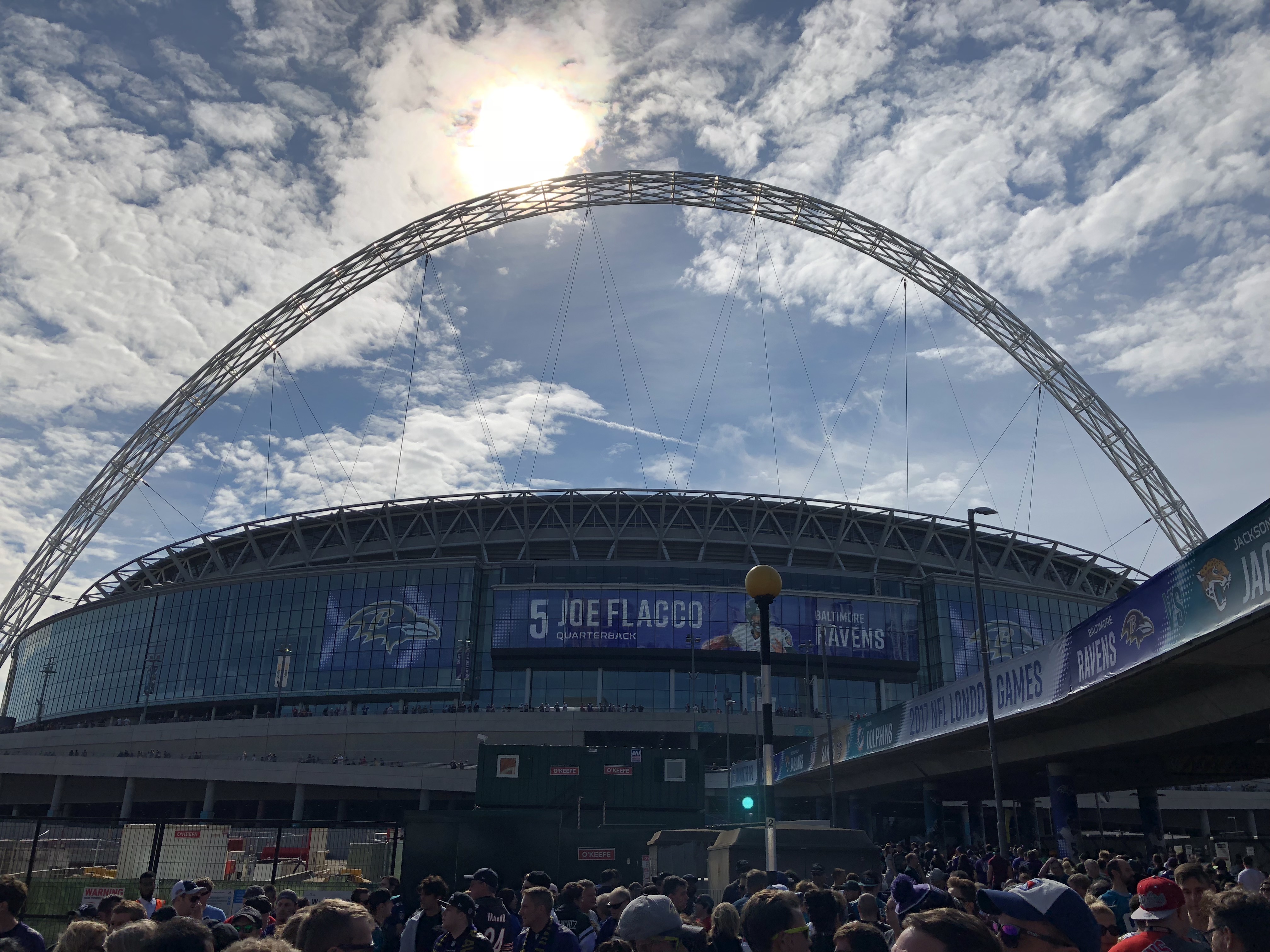 Image 10 of 13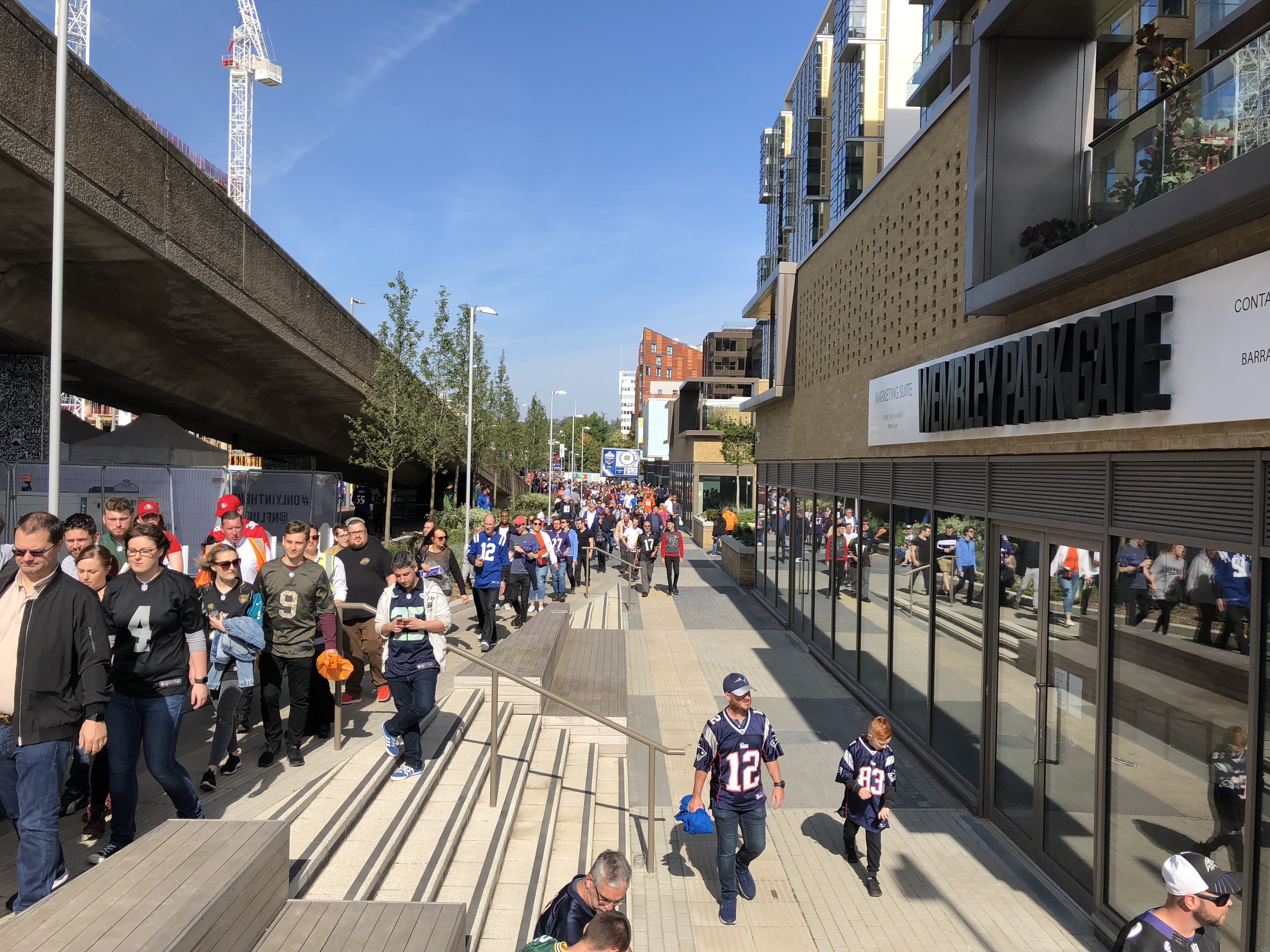 Image 11 of 13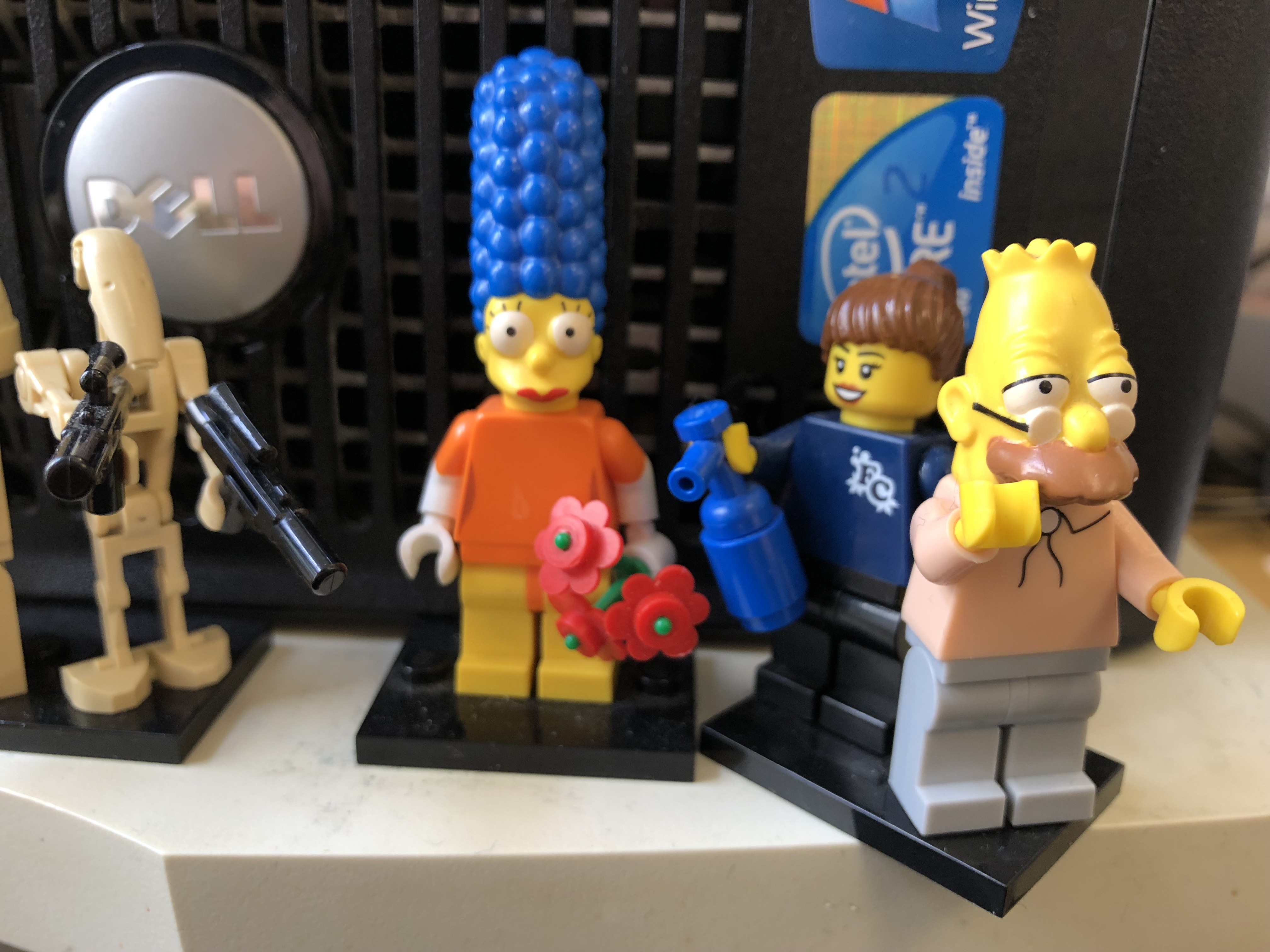 Image 12 of 13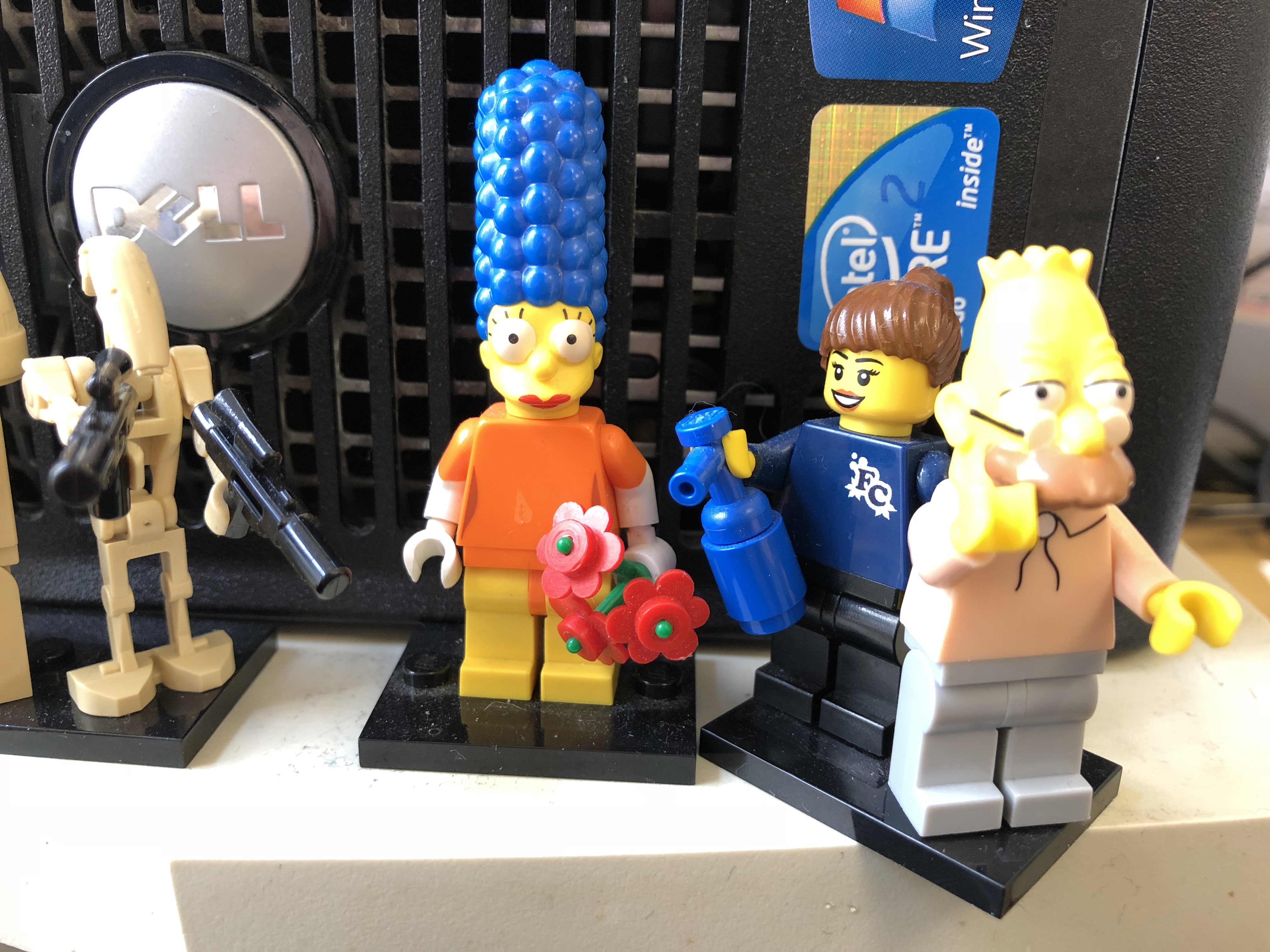 Image 13 of 13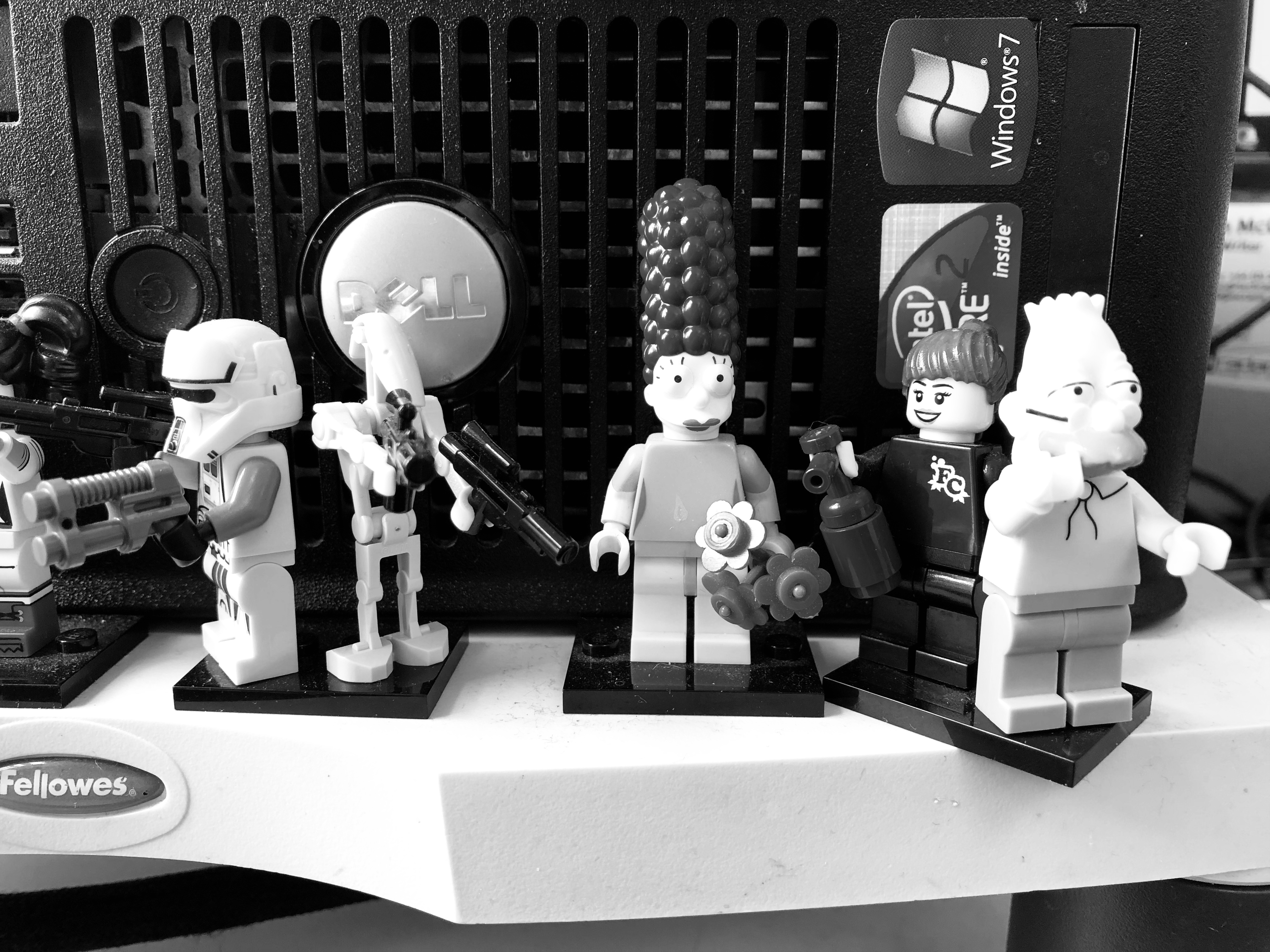 The iPhone 8 arrived running iOS 11, giving you a refreshed Control Center that puts all your toggles on one screen, a merged notification bar and lock screen, and a number of tweaks under the hood.
It's since been updated to the new iOS 12 operating system though, providing better power management and the introduction of Screen Time which shows you how much you've used your phone, while giving you the option to help curb your usage.
In late 2019 it'll take another step up, to iOS 13, which will bring with it features like a Dark Mode and reinvented Find My Device, and the iPhone 8 is one of the oldest iPhones that'll be able to run it. Until then, you can enjoy all the cutting-edge features of iOS 12.
Smaller updates have also happened, bringing the iPhone 8 up to iOS 12.1.3 at the time of writing. This added extra emoji and a Group FaceTime mode.
The iPhone 8 also boasts Apple's A11 Bionic chip. It's the first time Apple has put a hexa-core processor (that's six cores) in its smartphones, and while it's obviously not as many as the octa-core offerings you'll find in flagship Android phones, it's a welcome step up.
That said, you're unlikely to notice much of a difference on screen. Apps load promptly, games run smoothly, and multi-tasking is just as good as it was on the iPhone 7. We don't have any grumbles with the performance of the iPhone 8, but don't go thinking the A11 Bionic chip will give you a game-changing experience, simply because there's not a lot of things you can do with the phone to really test with.
That said, it's very capable when it comes to the heavier apps, and as such should continue to function slickly for longer than the iPhone 7, for instance. It's also destructively strong in our benchmark tests, offering scores far in excess of anything we've seen before (and showing the real force at the heart of this iPhone 8).
We're fans of the updated Control Center in iOS 11, putting key controls such as Wi-Fi, Bluetooth, music player and more a simple swipe away from any screen – and you can customize a selection of options in the Settings menu to ensure you only have the ones you use on display.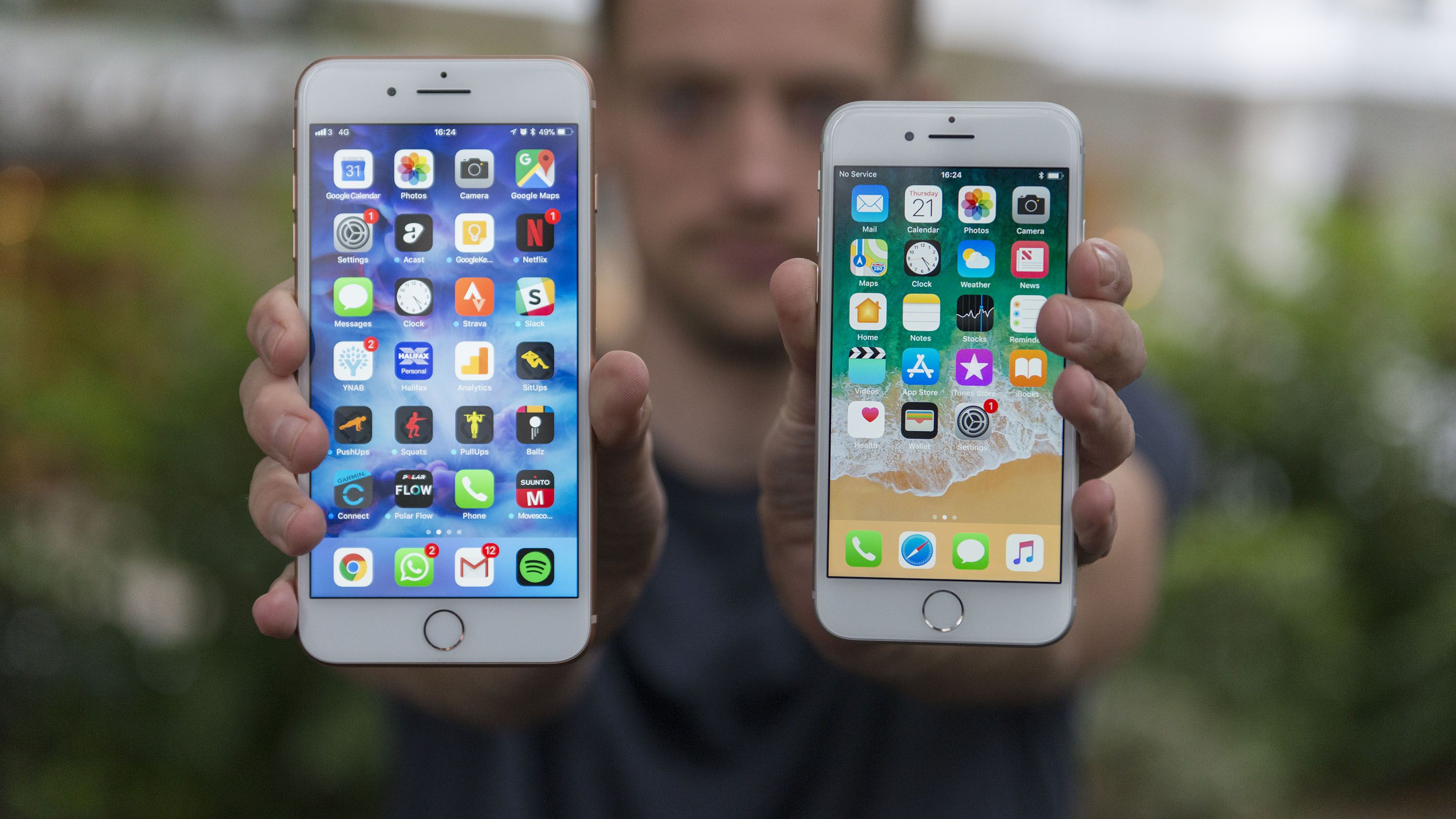 For all its plus points, though, iOS 11 (and iOS 12) still suffers from some of the core issues that have plagued the iOS platform for years.
The back button at the top-left of the display is not user-friendly for right-handed users on Apple's larger-screen devices (ever since the upgrade from 4 inches it's been trickier to hit), and with key app settings (such as camera controls) buried within the main Settings app, the OS remains frustratingly counterintuitive at times.
And this is not to mention all of the unintentional iOS 11 problems.
Apple Pay continues to be supported, enabling you to pay contactlessly at stores, transport hubs and other places that accept the technology, and it works in tandem with the Touch ID fingerprint scanner for online purchases from certain websites.
It saves you rooting around for your card, or filling in your card details every time you try to checkout online, and more importantly it works really well.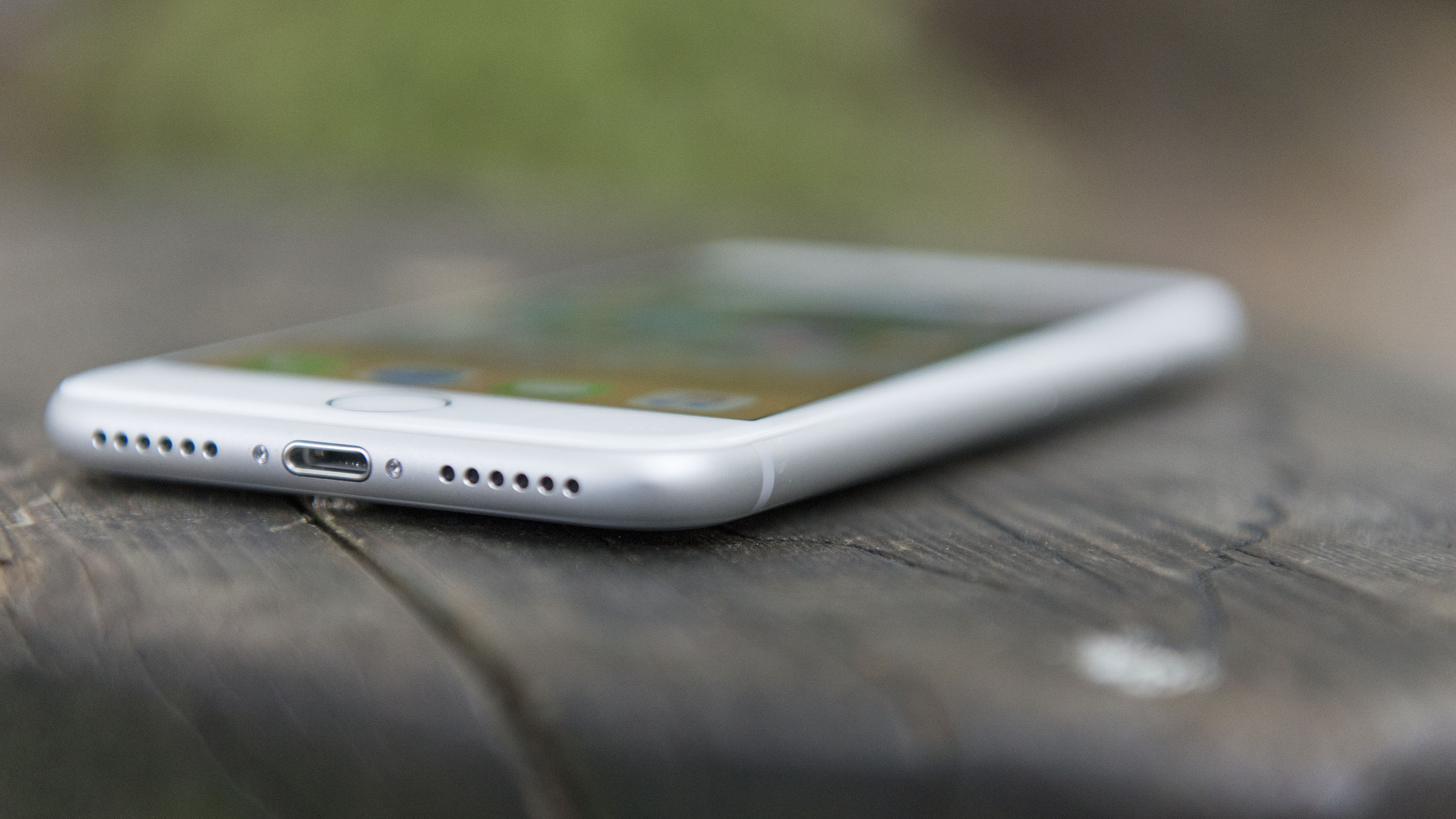 The headphone jack is still absent – anyone hoping Apple would bring it back after the outcry surrounding the iPhone 7 launch is sadly mistaken. It's gone, it's time to move on.
It means the only physical port on the iPhone 8 is the Lightning one on the bottom of the handset, and Apple includes a Lightning-to-3.5mm adapter in the box allowing you to plug in a set of headphones other than Apple's own Lightning-connected EarPods, also included in the box.
Using the adapter does mean you can't charge the iPhone 8 via a cable at the same time, or connect it to your Mac or PC – although the arrival of wireless charging potentially makes things a little easier.
AR you watching?
One of the big advances to arrive with iOS 11 is Apple's push into augmented reality (AR). It merges the real world with the digital, via the display and camera on the iPhone 8, providing you with fun and unique on-screen experiences.
The feature isn't exclusive to the iPhone 8 though, as along with the iPhone X and 8 Plus, AR also arrives on all other iPhones getting the iOS 11 upgrade.
It's not a feature that will make you buy the iPhone 8 then, but the phone is potentially better placed than its predecessors for the future of AR on iPhone.
That's mainly thanks to the brand-new GPU that Apple has included alongside the A11 chipset, providing (Apple claims) 30% better performance over the iPhone 7.
That means as AR experiences become richer and more demanding the iPhone 8 will have the power behind it to provide you with the best experience, while older handsets may start to struggle.
At this point, though, the iPhone 7 Plus performed just fine at loading 'The Machines', an AR game played through the iPhone, so AR is definitely something for the future.
For now, though, the core of AR apps in the App Store are relatively low-key – but there's an impressive selection to choose from already, and it really shows the store's strength in getting developers on board early with new technology versus Google's Play Store.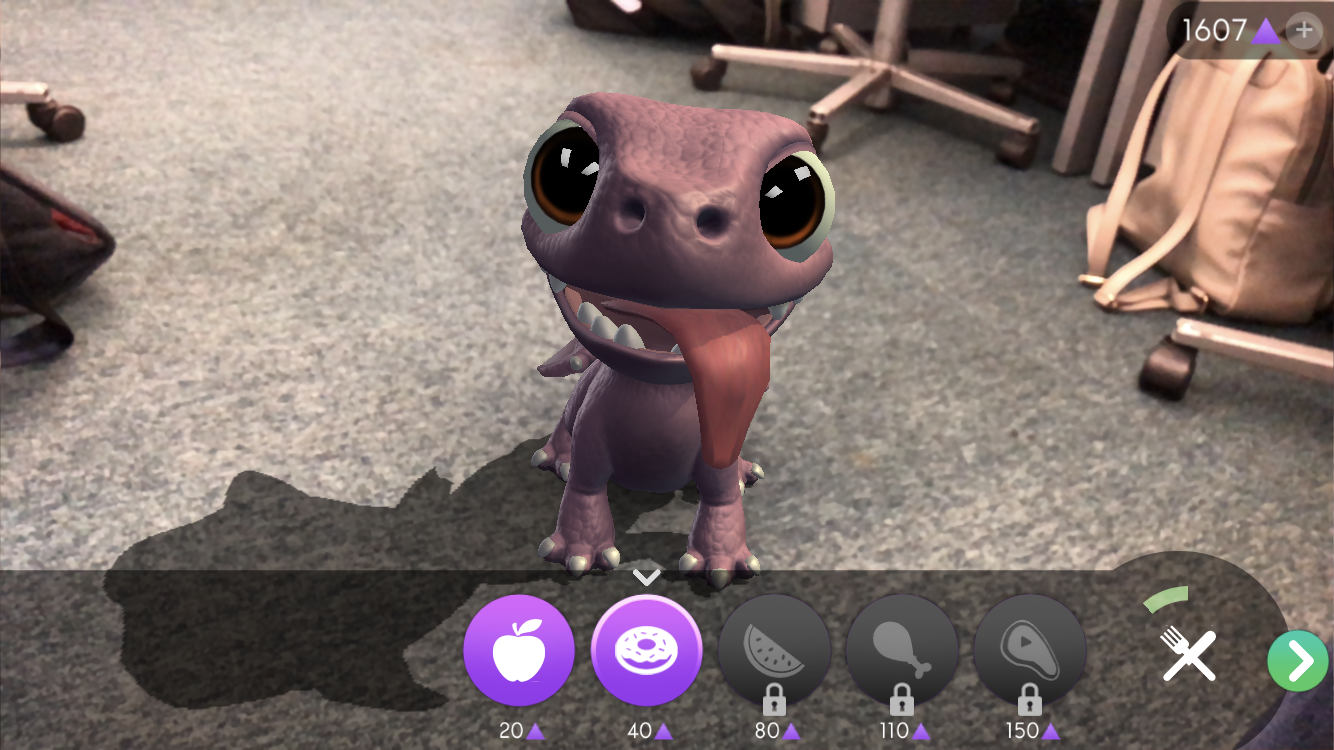 At the time of writing there are over 20 games in the 'AR games' section of the App Store, offering a mix of free and paid-for entertainment. This number will only grow in the coming months as Apple continues to push iOS 11's AR agenda, and encourages more developers to get onboard.
One of our favorites is AR Dragon, which brings the Tamagotchi idea into the AR era, with a little pet dragon that you look after, feed, pet, play with and watch grow.
It's a simple game that'll impress your kids as their little pet dragon appears on the coffee table at home, but while it's fun for a short while it doesn't quite have the longevity of other, non-AR games.
And for now that's the problem. While AR is impressive, especially when it's running on a device that can slide into your pocket, the experiences still feel a little cursory – you're unlikely to have a long AR gaming session on the iPhone 8.
That could change in the next year or so as games develop and improve, but for now it's a 'nice to have' rather than a 'must-see' feature.
Don't let the iPhone 8 name fool you – this is very much the iPhone 7S, an incremental upgrade on 2016's 4.7-inch iPhone with a few additions here and there, but nothing to really wow.
The iPhone 8 is still an excellent smartphone; it's premium, powerful, and boasts a great camera and a wealth of applications. For the average iPhone user it fits the bill, but for those hoping for more given the higher price tag, you're out of luck.
The extra power under the hood means everything is slick on screen, but no more so than the already snappy iPhone 7, and while the glass rear is a nice change of pace, and wireless charging support a handy convenience, they don't exactly excite.
Essentially, the presence of the iPhone X has ruined the 8's chance of being a lust-worthy phone - yes, it's a cheaper route into a new iPhone, but Apple's brand is built on always wanting the best available, and this phone - therefore - feels like second best.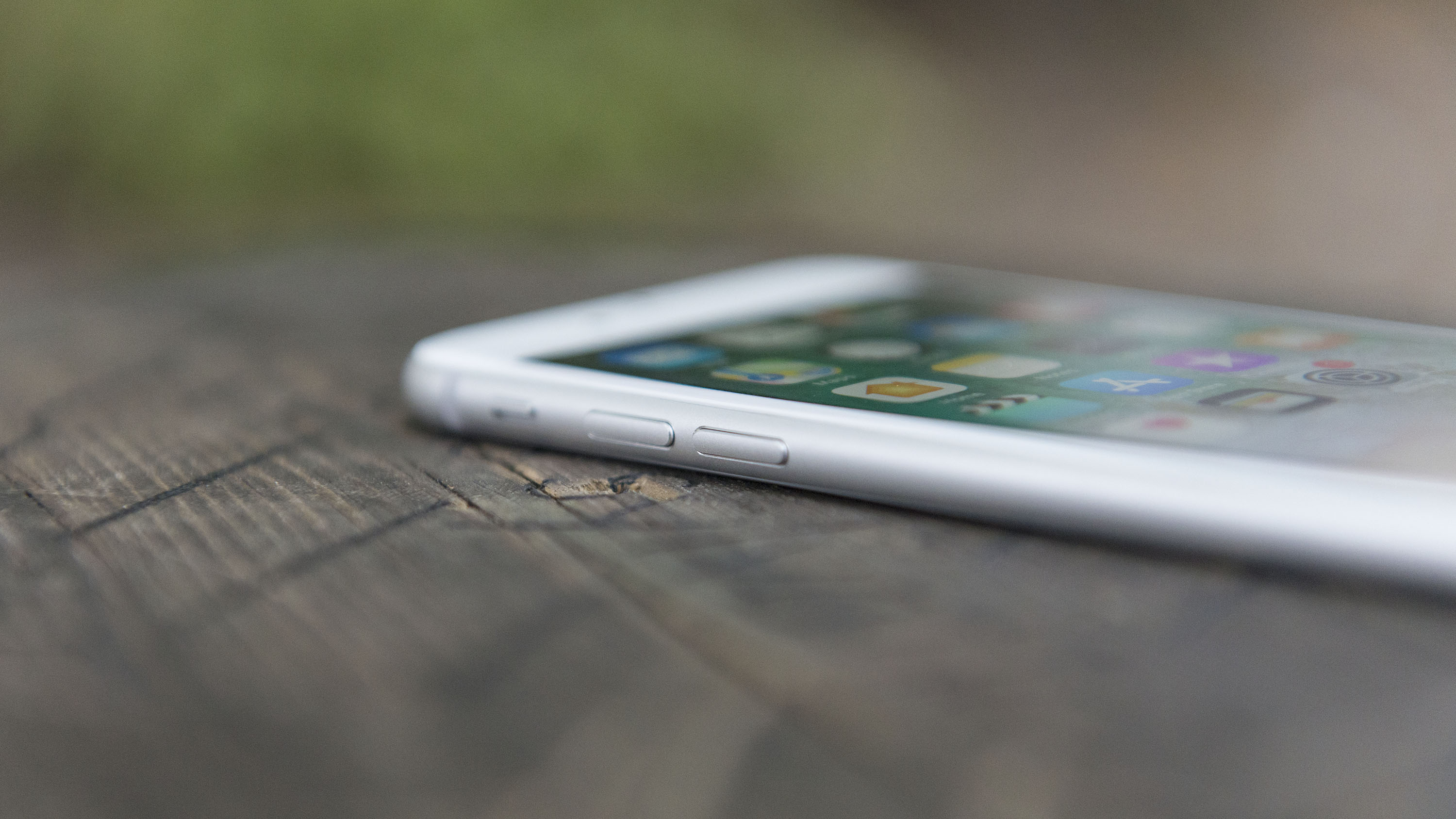 Who's it for?
The iPhone 8 is a phone for those wanting the latest Apple has to offer, but who lack the funds to splash on the iPhone X, or the financial desire (or palm size) for the larger iPhone 8 Plus.
It doesn't offer anything that really makes it stand out from other phones on the market, other than the Apple logo and access to iOS, and while its smaller form factor means it's easier to handle than most flagship phones, it also has fewer big features to boast about.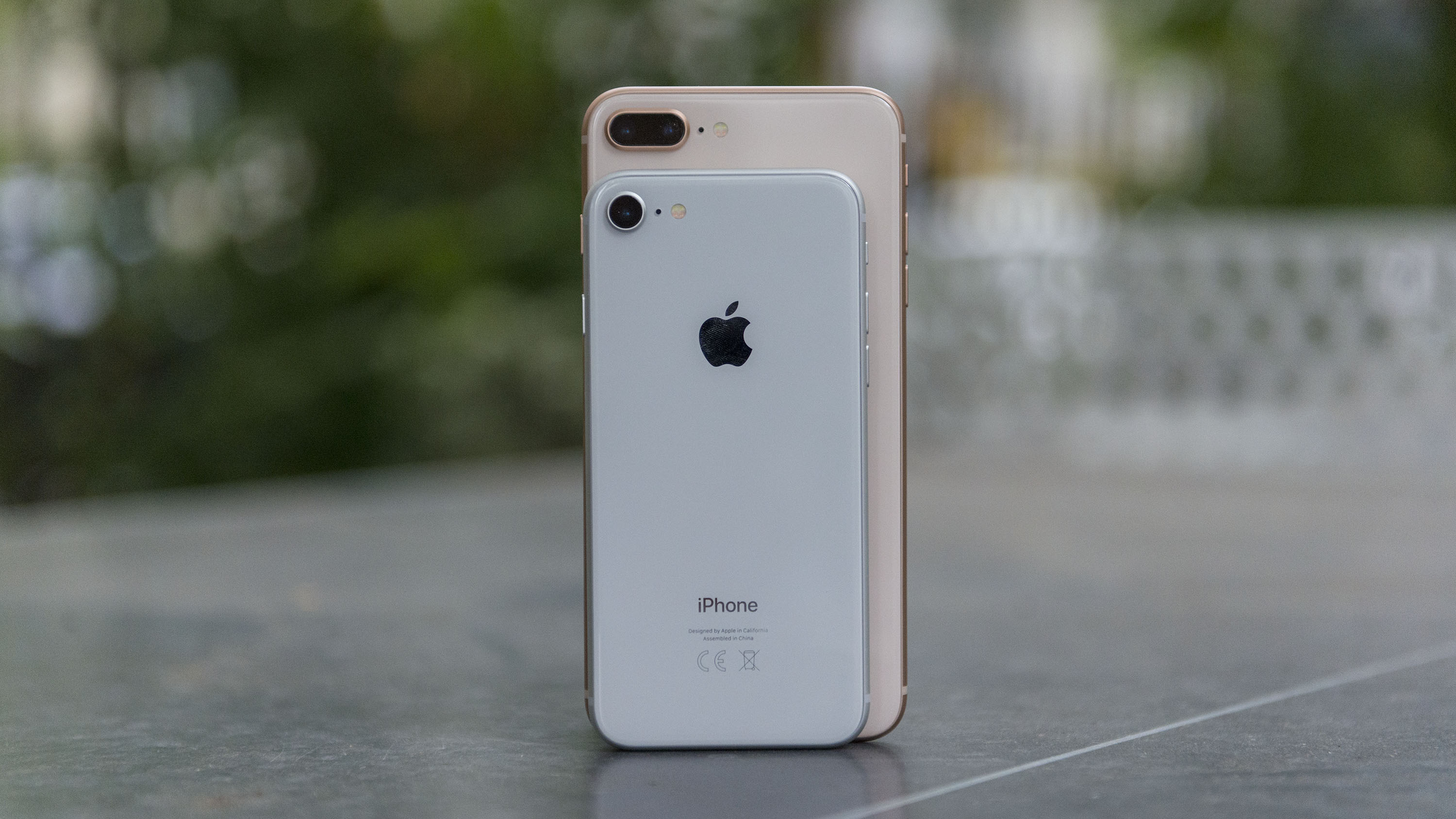 Should I buy it?
The iPhone 8 sits in an awkward position. It's slightly better than the iPhone 7, but costs more, and doesn't have the same features as the more expensive 8 Plus and X.
Unless you absolutely must have the latest iPhone, but can't afford the iPhone X or 8 Plus, the iPhone 8 shouldn't be for you.
Those wanting a powerful iPhone with a solid camera and a day of battery life are better off looking at the iPhone 7, as it at leasts offers better value for money in Apple's lineup.
That said, if you're at the end of your current two-year iPhone contract and just want to upgrade from your iPhone 6 or 6S, the jump to the iPhone 8 will be noticeable for you, and you're unlikely to have any complaints.
It looks, feels and works just like your old iPhone, only it's a little quicker, a little smarter and a little more expensive – it's new, sure, but there's a heavy dose of comfort in its familiarity.
There's plenty of competition for the iPhone 8, and we've lined up some of the key alternatives for your viewing pleasure below.
iPhone XR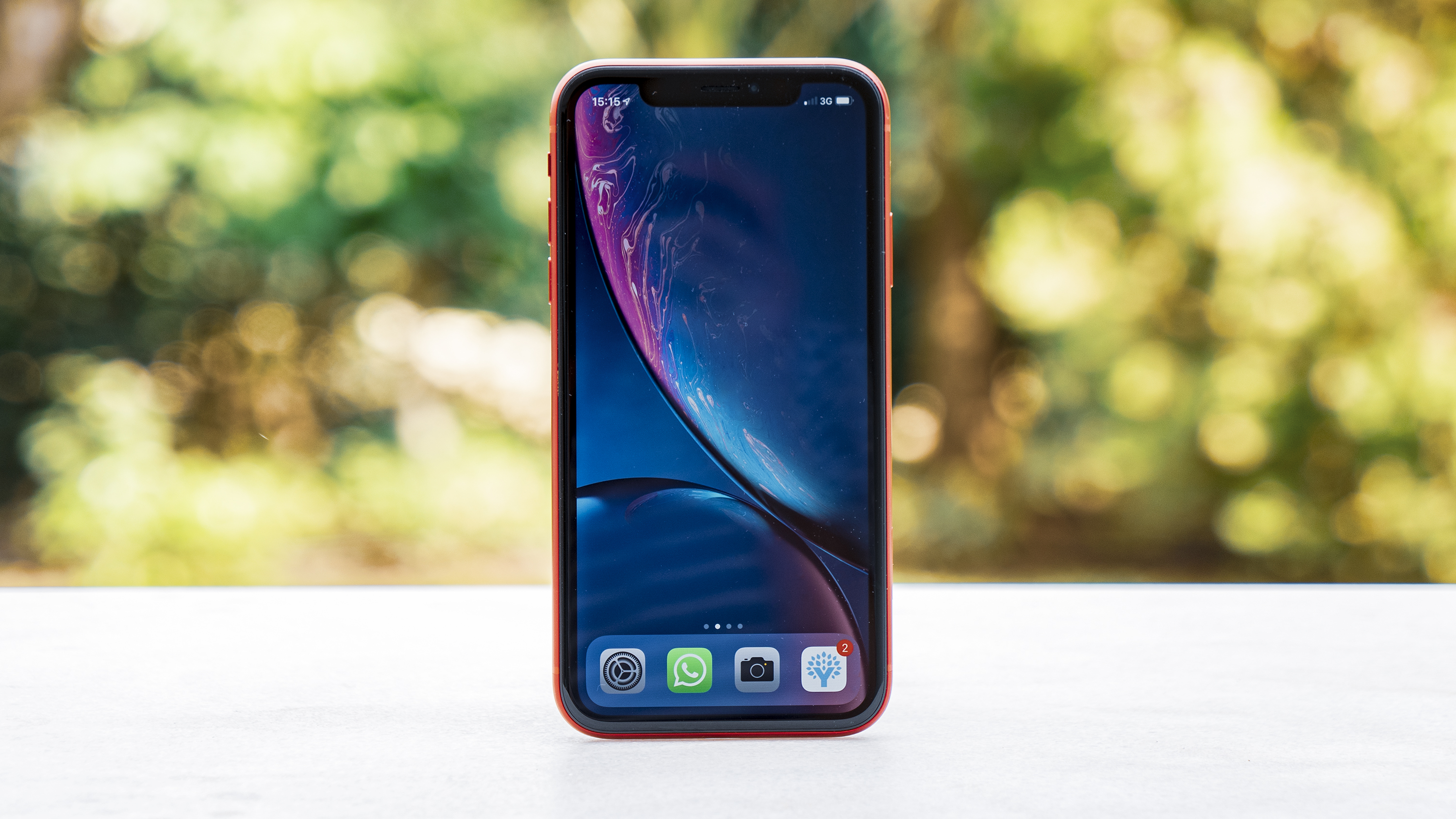 The iPhone XR is a year newer than the iPhone 8 but it's positioned as a 'budget' option. With a starting price of $749 / £749 / AU$1229 for 64GB of storage it's still considerably more expensive, but does have a fresher, iPhone XS-like design, a more powerful chipset and a bigger 6.1-inch screen.
Given the new design, it also has Face ID but lacks a home button or Touch ID, while much of the rest of the phone - including its rear camera - is similar to that of the iPhone 8.
The changes are probably enough to justify the extra outlay, but if it's outside of your budget or you want a more compact screen, you won't go wrong with the iPhone 8.
iPhone 7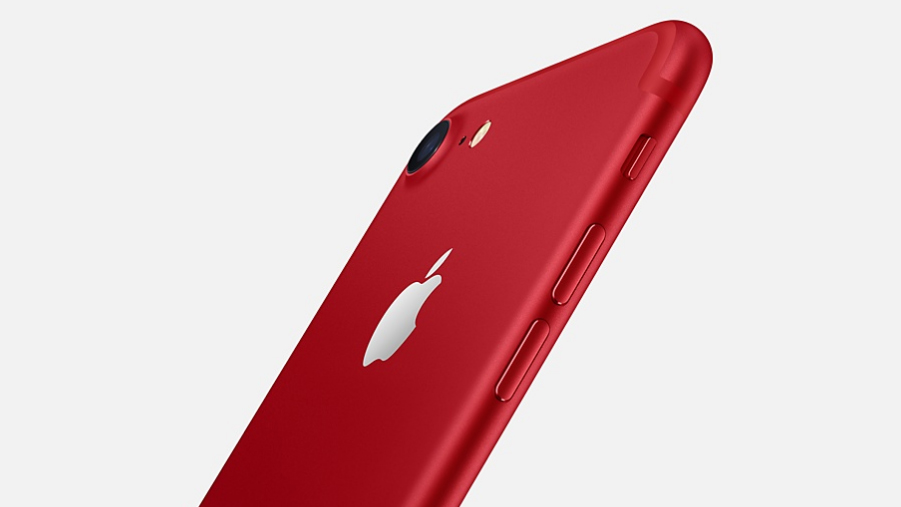 If you want to save yourself a few bucks and you don't already have one, the iPhone 7 is an excellent choice.
It may not have a glossy glass back, wireless charging or the latest A11 Bionic chipset, but it's got the iOS 11 update, so on-screen it looks and feels identical to the iPhone 8, it's dust- and water-resistant, plus the camera is pretty much on a par as well.
Oh – and did we mention it's cheaper too?
iPhone 8 Plus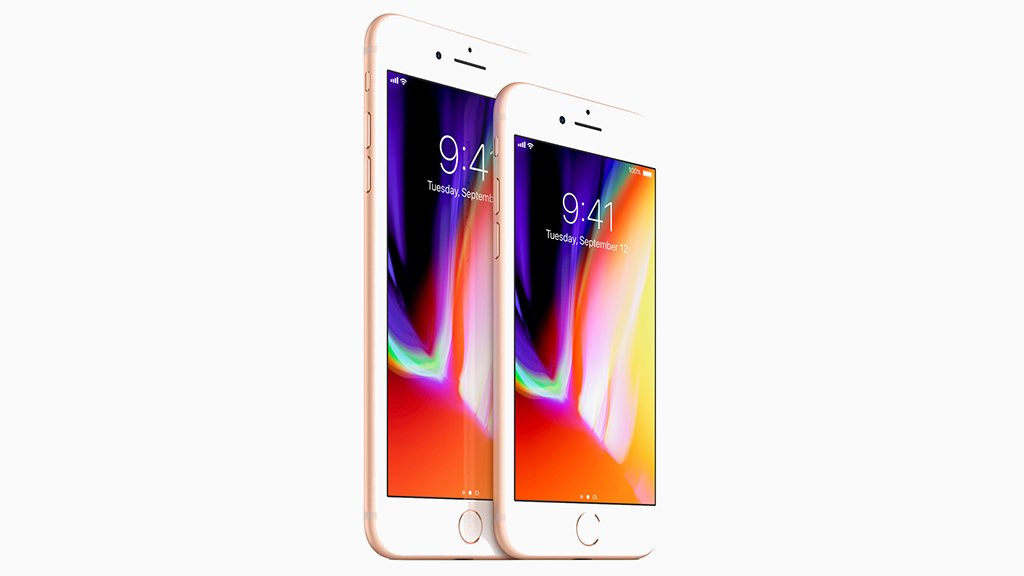 For those desperate for a new iPhone, but too impatient (or financially weak) for the iPhone X, the iPhone 8 Plus is the better choice of the two new iPhones bearing the number 8 in their name.
The larger, 5.5-inch screen gives you a Full HD resolution, making it better for movies and gaming, while round the back there's a dual camera setup versus the single snapper on the iPhone 8.
The dual cameras give you additional features over the iPhone 8, including Apple's impressive Portrait Mode, along with the new Portrait Lighting effect. Battery life is a little better than the iPhone 8's as well.
Sony Xperia XZ1 Compact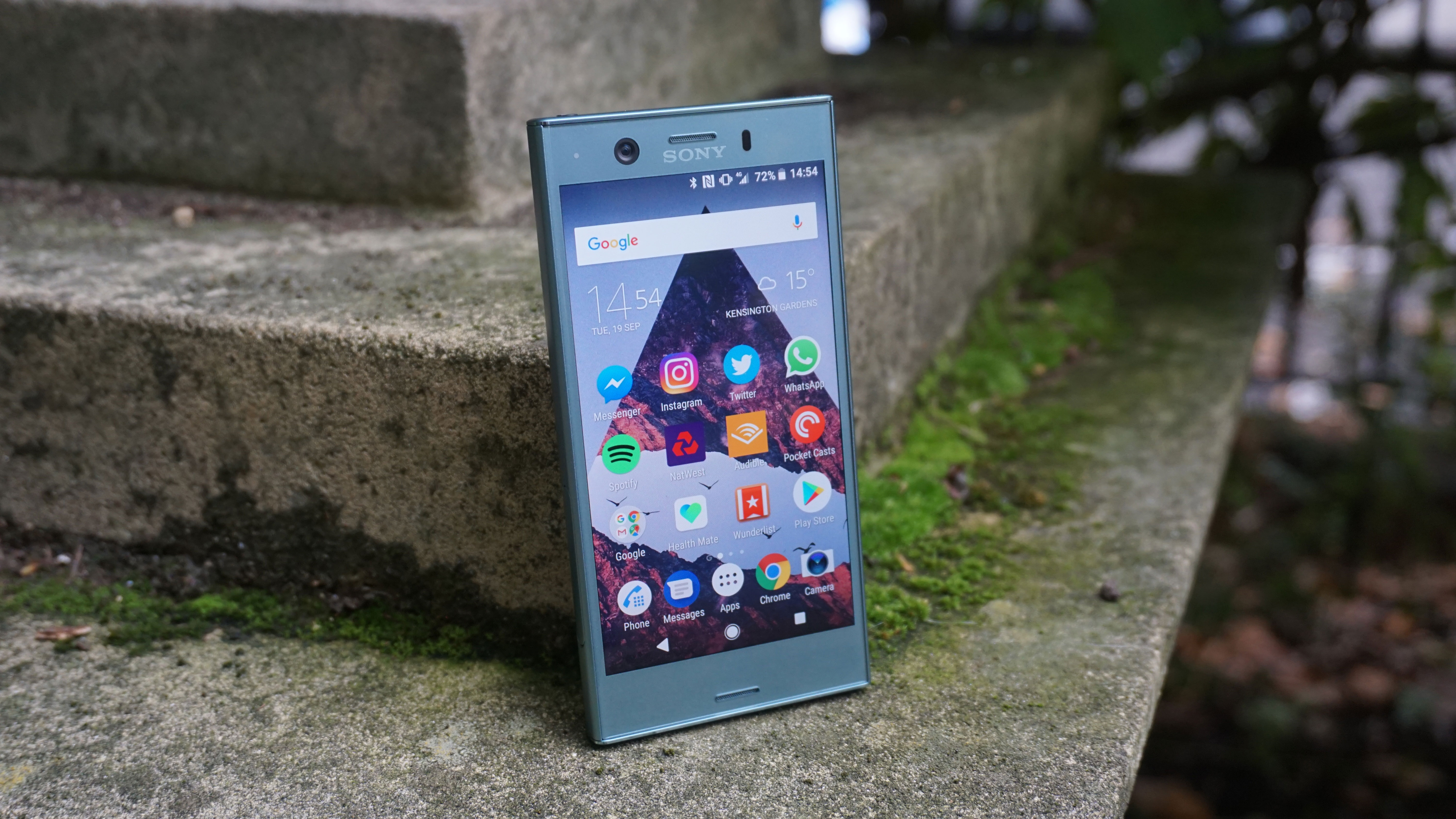 What if you don't want a huge phone, or a phone that's a year old? Is there any other choice? Well, funny you should ask, because yes there is.
The Sony Xperia XZ1 Compact launched just a few weeks before the iPhone 8, and offers a 4.6-inch 720p display, Snapdragon 835 chipset, 4GB of RAM, 19MP rear-facing camera, 8MP front-facing camera and a 2,700mAh battery.
On paper, then, it's a direct match for the iPhone 8, so the question you need to ask yourself is: iOS or Android? Choose.