Notebook designers are often caught between a metaphorical rock and a hard place when creating their systems. Customers want machines that last a long time on their internal batteries, yet they also want them to be lightweight and easy to transport.
Batteries make computers heavy so extending battery life increases the mass of the system, inevitably.
Part of the answer is to design systems where power efficiency allows them to be smaller and lighter, allowing for larger batteries without increasing the weight substantially.
Solve that chicken-and-egg conundrum, and customers will be beating a path to your door.
Considering how many laptops we see, you'd be amazed how few of them achieve that critical balance point between excellent performance and impressive battery life.
In some machines, you can tell that the engineers who designed it gave up with this ambition early in development, deciding either to go with battery life or performance, but not both.
HP thinks it might have the secret sauce on this subject in its new HP ProBook 635 Aero G7 Notebook PC. Can it offer a fruit-filled performance cake with an extra side-order of battery life flavoured Battenburg, or is that an unrealistic expectation?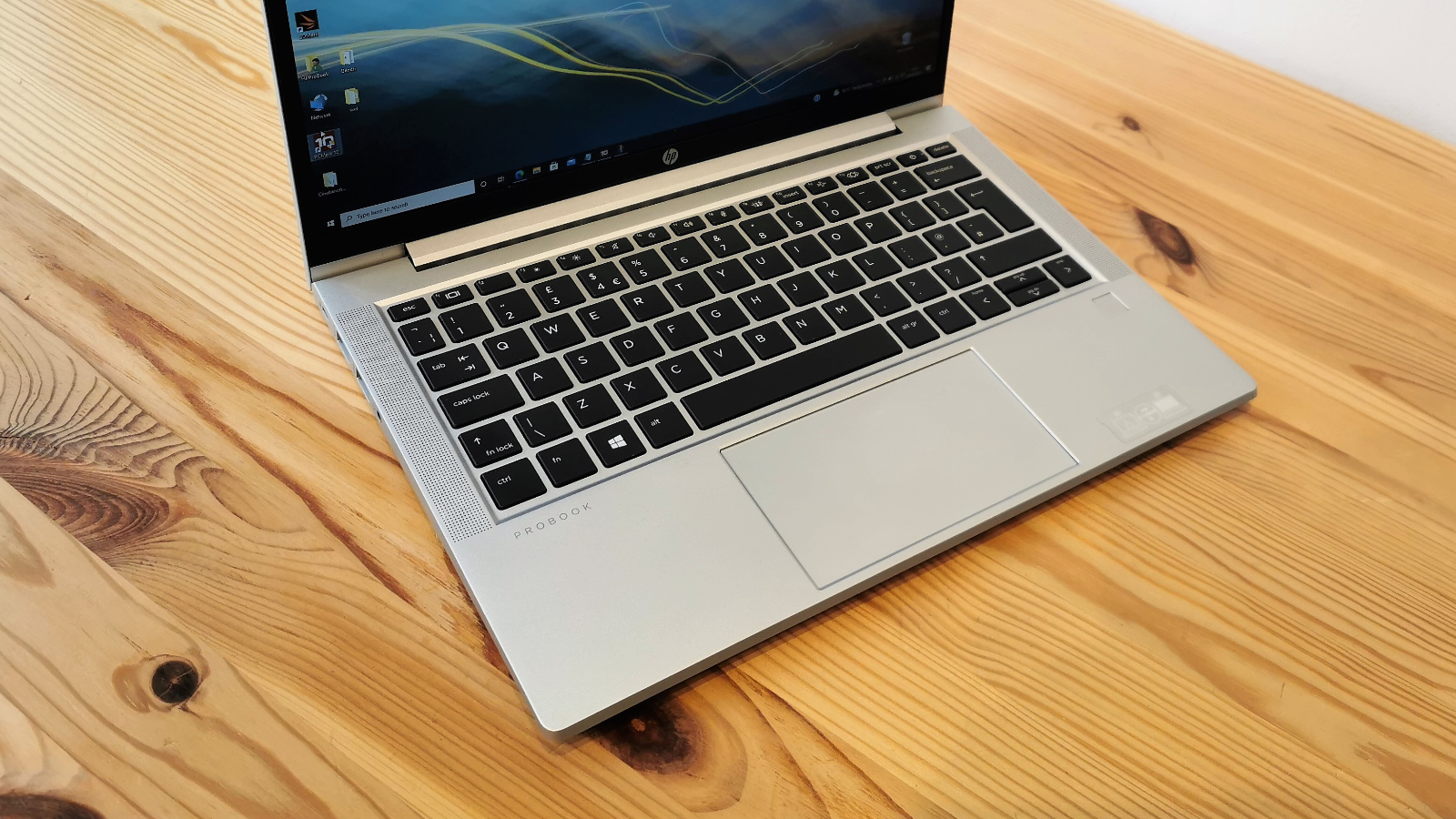 Price and availability
As with all HP laptops, the exact specification of the HP ProBook 635 Aero G7 Notebook PC on offer displays some regional variation.
In the UK, the HP ProBook 635 Aero G7 with 8GB of RAM and 256GB of memory is typically near £850 from most online retailers, and the review hardware with double the RAM and storage would probably cost around £1,000.
US customers have the similar HP ProBook 635 Aero G8 direct from HP, an SKU that starts with a Ryzen 3 5400U processor for around $1,055 and goes up to only $1348.26 for one with the top tier Ryzen 7 PRO 5850 CPU option.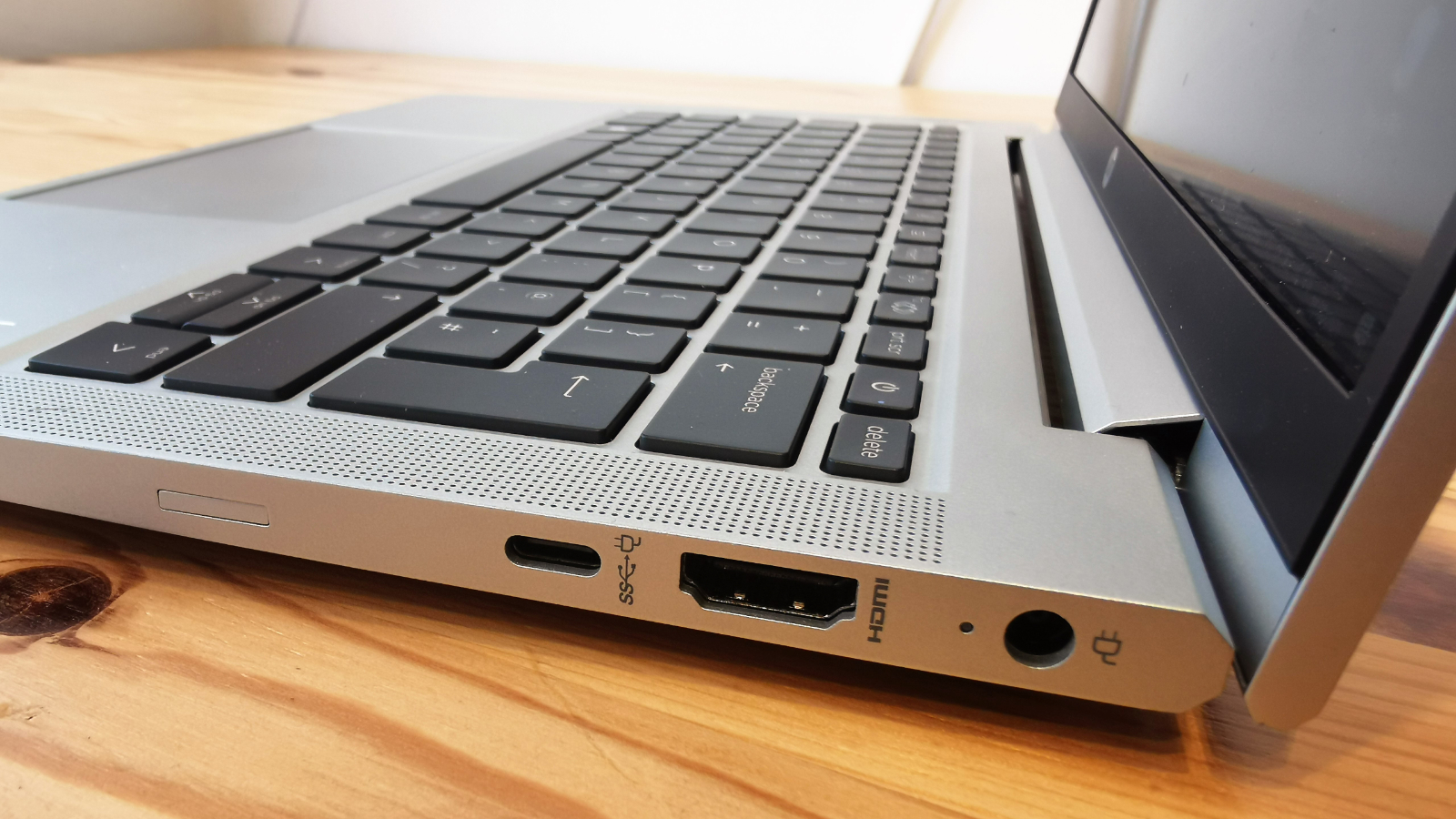 Design
The Aero 635 isn't a radical laptop design. It's the culmination of many notebook generations that have refined a form factor that most brands now use.
With a relatively small screen and landing area, designers must optimise space in a way that doesn't make the user feel cramped or restricted at the keyboard.
This design was successful in those objectives, offering a practical keyboard layout that spaces the keys out. Occasional users won't care, but those that do more data input will appreciate the ergonomics and the large touchpad that is easy to operate with either hand.
Positioning of ports isn't ideal but not the worst we've seen on a notebook. Being such a thin profile, room for ports is only on the sides. And in this machine, ports are restricted to the back third of these edges.
The left side has a security slot, two Type-A USB 3.1 ports, and a 3.5mm audio jack, and the right is a pin-barrel power inlet, HDMI, a USB-C port and a mobile SIM card slot. Not sure why they provide the pin-barrel power receptacle since the provided PSU is for USB-C.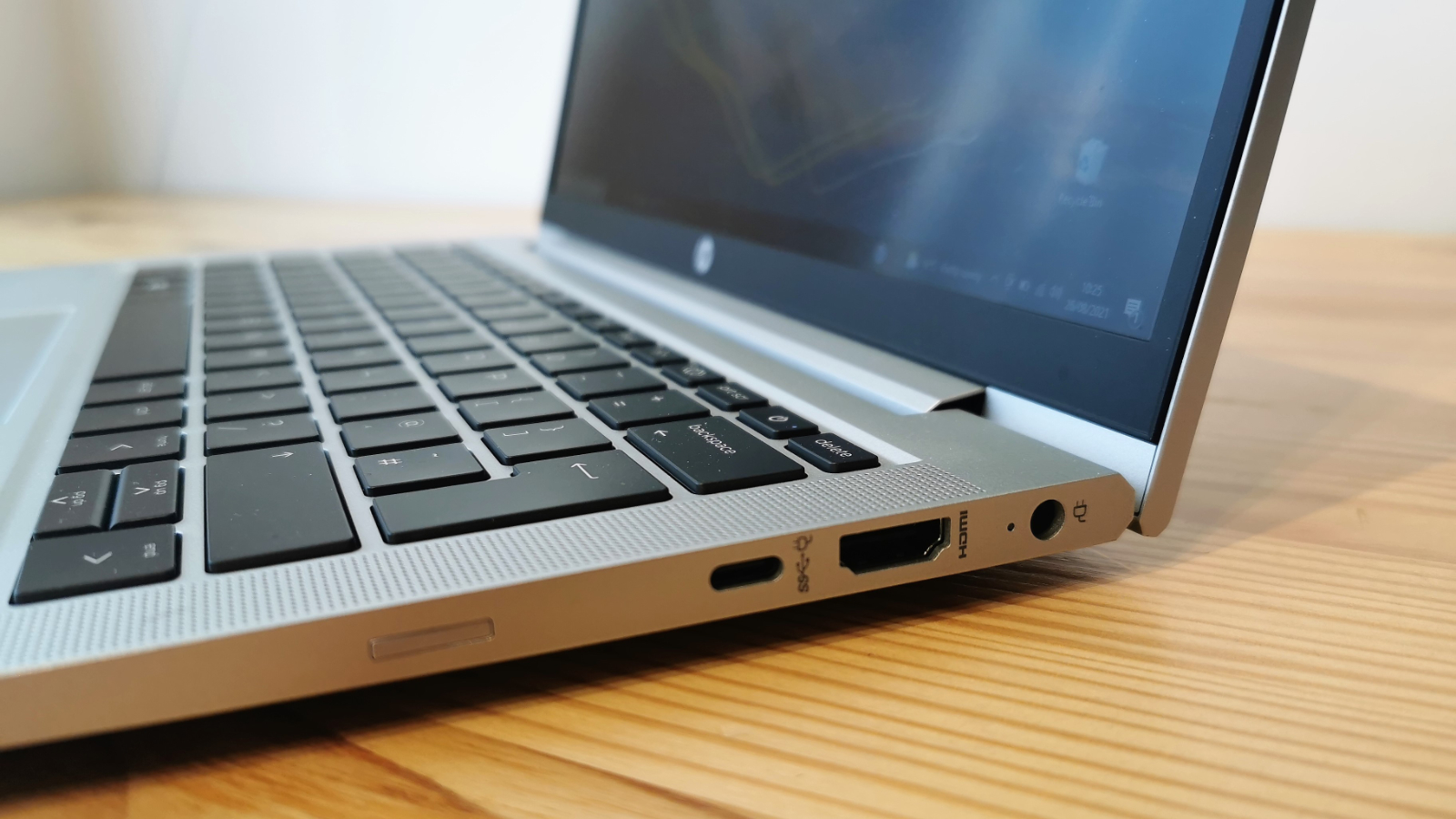 A better option would have been to put a USB-A and USB-C on each side and maintain the port count by including a USB-C to HDMI adapter.
One feature that might have been better is the camera. Mounted at the top of the screen, it has no physical means to obscure it. Reading the manual, it appears that some models do feature a 'privacy cover', but not on the review model.
But our most important takeaway from handling the Aero 635 was that some parts of the outer shell aren't robust and border on flimsy in some places.
We're sure that a conscientious person will get many hours of faultless service, but for someone who throws hardware around, this system might not last long.
Hardware
Spec sheet
Here is the HP ProBook 635 Aero G7 configuration sent to TechRadar for review:
CPU: AMD Ryzen 5 Mobile 4500U
Graphics: AMD Radeon Graphics Vega with 512 MB DDR4 VRAM
RAM: 16GB DDR4 RAM, upgradable to 32GB
Screen: 13.3" diagonal FHD display natural resolution 1920 x 1080, 400 nits
Storage: SK Hynix BC511 M.2 480GB PCIe NVMe SSD
Ports: 2 x USB 3.2 Type-A Gen 1, 1 x USB 3.1 Gen 2 Type-C, 1 x HDMI, 1 x universal audio jack, 1 x SIM card slot (optional)
Connectivity: Intel XMM 7360 LTE-Advanced; Intel AX200 Wi-Fi 6 (2x2) and Bluetooth® 5 combo
Camera: 1x 720p HD camera
Security: HP fingerprint solution, TPM 2.0 security chip, Power-on authentication, Preboot authentication, etc.
Weight: 0.99 kg
Size: 307.6mm x Depth: 204.5mm x 17.9mm (W x D x H)
Battery: HP Long Life 3-cell, 53 Wh Li-ion
There are numerous notebooks available that fit into a niche predefined for them by the Intel platform on which they are based. Thankfully, it has taken a while to get here, but the penny has finally dropped with HP that there are alternatives and good ones at that.
Bult around the excellent AMD Ryzen 5 Mobile 4500U CPU, this choice enables the Aero 635 to have a dynamic performance curve and remarkably frugal power consumption.
With six cores and six threads, it's superior to many recent 10th Gen Core i5 mobile processors. Only some 11th Gen Intel designs are consistently faster, and then only in some contexts.
The baseline clock is 2.3GHz, and the turbo mode can boost this to 4GHz for demanding single thread tasks.
Made on a 7nm fabrication, it manages this, and Radeon RX Vega 6 graphics on a TDP (Thermal Design Power) that has a scope of 10-25w and typically only 15w.
In the review configuration, the Ryzen 5 Mobile 4500U has two SoDIMM DDR4 memory modules for a maximum of 32GB of RAM and a 500GB Hynix NVMe M.2 SSD. The M.2 slot is Gen3 specification, and HP offers a 1TB drive on some SKUs.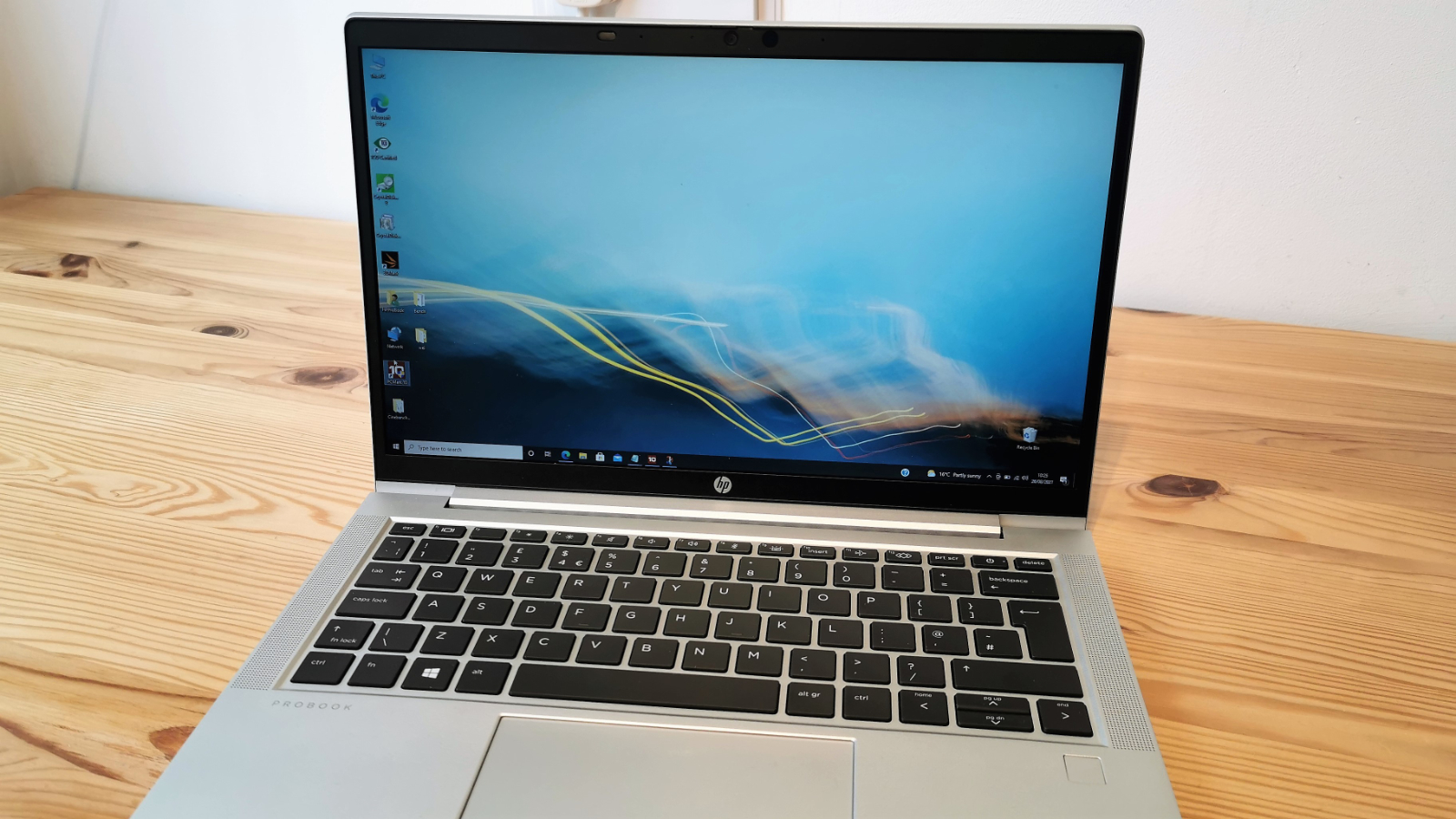 It might be possible to put a 2TB or 4TB module in here for those that like doing upgrades, but we'd be careful about putting any SSD inside that tends to run hot.
If this design has a weakness, HP didn't give it a Thunderbolt port and only a single USB-C receptacle. To compound that limitation, the USB-C port is required for charging, making it less available for attaching external storage or USB-C compliant displays.
The only practical way to address that limitation is to use a USB-C docking station, but a Thunderbolt dock would have been better if it had that technology.
HP deserves some credit for finally accepting what many other brands realised a while ago, that pleasing Intel and their customers aren't objectives that inevitably coincide. Hopefully, we'll see more AMD Ryzen products from them soon.
In use
Our user experience of this hardware was generally a positive one.
It boots smartly, launches applications smoothly, and with six cores, it has no issue handling multiple tasks with aplomb. The screen is bright and sharp, and the contrast and saturation make it suitable for both work and play.
The keyboard is of the membrane variety, but there is sufficient travel action to make typing rapidly possible. And the trackpad is a quality design that doesn't require excessive force to illicit virtual mouse clicks.
Provided with the system was an HP-branded 65w USB-C power adapter that can recharge the system from wholly discharged to full in around two hours.
The default Windows installation lacks many more recent patches, making the first few hours a little tedious as all these upgrades are installed, some requiring reboots. But, due to the excellent multi-tasking, this is less of an issue since you can use it while these patches and added features are being downloaded and applied.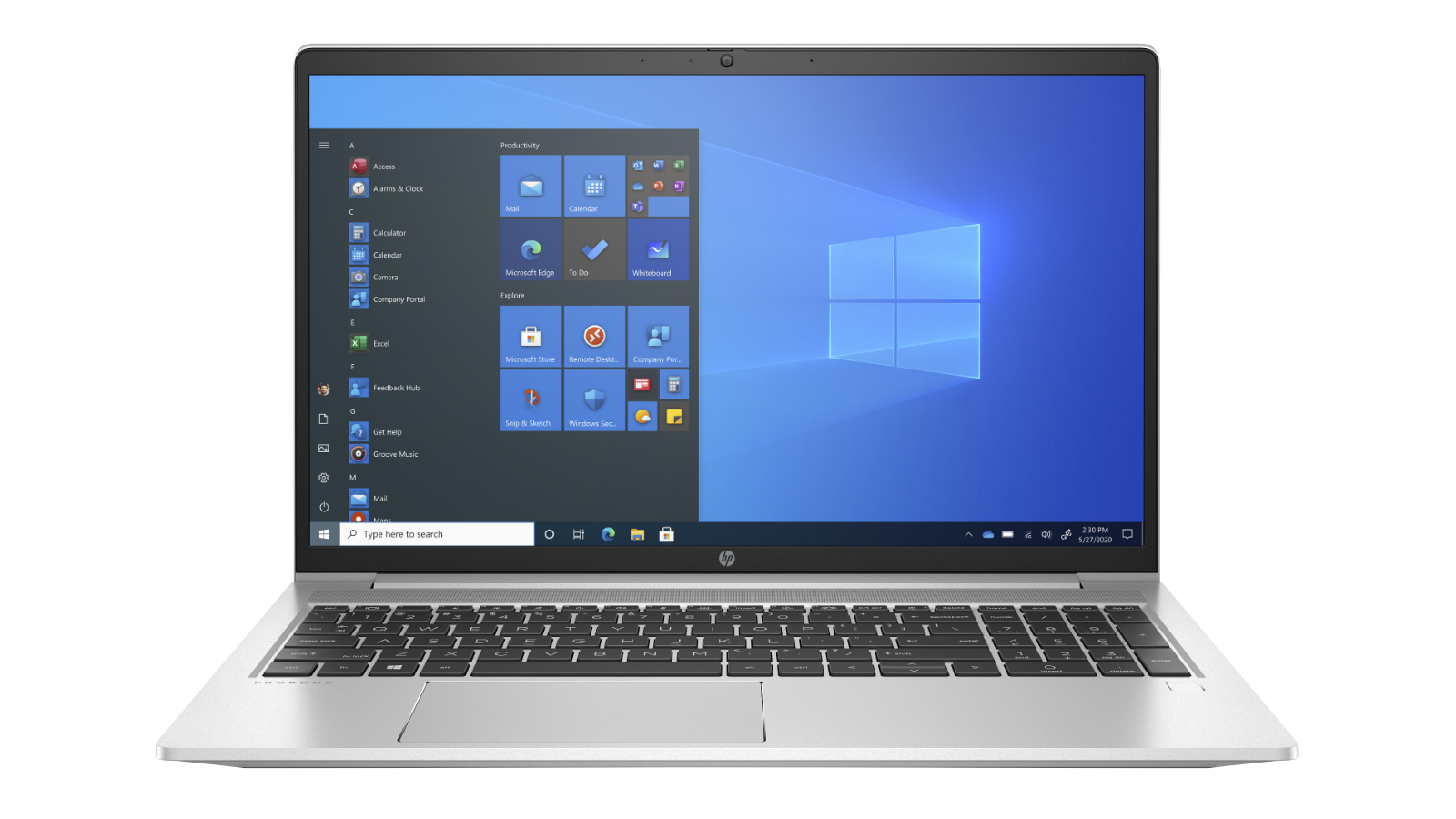 Performance
Benchmarks
Here's how the HP ProBook 635 Aero G7 scored in our suite of benchmark tests:
3DMark Wild Life: 5,224; Fire Strike: 2,818; Time Spy: 967;
Cinebench R23 CPU: 1162 (single-core); 5,570 (multi-core)
GeekBench 5: 1,087 (single-core); 4,541 (multi-core), 9890 (OpenCL)
CrystalDiskMark: Sequential Read: 1,792MB/s; Sequential Write: 1,049MB/s; 4KiB Q32T1 Random Read: 380.8MB/s; 4KiB Q32T1 Random Write: 369.8MB/s
PCMark 10 (Home Test): 4,606 points
PCMark 10 Battery Life: 15 hours and 44 minutes
Windows Experience Index: 8.0
Having six cores running at 2.3GHz, even without hyperthreading, allows for some performance that crushes less worthy mobile platforms.
And, almost across the board, the Aero 635 with this AMD Ryzen 5 Mobile 4500U processor delivers desirable scores in both single-core and multi-core tasks.
An Intel CPU to compare the Ryzen 5 4500U with is the 11th Gen Core i5-1140G7, sporting a slower 1.8GHz baseline with 4.2GHz turbo mode. This chip might be only quad-core but has hyperthreading to handle eight threads simultaneously, giving it a significant advantage on multi-threaded tests.
The i5-1140G7 is faster at a good number of the benchmarks, especially those that are graphics related. It wins those benchmarks because the new Intel Iris Xe Graphics G7 is faster than the Radeon Vega 6.
However, once you take the GPU out of the equation, as in the CineBench 23 test, the Intel chip is only 9% quicker for the single CPU score and 25% slower on the multi-core CPU result. For its modest power consumption, the Ryzen 5 with Zen 2 architecture is a beast.
For those that want more graphics power on this platform, HP has a version of this machine using the AMD Ryzen 7 PRO 4750U, sporting a Vega 7 specification GPU.
Overall, the AMD Ryzen 5 Mobile 4500U delivers a delicate balance between raw performance and power efficiency. Where the Intel Core i5-1140G7 might have the edge in a sprint, systems that use it typically provide half the battery life of the Ryzen.
And, that's the killer performance feature of this design, battery life.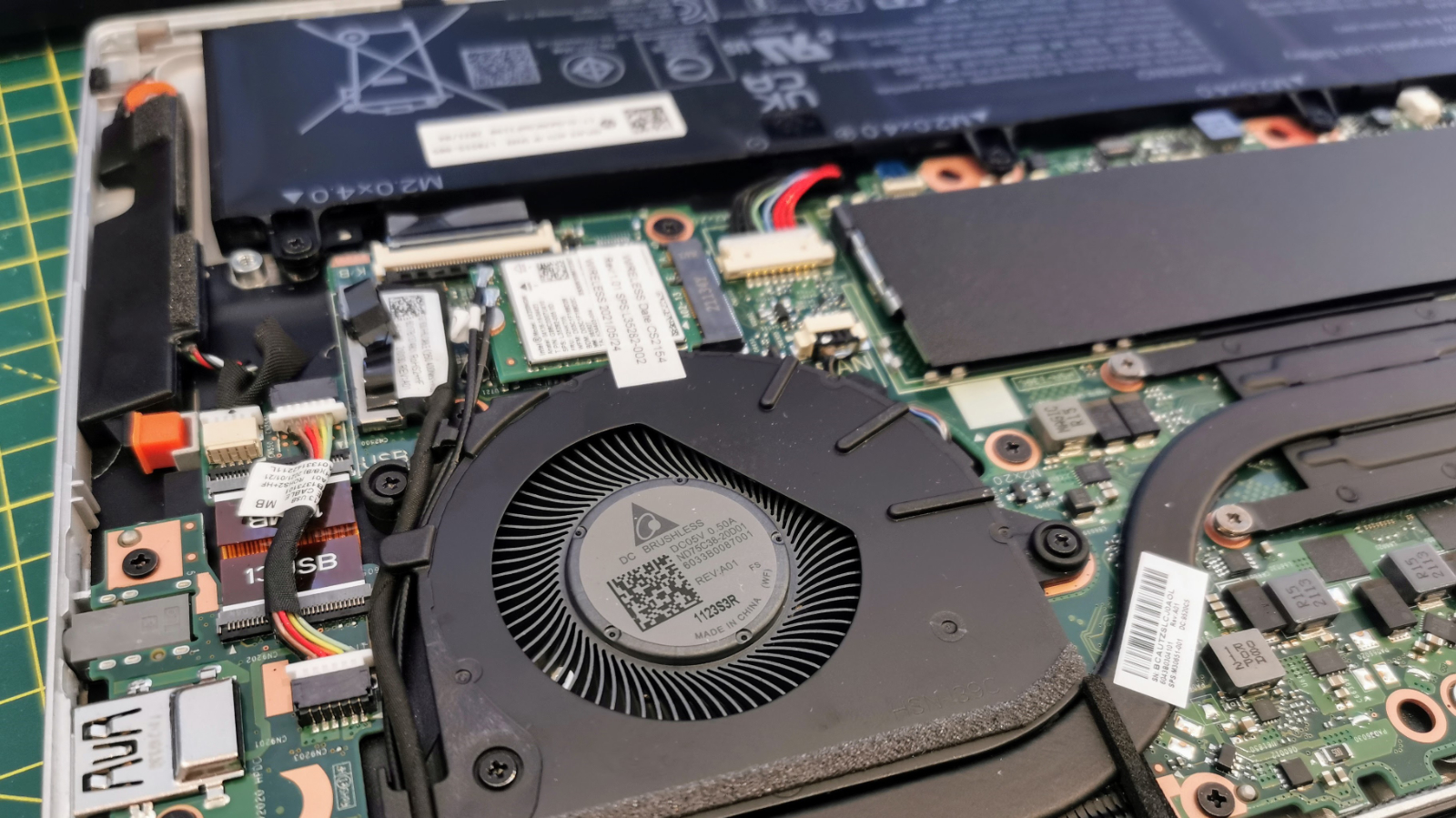 In our PCMark10 battery test, the HP ProBook 635 Aero G7 squeezed a truly impressive 15 hours and 44 minutes from its 53 Wh Li-ion pack, a level that equates to easily two working days of continuous use.
That's Chromebook-like battery life in a PC running Windows 10, amazingly.
The one place that this system might have been better was the NVMe drive, an SK Hynix BC511. This SSD is a 512GB OEM drive with mediocre read and write speeds for an NVMe part.
It achieved just 1,791MB/s reads and 1,048MB/s writes on CrystalDiskMark 8.0.4, way below the performance levels we'd expect from a branded desktop part.
That said, it does have a power profile that would help battery life on a mobile system, drawing a maximum of 2.5w and an idle state of just 40mW idle.
With such average performance, it might be tempting to swap it for something with more grunt, but a desktop part could easily pull 8 watts, reducing overall battery life.
On many systems, that might be an unacceptable trade, but the excess battery capacity in this design make it a realistic choice.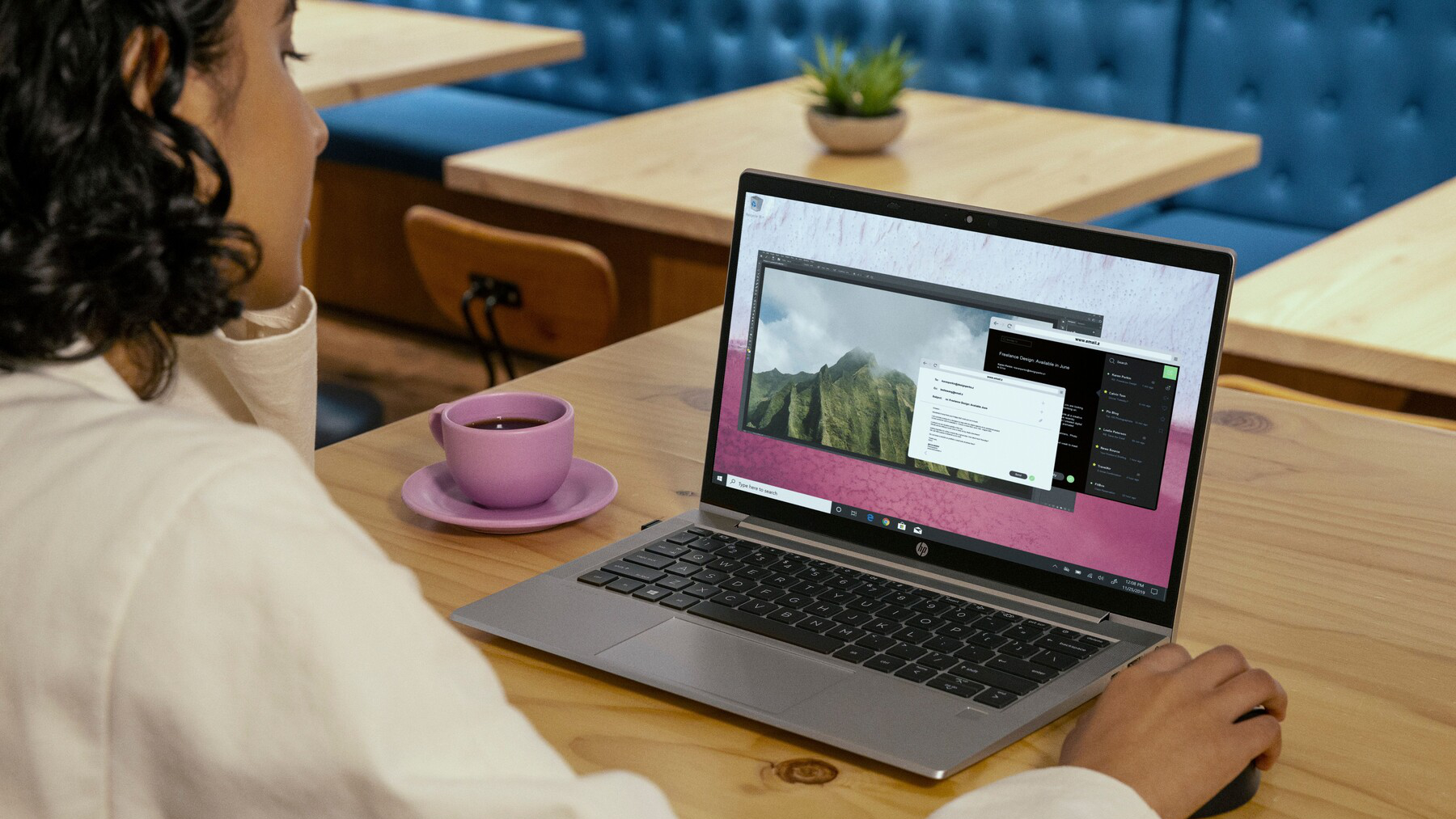 Upgrades
Surprisingly, the Aero 635 is one of the easiest notebooks to get inside that we've encountered. Just five screws and some very light duty with a non-conductive spudger has the back off in minutes, and the panel even retains the screws, so you don't get a chance to misplace them.
Once the access panel is removed, you have full access to the two SoDIMM memory slots, the M.2 NVMe drive, M.2 Comms slot and the battery. Those provide a wide range of upgrade and replacement possibilities.
But, with only a single M.2 slot, the existing drive will need to be externally imaged, and a USB recovery drive made if you wish to change out the NVMe for something better and want to avoid a complete reinstallation.
As notebooks go, the Aero 635 is one of the better choices when it comes to post-sales enhancements.
Final verdict
It's great to see more laptop makers exploring the AMD mobile platform, as this silicon has the potential for substantially better power efficiency than Intel offers.
A machine like the Aero 635 G7 is all about being the lightweight machine that can go a working day, or further, on a single change. The choice of the AMD Ryzen 5 mobile CPU ticks that box and much more.
Compared with an 11th gen Core-i5, this machine lasts longer and performs just as well in most typical tasks. The Intel chips with the new Intel Iris Xe Graphics G7 have more GPU performance but consume substantially more battery power to achieve that.
As laptops go, the Aero 635 G7 offers an uncluttered and elegant design that is competitively priced. We'd have preferred USB-C ports on both sides, and Thunderbolt 3 should have been an option along with a LAN port. For those with a docking station, these omissions are mostly irrelevant.
The screen is sharp, bright and has excellent contrast, and the keyboard is good enough for regular use.
One downside is that to keep the weight under that magical 1kg line, the designers chose to make the external panels all from plastic. Therefore, this notebook will need to be cossetted in a soft cover and kept away from sharp objects to survive a deployment cycle.
Overall, HP produced an excellent and keenly priced solution that underlines the lacklustre nature of many Intel mobile chipsets and how AMD Ryzen silicon has unique advantages.