Samsung's newest range of Galaxy Note 10 phablets are out and ready for you to buy, and you heard us right - it's now a range of phablets rather than just one phone, as it's joined by the bigger Samsung Galaxy Note 10 Plus.
The Galaxy Note 10 and Note 10 Plus are the first handsets in the Note line to feature an all-screen display, although it looks a bit different to the Galaxy S10 or Galaxy S10 Plus.
Its edge-to-edge display technology is still called Infinity-O, but here the cut-out for the front-facing camera is aligned in the center at the top of the phone's screen, rather than pushed to the top right.
This placement of the single circular lens creates a distinctly cyclops-like look – an eye gazing out at you like HAL in 2001: A Space Odyssey. This central punch-hole is also adorning the more recently unveiled Samsung Galaxy S20, Samsung Galaxy S20 Plus and Galaxy S20 Ultra too.
The Samsung Galaxy Note 10 phones are the company's 2019 line of stylus-toting phones, but the Galaxy Note 20 expected in August 2020 will take the title of 'newest', although with the 2020 launch of the Galaxy Note 10 Lite prospective buyers have plenty of choice.
Unsurprisingly, the Note 10 Plus has a noticeably larger display, and it comes with a few upgrades under the hood and in the camera department compared to the standard model.
Below we'll be talking you through our experience with the Galaxy Note 10, but be sure to consider the larger (and therefore more expensive) handset if you're looking for the top spec offered by Samsung - though that crown will likely be taken by
Samsung Galaxy Note 10 release date and price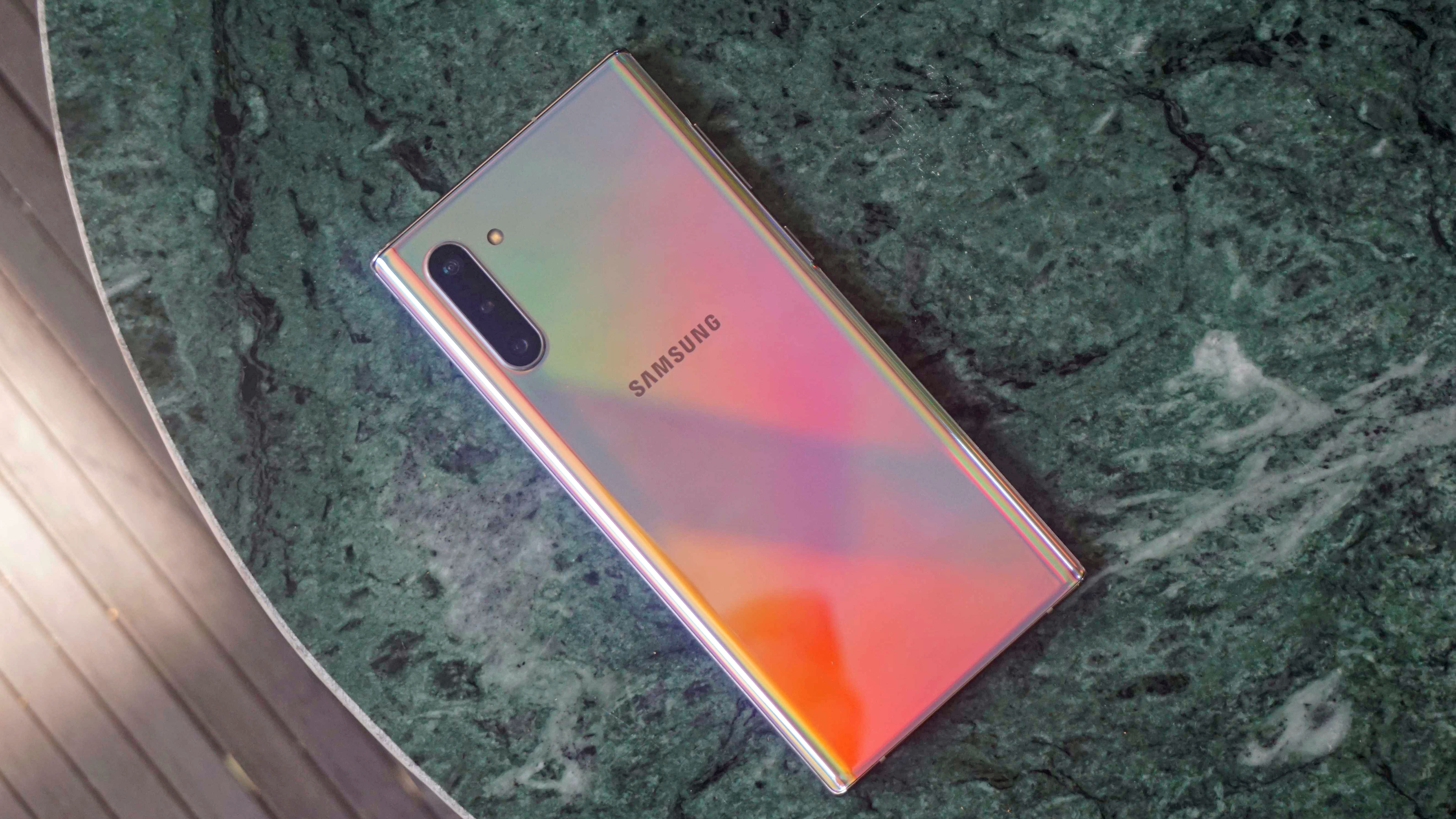 Samsung announced the Galaxy Note 10 in August 2019, and it was available soon after, alongside the Galaxy Note 10 Plus. That means you can now buy the phone in the US, UK and Australia as well as a variety of other countries around the world.
If you're buying the phone outright, the Galaxy Note 10 price tag is set at $949 / £869 / AU$1,499. Unlike some other handsets you won't end up spending more than that as it only comes in one storage size and therefore one price.
That price may drop over time - although we haven't seen it sink much yet - especially when Samsung's inevitably introduces the Galaxy Note 20 range to its portfolio.
Design and display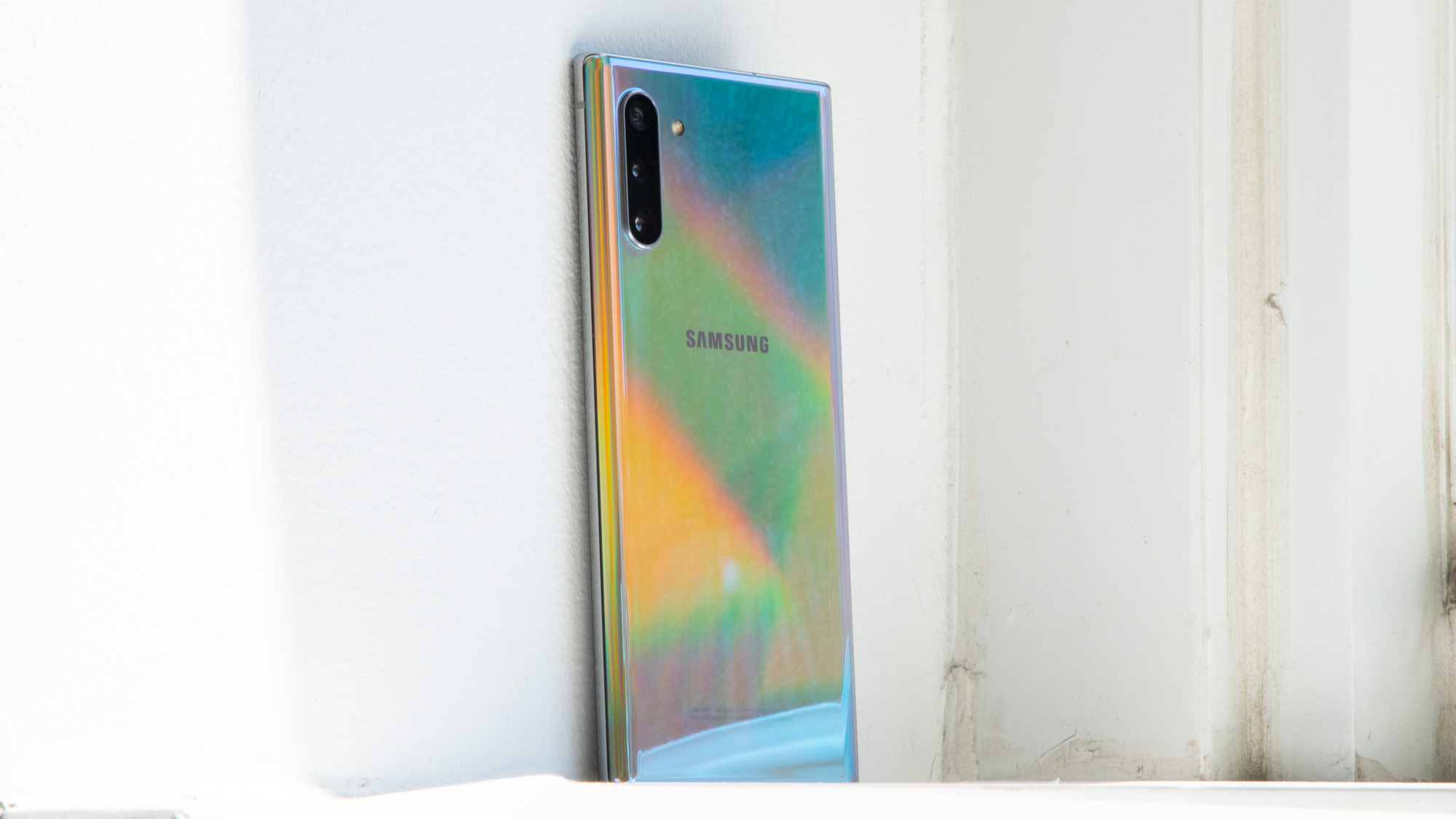 First and foremost, the introduction of a Plus handset in the Galaxy Note 10 range has ensured the normal handset doesn't feel as gargantuan as it has done in previous iterations.
The Note 10 fits much more comfortably in the hand than the Galaxy Note 9 or Galaxy Note 10 Plus, but it's still a difficult phone to hold for those with smaller hands.
The Note 10 isn't just smaller than the Note 9, it's also lighter and thinner. It measures 72 x 151 x 7.9mm, and at 168g it's one of the lighter flagship Samsung phones.
Again, this is still a big phone and those with smaller hands will likely struggle to use it one-handed – don't expect it to be as easy to use as handsets like the iPhone SE or Sony's Compact line of Xperia phones.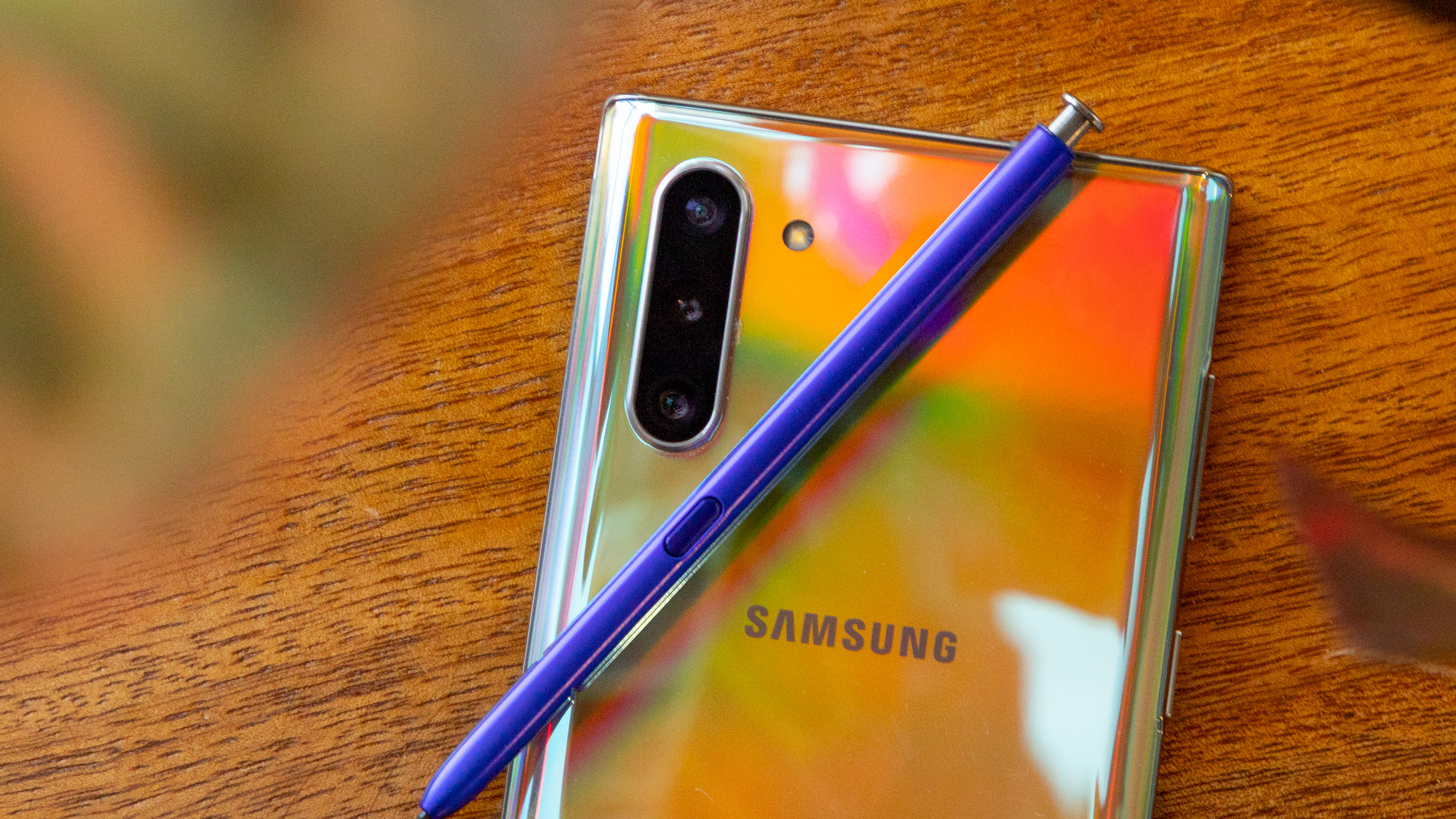 The biggest design change compared to other Samsung phones is the introduction of a full-screen display with a punch-hole cut-out for the front-facing camera at the top-center of the screen – the Galaxy S10 and S10 Plus both have the selfie camera tech at the top right.
The Note 10 has a 6.3-inch AMOLED display with a Full HD resolution, coming in at 2280 x 1080 pixels, with 401 pixels per inch. It includes HDR10+ technology, and considering that Samsung hasn't opted for a QHD display here we're impressed with how the display looks.
We hardly noticed the lack of a QHD display in general use, but if you're used to a phone with a higher resolution than Full HD you may be able to spot the slightly lower resolution on this handset.
We found the display to be bright and easy to read, but often we found ourselves using the display on a high brightness rather than using automatic brightness.
Some may not be fans of the central placement of the camera sensor, but it's arguably a lot less intrusive than the notches you get on other popular phones, like the iPhone XS or iPhone 11. And given that the Samsung Galaxy S20 line has a similar central punch-hole, the Note 10 won't look dated for awhile.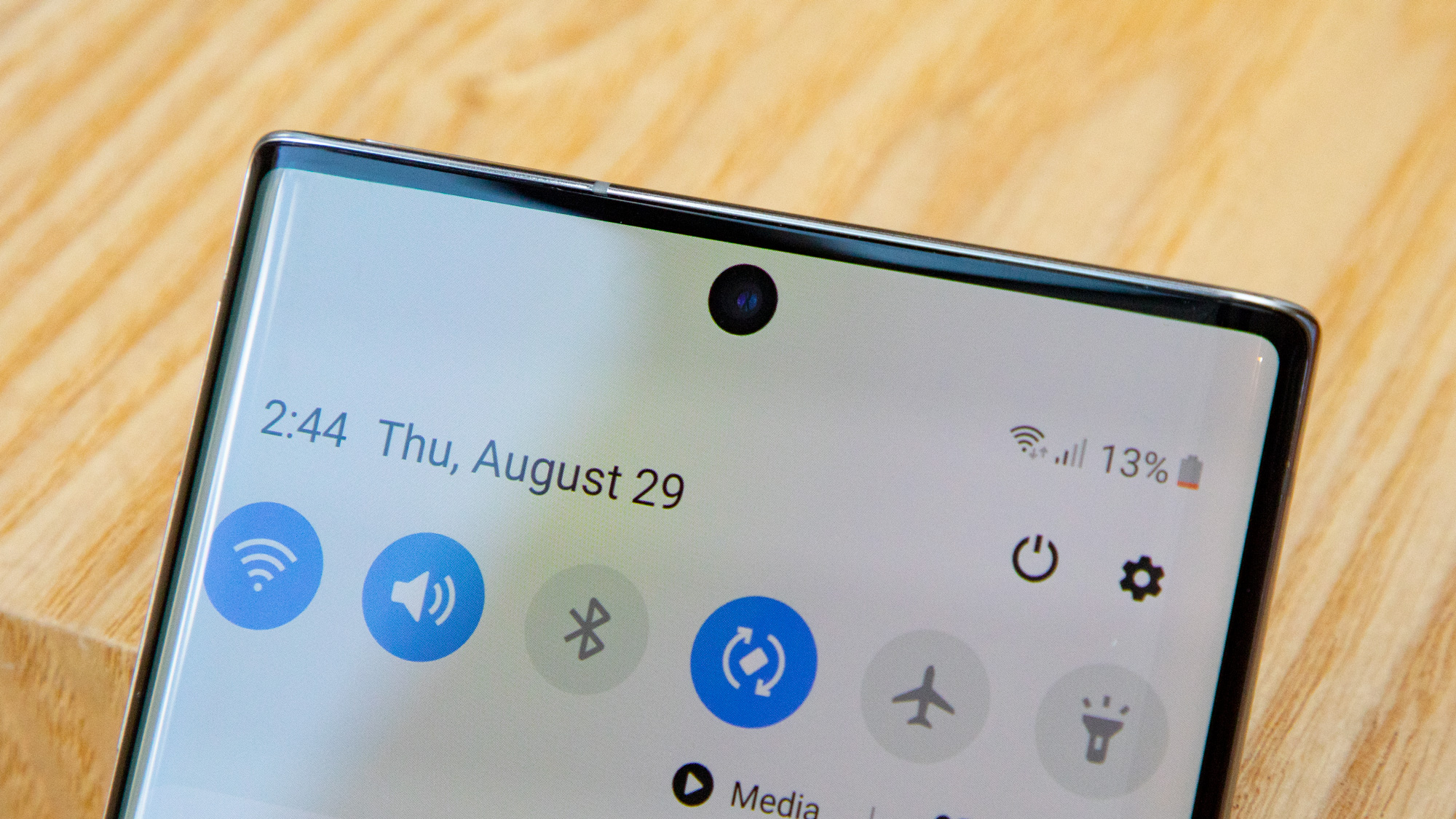 As on the S10 and S10 Plus, Samsung has embedded the fingerprint scanner under the screen here, and it's slightly higher than under-display scanners on some other Android phones.
This feels like a more comfortable place to put it, as your thumb naturally falls on this area when you're using the Note 10. We found ourselves immediately unlocking the phone without a second thought, and it proved to be fast and accurate.
On the bottom edge of the Galaxy Note 10 you'll find the USB-C connector in the center, with a speaker and the S-Pen slot sitting to the right of it. The top edge of the phone is uninterrupted apart from the SIM tray.
The left-hand edge of the phone is home to the volume rocker, and the power button is below this. Samsung has opted to kill the Bixby button that has appeared on a lot of recent Samsung flagships – to activate that feature you now just hold down the power button for a few seconds, which is a far more efficient solution.
The frame of the phone is a premium metal, while the back is made of glass. Your color options are Aura Glow (a combination of blue and white), Aura Black and Aura Pink, but it's currently unclear which markets will get which colors.
We particularly liked the Aura Glow variant, the color of which changes depending on the light you're using the phone under. The phone is also IP68 water and dust resistant, so you'll be able to get this phone wet without worrying about it breaking.
Battery life
Samsung has opted to put a 3,500mAh battery inside the Note 10, and while it's not the most stunning battery life we've experienced from a smartphone it's sufficient to last you through a day of normal usage.
We did find on a few heavier days of usage that the phone would be running low at around 8PM and we'd need to put it on charge.
Luckily, the Samsung Galaxy Note 10 comes with some impressive fast charging, allowing us to plug it in for a period of about 15 minutes and gaining enough to make it through to the end of the day.
Our struggle to get a full day of life was often because we were using the phone on full brightness in order to see the display better, but if you're using the Note 10 on automatic brightness you're much more likely to experience a full day of use.
That's all you'll get here though as it won't last you into a second day of average use unless you're a very light user. The battery life on the Galaxy Note 10 Plus is far better than the Note 10, so if you're desperate for longer life you may want to go for that.
We ran a 90-minute video on the phone with the display on full brightness and found it dropped from 100% to 88%. That's a solid performance, but we didn't find that reflective of our day to day usage of the Note 10.
Wireless charging is on hand, and you'll also be able to use Samsung's Wireless PowerShare feature to charge compatible devices like headphones, smartwatches or other phones from your Note 10.
That's super handy for when you have a device that has run out of battery, such as Samsung's Galaxy Buds headphones. Perhaps the most exciting part of this feature though is that you can use it to recharge other smartphones.
Your friend ran out of charge while you're in the pub? Set up your Note 10 to do PowerShare in the settings and you'll be able to place their device on top of yours to pump it with a slight amount of battery (assuming their phone supports wireless charging).
Camera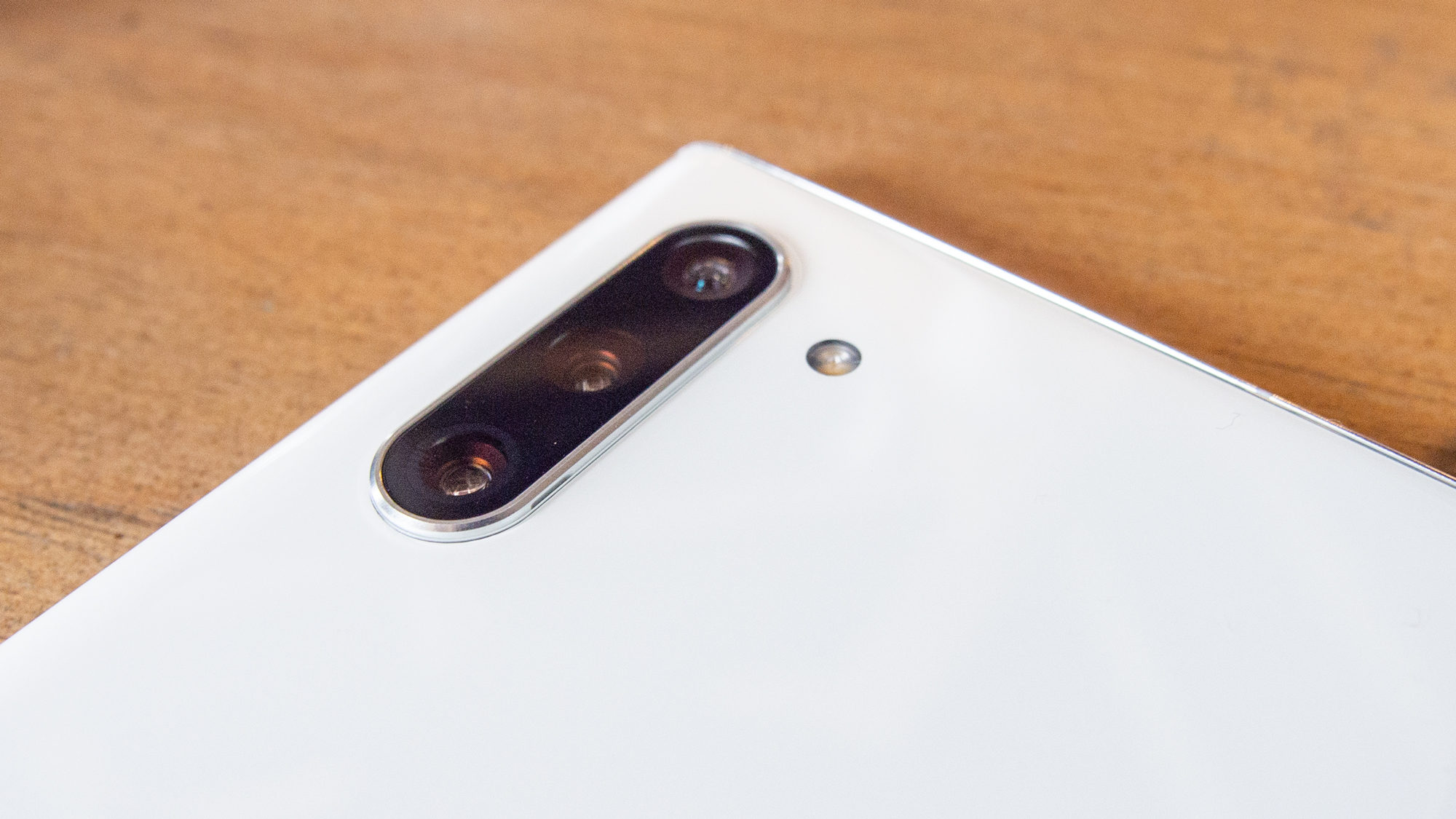 If you've used the Galaxy S10 or S10 Plus, you'll find that the Galaxy Note 10's camera isn't an exciting upgrade over those phones. It's using the same combination of a 16MP ultra-wide lens, a 12MP regular lens and a 12MP telephoto lens.
These combine to deliver a fantastic photography experience, and the camera is particularly good in its automatic mode.
This isn't the very best phone camera you'll find at the moment, but it offers a solid enough experience that is likely to be better than your current smartphone if it's a couple of years old.
Most of the Note 10's improvements in the camera department are in its video recording capabilities. The image stabilization technology has been improved, and there's a new feature called Live Focus Video, which enables you to capture 'bokeh' background blur effects of the kind we're used to seeing in portrait-mode stills.
Image 1 of 3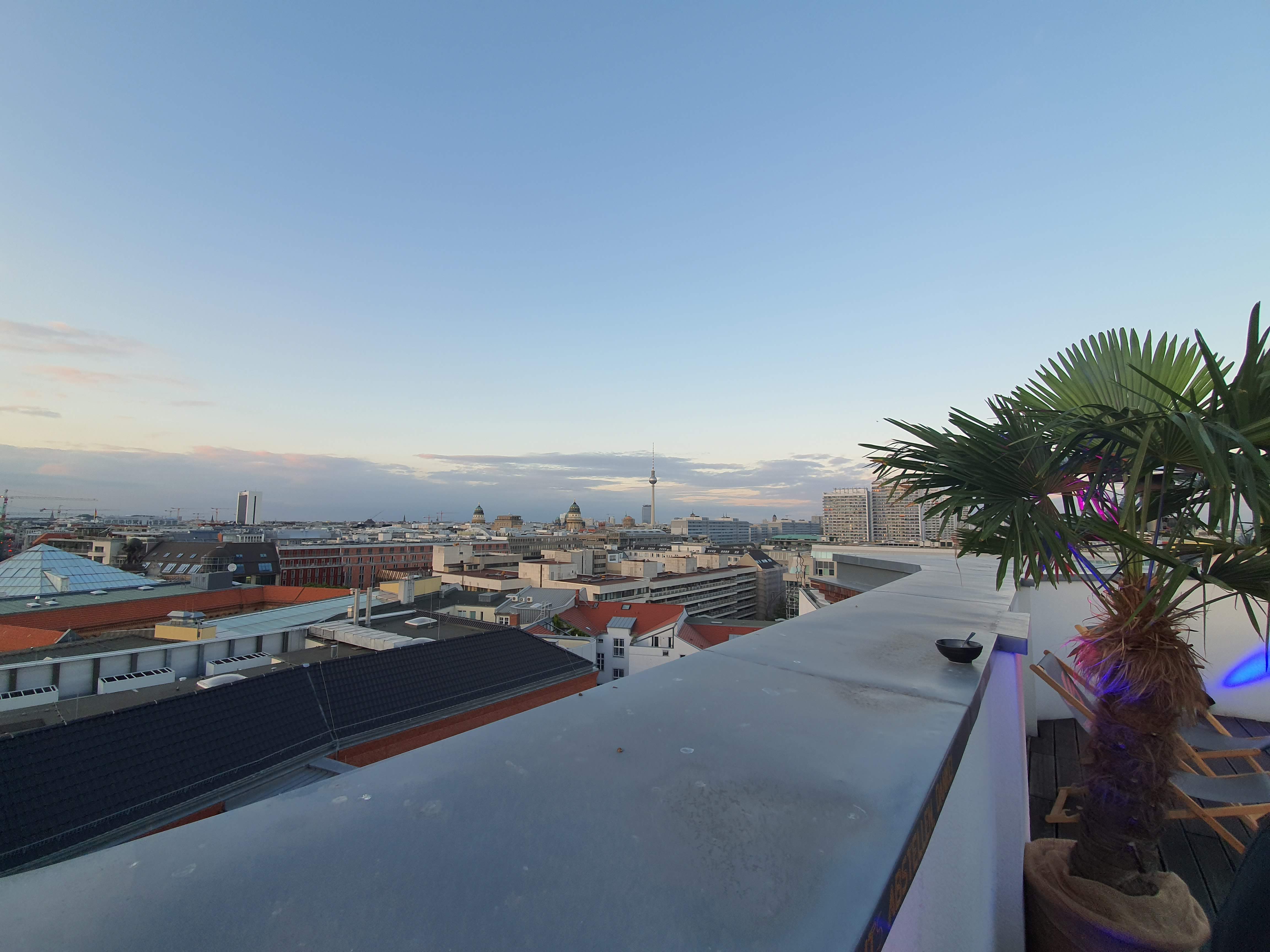 Image 2 of 3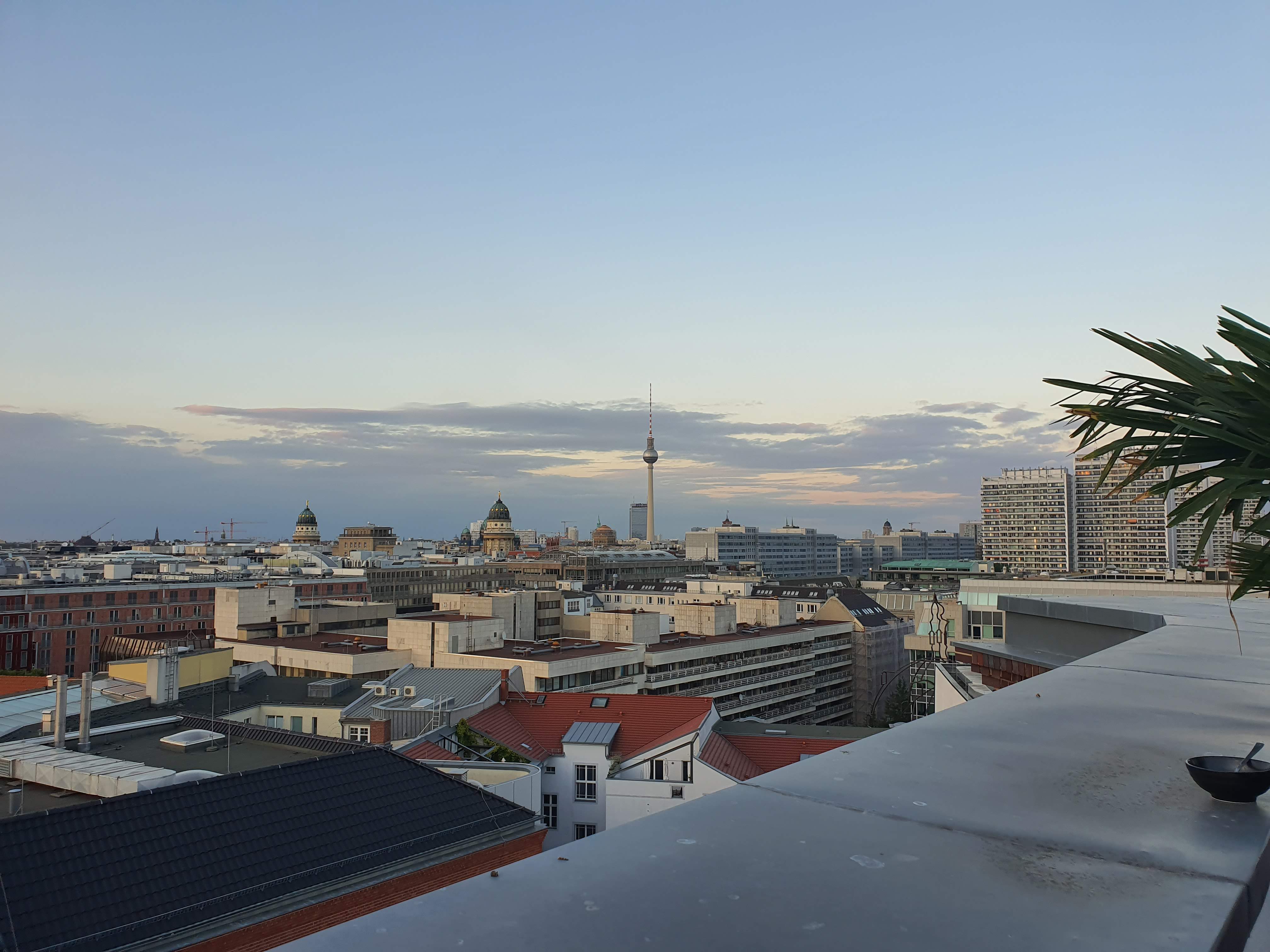 Image 3 of 3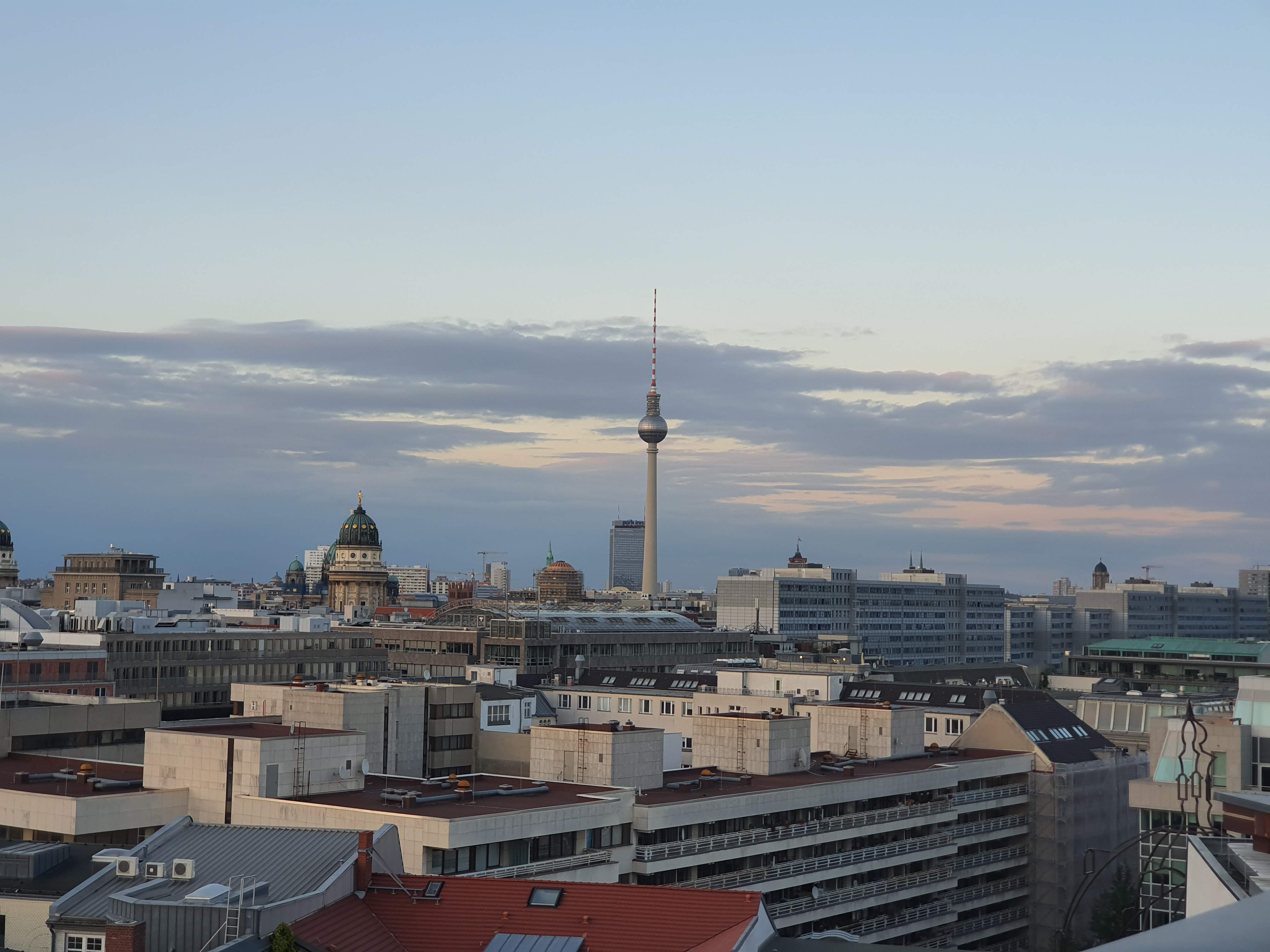 You can make a subject pop out from their background in other ways too, for example by keeping your subject in color while making the backdrop black and white – again this is an effect we've seen for stills, but it's a new idea for video.
We found this to work well, but it's not a game-changing feature that's worth upgrading your smartphone to get it. It's more of a nice little extra that you can add to the list of benefits of owning a Note 10.
On the Galaxy Note 10 this is all achieved through software, but the Note 10 Plus uses a separate DepthVision lens to work its magic – so if this sounds like a must-have feature for you, it's likely to work better on the larger phone.
Another camera feature is called AR Doodle. This enables you to write over the top of moving images. It works in a similar way to filters on Instagram or Snapchat with their augmented reality tech, but this is instead designed so you can create your own images using the S-Pen.
The front camera is in the center of the display, and it's a 10MP sensor. We found this to work well for selfie shots and it gave a satisfactory picture for you to upload to your social media.
Camera samples
Image 1 of 5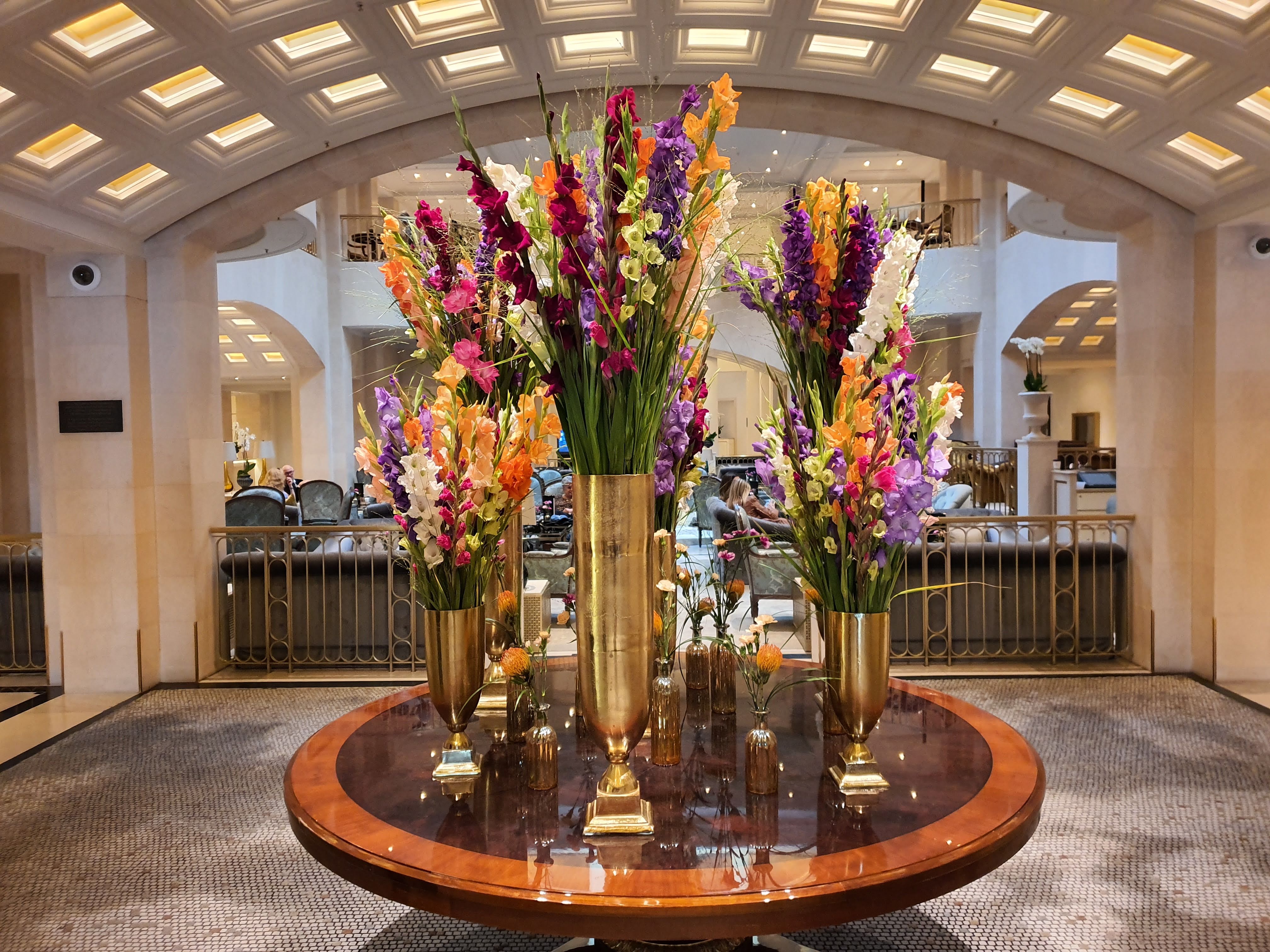 Image 2 of 5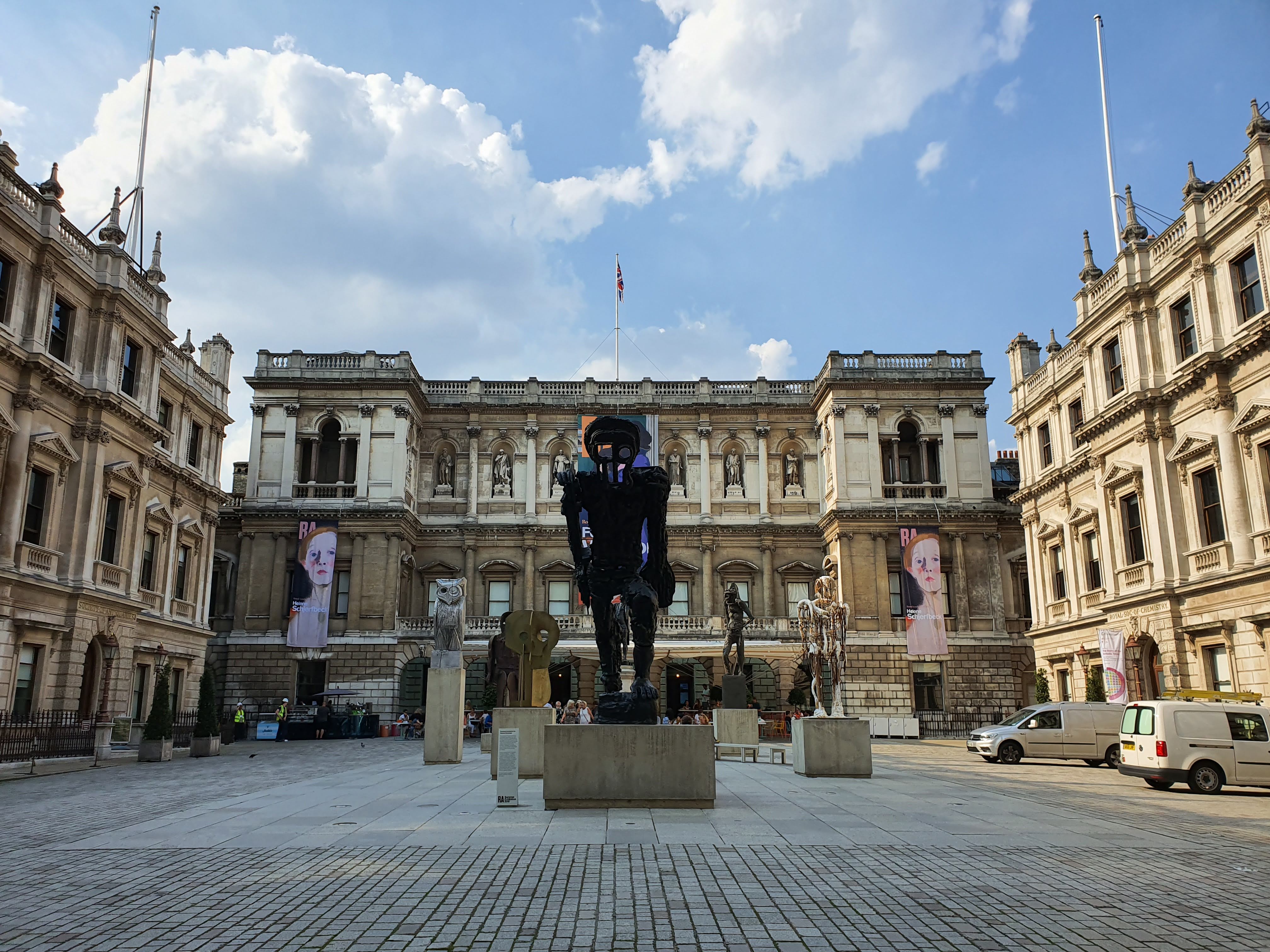 Image 3 of 5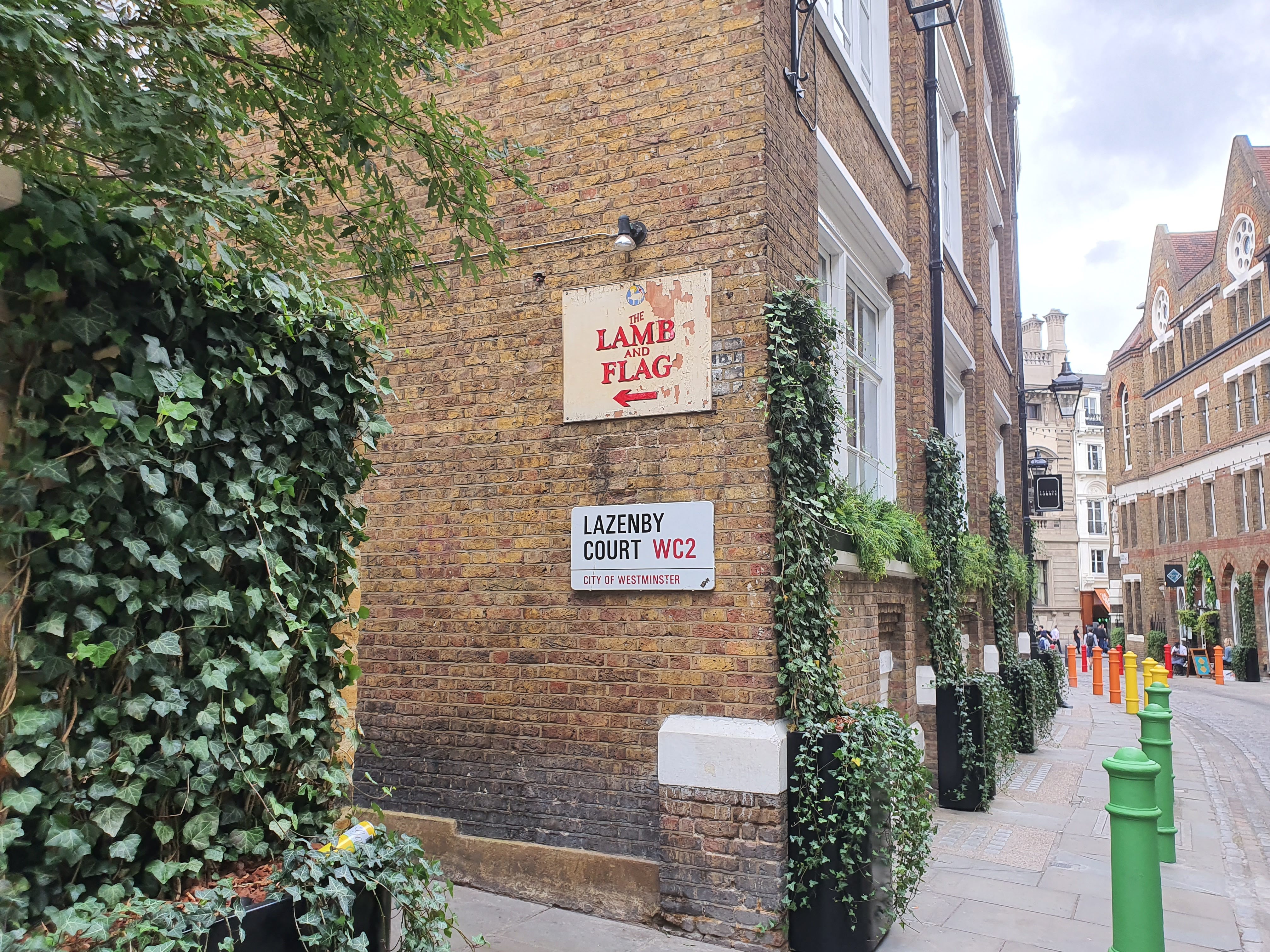 Image 4 of 5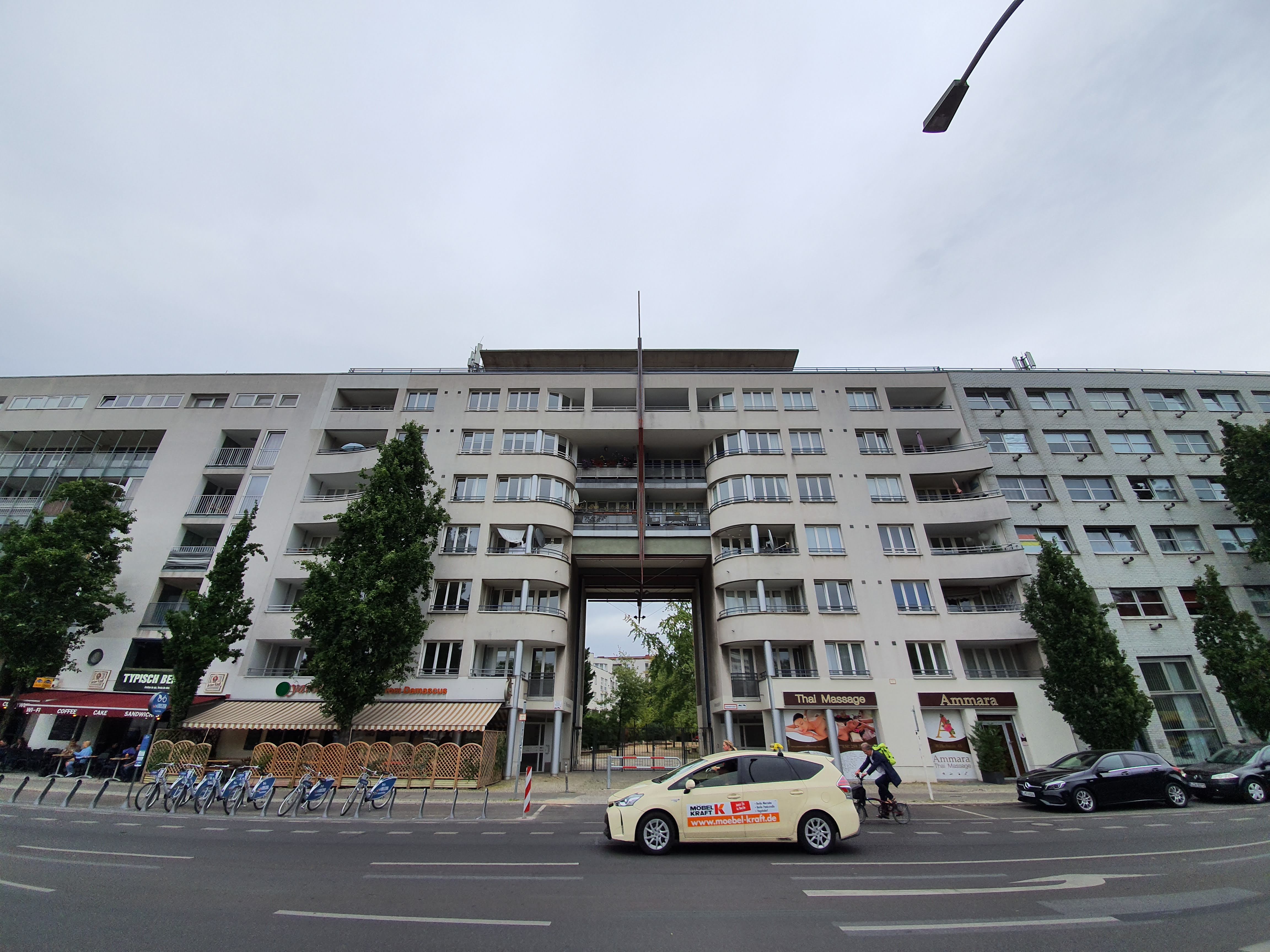 Image 5 of 5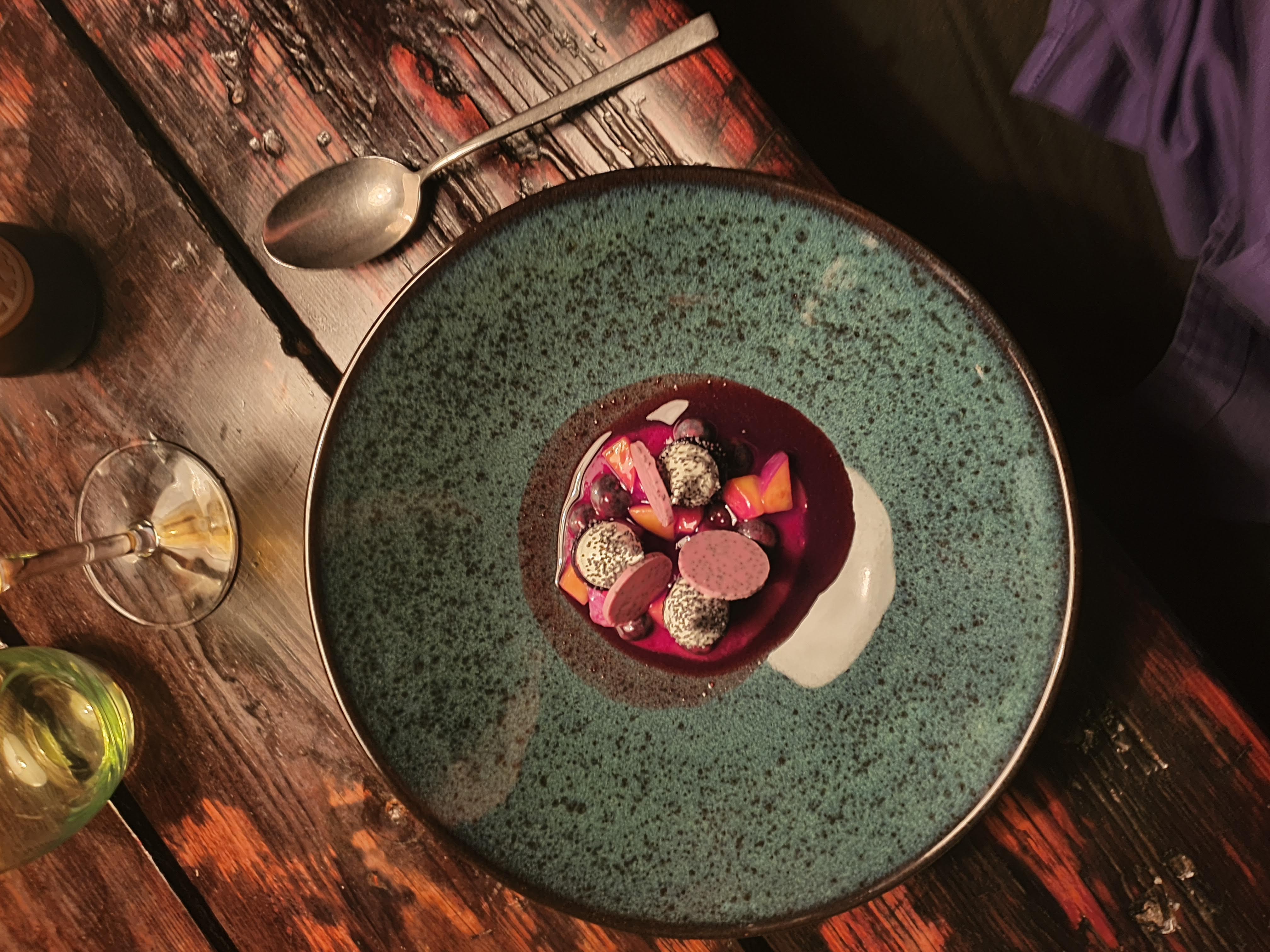 S Pen stylus
There aren't many phones on the market with a stylus attached. In fact, the Galaxy Note range is your only real option if you need that.
The stylus on the Note range of handsets has been refined over the years since the original phone in 2011, making for an impressive experience that can offer a lot of extra functionality on your phone.
The S Pen - that's Samsung's name for the stylus - slots into a hole on the bottom edge of the phone, on the far right hand side. Pressing on the stylus will pop it out, and it can be put in either way, so you won't accidentally jam it in the phone.
The stylus itself is light and easy to use. The screen technology used here by Samsung also allows for a variety of pressure levels, allowing you to create some impressive designs with the pen or just take notes.
For example, one standout feature is the fact you can just take notes on the screen without having to turn it on properly. This is useful in meetings when you need to quickly scribble something down and you don't want to have to move through a variety of menus.
Image 1 of 2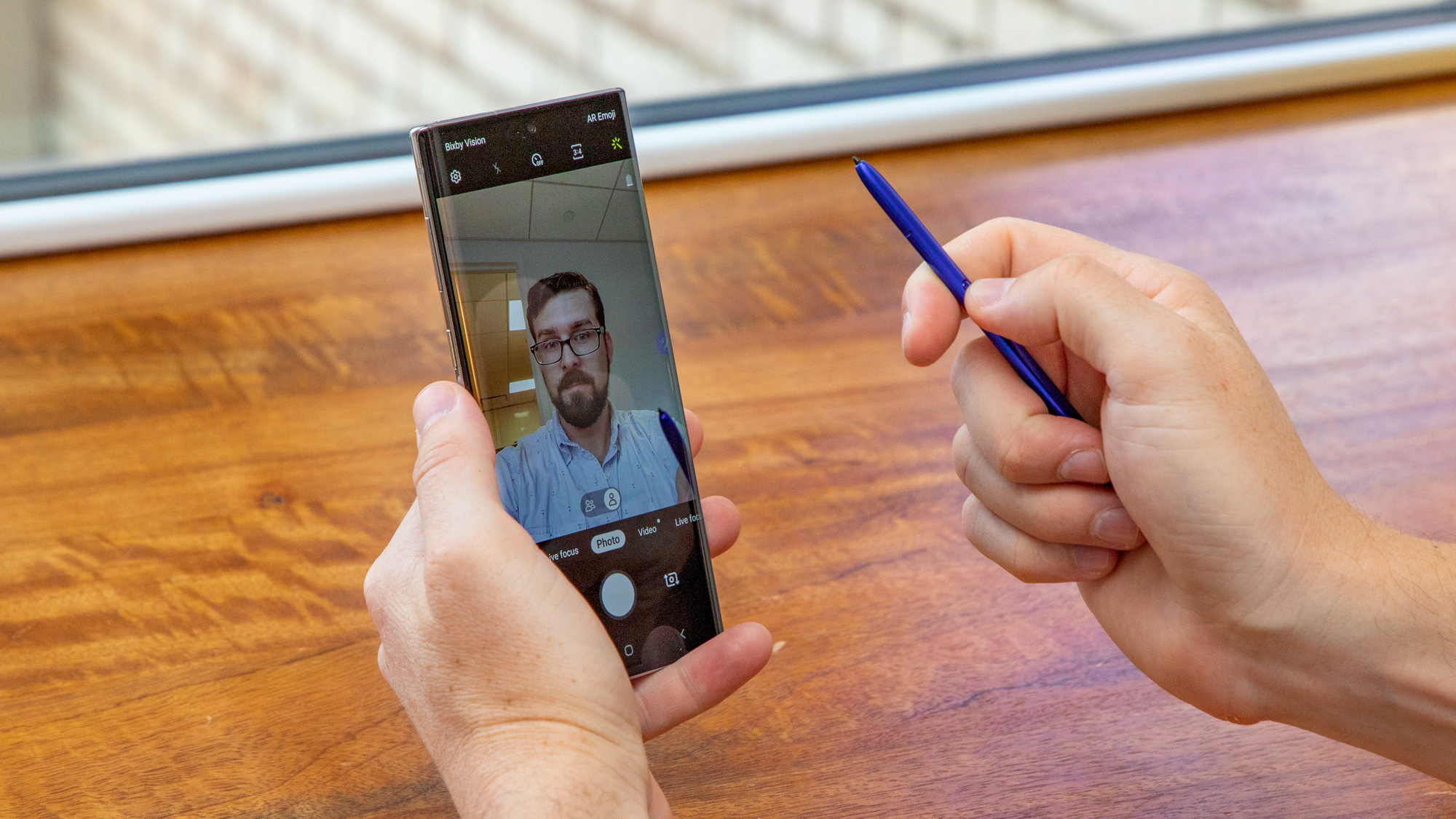 Image 2 of 2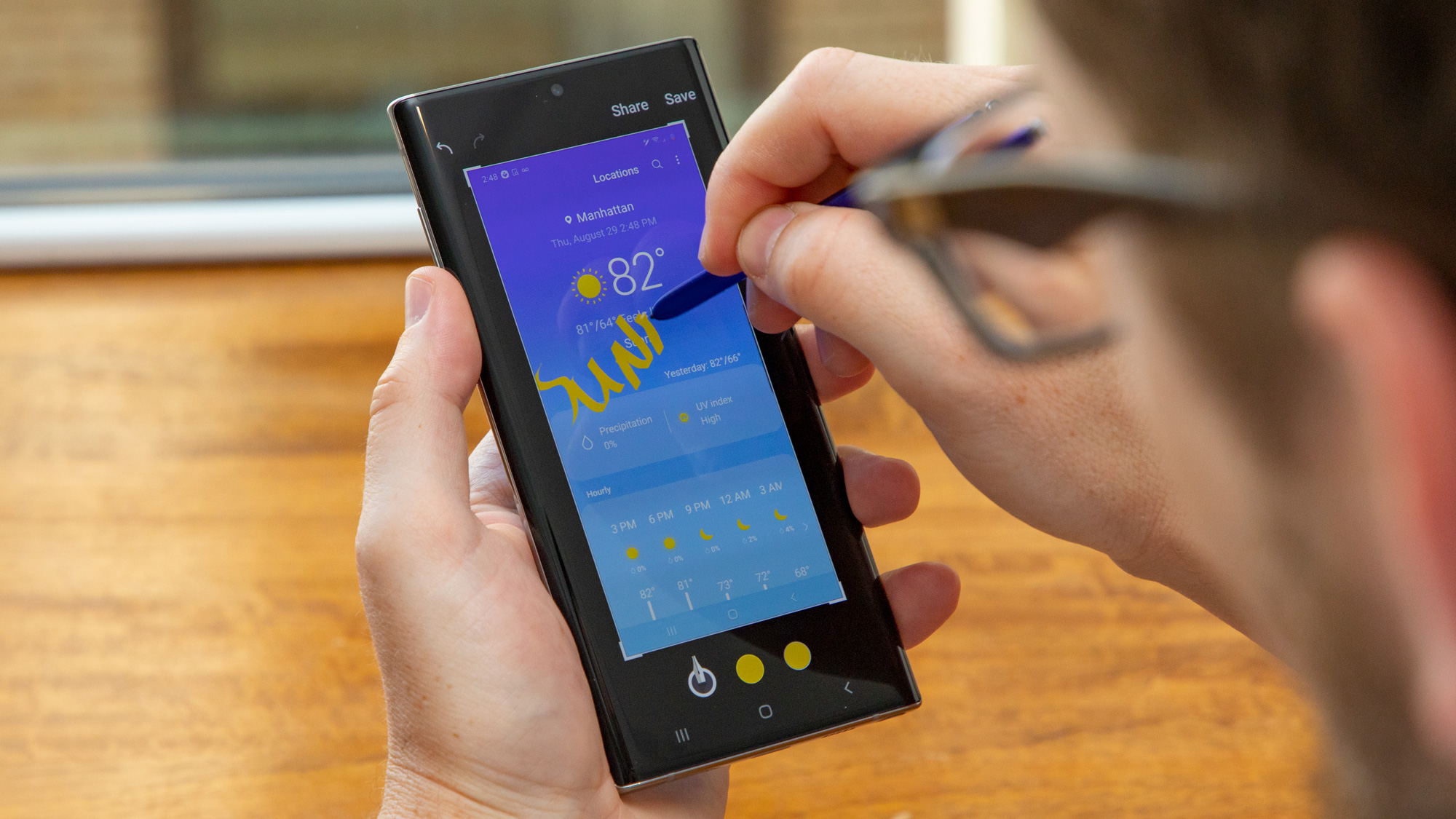 Since the Note 9, the pen has also been Bluetooth-connected, allowing you to have a variety of features on the pen. For example, you can use the button on the side of the pen to take a group shot photo when you're away from your phone.
It's a useful little extra that you're unlikely to find yourself using daily, but will be glad to have on occasion.
For the Note 10 range, Samsung has also brought a variety of gesture controls to the pen. These allow you to control certain apps, such as the camera, video or gallery, by moving the S Pen in different directions.
This is currently just for Samsung's own apps, so the functionality is quite limited. If you're showing off your photo gallery, you may find it easy to flick through a gallery with the S Pen in hand, but it's difficult to remember that functionality exists when you can just cycle through the gallery with your finger on the display.
The company is allowing third-party app developers to access this feature, so we may see third-party applications begin to use it in the coming months too.
Interface and reliability
Samsung's interface doesn't look exactly like the raw Google Android software, but it has an attractive design that's easy to use for the average person if they've had an Android phone before.
It's called Samsung One UI, and we find it easy to navigate around the phone while using the variety of apps Samsung has chosen to include.
There isn't much pre-loaded on the phone, so aside from the standard Google apps and a small selection of Samsung ones, you'll have to download a few from either Samsung's Galaxy Store, or the more likely choice of the Google Play Store.
As we've spoken about, the S Pen is another way to interact with your device and as soon as you bring the stylus out of its holster you'll be greeted with a series of options that allow you to quickly access stylus functionality.
These include options like 'AR Doodle' and 'Create Note', or if you just want to use the stylus on standard apps it's easy enough to dismiss these shortcuts.
Samsung DeX is a relatively recent addition to Samsung's phones, and it allows you to attach your phone to a computer monitor using the USB-C port at the bottom of your handset.
You'll then be able to use Bluetooth-connected accessories to interact with your phone like a computer. We've yet to use this on the Samsung Galaxy Note 10, but we hope to be able to try out the functionality soon.
You can read about how it works on a slightly different device in our Samsung Galaxy Note 10 Plus review.
Performance and specs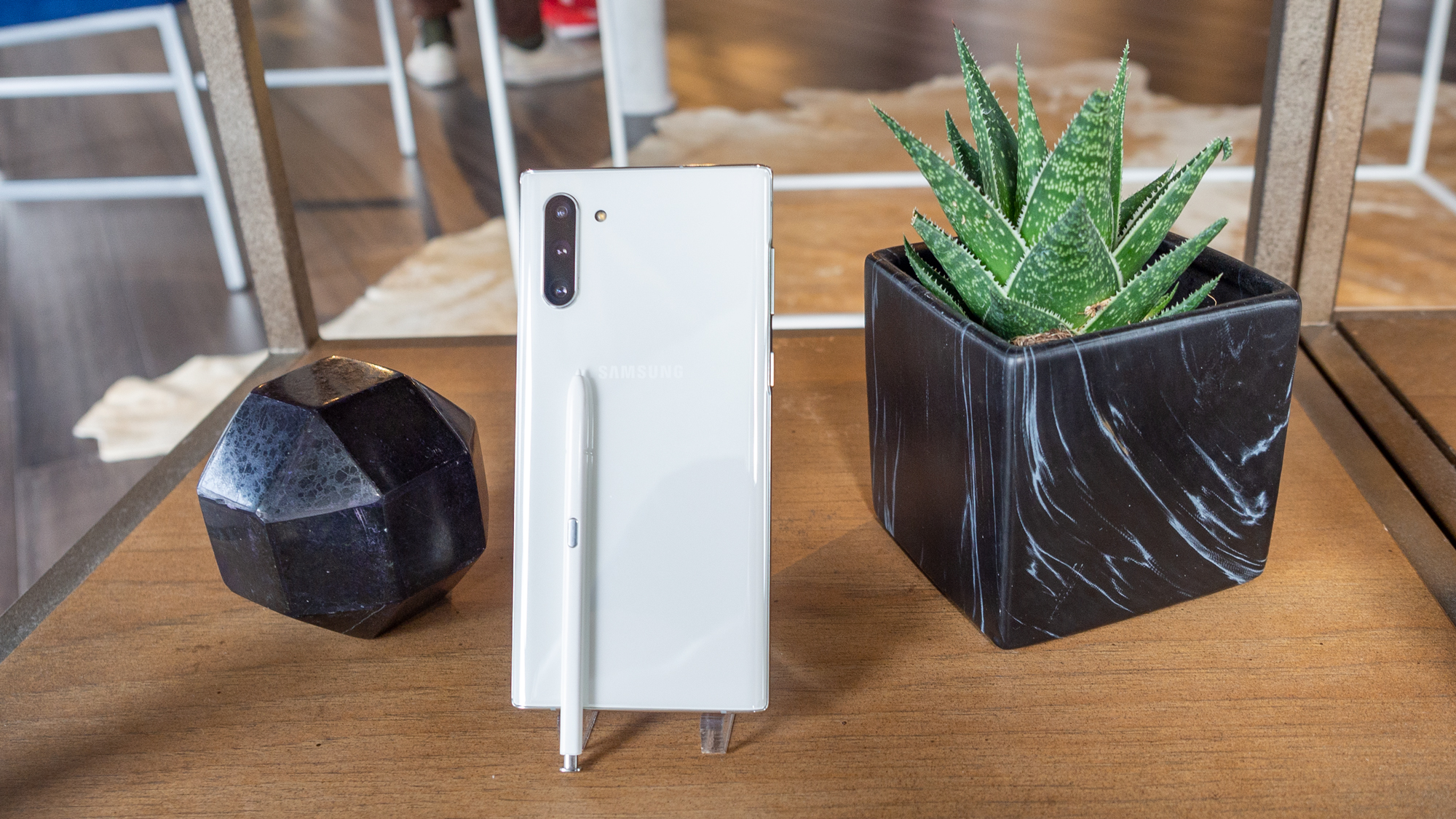 Those in the US will have access to the Qualcomm Snapdragon 855 chipset inside their phone. If you're in the UK (and other countries around the world) you'll get the newer Exynos 9825 chipset, which is built using 7nm EUV technology.
This is Samsung's newest flagship chipset and it's both smaller and more efficient than its predecessor. In benchmarking tests, we found the Snapdragon 855 version of the phone scored 11,167 in Geekbench 4.
That was even better than the score of 10,849 that we saw on the Galaxy Note 10 Plus.
The Samsung Galaxy Note 10 is packing 8GB of RAM, and it's only available with 256GB of storage – there's no microSD support, and Samsung says this is to help keep the literal size of the device down.
That's plenty of space for the average user, but if you want more you'll have to opt for the Note 10 Plus, which comes with up to 512GB of built-in storage as well as microSD support.
Another feature that's been dropped in the effort to keep the Note 10 slim is the 3.5mm headphone jack. This is the first time Samsung has dropped the jack from its top-end phones, and some will be unhappy with the decision.
You'll be able to use the USB-C port at the bottom of the phone for certain headphones (including a pair in the box), but it may mean you'll have to replace some of the cables you currently use.
Looking for a phone with 5G support? The Galaxy Note 10 isn't it – you'll have to opt for a more expensive 5G version of the Galaxy Note 10 Plus to be able to get that.
That's a bit of a shame considering the Galaxy Note 10 is so expensive, and it would be useful if Samsung had made this phone a bit more future-proof in an effort to keep it as one of the top Samsung handsets.
The Samsung Galaxy Note 10's smaller size than its counterparts makes it feel like a more versatile device than some larger handsets on the market.
Along with the price, its smaller size is a major selling point and it's a big reason why you may want to consider this for your next phone.
The specs are a little lacking when compared to the Galaxy Note 10 Plus, but it's not a bad setup in the least.
Who's it for?
This is the phone for you if you want top-end features, but you don't want a gargantuan device.
If you're desperate for a stylus and the extra functionality that it can offer your phone, this is also another big reason why you may want to consider the Samsung Galaxy Note 10.
Should you buy it?
If that sounds like you, the answer is probably yes, you should buy it. The battery life can be disappointing on the Galaxy Note 10, and the lack of a 3.5mm headphone jack may irritate some, but the phone is the full package for most people.
It also doesn't sport a QHD display, which some may be desperate to get, but overall this is a solid device that offers some of the best power and most top-end features around.
First reviewed: September 2019
The competition
There are lots of alternatives to the Galaxy Note 10 available right now, and below we've collected a few other handsets you could consider.
Samsung Galaxy Note 10 Plus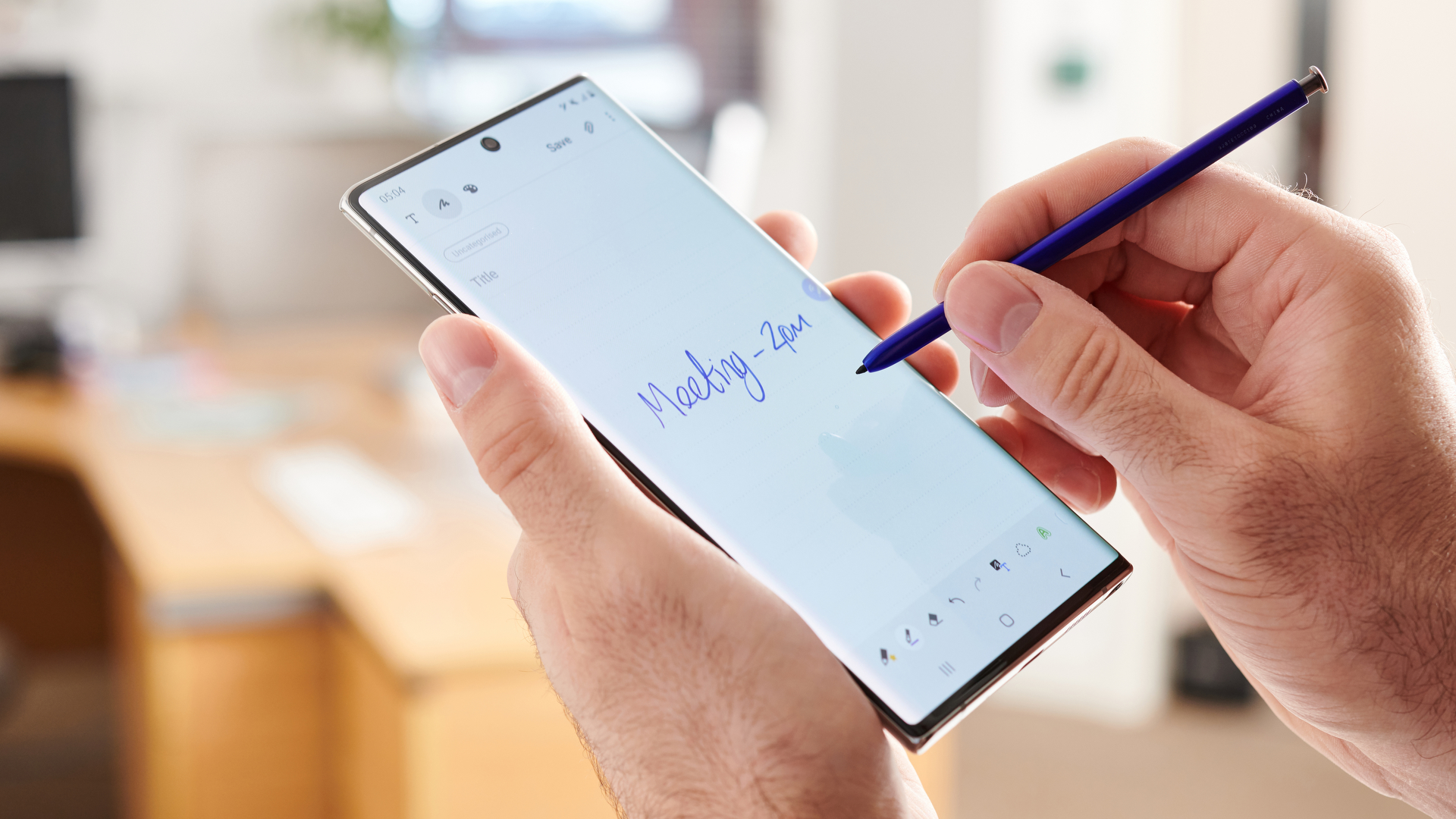 It will cost you extra, but if you're after an even bigger – and improved resolution – display you'll want to opt for the Samsung Galaxy Note 10 Plus, as it comes with everything the Galaxy Note 10 has to offer and more.
The battery life is stronger on the larger phone, and the camera is even slightly better too, making this the option to go for if you're determined you want the biggest and best from Samsung.
Read our full Samsung Galaxy Note 10 Plus review
Samsung Galaxy S10 Plus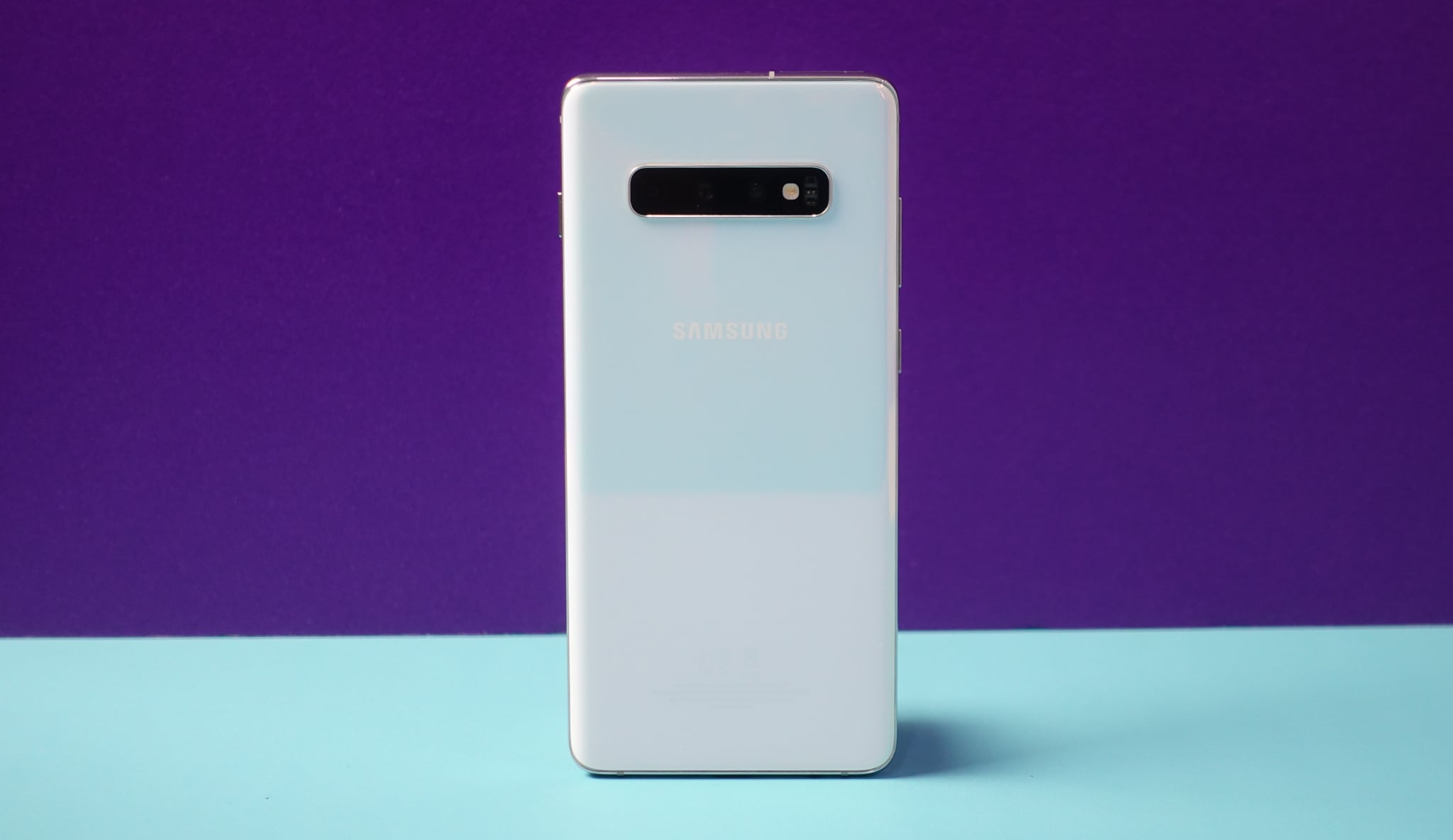 The Galaxy S10 and Galaxy S10 Plus are both a strong consideration if you're not certain about the Galaxy Note 10, and the larger one of this pairing will offer you a bigger screen than the Galaxy Note 10 does.
You'll lose access to the S Pen stylus, and the punch-hole camera sits on the right hand corner of the display rather than in the center. You'll gain a 3.5mm headphone jack though, so you'll be able to easily use wired headsets with your device.
Read our full Samsung Galaxy S10 Plus review
Huawei Mate 20 Pro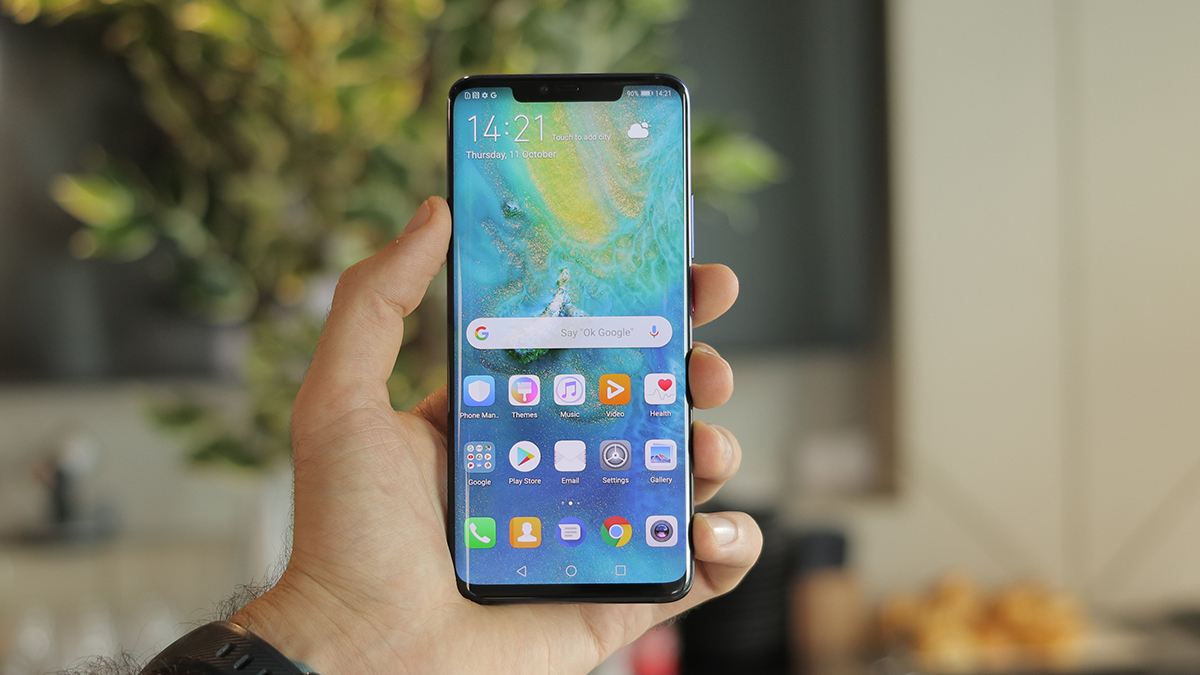 Huawei's 2018 phablet is a strong competitor to the Galaxy Note 10, with a variety of similar specs and a large screen. The resolution is stronger on the Huawei phone, and battery life on this handset blew us away as well.
Opting for this will mean you don't have an S Pen stylus though, and there's also the issues of the Huawei ban to consider before you decide to spend a lot of money on one of these phones.
Read our full Huawei Mate 20 Pro review