The Samsung Galaxy Watch is still one of the most refined smartwatches you can buy today thanks to its attractive design, cohesive user interface and, importantly, four-day battery life.
Sure, it's not the newest Galaxy Watch, thanks to its successor, the Galaxy Watch 3 (don't worry, you didn't miss anything - there was no Watch 2). This new watch brings upgrades in a range of areas and if you're looking for a new Samsung watch it's worth checking out our review of it so you can see any improvements.
Saying that, the Samsung Galaxy Watch is still a competitive wristwatch, one which rivals Apple Watches in a few key ways, so it's still worth considering.
The Galaxy Watch looks and feels like a high-end wristwatch, with a circular stainless steel case and stylized bezel. It's both stylish and functional because, like the previous Gear S3, the bezel rotates to cycle through its various on-screen menus.
This is the most satisfying way to navigate a smartwatch. Your fingers won't cover up the watch's small, hard-to-accurately-target touchscreen (an issue with any smartwatch), and the rotating bezel: an idea exclusive to newer Samsung watches.
The older Samsung Galaxy Watch Active is cheaper than the Galaxy Watch, but it doesn't feature that rotating bezel. Thankfully, the newer Samsung Galaxy Active Watch 2 has a rotating digital bezel, with haptic buzzing to simulate a 'tactile' feel when spinning through menus. It is, however, more expensive than its now-discounted predecessor.
And we're expecting even more price drops for the Galaxy Watch during the upcoming deals season leading up to Black Friday on November 27 and Cyber Monday thereafter. We've seen discounts on the Galaxy Watch in years past, and expect even more savings now that its successor has been released.
You also won't find rotating bezels supported by Google's Wear OS, while Apple's watchOS uses a less intuitive rotating digital crown button on the side. This is one of two reasons why the Galaxy Watch runs Samsung's Tizen software, not Wear OS.
To see the Samsung Galaxy Watch in action, watch our hands-on video below:
The other reason for the Tizen operating system is battery life. We found that the larger 46mm Galaxy Watch lasted a solid four days with normal use during our two months of testing. We checked messages, fetched constant notifications, tracked workouts, played Spotify, and talked to Bixby, Samsung's mostly terrible AI. Samsung says the smaller 42mm Galaxy Watch lasts three days.
The big difference between the Galaxy Watch and the Gear S3, besides an extra day of battery, is that it's more fitness-focused, thanks to additional sensors and a revamped Samsung Health app. It auto-detects six of (an expanded) 39 exercises – and still helpfully nudges you when you're too sedentary, and it has a fairly accurate sleep tracker. It's also now waterproof down to 50 meters, matching the Gear S3 Sport 5ATM rating in a more adult design.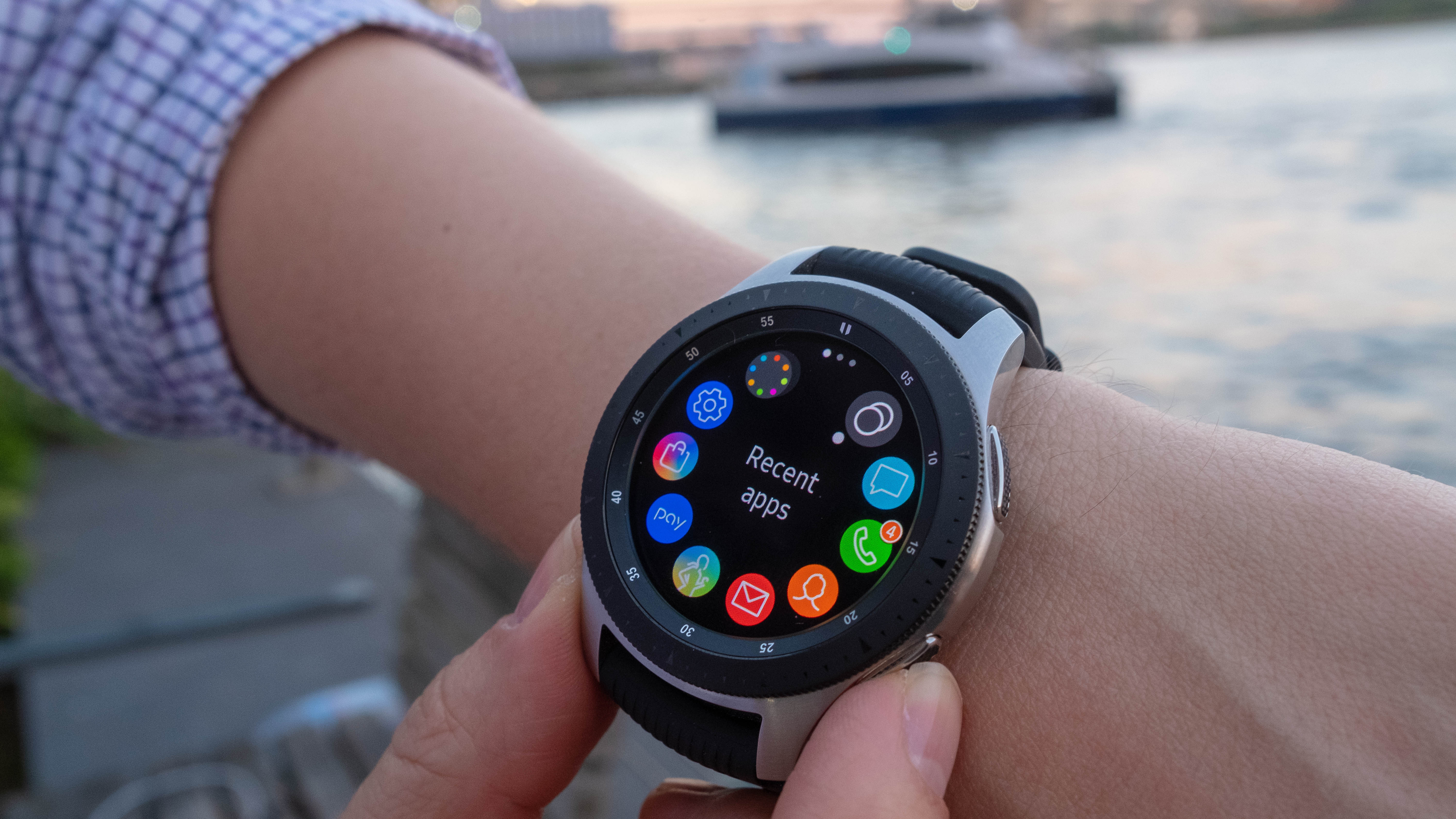 The Galaxy Watch does inherit problems from previous Gear watches, however – and what's bad is almost all software-related. Samsung's core apps are polished, sure, but the Galaxy Apps store lacks critical third-party apps, notably Google Maps, Facebook Messenger, and WhatsApp. The Bixby voice assistant is here, but it's no better than S Voice at understanding us, and Samsung Pay doesn't use Magnetic Secure Transmission (MST) despite the fact the Gear S3 did.
The Samsung Galaxy Watch is very much the Samsung Gear S4 that never was. It's an iterative update, one that adds fitness software, new sensors, and extra waterproofing to everything we liked in the Gear Sport and the Gear S3 before that.
Samsung Galaxy Watch release date and price
Out now in the US, UK and Australia
42mm Rose Gold or Midnight Black watch started at $329 / £279
46mm Silver watch cost $349 / £299, less than Gear S3 at launch
LTE version exists, but exclusive EE in UK with more options in the US
The Galaxy Watch launched in the US in August 2018, the same day the Galaxy Note 9 came out, and in the UK in September. Those in Australia had to wait a bit longer, but it's available there too.
At launch, the Galaxy Watch started at $329 / £279 / AU$499 for the 42mm version, and $349 / £299 / AU$549 for the larger 46mm size. When it first came out the Gear S3 cost $349 / £349 (around AU$475), and only came in one size.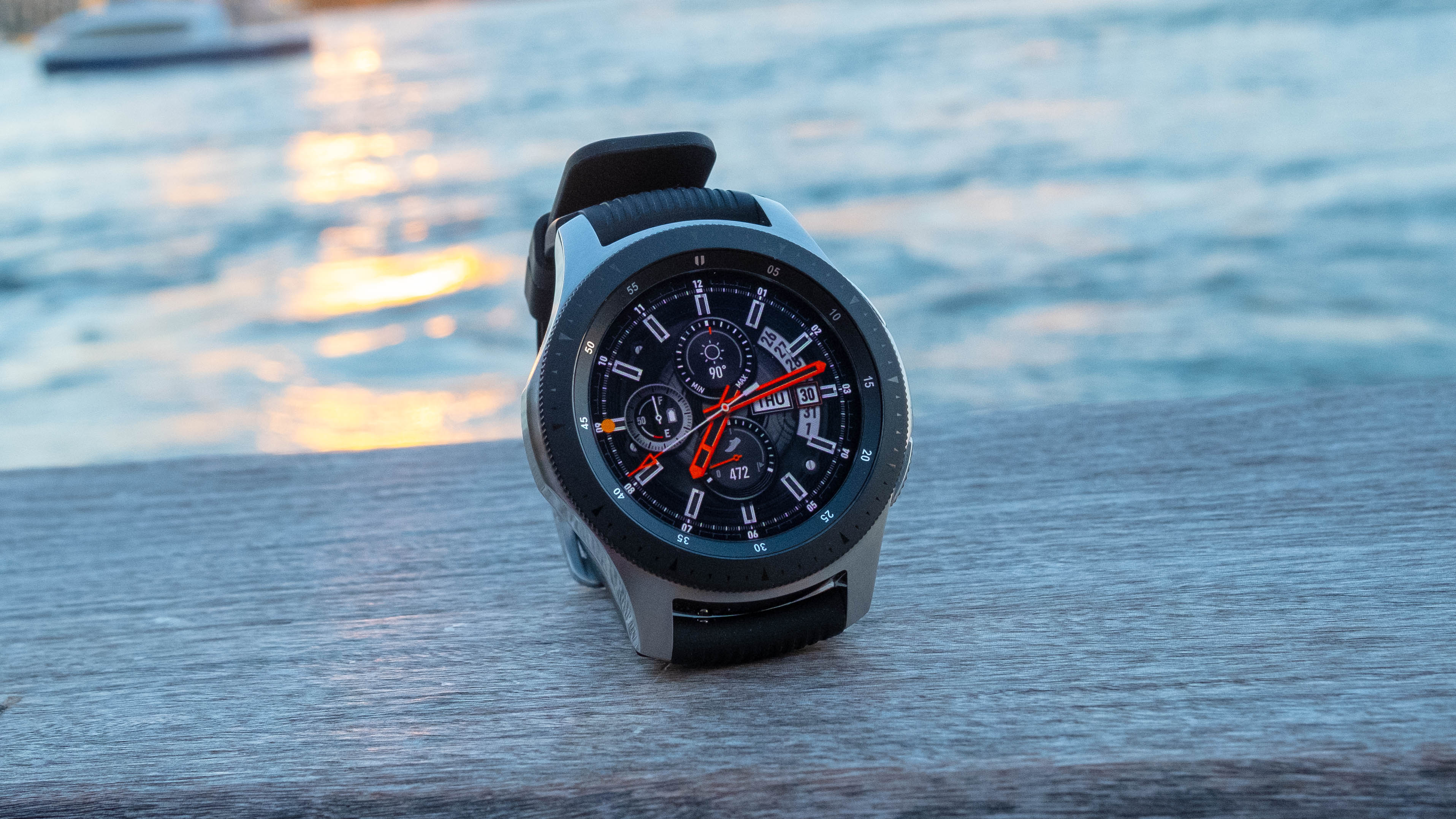 We've seen prices fluctuate a little too with it hitting $50 less than the above in the US and around the £250 mark in the UK.
The LTE version of the Galaxy Watch cost a bit more at launch: $379 / AU$599 (about £290) for the 42mm model and $399/ AU$649 for the 46mm version. In the US it began life as an exclusive to T-Mobile, but now you can get it on Verizon, AT&T and Sprint too.
In Australia it's only available with Telstra. In the UK, you can now buy the LTE version of the watch but it's exclusive to EE. It costs £20 per month over the course of 24 months with unlimited data as well as 1GB extra internet for the your smartphone data allowance.
The newer Samsung Galaxy Watch 3 starts at $399 / £399 / AU$649 for the smaller 41mm model for its lowest option and only goes up from there, so if you're on a budget, perhaps this older smartwatch will suit you better.
Sizes and design
Looks like a real wrist watch compared to the Apple Watch
Larger 46mm size looks fine on our medium-sized wrists
Circular screen and rotating bezel make it stylish, functional and durable
Screen takes a half a second to refresh the time and stats when woken up each time
The Galaxy Watch comes in two sizes: the larger 46mm size in a two-toned silver-and-black color scheme, and the smaller 42mm size in either straight-up Midnight Black or Rose Gold. We tried on both sizes, and recommend the 46mm version for its larger battery and bigger touchscreen – it looks just fine on medium-sized wrists if you don't mind a slightly bigger watch.
Special for you: Samsung Galaxy Watch 46mm sizing pic.twitter.com/KCxncXUPAqAugust 22, 2018
It's more of a fashion statement than the understated Apple Watch – even with the more screen-focused Apple Watch 4. Samsung's timepiece is big, circular, and meant to look like a wrist watch. We got compliments on its design when wearing it out; there was a lot of surprise that this was a smartwatch in a sea of people wearing the Apple Watch. It stands out.
There's less variety when it comes to the case colors and included straps. The silver-and-black 46mm watch has three 22mm strap options: Onyx Black, Deep Ocean Blue, and Basalt Grey. The smaller black or rose gold 42mm watch has more 20mm strap variety: Onyx Black, Lunar Grey, Terracotta Red, Lime Yellow, Cosmo Purple, Pink Beige, Cloud Grey, and Natural Brown. Samsung sells extra straps, and any interchangeable 22mm or 20mm will work if you want to change up the style from day to day.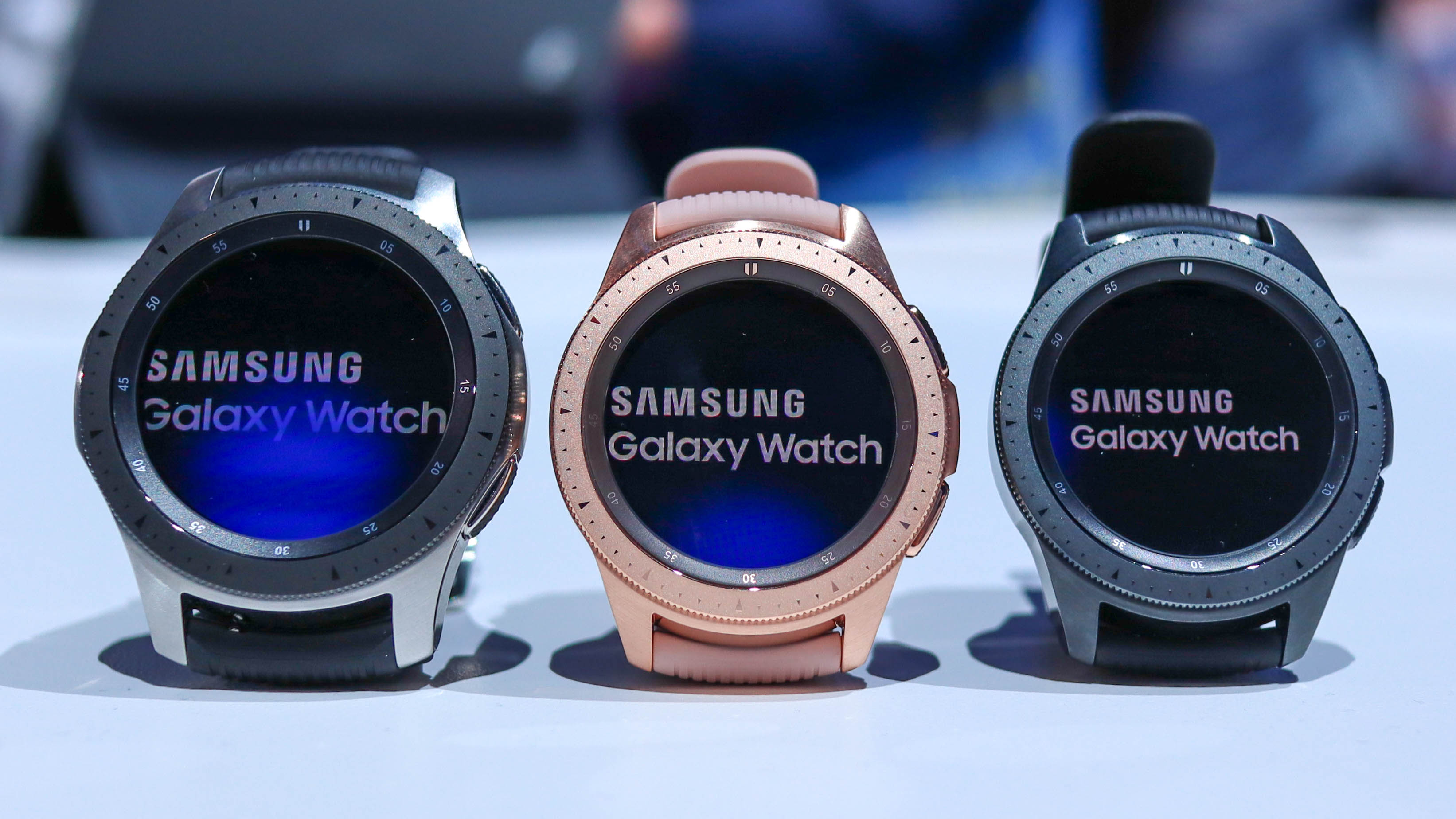 The 1.3-inch Super AMOLED screen (1.2-inch on the 42mm watch) is bright and color-rich, as we've come to expect from Samsung's stellar display technology. It's easy to see everything, even during an outdoor run, thanks to adaptive brightness settings. And its smart use of blacks, especially in the background, burns fewer pixels on the 320 x 320 resolution. The one downside is that the screen is slow to update when it's woken – the time and steps show old figures for half a second. It's like you're literally waking the watch up from a nap and it's taking a moment to come to its senses.
The ornate and functional rotating bezel has a third characteristic: it makes the Samsung Galaxy Watch durable. Take it from us – we've broken the exposed Apple Watch glass screen more than once. There's protection here for the screen, with military-grade durability and Corning Gorilla Glass DX+ that prevents the display from getting scratched, according to Samsung.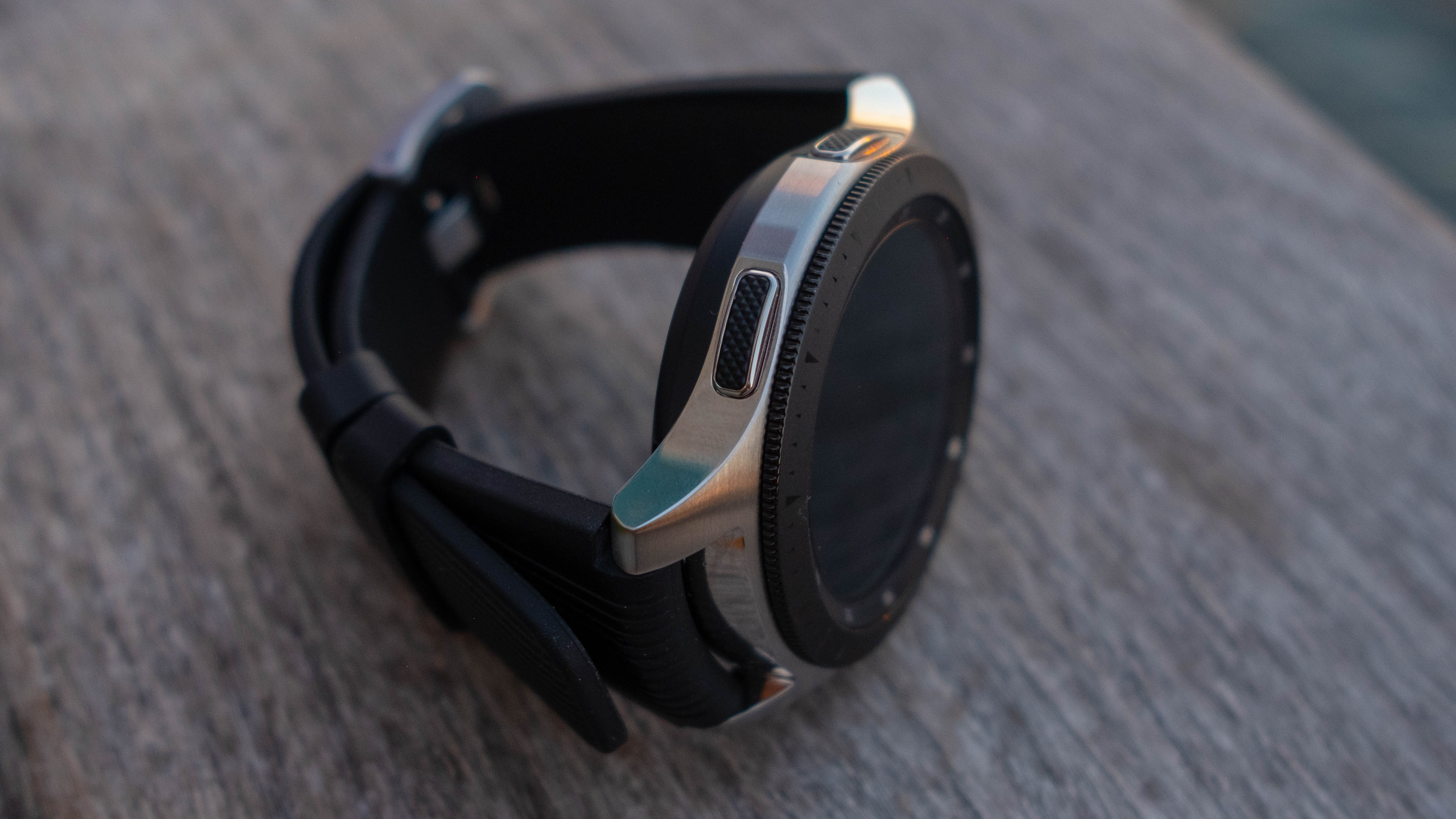 Two physical buttons adorn the Galaxy Watch, and while they're on the right side of the case, Samsung has wisely offset them from the usual center location, which means they're not prone to accidental presses against your bent wrist as on other smartwatches. This is a well-engineered watch – at least during the day.
You'll want to wear this watch to bed for its helpful sleep-tracking capabilities, but be warned: it's large and cumbersome to leave strapped to your wrist the entire night. The 46mm version is an ever-present 63g, and it can feel like a rock tethered to your wrist. This is the one (and only) area in which you'll be in better shape with the 42mm version, which weighs 49g.
Image Credit: TechRadar
Fitness
Six auto-tracked exercises and 39 total exercises
Includes rarer ones for indoor equipment and strength training
Great sleep tracking, sedentary reminders, and 1:1 challenges
Needs better stress management tracker and group challenges
The Samsung Galaxy Watch puts more emphasis on fitness, with new auto-tracked workouts. Cycling, elliptical trainer, and rowing join returning auto-tracked exercises walking, running, and dynamic workout for a total of six exercises that you don't need to worry about activating ahead of time.
For example, every time we walked for 10 minutes the watch would reliably – and often unexpectedly – trigger the exercise tracker that we forgot to activate while speedily navigating New York City's bustling streets. It was always nice to get these prompts, and to know that the Galaxy Watch was keeping a count of our steps, calories burned, and distance.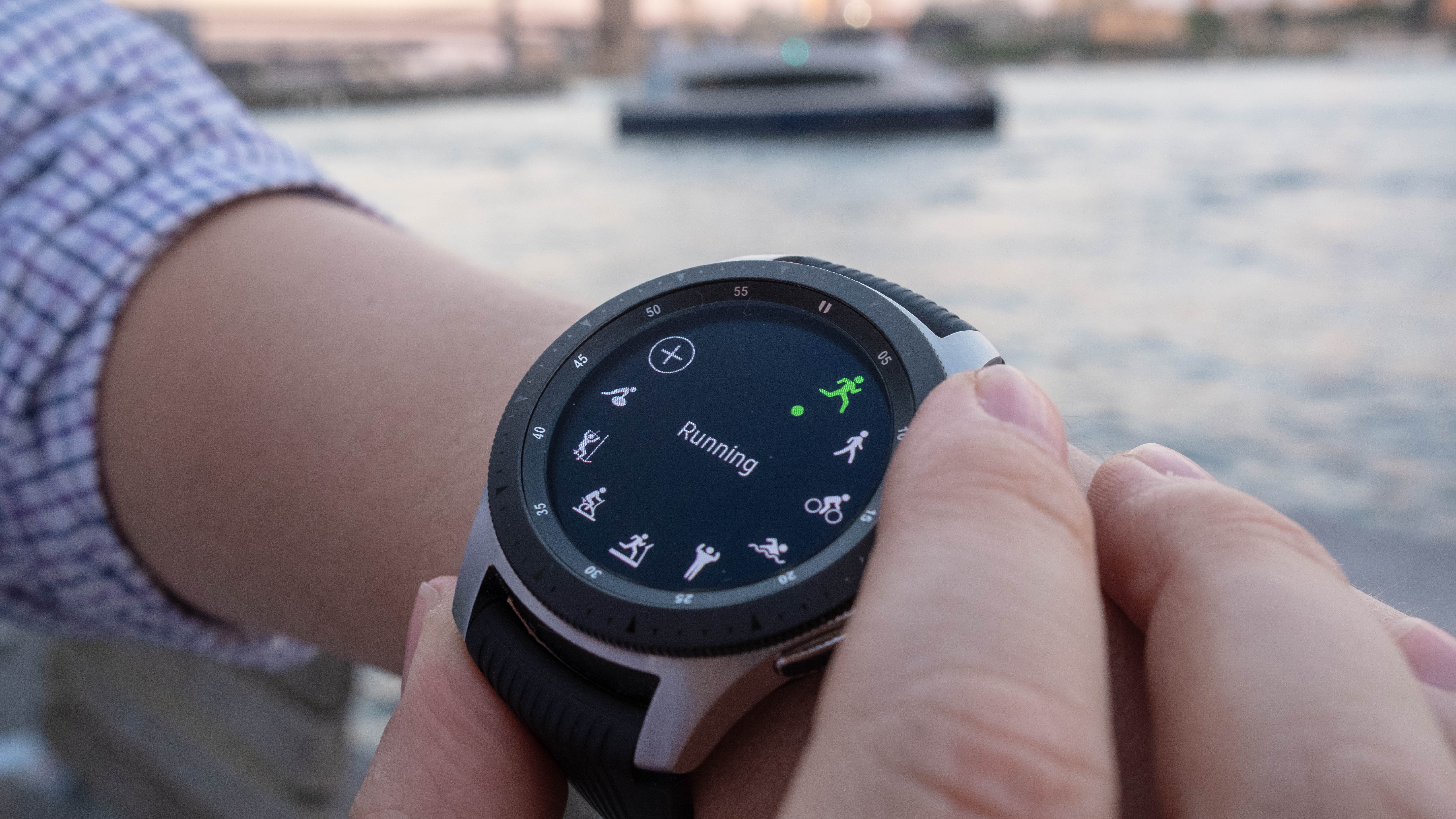 That doesn't mean you should rely on the watch to trigger every exercise, or their close variants. We took the Galaxy Watch downhill mountain-biking and, to our dismay (but not total shock), it didn't auto-track that exercise under cycling or anything else.
Samsung's watch tracks 39 exercises in total, including 21 indoor exercises and strength-training exercises we rarely see on dapper-looking smartwatches (the LG Watch Sport is the other exception).
Running
Walking
Cycling
Swimming
Other workout
Treadmill
Exercise Bike
Weight machine
Circuit training
Arm curls
Arm extensions
Back extensions
Bench press
Burpee test
Crunches
Deadlifts
Elliptical trainer
Front raises
Hiking
Lat pulldowns
Lateral raises
Legs curls
Leg extensions
Leg press
Leg raises
Lunges
Mountain climbers
Pilates
Plank
Pull-ups
Push-ups
Rowing machine
Shoulder presses
Sit-ups
Squats
Star jumps
Step machine
Stretching
Yoga
Manual and auto-tracked runs were more accurate on the watch than on a Fitbit Versa (which tended to inflate steps and distance just a bit) and a generic smartphone activity tracking app (which inflated steps and distance a lot), with all trying to accomplish the same task. But the watch wasn't as successful at tracking sit-ups; at times, having to do five sit-ups for every three counted didn't inspire us with confidence.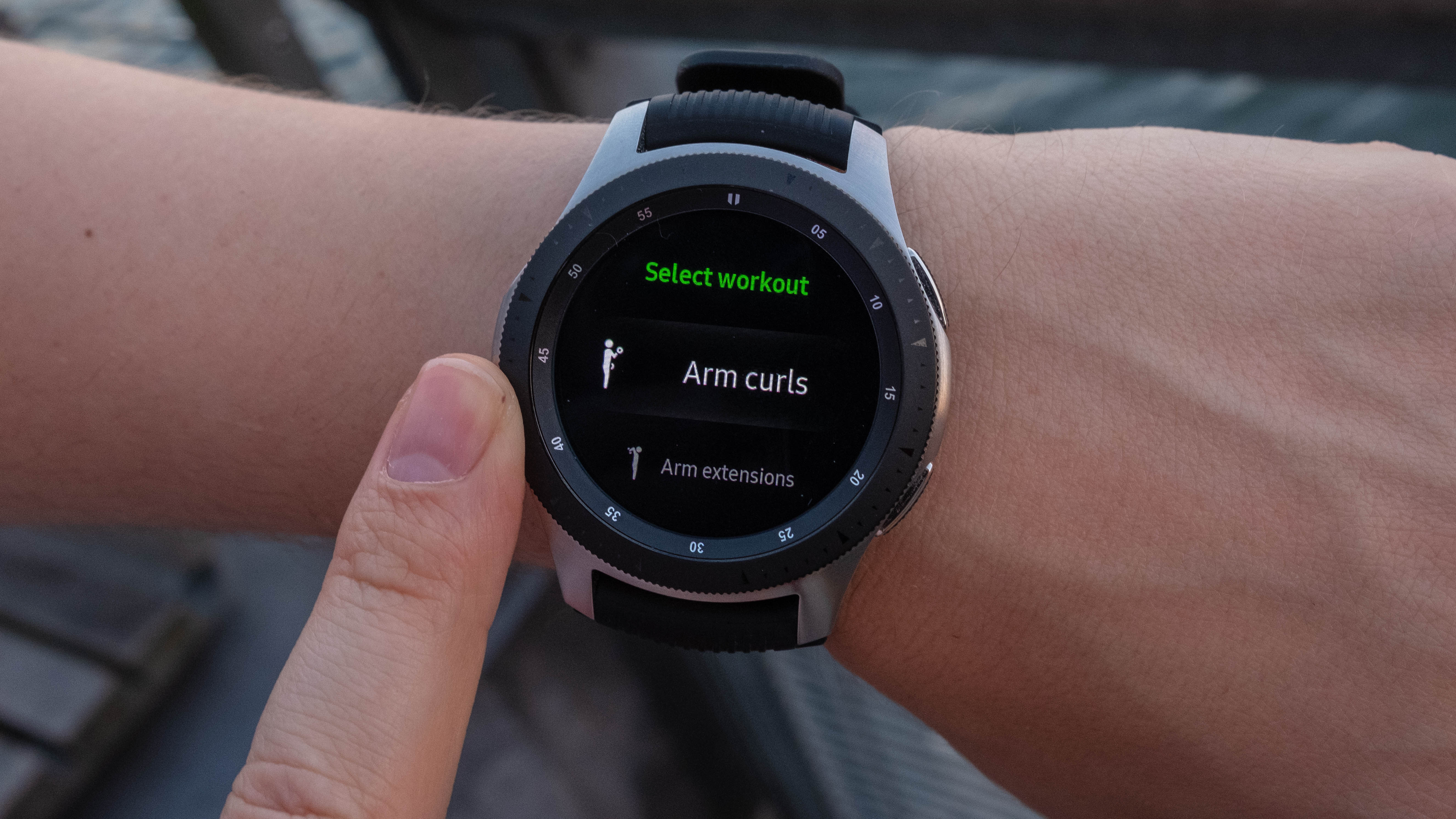 Throughout the day the watch vibrates if you're too sedentary, as if it's giving you a gentle nudge to get moving. It'll pester you to do Torso Twists (and give you the option to switch that out for another exercise), and count them like it doesn't believe you'll do it – it follows through with specifics, and doesn't just ask you to stand up for one minute each hour.
Another motivator is challenging friends in the 'Together' tab of Samsung Health. This lets you compete with a buddy to see who can expend more energy each day. The good news is that your friend doesn't need to have the new Samsung Galaxy Watch to compete – just any Gear watch or the app. The bad news is that this is a one-on-one challenge, so you can't stage a competition with a group of friends.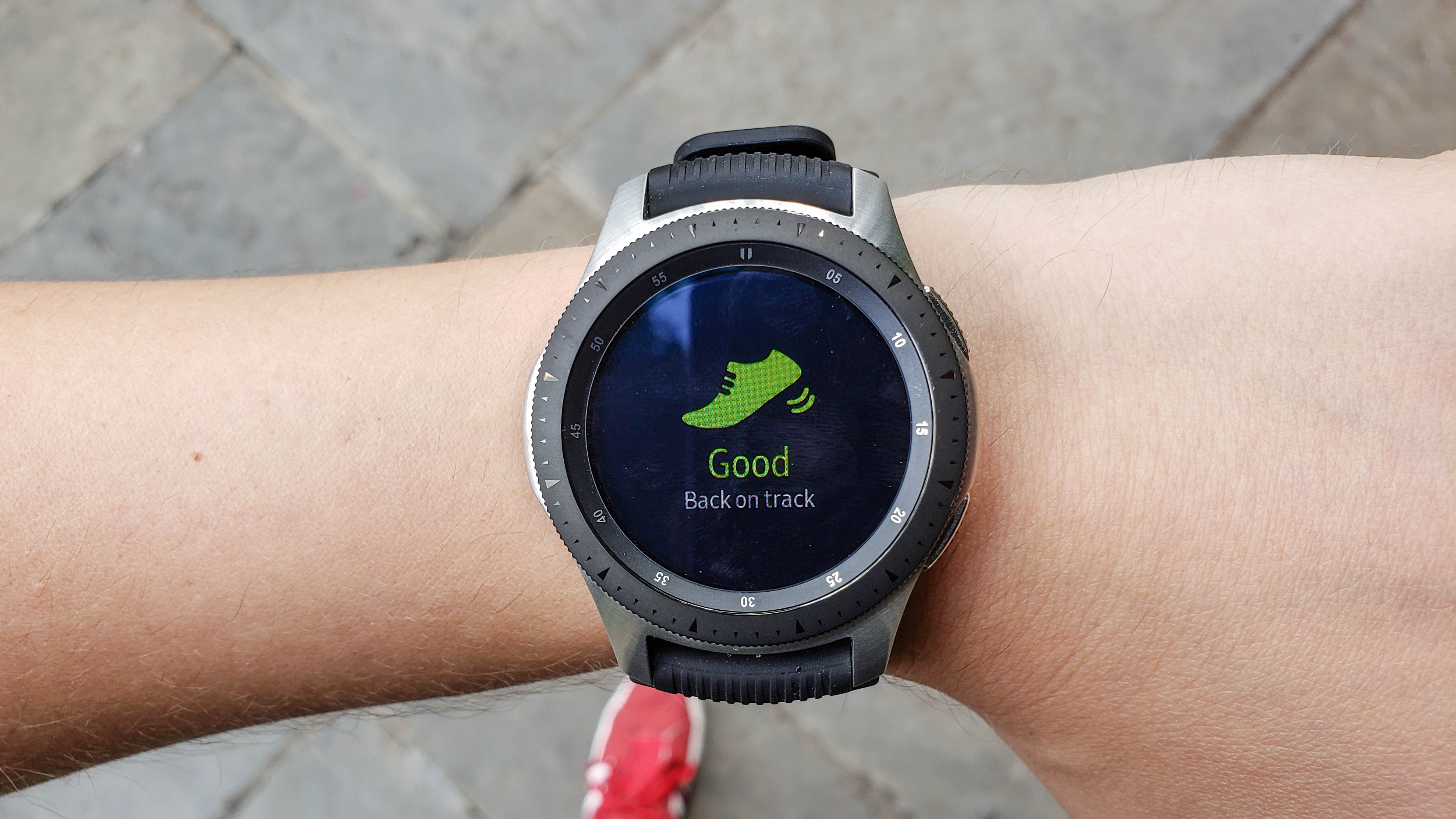 We found Samsung's new stress management tracker to be a neat idea, albeit fairly pointless in its execution. It's coupled with breathing exercises which we found calming – 15 seconds to breath in... and 15 seconds to breath out. All of this would have been better if the stress management feature truly worked automatically, like it's supposed to. Instead, we had to manually measure our stress – fine! – and it just seems to base everything on our heart rate. In the end, we were only stressed about this feature not working as advertised. Go figure.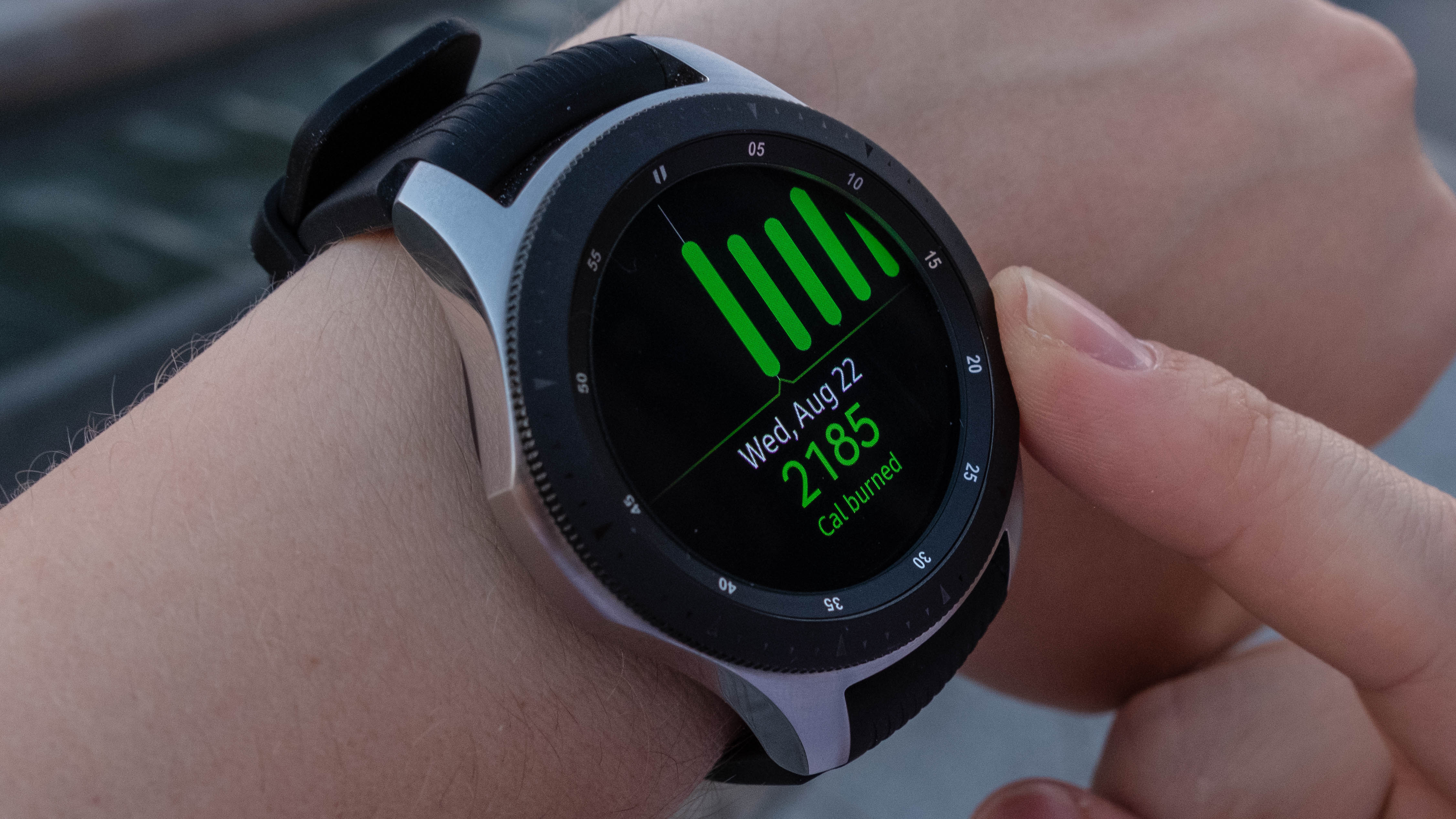 Sleep tracking does work as advertised – for the most part. It determines your sleep efficiency percentage with a three-tier breakdown of your time in bed: motionless, light, and restless sleep. You can rate your sleep and follow a timeline of your sleep trend, though you'll have to draw your own conclusions from this data – there are no pointers on how to get a better night's sleep.
The Samsung Galaxy Watch tracks sleep automatically, and the metrics appear to be accurate. We did tire of wearing it on our wrist some nights – as mentioned the 46mm version is especially big – but we still went to bed wearing the watch every night because we wanted our zzzs tracked, and we noticed that the Watch lost very little battery life overnight.
Software and apps
The user interface is our favorite so far on a smartwatch
Includes 60,000 watch faces and Spotify offline playlists
You won't find Google Maps, WhatsApp, Facebook Messenger, Lyft or many other apps
Bixby is just terrible compared to Google Assistant and Siri
Samsung Pay lacks novel MST for non-NFC contactless payments
The Samsung Galaxy Watch has polished software – it just doesn't have enough to it. And that's our biggest complaint about this smartwatch.
Lift the Galaxy Watch off its wireless charging pedestal and it greets you with a 'Hi' or 'Hello,' then draws a little smiley face on the round display. It's warm, it's inviting, and it makes the Apple Watch – made by the company that insisted on making the Macintosh 'talk' at its on-stage debut in 1984 – seem unimaginative and pedestrian. Everything about Samsung's watch is more animated.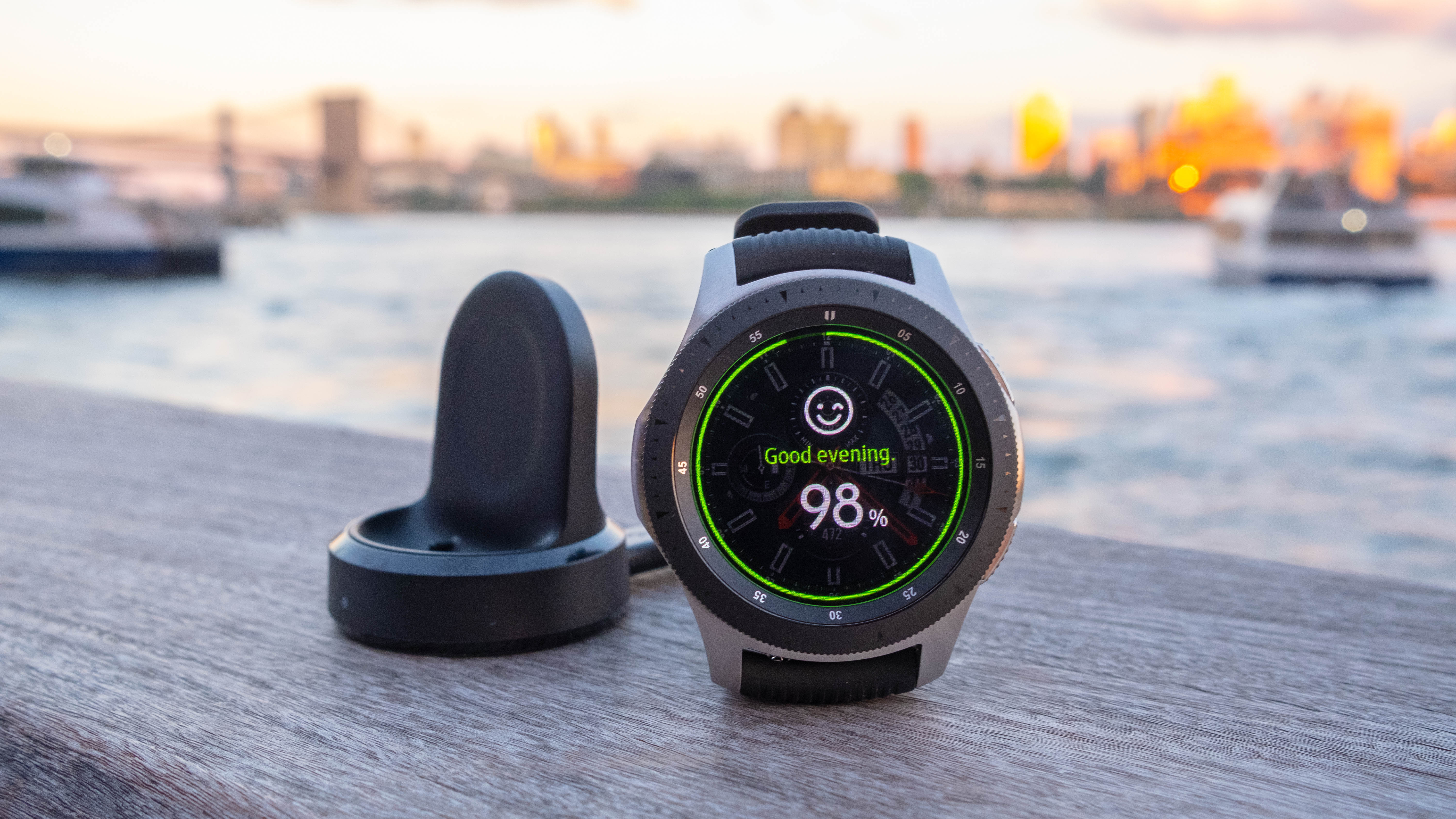 As we shifted through the menus with the rotating bezel, the colorful, creative-looking widgets stood out as being easy to read, yet informative. The weather widget is a great example. It displays the temperature and a sometimes-sunny icon in the biggest font, with highs and lows underneath in smaller characters. There are blue precipitation percentage and red UV level metrics that run along the circular perimeter of the display. Tapping into this menu reveals a just-as-colorful five-day forecast.
Every morning we were greeted with a Daily Briefing, a rundown of our schedule, the weather, and other important items. And sometimes our planned agenda didn't agree with impending weather conditions, which was helpful to know before setting out for the day.
The Galaxy Watch widgets and settings are customizable, down to the quick settings pulldown menu at the top, and you can actually edit the row of quick settings icons to your liking – something we wanted from the watchOS 5 and still haven't gotten yet.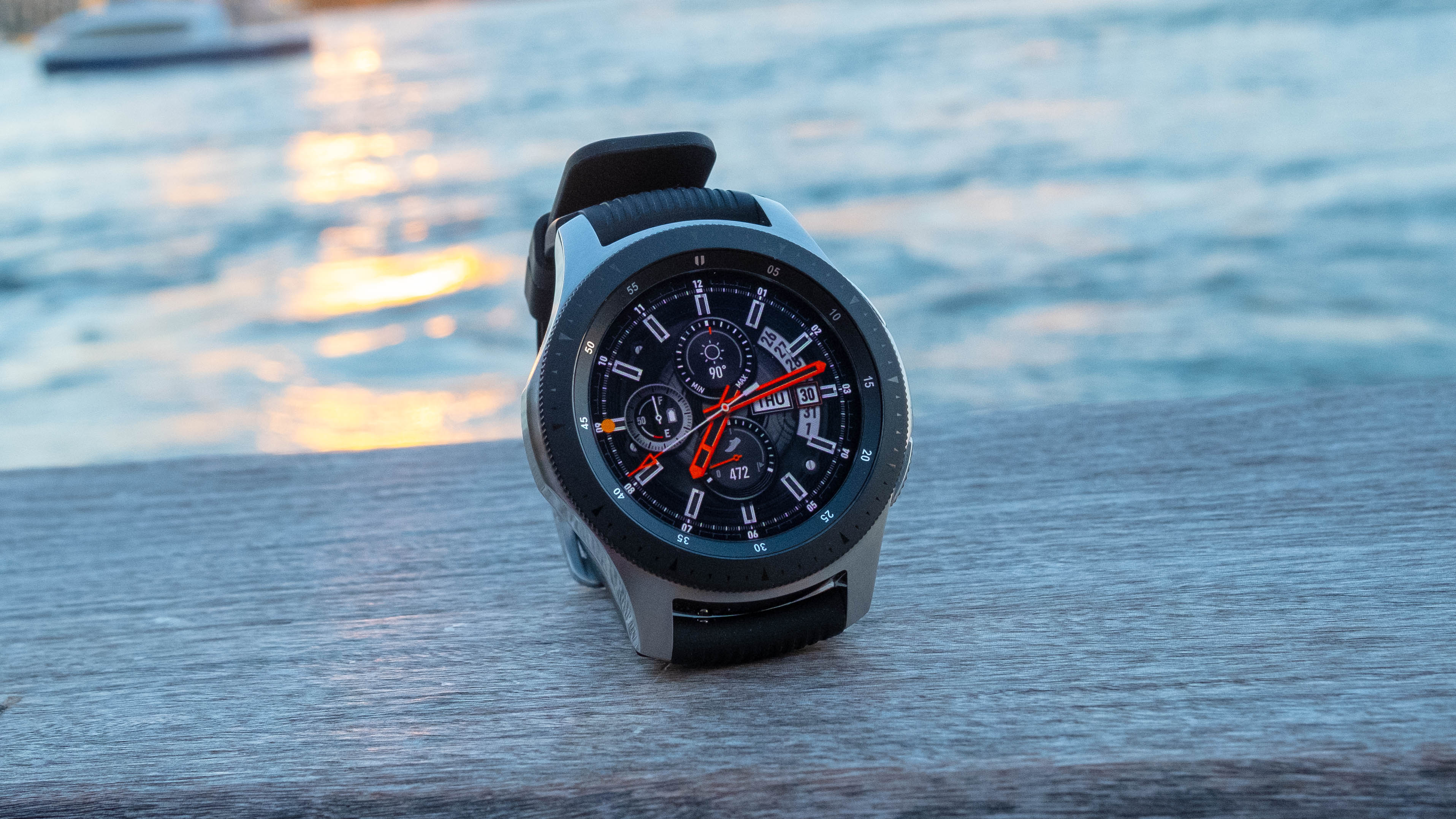 Samsung touted two software perks at launch and delivered: Tizen is up to 60,000 watch faces, giving you choices over styling (and you can develop your own if you don't like what's available), and its partnership with Spotify allows for offline music playback, which is great if you're looking to ditch your smartphone but don't want to manually load music onto the watch's 4GB of internal storage space.
If there's one thing Samsung gets right, it's creating a well-laid-out operating system; if there's one thing the company gets wrong, it's consistently failing to lure app developers to its platform. It's also an extra step to download 'Gear' apps (yes, they're still named this in the phone app and the Galaxy Apps store). Apps on your phone don't automatically show up on your watch.
There's no Google Maps or native map software for your wrist (the Here maps app is a good third-party alternative), no Lyft (even if Uber is here); and there's no Facebook Messenger or WhatsApp, although there are a lot of sketchy alternatives, if you want to risk your message privacy.
You can get notifications for these messages and even respond to them, but starting a new conversation will see you fetching your phone. And while Samsung Pay is present, the company cut the Magnetic Secure Transmission (MST) technology that made it special by working with non-NFC credit card machines – yet MST was in the Gear S3 watches.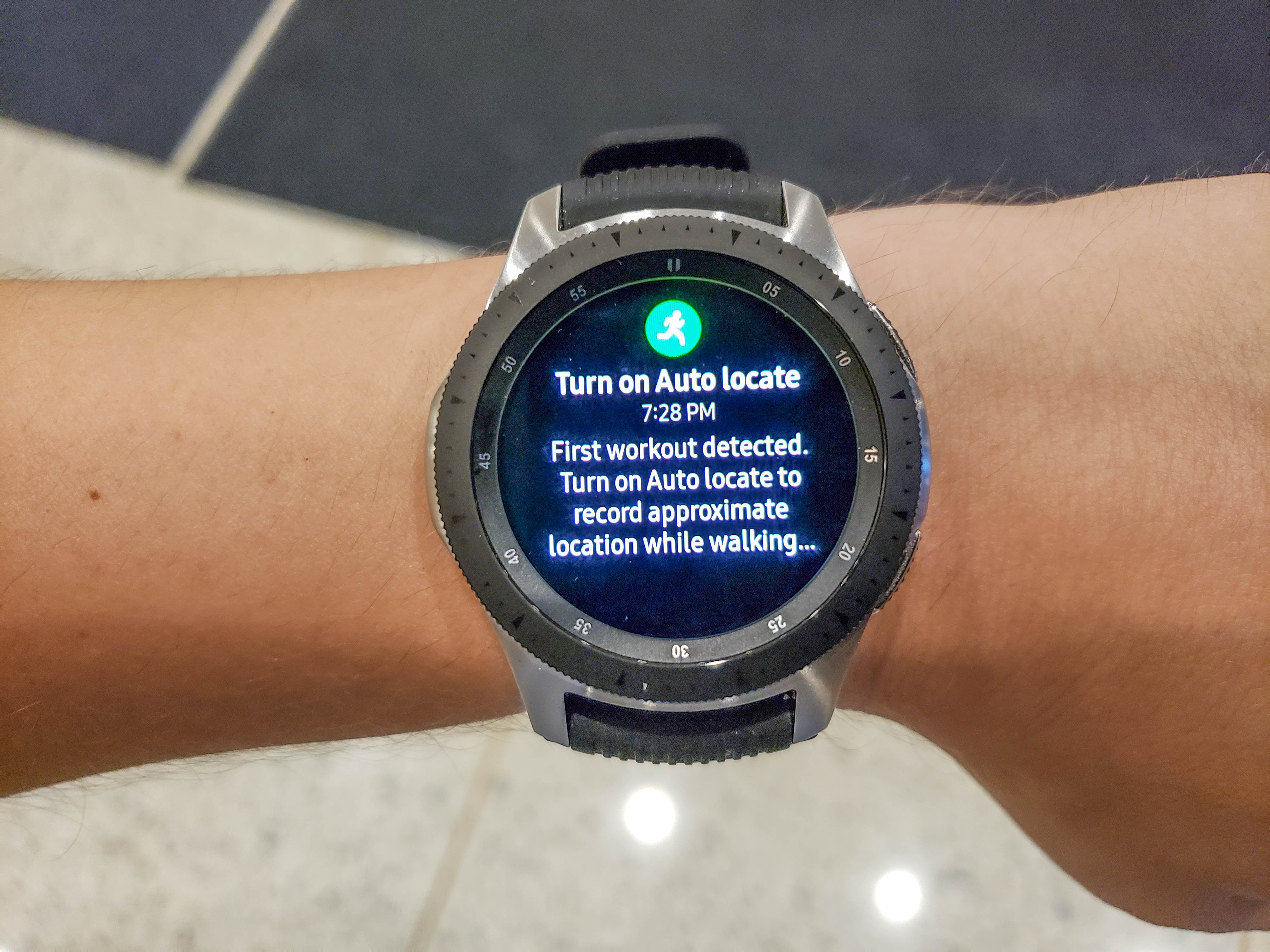 Bixby, Samsung's unlikable voice assistant on its phones (and, soon, the Samsung Galaxy Home speaker), is no better than S Voice on the Gear S3, to the point where we missed Google Assistant, and even the sometimes-mediocre Siri, because they understood our commands.
Not everyone needs a voice assistant on their watch, or a good third-party app ecosystem – a lot of app developers are pulling away from Apple's watchOS platform. For you, having a well-polished operating system for core content may be more important than having a deep one.
Image Credit: TechRadar
Battery
46mm watch has four-day battery life; one test went into part of fifth day
42mm version is rated for three-day battery life with a much smaller capacity
Helpful low-power mode hung onto the last 2% for us for hours
Unhelpful wireless charging pedestal uses micro USB and is priority – don't lose it!
We got a solid four days out of the Samsung Galaxy Watch battery, running three different 100% to 0% tests over the course of 12 days. It didn't quit early any time we tested it under normal conditions, meaning without the always-on display enabled (it's turned off by default).
In fact, in one test the 472mAh battery (the capacity of the 46mm watch) proved it could chug along for part of a fifth day before dying on our wrist. This was all while using the heart rate monitor, tracking exercises, tracking sleep, and placing a wrist-initiated 'phone' call.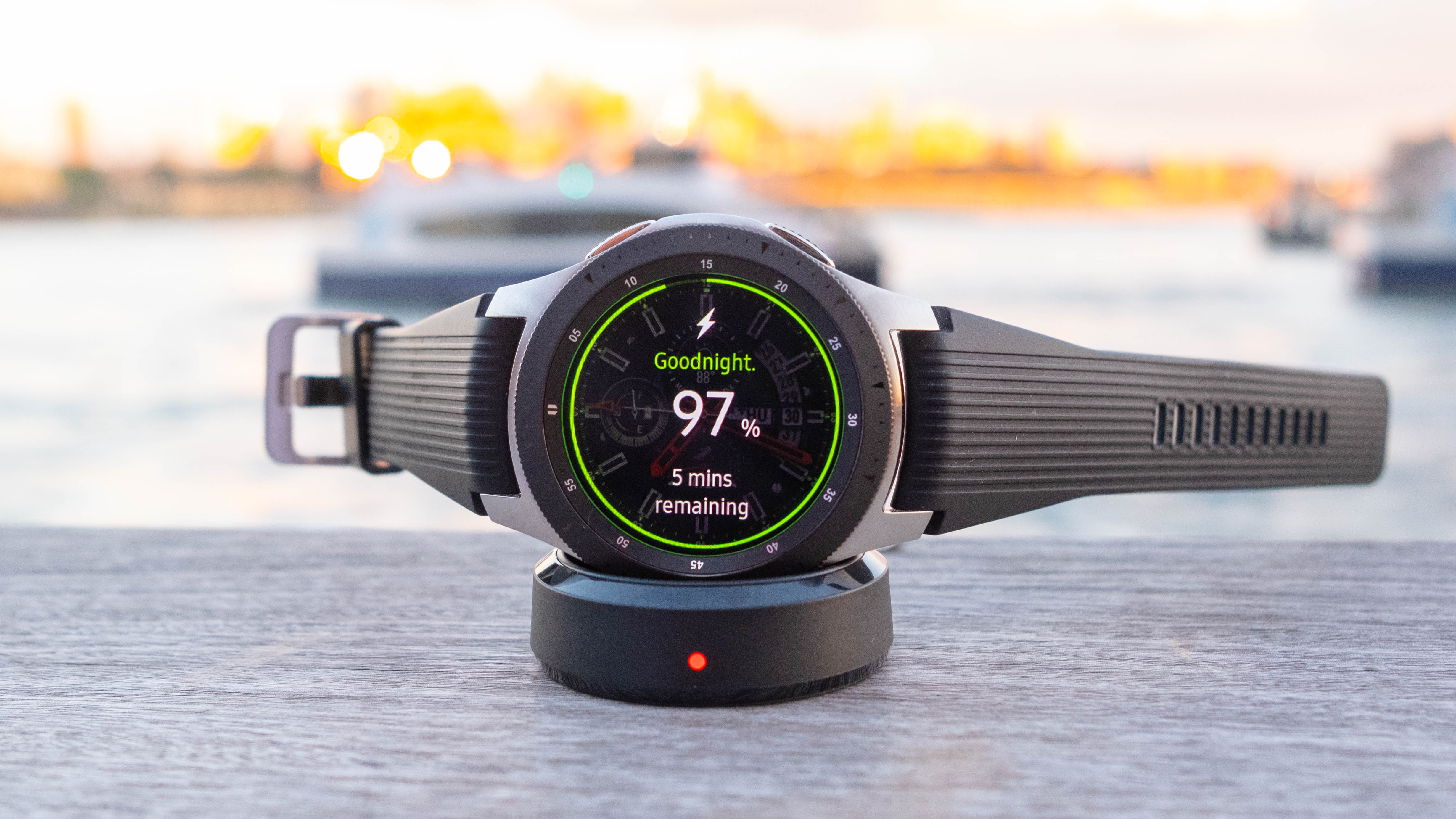 Samsung's power-saving mode is even more impressive. One evening we turned it on with 2% battery left and the watch stayed alive for the remainder of that night – and we could still get calls and messages in this basic mode. By contrast the Apple Watch 4 low-power mode tells you... the time.
We did see a significant drop in battery life when we activated the always-on display. Screen-on time causes the biggest battery drain, even though the screen is dimly lit when asleep.
The smaller 42mm Galaxy Watch is rated for three days of use, which is to be expected as it has a smaller 270mAh battery. We'll be sure to test this at a later date when we get the smaller watch in to test.
What we didn't foresee was that the included wireless charging pedestal was the only way we could charge this smartwatch – not even Samsung's fast wireless charging pad would charge it. Yes, Samsung's Watch uses a special wireless charger, and that means you could easily get stuck with a dead Galaxy Watch and have to go back to the office to fetch the tiny pedestal – which, by the way, uses a micro USB, not USB-C, cable.
Samsung's solution? Buy its new Wireless Charger Duo, of course, which will charge your phone and smartwatch at the same time. It's also Samsung's answer to Apple's AirPower.
Android and iPhone compatibility
Best with a Samsung phone, or another Android phone
Works with iPhones, but no calls, messaging, or email
You still get message notifications from an iOS device
The Samsung Galaxy Watch works best with Samsung phones, which come with the Gear app already loaded up. But it works with other new and old Android phones, too – they just need to run Android 5.0 or later, which is Android Lollipop from 2014. We used the Pixel 2 in our testing when pairing the watch with a non-Samsung phone.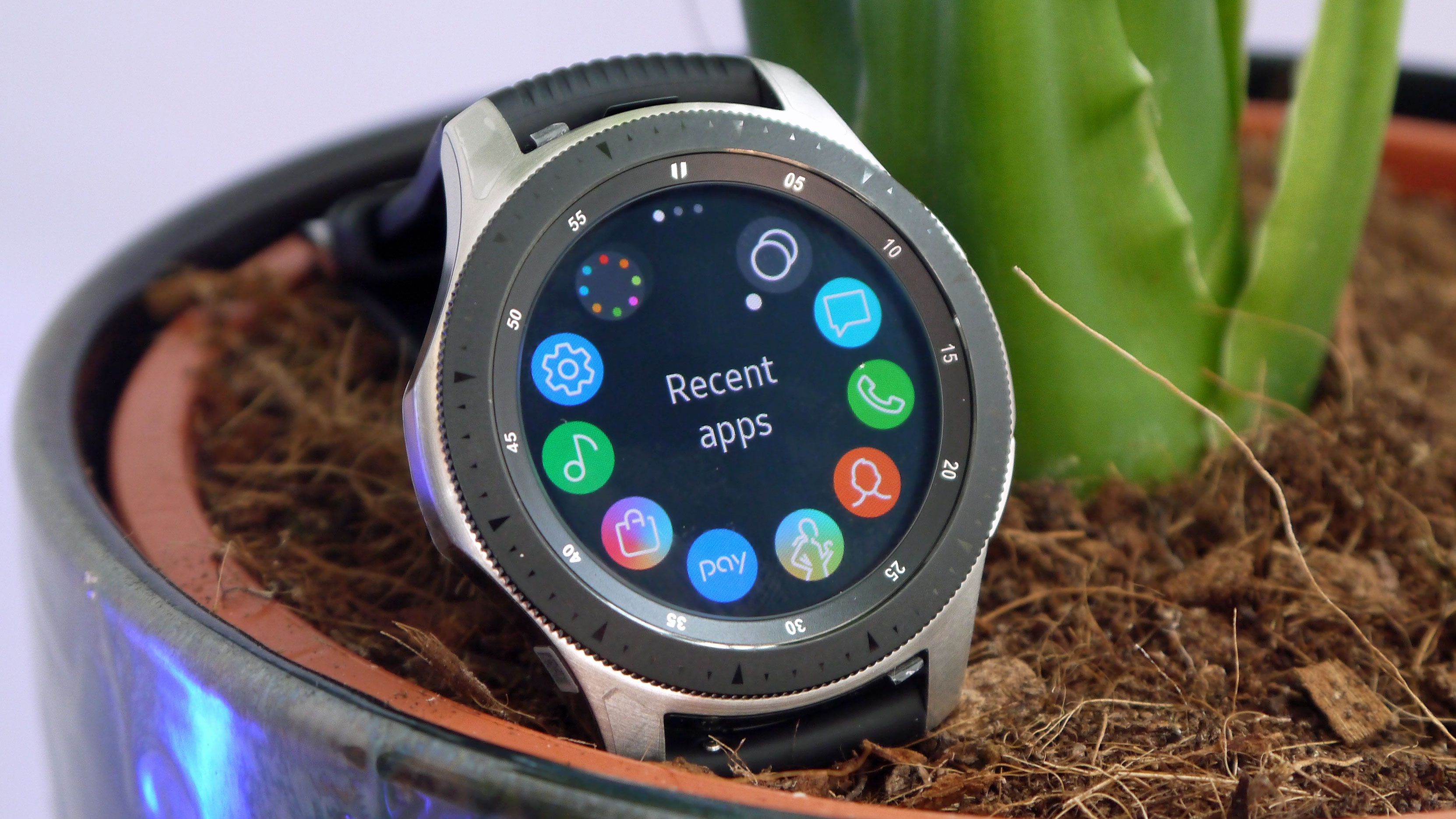 We also tested our Galaxy Watch out with a third device – an iPhone X. The iPhone 5 and above are compatible with the smartwatch (running iOS 9 or newer), but with more 'read' than 'write' functionality. You can read iMessage notifications, but you can't reply to them and you can't initiate any communications – there's no email, phone call, or messaging app. We also had to open the Samsung Gear app every once in a while on the iPhone to keep the connection active, otherwise the watch would go into Standalone mode.
This smartwatch is a better companion to Android phones, specifically a Samsung phone, like the Note 9.
Image Credit: TechRadar
The Samsung Galaxy Watch has the best design and slickest operating system of any smartwatch we've tested. It resembles a real watch, has a healthy number of auto-tracked workouts, and its core software operates intuitively via the rotating bezel. The four-day battery life allows for more doing and less charging.
Sure, the chunky design is going to be too big for some people, and the app selection is too small for just about everyone. And no one will use Samsung's Bixby assistant on this watch, although we're not sure if this one matters; few people are ready to talk to a voice-controlled AI via their watch just yet.
The Samsung Galaxy Watch feels like the smartwatch of right now instead of tomorrow. Its onboard software is impressive, and shows up nicely on its big circular display. It's impressive for quickly glancing at notifications and tracking your fitness goals, all on what could be mistaken for a conventional wrist watch.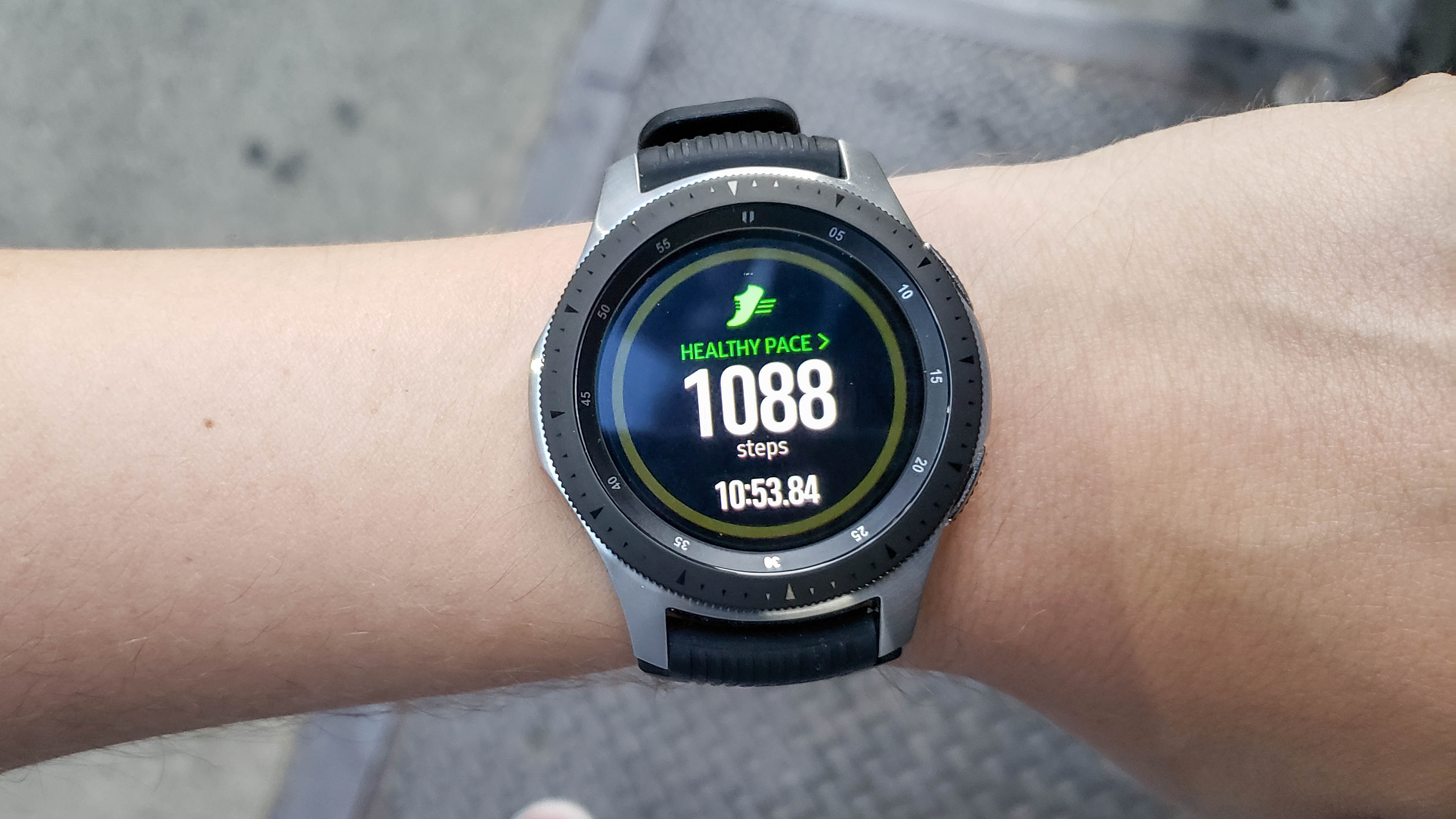 Who's it for?
Strap on the Galaxy Watch if you're looking for a dapper-looking smartwatch that works with your Samsung phone. It works on other Androids and even the iPhone, but we got the best experience with this watch when it was paired with our Note 9. It's great if you're looking for notifications on your wrist, and comprehensive fitness tracking (though not as comprehensive as the best Garmin watch).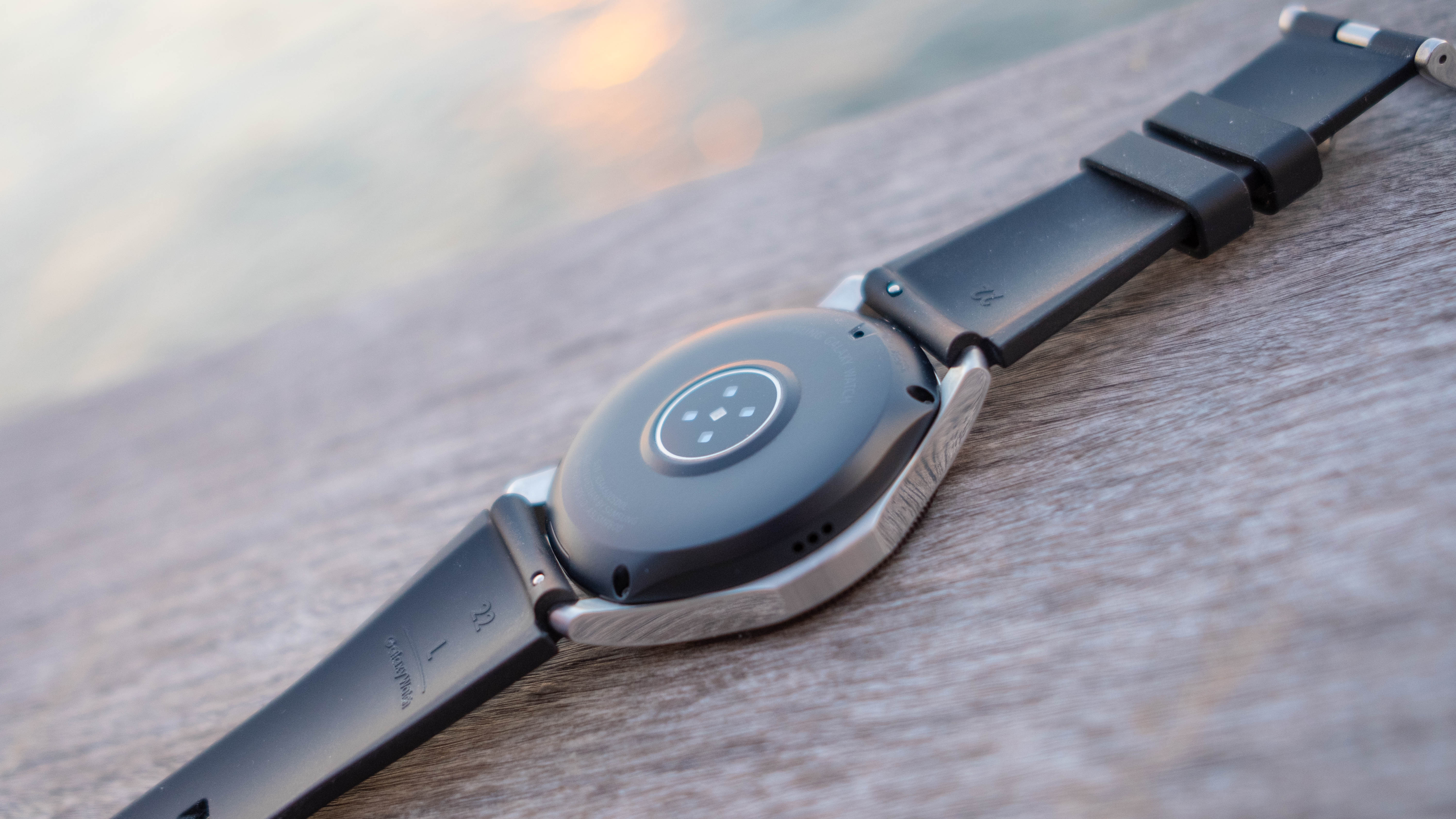 Should I buy it?
Yes, if you own a Samsung phone and are looking for the best smartwatch to pair it with. Other options include several Wear OS watches, although Google's software revamp is still in its infancy, and the Apple Watch, although that doesn't work with Android phones at all. We still recommend the Apple Watch if you're on an iPhone; the Galaxy Watch will still work with iOS, but in a mainly 'read' not 'write' capacity.
Competition
Don't think the Galaxy Watch is for you? Here are some alternatives that may interest you.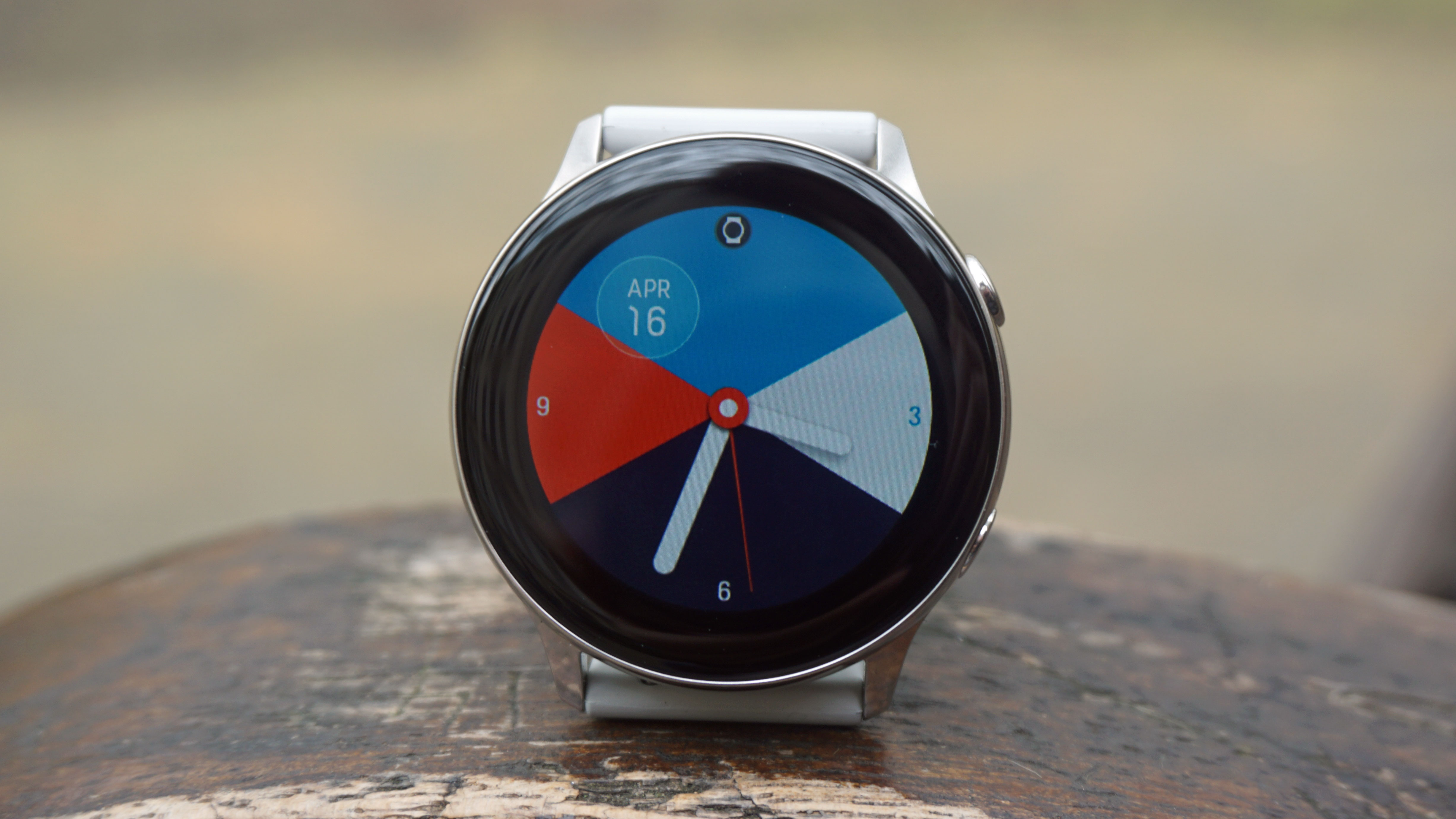 Samsung Galaxy Watch Active
Don't want such a large device on your wrist? The Samsung Galaxy Watch Active is a slimmer version of the tech included here but you'll lose the rotatable bezel for that to happen.
That likely makes it a more appropriate fitness watch, and you've got all the benefits of Tizen software to use here too. Plus it's cheaper than the original watch, so if you don't want to spend lots definitely consider the Galaxy Watch Active.
Full review: Samsung Galaxy Watch Active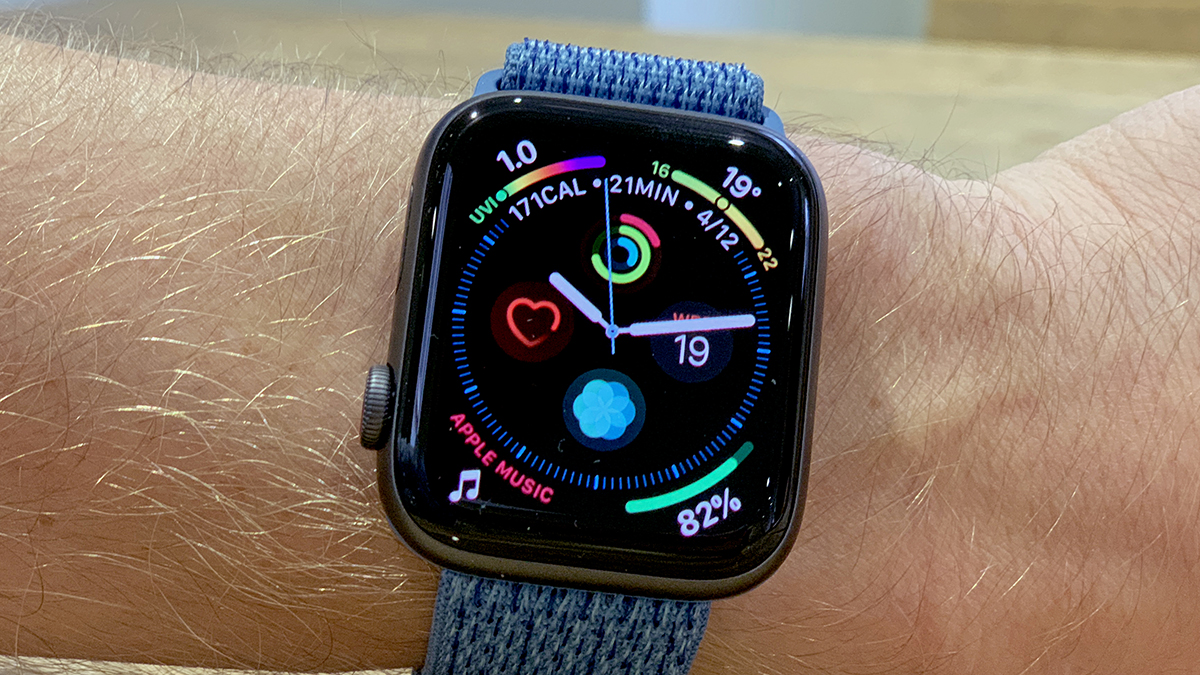 Apple Watch 4
The Apple Watch 4 has a screen-focused digital watch face for densely packed complications, but Samsung's timepiece is still better in certain ways. Samsung's watch works best with Android phones (and is technically compatible with iOS), while the Apple Watch 4 works strictly with iPhones, and is a great iOS companion. The Galaxy Watch looks more like a real watch, has four times as much battery longevity, and can auto-track exercises.
The 'iWatch' is lighter, smaller, and has a variety of case colors and finishes. It looks and feels downright tiny compared to the Galaxy Watch, and for a lot of people this will fit their mobile-centric lifestyle. Siri is certainly smarter, Apple's third-party app selection is better, and it has perks like fall detection, although the core interface isn't as spiffy as Samsung's, especially with the rotating bezel.
Full review: Apple Watch 4

Apple Watch 3
The Apple Watch 3 is more in line with how much the Samsung Galaxy Watch costs, so for some people on a budget, it may make for a more apt comparison. It works a lot like the Apple Watch 4, but the screen has a bit more bezel and it lacks fall detection. The screen size is 42mm and 38mm, and you're likely to find it on sale for Black Friday and Cyber Monday.
Full review: Apple Watch 3

Image Credit: TechRadar