The Garmin Approach S12 is the company's latest entry level GPS golf watch. It aims to upgrade the previous Garmin Approach S10 model, enhancing battery life, upping screen resolution and more.
While the Garmin Approach S12 might not compare to top end smartwatches for screen quality when it comes to the Apple Watch 6 and the Galaxy Watch 3, this is a powerful Garmin option that keeps the price low.
This dedicated golf watch might not offer smartphone notifications but it does work with CT10 golf sensors making it super powerful for use with other devices.
On the Garmin Approach S12 you get a whopping 30-hour battery life, which is a huge jump up from the 10 hours on the last generation S10. The 1.3-inch screen has also seen an improvement with higher resolution and it is built to be readable even in bright sunlight.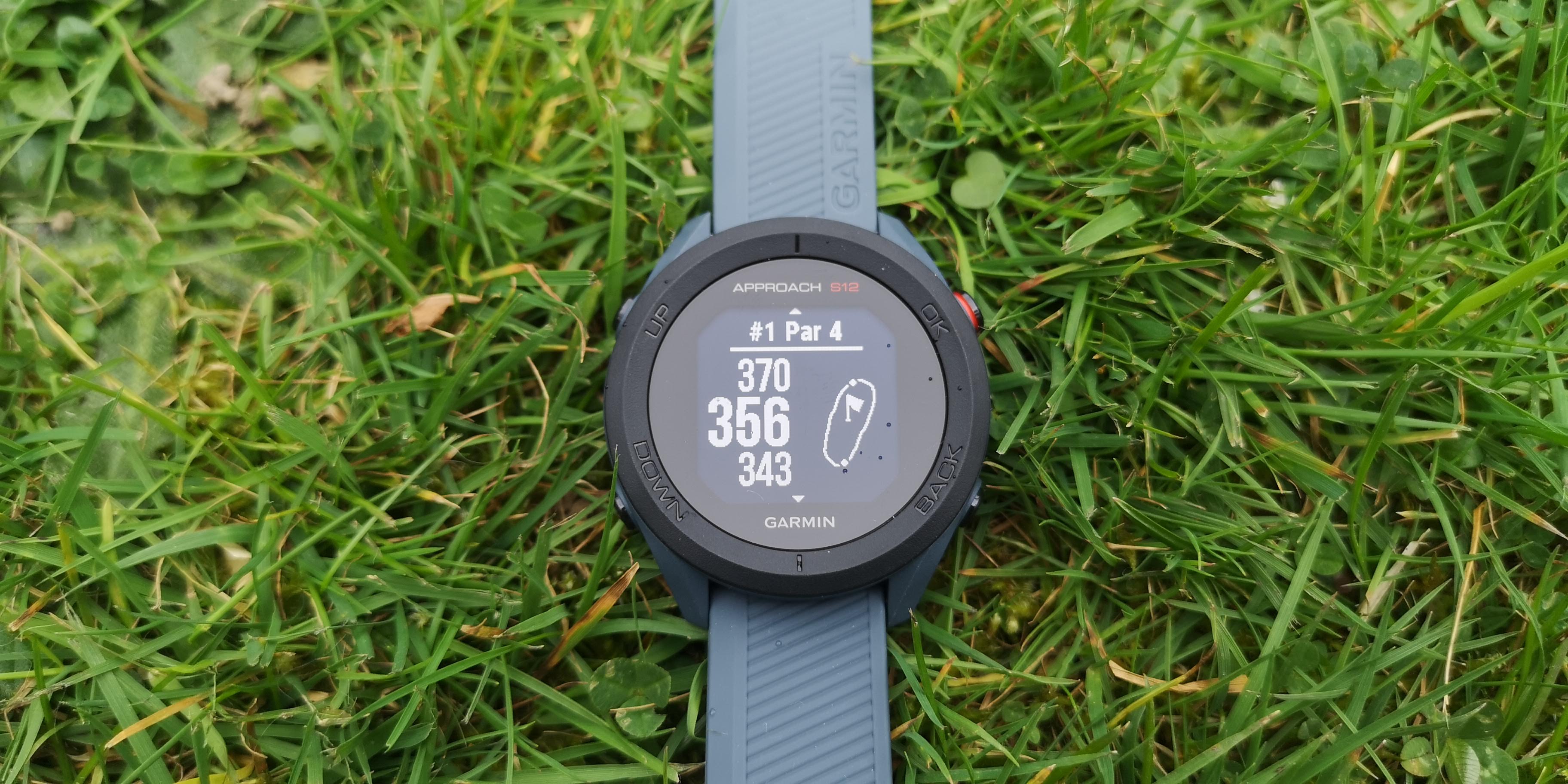 The Garmin Approach S12 is backed by the Garmin Golf app, which is a super powerful feature and is the same on this lower priced model as it is on the top-end Approach watches, so you're really getting a lot of value for the price.
Battery life is extended thanks to the manual pairing to the phone, which means it works well as a stand alone device. This is a great option if you want total course focus as your phone stays on silent in your bag.
Garmin Approach S12 release date and price
Out now in the US, UK and Australia
Priced at launch $199.99 / £179.99 / AU$299
The Garmin Approach S12 launched in the UK, US and Australia in March 2021, and is available from the company direct with a shipping time of, typically, between one and three days.
The pricing, at time of launch, is $199.99 / £179.99 / AU$299. As is typical with these types of watches you can expect the price to drop when a new model launches.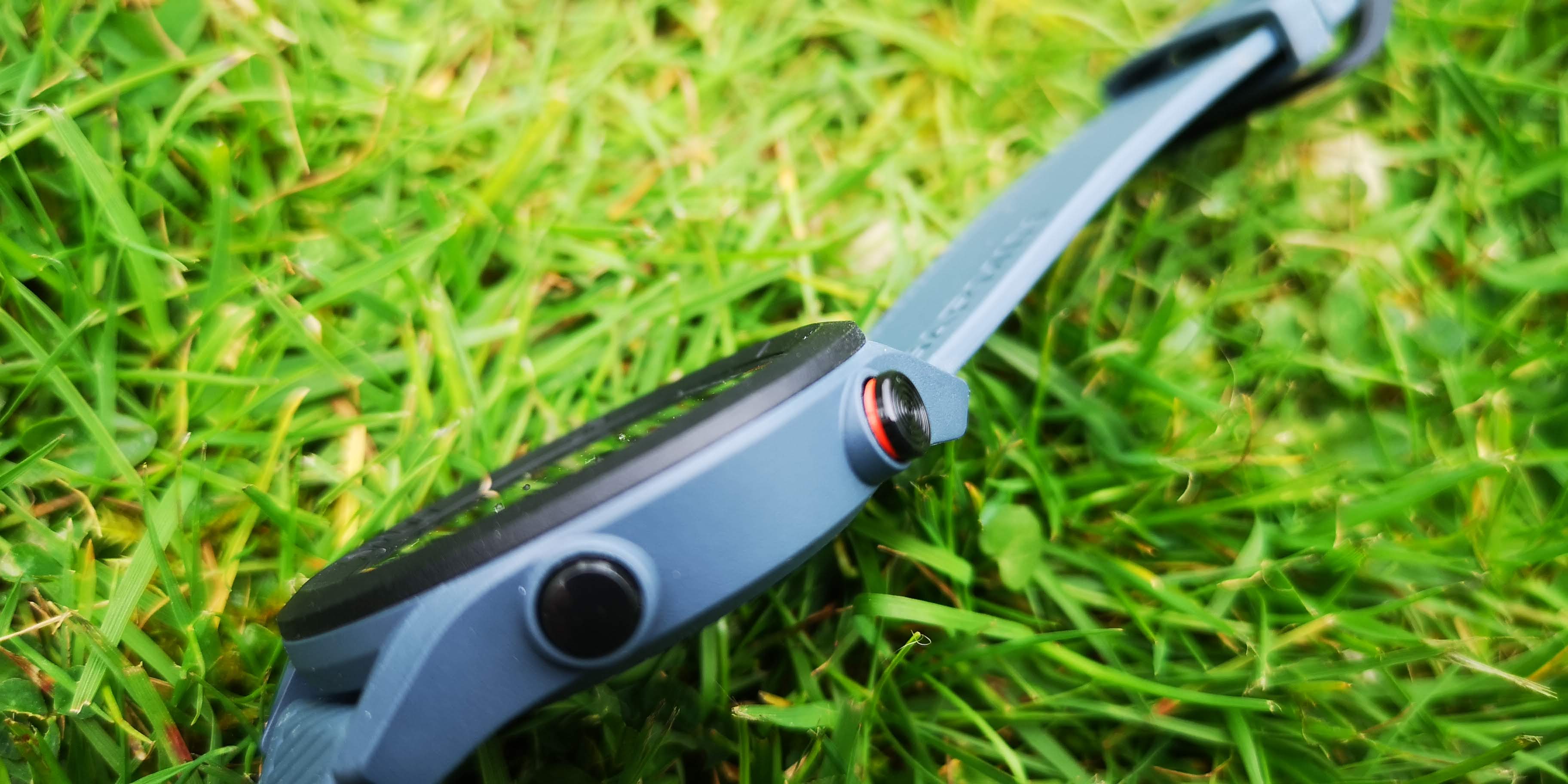 Expect that price to drop in large chunks during sales like Black Friday and Cyber Monday, when you could get a great deal.
The same can be said for out of golf season pricing. So if you're not in a rush to snap this up then you can hold out and potentially stand to make a saving that way. Of course this can depend on your region, so international shipping might even be worth factoring in.
Garmin Approach S12 design
1.3-inch monochrome display
Comfy silicone interchangeable band
Waterproof build
The Garmin Approach S12 is a very good looking golf GPS watch, especially for the entry level price. Yes it's not as premium as the top-end devices but it still feels well made and features the quick release straps for interchangeable looks. Though without smartphone connectivity we're not sure why you'd want that – unless you wear this as your full time watch, of course.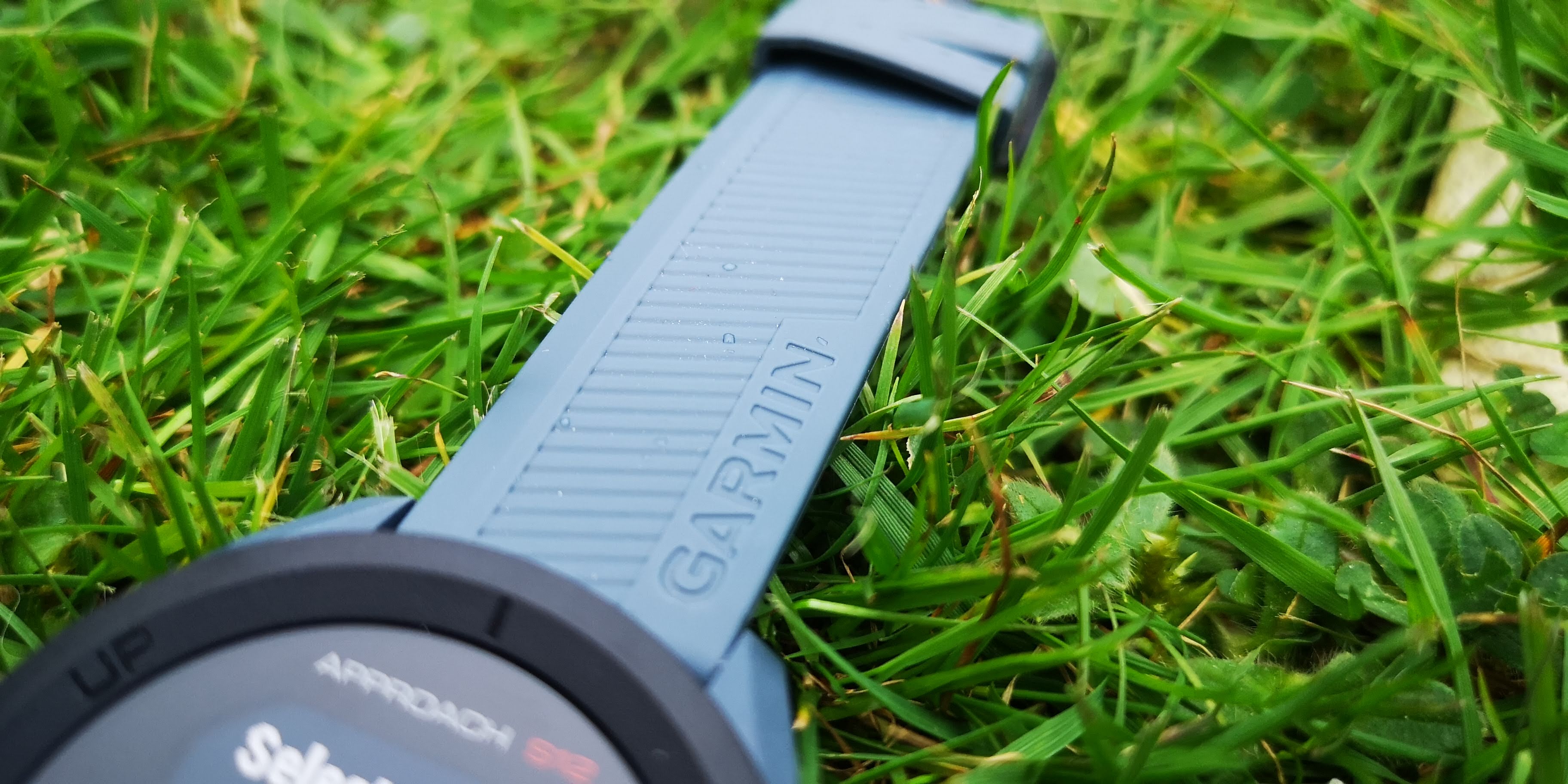 The watch case measures 43.7 x 43.7 x 11.5mm, with a silicone band. The strap is good for wrist circumferences between 125mm and 202mm.
The watch is water rated to five meters, so come rain or an accidental dip in a water feature, you won't need to worry. And at just 34g you won't need to fret about this weighing you down as you swim back to the grass.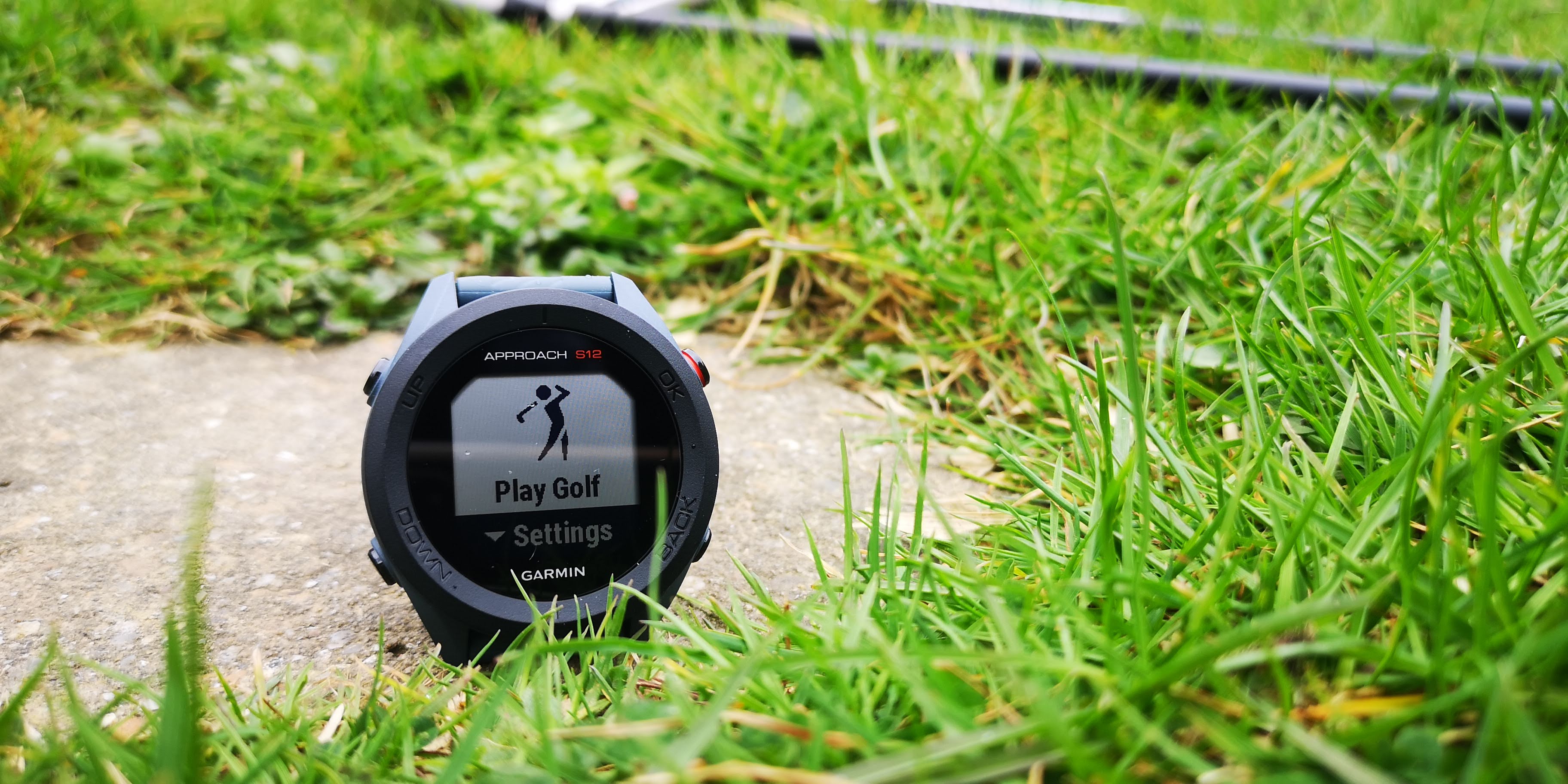 Onboard sensors are minimal compared to the gyroscope toting top-end as this watch just has GPS onboard. So don't expect to get a step count or any sleep tracking extras in this model.
The Approach S12 uses Bluetooth to connect to a smartphone, and works with both iOS and Android using the Garmin Golf app, but this simply uploads your data to the app. There are no fancy notifications or live back-and-forth here.
The watch does come pre-loaded with over 42,000 courses, just like the premium models. That means you can get to a course and find it within seconds as the GPS detects your local options and offers them up for you to select.
The watch is also compatible with other Garmin products like the CT10 club sensors allowing for even more data on your course efforts should you own those.
Garmin Approach S12: Tracking and features
Shot recording
Built in memory
Shot distances
Using the Garmin Approach S12 is super simple and fast. Get onto the course and tap the big red side button to select start a round. This will then quickly acquire GPS and offer you a list of potential courses you might be at. When we say 'quickly', we're talking about seconds, not minutes – even on a totally new course. Unless they're overlapping you'll find the course you're on, top of the list. Tap the button to select and then pick the tee you're playing off to get started. It's that simple to use.
The menus are very easy to navigate, even with button based rather than touchscreen controls. This is thanks to years of refinement from Garmin across its range of devices that results in a minimal display of just the information you need, when you need it.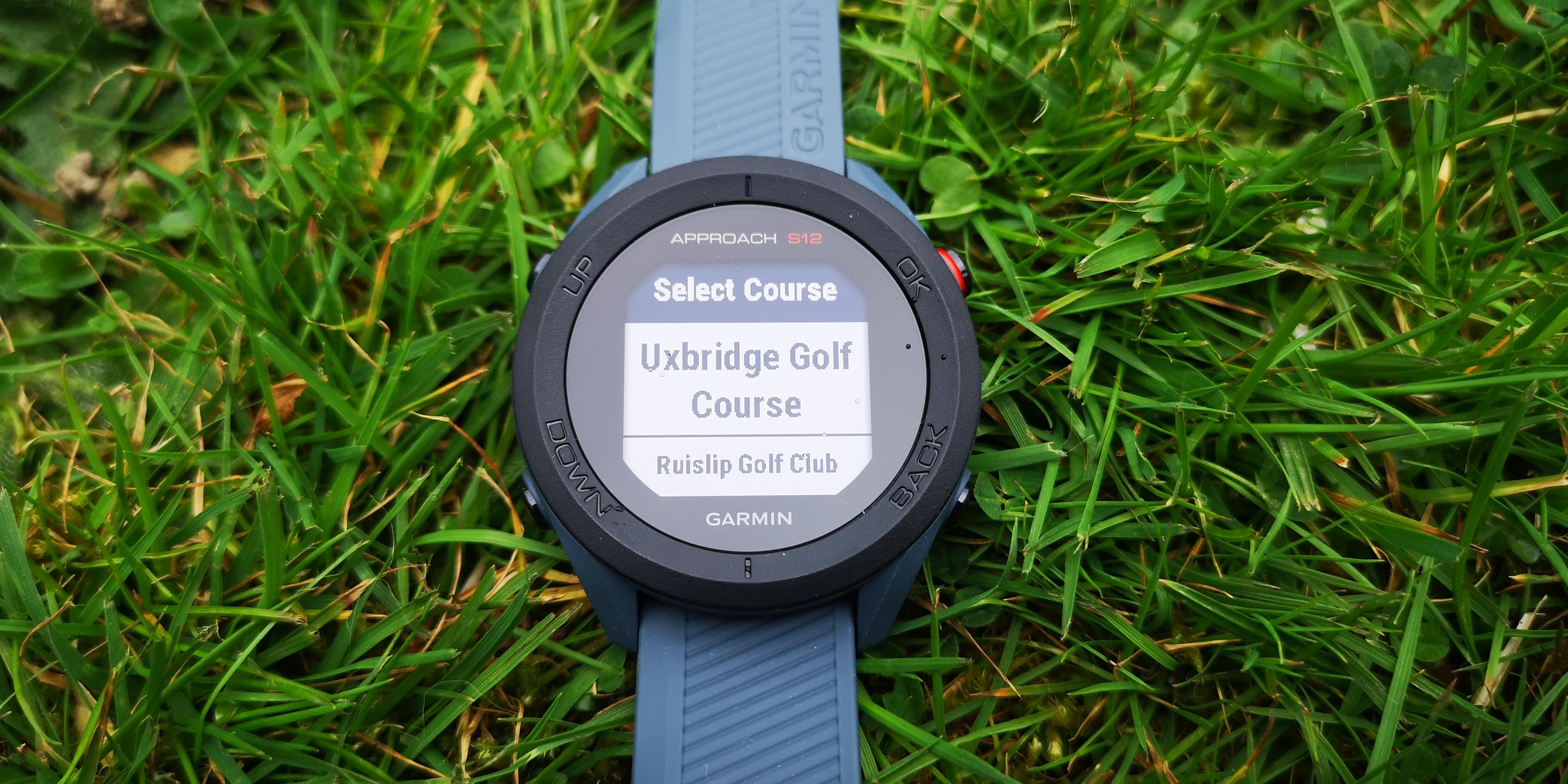 This watch might not track your game quite as automatically as Garmin's top-end golf watches, but it does track your shot distance. Once you make your drive, you set the watch to 'Measure Shot'. Then, as you make your way there, it will accurately track your distance to the ball. From a straight line shot to a dogleg, it will get the accurate line. Then you simply hit 'Reset' and it'll be ready to track again for your next shot.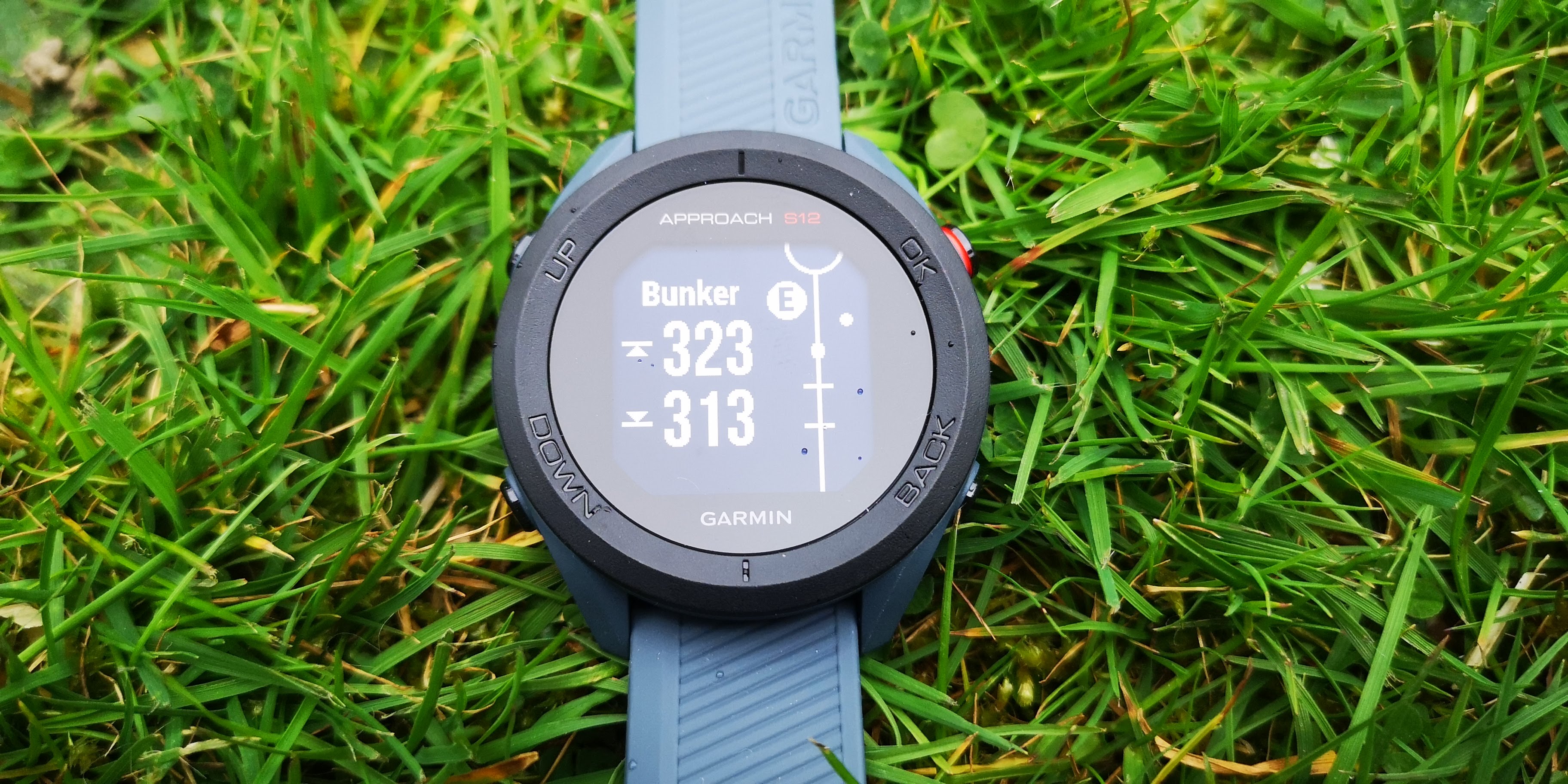 One particularly helpful tool is the ability to look over the hole ahead. This shows features on the hole like water and bunkers, listed in order as you scroll up and down through the menu. This lists your distance to that feature and even allows you to see how long you need to hit your shot to make an ideal layup.
Play a shot and then you can use the Green View screen on the app to see where the pin is placed and adjust as needed. You can move the pin around on the screen using the up and down buttons. It's not as slick as the touchscreen on the S42, but it does still do the job well.
It's worth mentioning that the GPS is super accurate, able to pinpoint you as you move. While this can, potentially vary, in areas near buildings or tall trees, we didn't have any issues with GPS on the course or while acquiring satellites, which was done very quickly. For the money this is one of the best GPS golf watches for satellite acquisition out there right now.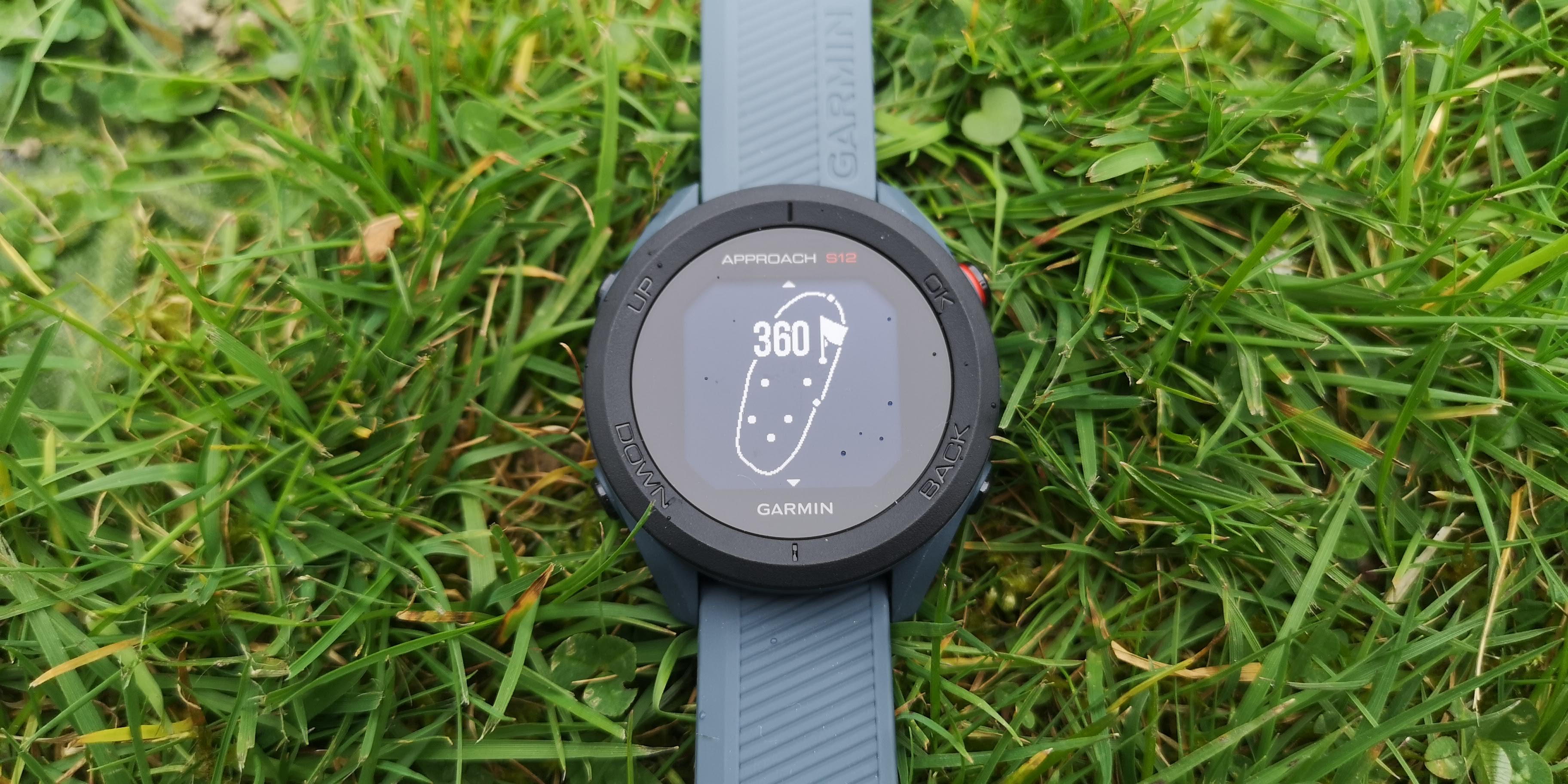 When you get to the end of your hole you need to input how your drive was played, selecting from the options like cut left, cut right, to fairway or to green. Then you select the number of putts required as well as layups. You can then add in if you were on par, birdie or bogey and beyond.
So there is a fair amount of data entry required. While that's a faff, you'd likely be doing it on the paper card anyway, so at least this keeps all your data in the app.
Also, this means you're super accurate. For example, on the S42 and S62, when the watch's auto detection is out, you have to adjust the data manually. The S12 doesn't have that issue as you do it manually anyway. It might sound silly but in a way this feels like less hassle as you never expected it to do the work for you, nothing lost, right?
The watch also offers sunset and sunrise times so it's useful for a plan ahead look at your game even when you don't have – or don't want – your phone.
Garmin Approach S12: Garmin Golf App
No notifications
Clear layout of history in the app
The Garmin Golf app is a dedicated app made purely for the Garmin golf tech. As such it's layout is clear and minimal with an easy to use interface which works well across both iOS and Android phones.
This allows you to see the game but only after you've played and uploaded your data with this model. That does mean you can review the clear hole maps, ideal for checking over your game history afterwards.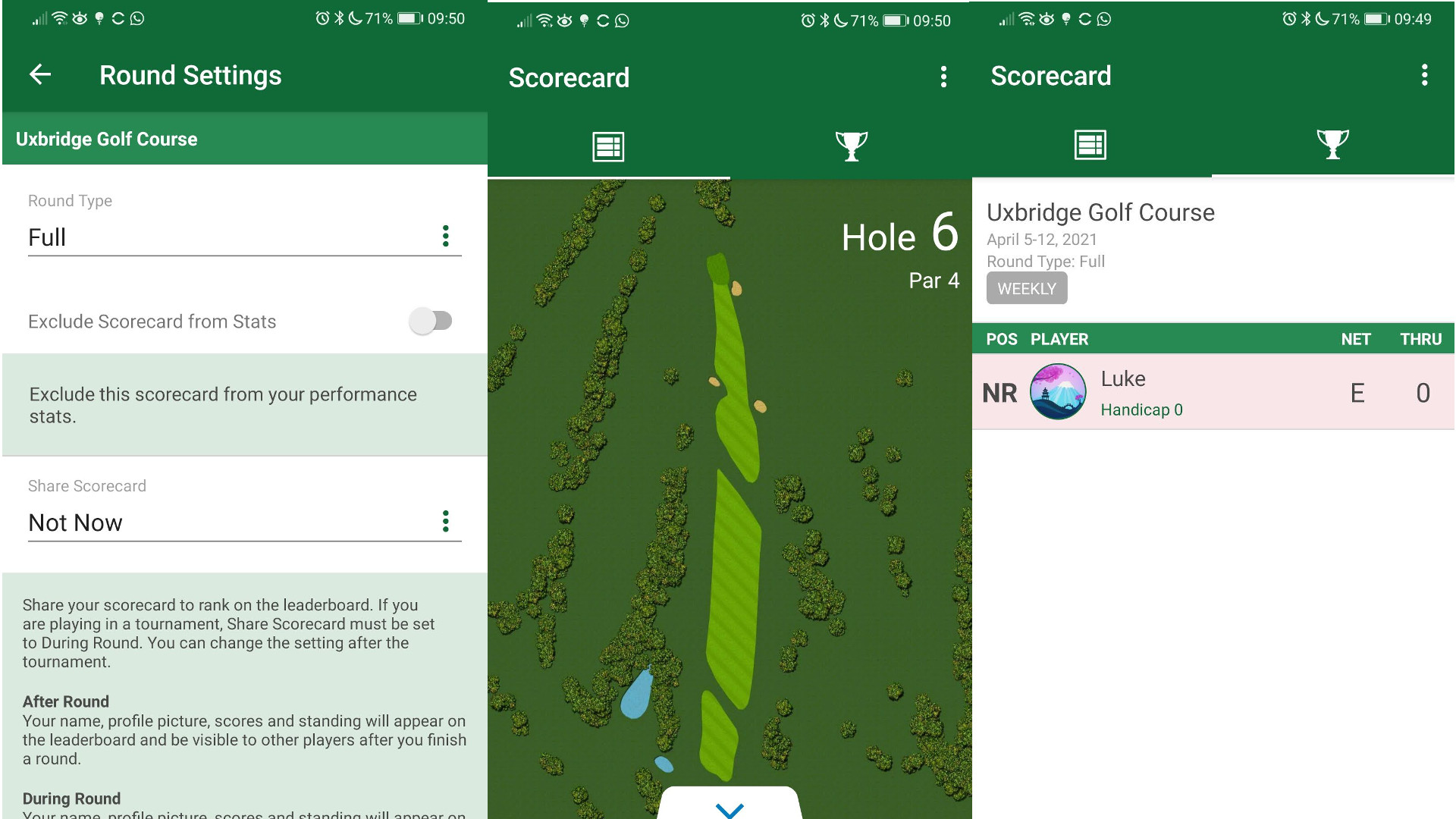 There are no notifications or smart tracking features on this watch. All that means a very uninterrupted game, which is ideal for those that like a minimal distraction type of play. It's also great for battery life as you only upload data over Bluetooth when you want.
Thanks to the onboard 125MB of memory this can be uploaded after each game or after a few, when you get a chance. All that means superb battery and control over when you want to review your games.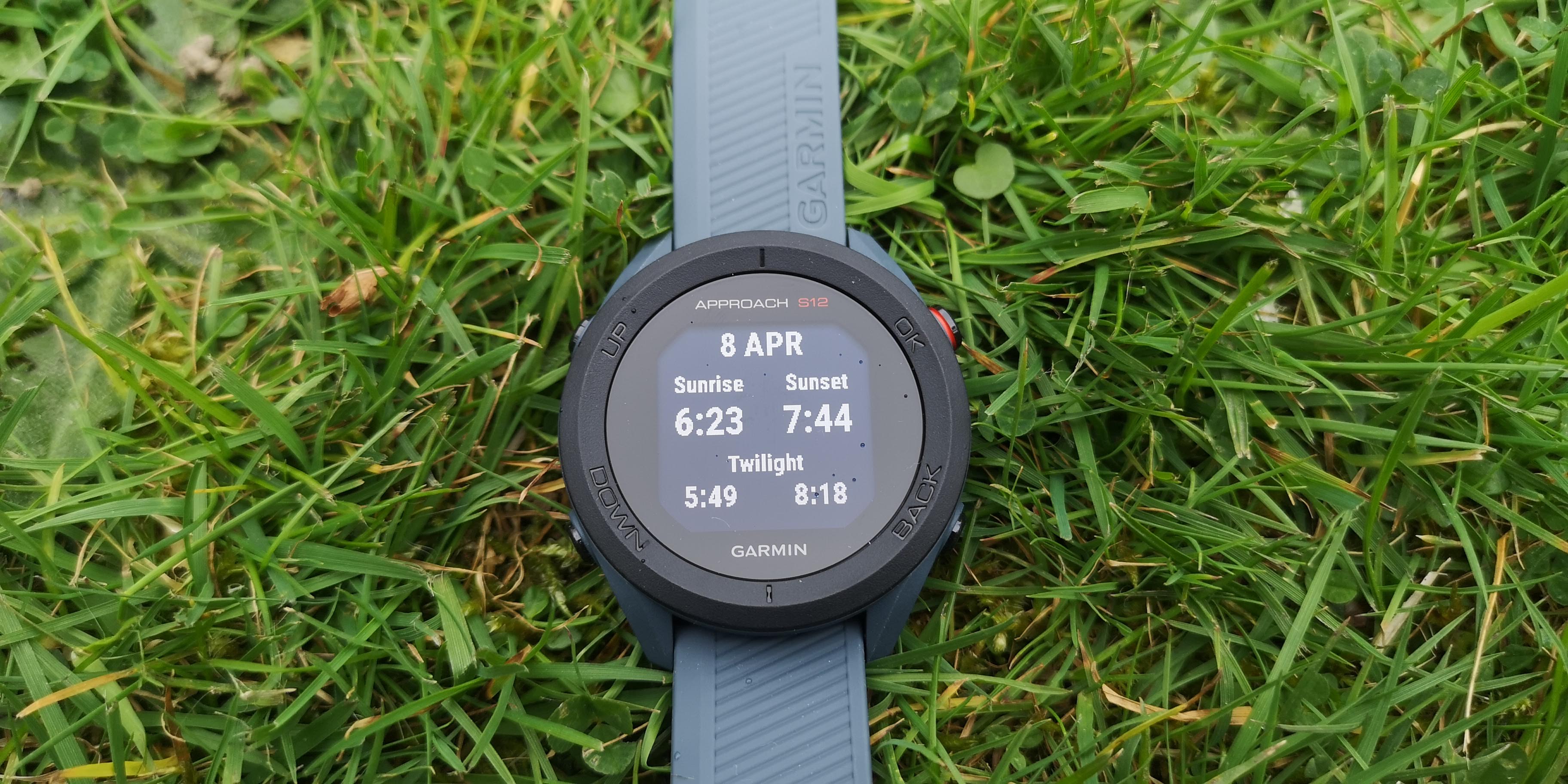 The Garmin Golf app allows you to pair clubs with smart sensors, with the watch working with the CT10 club sensors, for deeper metrics but also lets you participate in leaderboards. This is a great way to keep even your solo game competitive with others in your group, without having to actually be playing together.
Garmin Approach S12: Battery
10 weeks standby
30 hours of GPS
The battery life of the Garmin Approach S12 is what makes this stand apart from the rest of the range. This offers a whopping 10 weeks of standby time, allowing you to use it as a regular watch with very rare charging required.
Get out on the course and this will give you a consistent GPS tracking use for a massive 30 hours. That puts this way ahead of the more expensive S42 which offers 10 days of standby and 15 hours of GPS use.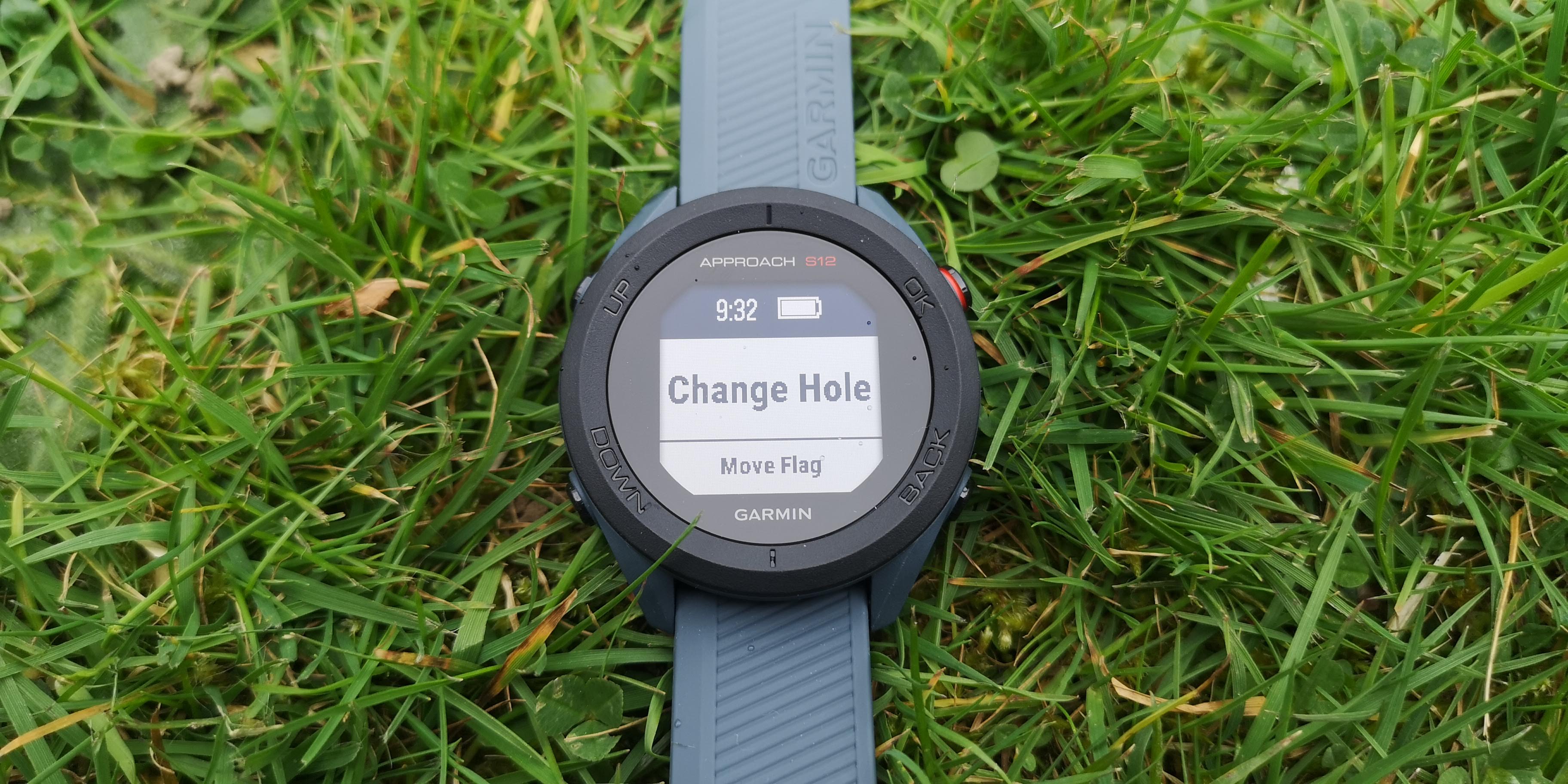 This watch rarely needs charging, meaning you can get a good few weeks worth of 18-hole rounds in before you need to even think about reaching for the charging cable.
When it comes to charging there is a dedicated cable but this plugs into USB so can be charged off a laptop, mobile battery or wall plug easily.
Garmin Approach S12: Android and iPhone compatibility
Garmin Golf works across platforms
The Garmin Golf app is available for both iOS and Android devices. It pairs using Bluetooth so is low on battery consumption for both devices.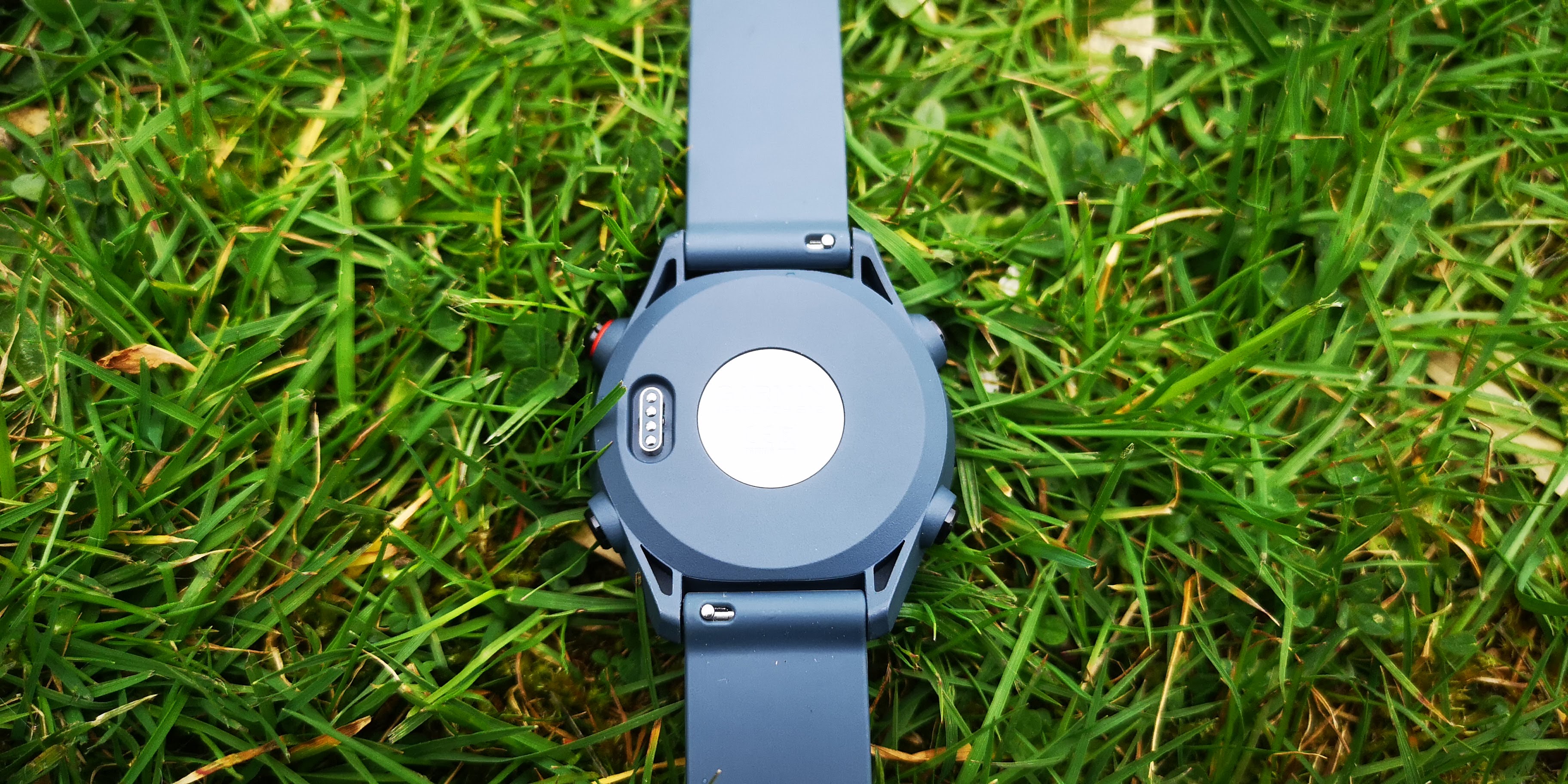 As is often the way with Bluetooth, you'll likely find it works most consistently with iPhones since they all have the same hardware. Different Android devices use different Bluetooth hardware so, depending on the phone you have, there can be the odd connectivity glitch. In the worst case scenario, you can simply disconnect and re-pair.
Since this device requires you to pair and upload manually each time, it means acquiring a Bluetooth connection, so this actually works well for Android where there might otherwise be issues waiting for an auto pair.
The Garmin Approach S12 is the company's entry level golf GPS watch. That means a more basic display without color or touchscreen and no smart notifications or advanced auto tracking features, like on the S42 and S62 models.
But that also means this watch has a stonking battery life compared not only to the top end models but most of the competition out there too. If battery life and storage of games is what you're after, you'll be hard pressed to find a better golf GPS watch, at all.
Who's it for?
The Approach S12 is for all golf lovers, from beginner to pro. That said, the need to manually enter data is perhaps a little distracting and time consuming for those that play regularly at a high level and might not have to record shots themselves.
For anyone that wants a no distractions game, the fact this watch only connects to a phone when you manually do so makes for a great way to be left alone to focus on your game while still tracking all the necessary data.
Should I buy the Garmin Approach S12?
The Approach S12 is a great option that's priced low compared to the other models in the range. That said it's a jump up from the S10 so there could be deals to be had on that older model. That's presuming you don't mind the drop in screen resolution and battery life which that represents.
Garmin Approach S12: Competition
The major competition comes from the same brand. Garmin is leading the way here. That said, for Apple Watch and Wear OS users, an app based alternative might be enough and is ideal if you already have one of those watches.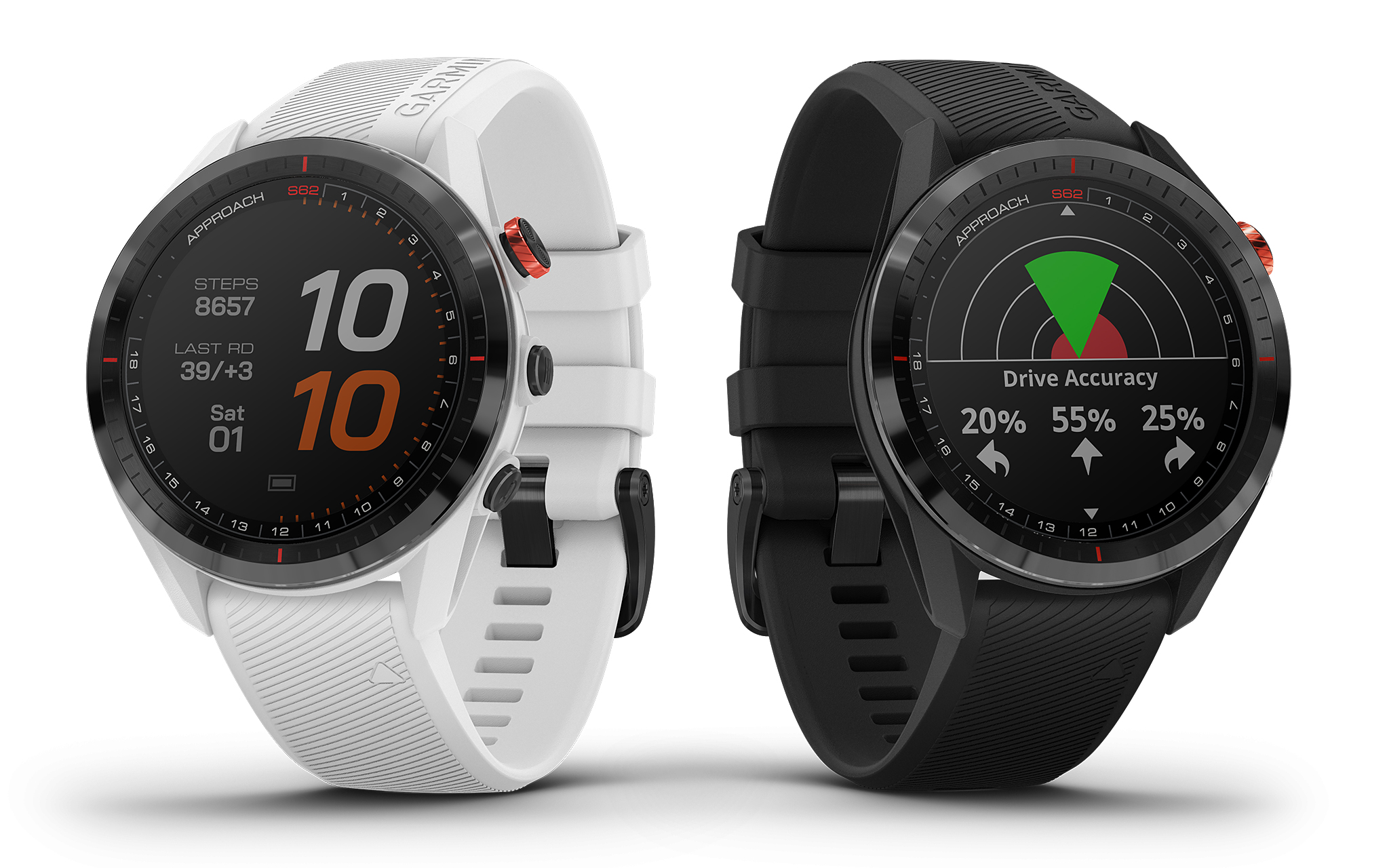 Garmin Approach S62
The Garmin Approach S62 is the company's top-end golf watch. This offers a virtual caddie that takes in data like wind speed and direction too as well as smart contactless payments, bloody oxygen with pulse and other sports tracking – all with a longer battery life.
This lasts for 14 days in standby and manages 20 hours in GPS mode all while offering the same size, but colour 1.3-inch display. But this is a larger watch in general, thanks to all those extra sensors, which isn't for everyone so that's worth keeping in mind.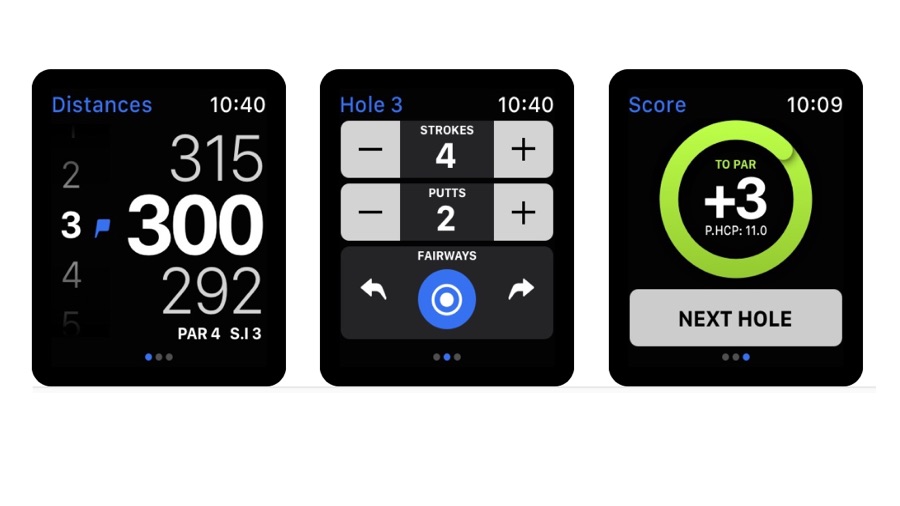 Hole 19 + Apple Watch / Wear OS
Hole 19 is a free app, available on both Apple Watch and Wear OS devices which helps to track your game. This won't automatically track shots, and it requires a phone to offer hole maps, similar to the S12 in that way.
This uses GPS to track distances off the tee and to the pin, without the need for a phone. But for strokes, putts and fairway shots you'll need to input that manually. This then syncs to the connected phone so you can analyse your game afterwards - again very similar to the S12, only way cheaper.