The Samsung Galaxy S10e was the company's flagship phone with 2019 specs and features at 2016 prices, giving consumers the opportunity to nab top features form the Galaxy S10 at a solid discount.
The handset is no longer one of Samsung's newest smartphones, as it has been succeeded by two generations of flagship phones. While the newest Galaxy S21 lineup doesn't include an affordable 'Lite' phone equivalent, the Galaxy S20 Fan Edition released later in 2020 fills that role for an update on the S10e. We'll leave our reviews for the main S21 phones here to compare specs.
The Samsung Galaxy Note 20 has also been released, but if you want the absolute top-tier stylus handset, you'll want to go with the Samsung Galaxy Note 20 Ultra. We didn't receive another budget flagship in the Note 20 line, so the S10e's biggest competition is the aforementioned S20 Fan Edition – though its larger sizes mean the S10e remains the affordable pick in a smaller form factor.
In such a way, the S10e ('e' for 'essential') has plenty in common with the Apple iPhone 12 mini, and it's easy to see it as the Samsung budget flagship for its line: both pack the standout perks of their generation while shaving off a few extras present in their costlier siblings. While Apple's new compact flagship has better specs and 5G connectivity, the S10e is still a cheaper option.
But you probably won't be picking between either less-expensive device - you'll be eyeballing those handsets compared to their costlier siblings. We found the S10e to a robust phone that's worth forgoing the extra perks in the S10 (which is $150/£113/AU$210 more) or the S10 Plus ($250/£189/AU$350 more). As a bonus, the S10e's smaller dimensions will certainly appeal to folks who don't appreciate the increasing size of flagship phones.
The Samsung Galaxy S10e may pale in comparison to the company's later flagships, but if you're looking for a useful 2019 smartphone that's still better than its contemporary Galaxy A phones, you're in luck.
Naturally, there are compromises for that lower cost. The S10e doesn't get some of some of the neat features packed in its pricier siblings, like an in-screen fingerprint sensor, curved screen sides or a telephoto lens. These perks have indeed appeared in more handsets in 2019, like the Huawei P30 and OnePlus 7 Pro, so it'll be curious to see if their exclusion gives you flagship phone envy.
But we doubt you'll be too jealous. The Galaxy S10e is a one-hand-friendly phone with outstanding specs to match - a combo that will endear the handset to you. Its 5.8-inch all-screen display is easy to hold and its chipset is fast enough that it'll compete with other flagships for years to come, even if its compromises in display resolution and camera fall short of the Samsung Galaxy S10 and Galaxy S10 Plus.
Samsung Galaxy S10e price and release date
The Samsung Galaxy S10e came out on March 8, 2019 in the US, Canada, Europe, India, China, and other select countries. It'll roll out to a total of 130 markets by the end of March, though the company hasn't specified exactly which countries it'll be available in by then.
Now that the S20 line has launched, the Galaxy S10e has a discounted pricetag of $599 / £499 / AU$1,199 / AED 2,699 for the 6GB of RAM and 128GB of storage version, and that price goes even lower during deals seasons.
If you want the slightly more powerful 8GB of RAM and 256GB of storage, at this point, it seems like it's only available on the US Samsung online store, and you'll pay $699 (prices aren't available outside the US) for it. It's unclear if this means the higher-priced model isn't available in other regions.
Design
Samsung Galaxy S10e specs
Weight: 150g
Dimensions: 142.2 x 69.9 x 7.9mm
OS: Android 9
Screen size: 5.8-inch
Resolution: 1080 x 2280
CPU: Octa-core chipset
RAM: 6/8GB
Storage: 128/256GB
Battery: 3,100mAh
Rear camera: 16MP + 12MP
Front camera: 10MP
As previously stated, one of the Galaxy S10e's more attractive features might, ironically, be its smaller size. As main flagships get ever-larger, a contingent of consumers have steadily gone for smaller phones – just look at the popularity of the iPhone SE (RIP) - and the S10e is as manageable as top-tier phones get with a width of 2.75 inches. (Curiously, the iPhone XS is the smallest of its generation, and the S10e is smaller than that phone by a hair.)
The S10e otherwise looks like a shrunken version of its pricier siblings, with a few exceptions. Samsung didn't include the Galaxy line's Infinity Edge tapered display in this less expensive model, so you'll have to accept a flat front screen with more noticeable bezels. As it's the smallest of the S10 line, the S10e is also the lightest, coming in at 150g - which is another feather in its cap when compared to the 208g iPhone XR.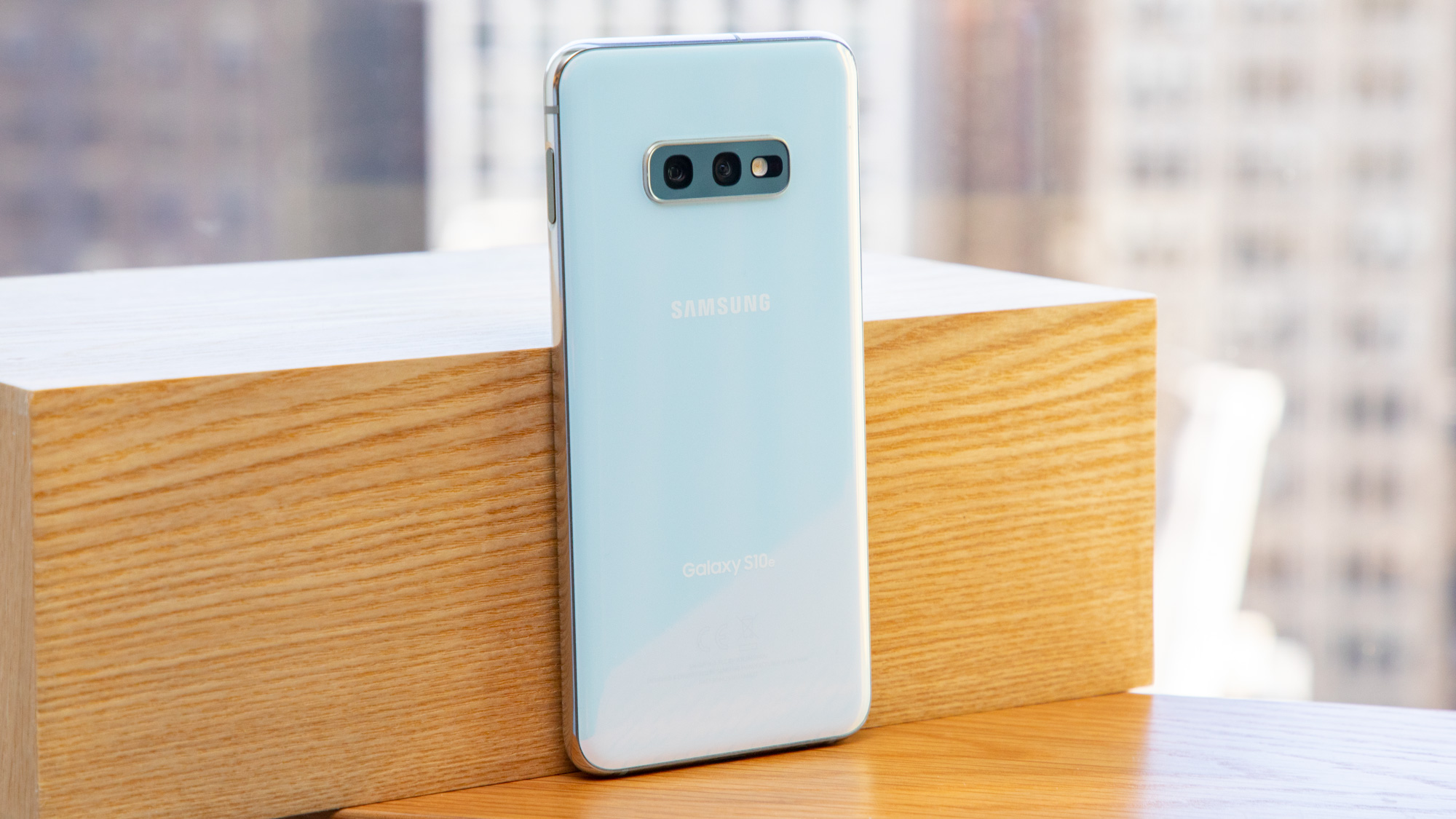 While the S10e doesn't have its pricier siblings' fancy in-screen fingerprint scanner, Samsung didn't leave a biometric fingerprint pad on the back, opting instead to put a small capacitive sensor within an enlarged power button on the top-right side. It's surprisingly responsive, though it works far better with thumbs. Why? Because you have to cover the whole sensor with your digit, and mashing your fingertip flat enough to envelop the button is tough from any angle. Just use a thumb.
Otherwise, the phone looks flagship, with a chromed aluminum case sandwiched by attractive glass and the elegant rounded corners we've come to love in the Galaxy S line. The rear has a narrower camera bump than its pricier siblings due to the lack of a third camera and the absence of a heartbeat sensor (which might be an admission that folks weren't using it much anyway).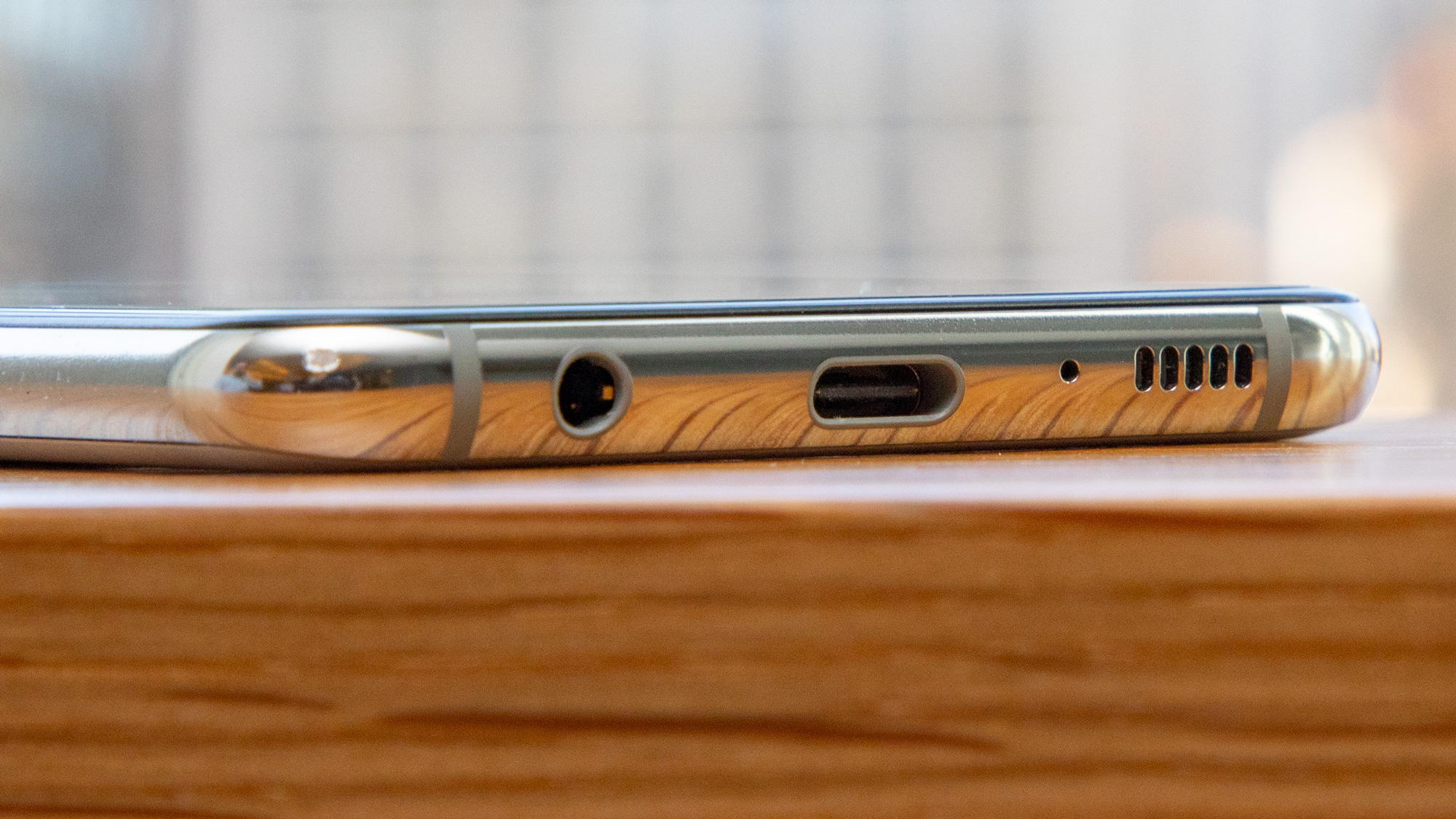 The phone officially comes in six colors, though only four are available in the US: Prism Black, The pearlescent Prism White, shimmering Prism Blue, and the new punchy pastel Flamingo Pink. Sadly, Prism Green and Canary Yellow are restricted to other regions.
The S10e's left edge has the volume rocker, which is responsive and functional. Below it sits the much-disliked Bixby button, but fear not: Samsung has gamely allowed you to finally use it to activate other apps. There is a caveat: the button functionality has been split into single and double presses, and one of those must activate Bixby.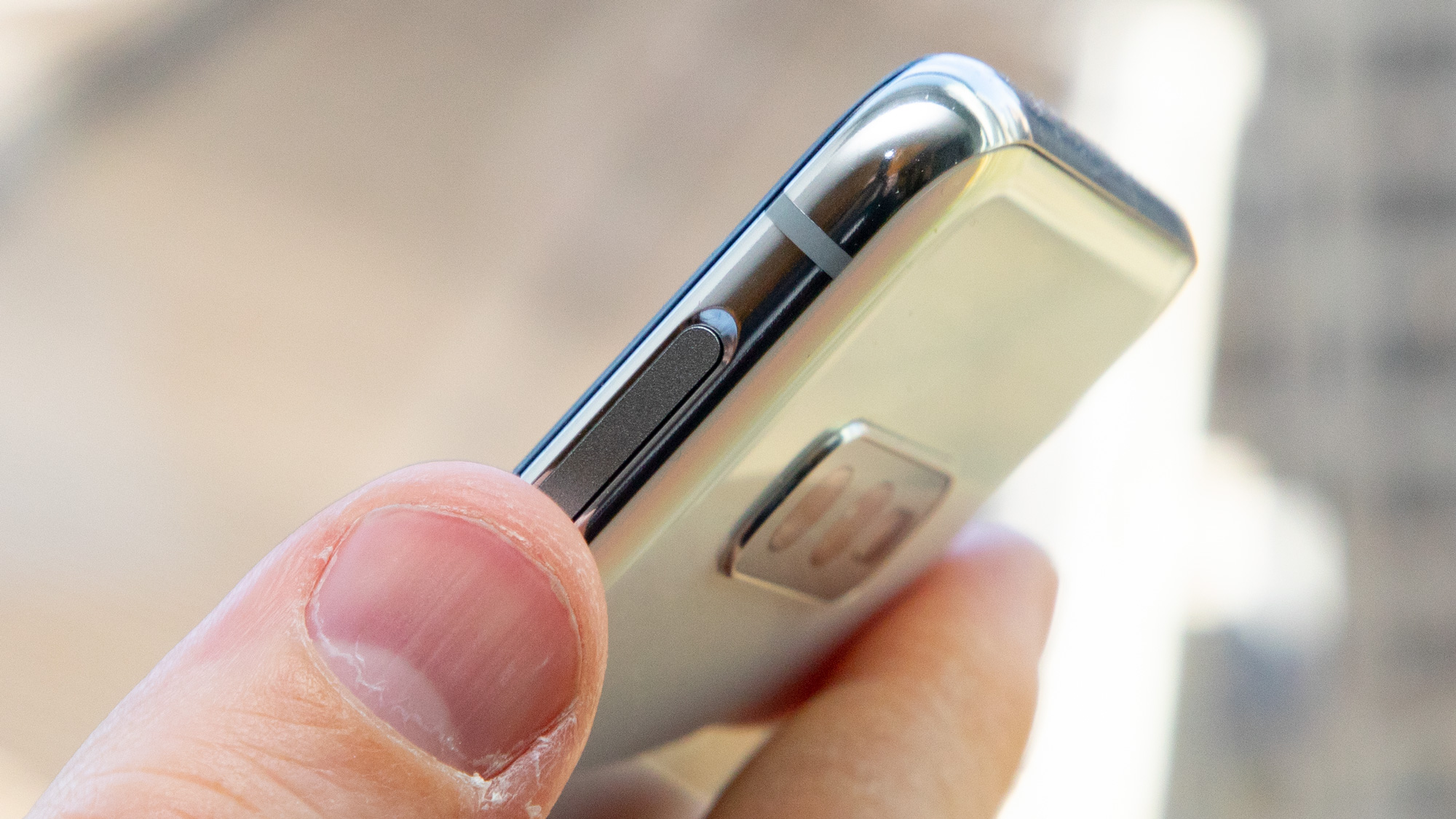 Luckily, it's easy to cordons Bixby to double-press and set single-press to whatever your heart desires. Considering how much Samsung has fought to keep third-party apps from remapping Bixby out of the picture, we'll take this compromise.
On the bottom edge, you'll find a center-mounted USB-C port, microphone port, speaker grille and...a 3.5mm headphone jack. Samsung has kept its trash-talking high ground.
Display
The 5.8-inch AMOLED display lives up to the Galaxy S name, with bright colors and crisp detail. If you don't quite like the color balance, you can tinker with an easy fix called Vivid Mode, which does what it says on the box and lets you further tweak it to be a warmer (more red) or cooler (more blue) picture. If even that isn't enough, you can tinker with the RGB levels individually.
Side-by-side with an iPhone XS Max, the S10e's screen kept up gamely, losing out only on the darkest scenes in a media comparison (the 'Blackwater' episode of Game of Thrones is good fodder for this. Just saying), where backgrounds of varying blacks average out into dark gray smudges.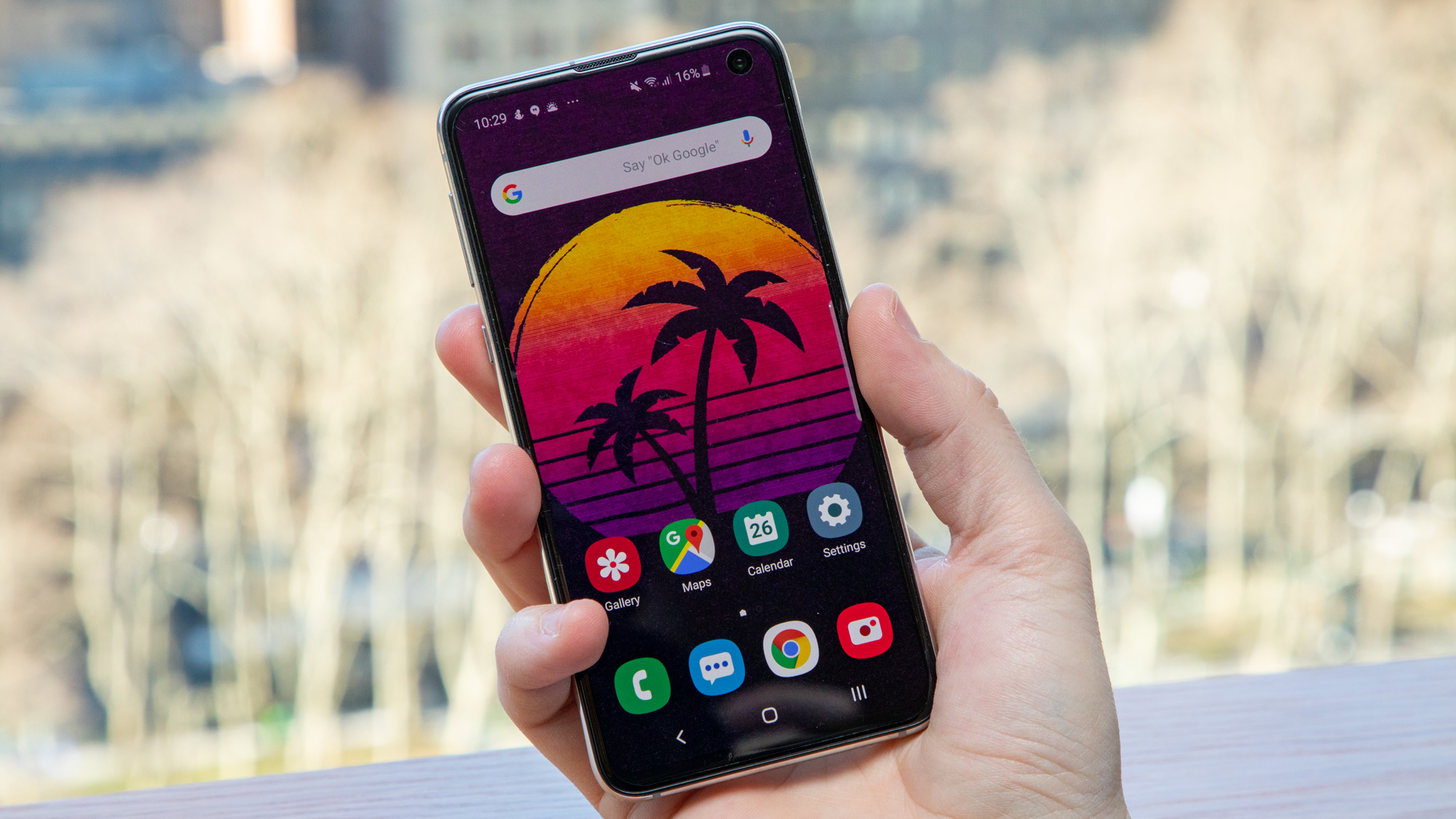 This is somewhat expected, as the S10e has a single 2280 x 1080 (438 ppi) resolution setting. Samsung sets this as the default for its flagship phones, but both the S10 and S10 Plus max out at 3040 x 1440 for a higher ~550 ppi. One other minor difference between the models: the S10e has Corning Gorilla Glass 5 on front and back, while its bigger siblings have had their front display's glass upgraded to Gorilla 6.
What the whole S10 line has in common, however, is the punch-hole in the top-right corner of the screen, the source of the Samsung-termed 'Infinity-O' display. It's noticeable, like the notches before it, though far less an eyesore than the wider camera tabs found in the likes of the iPhone XS and XS Max.
In some ways, dropping the hole within the display looks more attractive than tucking it into a corner, as the eye naturally gravitates toward the uninterrupted borders of the lit screen rather than the circular cutout. But it also feels like Samsung's flexing its design and manufacturing chops here rather than offering a dynamic solution to the front-facing camera issue. Whether you like it or not will probably come down to personal taste – we like it, but wouldn't hold it against you to dismiss the punch-hole as a stopgap stunt.
In any case, most media apps will automatically black-bar the top and bottom of the display to fit their aspect ratio, which envelops the punch-hole. Don't worry about it getting in the way of your binge sessions.
Camera
The S10e comes with two rear-facing main cameras: a dual-aperture f/1.5-2.4 12MP main camera with OIS for smoothing out your shaky footage and a 16MP f/2.2 ultrawide shooter. The S10 and S10 Plus have both of those as well as a 2x optical zoom lens for a triple-lens array that's become standard on flagships like the Huawei Mate 20 and LG V40 ThinQ. It's possible that users will miss the telephoto lens, but if the phone was going to ditch any of the three, we're glad it was one we wouldn't use as often as the wide and ultrawide.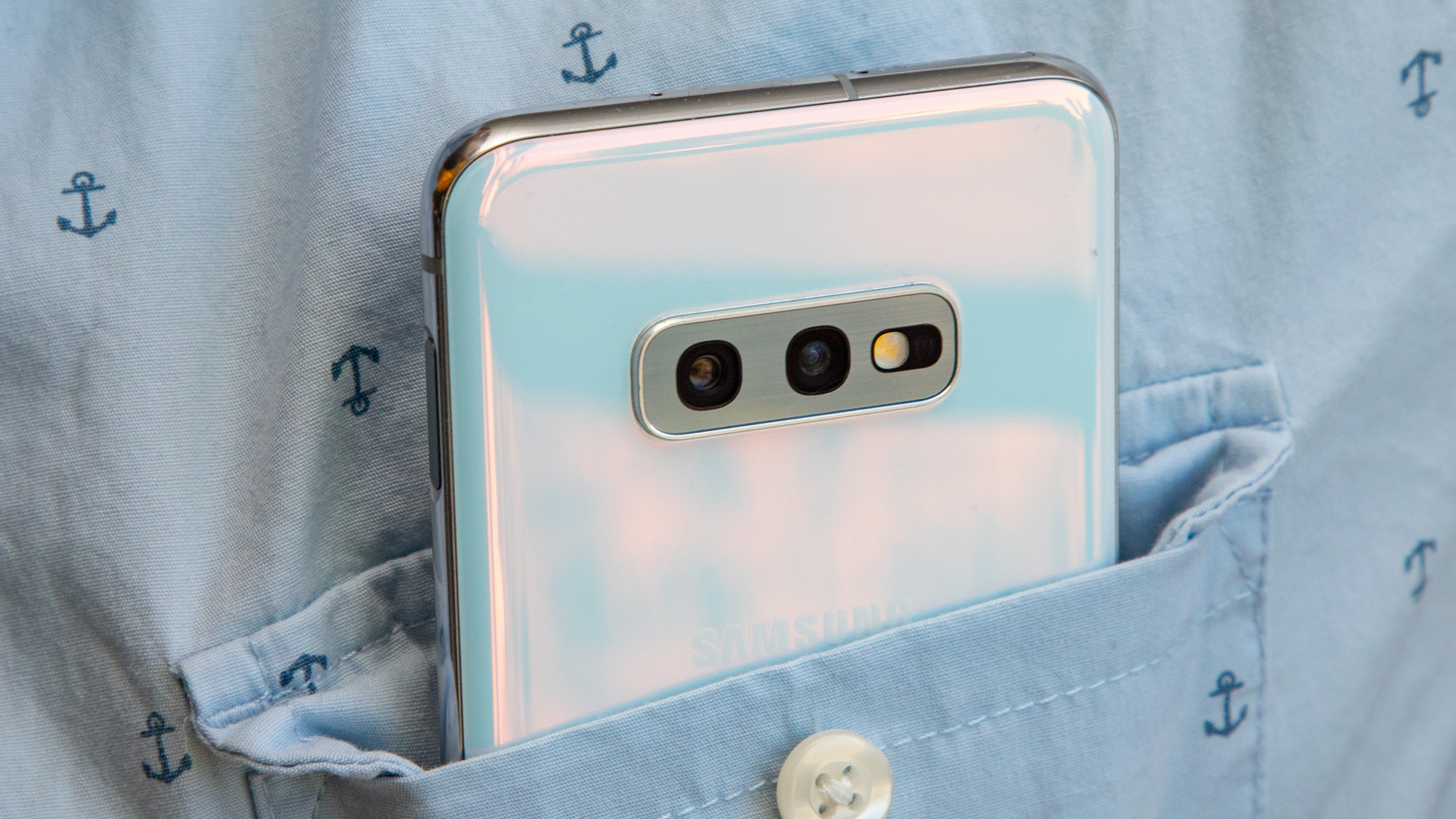 Even packing two cameras makes the S10e an upgrade over last year's Samsung Galaxy S9, which had a single dual-aperture shooter. Taking wider shots is great for sheer functionality: the main camera has a 77-degree field-of-view, but the ultrawide has 123-degree FOV, which captures a surprising amount of extra context on the sides of a shot. Best of all, while dialing up or down zoom increments, switching between wide and ultrawide lenses is virtually seamless – which is a departure from the clanky transition when doing the same with the Huawei Mate 20 Pro.
So...how do the photos look? In our casual (i.e. automatic settings) shots, Samsung's nailed photos in bright sunlight, and they even take better photos than the iPhone XS Max and Huawei Mate 20 Pro in photos with both indoor-outdoor sections: the other two handle interiors fine, but the S10e doesn't blow out those bright exterior areas at all. It doesn't do dark shots as well, though, and its night photography doesn't hold a candle to the current king, the Google Pixel 3.
Another cool thing about having an ultrawide lens? Samsung uses it for panoramas – which means you'll get a bit more context above and below your sprawling image. It's very noticeable and something that will make your extra-wide photo-scrolls that much better than those taken with your friends' phones. Just don't be surprised if the 'bowing' at the top and bottom of these panoramas are extra-tweaked from the ultrawide.
The other upgrade from the S9 line is the software, which has received some new tricks and other invisible additions. One of the former is shot suggestions: when the feature is toggled on, it will place a semi-transparent circle (and the hint text "Best shot"), and if you line up your center reticle over it, both turn yellow to signal the ideal composition...at least as far as the AI's concerned. It's a finicky perk that doesn't show up often enough to be super useful, but at least it doesn't eagerly suggest better shots every time you try to take a photo like a nightmare camera-Clippy.
Image 1 of 13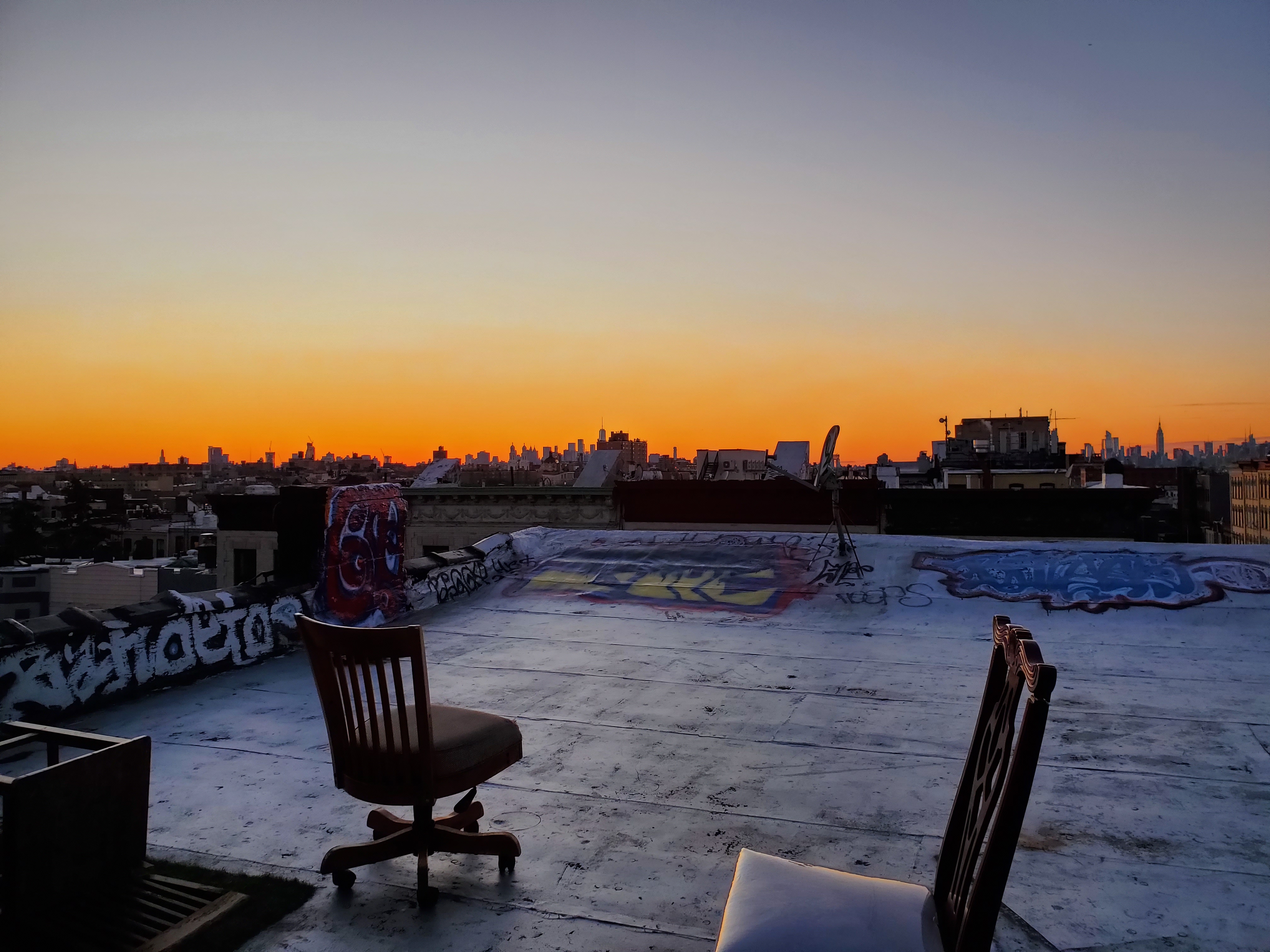 Basic sunset shot with the standard 'wide' lens.
Image 2 of 13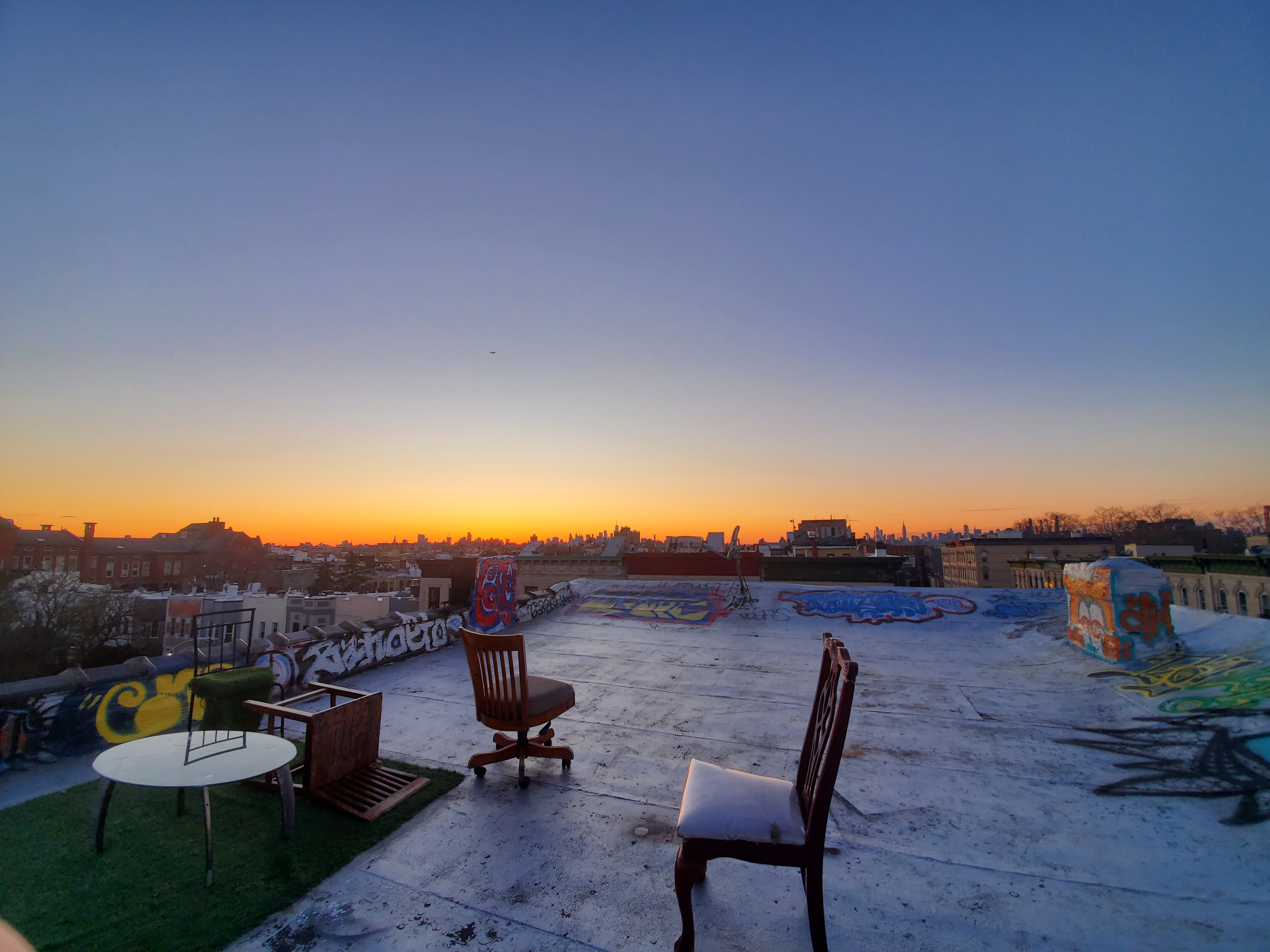 Same shot with 'ultrawide' lens.
Image 3 of 13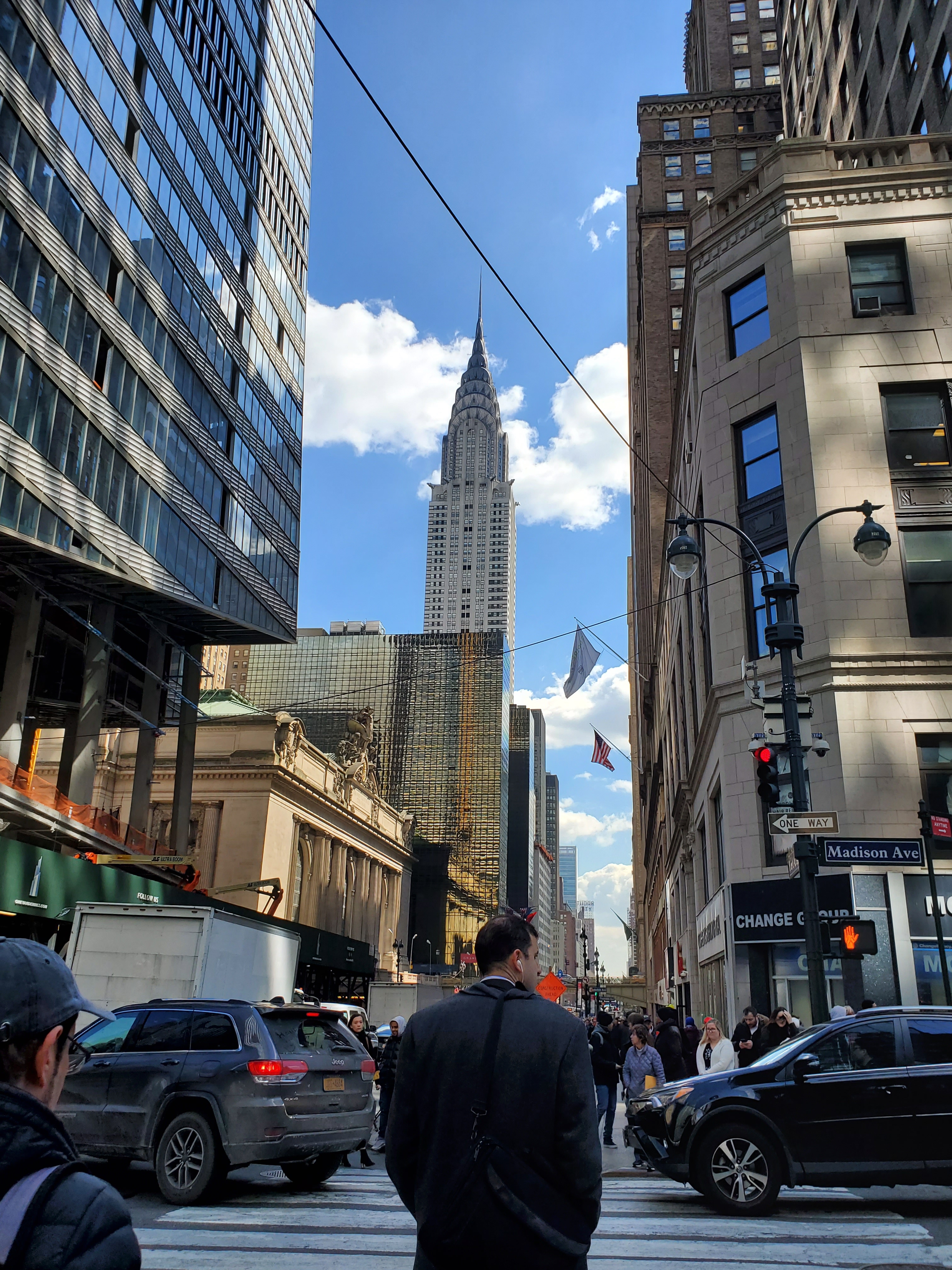 Standard lens.
Image 4 of 13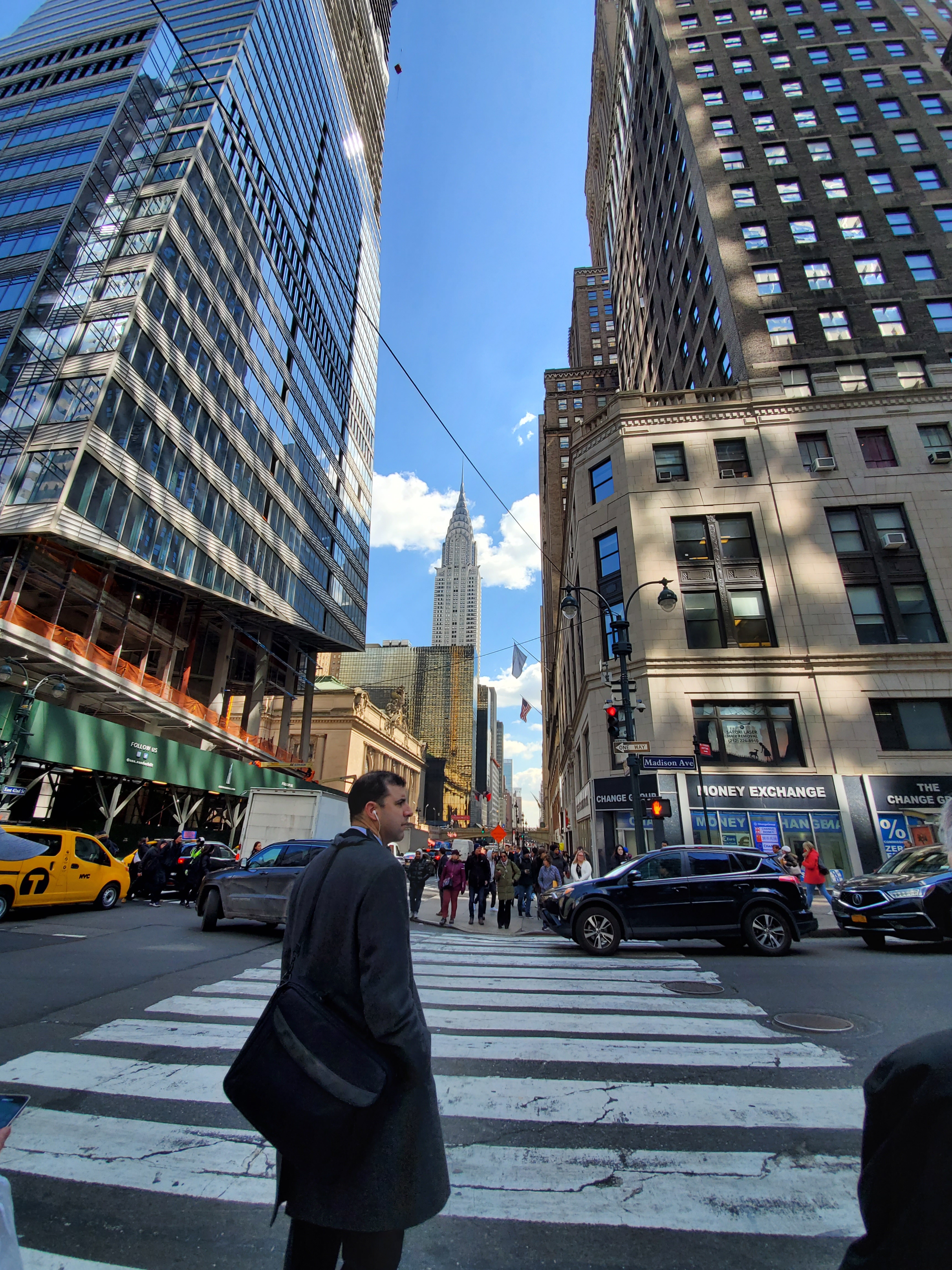 Ultrawide lens.
Image 5 of 13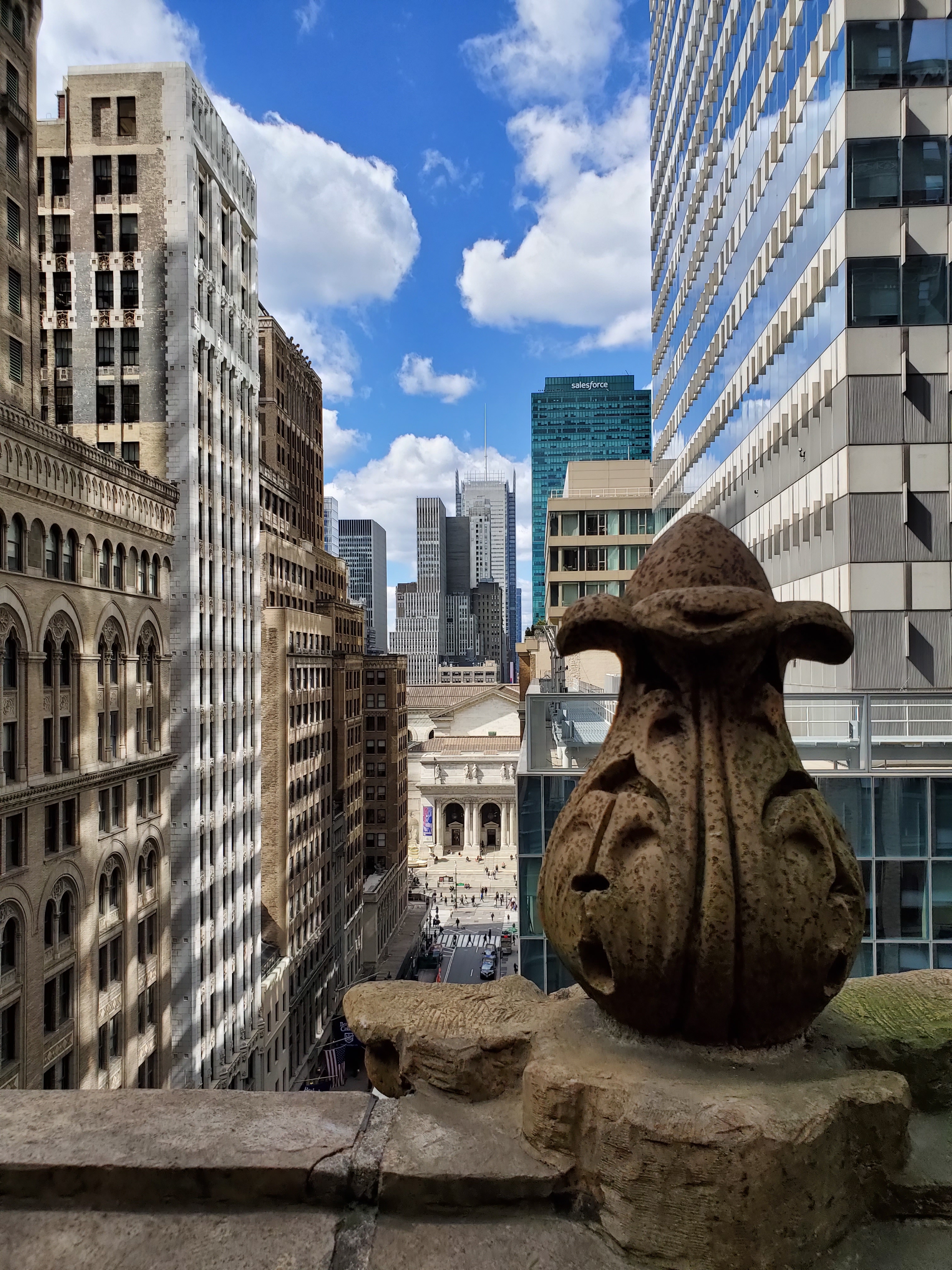 Standard lens, peering off the 13th floor.
Image 6 of 13
Standard lens with 'Live focus' depth mode.
Image 7 of 13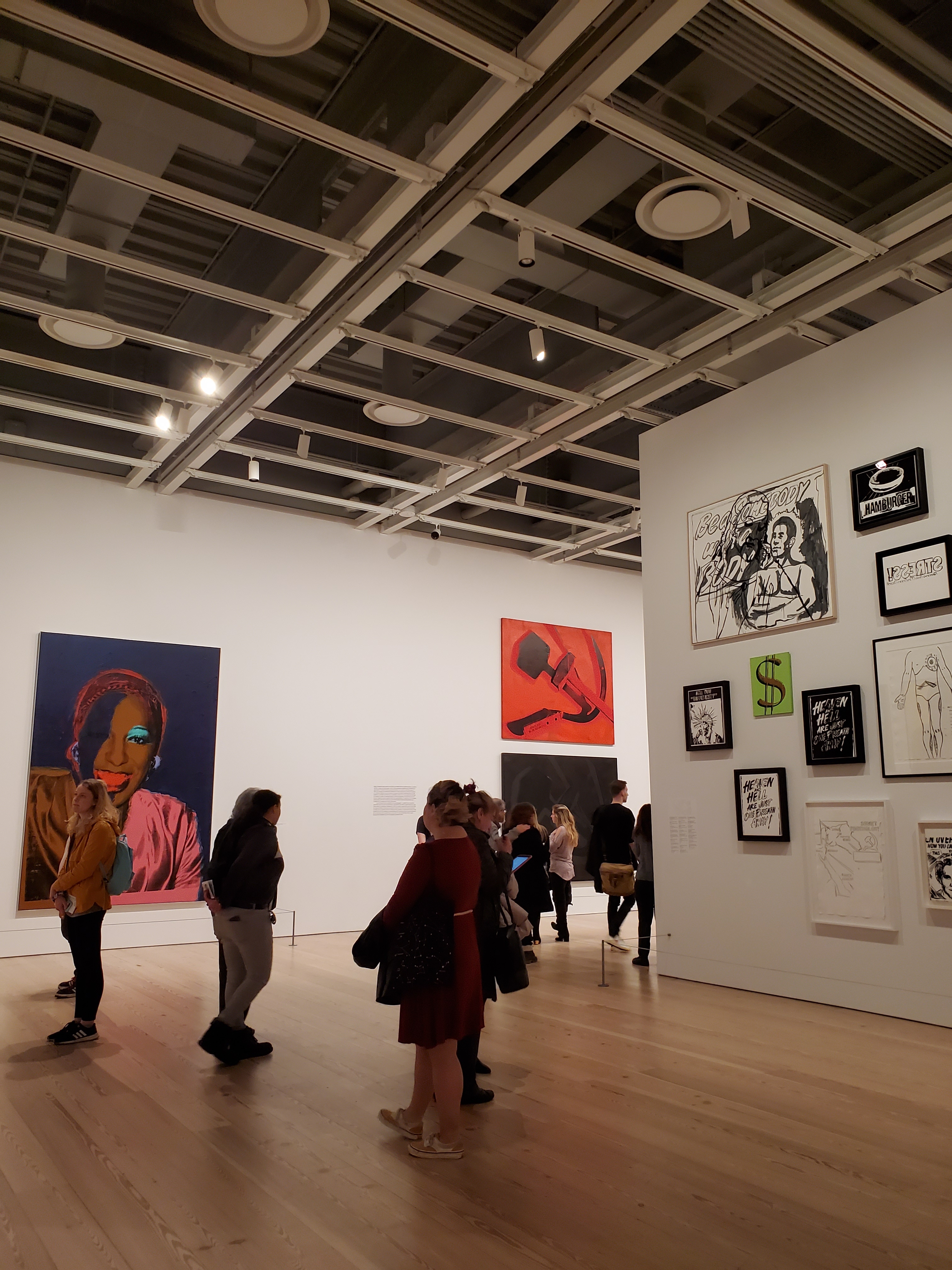 Standard lens.
Image 8 of 13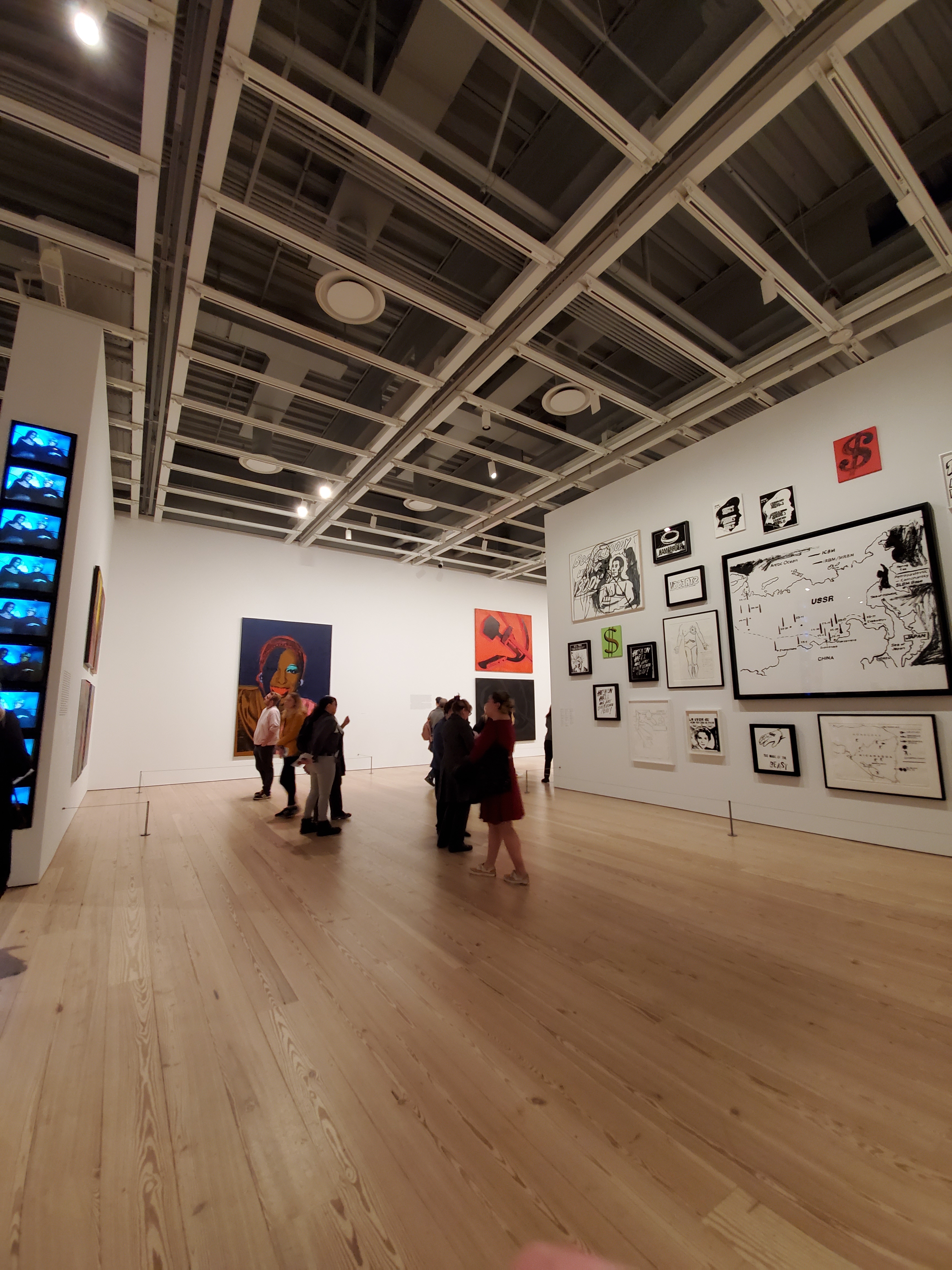 Ultrawide lens.
Image 9 of 13
Image 10 of 13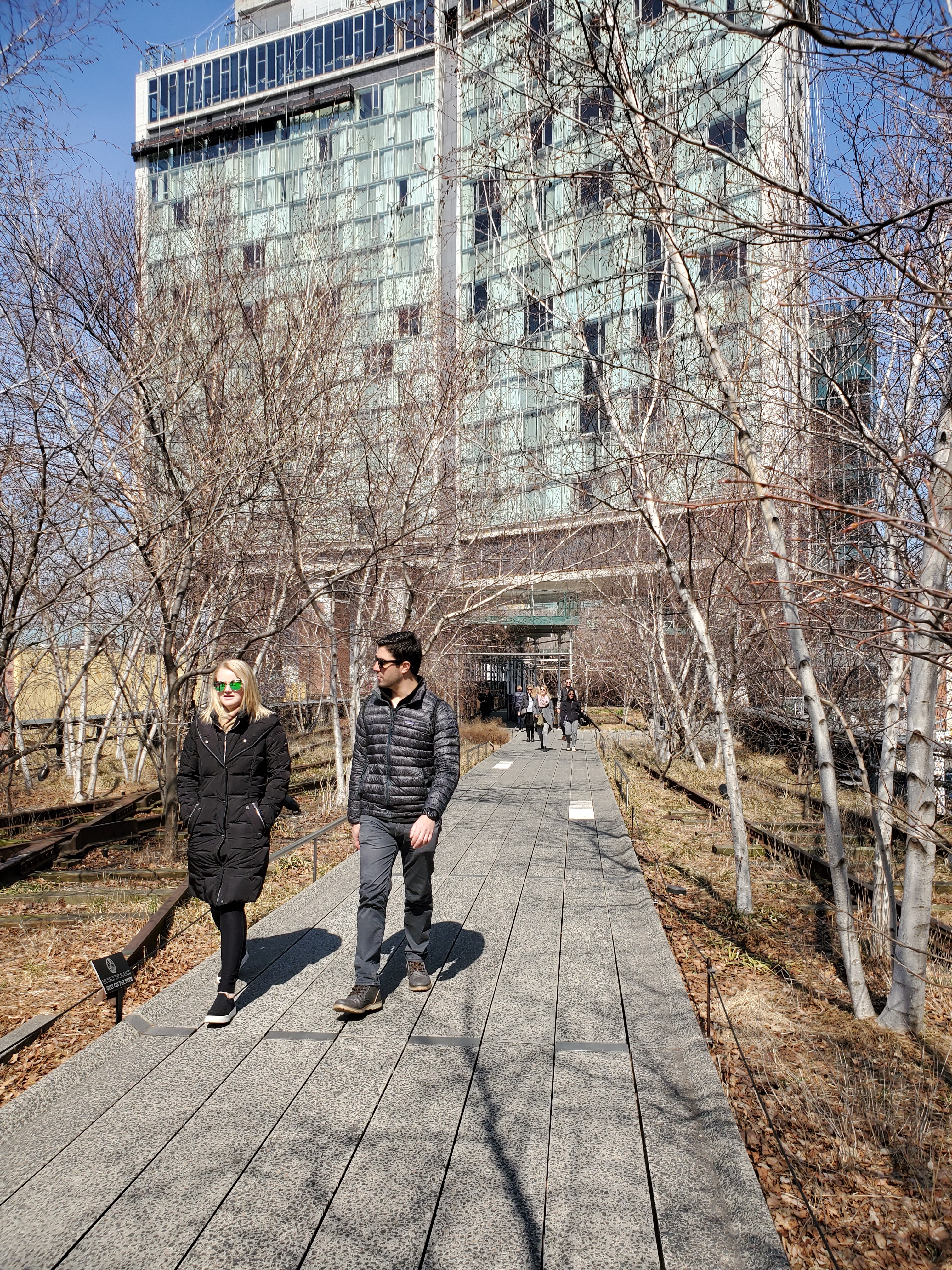 Image 11 of 13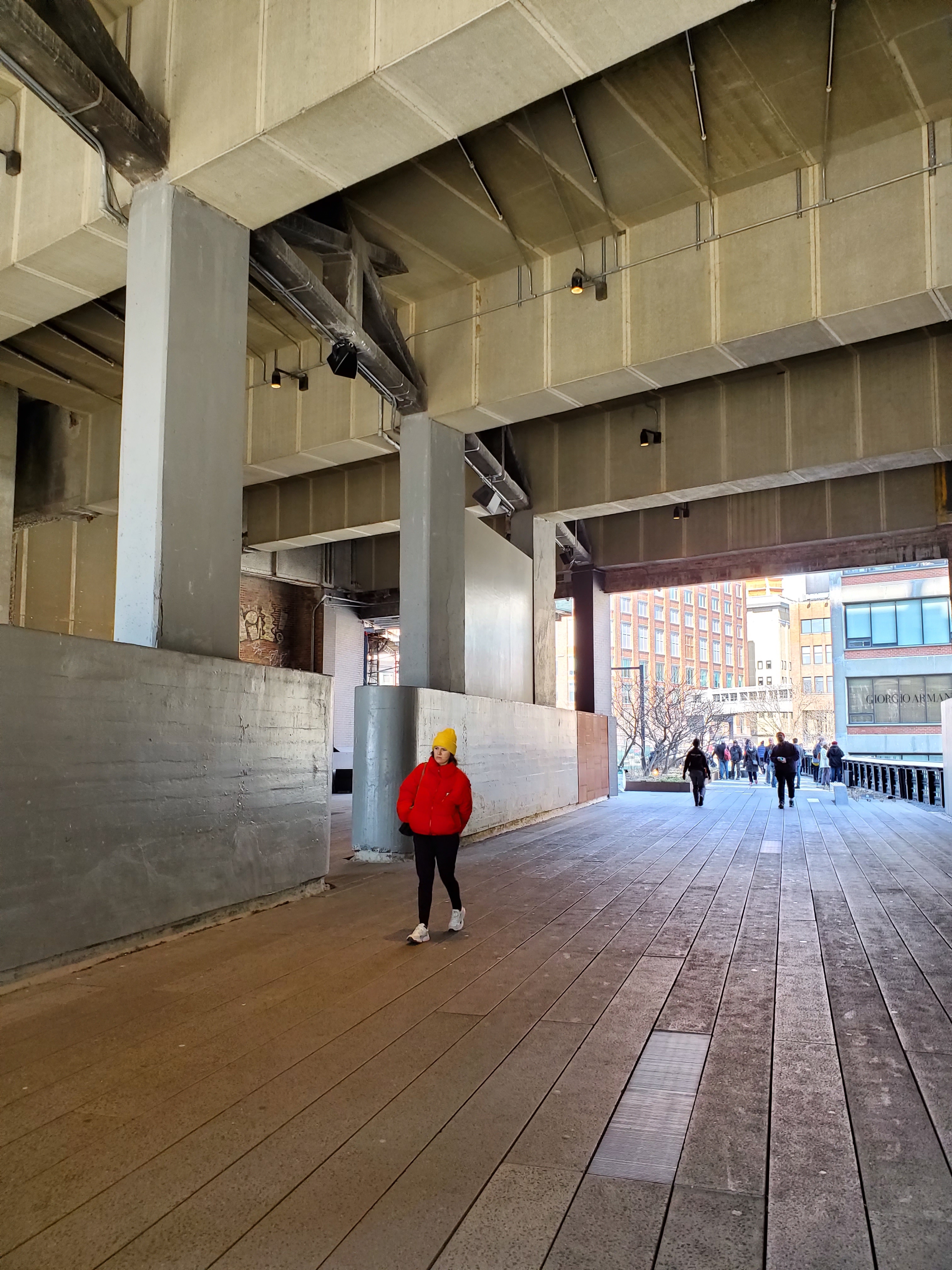 Interior-exterior shot – note the adapted contrast in the "exterior" area toward the mid-right. This section was blown out with other phone cameras.
Image 12 of 13
Dark, interior shots were not as superior as those taken by other top-tier phones.
Image 13 of 13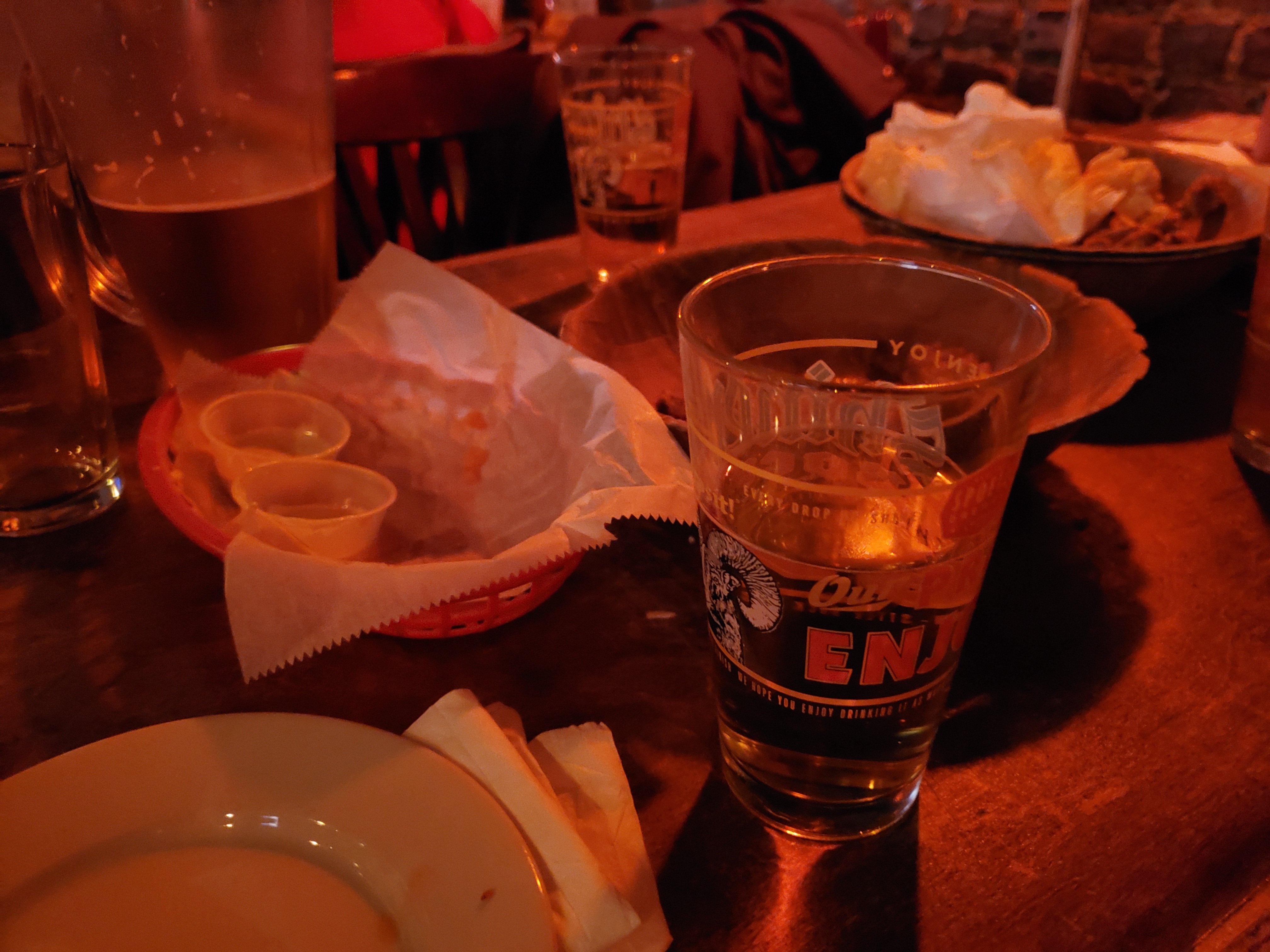 These dark interior shots were especially affected by light color, veering toward darker red hues here than similar photos taken by other phone cameras.
Samsung has added 10 more 'scene optimizers,' which tweak photo settings to especially suit the subject and environment in front of the camera. The previous selection included general setups like food, animals, sunrises and waterfalls, but the new ones add more specific ones like 'dog' and 'baby.' All told, there are 30 scene optimizers, which you can switch on (if the phone recognizes an appropriate subject) with a button that pops up in the camera app. More is good, if you like AI-suggested filters, but we're fine tweaking things ourselves.
Video gets an upgrade, too, with the front-facing camera now capable of shooting in UHD/2160p at 30fps (the rear camera has the same capabilities as the Galaxy S9, maxing out at 2160p at 60fps). There's better footage stabilization too, but the big leap forward is the capability to shoot in HDR10+, which is Samsung's custom format to improve on HDR10. Switching it on and off is a bit tedious, and you won't even be able to see the difference on the phone, since you'll need a higher-quality display.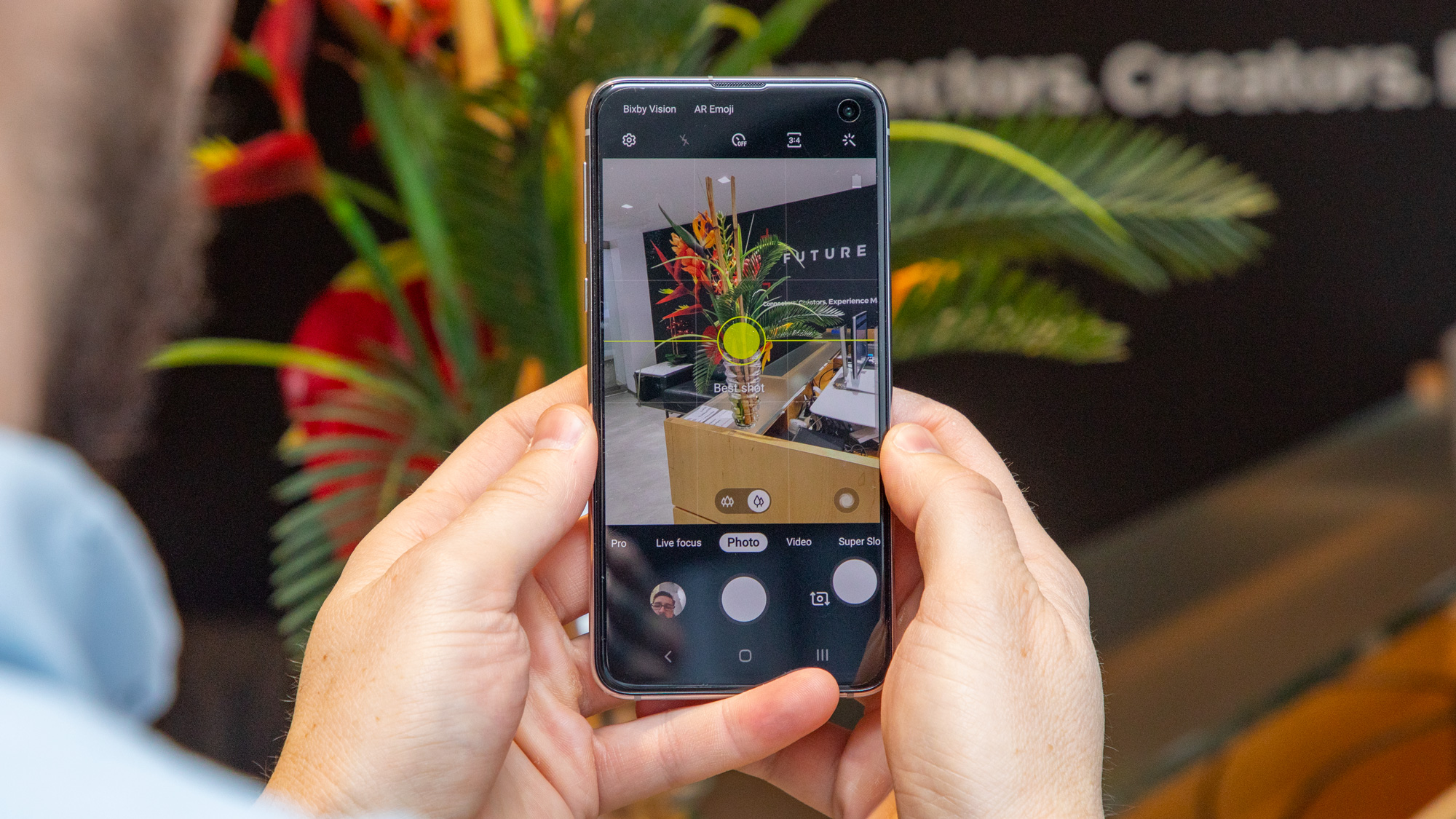 Bixby vision is back, of course. The AI-powered camera addition is a motley collection of services that recognize real-world objects and make suggestions, from shopping to finding related images online to wine-pairing tips. Fortunately, you can (and should) toggle these on and off so you're not overloaded with matching images from Pinterest.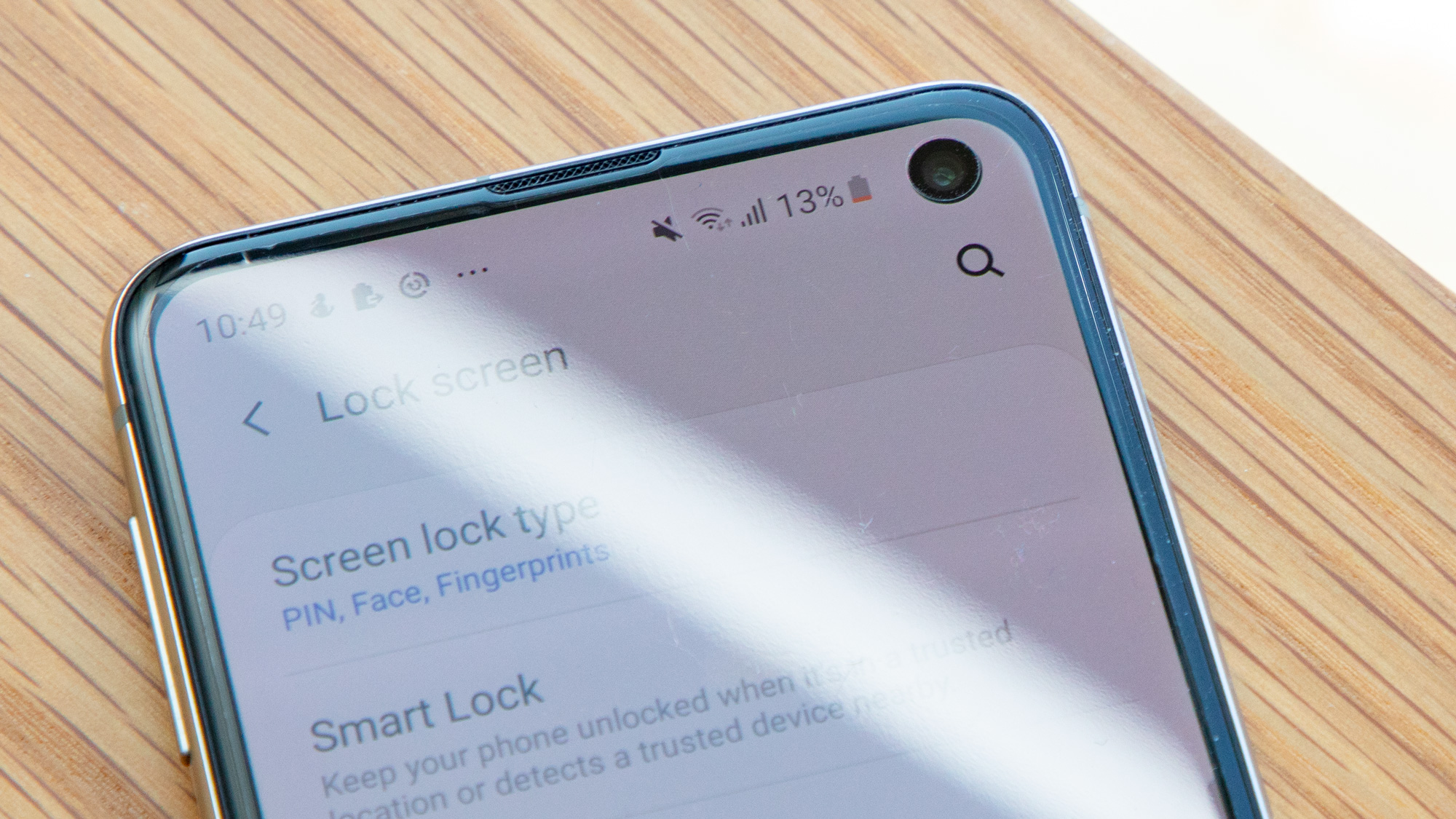 There's also an AR mode with, thus far, a few odd applications. If you want to see how some eyeshadow and lipstick look on you, here's a way to do that without Snapchat. Or you can see how furniture would look in your room by dropping an animated model in - though the models tended to hover over rather than sit right on the floor.
Galaxy S9 veterans who haven't upgraded to Samsung's One UI interface overhaul will find a few changes here that support the refined UI's "controls on the bottom" theme. The carousel of photo modes, for example, are now on the bottom just above the shutter button, much like every other phone camera app out there.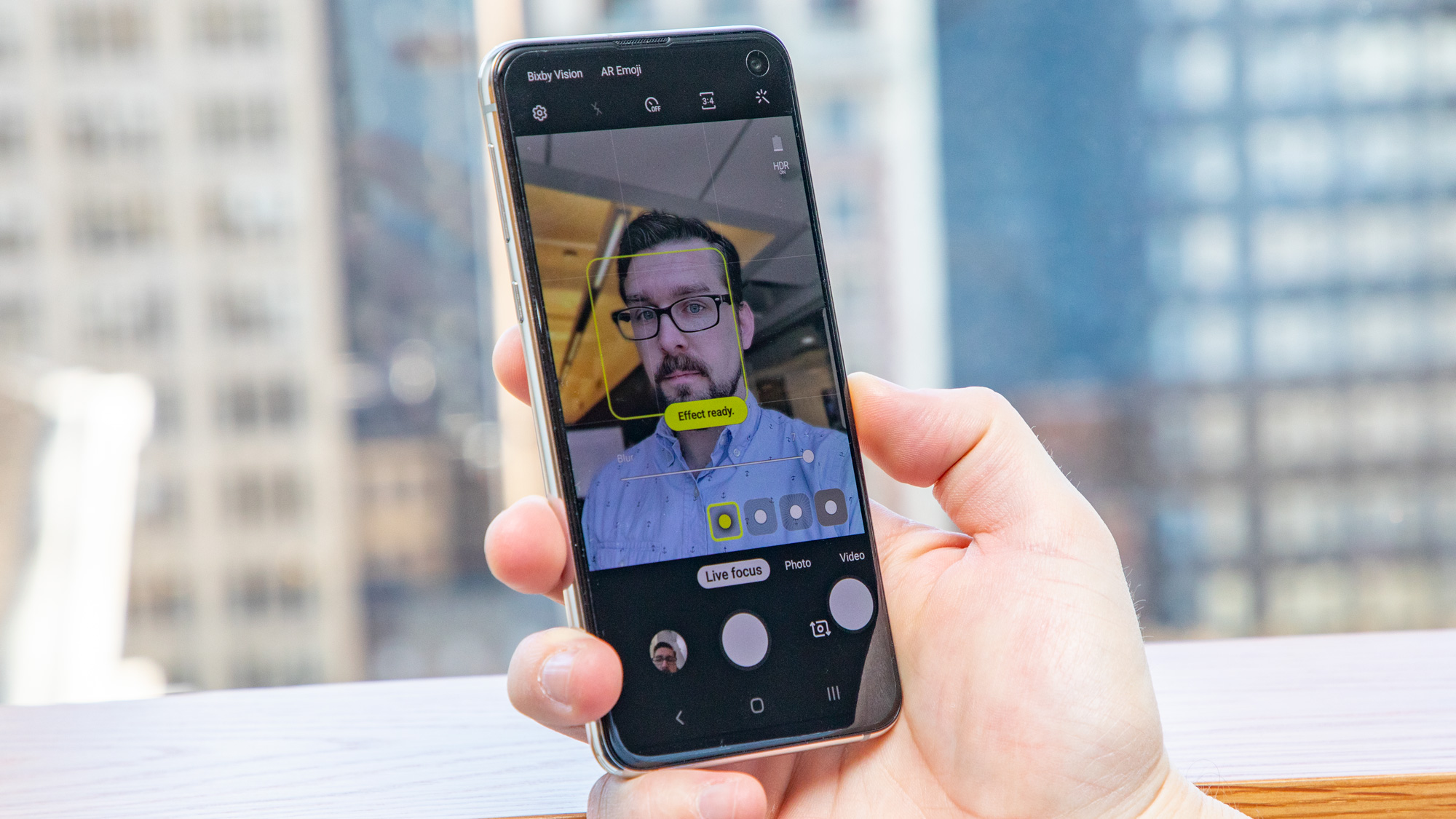 While the S10e only has a single 10MP front-facing lens, there's a simulated 'ultra wide' mode that zooms out a bit. While it's not Pixel 3-levels of wide, you'll still get some breathing room for selfies, which is handy. Otherwise, expect them to be bright and serviceable, though you'll feel the lack of a depth sensor when going in for Live focus (the depth-adding 'Portrait' mode).
Image 1 of 4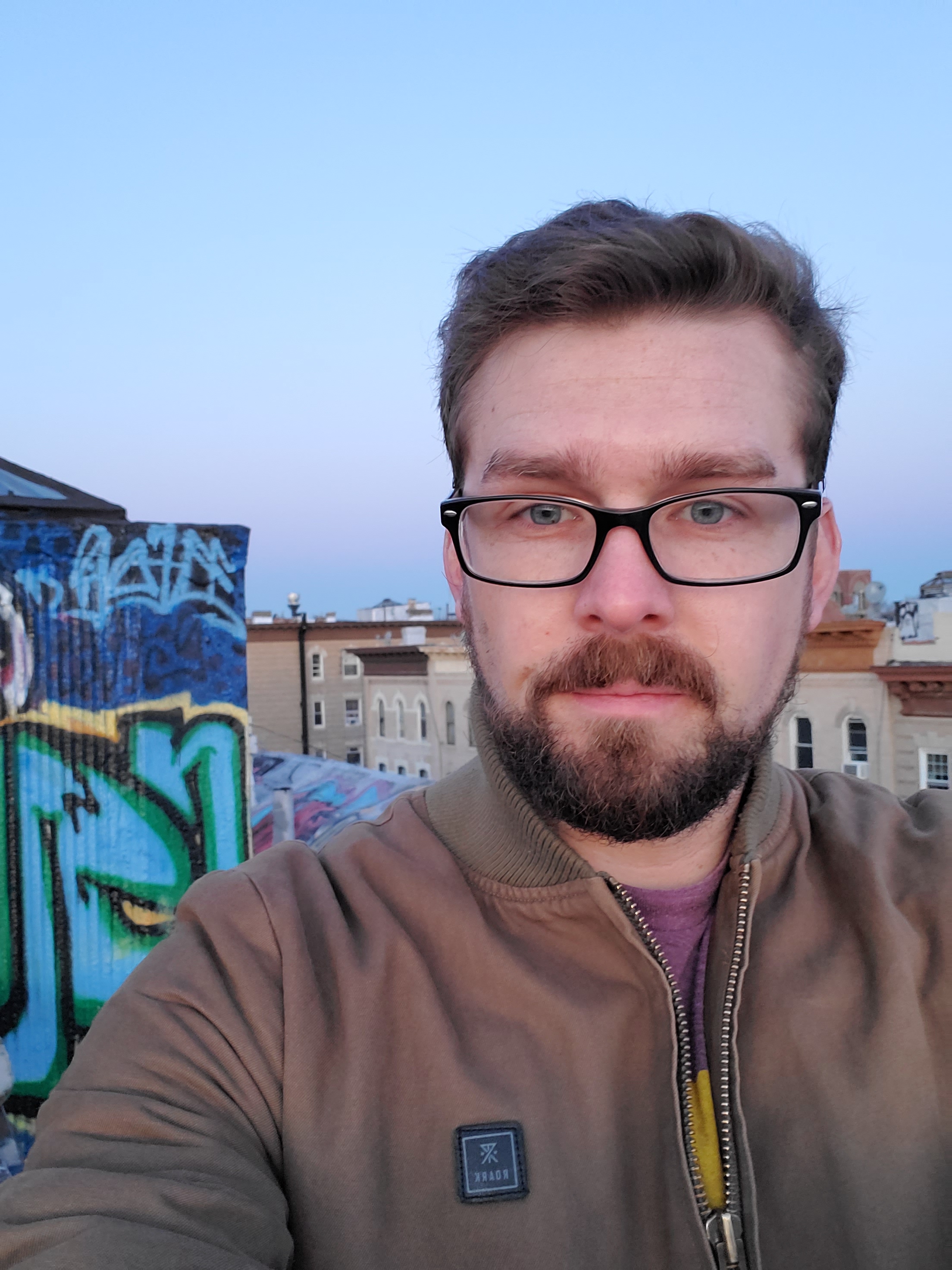 Standard selfie, no strings attached
Image 2 of 4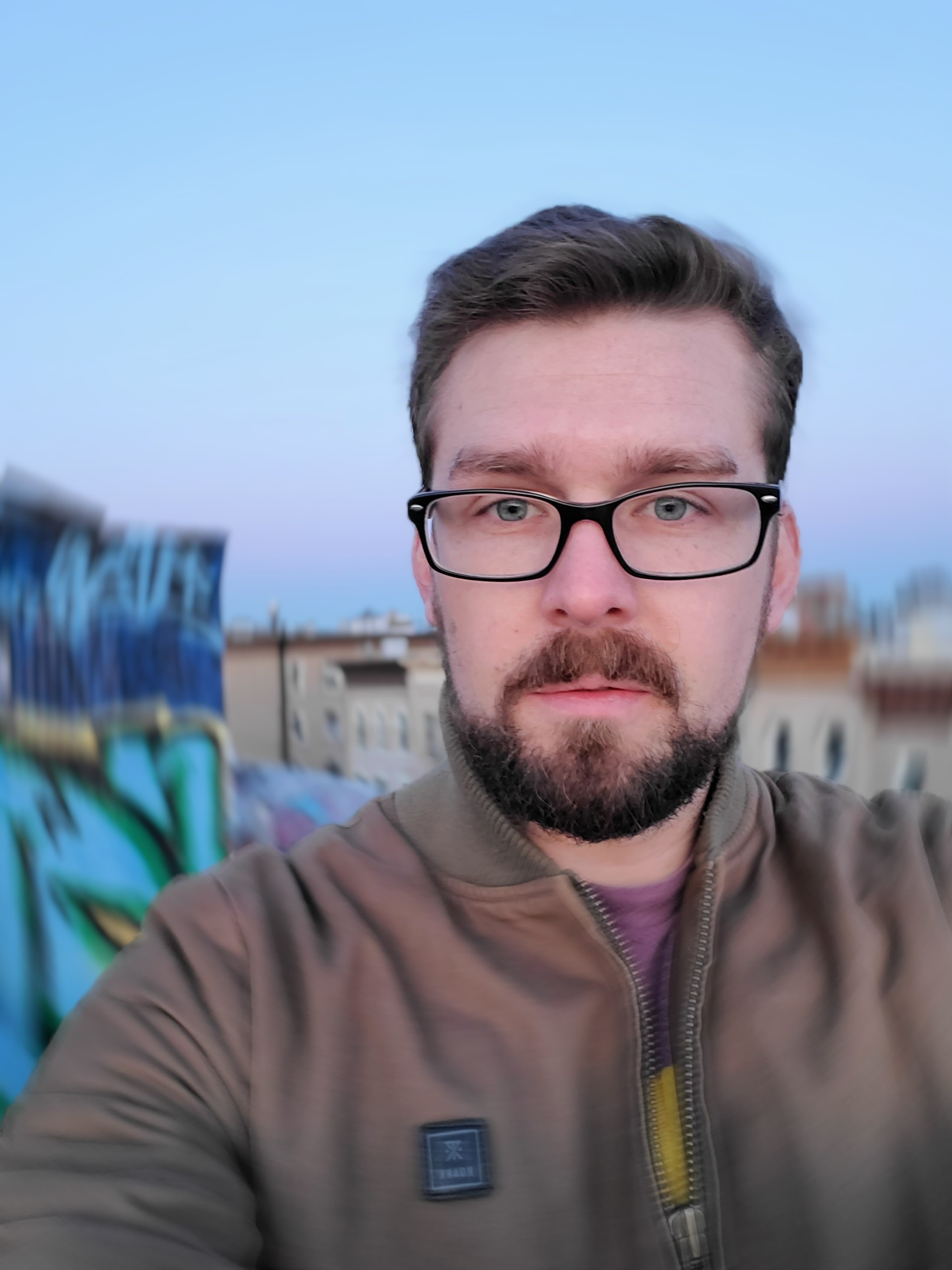 With 'blur,' the first of several effects in Live focus.
Image 3 of 4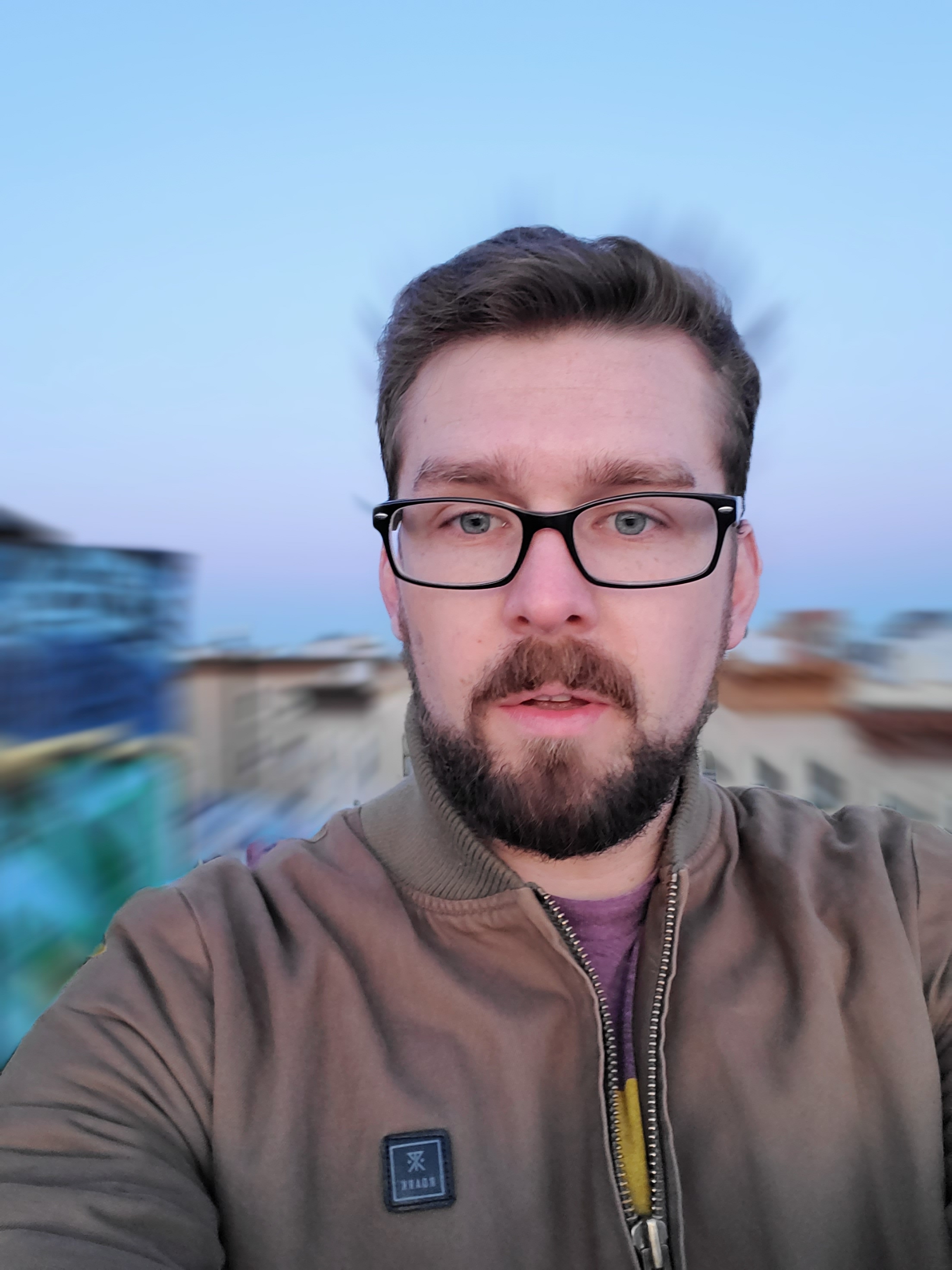 'Spin' effect in Live focus.
Image 4 of 4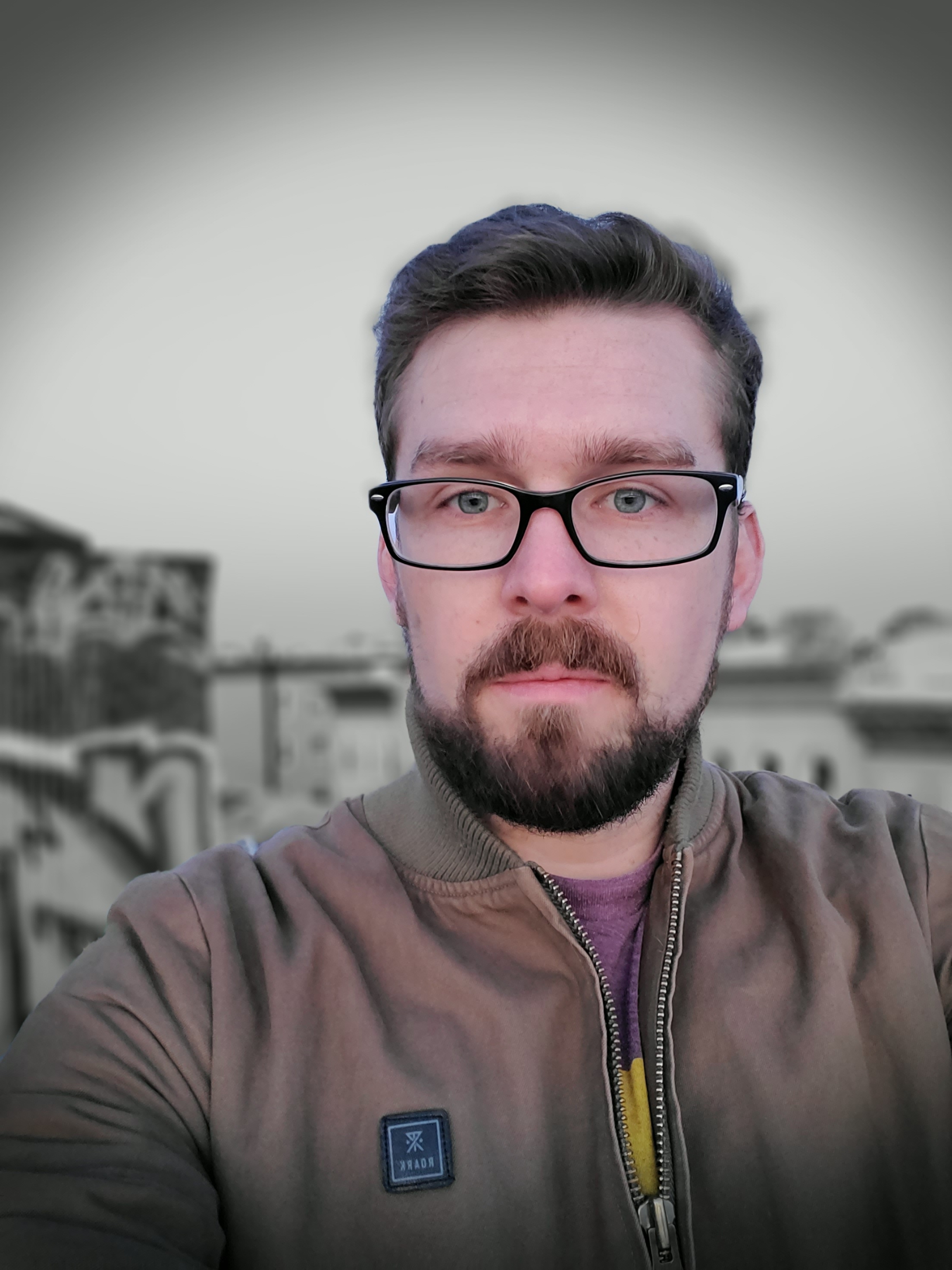 'Color point' effect in Live focus.
Performance
The S10 phones are the first in many markets to feature the new Snapdragon 855 chipset, and will be for some time into 2019. Sure, it would be a surprise if Samsung gimped its 'essential' model with an older processor, but it's still nice to see it get a leading chip, especially after Apple did the same for the iPhone XR. The S10e managed a blistering 10,523 average score on Geekbench 4, if you wanted its performance put to numbers.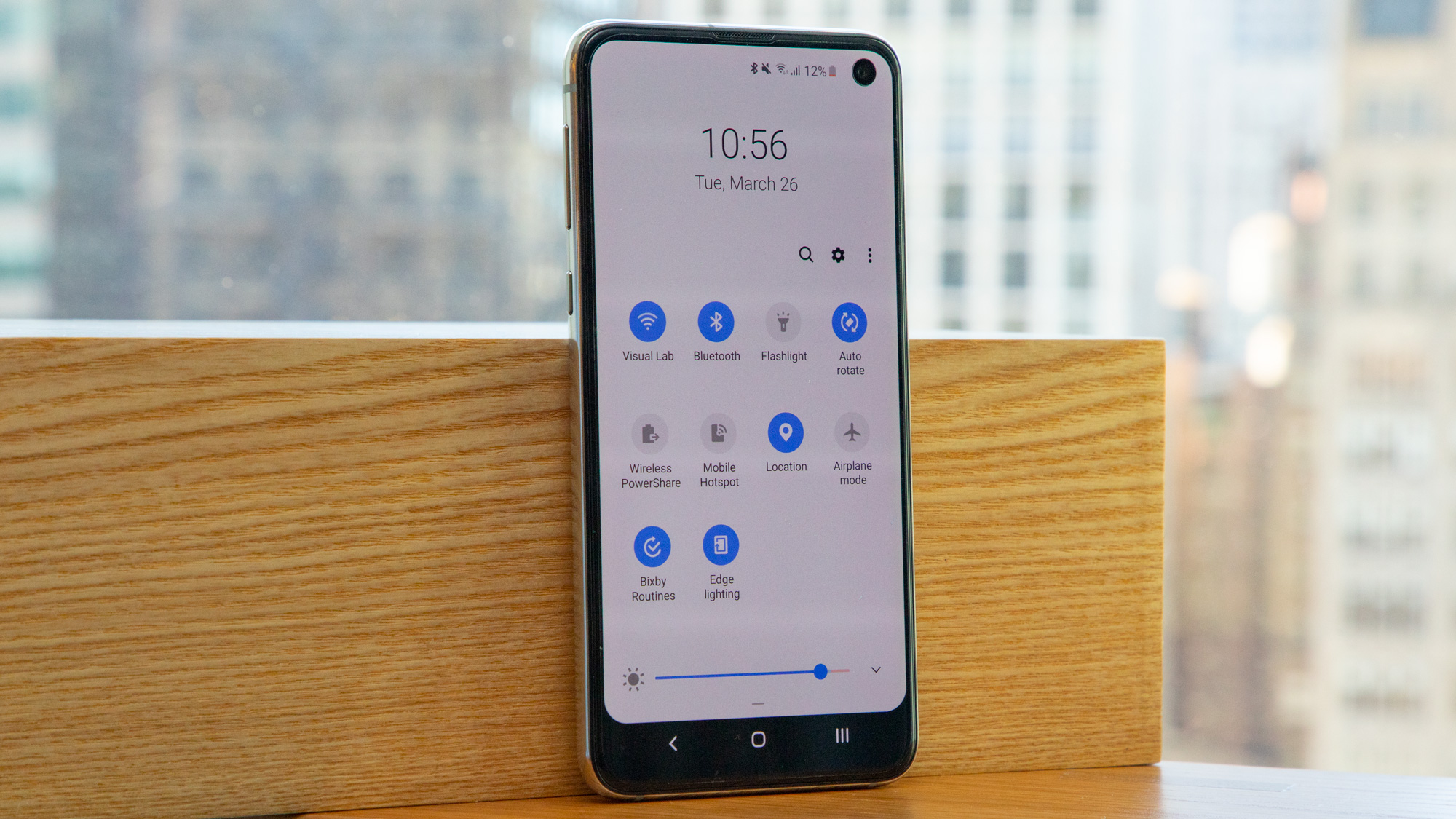 The phone's baseline 6GB of RAM and 128GB of storage will be more than enough for most people — we zipped around the UI swapping apps with abandon and didn't see a snag. You can upgrade to 8GB of RAM and 256GB of space for a modest price bump (at least in the US), but that's probably only necessary if you absolutely need more space. If the higher tier isn't available in your region, you can expand storage with a MicroSD card.
The phone can certainly keep up when gaming, handling Asphalt and Fortnite at highest specifications. Just be aware that playing at the top of its capabilities will drain the battery (an extended Fortnite match zapped 5%) and heat up the phone a bit, too.
Battery
As for the battery, the S10e packs a 3,100mAh unit, which was plenty to get through the day while managing chat apps, email and listening to music. Recharging is quick with up to 15W fast charging (and 15W wireless charging), which isn't the fastest-wattage charging on the market, but it gets the job done.
And you might need to top up a bit more often if you've got other wireless devices – because now, the S10e can charge them itself thanks to a new feature: Wireless PowerShare.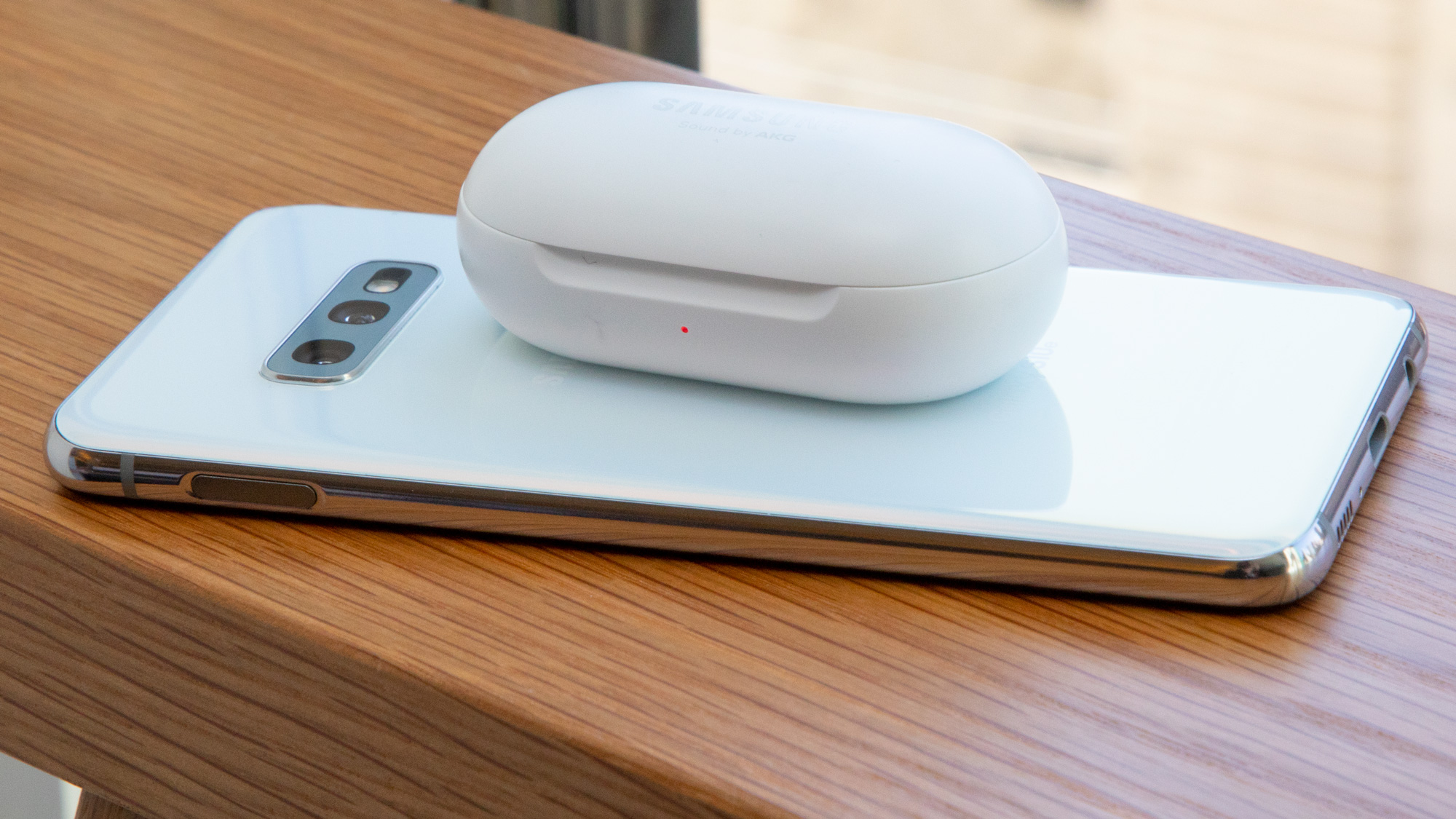 Wireless PowerShare
One of the S10 series tricks that hasn't been snipped out of the S10e is pretty exciting...if you've got devices to use it. Essentially, you can use your S10e to wirelessly charge other devices that have Qi-enabled charging thanks to a new feature called Wireless PowerShare (a far better name than Reverse Wireless Charging, which is what Huawei chose when it debuted the perk in the Huawei Mate 20 Pro in late 2018).
In theory, the Wireless PowerShare feature is simple: turn it on, place the second device on the rear cover of the S10e, and wait. Sadly, wireless charging speeds are still slow, so you'll have to leave your Samsung phone alone if you want to transfer battery power to another device.
In practice, it's not too hard to figure out. You can manually turn PowerShare on by digging around in the settings, though Samsung helpfully put a shortcut in the easy-access drop-down settings window. You'll have to place the device in the exact center of the S10e's rear cover for it to charge, though the phone will buzz once to let you know when it's donating juice (and double-buzz when the receiving device has moved out of the recharging zone).
It's an awesome feature, though probably not one you'll use a lot (save for nobly sacrificing some charge to revive a mate's low-power phone). But Samsung did suggest a novel use case: plug your S10e in to a wall charger, activate PowerShare and use your phone to recharge a second device (like, say, Samsung's new Galaxy Buds) overnight. Voila, only one wall outlet used.
Let's say you did that and, oops, the wall plug fell out, but your S10e was still charging another device. Will your phone die while pumping charge out? No, thankfully: Samsung introduced a failsafe that turns off PowerShare once the donating phone hits 30% charge. Heck, you can't even turn on the feature until you charge the S10e back up above that threshold.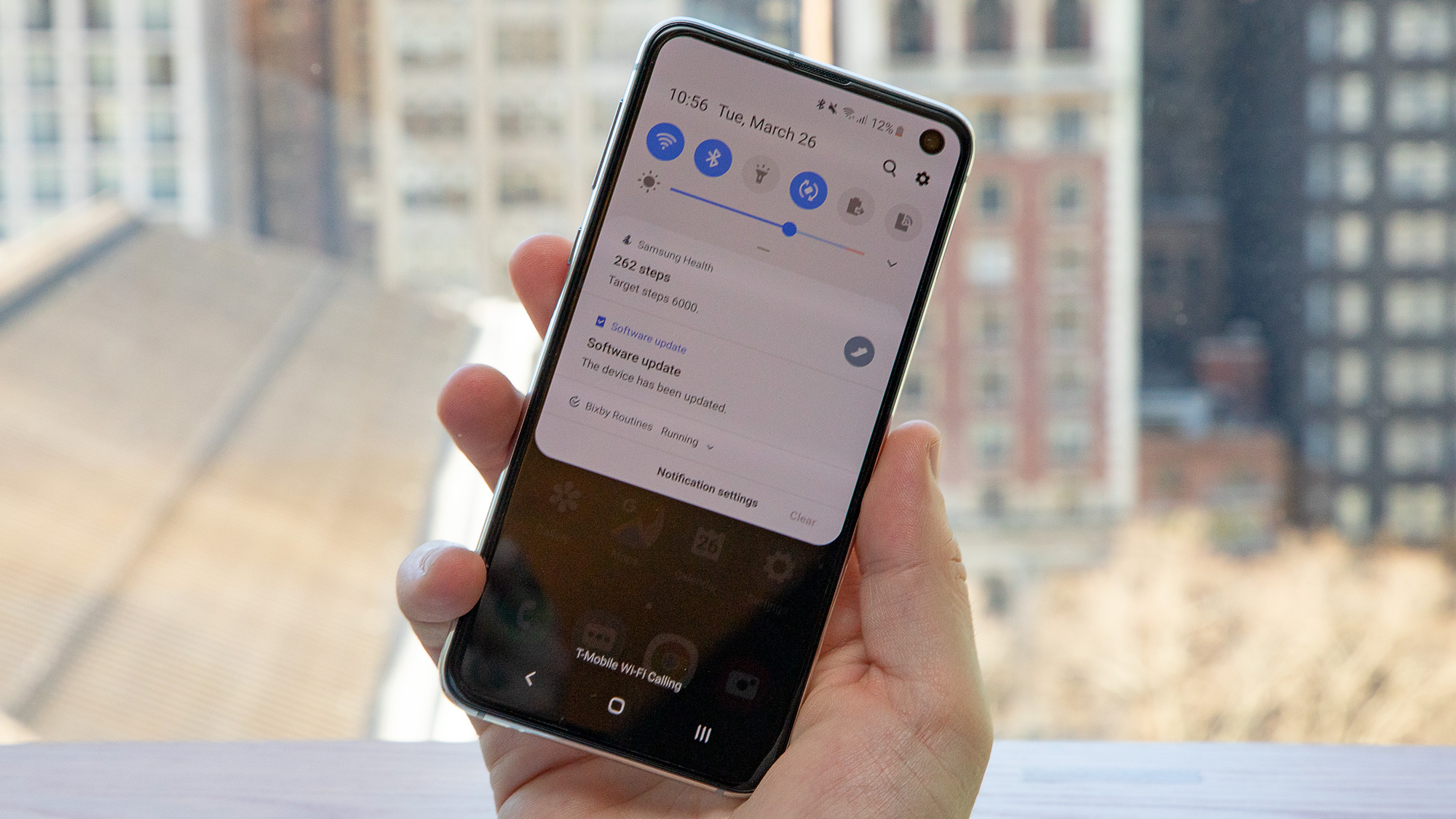 What's it like to use?
Now is the time for this reviewer to admit his bias: after stubbornly refusing to upgrade his iPhone 6S until very recently, he finds most large phones grotesque handfuls. The S10e is a perfect substitute for that Apple phone, almost uncannily identical in size despite its larger screen (thanks to smaller bezels).
From that perspective, the S10e is a pleasantly-sized phone that's just small enough to use one-handed. Admittedly, if this category of sub-6-inch phones weren't so sparse, we'd be a bit less starry-eyed, but it's also true that Samsung's interface works even better in such a compact frame.
Some of that is thanks to One UI, Samsung's recent overhaul of its UI overlay, which has placed most things you need helpfully low and right-aligned where your thumb is likely to hover. You can switch things around (like for the Edge panel) if you fiddle with the settings, which have been reshuffled into fewer broad categories that become more specified if you delve deep enough.
As expected, the S10e gets Android 9 Pie out of the box (along with One UI), so you've got the latest and greatest mobile OS. Since it's part of a flagship series, the S10e may be one of the first of the company's phones in line when Android Q is released, which will likely be far later in the year – given how slow Samsung is to update its phone, plenty of other devices will probably get the upgrade first.
Samsung claims that they've harnessed AI to optimize performance, and we're inclined to agree, as it's pretty effortless to zoom around the interface. Slightly cooler are the other things Samsung's done with AI, like Bixby Routines, which take certain actions when a condition triggers, IFTTT-style. You can set these up manually, but the phone should start learning your habits and suggest 'routines' unique to you, Samsung claims. (We weren't prompted to set any, so it might need more time with the phone or more AI tweaking.)
Media-wise, the S10e has more in favor than complaint. True, its smaller size means less screen real-estate to watch videos, and it's noticeably deficient when placed side-by-side with a Plus/Max-sized flagship phone. It's gaming where the diminutive form factor takes the greatest hit, and your thumbs will cover up precious screen space on either side where more active games typically house their controls. If you're playing a game where every edge matters – like, say, in Fortnite – you'll be a little hampered compared to players on bigger phones.
Size aside, it's a good phone for enjoying less frenetic media, with things like a video enhancer feature to make things you watch more comprehensible (read: evenly-lit). An accessible headphone jack only makes the experience better and the speakers (in the earpiece and bottom edge) boast respectable volume, though you'll get more nuanced audio out of Apple's flagships.
Final verdict
It's hard not to recommend the S10e to anyone who prefers a smaller phone. Size queens, look elsewhere - this smartphone is for folks who want to text and browse apps one-handed.
Considering also the handful of top-shelf perks cut to save costs, the S10e isn't the trophy flagship you flaunt to make the fellas jealous. Instead, think of it as the best flagship you could get from 2016 phone possibilities that still costs a 2016 flagship price.
That could leave the S10e open to late-year competition from phones that trim features even closer to the bone to save costs, like OnePlus tends to do. We'll have to see if the upcoming OnePlus 7 puts up a strong fight – but even if it does, the S10e still might come out on top thanks to sheer availability. Nothing's worse than knowing there's a slightly better phone out there that you just can't buy.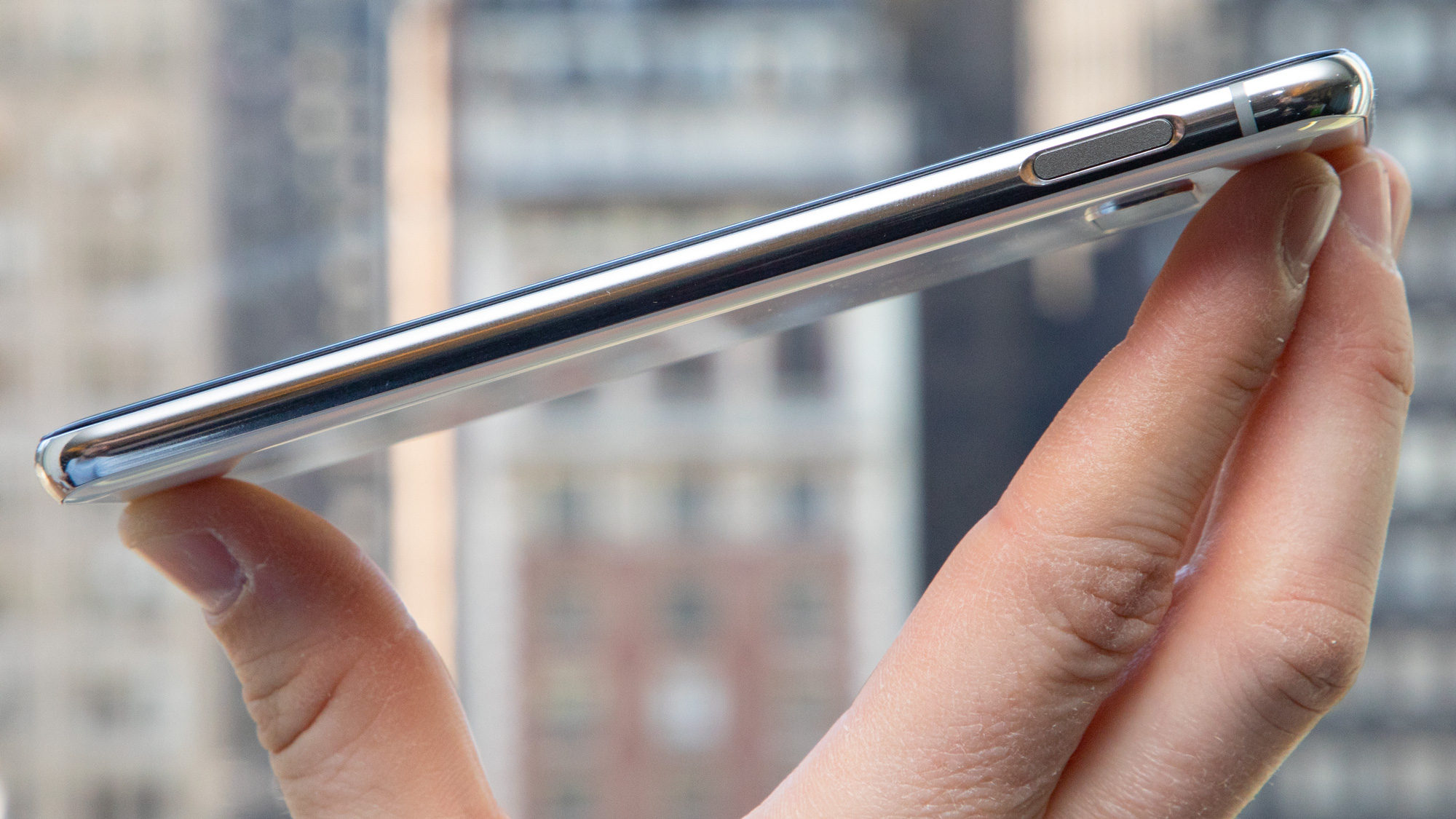 Competition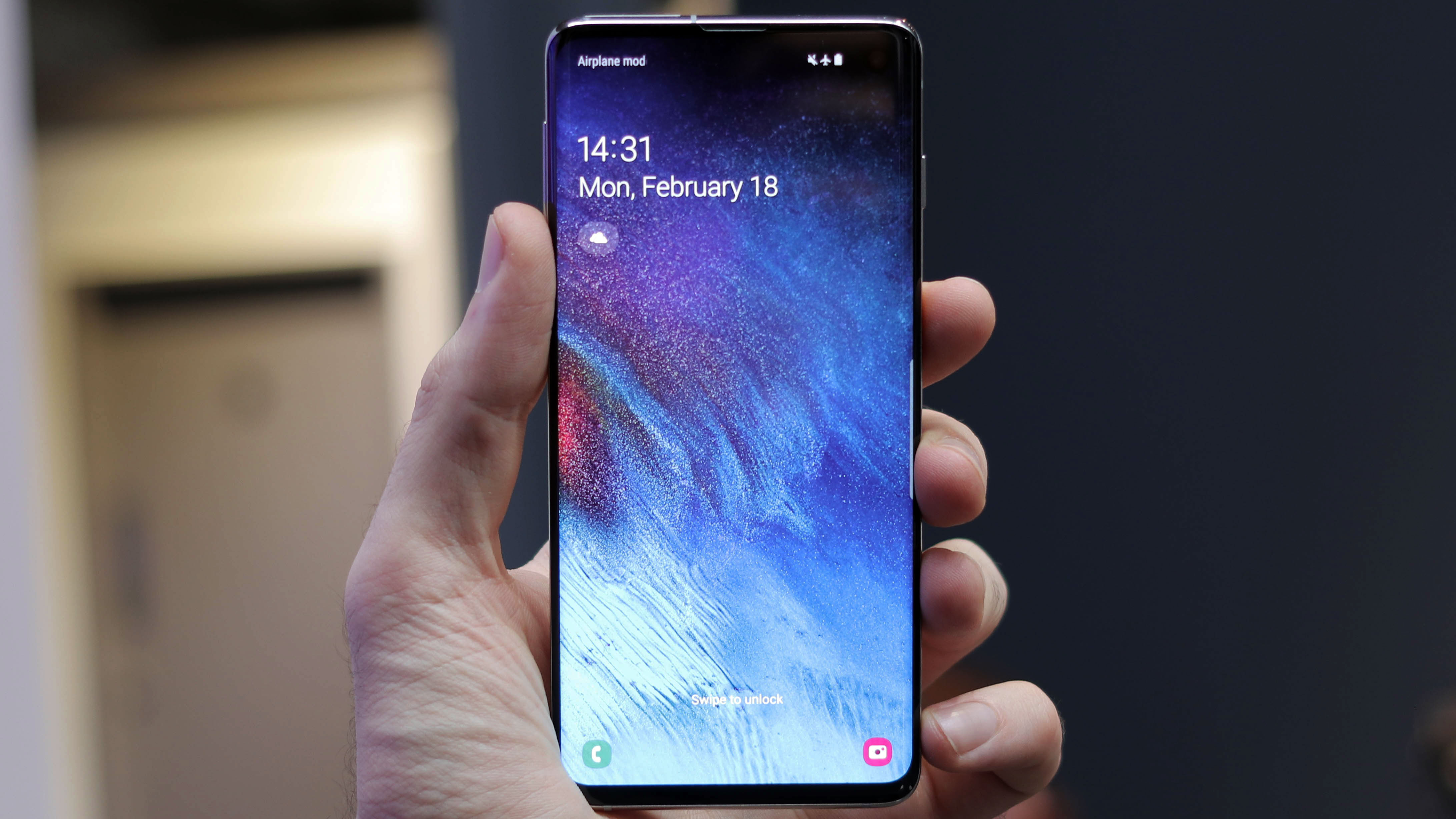 Samsung Galaxy S10
As we said before, the biggest competition the S10 phones face is...each other. The S10 Plus has something of a defined niche with its large TK screen and higher spec ceiling. But what of the standard S10?
For $150 more, you get a third camera, in-screen fingerprint sensor and a bit higher specs. That's not much. Arguably, consumers have gotten so used to the 6-inch-ish size screen that this model is the new normal, but we doubt folks would be upset with a cheaper phone that's easier to handle.
Much like what we saw with Apple's iPhone XS line, where iPhone XR sales almost certainly cannibalized sales of the iPhone XS, we think people will agree with us about the Galaxy S10e: people are paying too much already, and a few trimmed features is worth getting a solid device that will last years.
iPhone XR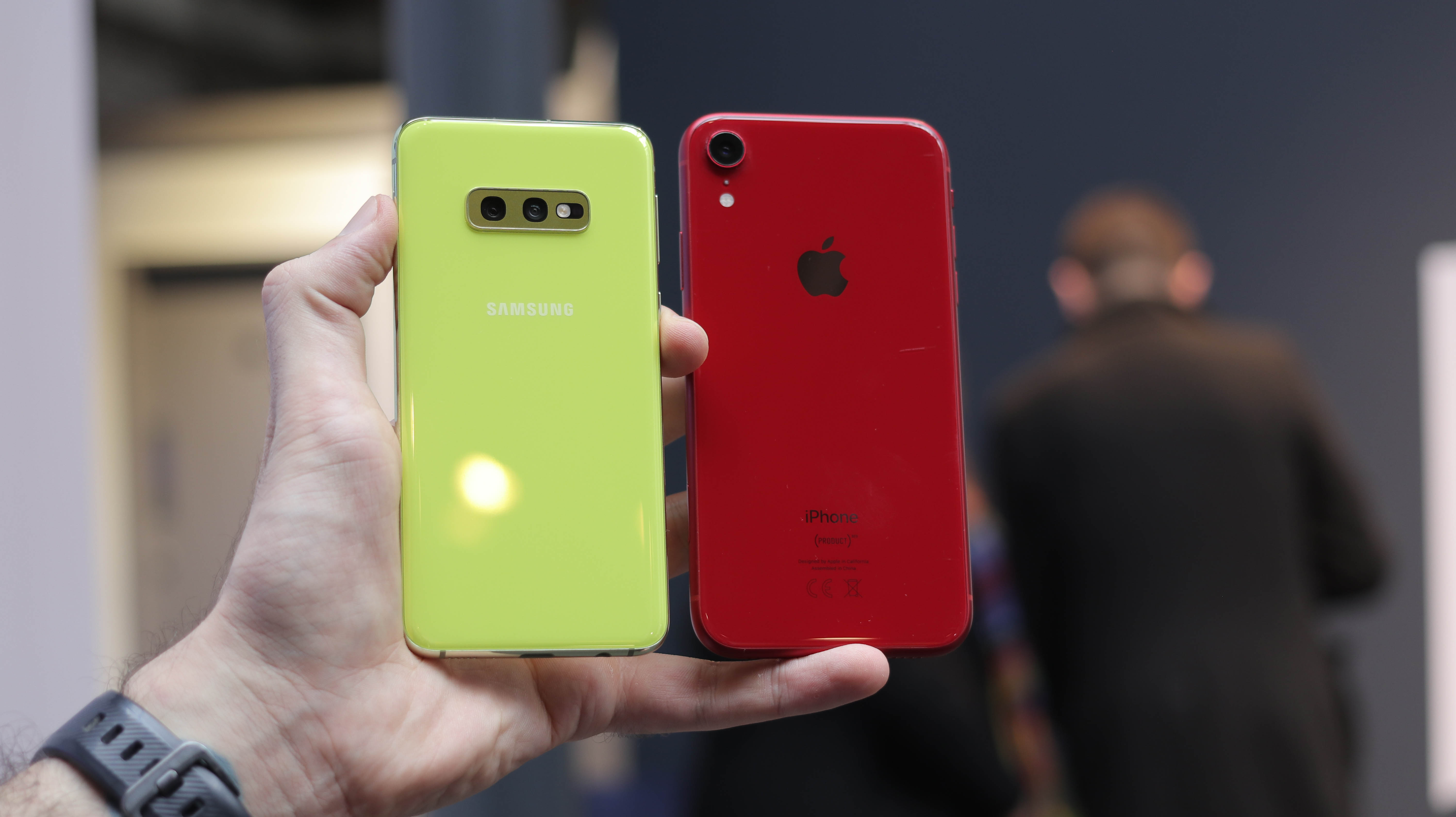 While the iPhone XR has been outclassed by the iPhone 11, it's easier to get at a discount, and thus more of a rival to the Samsung Galaxy S10e.
It stands to reason that both budget flagships would be serious competitors, but the choice still comes down to whether you're an iOS or Android person. Because, in a fair fight, the S10e blows the iPhone XR out of the water. In almost every category.
The S10e is slimmer, with noticeably less bezel and a burnished chrome on its metal frame that makes the iPhone XR's aluminum look cheap. The iPhone XR's LCD display is impressive, but it's not the S10e's AMOLED. The S10e's extra ultra-wide lens is a significant advantage over the iPhone XR's lone rear shooter.
Heck, even the fingerprint sensor on the S10e is a convenient bonus. Samsung's phone looks, feels, and shoots better than Apple's. Next question.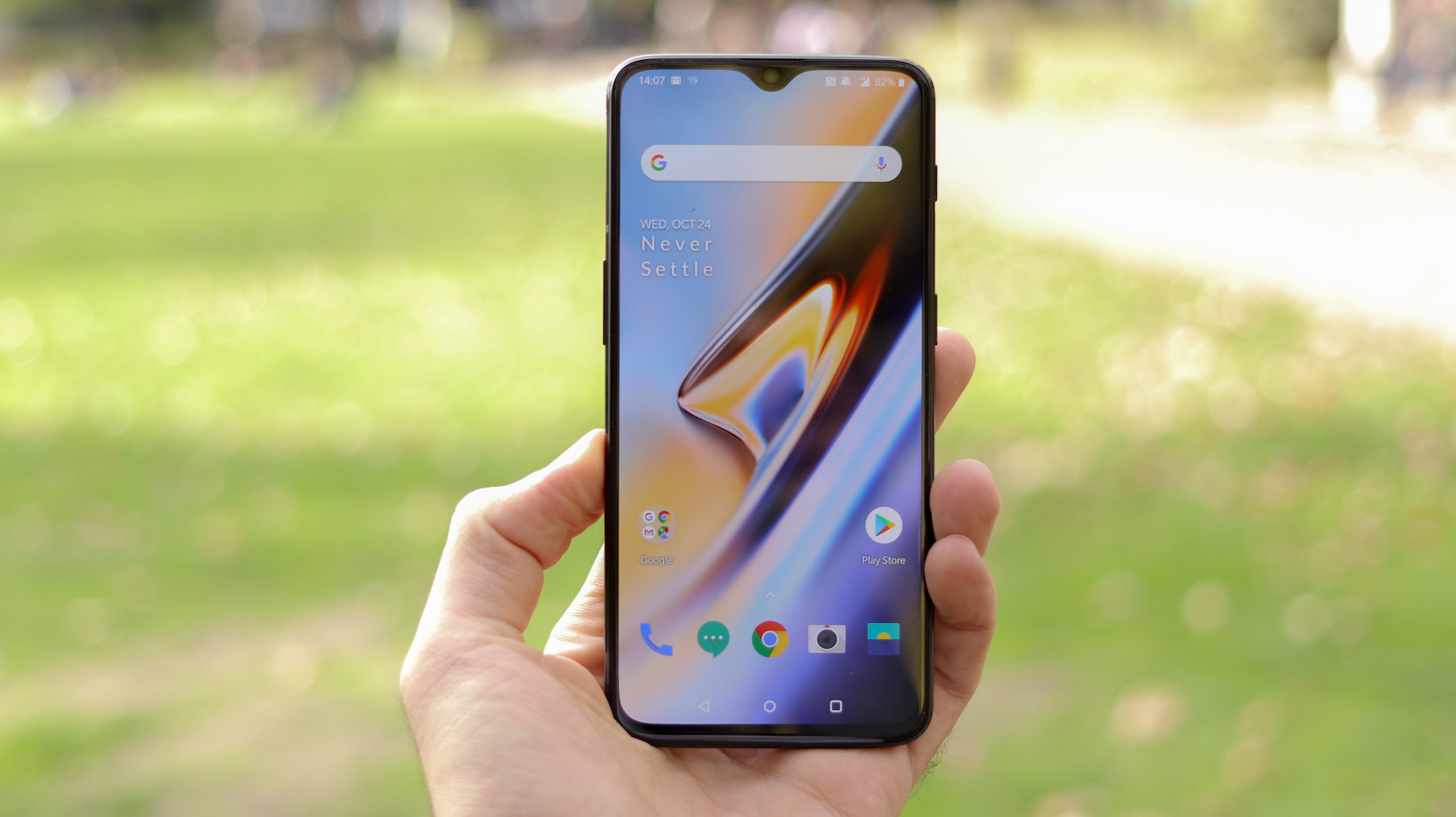 OnePlus 6T
This comparison may change when the rumored OnePlus 7 hits the market later this year with specs and features more competitive in 2019. Even so, the 6T is a late-2018 powerhouse that's significantly cheaper than even the S10e while still boasting flagship cred.
Sure, the S10e has the latest Snapdragon 855 processor, but the OnePlus 6T's Snapdragon 845 is no slouch. The phones are otherwise even on specs, both starting at 6GB of RAM and 128GB of storage.
The big advantage? The OnePlus 6T starts at $549, which is a huge drop compared to the $749 starting price of the S10e. If you don't absolutely need the Samsung name and early 2019 specs, OnePlus' phone might be a better value. And you'd still have bragging rights: the 6T has an in-screen fingerprint scanner.