Update: In 2020, the Fitbit Inspire and Fitbit Inspire HR were replaced by the Fitbit Inspire 2. This new fitness tracker keeps the same overall look as its predecessor, with a narrow band an rectangular monochrome display, but has an optical heart rate monitor and greatly improved sports tracking features. Our original review of the Fitbit Inspire follows.
Fitbit has re-tooled its entire line-up of lower-end fitness trackers. The Fitbit Alta and Flex are out, the Fitbit Inspire is in.
This is a slender band with a display, similar to the Honor Band 4. But here we but up against the Fitbit Inspire's big issue. It's more expensive than the Band 4, but doesn't have a heart rate sensor, a color screen or GPS.
The Fitbit Inspire is pleasant to use and has nicer animations than most low-cost rivals, but these days it seems a lot to pay for such a basic tracker. Blame China.
Fitbit Inspire release date and price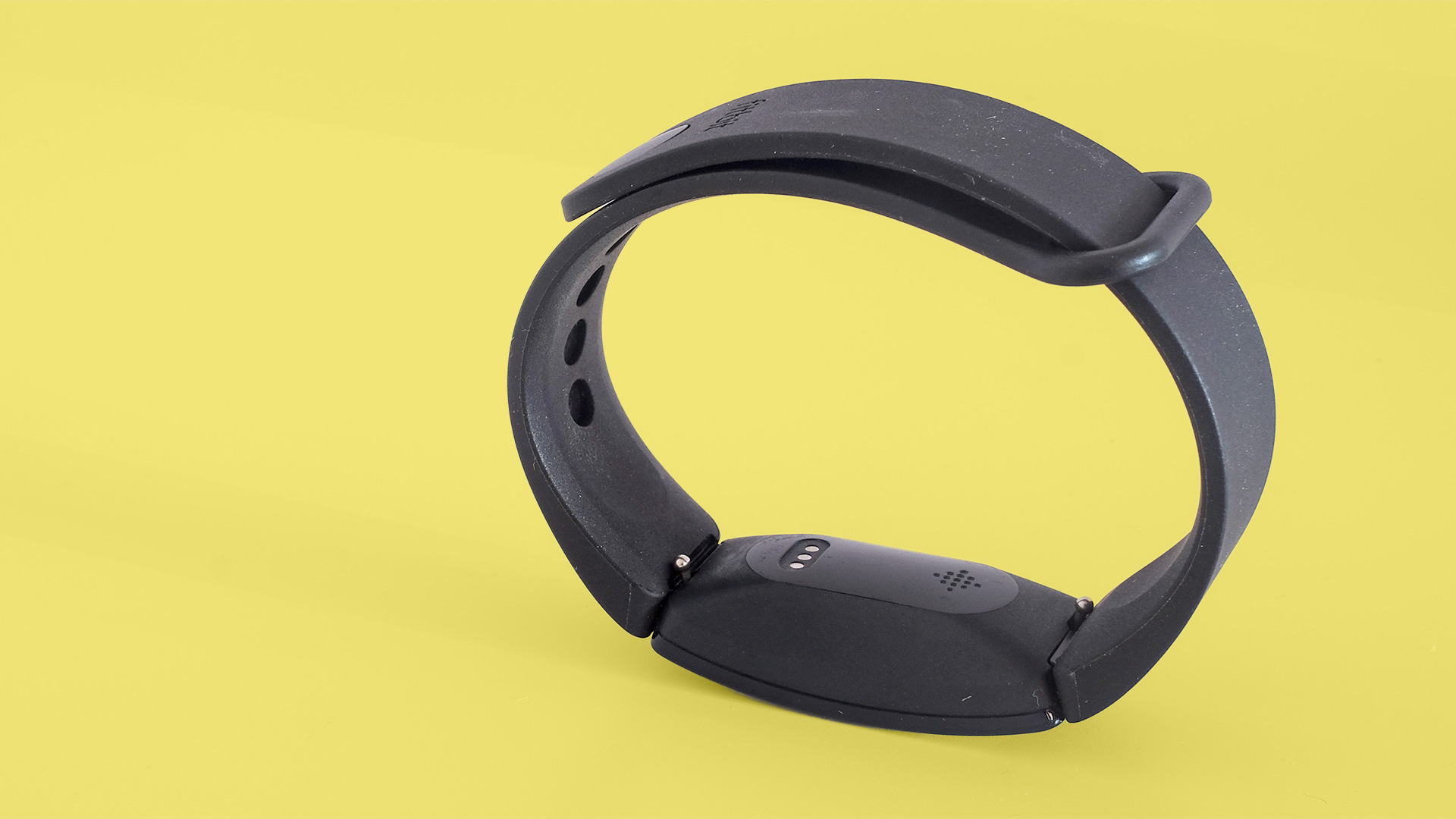 You can buy the Fitbit Inspire now from Fitbit itself or a variety of different third-party retailers.
You'll be spending £69.99 / $69.95 / AU$129 to buy this, but you may be able to find it discounted from that in the coming weeks. That's quite a bit more expensive for those that live in the UK, when compared to the US price.
The Fitbit Inspire HR is a touch more expensive at $99.95 / £89.99 / AU$179.95.
Design
Plastic band with silicone strap
Optional leather and steel straps
Includes small and large bands
The Fitbit Alta is the Fitbit Inspire's closest relation, its grand-pappy. It's an inch-wide band with a rectangle of screen at its centre, and is plainer than the Alta.
There are no bevelled sides to separate it from the numerous Chinese band-style trackers. This might be one of the first Fitbits we can't recognise from 50 paces.
Fitbit has made the strap easy to replace, though, and this opens up something it'll do better than any low-cost alternative. You can already order "official" leather, steel mesh and patterned bands, to get away from the pedestrian look of simple silicone.
Little levers sit on the underside of each strap half, much like those of some normal watches. You can get the Fitbit Inspire in black or dark red, and both come with small and large strap sizes.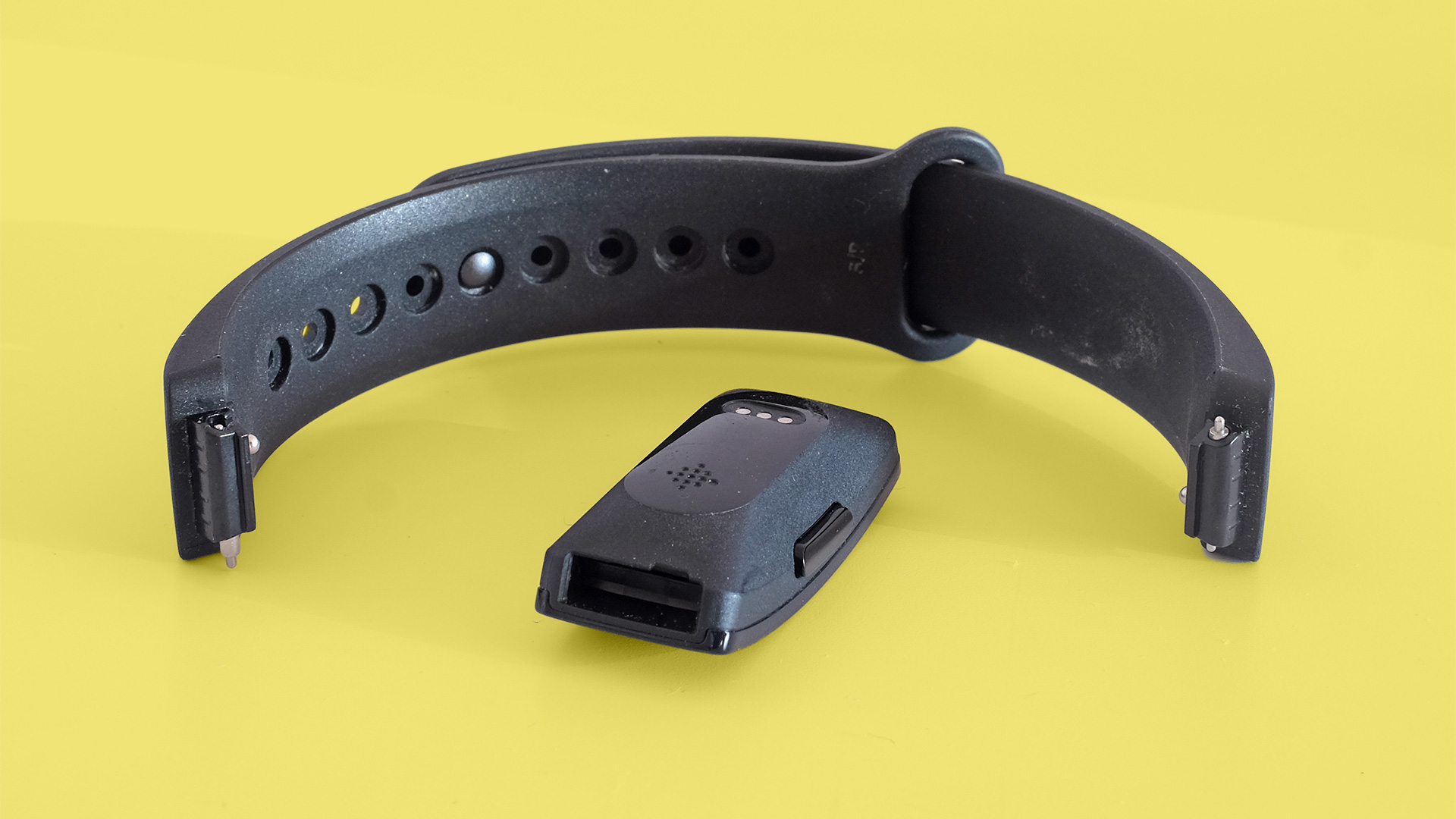 The Fitbit Inspire strap is not particularly gummy, with the extra "give" that makes a tight fit comfy. But it doesn't matter. This model does not have a heart rate sensor, so you can wear it tight or loose, whatever feels better. As such the Inspire is extremely comfortable. Like many of the comfiest trackers, you may well find yourself checking it's actually there every now and then. We did.
Like most lower-cost Fitbits, the Inspire uses a simple clasp rather than a full watch-style fastener. The screen covering is also plastic rather than glass. It feels hard, and we've not managed to scratch it yet. But a hardened glass would be better, as seen in the Honor Band 4.
Screen and interaction
Monochrome OLED display
Touchscreen
Side button
Some entry-level trackers use only buttons, or only touchscreens. The Fitbit Inspire has a mix of both. There's a button on the side, which acts as both "back" and a screen on/off toggle.
Once the screen's actually on, you use up and down screen swipes to get between the various info pages. You use taps to select things in a few areas, but there are no odd gestures to worry about, just up and down swipes.
This is one of the Fitbit Inspire's strengths. It's easy to use, and most people with a cursory familiarity with trackers shouldn't need to as much as glance at a help doc to get started.
The Fitbit Inspire's actual display is basic. It's a monochrome OLED. While it doesn't leave a halo of light around its border, the unconfirmed but clearly low-ish resolution gives it a scrappy quality.
Typical of Fitbit's added attention to design, the interface's bouncy transition animations and bold, consistent icons give the Inspire something bordering on a personality.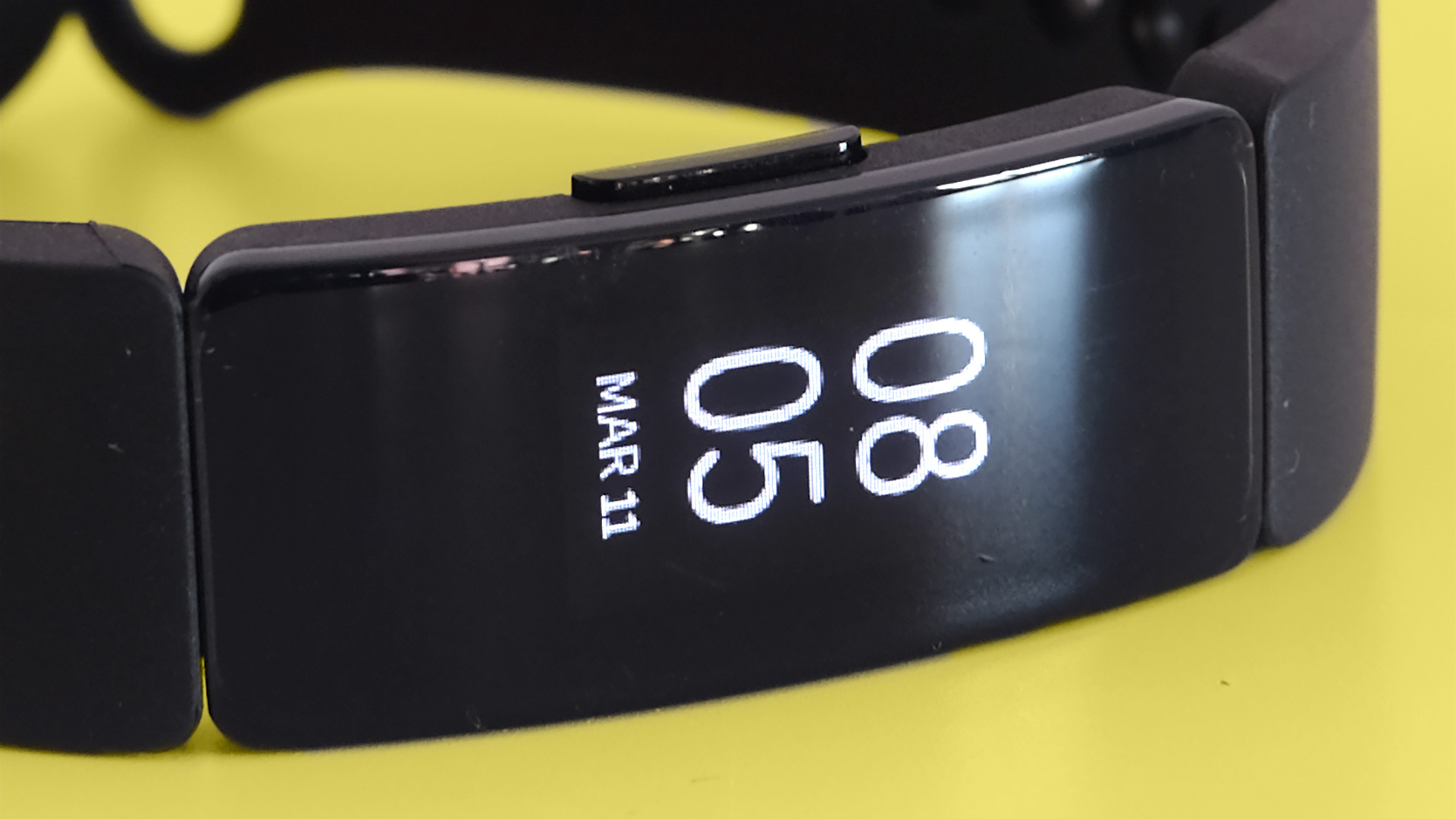 You have nine clock face options, and all but one are digital. Judging by the one we do get, this is for the best. As the screen is quite narrow, there's not a huge amount of room for an analogue face.
There are no particularly dynamic digital faces either. Most use conservative fonts, and only one gives over a lot of the screen to fitness tracker stats.
Honor's Band 4 has even fewer watch face options, but those on offer do have a more distinctive look. In part this is a symptom of a monochrome screen versus a colour one, but Fitbit could eke out more character than this.
Feature and fitness
3-axis accelerometer
Bluetooth
Rudimentary auto-tracking
Like most lower-end Fitbits over the years, the Inspire is not a training device. Its aim, as in the name, is to inspire you to get you off your backside and start moving more. And to do this it only needs a very limited array of sensors.
There's a 3-axis accelerometer. And. That's it. There's no GPS, no Wi-Fi, and to get a heart rate sensor you need to pay extra for the Inspire HR.
Scroll down through the Inspire's home screens and you'll see your step count, calories burnt, minutes spent active, extrapolated distance travelled and the "Reminders to Move" view.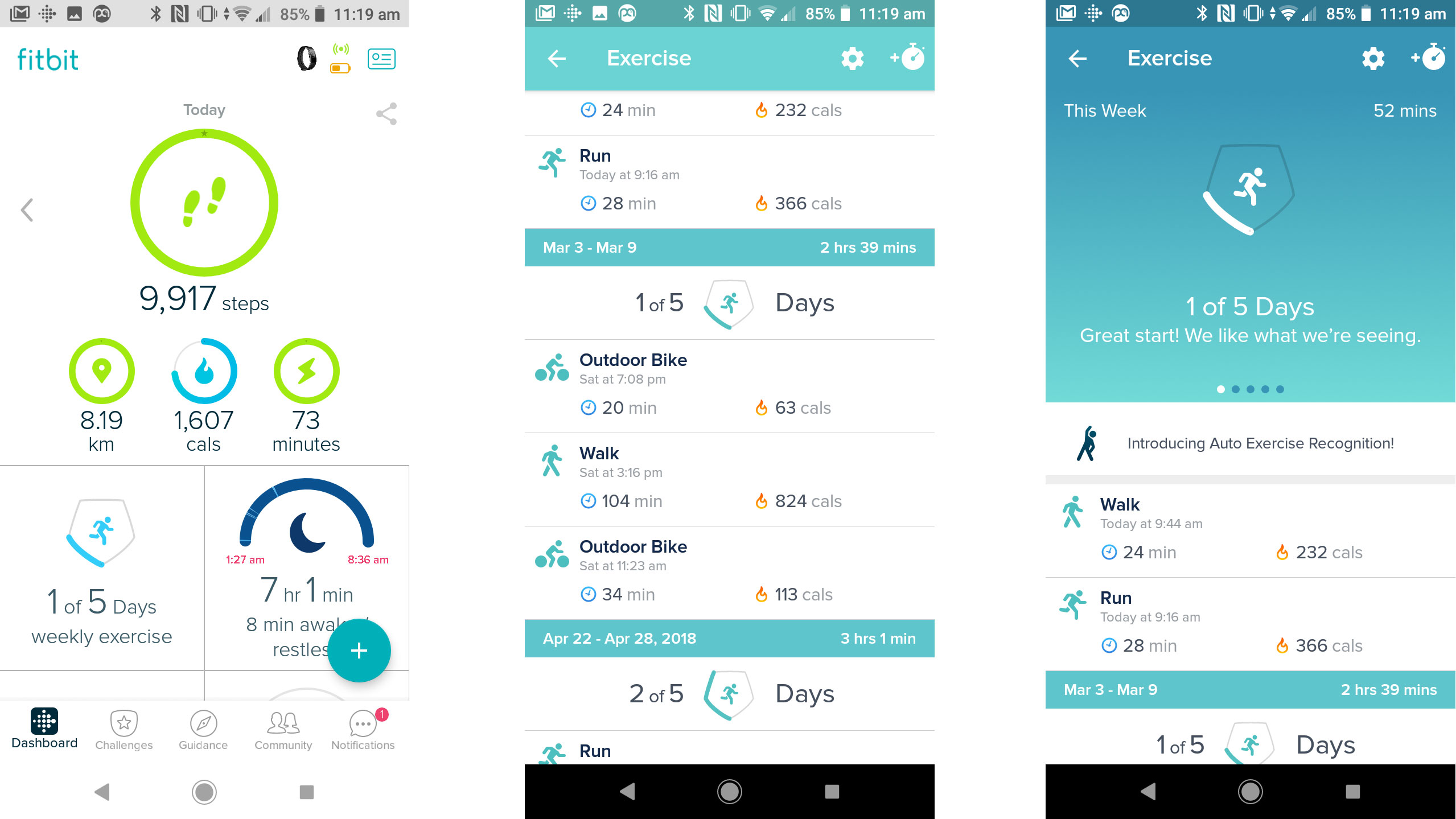 This last one shows how much Fitbit tries to squeeze out of what is effectively a single stat, your step count though the day. It sets you an aim of at least 250 steps an hour, and shows how many hours of the day you reached that goal. Aim high.
The Fitbit Inspire doesn't much care for depth. Breezy and easy is its style. But even just a few days living with it was a reminder of how engaging simple step-tracking can be, particularly if you go on a walk and crack 20,000 steps.
We don't recommend the Fitbit Inspire for any form of mindful fitness training, though, even if it can auto-detect activities. Run or walk for more than a few minutes and the Inspire recognizes it as a run or walk. Go for a drive and there's a good chance it'll log it as a cycle ride. This algorithm is far from perfect.
Thanks to the limited sensors here, the stats these tracked sessions offer are nor particularly useful. You'll see the time spend exercising and an estimate of the calories accounted for.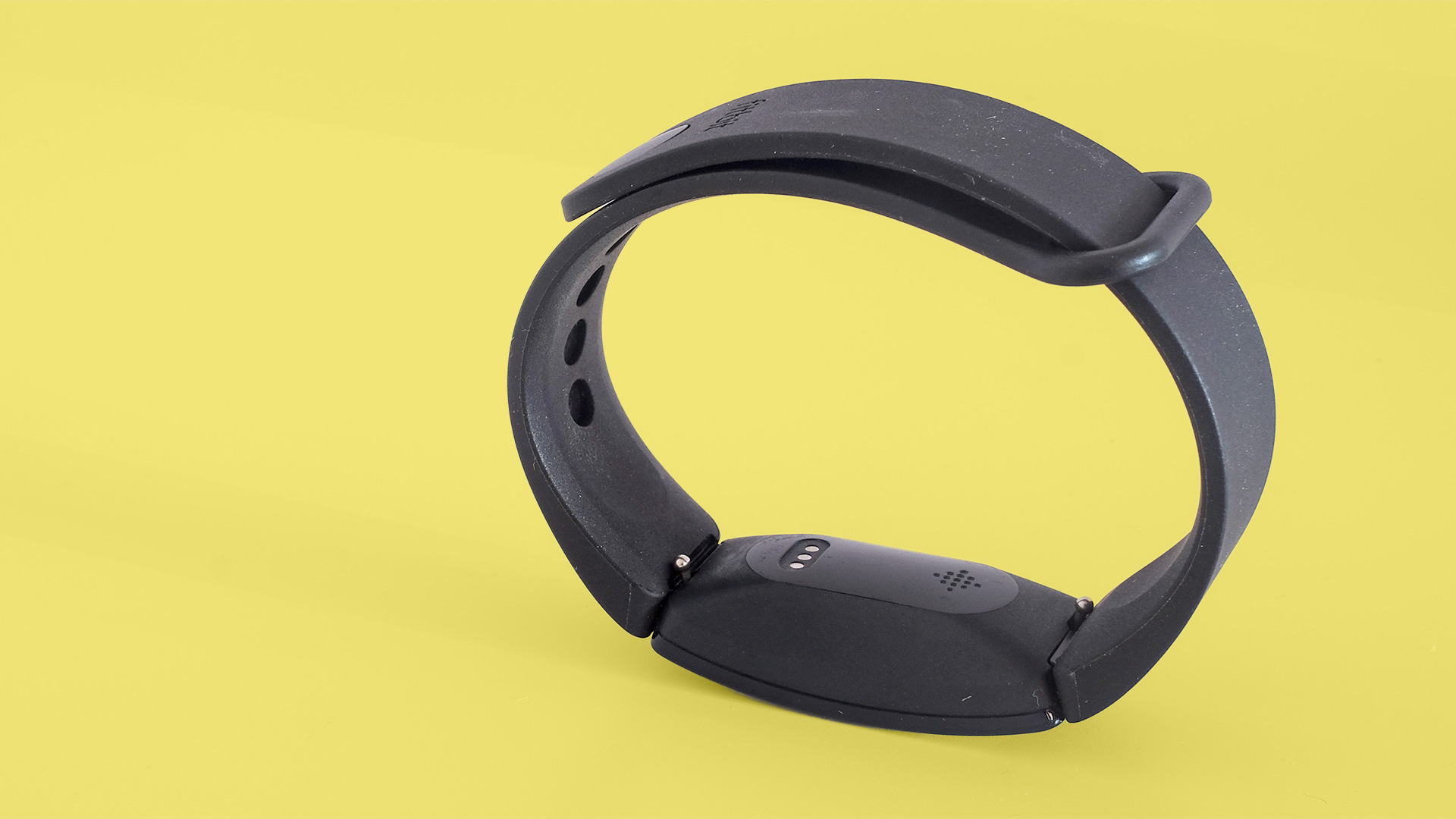 There are no maps, as the Fitbit Inspire does not have GPS or Connected GPS. Distance estimates are left out too, perhaps an admission the algorithms here aren't quite clever enough to work out how your stride length will alter with pace.
The main use of auto-tracking is to be able to go back into the Fitbit app and be able to see a heart-warming history of all those hours spent sweating into a t-shirt. There's no real performance monitoring here.
Software and features
Vibrate alarms and timers
Basic sleep tracking
Stopwatch
Dipping into the Fitbit app is a reminder of quite how much it needs an interface revamp. The Fitbit platform is still just about the most fun and motivationally effective one around, but looking at its homescreen, it really needs a spruce-up. Fitbit says this is coming, though.
Other parts are as they have been for a long time, because most of the app's features don't mid if you have a high-end Fitbit or an entry-level one. You can take part in "adventures", which map your steps onto real-world hiking routes, unlocking facts and pics on the way.
The thrill of these drops off fairly quickly, but they are worth trying. You can join in on challenges with Fitbit-owning friends, and if you want to go deeper you can use Fitbit Coach. This is really a separate service, one that offers guided workouts for a subscription fee, but it slots into Fitbit tracker ownership well.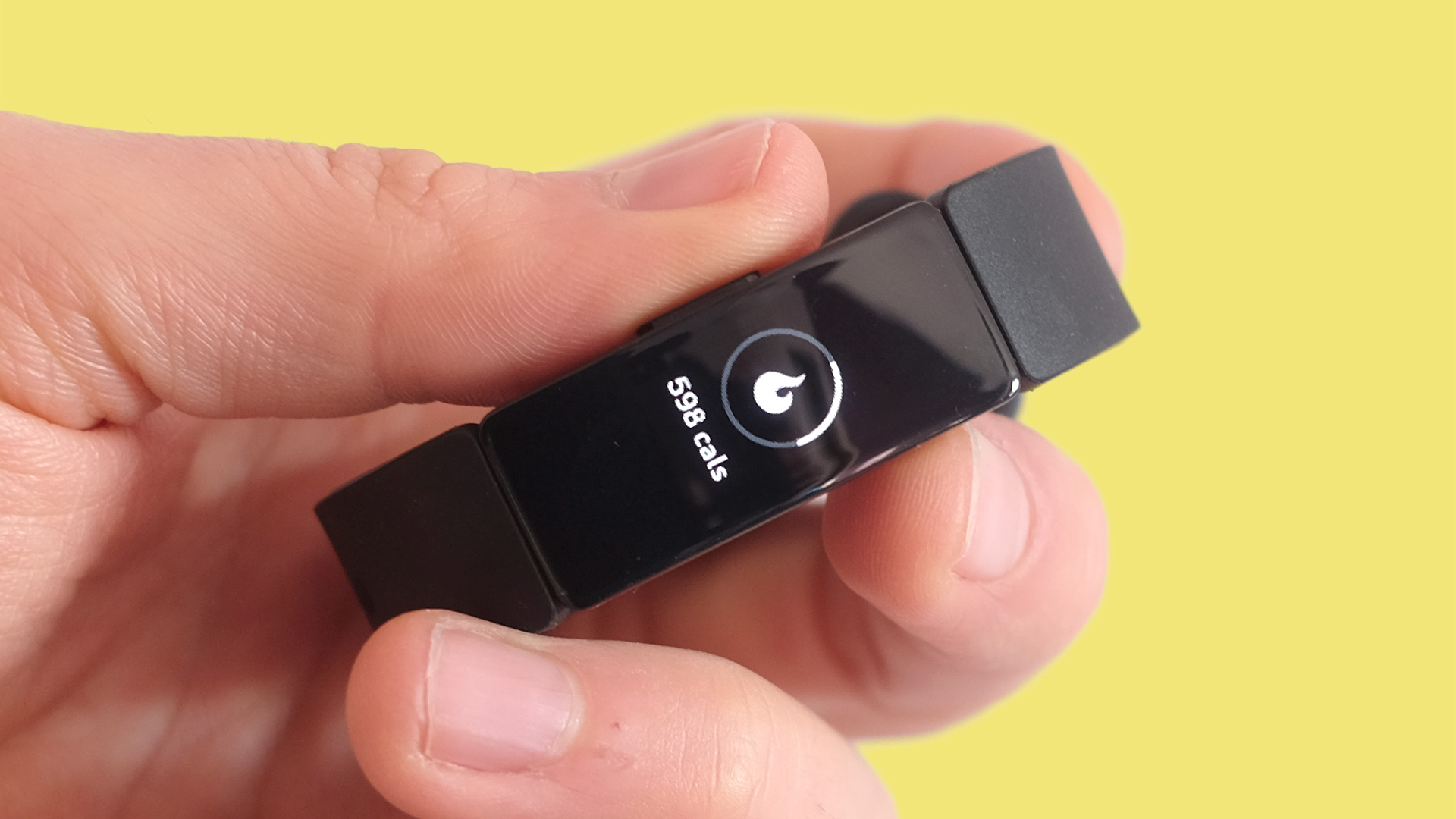 The Fitbit Inspire can also track your sleep. It's a reasonably reliable way to see how long you sleep each night, and how many times you woke up. But it lacks the extra breakdown of sleep into REM, deep sleep and so on.
What else can the Fitbit Inspire do? Notifications are the main extra. And unlike some older trackers, it can display all kinds of notifications, not just SMS and call alerts. You choose the apps whose notifications get through, and they end up on your wrist.
The handling of them is basic. You can't see full messages, only snippets, and you cannot dig back through old messages to read WhatsApp conversations from your wrist. There's, predictably, no replying to messages either. We frankly wouldn't want to.
The Inspire also has a vibrate function, which opens up a bunch of extras. You can use the band as a silent alarm, to buzz you awake or remind you do leave work. There's a stopwatch, and a countdown timer.
Fitbit seems to leave space for more of these to be added with updates. You select the ones you want to include on the band in the Fitbit phone app. But don't expect much here. This is not remotely a smartwatch, and does not pretend to be one.
Battery life
Up to 5 days battery life
Under 4 days stamina, tested with phone notifications
Charge dock adaptor
If it's not smart, the Fitbit Inspire had better last, right? Fitbit says you can use it for up to five days between charges. Even this seems a rather stingy duration given the limited features and monochrome display.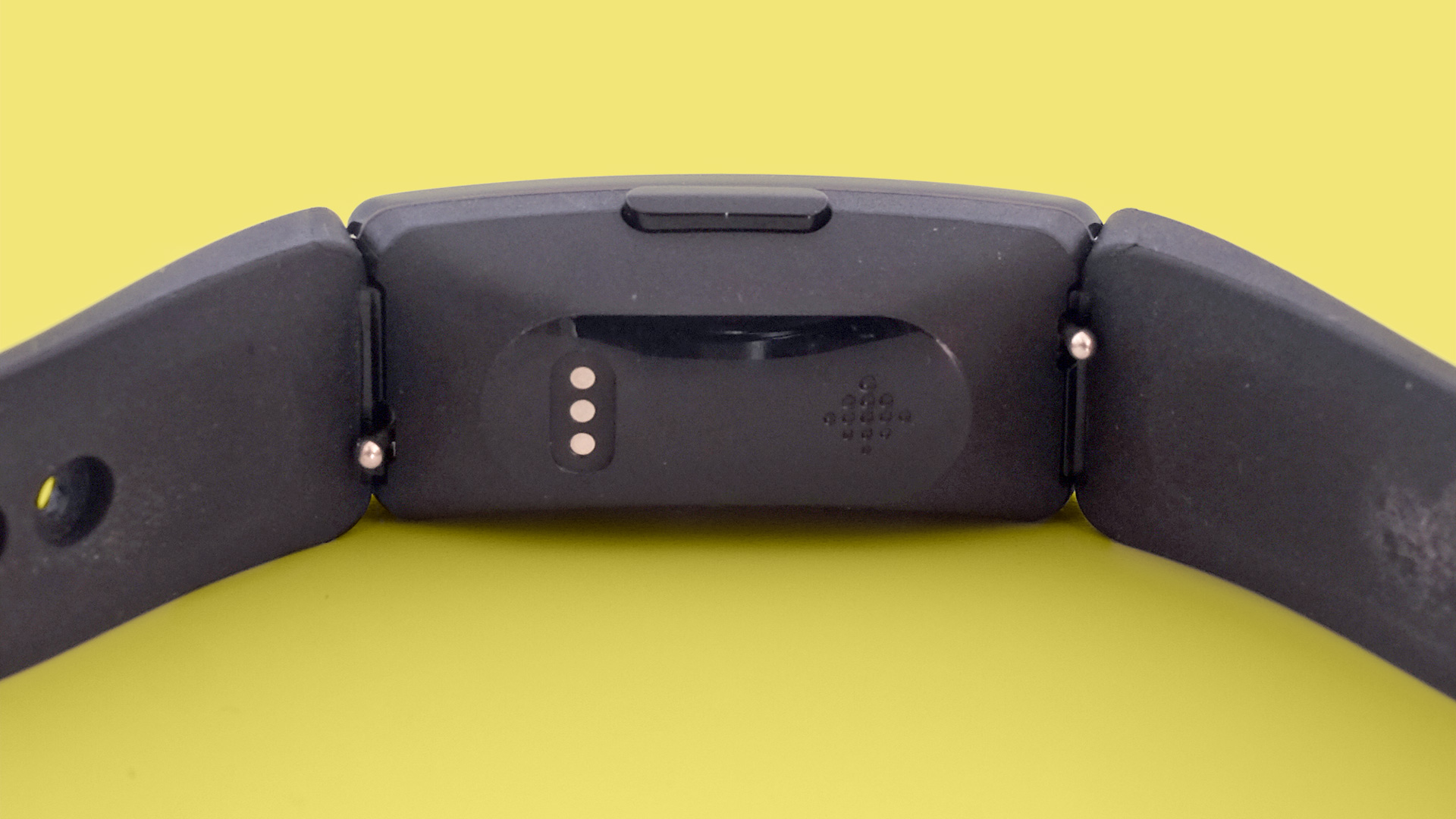 With general use, wearing it 24/7 and with WhatsApp notifications switched on, the Fitbit Inspire lasted a few hours under four days. This is fairly poor. It didn't have to track heart rate readings 24/7, or do much of anything beyond monitoring the accelerometer's data.
The Honor Band 4 lasts for up to two weeks off a charge, and the Alta HR lasts up to a week.
To recharge, you hook the band up to a little charger dock. It takes an hour or two. Living with the Inspire is not like living with a Wear OS watch. It's not that high maintenance, but we think a band like this should last longer.
Verdict
The Fitbit Inspire is a disappointingly unambitious fitness tracker. What it does, it doesn't pleasantly enough. But it does little, and there are more feature-packed alternatives available for less.
Still, there's something to be said for the unassailable "nice" factor of Fitbits. It doesn't have ambitious but wobbly parts like the Honor Band 4, which makes the tracker effortlessly easy to use.
Such cosy friendliness might be enough to earn the Fitbit Inspire a full-on recommendation if its battery lasted longer. However, it needs to be recharged every few days despite doing very little aside from counting steps and having all the power of a 1990s calculator.
Will we warn classic Fitbit fans away from it? Those just looking to get a bit more active, without much of a keen interest in tech? Absolutely not. The value of its breezy style and classy first-party accessories shouldn't be underestimated.
Who is this for?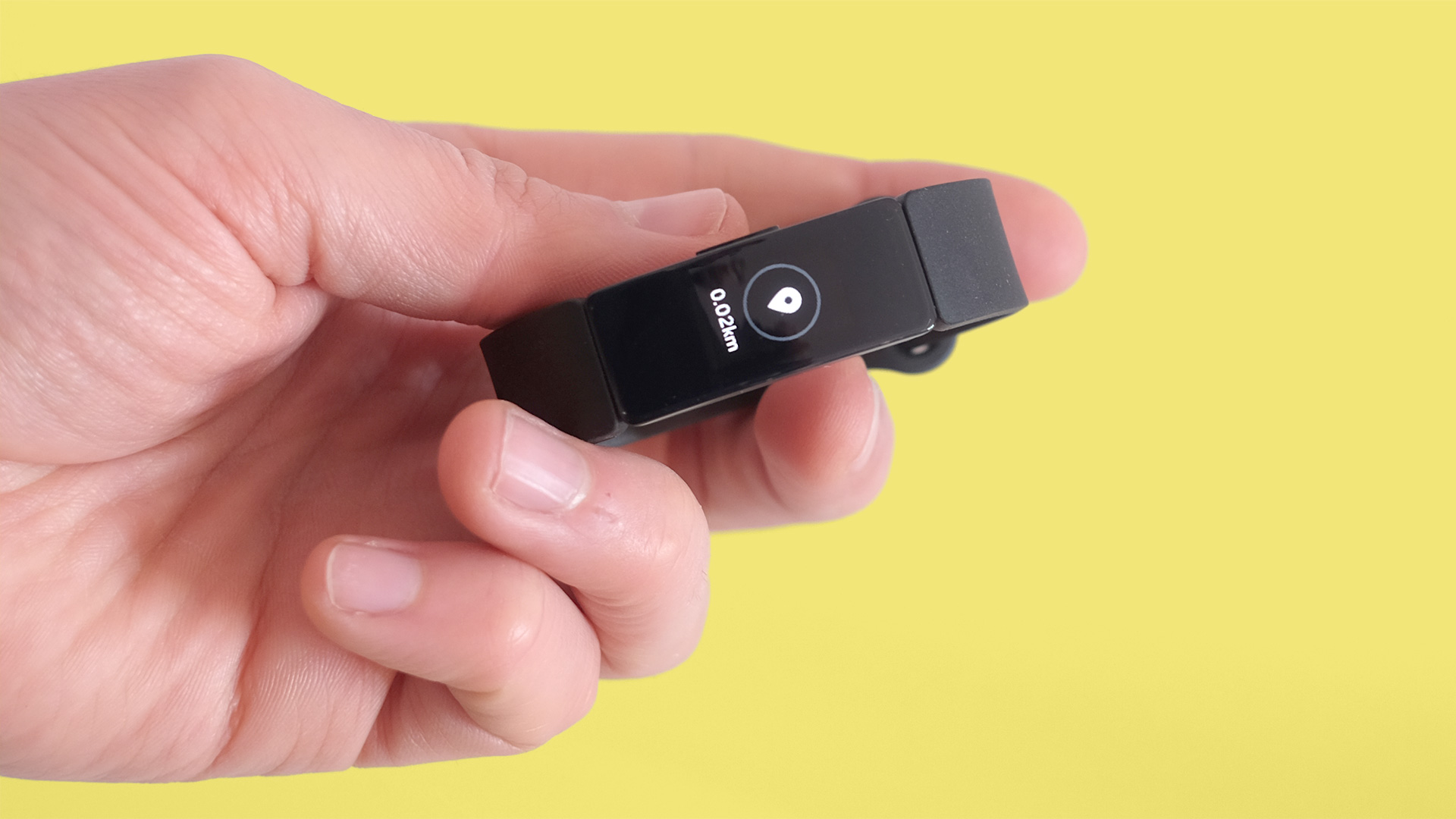 The Fitbit Inspire is aimed at the classic Fitbit buyer, someone who wants a hand to help become a little more active.
It's clearly not for tech-heads. With more accessory options than features, style matter here, even if it's provided by extra bands rather than the device itself.
Should you buy it?
If you want to track runs or gym sessions, don't buy an Inspire. If you want to get truly great value for money, don't buy an Inspire. However, it's still a decent buy if you're after something simple that will track your steps.
First reviewed: March 2019