Two-minute review
The Fitbit Versa 2 was the company's first true smartwatch, and it's stood the test of time well. Even though it's now been superseded by the Fitbit Versa 3 (which has the added benefit of on-board GPS), it's still one of the best Fitbits you can buy, and particularly worth considering if you're in the market for a cheap fitness tracker.
After the launch of Fitbit's first smartwatch, the Ionic, the company struggled to compete with the likes of the Apple Watch and dedicated running watches from Garmin.
Then, along came the Fitbit Versa and it turned the company's fortunes around. So it's no wonder Fitbit quickly followed that up with a cheaper, more pared back Versa Lite smartwatch while also refining the original Versa into a much-improved Versa 2.
With the Versa 2, Fitbit has again proved that you don't necessarily need top-notch features to make a terrific fitness watch, and it doesn't need to burn a hole in your wallet.
Fitbit Versa 2: key specs
Display: 300 x 300 pixel touchscreen AMOLED
Materials: Aluminum watch case
Connectivity: Bluetooth 4.0 and 802.11 b/g/n Wi-Fi
Water resistance: Up to 50m
Sensors: 3-axis accelerometer, optical heart rate monitor, altimeter, ambient light sensor, vibration motor, NFC, microphone, and relative SpO2 sensor
Battery life: 5 days of standard usage
Unlike most other smartwatches on the market, the Versa 2 isn't looking to replace your phone – in fact, you could call it a dumbed-down version of a smartwatch. And that isn't necessarily a bad thing.
The Versa 2 is squarely aimed at users keen on fitness rather than those seeking productivity from a wearable, making it an extension of Fitbit's excellent fitness tracker range, but one that comes with some extra perks.
While health and activity tracking takes center stage, the Versa 2 bridges the gap between phone and wrist by offering message and calendar notifications, ways to control your smart home setup and play music from your phone while on a run or workout session.
Fitbit has continued to update the Versa 2 with new features ever since its launch in 2019. New features like the Smart Alarm and additional always-on watch faces didn't seem enough for the company, so the latest update brings an oxygen level monitor that monitors blood oxygen levels while you sleep.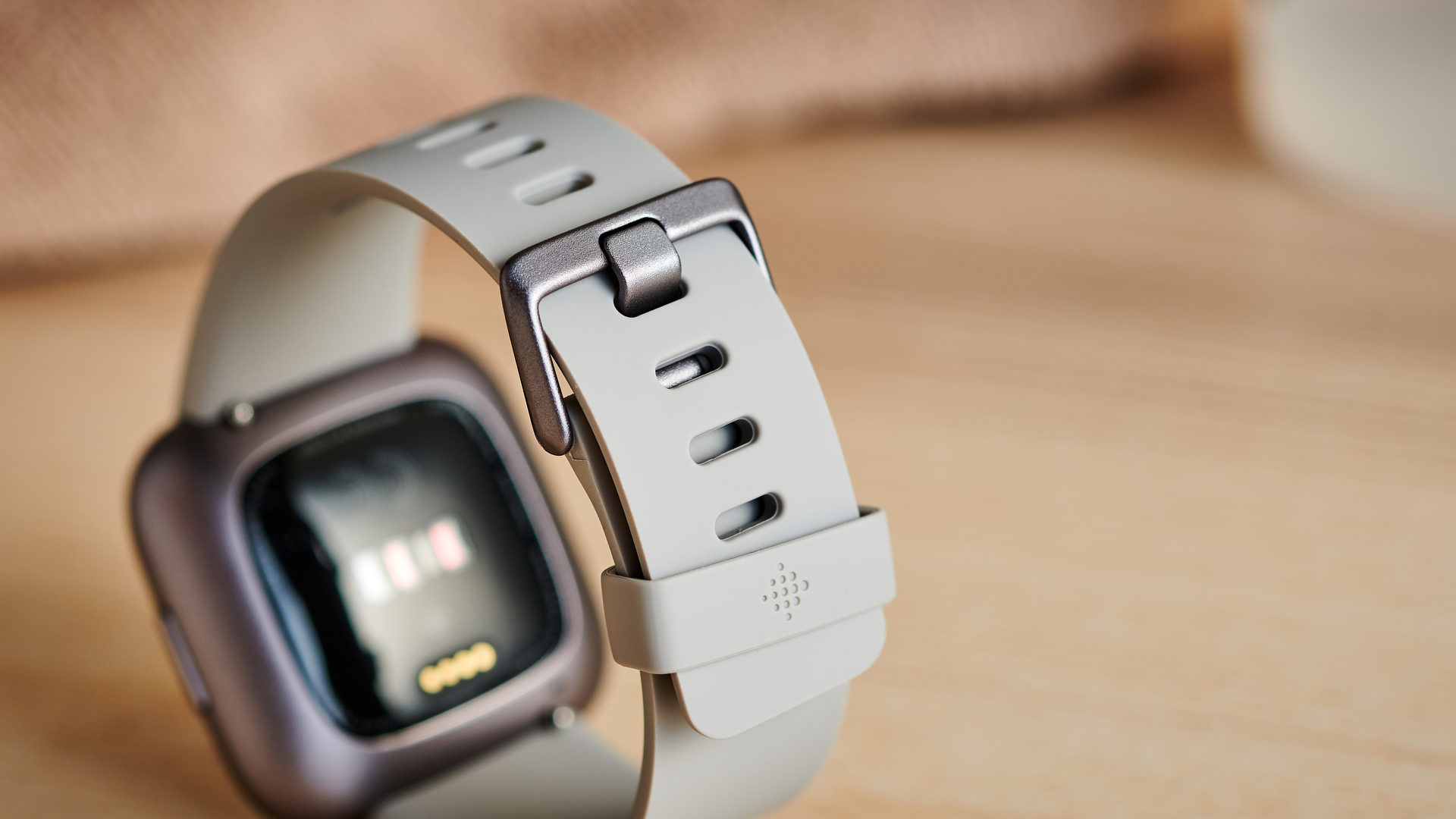 Fitbit Versa 2 price and release date
Launch price of $199 / £199 / AU$329
Special Edition Versa 2 costs $229 / £219.99 / AU$379
Fitbit announced the Versa 2 on August 28 ahead of IFA 2019, where the company showed the device off to the public for the first time. The Versa 2 is available to buy now, and you can pick it up from Fitbit's website or from major retailers either in-store or online.
The Fitbit Versa 2 costs £199.99 / $199.95 / AU$329.95, although there is a Special Edition version that retails for $229.95 / £219.99 / AU$379 and comes with either a Mist Grey or Copper Rose chassis and a premium woven band in the box.
At launch, the price of the Versa 2 matched that of its predecessor in the US and UK, but it's a tad higher in Australia and, is roughly on par with the price of the Apple Watch Series 3 in most regions.
Purchasing a Versa 2 will also get you a seven-day free trial of Fitbit Premium, the company's new subscription fitness service. Those treating themselves to the Special Edition Versa 2 will, however, get a 90-day free trial of Fitbit Premium (more on this feature later).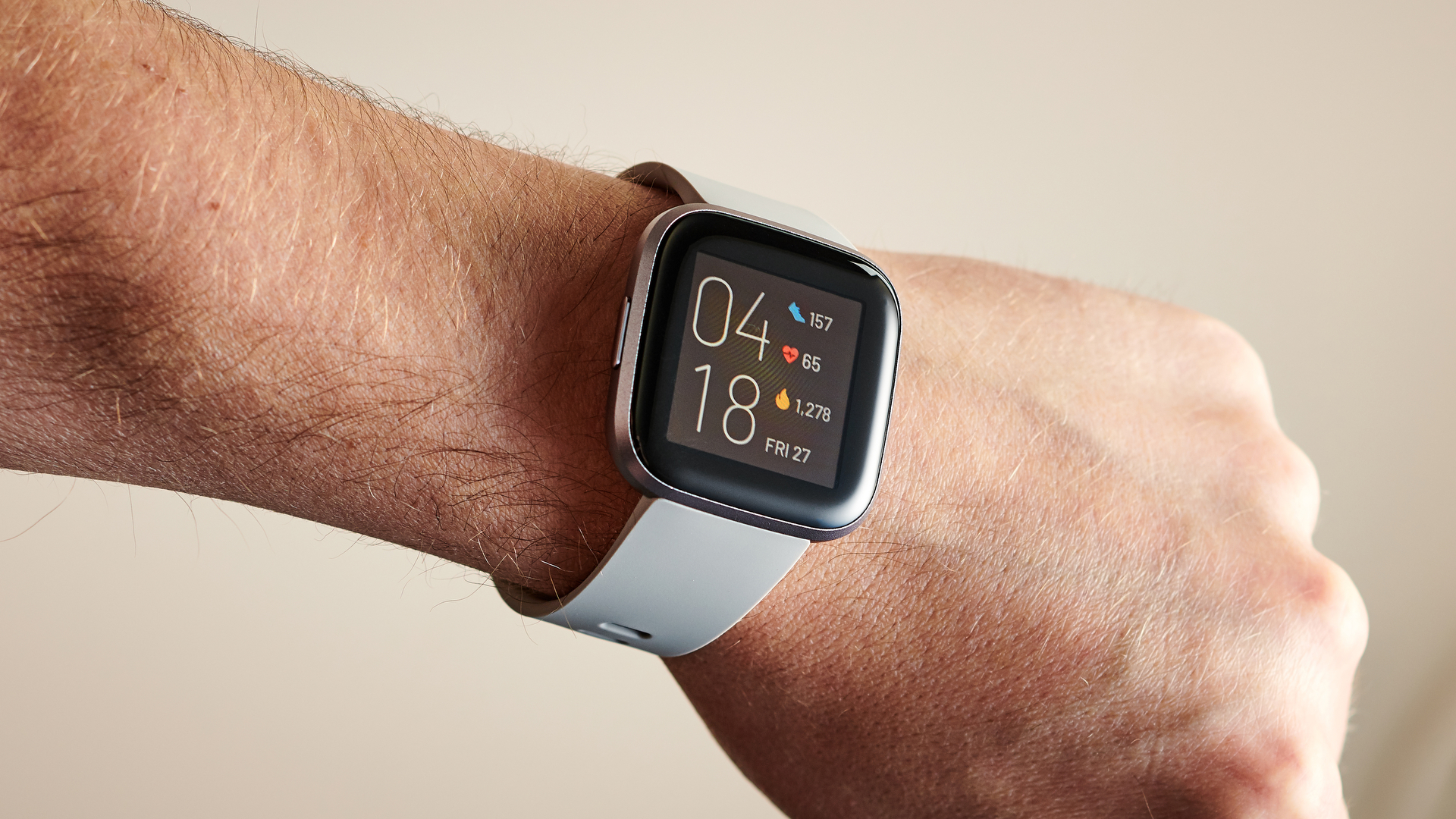 Design and display
Retains 'squircle' design
New always-on AMOLED display
Single button
When it comes to the design, Fibit's mantra seems to be one of 'if it ain't broke, don't fix it'. The 'squircle' design of the Apple Watch and the original Versa seems to have been embraced by users and Fitbit has carried that on to the Versa 2. At first glance, the new fitness watch does look strikingly similar to its predecessor, but closer inspection reveals a few small tweaks giving the Versa 2 a very stylish look indeed.
With a depth of 0.47 inches (12mm), it's only a tiny bit thicker than the Apple Watch 3, but since the chassis tapers inward toward the heart monitor underneath, it actually appears slimmer. And, with a screen size of 40mm, it should fit most wrists.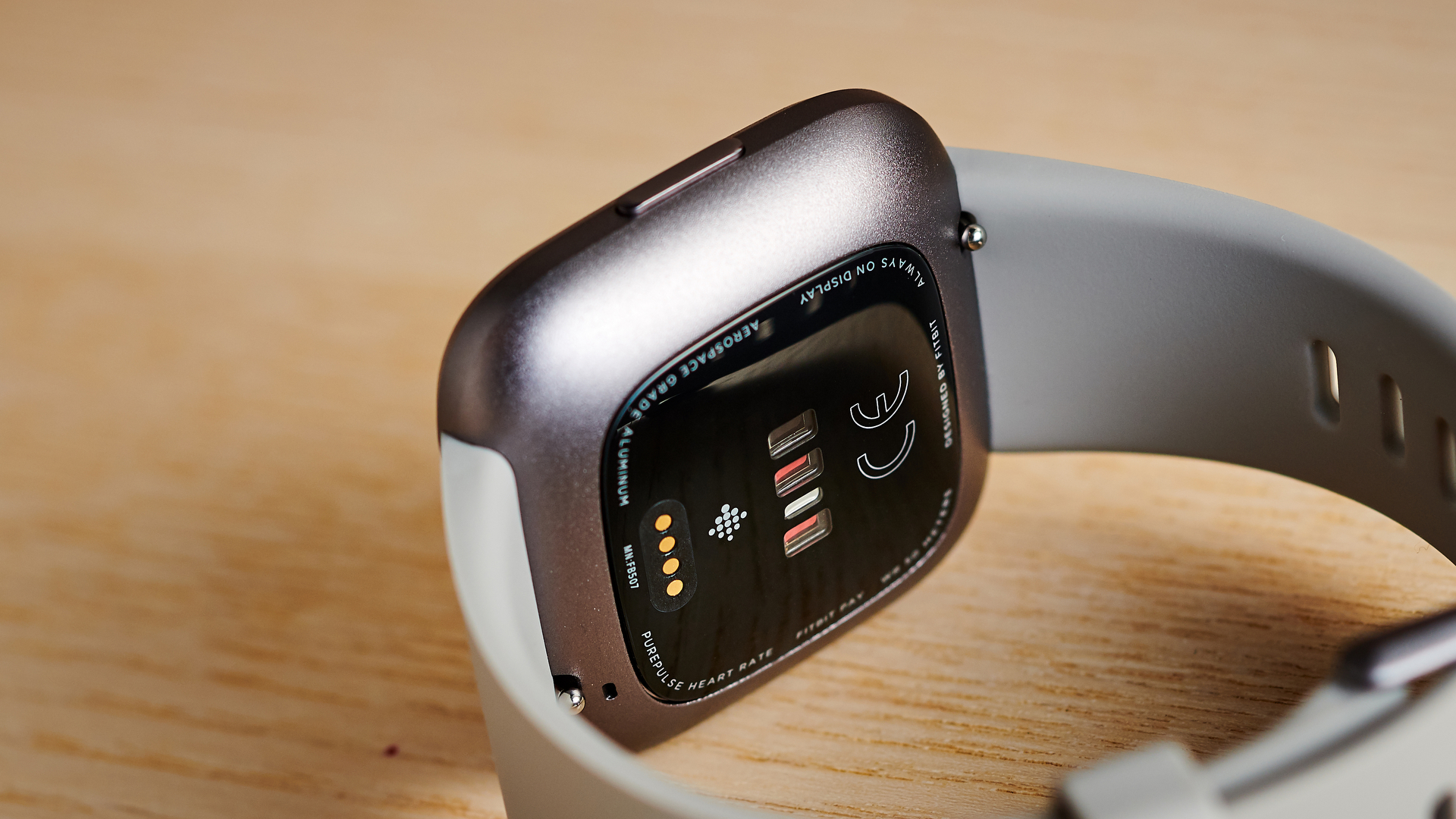 Thankfully Fitbit has removed its branding from the bottom bezel of the Versa, meaning the bezels on the Versa 2 are slightly thinner, giving you a tad more screen real estate than before. While the display's black background is usually quite successful at disguising the bezels, they are quite obvious at some angles, albeit easy to ignore.
Where the original Versa had three buttons on the chassis – two on the left and one on the right – the Versa 2 sports just a single button on the left and serves as both the 'select' and the 'back' button. This means you're never more than a press or two away from the feature you need to access, while any other navigation you need to perform is done via the touchscreen.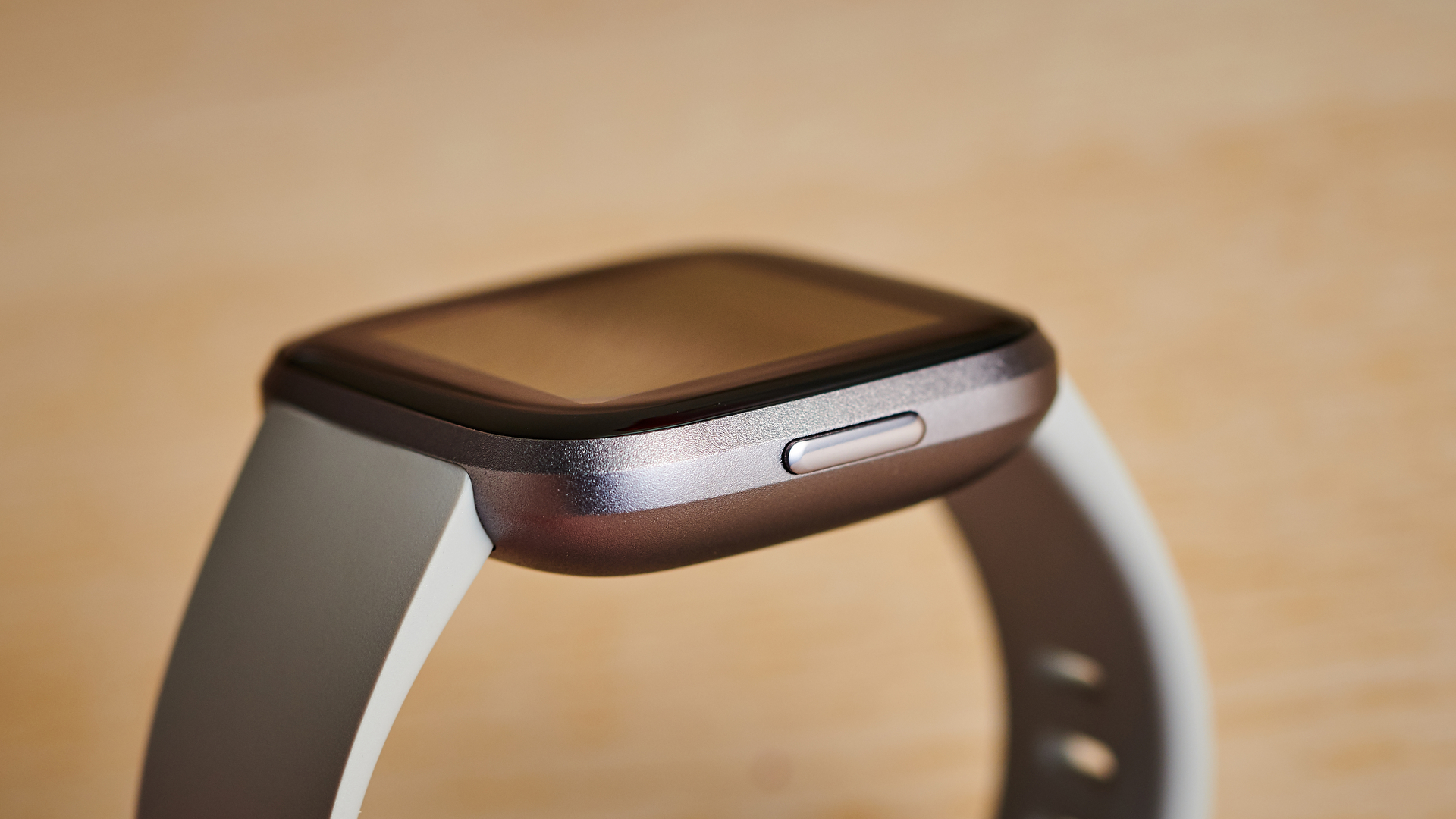 Talking about the screen, that's the one major hardware improvement worth writing home about. Unlike the LCD display on the Versa, the second-generation Fitbit smartwatch has steps into the age of the bright AMOLED touchscreen, which is protected by Gorilla Glass 3.
It's capable of hitting upwards of 1,000 nits of brightness although we found this to be actually too bright for general use, setting our Versa 2 to the lowest brightness setting permanently. Even at a 'dim' setting, the 300 x 300 resolution screen is crisp and, thanks to its ambient light sensor, is capable of adjusting brightness according to the environment you're in.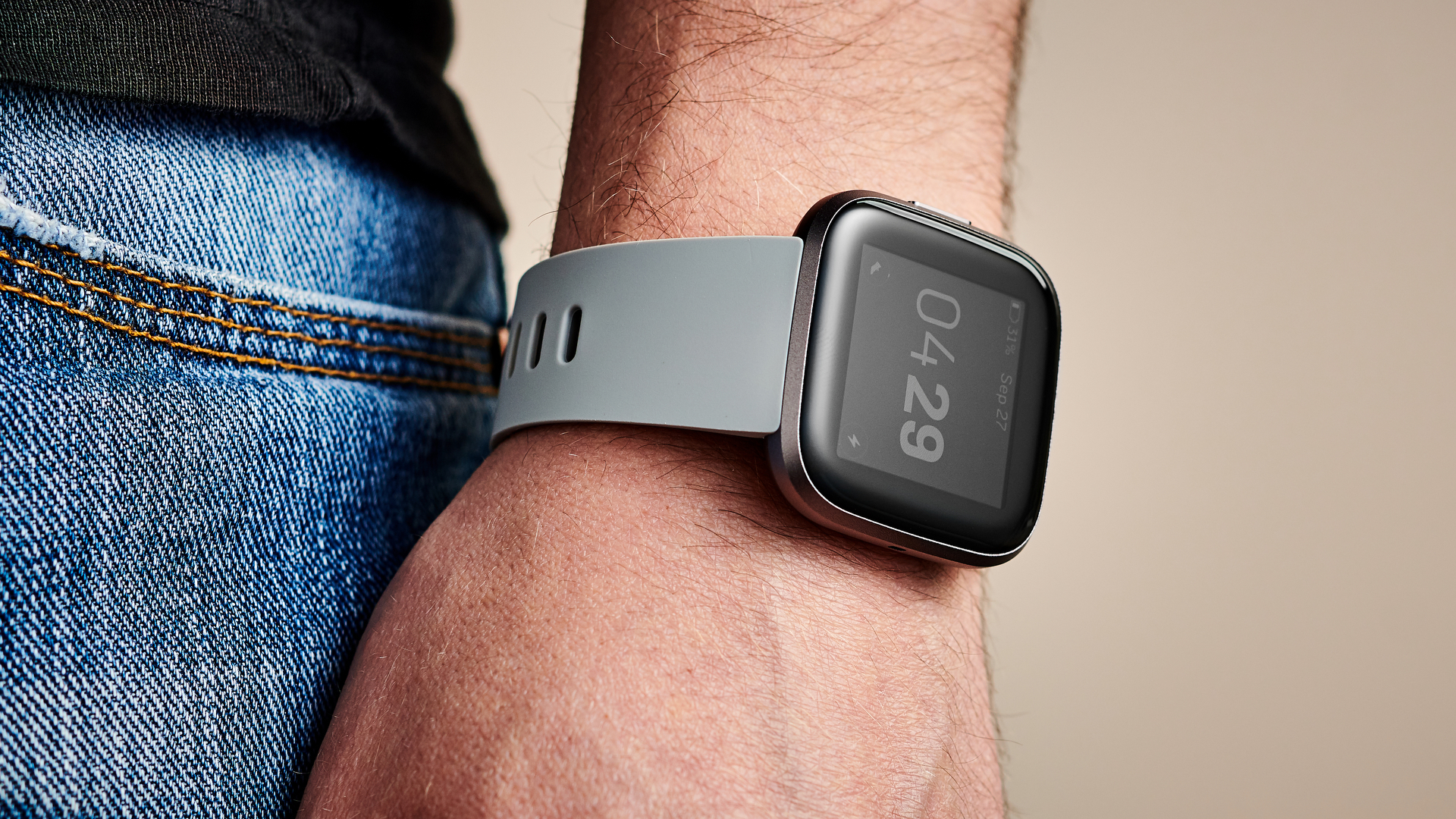 Another important feature Fitbit has added to the Versa 2 is an always-on option. By default this option is switched off and you will need to go into the watch's settings pane to change that selection. At launch, there were no customization options for the always-on watch face and, until now, was limited to a single default analog or digital option. However, a new firmware update has now added plenty of third-party always-on faces, some of which can be customized. They're available on the companion app, although most of them are paid options, with only a few free watch faces available.
If you prefer using the always-on display – after all, it's nice to be able to see the watch face without having to move your arm – you'll find that it cuts the battery life to about half.
Interface and performance
Faster processor
Easy-to-use interface
Fitbit Pay works well
5+ days battery life
Visual satisfaction aside, the Versa 2 is a faster watch than its predecessor, thanks to a new processor under the hood. That's not to say the original Versa suffered from any lag or performance issues, but if you've used it before and upgraded to the Versa 2, you will notice a marked difference in operational smoothness. Navigating between pages, launching and closing apps, and bringing up new health data in the Today pane (accessed by swiping upward on the screen) is quicker than before.
Like all other Fitbit devices, the Versa 2 has a pretty decent battery life. Fitbit claims you can get five days with standard use. We managed to push it to just over six days but that was perhaps because we had the screen brightness dimmed to the lowest setting.
Considering the first thing you see when you raise your wrist is the watch face, it's nice to know there are hundreds of designs to choose from, which you can find via the Fitbit app. However, when the Versa 2 launched in September 2019, you could – rather annoyingly – only save a single watch face at a time. That meant that every time you wanted a change, you'd have to return to the store, scroll through the options and select the one you want. Saving the new one meant the previous option would get deleted.
Thankfully that has changed, with a December 2019 firmware updated to the smartwatch ensuring you can now save up to five different watch faces – even paid-for ones – at any given time and cycle between them. If, however, you like a sixth one, you'll be sacrificing one of the saved options on the Fitbit app.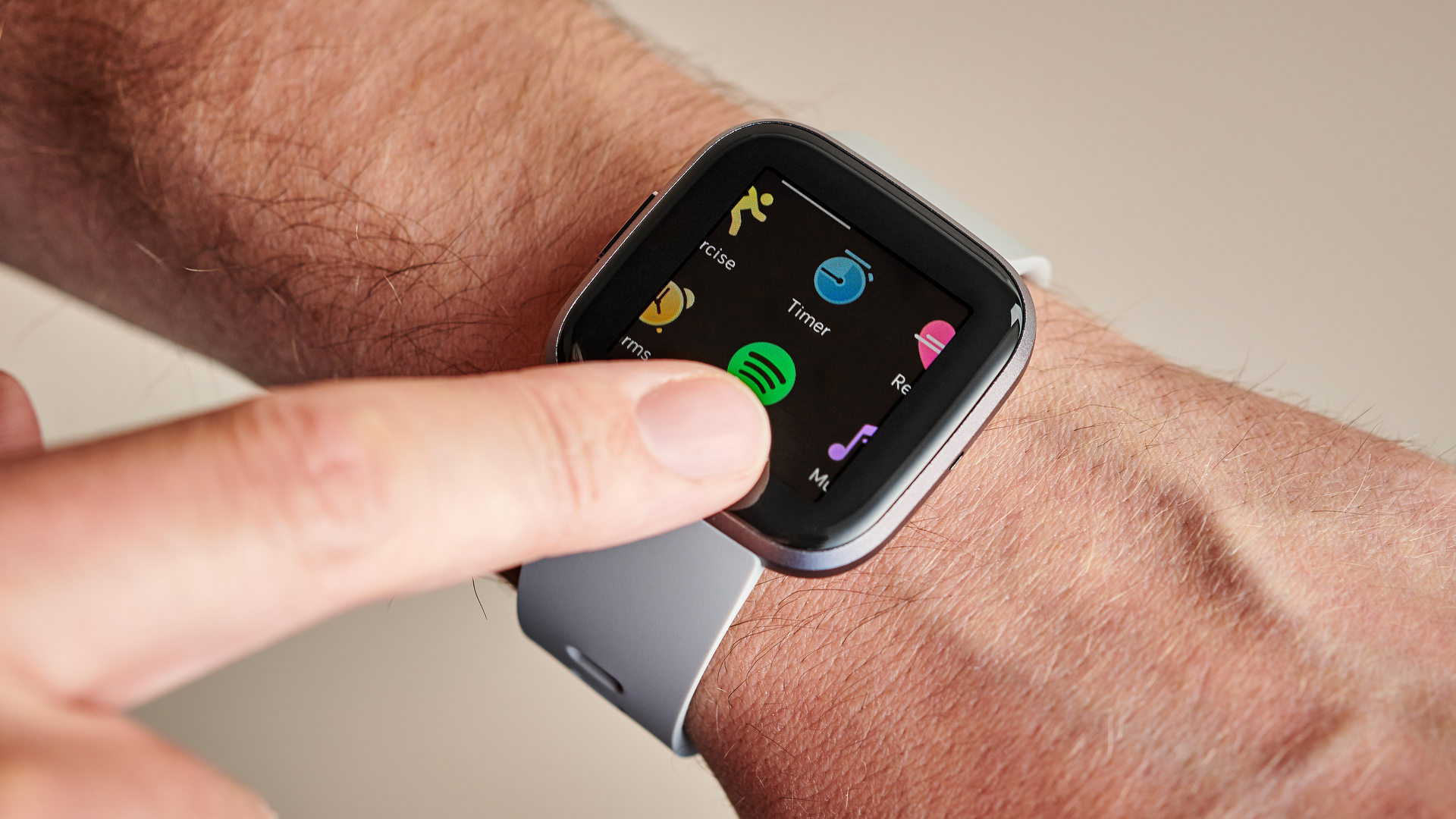 To access the app launcher, you swipe from right to left, with four app shortcuts listed on each page. These can be rearranged to your liking by lightly pressing and hold till there's haptic feedback. For a quick look at how you've fared today, just swipe up to launch Fitbit Today data – this pane displays up to seven items of your choosing and can include total steps, steps per hour, heart rate, sleep stats, and food and water intake. This customization can be done via the Versa 2's settings app.
Swipe down and you get access to notifications and, by default, you can access Quick Settings, music controls and Fitbit Pay. Quick Settings allows you to toggle the Do Not Disturb, Sleep Mode, always-on display, screen brightness (only three options to choose from: dim, normal and max), and screen wake (auto or manual) options.
Fitbit is quick to point out that the Spotify app ships with the Versa 2, but it is important to note that the app can only act as a remote, controlling the music playing the Spotify app running on your phone. As such, you won't be able to just use the Versa 2 to listen to offline Spotify playlists, although Deezer and Pandora are capable of doing so. You can, however, add music files of your own to the device, with 2.5GB reserved for local music storage.
The lack of a GPS chip can be a deal breaker for many. Every time you go for a run, walk or bike ride, you will have to take your phone with you for location information. And if you are planning on getting yourself a Versa 2 and toting your phone along wherever you go, then perhaps you won't have a chance to complain about the lack of offline Spotify support on the Versa 2.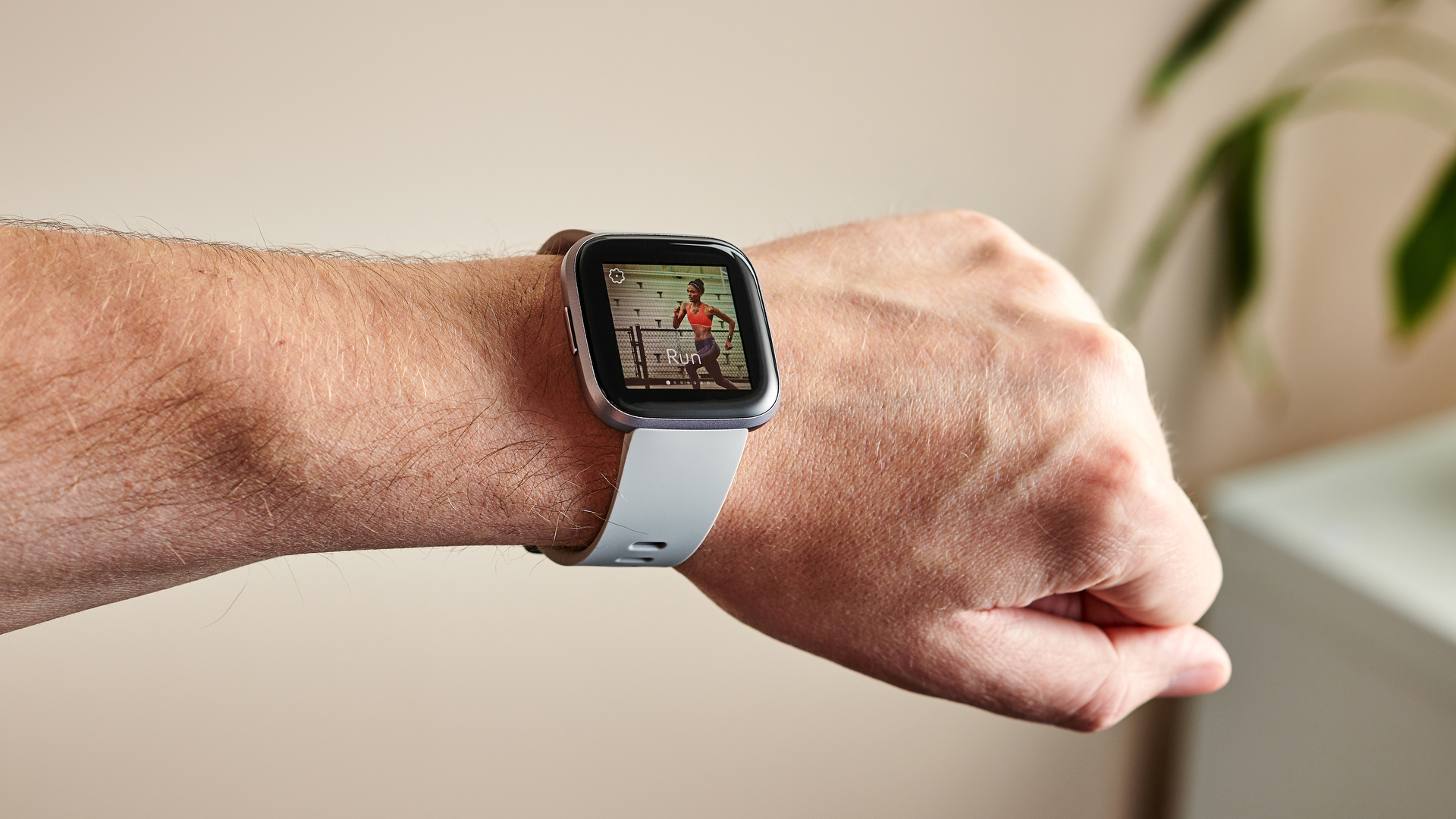 To keep tabs on your fitness, you only need to select the exercise app on the watch and choose the type of activity you're about to indulge in. If you don't, the wearable is smart enough to log any activity as exercise that's 20 minutes or longer thanks to Fitbit's SmartTrack technology. Sleep tracking, though, is done automatically.
If you happen to be an iPhone user, you will not be able to respond to messages directly from the Versa 2. Android users can, although there is a massive caveat: there are currently only five default quick replies to choose from, although these can be customized in the Fitbit app.
The all-in-one button on the Versa 2 can be long-pressed to bring up either Alexa (more on voice command integration later) or Fitbit Pay. If your bank supports Fitbit Pay, then we'd recommend you use the button for contactless payments as, in our experience, interacting with Alexa can be quite inconvenient.
Alexa integration
The addition of Amazon's voice assistant to the Versa 2 means the wearable should be able to do a lot more than its predecessor. To use voice assistant on your new watch, though, you will first have to download the dedicated Alexa app to your phone and link your Amazon account within the Fitbit app. Despite all that, there are still limits to what Alexa can do for you.
By either long-pressing the side button or swiping down on the screen to bring up Alexa (you can't use a wake word to call on the digital assistant), you can find out what the weather's like in your area, set reminders and timers, start an exercise routine, and even control your smart home setup. You cannot, however, make a call or respond to messages.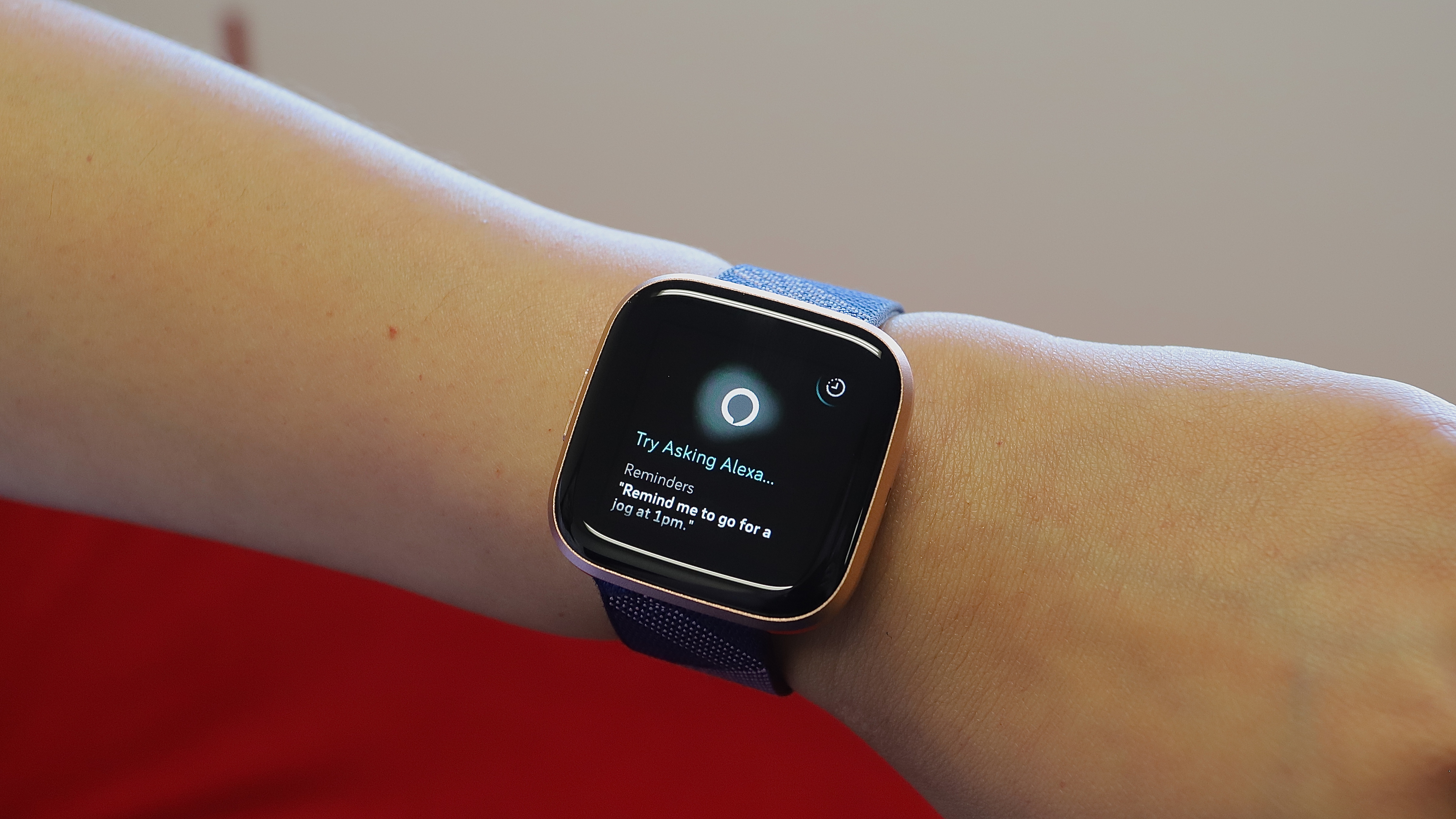 Alexa's responses to queries are only in text form – not audible – which, when combined with the fact that you need your fingers to bring up the voice assistant, proves to be inconvenient when you have your hands full.
The other major caveat with Alexa on your Versa 2 is that you will have to leave the Fitbit app running in the background on your phone to use voice commands.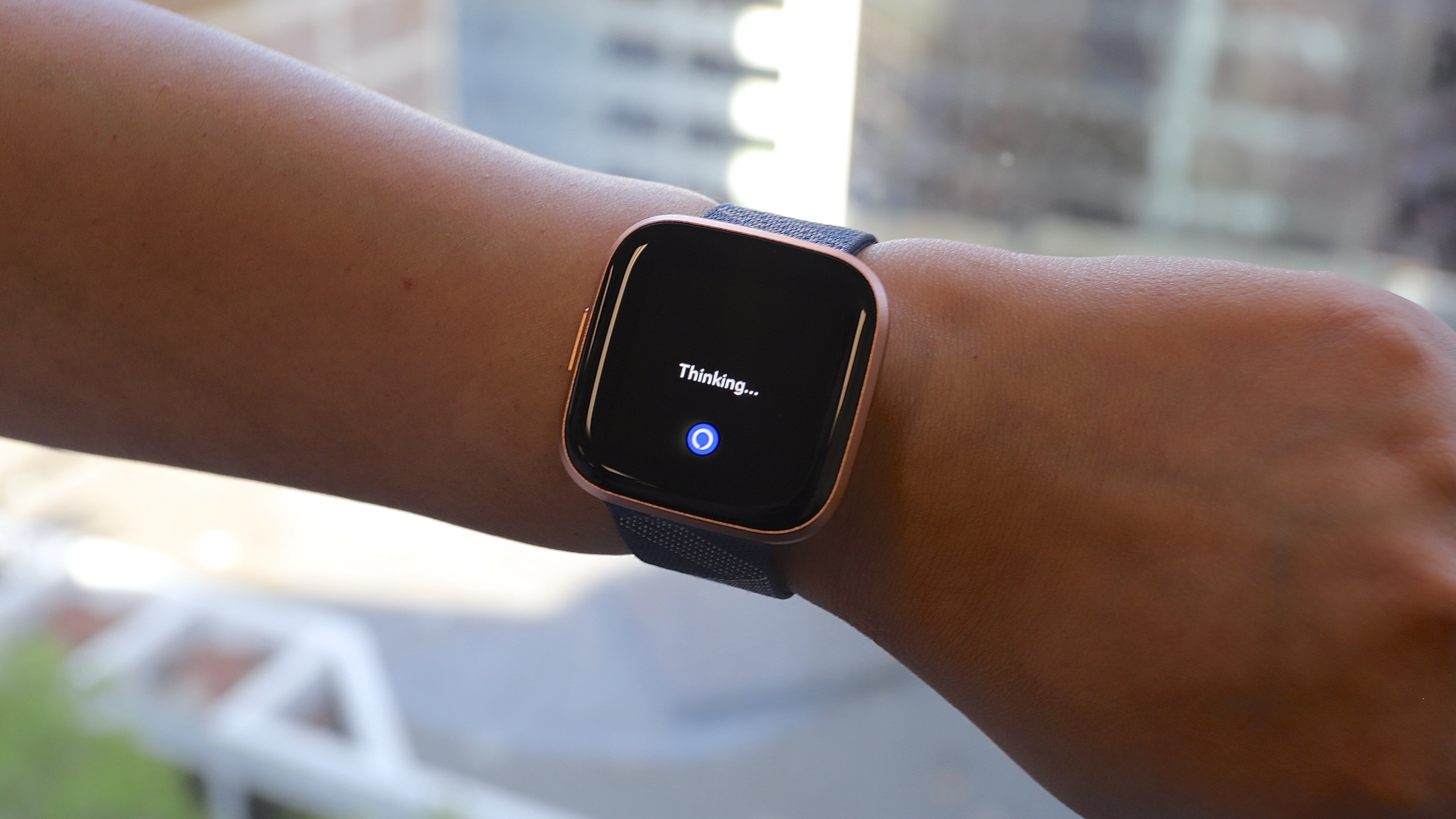 During our testing, we found that using Alexa was an inconsistent experience – more often than not it would take a few tries to get Alexa to respond, with the screen telling us Alexa was "thinking". When Alexa does work, it's agonizingly slow, although that's because voice commands are being sent to Amazon's servers and responses then travel all the way back.
In short, while the addition of Alexa is a nice touch, functionality is limited and unreliable at best.
Fitness and sleep tracking
Your sleep gets scored
Covers most exercise types
More premium features hidden behind paywall
Fitbit is known for packing its trackers full of fitness features and the Versa 2 is no different. While you can start an exercise routine by selecting an option from the exercise app on the watch, the Versa 2 can record activities automatically.
However, there are caveats when using this SmartTrack technology: firstly, you need to have your phone with you so the GPS can record location information and, secondly, you won't be able to see real-time statistics (duration of the exercise, distance covered, and so on will only appear when the device recognizes you have finished).
When you do select an exercise routine, only some of them produce accurate statistics and swim tracking is one of them. For something like a bike ride or a run, we found that without its own built-in GPS, the Versa 2 doesn't clock the correct distance traveled. As long as you have your phone with you, the Fitbit app calculates stride length to give you more accurate information.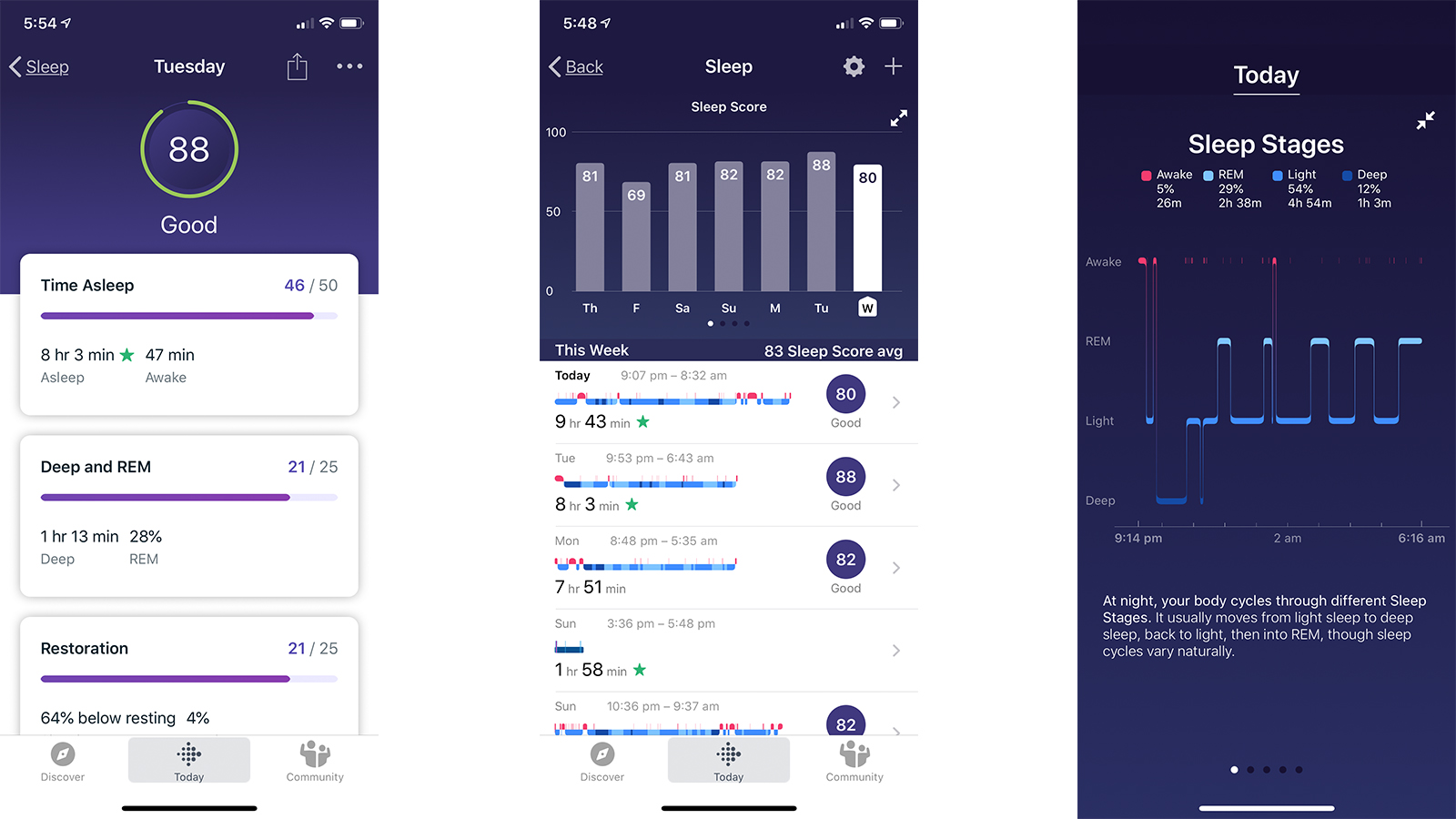 It's sleep tracking that we thought the Versa 2 excels at. Firstly, the device is light and comfortable enough to wear through the night. Secondly, Fitbit's previously confusing sleep stats have been given a makeover and now you get a score for each night's sleep.
Sleep Score takes into consideration how long you're awake for, your light and deep sleep durations, restlessness and REM sleep, then spits out a number. On the free version of the Fitbit app, you only see a score, but if you choose to subscribe to Fitbit Premium, you get a complete breakdown of the score, telling you how low your heart rate was below resting while sleeping, how restless you were, percentage of REM, deep and light sleep. It even gives you a comparison of 30 days' worth of data if you wanted to see if your sleep pattern has improved or not.
The December 2019 firmware update added another feature to the Versa 2 that we highly recommend. Called Smart Wake, it's available in the Alarm app that comes installed by default. It's an optional feature you can select when setting up a wake-up call. No matter what time your alarm is set for, Smart Wake sets off the silent vibrations at the most optimal time in your sleep cycle within a 30-minute duration prior to the chosen alarm. For example, if you've set an alarm for 7am and selected to use Smart Alarm, your Versa 2 will wake you up somewhere between 6:30am and 7am so you don't jolt awake and feel groggy. We've been using this feature regularly and can vouch for how well it does.
The Versa 2, like its predecessor and the Ionic, came with the hardware that could monitor blood oxygen levels that could enable users to keep tabs on variations in breathing patterns while sleeping. At the time the Versa 2 launched, the software enabling this feature to work hadn't been rolled out, even to the older, existing Fitbit smartwatch line.
As of February 2020, though, the company has rolled out the oxygen level estimation feature and this could come in handy for many who suffer from disorders like sleep apnea. Knowing whether your breathing varies a lot while you're asleep can help doctors diagnose underlying conditions quicker. This is a feature that even the latest Apple Watch doesn't have.
You'll need to dig a bit to find this information, though, which is buried within the sleep score panel of the Fitbit app. Tap on the sleep score, then select a specific night from when the feature was enabled you want the information for. You'll need to scroll down below the sleep stages breakdown to see the graph that shows you the estimated oxygen variation during that particular sleep cycle.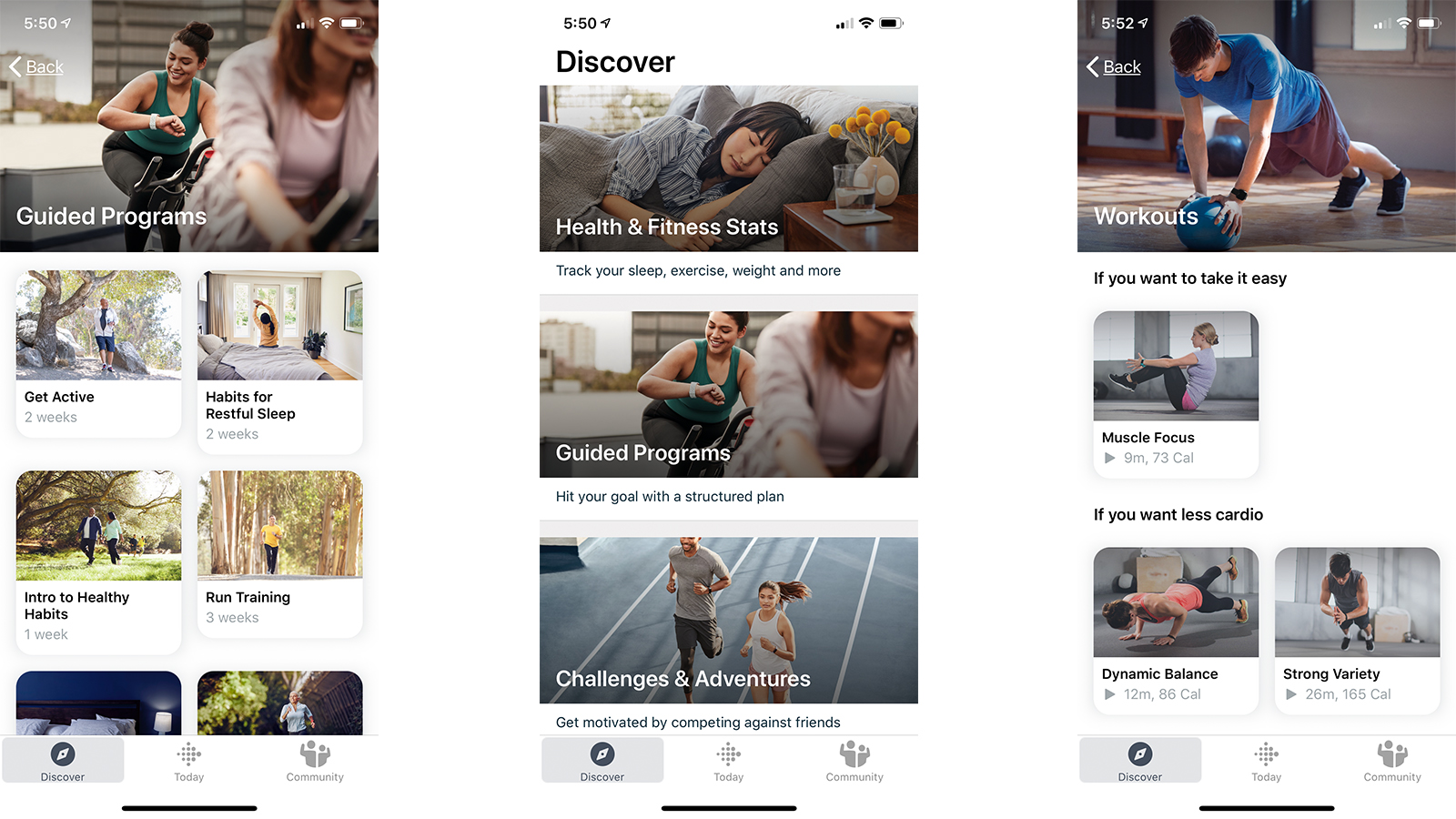 Fitbit Premium is a convenient way to keep tabs on your overall fitness level and find ways to improve your health and activity. For $9.99/month – or $79.99/year (that's £7.99/month or £79.99 in the UK and AU$14.99/month or AU$129 a year) – you get access to guided programs and workouts, personalized insights and the ability to download the data to later show your doctor if necessary. It also includes all the step-by-step workouts you'll find in Fitbit Coach.
It should be mentioned at this point that Fitbit Premium is not an additional app. The 'Discover' tab on the main Fitbit app shows you what's on offer on Fitbit Premium and from there, if you select a particular option, it asks you if you want to sign up or not.
While Fitbit Premium is definitely worth it for anyone determined to get their health back on track, the free version of the app does enough to keep you on the right path. Outside of sleep tracking, the Fitbit app hasn't really changed much since the days of the Ionic, with each day's data neatly displayed in the dashboard. Progress for each metric is shown by a circle closing in clockwise as you move towards your goal.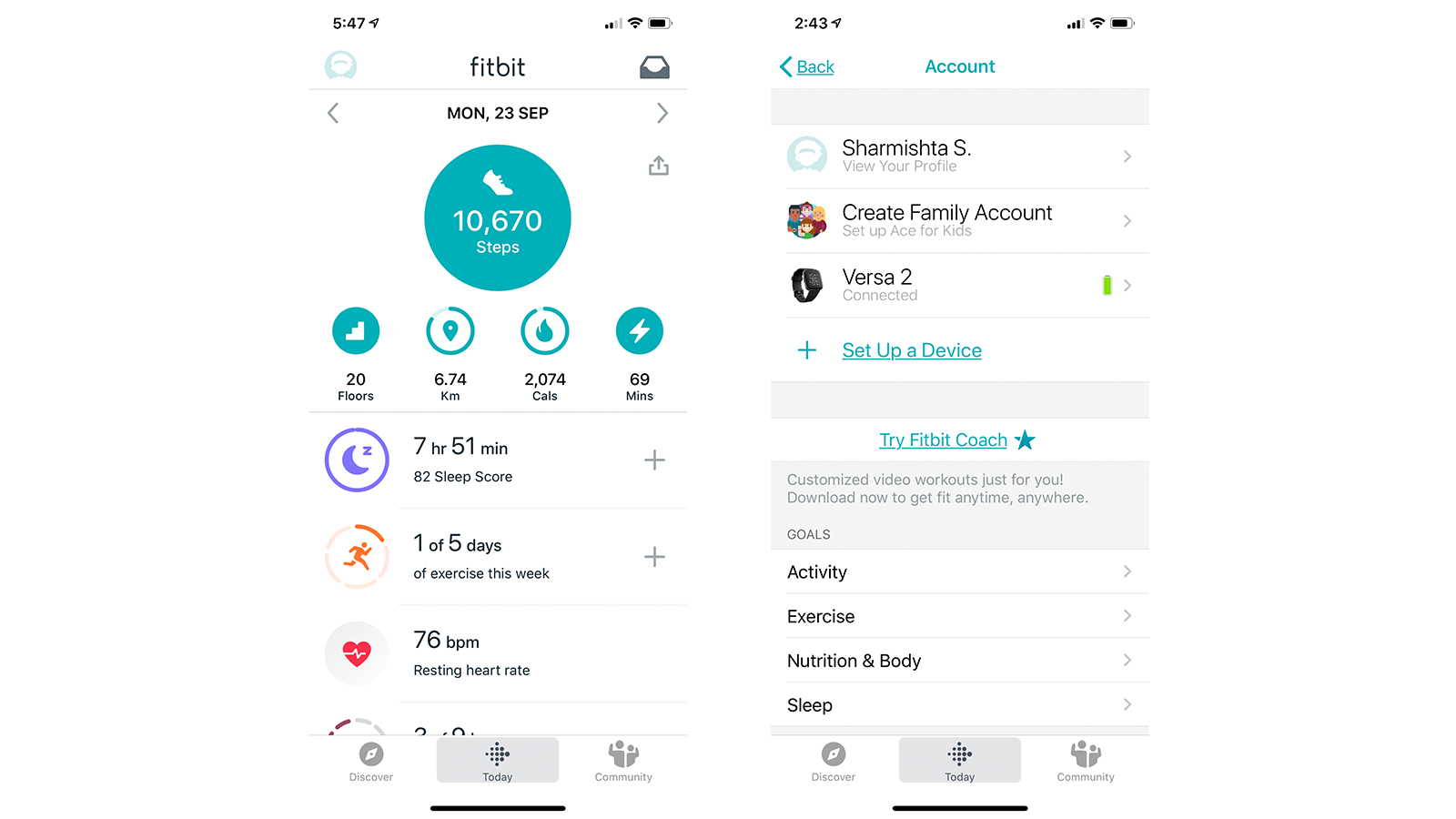 To set your goals, you can head to the Account tab, accessed by tapping on the little icon on the top left corner of the dashboard. It's the same in both iOS and Android. From here you can even set up another Fitbit device and customize your Versa 2.
Verdict
If you've never used the original Versa and are in the market for a new reasonably priced smartwatch, then the Versa 2 is a compelling proposition. Physical tweaks to the design and a fabulous display make the Versa 2 look like a premium wearable that would look good on almost anyone, while the addition of Alexa offers something different to the Fitbit range, even though it's not perfectly implemented.
And while it may not support all messaging platforms (for example, Slack), you will receive notifications for most other popular texting services including WhatsApp and Facebook Messenger.
However, full Spotify support and built-in GPS would have made this near-perfect, affordable device that much more compelling wearable.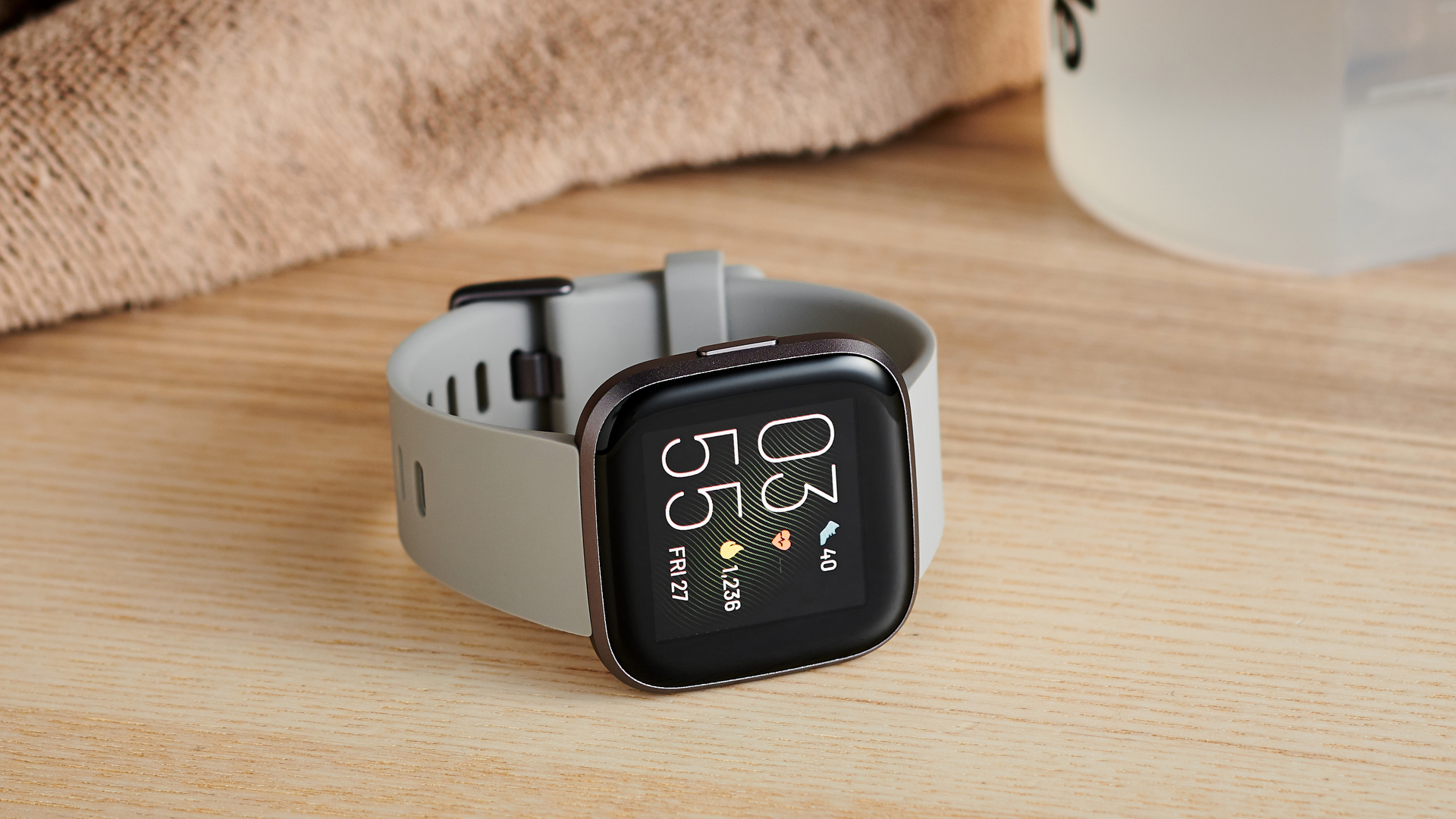 Should you buy it?
The Versa 2 can be tricky to recommend to those already using the original Versa or the Ionic. After all, you'll get all the benefits of Fitbit's excellent ecosystem with either of the older wearables. Yet, if you're looking for an upgrade, or a small change, and are currently wedded to the Fitbit ecosystem, the Versa 2 is certainly a more compelling option than its predecessor – after all, it has a better screen, is faster and comes with a voice assistant.
That said, if you've never used a smartwatch before and are looking for something on a budget, the Apple Watch 3 and the Samsung Galaxy Watch Active are available at about the same price point – they both have GPS, on-board music and NFC support for contactless payments.
First reviewed: October 2019
Competition
Don't think the Fitbit Versa 2 is for you? Try some of the below options for your next smartwatch.
Image 1 of 3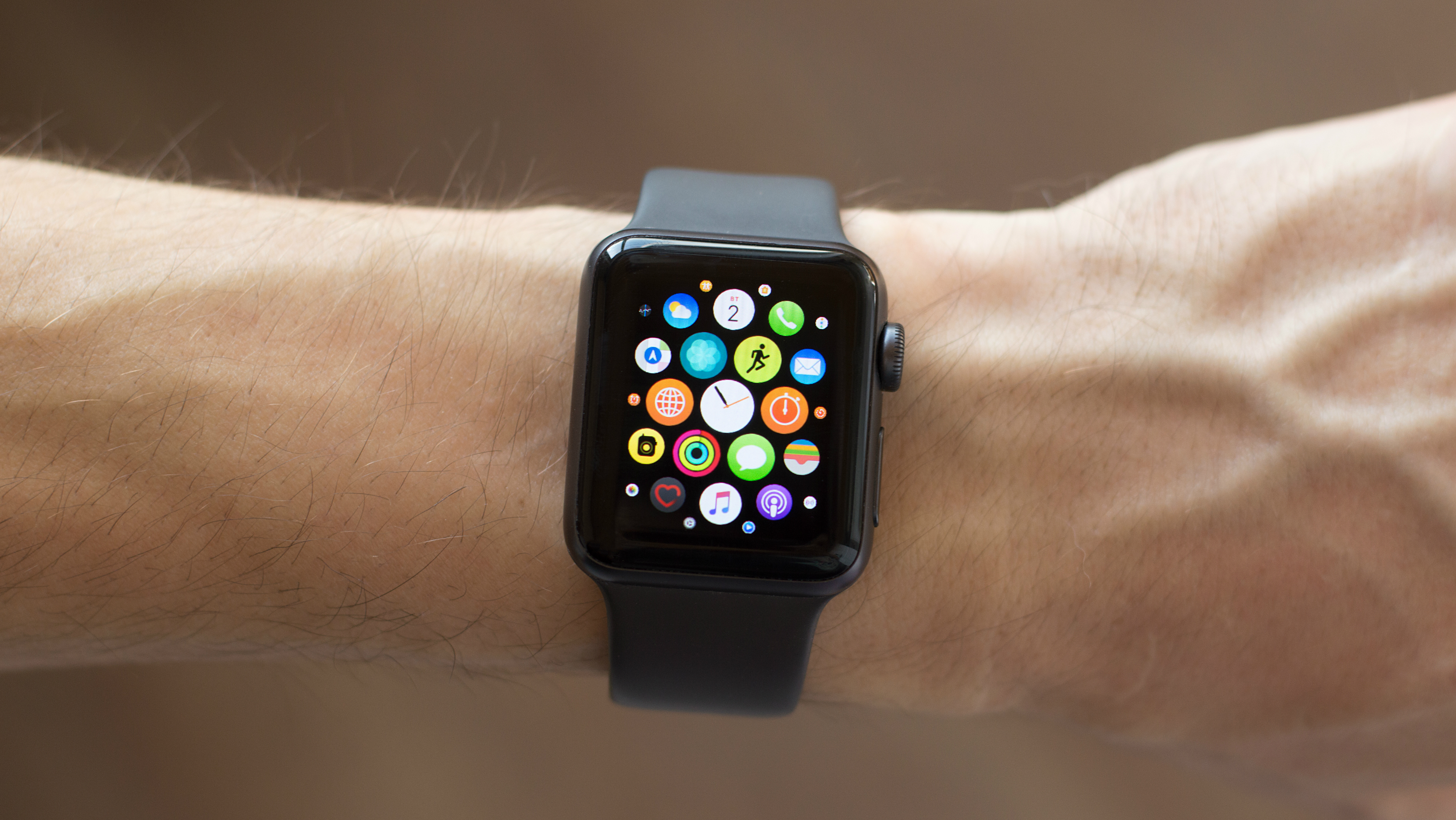 Apple Watch 3
It is fair to say Apple dominates the smartwatch space, and with the price of the Series 3 Watch dropping significantly after the launch of the Apple Watch 5, it's hard to pass this by. It offers way more premium features and more seamless user experience than the Versa 2. Where it loses out on is its battery life – you'll need to charge the Apple Watch 3 practically every single day, while the Versa 2 will tick steadily on for about five.
Read more in our in-depth Apple Watch 3 review
Image 2 of 3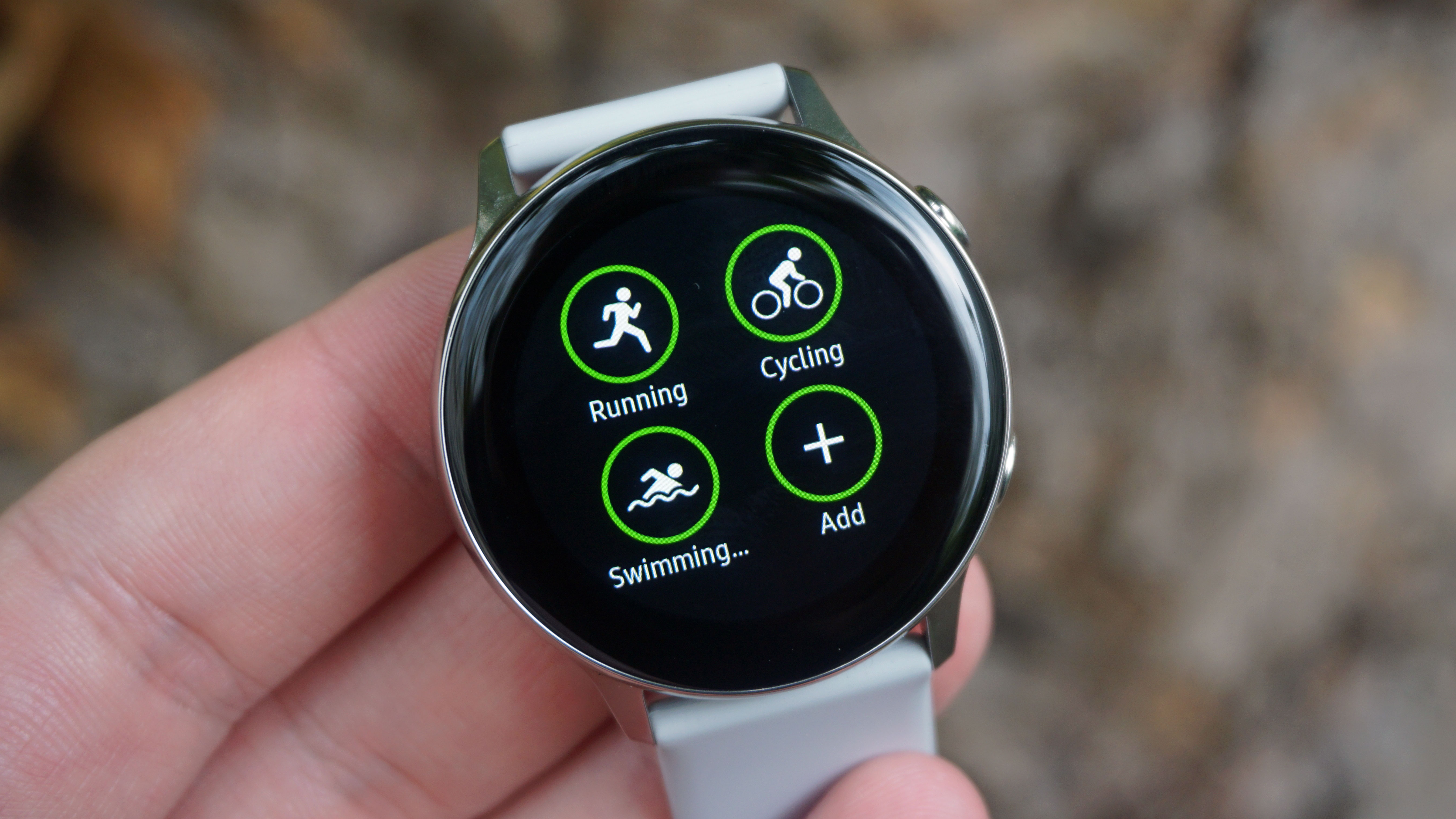 Samsung Galaxy Watch Active
With Spotify support on board, along with GPS and NFC, the original Samsung Galaxy Watch Active is one heck of a smartwatch, particularly if you're an Android user. And while it doesn't have an LTE version like the Apple Watch, or a digital bezel like the Galaxy Watch Active 2, it's a relatively affordable alternative to the Versa 2.
Read more in our in-depth Samsung Galaxy Watch Active review
Image 3 of 3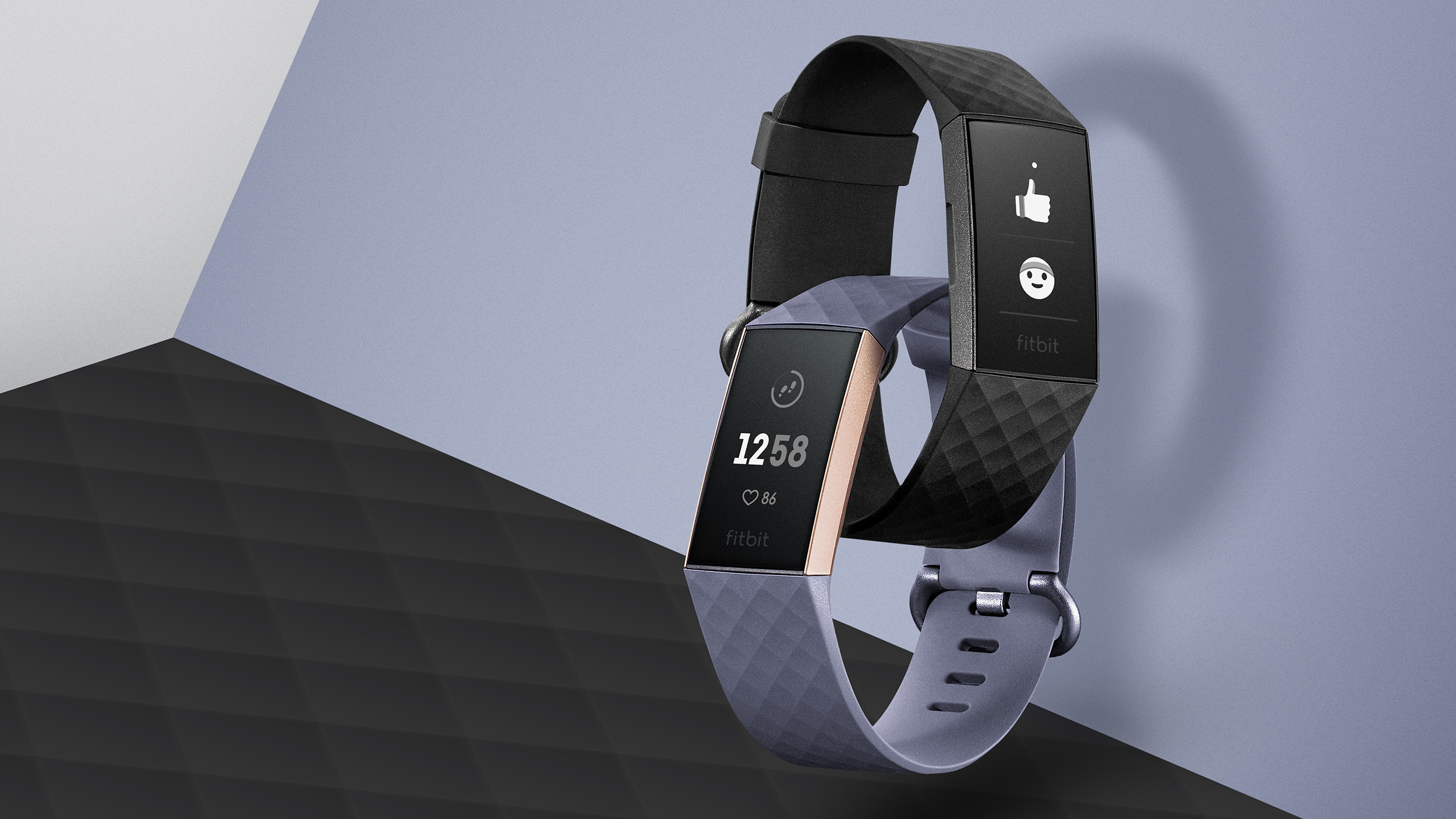 Fitbit Charge 3
If you think a bright, colorful display and other customizable options are overkill on the original Versa or its successor, then this tracker is one of the best Fitbit has to offer. It definitely doesn't compare to the more specialized Garmin watches, but it does come at a much more affordable price than any smartwatch on the market.
Read more in our in-depth Fitbit Charge 3 review