When it was first unveiled, the Fitbit Versa was positioned by the San Francisco-based health tech firm as a smartwatch, with a lighter design in comparison to previous devices, more personalization options, and with a battery life of over four days.
Since then, we've seen the company also introduce the Fitbit Versa Lite - a pared down and cheaper version of the device you're reading about here - as well as the Fitbit Versa 2 and Fitbit Versa 3, which build upon the original device and are among the best Fitbits you can buy today.
These newer models have expanded what the company's fitness trackers can do, but it's more expensive than this original watch and many will still find the Versa a suitable option for their wrist.
Read on below to learn everything that stands out about the Fitbit Versa and how we feel about the smartwatch.
Fitbit Versa price and release date
The Fitbit Versa price launched at £199.99 / $199.95 / AU$299.95
You can find it for less now than when it launched
The Fitbit Versa is a cheaper alternative to the company's flagship Ionic smartwatch, which was its most expensive wearable to date when it was released in late 2017.
Priced at £199.99 / $199.95 / AU$299.95 at launch, it was pitched as a replacement of the Fitbit Blaze running watch, and we've seen the price of the Fitbit Versa drop over time.
It reached £130 in the UK and $150 in the US. The price isn't always that low, but the point is you can shop around for a better deal than the standard selling price.
Then there's also the Fitbit Versa Lite. It's a remarkably similar product, but loses a few features such as swim tracking and music to bring the price down to $159.95 / £149.99 / AU$249.95. We've seen that price drop with time, but if you can find the original Versa for less than the Lite it's worth opting for this watch instead.
The Fitbit Versa is available in silver, black or rose gold as well as several watch strap color combinations.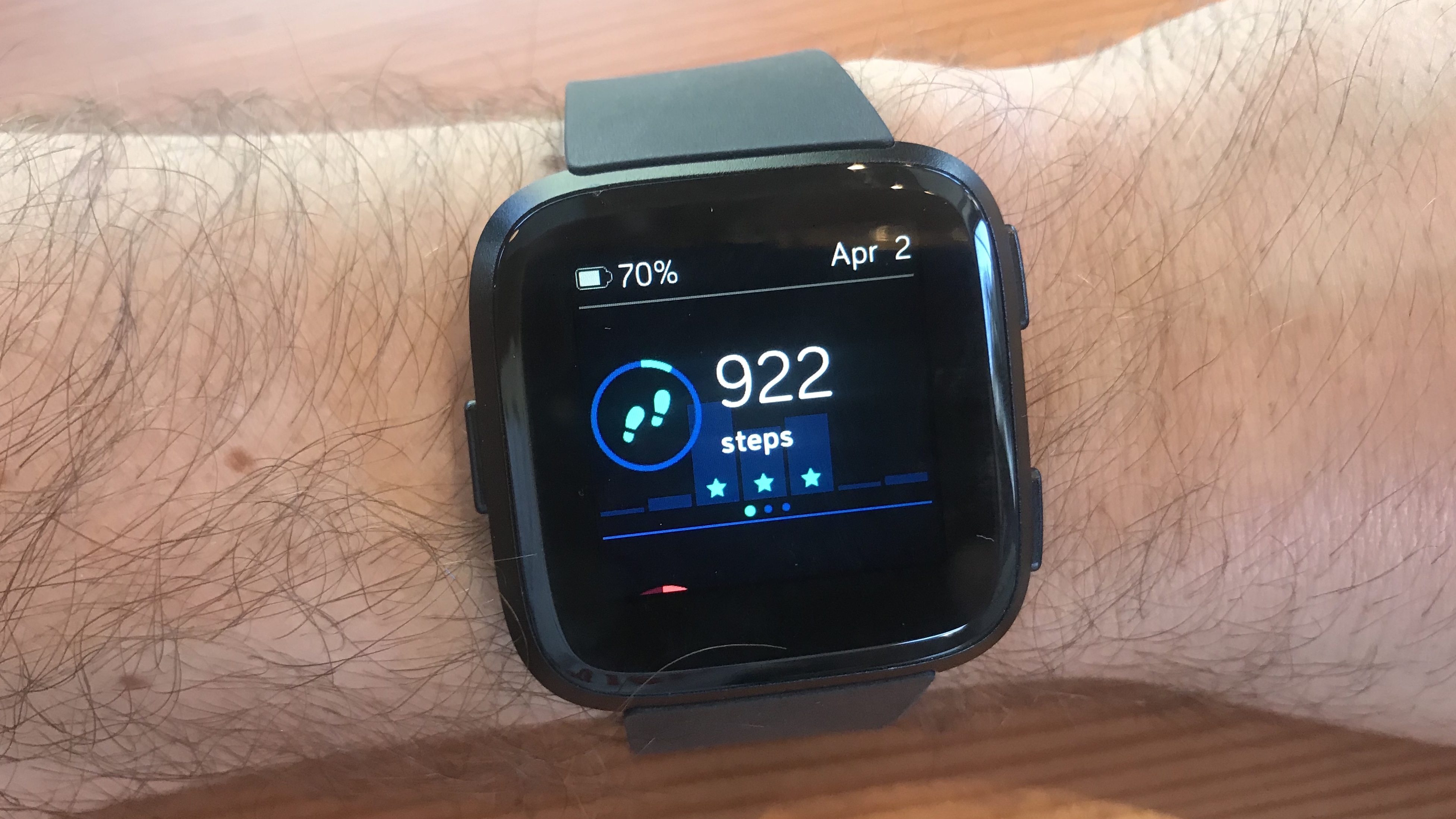 Fitbit Versa design and display
New, more accessible 'squircle' design
Brilliantly bright and clear display
Lightweight and comfortable
For the Versa, Fitbit hasn't just updated the design of one of its previous or existing wearables; it's given it a completely fresh look and perhaps one that seems more Pebble-like and Apple Watch-esque than any of the company's previous devices.
It boasts what Fitbit is calling a 'Squircle' watch face design, that is, a square face with rounded edges - in case you needed that spelling out.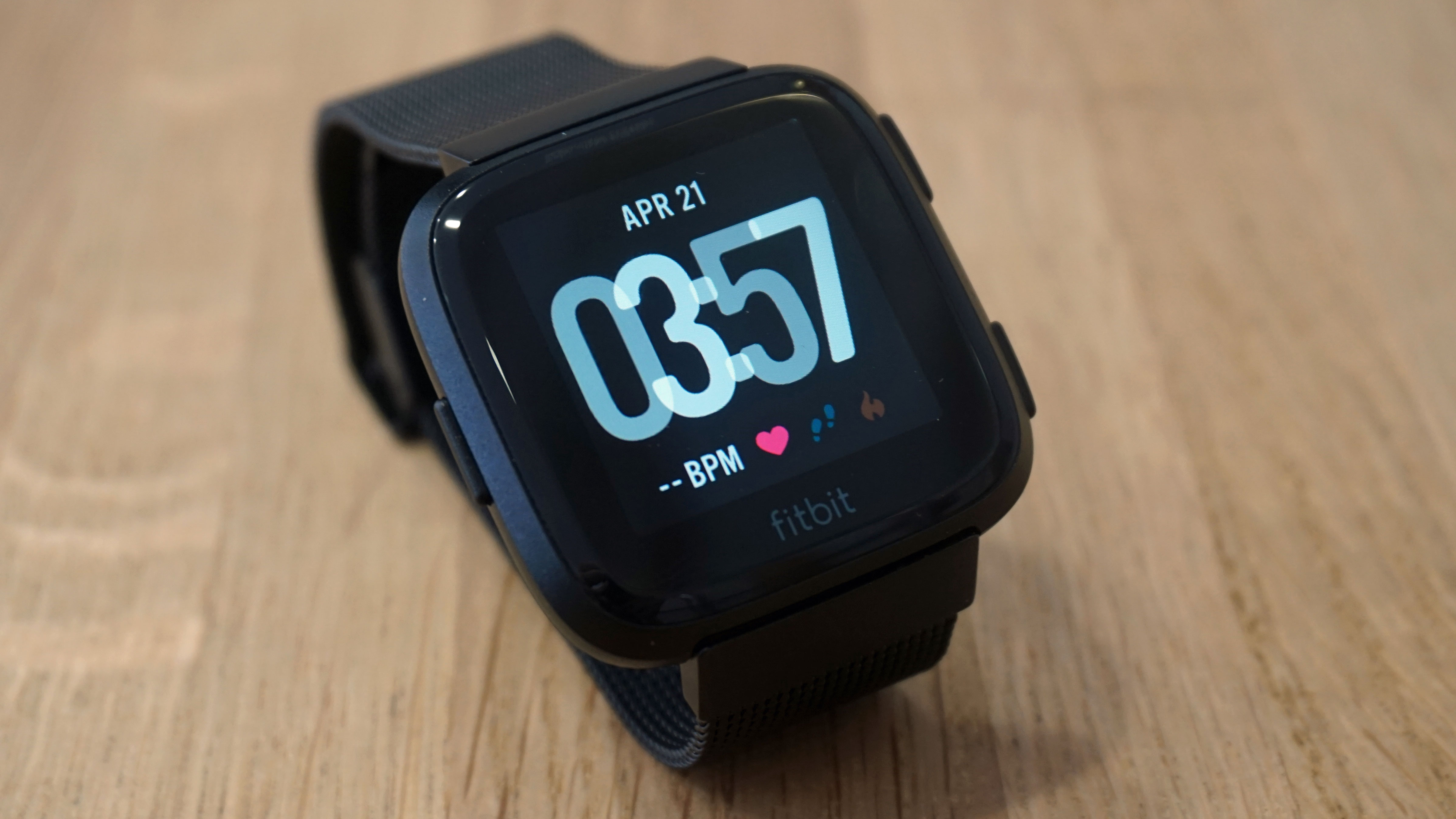 Despite its silly design name, the Versa is a much more handsome and friendly-looking watch than many of the firm's previous devices, especially the Ionic, which we have to admit we weren't the biggest fans of.
In comparison, the Versa is pretty nondescript and thus harmless looking, ensuring your eyes are left to concentrate more on what's happening on the display than around it.
Although we loved it, it's worth noting that the 'Squircle' might not appeal to everyone.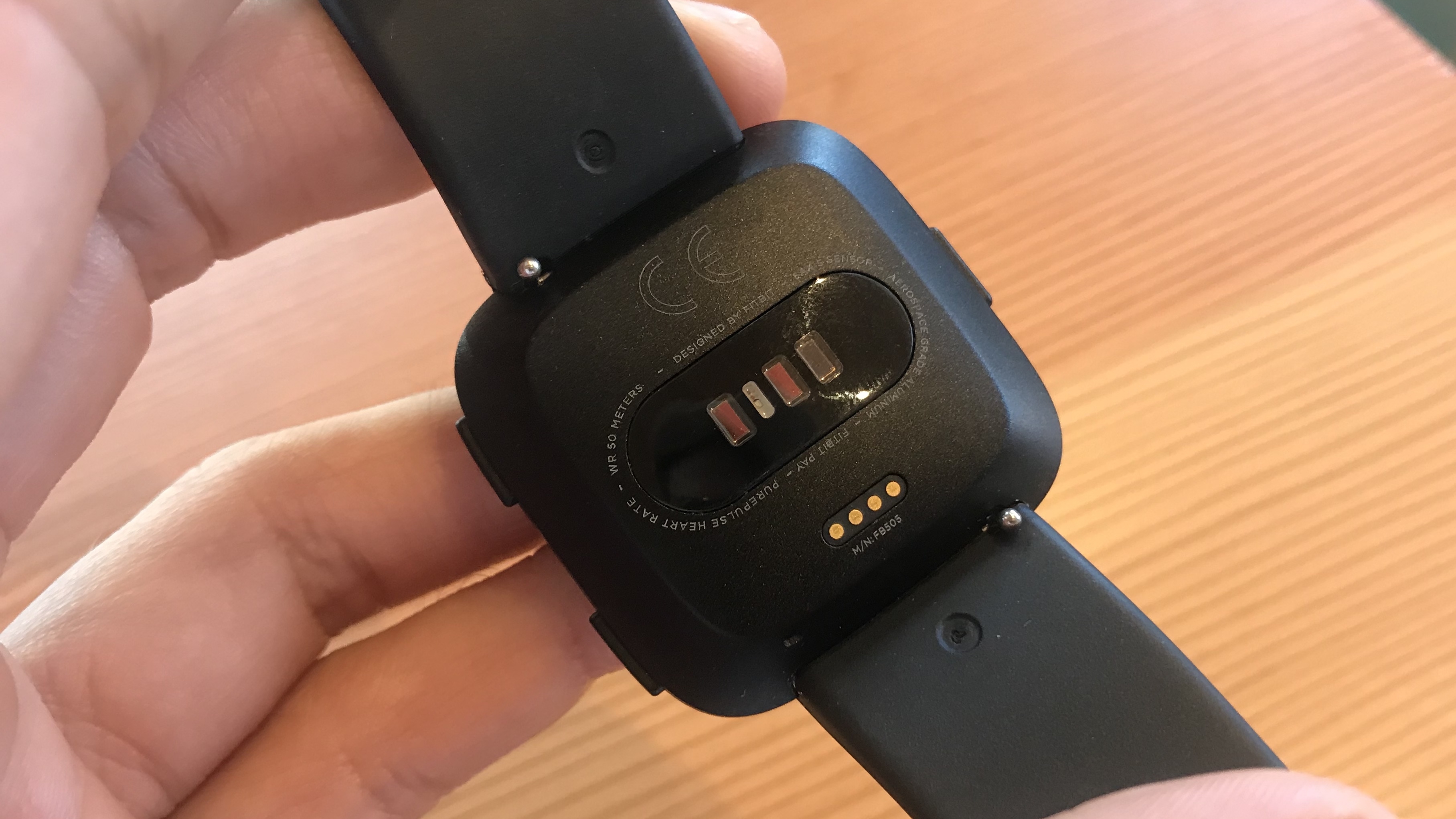 The Versa isn't only aesthetically pleasing, but probably one of the most comfortable smartwatches Fitbit has made thanks to its lighter weight.
Fitbit claims the Versa is one of its lightest smartwatches yet due to its ultra-thin, anodized aluminum case and slightly tapered and angled design that has been built to fit small or large wrists.
However, this lightweight material does make it feel a little cheap at times, something to keep in mind if you're wanting the Versa to be more of a lifestyle watch and you like the weighty, premium build of fancy watches.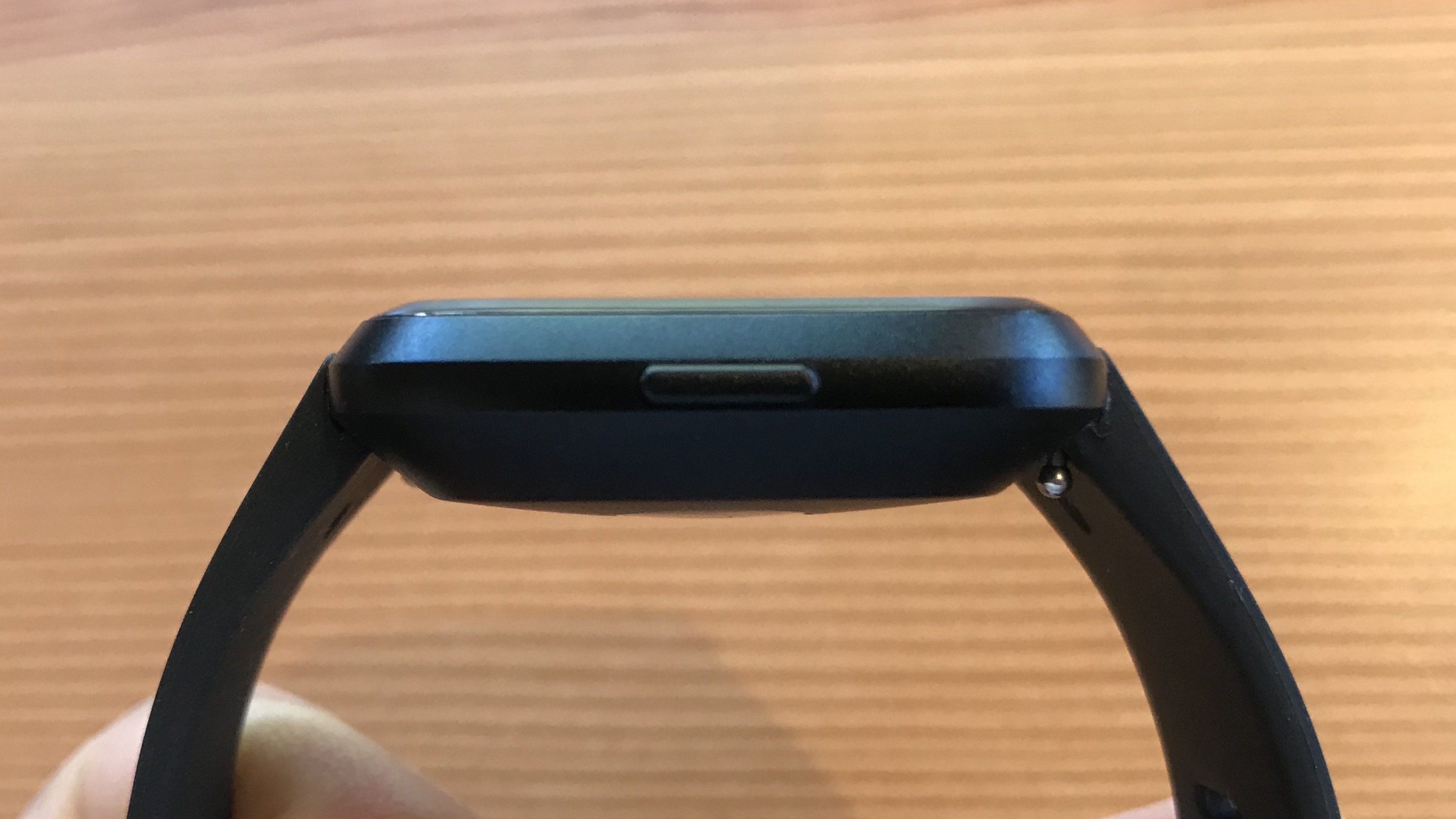 On the left-hand side the Versa sports one main wake-up/back button, while on the right there are two smaller pause and finish workout buttons. These are easy enough to press and proved to work perfectly while using the Versa for both focused exercise and day-to-day wear.
The traditional watch-style clasp is super easy to fasten and release, while retaining a good grip during intense workouts; something we prefer to those modern button-style straps some smartwatches and activity trackers have these days.
As with the Ionic, these straps are also interchangeable with many different colored metal, fabric or silicon versions in case you want to change up the watch style entirely.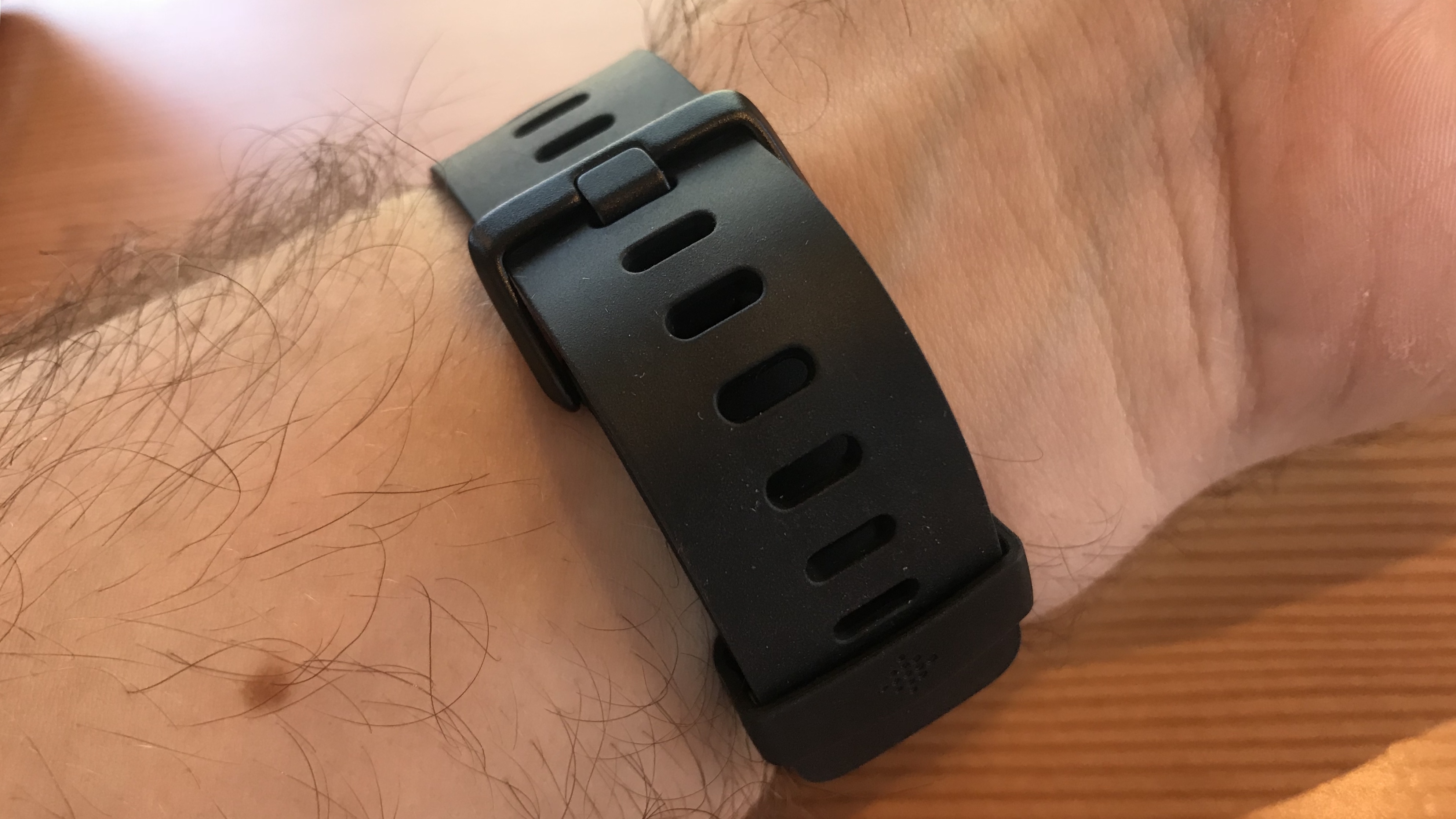 As for the Versa's display, it's a vibrant, colorful touchscreen with a brightness up to 1,000 nits. This means that even in direct sunlight or underwater it's easily visible, even when not turned up to the maximum brightness capacity.
Touch commands also seem to be much improved over the Ionic, which seemed to suffer a little from latency. Now commands seem to be fluid and uninterrupted.
Image Credit: TechRadar
Fitness features
All major workout types covered with dedicated tracking modes
Swim tracking works perfectly underwater
Run detect feature accurately detects when you've paused for a rest
Perhaps in an attempt to stay relevant in the age of the Apple Watch 3 and now the Apple Watch 4, Fitbit has ensured the Versa is brimming with fitness features, just like it did with the Fitbit Ionic, with the only major omission being GPS.
Tracking your workout on the Versa is really straightforward and works in the exact same way as on the Ionic.
Whether it's running, cycling, swimming or HIIT that you want to track, there's a dedicated option for this on the watch's Exercise app, accessible as the first option in the main menu carousel. This consists of: Run, Bike, Swim, Treadmill, Weights, Interval Timer, and Workout.

To track your run, for example, you'd simply select the Running tab from the Exercise option by swiping left from the home screen, then tap go and off you go.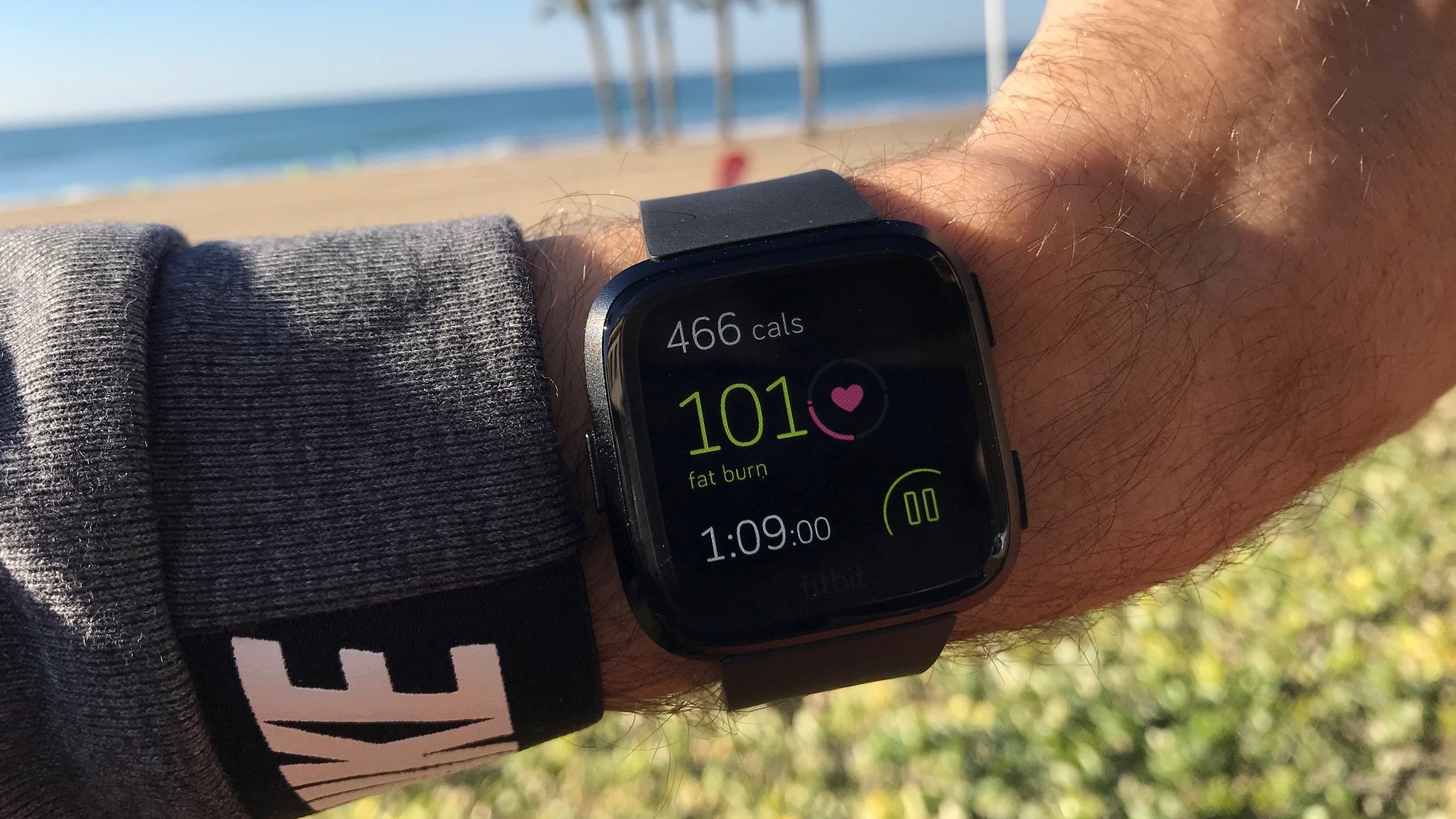 During the exercise, the watch will display a selection of your vitals, which will differ depending on what exercise you're tracking. For example, the running option will display distance and time, whereas the swimming option will display the lengths and meters swam alongside the time, and then the general workout option will show heart rate the calories burned.
Many other tracking variables can also be seen, such as the current time and time taken, by swiping left or right on the main display during the exercise tracking.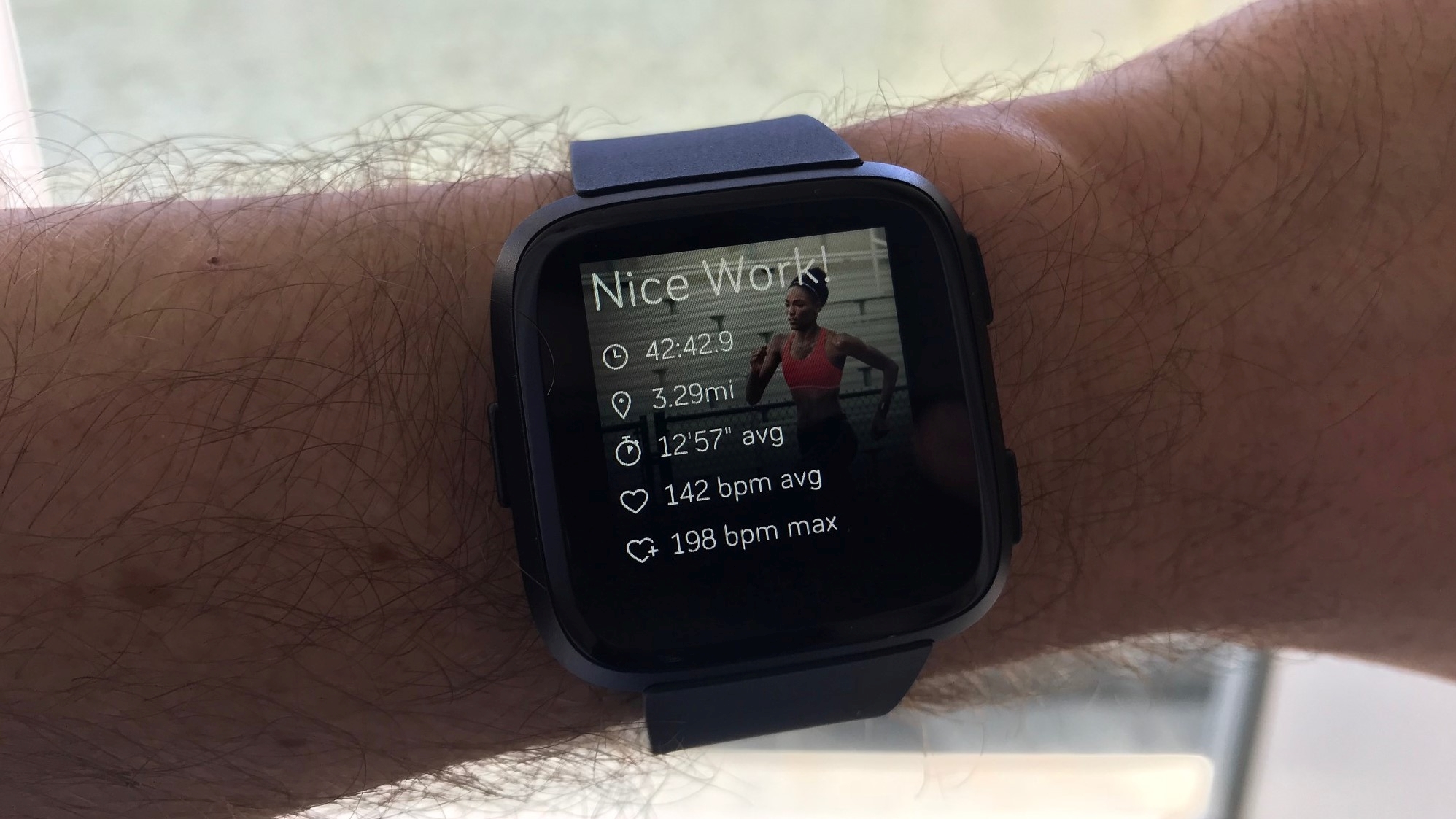 Once you've ended your exercise by telling the Versa you're done, you'll get a workout summary. These little summaries are a great touch, giving you the lowdown on your performance as soon as you've finished.
In our running session for instance, the Versa workout summary told us what our maximum heart rate had been in beats per minute (BPM), alongside our average BPM during the whole exercise, the time it took to complete the workout and the distance traveled.
As with the display during exercise, this summary changes depending on the exercise you do. After a HIIT class, in which we'd chosen the standard 'workout' option, we were told how many calories we'd burned as opposed to distance traveled and time taken.
This is all viewable in the app, too, after you've synced your watch to your smartphone, alongside all the other variables, side by side with any previous workouts you've done.
Another impressive tracking capability for a wearable at this price point is the swim tracking. We say impressive because in order to do this, Fitbit obviously had to make the Versa completely waterproof (to 50 meters), which not only means you can get it wet, but you can use it to track your water activities with a dedicated swimming mode.
It works swimmingly (sorry) as well. It accurately tracks your laps in a pool for instance, recognizing in real-time when you've reached the other side and kicked off to start your next lap.
What really took us by surprise was that the Versa was able to offer clear and concise on-screen information with its brightly-lit display under the water. It isn't easy to swipe between the different tracking variables during this mode though, as you can imagine, as the display doesn't recognize finger taps so well underwater.
Some might be disappointed by that, but actually it was handy for us and stopped us swiping away from the important tracking screen.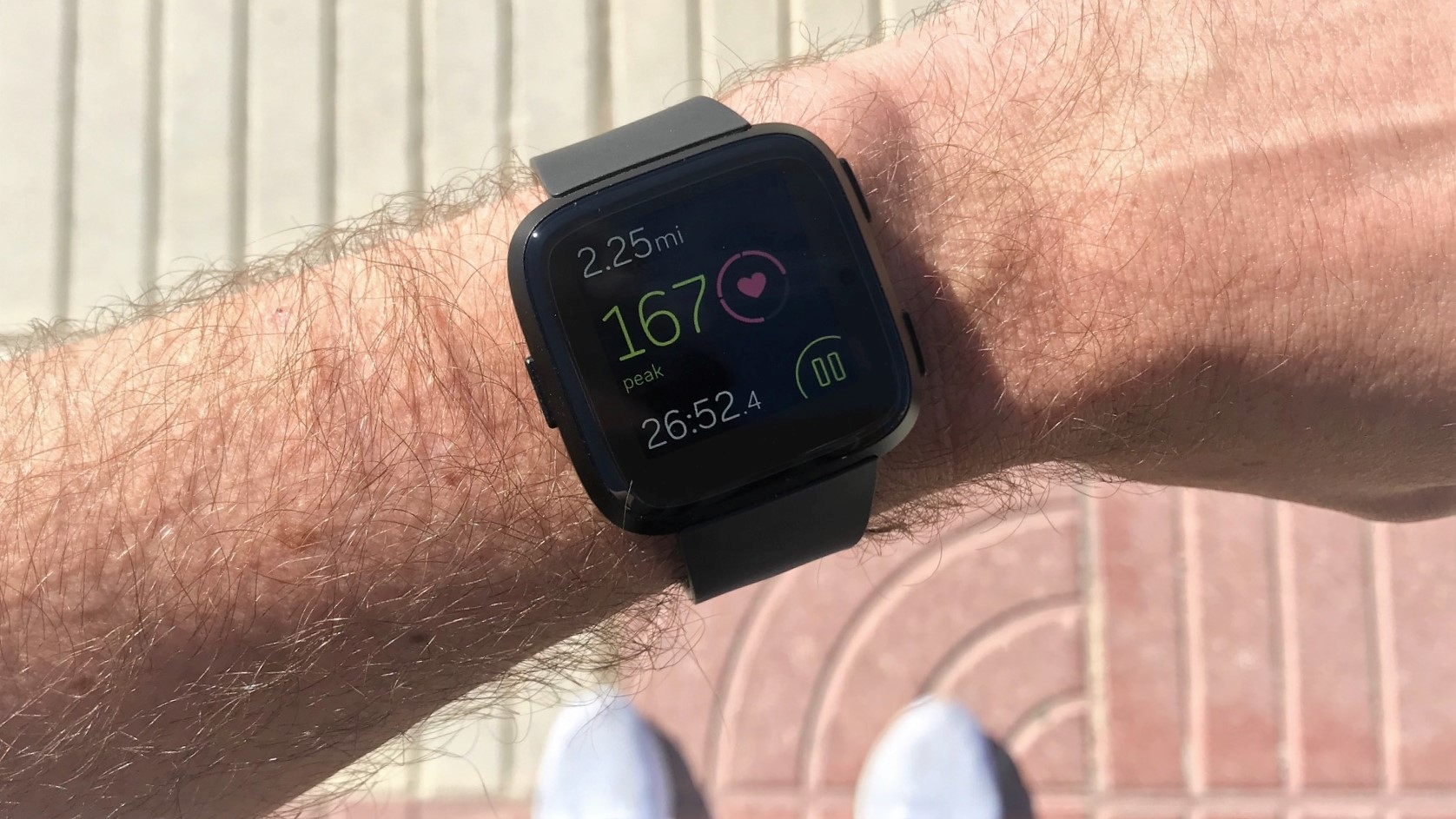 Thanks to the device's Run Detect feature, which was also seen on the Ionic, the Versa is clever enough to know when you're taking a break, and automatically stops and starts tracking a run, swim or cycle by sensing the status of your movement.
The other good news here is that this feature doesn't come into play if you don't want it. Choose a standard 'workout' exercise from the list before beginning circuit training, for example, and it tracks your heart rate continuously, until you tell it to stop.
It works really well, meaning you can get on with the workout without checking the watch all the time and making sure it's recording your movements accurately.
Last but not least is sleep. While this tracking function isn't exactly a fitness feature, it still works in a similar way. However, it's not something you activate in the menu. If you wear the Versa to bed, it will automatically track your sleep by recognizing your inactivity, stillness and decreased heart rate.
A summary of your sleep pattern will then be offered within the app after waking up, displaying how long you were asleep for in total, with this time split into REM (rapid eye movement), light and deep sleep.
This analysis is provided in an easy to understand and insightful way, pitting your results against an ideal target 'benchmark' of someone the same sex and age as you.
Fitbit still remains one of our top wearable options to sleep tracking thanks to its comprehensive data and easy-to-understand 'Sleep Stages' graphs.
Performance and battery life
Performance is generally nippy
Battery lasts for around 3-4 days on a single charge
Versa charger is proprietary and comes with a clip-in dock
Fitbit claims the Versa's battery life is not quite as impressive as its bigger, more expensive sibling the Ionic, cited at four days instead of the Ionic's five. After using the watch for a good two weeks on and off, we were rather impressed that its stamina matched up pretty well with Fitbit's claims.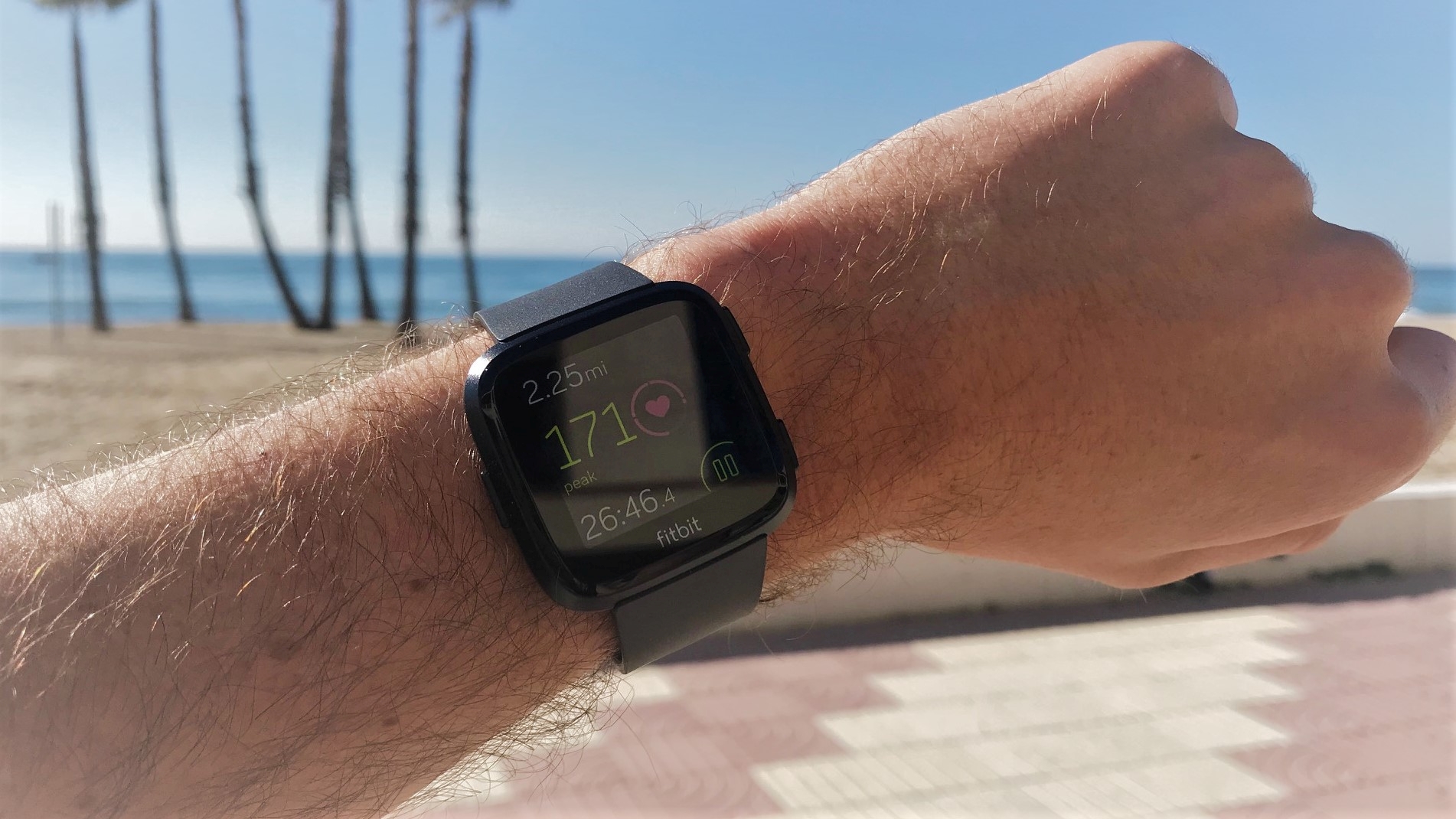 Obviously the total number of days you'll get out of the Fitbit Versa is completely dependent on how many workouts you track throughout the week, if you keep it on at night for sleep tracking, and if you have the brightness setting set to low or high.
After a full charge and using it for a full 24 hours, including two intense workouts and sleep, it was at a rather impressive 70% capacity. After three full days, it was just over 10% before finally dwindling to zero halfway through the fourth day.
As for actual device charging, Fitbit doesn't opt for juicing its wearables via traditional micro USB - so if you are travelling then the special Fitbit charger will need to make its way into your suitcase.
It's also worth noting the Versa's proprietary charger comes with a clip-in dock (included), which makes it much easier to charge compared to the magnetic pin on the Ionic.
Image Credit: TechRadar
Interface
Clean, clear and well laid out interface
Customizable watch faces
Contactless payments are fiddly
The Fitbit Versa comes with Fitbit's latest OS 2.0, including a new personalized dashboard that provides a more simplified and intuitive view of your health and fitness data.
This includes 'Stats at a glance', which allows you to see your daily and weekly health and fitness stats, historical activity, heart rate, and exercise summaries from your wrist by simply swiping up on the main display.
Generally, on-screen icons are displayed beautifully and in a clean way so as not to confuse you, too. However, one of our favorite features in the Versa software is that Fitbit has given the watch more customization options than ever before.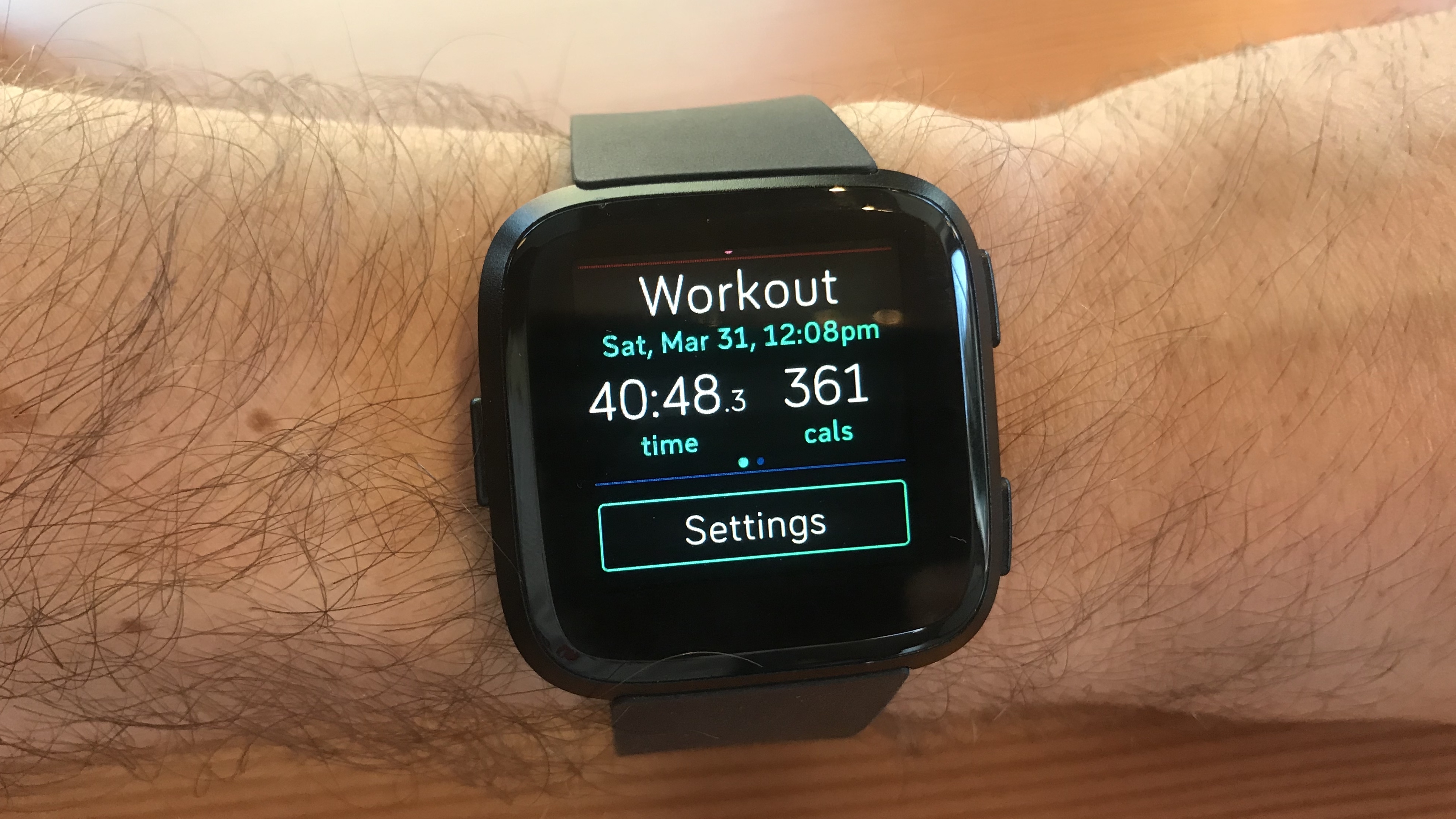 This, Fitbit said, is something it has realized its customers really want, so made it a bigger focus in the development of the Versa.
You can customize your own watch faces to make the Versa look how you want it to, something we saw a bit of in the Fitbit Ionic, but this time around there's hundreds more different designs to choose from.
You can also purchase third-party clock faces, some of which are customizable right down to the text color and arrangement of data.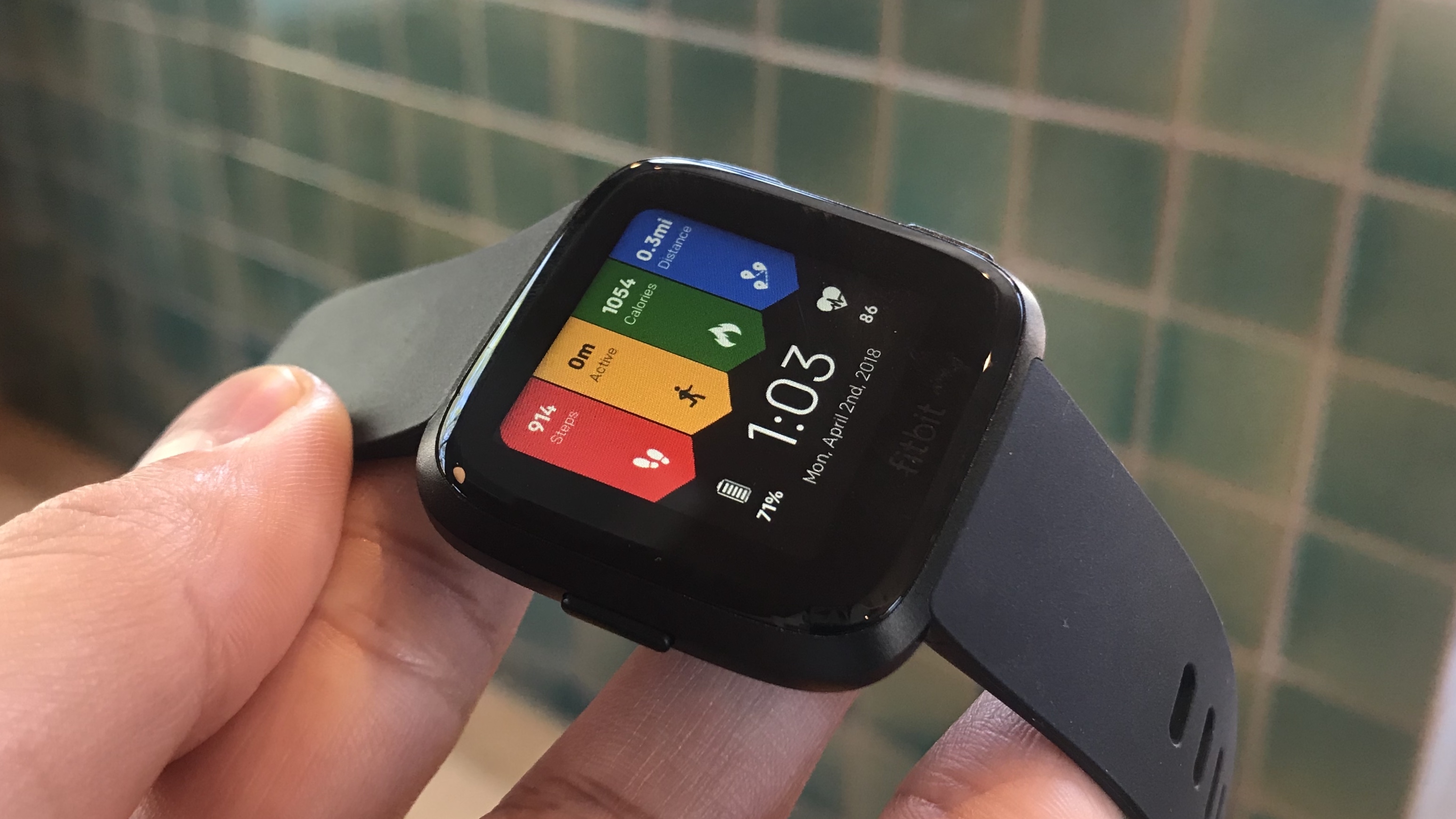 Debuted on the Ionic, the Fitbit Pay platform is available to use on the Versa, too, meaning you can use the watch to buy stuff without your phone or wallet, and it works with major credit card companies like AMEX, MasterCard and Visa.
We tried the feature in different stores and while it didn't work in one for some unknown reason, it did in the other four.
The feature worked reasonably well but it is a little fiddly. It requires you to input a 4-digit PIN before bringing up the contactless payment screen, and because the number keys on this tiny screen are so small, you've got to be really careful not to press four buttons at once.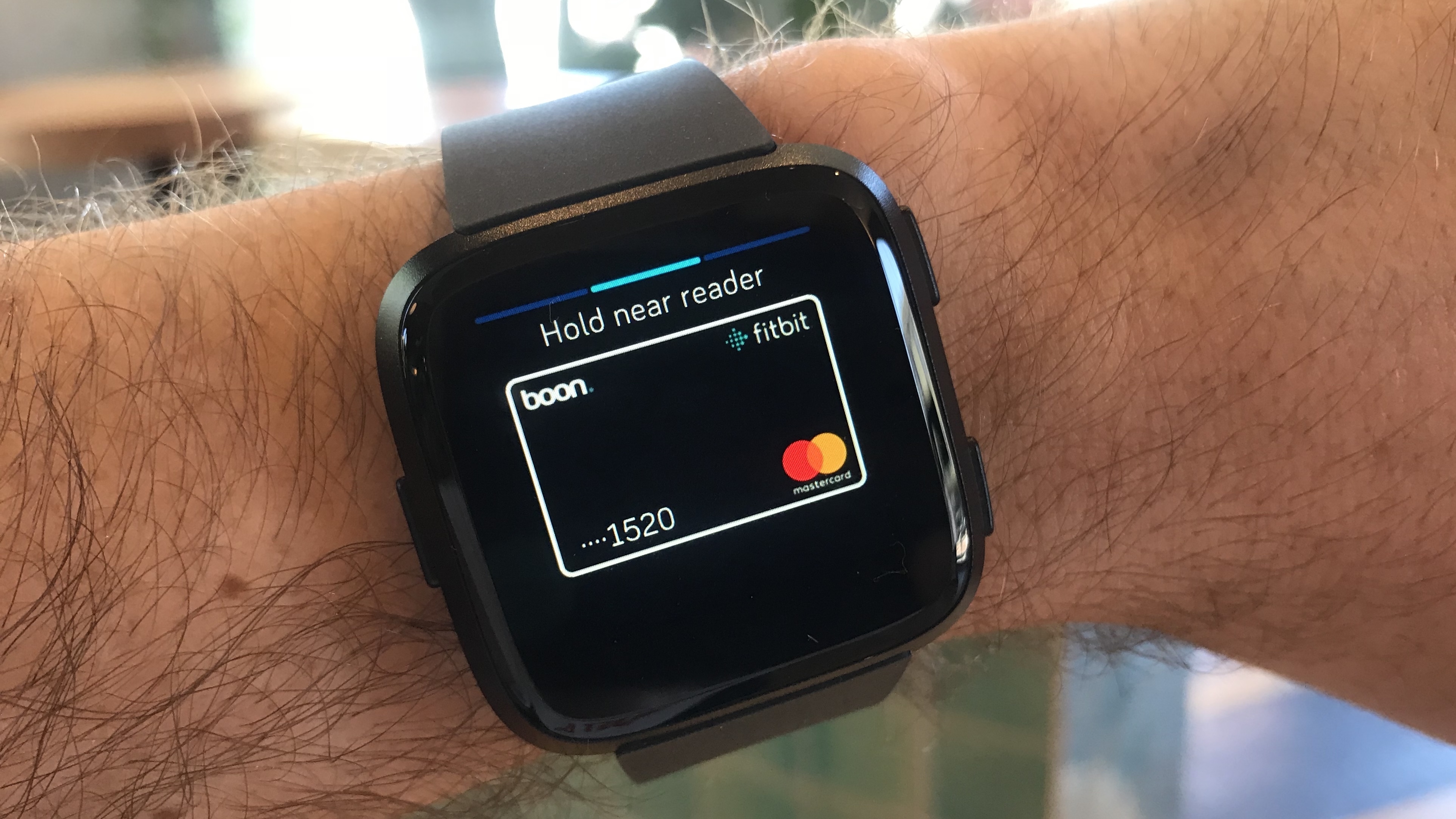 At the moment, the contactless payment feature doesn't work with many banks in the UK yet, either, so we wouldn't advise this being one of the main reasons why you buy the Versa.
So far the compatible list includes Danske Bank, Starling Bank and Santander was recently added. Although we expect this list to grow over time, unless you're a customer with one of those three banks, it's pretty limited. Fitbit has said it's working to rectify this, though, so it could change soon.
The Fitbit Versa also supports smartphone notifications, letting you see calendar alerts, texts and calls on screen, as well as notifications from other supported apps.
App
Compatible with iOS, Android and Windows devices
Impressively detailed and intuitive app
The Fitbit platform remains mostly unchanged from our review of the Ionic, and it's still just as impressive as it was then. It's clear, simple to understand and everything is easy to navigate. The Versa syncs via Bluetooth and it is a much faster and slicker experience than competitors like Withings (now Nokia Health).
We tested the Versa with the iOS app for iPhone, but it is available on Android and Windows Phone, too, which we are yet to test. On the app home screen, you'll find five main tabs within the Fitbit app: Dashboard, Account, Challenges, Guidance/Notifications, and Friends.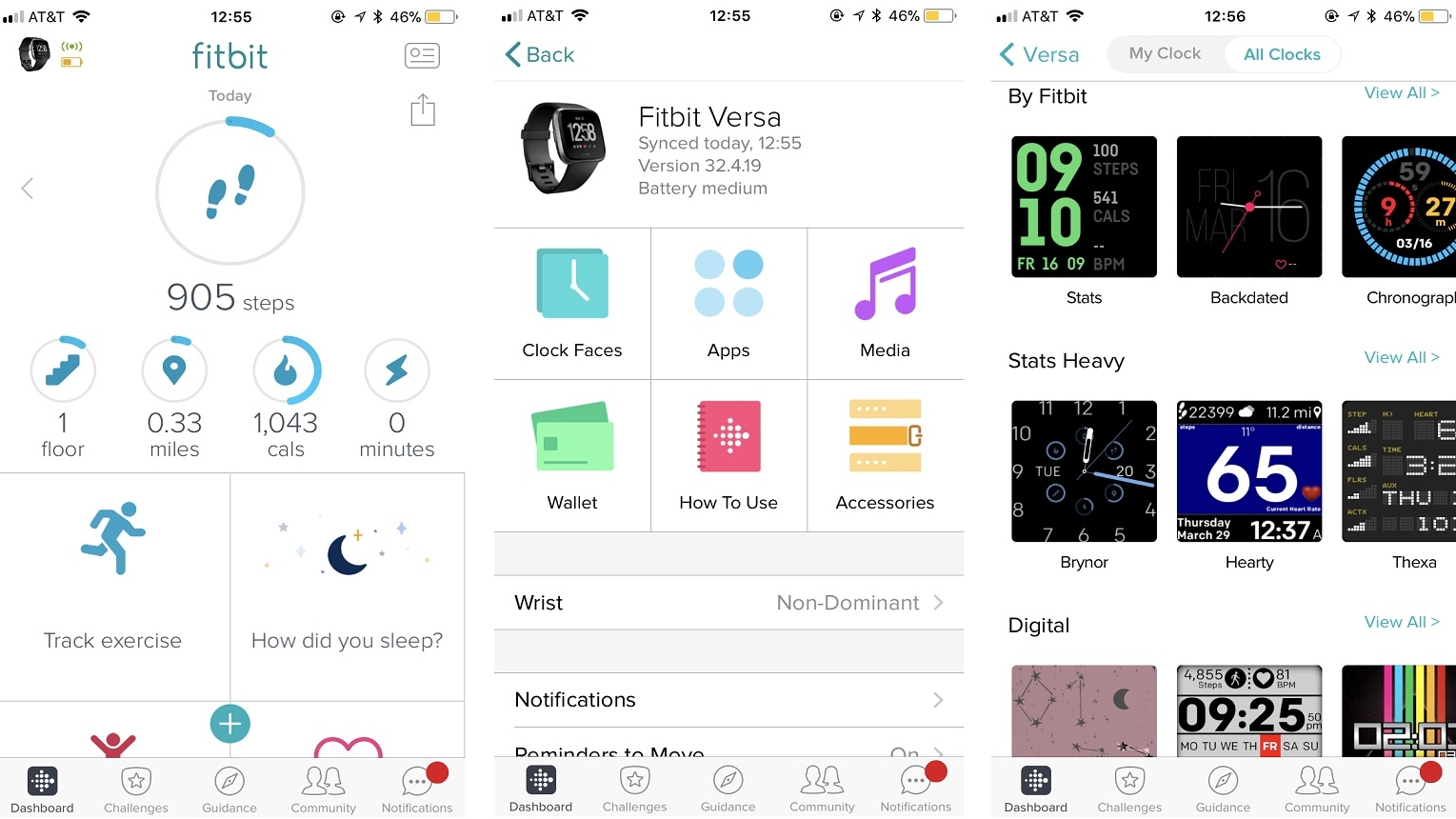 Dashboard is the main one, which presents all the data collected for each day - from food and water intake (if entered), to the number of steps taken - in tile form, making it easy to customize the order of what you want to see.
Each measured metric has a circular bar above it that moves in a clockwise direction as you get close to a set goal, meaning it's easy to see if you need to move more. Tapping on each of these metrics will also present data in more detail.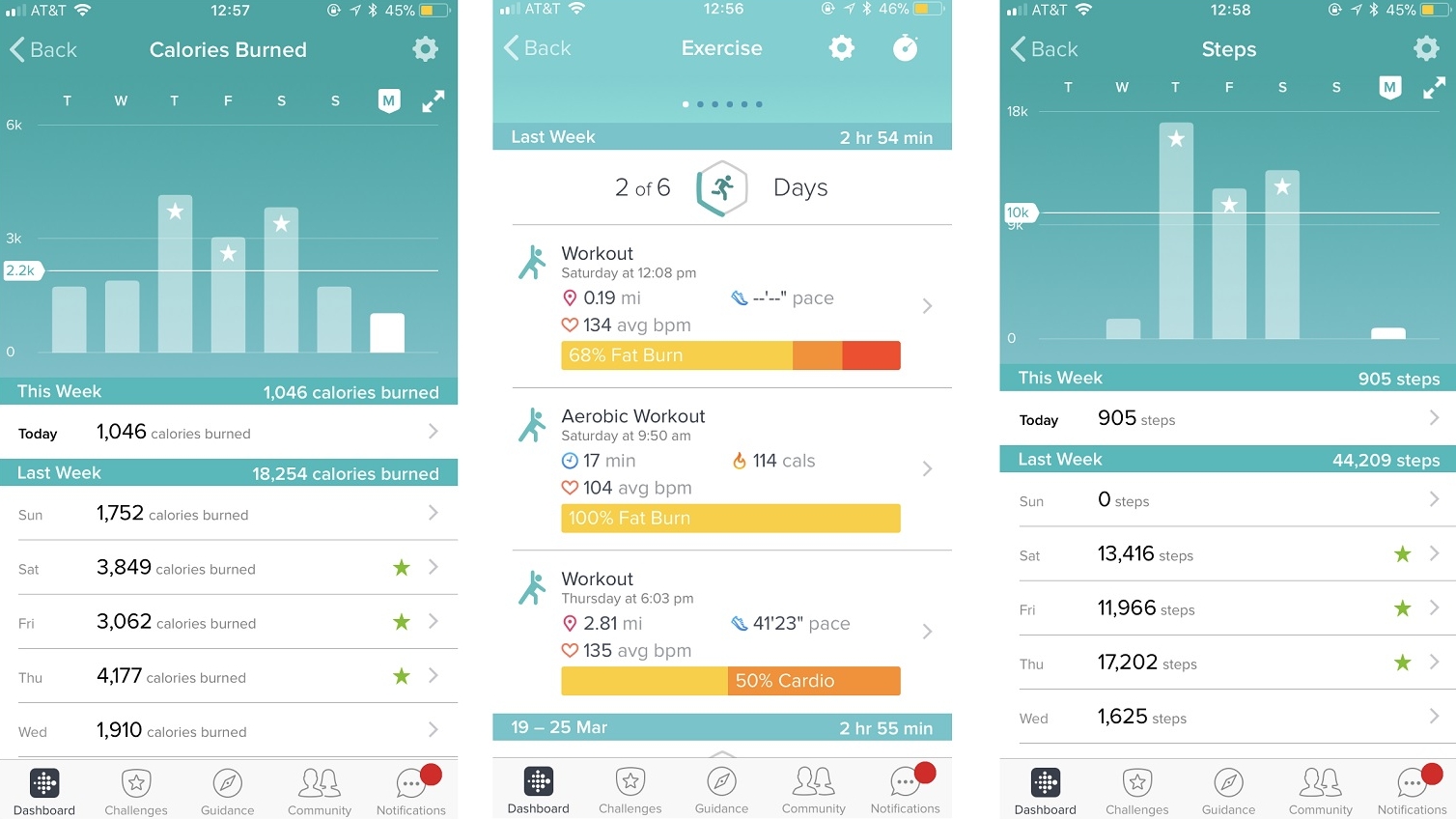 The other notable tab is the Account option, which can be found at the top right in the app and is where you can change goals, setup another Fitbit tracker, or access other settings like adding a custom heart-rate zone.
There is also a link to see which compatible apps there are within Fitbit, such as MyFitnessPal, which is great for tracking diet. And settings - such as the Versa's clock face, silent alarms, main goal, and so forth - can also be accessed here.
Image Credit: TechRadar
Verdict
While its feature set isn't quite on par with that of the Fitbit Ionic, the Versa feels very much the same watch in a different, lighter and friendlier design.
It also brings a clear, bright and beautiful screen, a new and improved heart rate sensor that will apparently be updated with even smarter functionality via a firmware update later in the year, smart notifications, contactless payment capabilities and all the features Fitbit users will have come to know and love.
But what makes it really special is that you can pick up some really great, intuitive fitness tracking features for just under £200/$200/AU$300. Something we cannot fault, and also something many of Fitbit's competitors can't compete with.
Who's this for?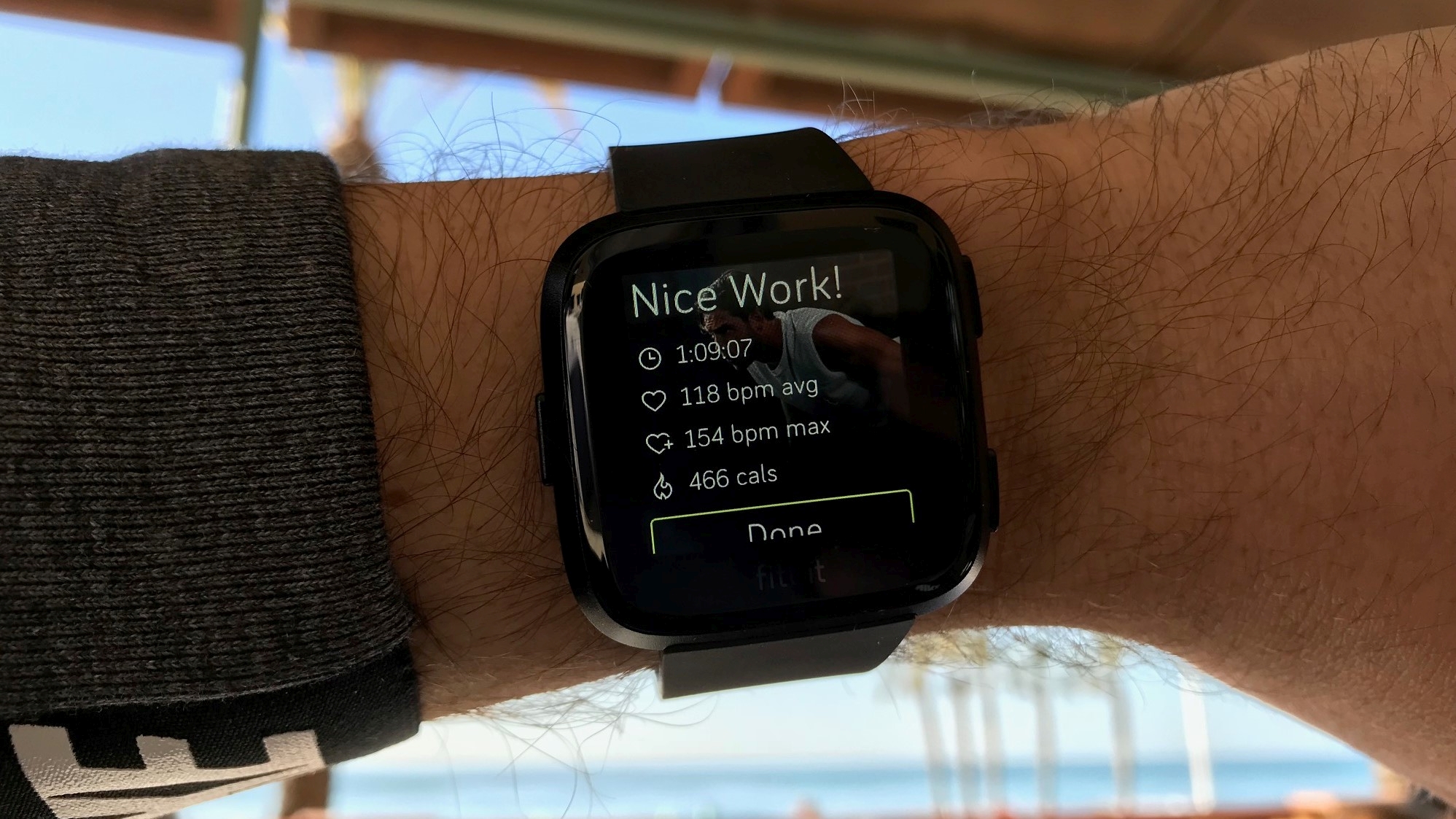 With the Versa, Fitbit has basically looked to bring the rich feature set as seen in its Ionic smartwatch but bundled in a more everyday 'lifestyle' kind of way, making it a watch for those that are into fitness but not necessarily fanatical about it.
The more friendly, nondescript design, Fitbit Pay support and lower price point further reinforce this.
So, the Versa is not exactly just an exercise pal, but an everyday smartwatch with added fitness functionality for those looking for smartphone connectivity features such as notification support as well as being conscious about their health.
Should you buy it?
What made the Fitbit Ionic tricky to recommend was that for such as high price point, there were so many great options out there for smart wristwear that offered better value.
However, as the Versa is almost identical to the Ionic in terms of features (apart from in-built GPS and a five-day battery life), it's completely changed the game, as you can now get your hands on some great, in-depth smartwatch and fitness tracking features that all sync with the really well-designed Fitbit app for significantly less than before.
It's basically a great option for those that really wanted the Ionic but thought it was just that bit too pricey (and close to the RRP of many other slightly more premium devices such as the Apple Watch 3) to justify it.
First reviewed: April 2018
The competition
Here we're going to run you through some of the alternative watches you may want to buy instead of the Fitbit Versa.
Fitbit Versa Lite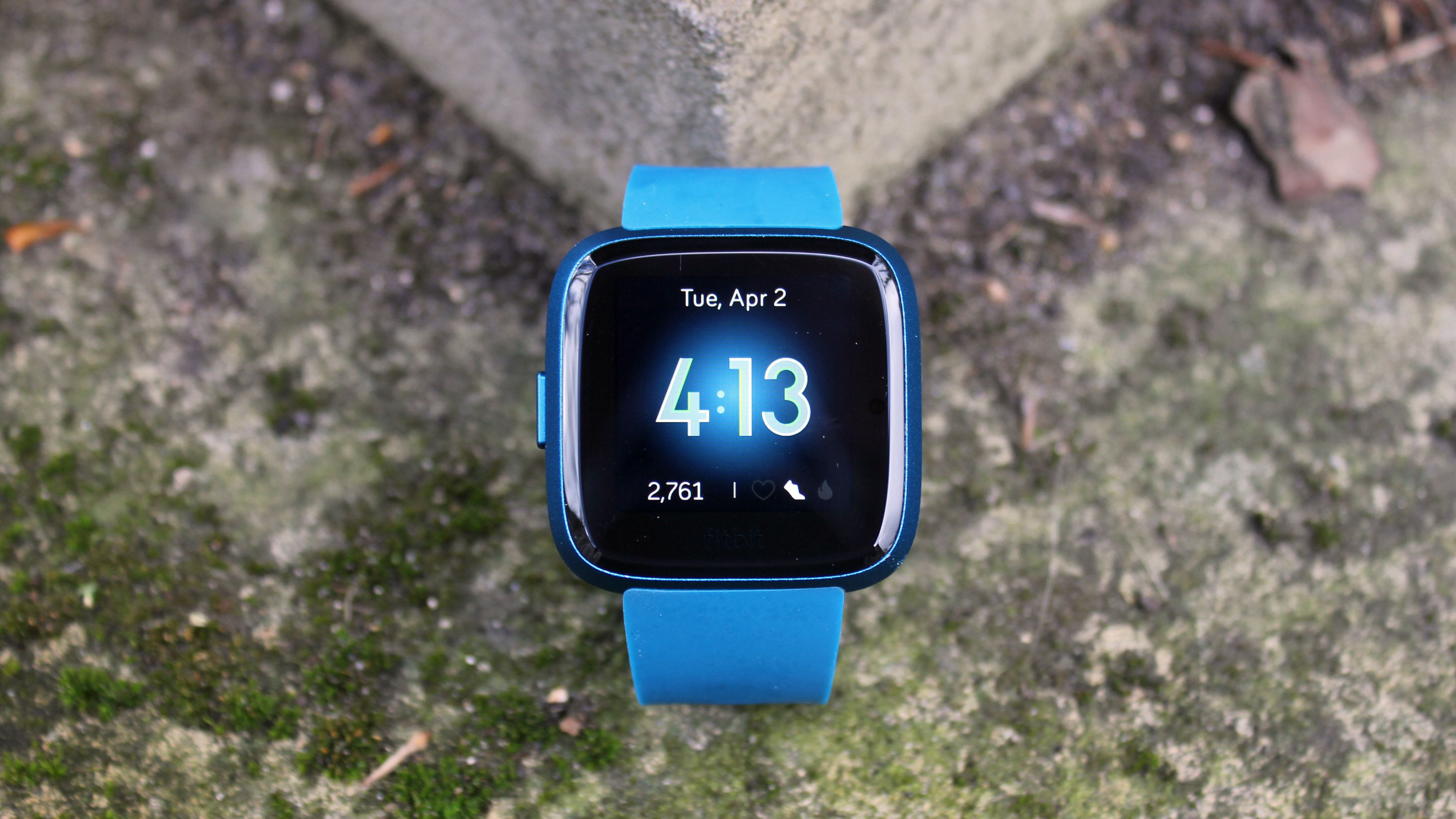 It's like the Fitbit Versa, but it's missing a couple of the features and has a lower price. It won't be able to track swimming, doesn't have Fitbit Pay and it also lacks on-screen workouts as well.
Sometimes you can find the Fitbit Versa and Versa Lite for similar prices, but if you find there's a significant price difference when you come to buy it's well worth checking out the Lite version to see if it's for you.
Read our full Fitbit Versa Lite review
Fitbit Ionic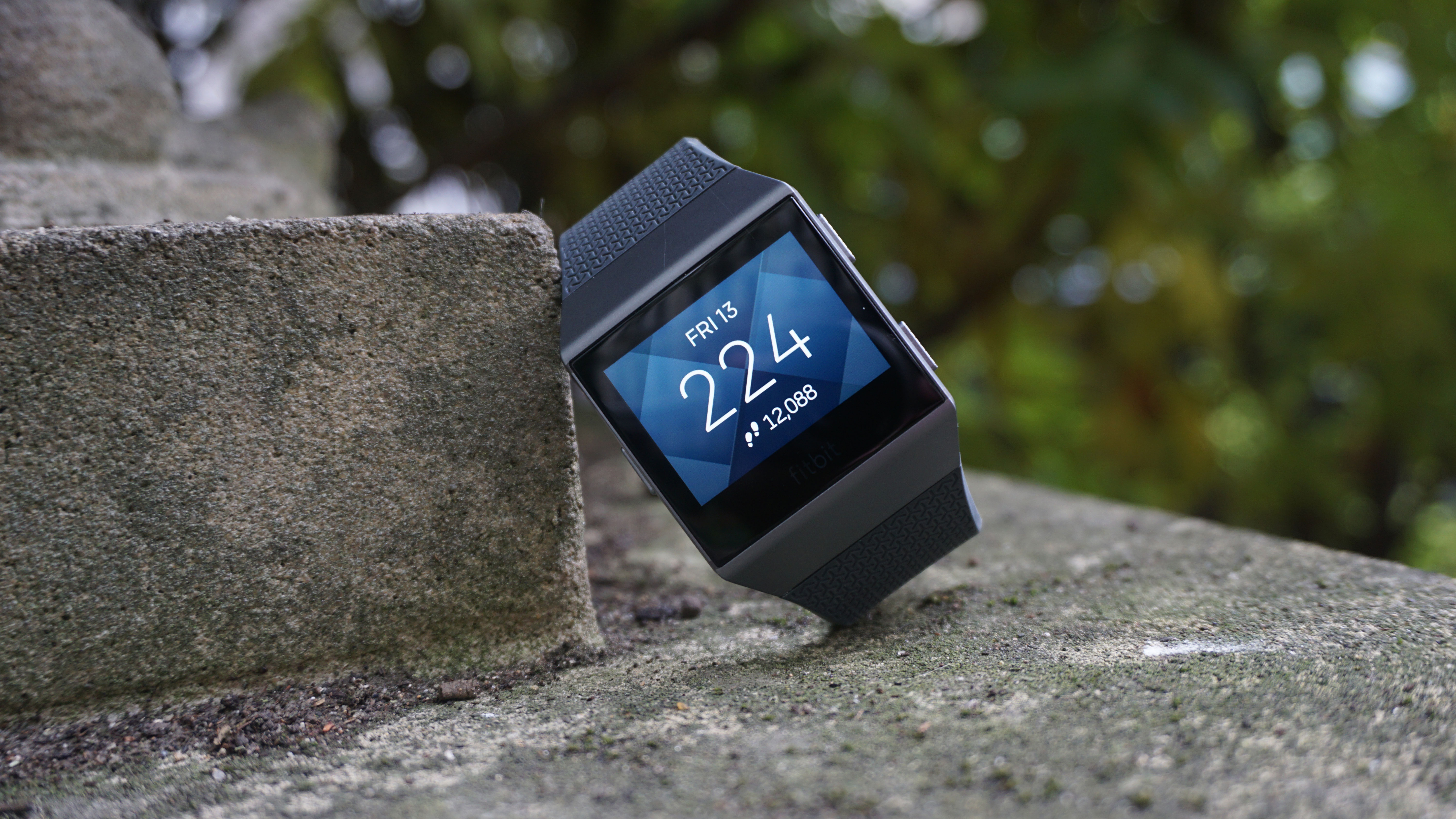 If you're a little bit more into your fitness, especially running, the more expensive Fitbit Versa might be a good alternative to consider as it offers more dedicated fitness features such as in-built GPS tracking – meaning you don't need to take your phone out with you when you go for a jog.
However, it's not quite as pretty as the Versa, so its design might not be one for you if you plan to use it outside working out.
Read our full Fitbit Ionic review
Samsung Gear Fit 2 Pro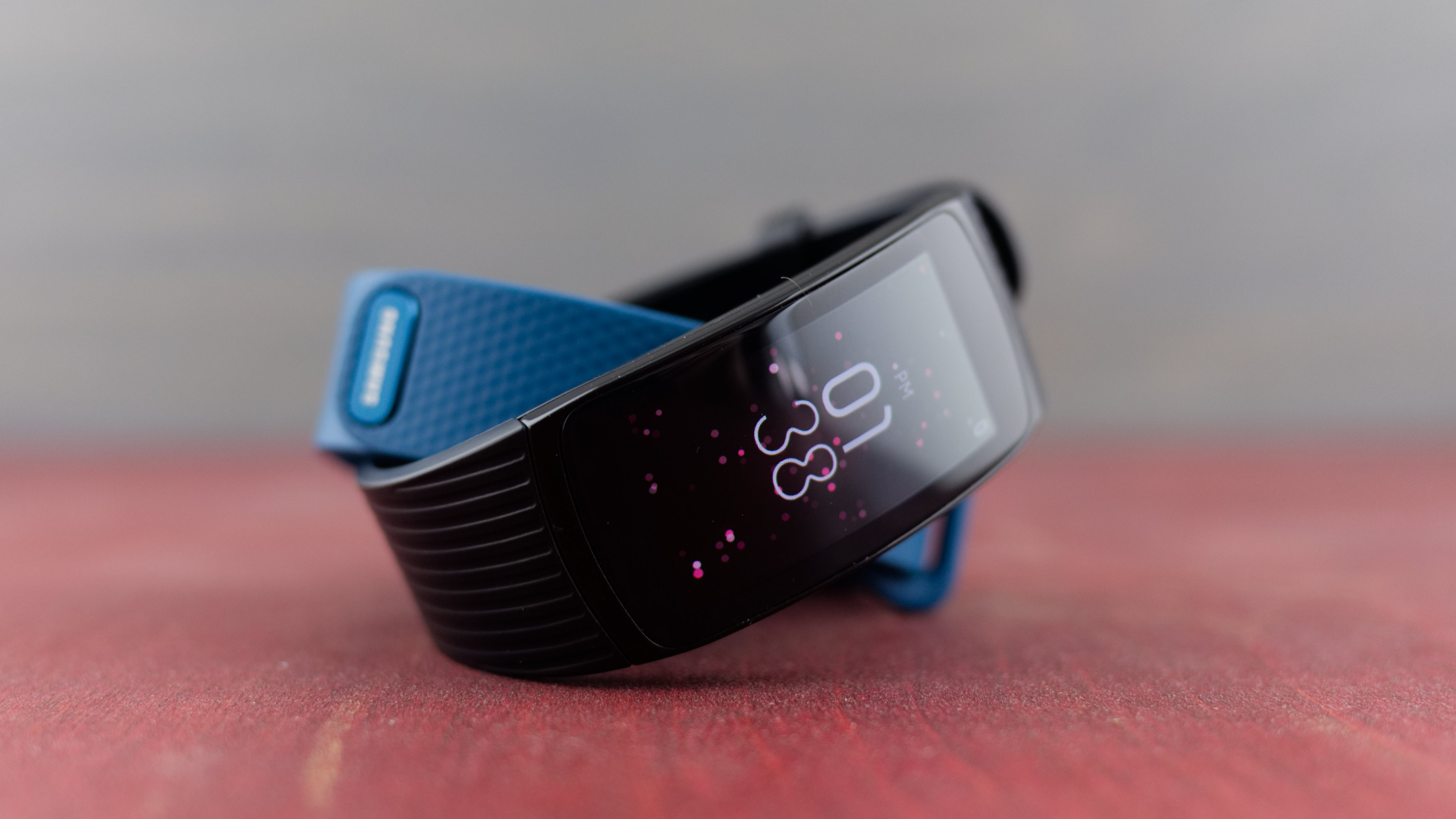 Samsung has a lot of experience making smartwatches now and the Gear Fit 2 Pro is arguably a decent alternative wearable device for dedicated fitness tracking, especially if you're not looking to break the bank.
Because it's a fitness band and not a smartwatch, it now retails at a much cheaper price than the Versa. We love its intuitive interface, great AMOLED display and good activity tracking features as the key highlights.
There are some issues such as a lack of apps - something the Versa suffers from too - but that's something that's improving all of the time. Plus it's waterproof so you can take it into the pool too.
Read our full Samsung Gear Fit 2 Pro review
Apple Watch 4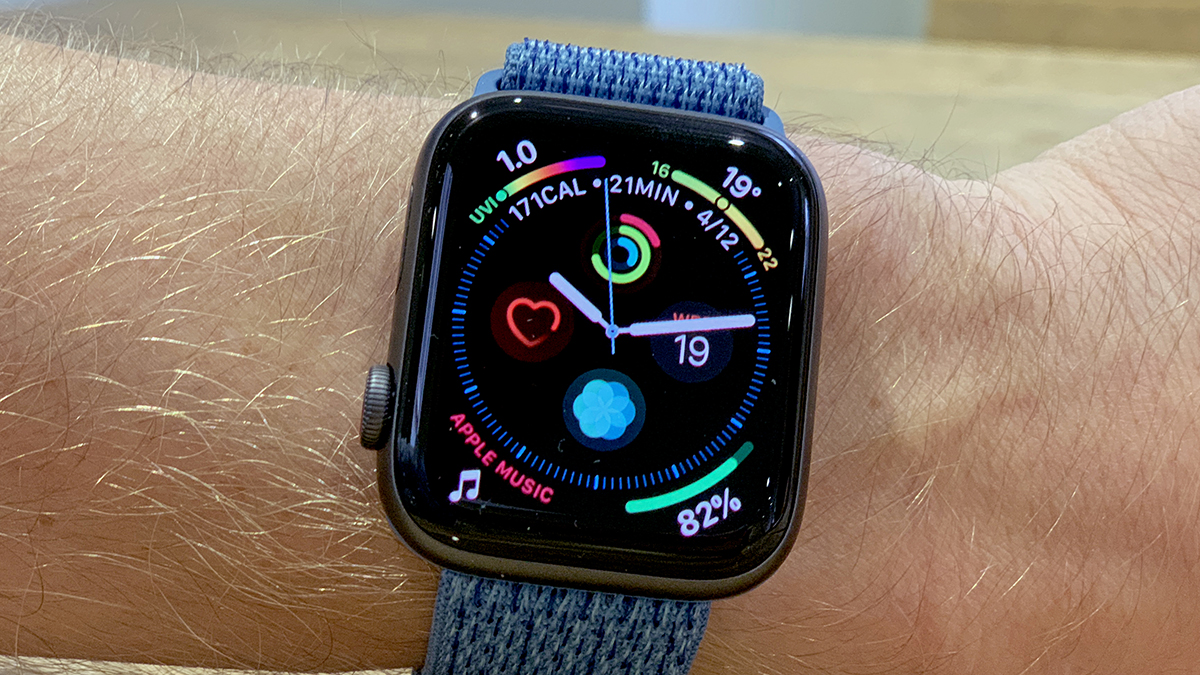 Of course the Apple Watch 4 could be a valid contender for the best smartwatch crown these days, with its large display, built-in GPS and LTE, lightweight design and great speaker it's near-perfect.
It's also similar design-wise to the Fitbit Versa, so if you were attracted to its display Apple's latest wearable might suit you better. However, there's a big price difference with the Apple Watch 4 starting at $399 / £399 / AU$599 for the GPS-only version and $499 / £499 / AU$749 for the cellular version.
Read our full Apple Watch 4 review
Fitbit Charge 3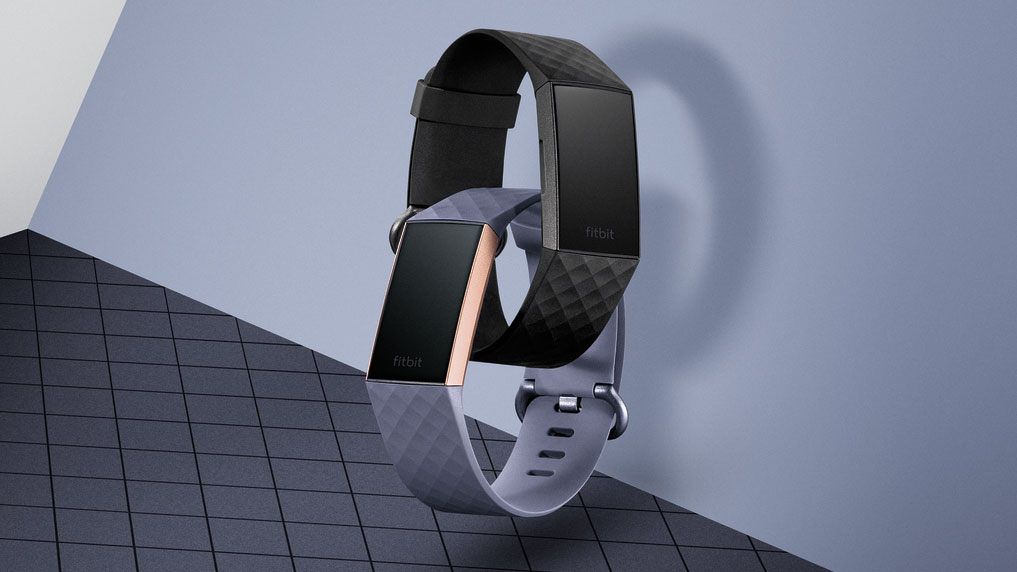 The Versa is appealing because it's focused on fitness, but makes a fantastic lifestyle smartwatch for 24/7 wear too. But for some the huge range of apps, customization options and extras might just be overkill, which is why Fitbit's latest device, the Charge 3, might be more up your street.
It isn't as colorful, pretty or as feature-packed, instead it's all about fitness and tracks everything really well. It may not be as fully capable as Garmin's high-end fitness devices, but it's one of the best options for fuss-free fitness tracking.
Read our full Fitbit Charge 3 review
Image Credit: TechRadar